You've finally done it. You've completed the beginning of Animal Crossing and unlocked all the features. Now you are free to decorate your island to your heart's desire.
You look out over the sparse expanse and imagine all the possibilities, but there's one problem. What exactly do you want to do? Where should you start?
Between cliffs, rivers, plants, buildings, and hundreds upon hundreds of furniture options, starting the grand plan of your island is daunting. You may be overwhelmed with ideas and not know how to begin, or your brain may be drawing a huge blank.
A good place to get out of those debilitating headspaces is just to look for some inspiration. Let's look at some together; I've included pictures from around my island and some of my Happy Home Paradise creations.
Getting Started
Before we look at any ideas, I wanted to share some tips for avoiding analysis paralysis and decorating stress. Animal Crossing is supposed to be a fun, relaxing game, and succumbing to pressure can ruin the experience.
Tips for a Better Mindset
My most important tip is don't take it too seriously. You can make your plans as grand or as simple as you want. Just ensure you are excited to play the game and aren't forcing yourself into anything.

Be willing to have your island be a work in progress. You can change anything anytime you want to. I've been playing consistently since the game came out, and I'm still finding parts of my island I could make better.

Don't compare your island to others. There are lots of pictures of stunning islands online. Remember that you probably see only a small portion meant to be presented. The rest of the island may be barren, and the picture may be altered. Enjoy the pictures but don't worry if your island doesn't look the same.
Tips for Decorating
I like to decorate slowly. I only focus on one section at a time, whether making something new or improving something old. It keeps me from feeling overwhelmed, burnt out, or running out of things to do.

Start small. If you feel overwhelmed, pick one part of your island to decorate. Keep in mind that it doesn't need to be perfect right away and start there. Then you can work your way out or pick a completely new section.

Work from a theme. Choose the look you want your island to have and use items and placement to match. This tip doesn't help me as I don't like that kind of restriction, but for some people, it does help by focusing their creativity.
Interior Designs
I find the easiest spot to decorate is the inside of my house. Since I don't have to run around manually and place everything, it's much easier to mess around with ideas and find something I like. The limited space also makes sure I don't feel the need to do something huge.
If you fully upgrade your house, you'll have six rooms in total. The main room is 8X8. Branching off from that room are three more rooms, each 6X6.
The final two rooms are the upper floor and the basement, which are 10X6. You can choose one theme to match each of your rooms and have a beautifully unified home, or you could diversify them and use each room to display different ideas.
Individual Room Ideas
There are plenty of rooms commonly found in homes that you can emulate in your house. This is the route that I went when decorating my house. Each room is something you could find in any home, but there's no unifying theme between them.
Each of these ideas can be executed in a variety of ways. There are lots of aesthetics that can be applied to any of them. The list gives an idea of what can be accomplished with the furniture available.
Living Room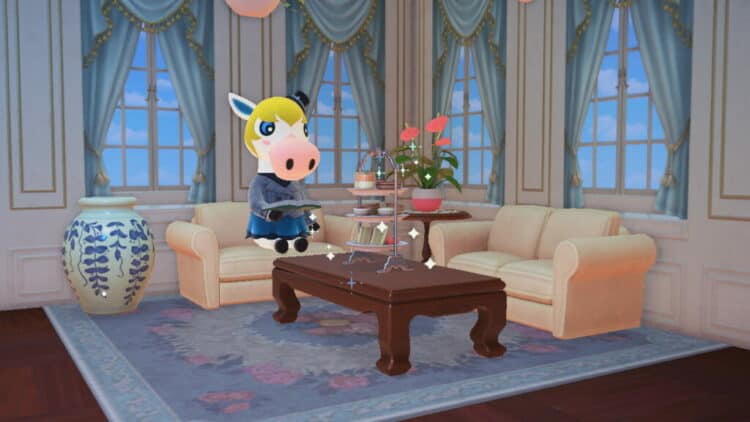 This may be one of the most open-ended ideas in this entire article. There isn't really any strict definition of a living room other than a common space for people in a house to hang out. Even so, we can still give some ideas on how to design a living room.
Furniture Ideas:
Couches and chairs

Music Player

Tv or games

Tables

Trinkets

Lamp
Bedroom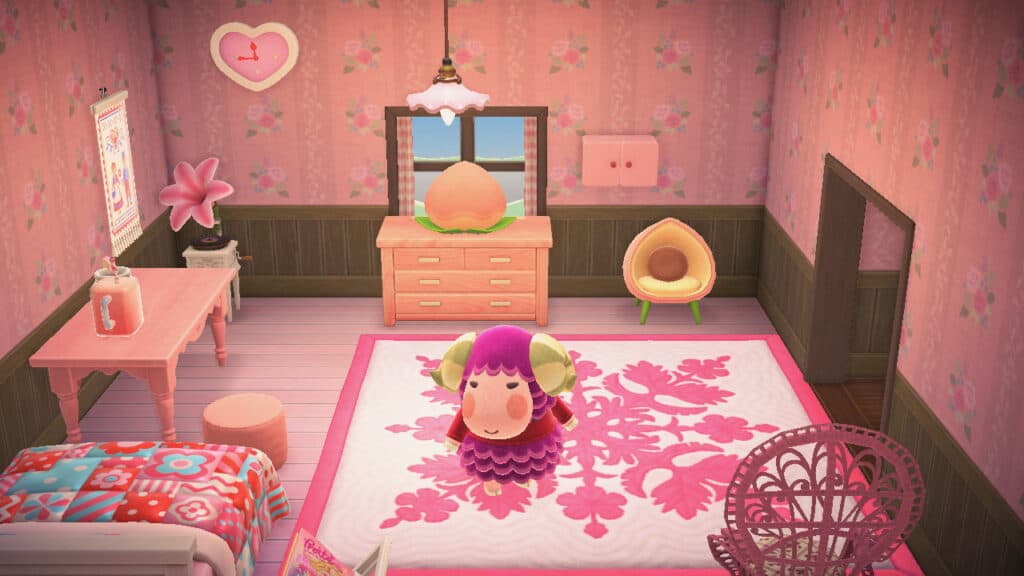 Bedrooms are about as varied as living rooms are, but they at least have the requirements of beds.
When designing the bedroom, remember that this is more of a private space where one person makes all the decisions, mostly for themselves. It can still look nice but won't be as much of a presentation as a public house space.
Furniture Ideas:
Bed

Wardrobe or dresser

Personal decorations

Lamp

Desk
Kitchen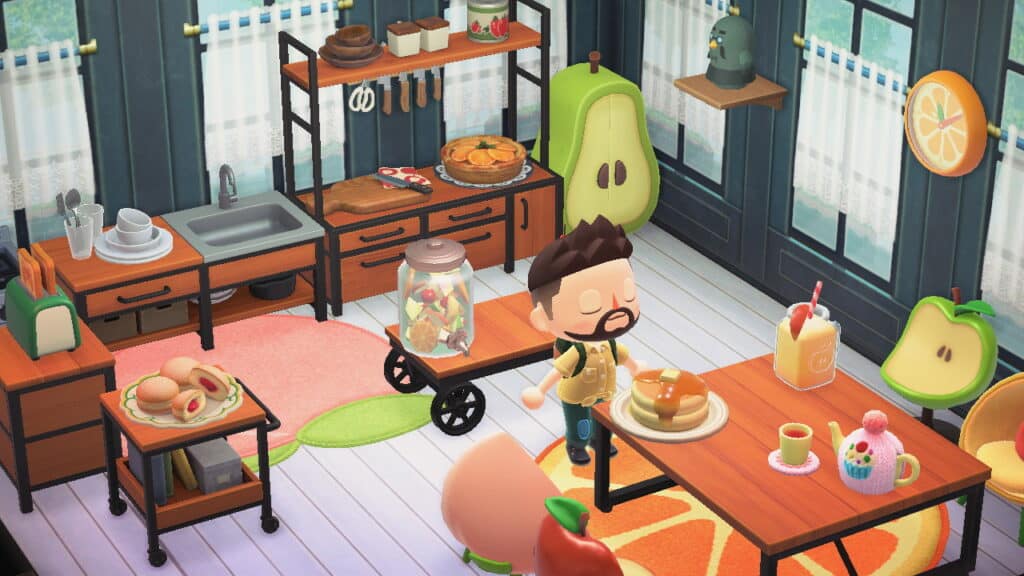 You can only go so far in making a house a home without a kitchen. Everyone needs food, and even though your in-game character doesn't need to eat, not having a kitchen feels wrong.
Oven

Stove

Sink

Fridge

Counters

Appliances and Tools

Kitchen Mat

Food
Dining Room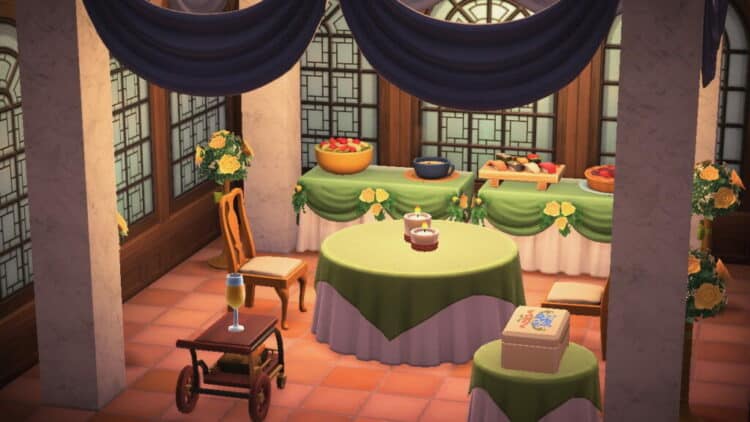 If you want to conserve space, you can put a place to eat in the kitchen. However, having the dining room be a separate area gives the home a sense of class and luxury. Plus, you can add more tables and chairs to make it look like you host huge dinner parties.
Furniture Ideas:
Table

Chairs

Food

Trophy Case

Serving Cart

Trinkets

Chandelier
Bathroom
I'll be honest. I laughed at the people that dedicated one of their rooms to a bathroom. Yet as I kept playing, I eventually made my back room into an ocean-themed bathroom and laundry room. Sometimes the desire to emulate domestic life is just too strong to resist.
Furniture Ideas:
Toilet

Sink

Shower

Tub

Rubber Duck

Soap

Washer and Dryer

Toothbrush Cup

Cleaning Equipment
Old Style Study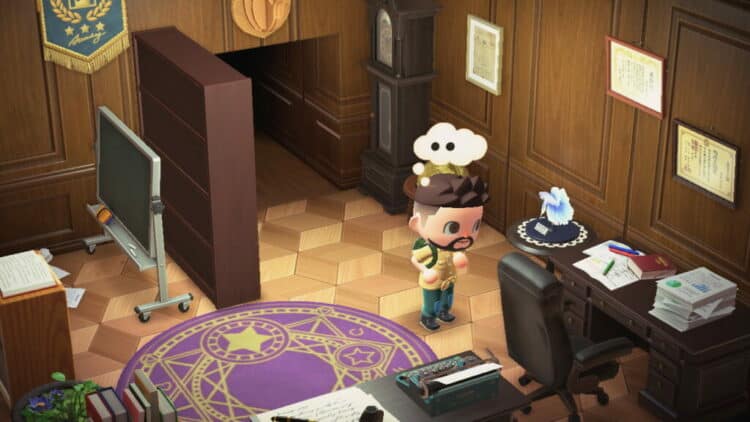 A permanent fixture in all of my Animal Crossing homes has been a study. I just love the look of tons of books against dark wood furnishings.
There are plenty of strange little items that you can use to make it look like you're studying a specific thing. You could also throw books and papers on every available surface to make it look generally academic.
Furniture Ideas:
Bookcase

Desk

Chair

Books

Scattered Papers

Old Looking Items
Nursery
Plenty of cute, pastel furniture and various toys would make a great addition to a children's bedroom or nursery. It can move your house from feeling large and empty to more inhabited, like a family home, even though you're the only one that lives there.
Furniture Ideas
Single bed

Baby Bed

Stroller

Toys

Colorful Wallpaper

Dreamy Set

Rocking Chair

Baby Chair
Craft Room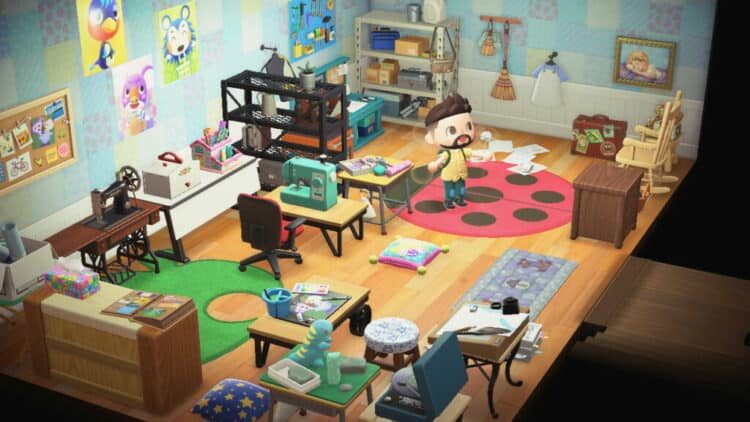 As someone from a creative family where every house has a messy craft room, this is one of my favorite rooms to put together. You can make it nice and organized, but I like tossing items haphazardly around the room because that's what my real-life craft room looks like.
Furniture Ideas
Painting Set

Clay Set

Crafting Table

Sewing Machine

Chairs

Tables

Mom's Furniture

Wreaths
Home Office
In the past couple of years, home offices have become a much more common experience and thus are found in a lot more homes. Having somewhere dedicated to your work is good for keeping you focused and productive. So what better way to celebrate that productivity than creating a home office in a video game?
Furniture Ideas
Desk

Wheeled chair

Computer

Shelves

Filing Cabinets

Phone

Bulletin Board
Home Gym
Want the jock villagers on your island to think you're cool? Set up some workout equipment, and you'll be just like them! Adding a home gym is a good way to express a hobby you might actually have or wish you had.
Furniture Ideas
Treadmill

Barbell

Kettlebell

Sports Equipment

Yoga Mat

Drinks

Cooler

Mirror
Walk-in Closet
Nothing says decadence and style like having an entire room dedicated to clothes. Reserving a whole room in your house for clothing would give the entire home a sense of being smaller, but not in a bad way. It would make it feel like a penthouse suite in a big city.
Furniture Ideas
Clothing on the ground or on the walls

Shoebox

Stool

Clothing rack

Stack of clothes

Changing room

Partition
Indoor Pool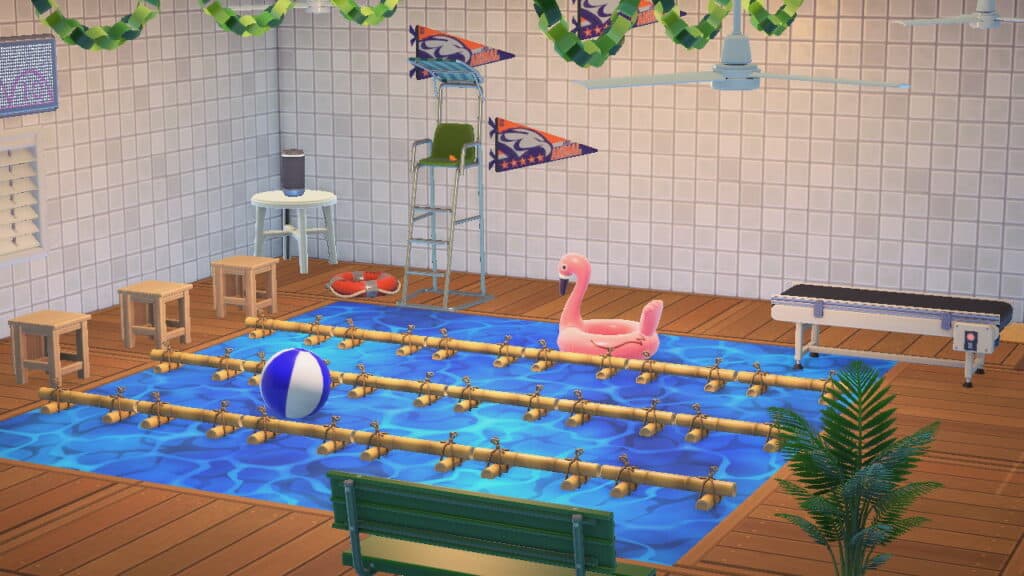 Some of the most creative uses of items inside have been making indoor pools. You can just place one of the pools or tub items inside or use a combination of water flooring and rugs to make an awesome full-size pool.
Furniture Ideas
Pool

Tub

Water Flooring

Wooden-deck Rugs

Lifeguard Chair

Life Ring

Toys that look like they can float
Indoor Garden

I don't use them much, but wallpaper and flooring meant to look like the outdoors are some of my favorites. An indoor garden gives you an excuse to use them without making your house too unrealistic.
Furniture Ideas
Flowers

Outdoor flooring and wallpaper

Plants

Garden Stones

Fountain

Planters

Watering Can
House Theme Ideas
It can be a fun challenge to make your home have a unified theme while keeping each room somewhat unique. You can make your house look like it's from a specific region or lived in by someone with a very strong sense of style. 
Cabin
Want to live out your dream of living in a cozy cottage in the middle of the woods? This theme makes it easy to imagine yourself cuddling up with a cocoa mug while it snows outside. 
Furniture Ideas
Log Series

Tree's Bounty Series

Leaf Series

Cabin Wall

Phonograph

Sauna Heater

Simple DIY Workbench

Brick Oven

Wood Burning Stove

Spinning Wheel

Butter Churn

Bread

Old-Fashioned Washtub

Firewood

Dried Flower Garland

Spider Web
Elegant
Want to make your character classy, surrounded by expensive-looking furniture, and looking like they live in a Victorian mansion? Decking out your whole house in gorgeous flourishes and fancy furniture will let you live that fantasy. 
Furniture Ideas
Elegant Series

Antique Series

Crown Wall

Floral Wallpaper

Iron-Parquet Flooring

Herringbone Flooring

Chandelier

Fancy Frame

Phonograph

Grand Piano

Fine Vase

Typewriter

Candelabra

Elegant Rug
Messy
While making a huge impressive-looking house is fun, making one that looks like a believable mess can be just as fun and maybe even more challenging.
It's difficult to put things the right things where they would end up and not just random items in random spots. You need to put just as much thought into making a messy house as a clean one.
Furniture Ideas
Sloppy Series

Simple Series

Cardboard Series

Common Wall

Dirt-clod Wall

Old-stone Tile Flooring

Wooden-Knot Flooring

Spider Web

Cushion

Instant Noodles

Snack

Tangled Cords

Trash Bags

Scattered Papers

Sloppy Rug
Modern
Maybe your style is sleek and smooth, and you want something modern. You could make your house look like a chic apartment in the big city where you can retire after a long day of hustling the stalk market.
This might also look good if you don't have a fully upgraded house and want to stick with something small. However, the exterior won't match the interior very well.
Furniture Ideas
Cool Series

Ironwood Series

Cityscape Wall

Molded Panel Wall

Tankless Toilet

Upright Vaccum

Fan Palm

Standard Umbrella Stand

High-End Stereo

Whirlpool Bath

T.V.

Tablet Device

Magnetic Knife Rack
Vintage
In a world of rapidly evolving technology, it can be nice to celebrate the old-fashioned stuff once in a while. Luckily, Animal Crossing understands this and has added furniture that I swear used to fill my grandparent's house.
Furniture Ideas
Vintage Series

Throwback Series (for a more childish nostalgia feel)

Retro Set

Ranch Series

Floral Wallpaper

Painted-wood Wall

Stripe Flooring

Old Sewing Machine

Wooden Bookcase

Cool Globe

Fireplace

Pendulum Clock
Cute
People that like relaxing life-sim and decorating games tend to like making cute aesthetics. If you are one of them, you could make your house as pastel and soft as your heart desires. You could cover our house in cute shapes in a rainbow of colors to feel like you are living in a lovely dream.
Furniture Ideas
Dreamy Series

Wood-Block Series

Cute Series

Heart-pattern Wall

Quilt Wall

Paint Flooring

Cute Tile Flooring

Heart Rug

Toys

Froggy Chair

Flower Tabletop Mirror

Sweets

Starry garland

Glow-in-the-dark Stickers

Paper-chain Ceiling Garland
Historical

This theme allows you to have differences in each room, as you can pull off a few different eras. You have the options of Medival Europe, Ancient Rome, Viking Ages, Pioneer Times, Age of Piracy, Prehistoric, and Imperial Japan.
There isn't a lot of furniture for each individual option. Still, you can get creative with other furniture to make the atmosphere coherent.
Furniture Ideas
Pirate Series

Gulliver's Rewards

Castle Set

Ruined Set

Stone Set

Stone Wall

Stately Wall

Straw Wall

Palace Tile

Dirt Flooring

Wooden-Knot Flooring

Shanty Mat

Storefront

Stonework Kitchen

Spinning Wheel

Butter Churn

Samurai suit

Weapons

Covered Wagon

Plate Armor
Fantastical

My favorite items have always been furniture that looks like it's made out of impossible material, like flowers, mushrooms, or ice. You can still make a house with all the standard amenities, but it looks like it came out of a fantastical fairy world.
Furniture Ideas
Flower Series

Ice Series

Mush Series

Mermaid Series

Shell Series

Star Series

Fruit Series

Bunny Day Series (if you can look at them without getting horrible flashbacks)

Froggy Chair

Lily-pad Table

Chocolate Walls and Flooring
Non-Home Buildings
You don't need to decorate your house to look like a home. A plethora of furniture, wallpaper, and flooring lets you create more creative settings.
If you feel there's a building that your island is missing, then you can dress up your house to fill its place. This works especially well if you create a second switch account to get another player house on your island.
These ideas can also be used to decorate your island too. You simply need to put down some wood or stone paths to look like flooring, then find a tall item to serve as a wall, and you can make a fake building outside.
Hotel

Pretty much any aesthetic you can apply to a house, specifically a bedroom, can be used in a hotel. The only real requirements to making a hotel are multiple rooms with beds and a lobby. You can make your hotel high-class or very simple.
All the rooms could be identical, or you could have one as a luxurious suite. It's fun to see how differently you design a room when considering it as a temporary residence rather than a permanent one.
Furniture Ideas
Bed

Chair

Dresser

Reception Desk

Filing Cabinet

Cash Register

House Plants

Framed Poster

Snack Machine

Drink Machine
Restaurant

The first big project I set out to do on my island was making a restaurant. While we have the Roost and you can unlock a restaurant in Happy Home Paradise, someplace to eat and hang out is still something we want to replicate on our islands.
Especially since we can cook so many different dishes, we can make various restaurants with diverse menus and environments.
Furniture Ideas
Imperial Dining Set

Diner Series

European Style Wall

Blackboard Wall

Tables and Chairs

Food type of your choice

Drinks

Kitchen Amenities

Hanging Monitor

Busing Station

Salad Bar

Serving Cart

Menu Chalkboard

Sample case
Grocery Store
Nook's Cranny may fulfill the role of selling nearly anything you need. Still, maybe you want something closer to the convenience and grocery stores you know. Like the restaurant, you have a wide selection of items to 'sell' at your store, so you can change the vibe if you want to.
Furniture Ideas
Tile Wall

Frozen-foods Freezer Wall

Tile Flooring

Cash Register

Merchandise Table

Food

Cardboard Boxes

Stacked Shopping Baskets

Checkout counter

Tabletop POP Display

Sturdy Paper Bag

Shopping Bag
School

When I was in college Animal Crossing was my escape from the stresses of school. Yet there's still something fun about recreating my lecture halls and classrooms.
School is a large part of life, and when decorating in a life-sim, most people tend to create places they spend a lot of time in.
You can choose what kind of school to put on your island if you go this route, elementary, high school, or college. You could even do it all at once in different rooms using a house.
Furniture Ideas
Desks

Chairs

Chalkboard Set

Lecture Set

Hallway Wall

Playroom Wall

Whiteboard

Books

Study Poster

Wall Clock

Essay Set

Homework Set

Toys

Reception desk

School Locker
Library

I spent a long time ordering from Nook Shopping to get enough books to craft all the bookcases I wanted for my library. My library is one of the earliest additions to my island that has seen the least change. Simply covering a space in books is satisfying, and I think other bookworms would agree.
Furniture Ideas
Classic Library Wall

Tables

Chairs

Den Desk

Wooden Bookcase

Wooden-Block Bookcases

Book

Book Stack

Magazine

Magazine Rack

Book Stands

Banker's Lamp
Club
Listening to K.K. Slider on Saturday nights and the occasional D.J. K.K. shows at Happy Home Paradise aren't enough to satiate the need to jam out.
That's why I like the idea of adding a dance club to my island. I've put mine on the beach for a tropical resort feel, but you could easily dedicate a house to dancing. Each room could have different music, and you could have an area to sit with some drinks and a little coat check spot.
Furniture Ideas
Club Wall

Club Flooring

Festivale Stage

D.J.'s Turntable

PA Speaker

Bubble Machine

Confetti Blower

Karaoke System

Floor Light

Stage Light

Rocket Lamp

Box Seats

Hanging Stage Lights

Disco Ball
Spa
It's fitting to create a spot for pampering and relaxation in one of the most popular relaxing games. You could do anything from a sauna to hot baths to massages in your little spa.
Furniture Ideas
Rattan Series

Cherry Blossom Series

Shoji Screen

Bathhouse Wall

Cloud Flooring

Put Wooden rugs on it to make a steam effect

Mossy Garden Flooring

Floral Rush-mat Flooring

Cypress Bathtub

Outdoor Bath

Sauna Heater

Noodle Slide

Incense Burner

Shell Music Box
Laboratory

Not every building you make has to be a cute recreation of someplace you can find in any little town. You can make something imposing and technical. The 2.0 update gave us a ton of machinery we can put into a laboratory of questionable ethics.
Furniture Ideas
Future Tech Wall and Flooring

Sci-Fi Wall and Flooring

Gear Tower

Meter and Pipes

Gear apparatus

Inspection Equipment

Robot Arm

Conveyer Belt

Amazing Machine

Unknown Machine

Science Pod

Spaceship Control Panel

Lab-experiments Set

Microscope
Arcade

While you can't play with any games, making a space where it looks fun to sit and play is still fun. I went for more of a board game route on my island, but there are plenty of directions you could go to make an entertaining space for games.
Furniture Ideas
Party Wall

Perforated Board Wall

Lobby Flooring

Dot Flooring

Arcade Seat

Jukebox

Arcade Combat Game

Arcade Fighting Game

Arcade Mahjong Game

Pinball Machine

Capsule Toy Machine

Candy Machine

Crane Game

Board Game

Chessboard
Clothing Store

I love the Able sisters, and their store is so cozy, but you might want to expand or make your own clothing store with different vibes. There's so much clothing to choose from, and you can make a store full of high-end fashion, comfy styles, or cute outfits.
Furniture Ideas
Clothes

Apparel-shop Wall

Mirror

Clothing Rack

Mannequin

Glass Showcase

Stool

Changing Room

Shoeboxes

Accessories Stand

Stack of Clothes

Checkout Counter

Register
Exterior Ideas
The hardest decision you'll face in Animal Crossing is how to decorate your island. You've got so much space and so many options. How do you decide what to make, much less how to make it look good together?
Outdoor Spaces
I've decorated my island with several different areas separated by cliffs and rivers. This lets me use all the items I like, even if they don't go together. You can also just put some of these spaces beside each other without a problem.
Garden

There are many ways to make a garden, and you could call anything a garden as long as you've got a few plants. A bunch of flowers is a great way to make a bug-hunting spot and looks very nice. You can make some paths through the plants and terraform cliffs, rivers, and waterfalls to make it look fancy and natural.
Furniture Ideas
Flowers

Trees

Fountain

Hedge

Topiary

Garden Rocks

Garden Lantern

Benches

Birdbath
Sport Field
Creating a space for your favorite game is a great idea if you like sports and want a large area without clutter. You can choose sports like football, soccer, volleyball, and basketball. You need to do is clear out a rectangular area with the appropriate flooring and add some equipment. If you're feeling ambitious, you could also make custom designs to make the marking found on the court or field.
Furniture Ideas
Basketball Hoop

Ball

Ball Catcher

Baseball Set

Football

Volleyball Net

Soccer Goal

Stadium Lights

Plastic bench

Scoreboard
Picnic Spot

It's easy to over-decorate and lose some of the appeal of a natural island, but leaving areas completely undecorated makes the island feel unfinished.
One solution is to add little hang-out spots as evidence of spending time in the wild spaces of your island. A picnic spot is perfect for squeezing in between some trees to make it look nice and cozy.
Furniture Ideas
Picnic Basket

Outdoor Picnic Set

Ant

Wild Log Bench

Outdoor Folding Chair

Outdoor Folding Table

Campfire

Food and Drink

Flowers

A custom design to make a picnic blanket
Farm

If you want to keep vegetables on your island, it's hard to find a good spot for them without having a farm. You could do a little vegetable patch by your house or make them look like they grow wild, but I prefer the rustic feel of orderly crops surrounded by farm equipment.
Furniture Ideas
Fruit Trees

Crops

Tractor

Silo

Wheat Field

Milk Can

Scarecrow

Hay Bed

Windmill

Country Fence

Brick Well

Beekeeper's Hive
Ruins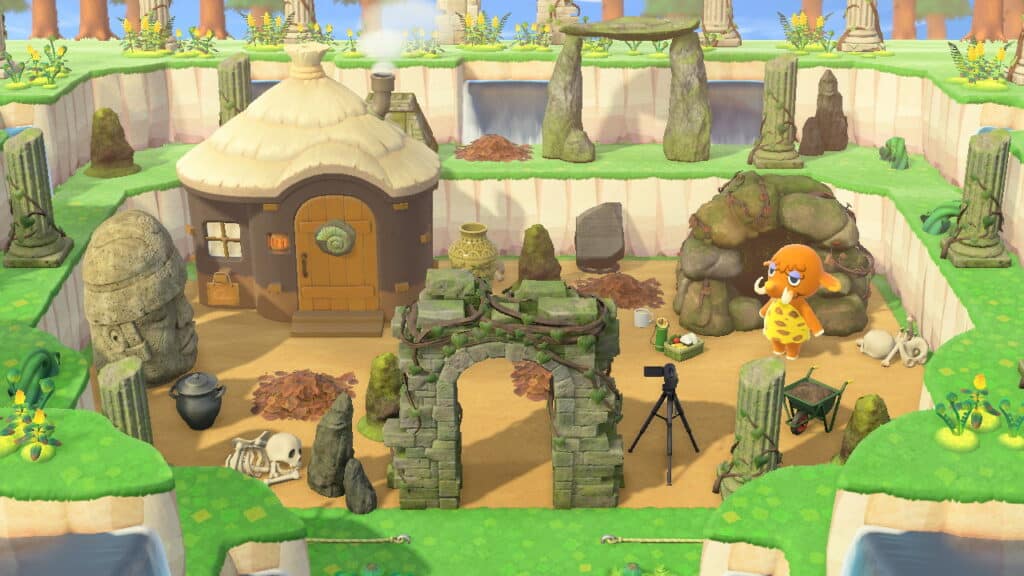 I like decorating my island in a way that tells a story. We may arrive on a deserted island, but what if it wasn't always deserted? Adding some ancient and mysterious ruins to your island gives it a history beyond you and Tom Nook.
Furniture Ideas
Ruins Set

Cave

Decayed Tree

Forbidden Altar

Glowing Moss Statue

Double-edged Sword

Rocks

Glowing Moss Boulder

Glowing Moss Pond

Golden Casket

Stonehedge
Resort

All your villagers wander around your island without a care in the world. Some even comment about how much living there is like a vacation. Why not lean into that idea and make a tropical island resort? I would definitely recommend putting this one near a beach more maximum vibes.
Furniture Ideas
Rattan Series

Stall

Beach Chair

Beach Towel

Coconut Juice

Hula Doll

Pool

Inflatable Bird Ring

Palm Tree Lamp

Poolside Bed
Construction Site

We've all got works-in-progress on your island. Might as well embrace it. If you've got a more urban-looking island, you could add a spot that looks like a large construction project.
Furniture Ideas
Excavator

Bulldozer

Cement Mixer

Chainsaw

Construction Sign

Construction Scaffolding

Iron Frame

Jackhammer

Safety Barrier
Fae Hideaway

As I've already discussed, my favorite furniture is the sets that don't look like traditional furniture. I see a rose bed or mushroom table and can't resist the urge to make a little fairy garden. It's fun to make a little hidden spot toward the back of your island with all the fantastical furniture you can find.
Furniture Ideas
Flower Series

Mush Series

Fruit Series

Cherry Blossom Series

Star Series

Garden Gnome

Pond Stone

Bug Models

Moon

Pine Tree
Playground

Adding a playground to your island is a great way to make it feel more fun-loving and fancy-free. Sure, no one on the island actually works, but there's a difference between an island of relaxation and an island of child-like play.
Furniture Ideas
Elephant Slide

Playground Gym

Sandbox

Tire Toy

Springy Ride-on

Kid's Tent

Toys

Climbing Wall
FAQs
Question: How Can I Make Animal Crossing More Fun?
Answer: If you're unsure how to start having fun in Animal Crossing, start making goals. Find something ambitious to work towards and play with that goal in mind.
If you don't like the game's slow pace, try time-traveling. If you've played a lot and don't find it fun anymore, then take a break. You may be a bit burnt out, play something else for a while and come back later.
Question: What Should I Build in Animal Crossing?
Answer: If you scroll up, there's a nice list of things that might give you a few ideas on what to build. If those don't appeal to you, create something you'd like to see in real life. If even that's too much, pick out any random furniture item and find a way to make it fit.
Question: How do you Make an Island Look Good?
Answer: There are many ways to make an island look good, and the quality of an island is highly subjective. Do what would make you happy, and if you still don't like it, try again. I find that the best islands are the ones that take advantage of any available space without feeling cluttered.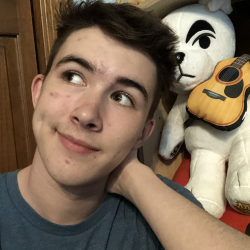 Latest posts by Mika Zans
(see all)