Tutu is one of two current peppy bears (there are three in total; one was turned into a normal type in New Leaf). She appears polar bear-like, making her even more special than your standard bear. She's a crowd favorite for people who love aesthetic islands or cute villagers, and we can all see why.
Bottom Line Upfront
Tutu is in all games in the Animal Crossing universe but Wild World, so she is very easy to get in games! She is unique in many ways, one being her name in Japanese is Rennyū (れんにゅう), which translates to condensed milk! Cute, right? She's one of the three ever peppy bears and one of only 16 bears total! She's a very recent addition to Pocket Camp, being added in January of 2022. Her house and requests are usually based on ice, relating to her polar bear-like appearance. This article goes over all you need to know about Tutu, as well as best gift ideas, amiibo and e-reader information, houses, and more.
General Facts
Gender: Female
Species: Bear
Birthday: September 15
Star Sign: Virgo
First Appearance: Animal Crossing
Personality: Peppy
Catchphrase: Twinkles
Skill: Typing
Hobby: Fashion
Coffee: Blend, regular amount of milk, two spoons of sugar
Preferences
Favorite songs: Bubblegum K.K., K.K. Steppe
Default Clothing: Pink Heart sweater, pink raincoat, red peacoat
Default Umbrella: Toad parasol, Petal parasol
Favorite Colors: Red, Pink
Favorite Styles: Simple, Cute
Least Favorite styles: Cool
Goal: Teacher
Appearance
Tutu is a tall cream-colored bear. She has a simple design, including small ears at the very top of her head, the inside of them being a bright blue. She has a blonde tuft of hair that looks like bangs. Tutu has dark oval-shaped eyes, blush stretching across her face, and a wide nose right below. She has a small smile that nearly touches her nose.
The ends of her arms and legs are an ombre pastel pink, the same as her pink blush!
Personality
Tutu is a peppy villager, which means she has an upbeat, happy personality. Peppy villagers keep up to date with all the trends. They often talk about T.V. shows, magazines, and pop stars! Peppy villagers are all women, as well. Peppy villagers like everyone, but snooty and cranky villagers tend not to get along with them, which can create some drama.
Why You Want Tutu on Your Island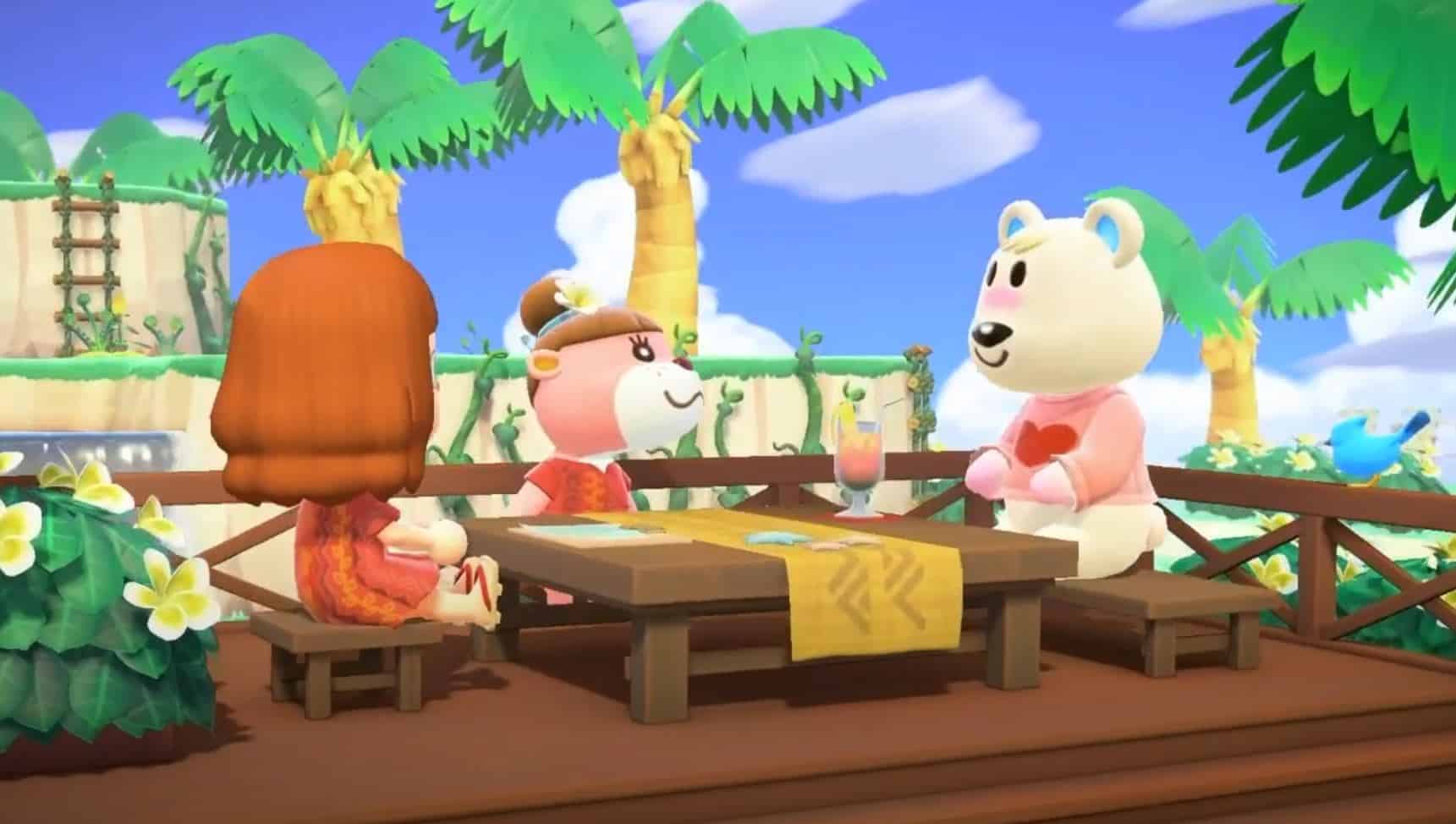 Tutu is sweet and friendly, as peppy villagers are. Because they get along with the player quickly, they make it easy to love them immediately. Because she is also so cute and pastel, she would fit in perfectly with many, many aesthetic islands: pastel, cottagecore, mushcore, and more! Those aesthetics tend only to have shorter villagers, so Tutu will stand out even more with her tall height.
Houses Across Games
Tutu's houses have changed a decent amount but have finally settled into that classic peppy pink decor.
Animal Crossing
Outdoors
The exterior for both Animal Crossing and Dōbutsu no Mori e+ houses are exactly the same, so listen up to hear both at once!
Tutu's house has a pointed red roof with white side panels and wooden accents. The door has a small awning over it, and the door itself is a darker wood with a golden handle.
Indoors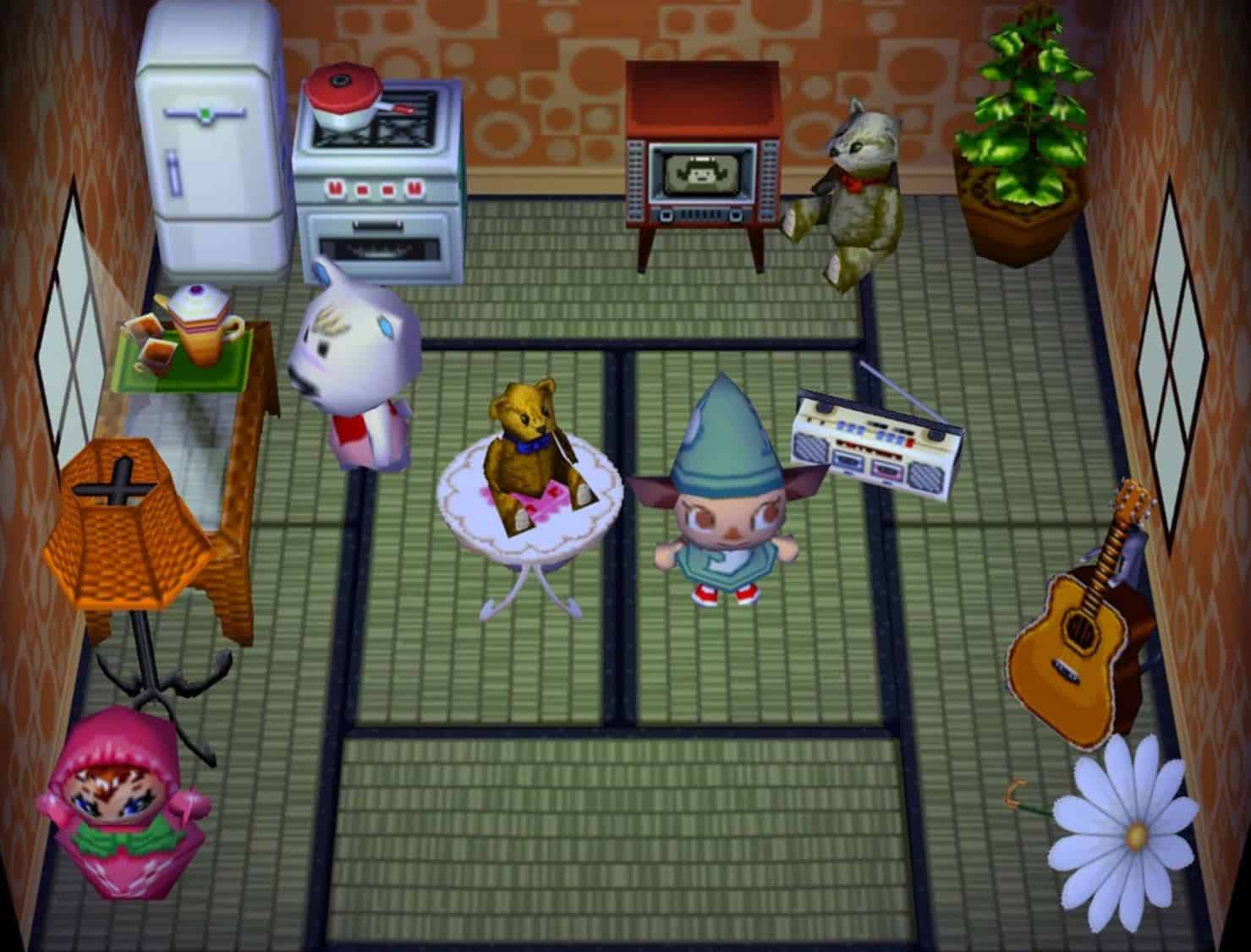 Folk Guitar
White Boom Box
Refrigerator
Tea Set
Stove
Retro T.V.
Pothos
Baby Bear
Mama Bear
Wobbelina
Petal Parasol
Lovely End Table
Cabana Table
Cabana Lamp
Walls are Mod wall
Flooring is 8 Mat tatami
Song is K.K. Steppe
Dōbutsu no Mori and Dōbutsu no Mori e+
Outdoors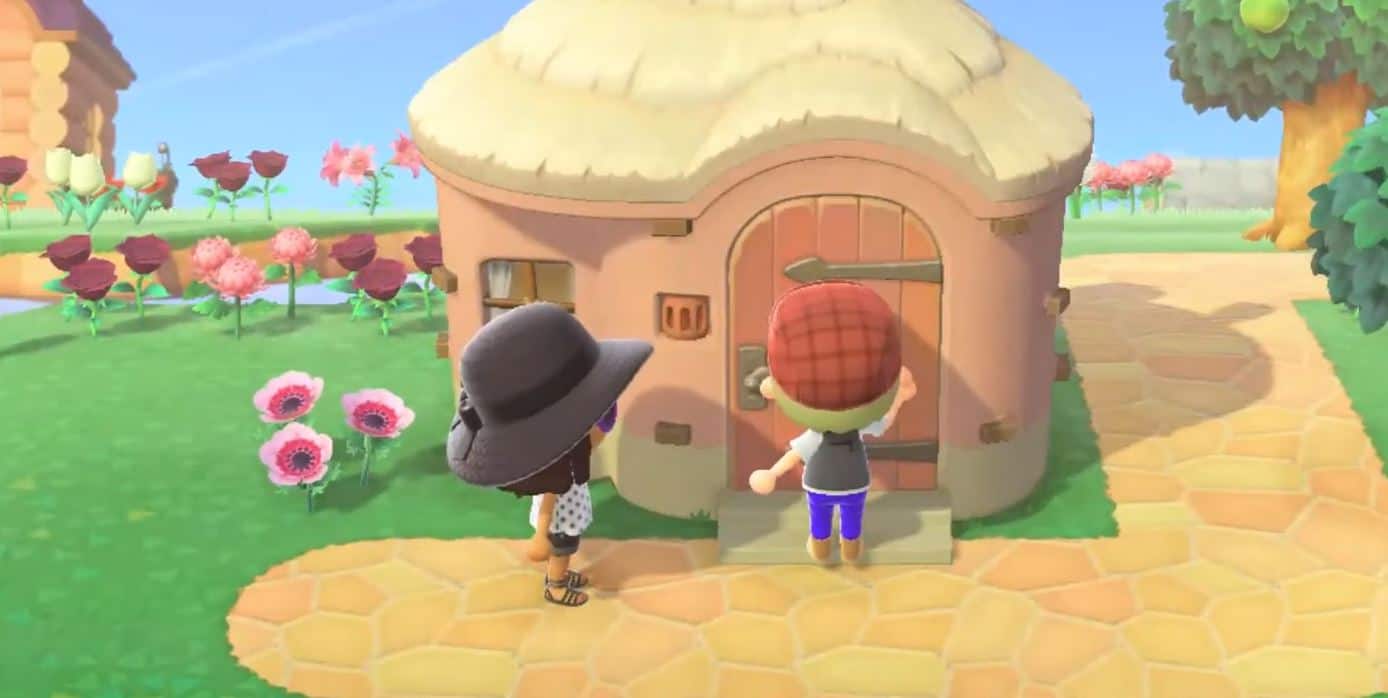 Same as Animal Crossing!
Indoors
White Boombox
Folk Guitar
Pink Kotatsu
Refrigerator
Tea Set
Stove
Pothos
Baby Bear
Mama Bear
Retro T.V.
Massage Chair
Cabana Lamp
Walls are Mod wall
Flooring is 8 Mat tatami
Song is K.K. Steppe
City Folk
Outdoors
There is no outdoor to be found! It's city life.
Indoors
Mama Bear
Refrigerator
Stove
Pink Kotatsu
Classic Buffet
Basic Red Bed
Retro TV
Walls are Mod wall
Flooring is Cabana flooring
Song is K.K. Steppe
New Leaf
Outdoors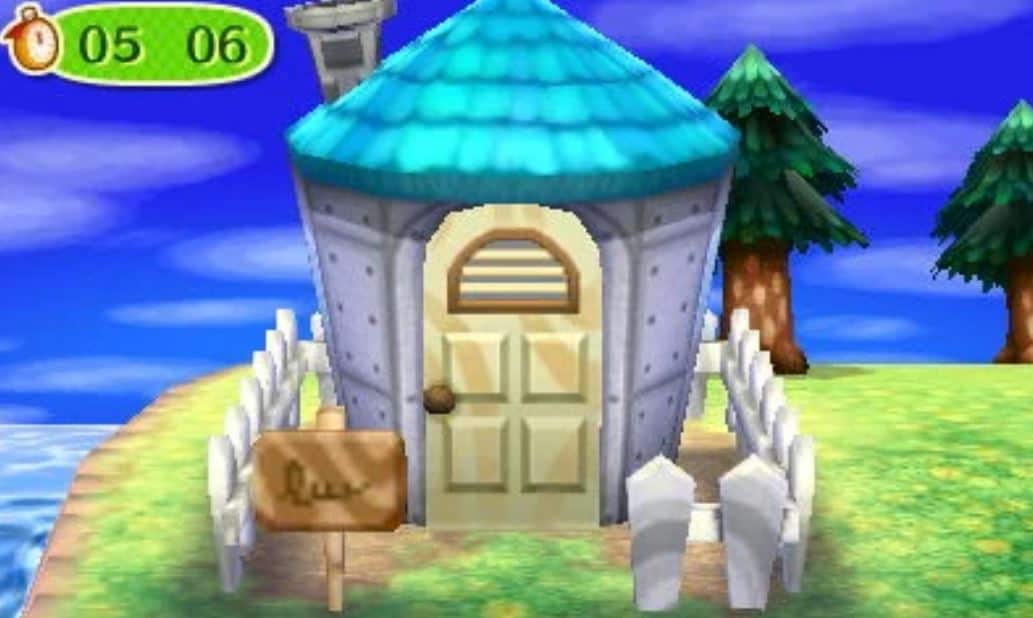 The outside of Tutu's house in New Leaf is the most different of all her houses. It has a blue pointed roof, metal panel siding, and a light birch wooden door with a small window at the top.
Indoors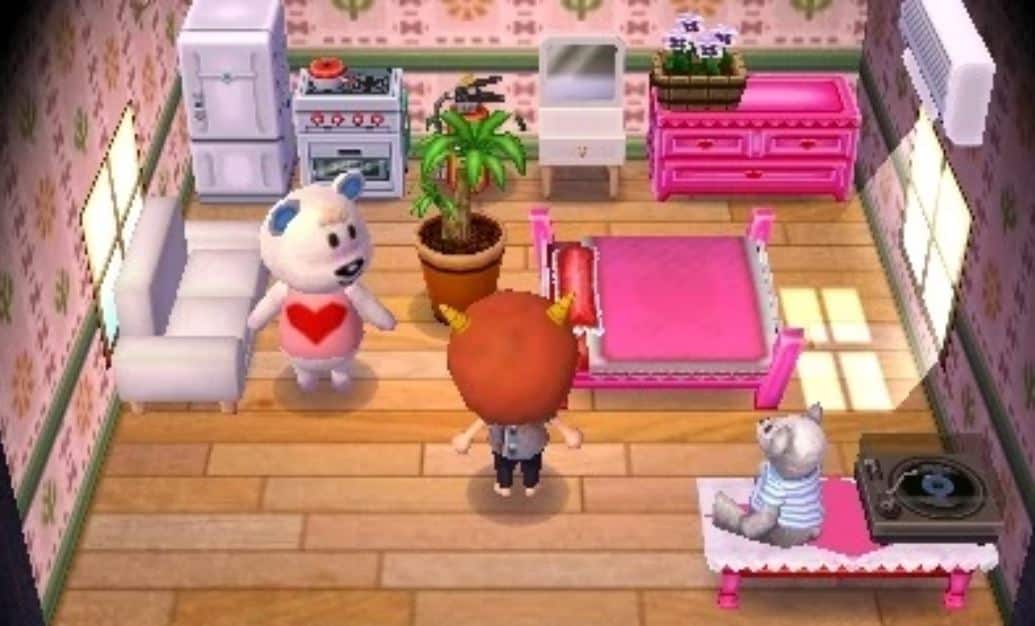 Air Conditioner
Refrigerator
Stove
Extinguisher
Minimalist Vanity
Minimalist Sofa
Minimalist Clock
Lovely Bed
Lovely Dresser
Lovely Table
Mama Polar Bear
Record Player
Dracaena
Mama Polar Bear
White Pansies
Walls are Ranch wall
Flooring is Neutral floor
Song is K.K. Steppe
New Horizons
Outdoors
Tutu's house in New Horizons is a rounded shape with a white thatched roof, pink clay exterior siding, and a pink metal accent door.
Indoors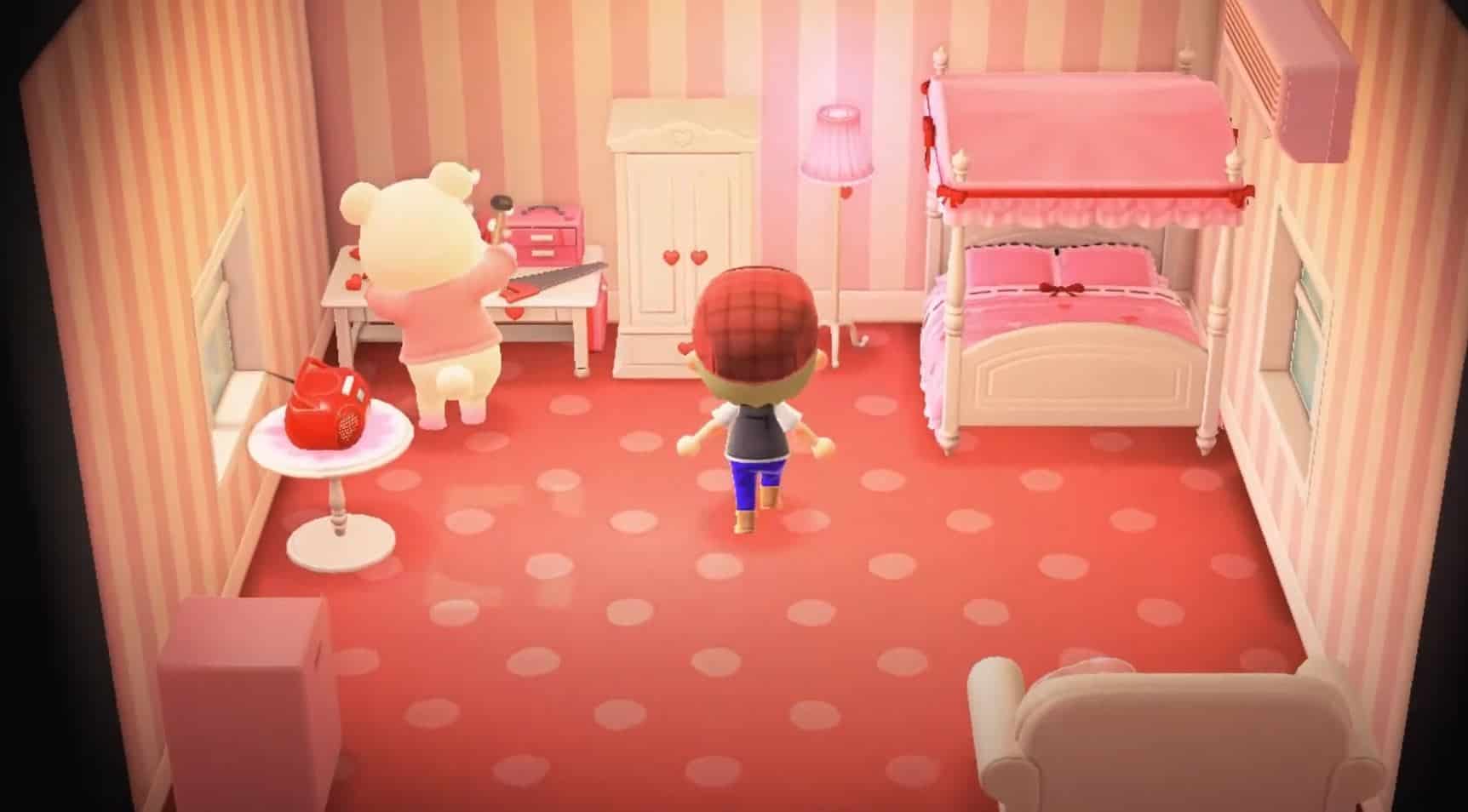 Deluxe Washer
Air Conditioner
Cute Sofa
Cute Chair
Cute Floor Lamp
Cute Music Player
Cute Tea Table
Cute Bed
Cute Wall-Mounted Clock
Cute DIY Table
Cute Wall-Mounted Clock
Cute Wardrobe
Walls are Red-striped
Flooring is Red dot floor
Song is Bubblegum K.K.
Clothing Gift Ideas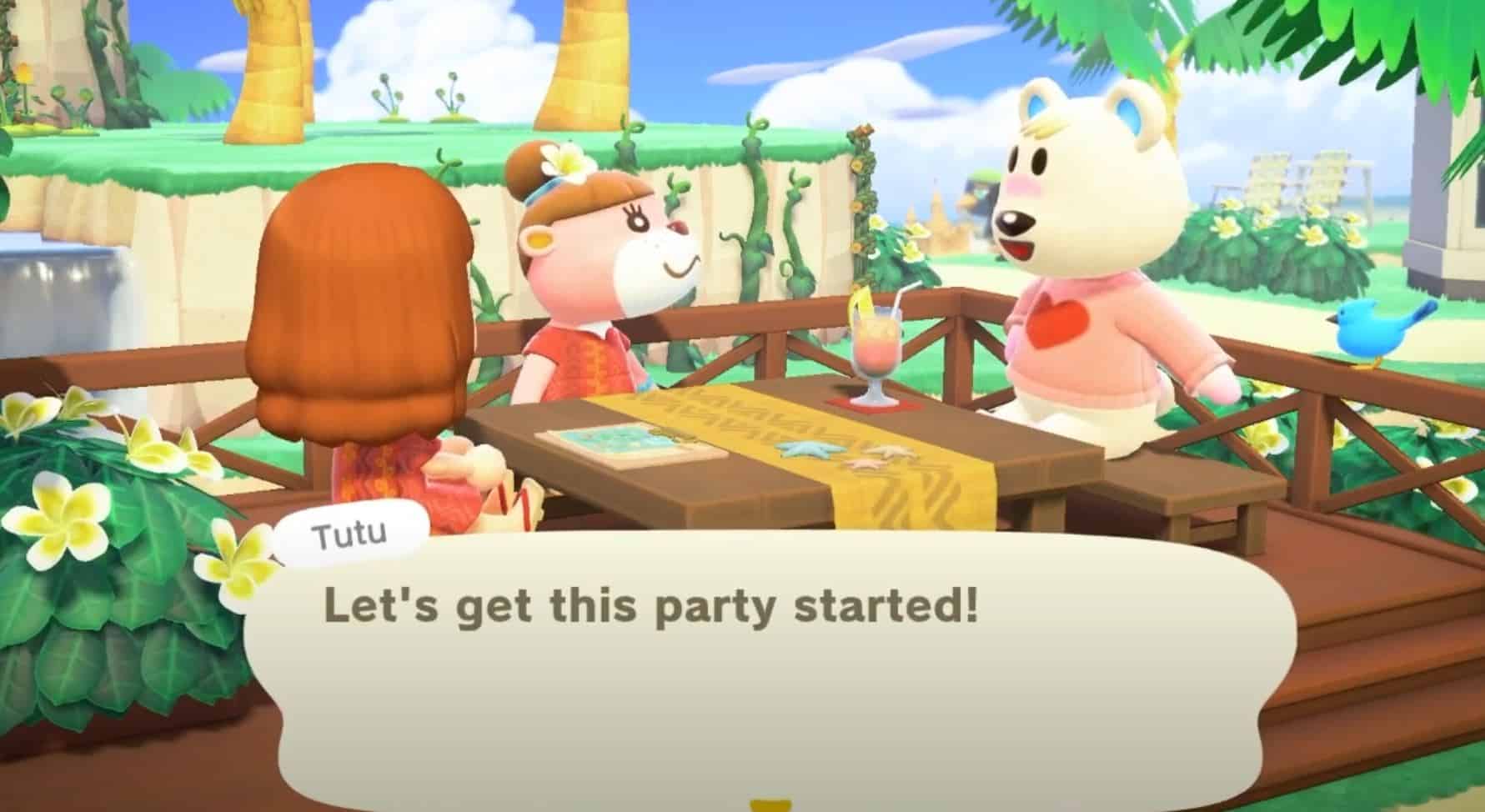 Tutu is fun and easy to dress due to her soft color palette, so you can go with whatever you like, but here's a list of clothing she likes.
Headwear
Red ribbon
Plumeria hairpin
Paperboy cap
Flashy pointy-ear animal hat
Hyacinth crown
Watermelon hat
Cute rose crown
Phrygian cap
Snowy knit cap
Paper restaurant cap
Mario hat
Pom casquette
Tops
Heart sweater
Layered tank
Cardigan-shirt combo
Pom-pom sweater
Boa parka
My Melody shirt
Ni hao tee
Short peacoat
Flannel shirt
Sleeveless dress shirt
College cardigan
V-neck sweater
Striped shirt
Poncho coat
Dreamy sweater
Garden tank
Ribbon-straps tank
Dresses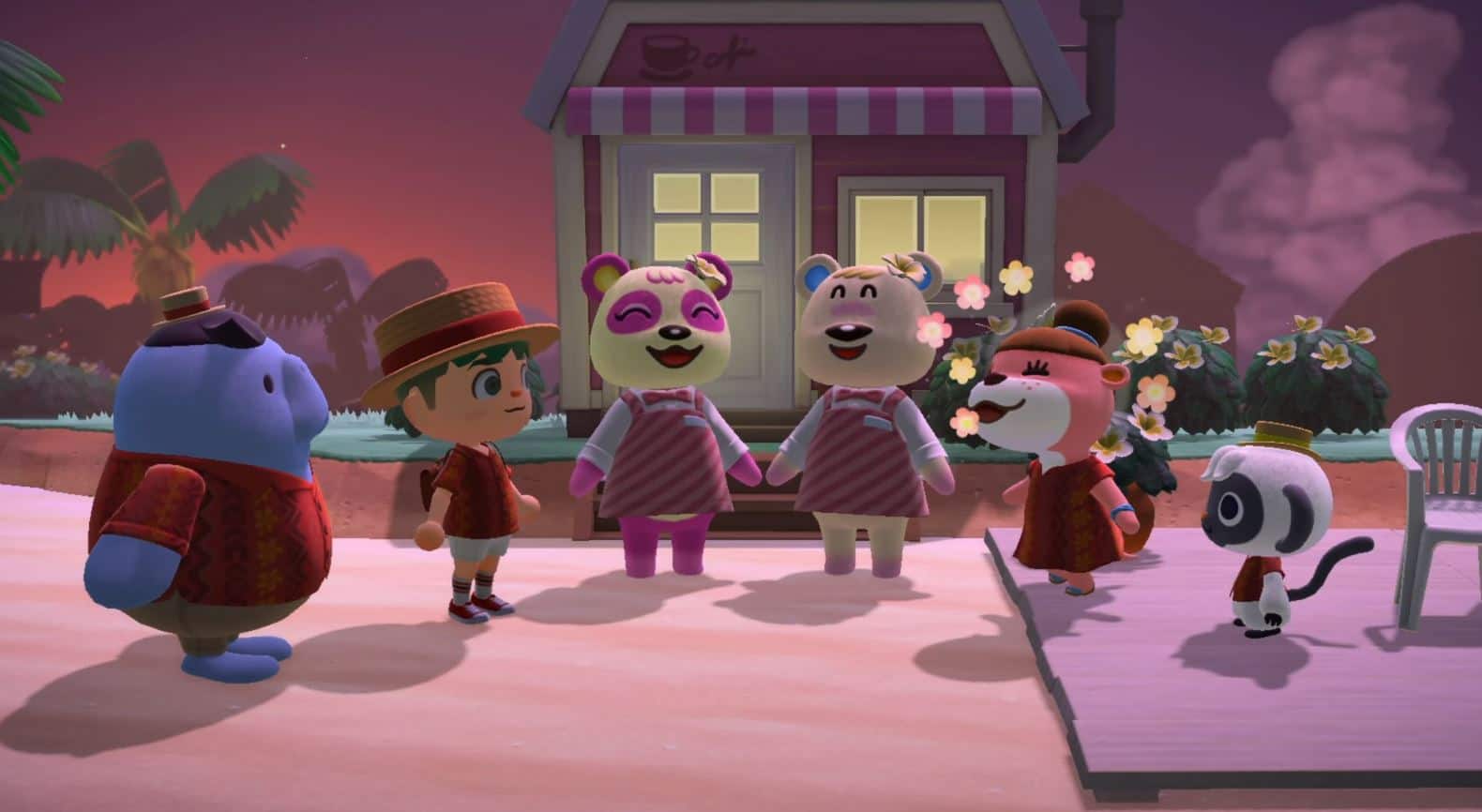 Frilly dress
My Melody dress
Festive tree dress
Flower-print dress
Striped dress
Princess dress
Dreamy dress
Steampunk dress
Lace-up dress
Old commoner's kimono
Ribbons & hearts knit dress
Magical dress
Sequin dress
Denim overalls
Ancient sashed robe
Peach dress
Kiki & Lala dress
Furniture Gift List
For the same reason it's easy to dress her, it's easy to decorate, too! Anything pastel, cute, or flashy will do!
Indoors
Nintendo Switch Lite
Cinnamoroll sofa
Gaming chair
Cartoonist's set
Peach chair
Mum cushion
Thank-you Mom mug
Kiki & Lala cloud maker
Sewing project
My Melody dresser
Gaming desk
Rocket lamp
Shell bed
Book
Mama bear
Makeup pouch
Traditional tea set
Outdoors
Cotton-candy stall
Sandcastle
Bamboo grass
Throwback rocket
Flamingo
Flamingo
Silver mic
Natural garden chair
Springy ride-on
Rattan towel basket
Elephant slide
Swinging bench
Wedding welcome board
Pet bed
Cherry-blossom-petal pile
Illuminated reindeer
Zen-style stone
Pocket Camp
Tutu was added to Pocket Camp in January 2022; she is one of the more recent releases! Tutu's theme is cute, her main gift is paper, and you can only get her via Treasure Trekker map. Her map is of gold rarity.
Her phrase is cute! "Tutu's greatest wish is to be a world-famous cheerleader. Whether you're buying coffee or pulling weeds, she'll be there to cheer you on. How else would she practice?"
How to get Tutu in Pocket Camp
Tutu and Pals' Island from Gulliver is the only way to get her map!
Level gifts:
At level 7, you'll get a heart tee and one sparkle stones
At level 9, you'll get one sparkle stones
At level 15, you'll get a strawberry shaved ice request
At level 20, you'll get Tutu's pic and one sparkle stones
At levels 25-70, you'll get one sparkle stones every five levels
Happy Homes
Tutus' first thought bubble reads, "I love shaved ice, so I need someplace SUPER chill…."
The Client's vision is "A Place to Literally Chill." Her required items are a  Shaved-Ice Maker and a Windflower Fan. Her favorite song is K.K. Faire.
This is another fascinating and lenient theme! This idea has to be based on her appearance, which looks much like a polar bear. Yes, it has to be literally chill, but who said it couldn't be metaphorical, as well?
Amiibo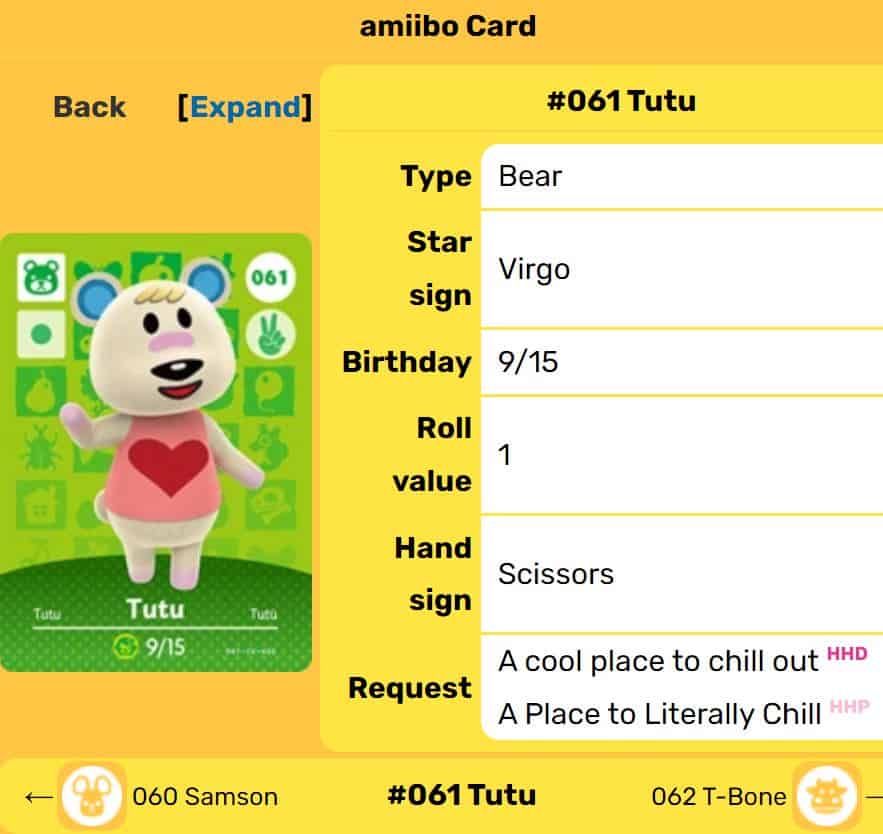 #061 Tutu's amiibo is a darker green, with Tutu posed playfully in the middle. Tutu's amiibo is from Series One. The card features her star sign (Virgo), her birthday (September 15), the dice value is 1, and her hand sign is scissors. These symbols are on the left and right corners.
E-Reader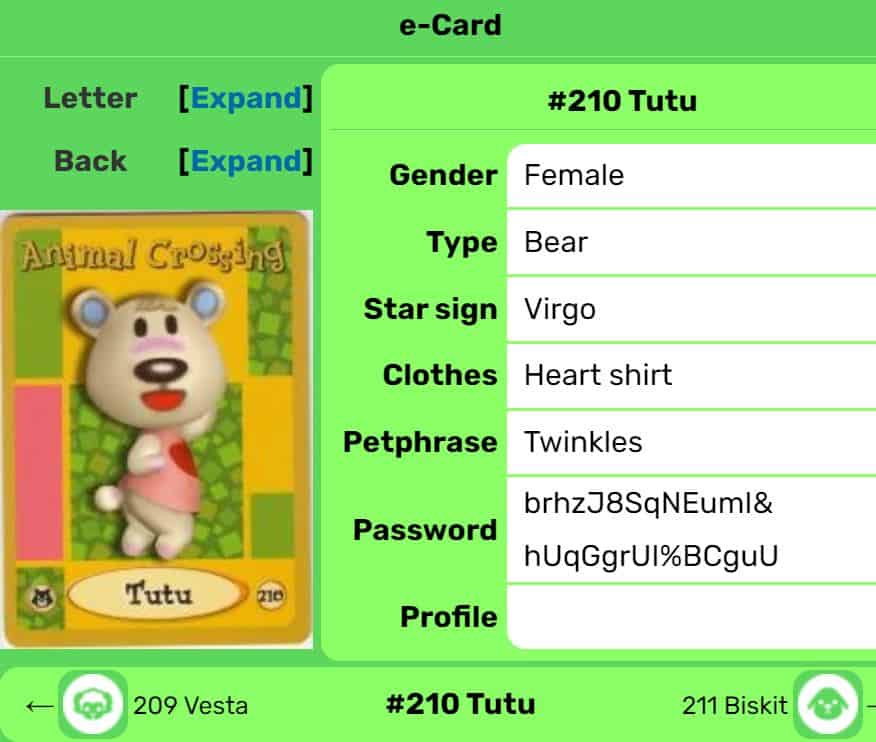 #210 Tutu's e-reader card is filled with shapes of different colors, and she's posed with her hand on her hip and head. On the back, it shows much more information: her gender (female), her star sign (Virgo), her clothes (heart shirt), and her "pet phrase," which is twinkles.
Her profile reads: "Tutu, who hails from the North Pole, is sold when it comes to eating anything cold. Snacks that make most creatures freeze, Tutu can eat with consummate ease. There's nothing Tutu likes better than a good brain freeze. Snow cone, anyone?"
FAQ:
Question: Is Tutu rare?
Answer: Not particularly. She has an e-reader card and an amiibo and has been in every game since Animal Crossing. She can come into your village or island naturally.
Question: Are there plushies of Tutu?
Answer: No officially licensed plushies from Nintendo of Tutu, but small businesses carry their own version of her merch!
Question: Is Tutu popular?
Answer: Tutu is a solid B-tier villager on most lists, so she is liked but maybe not too well known. Everyone I've known that has had Tutu loved her, and I'm sure you would love her too! The polar/cold theme is similar to some penguins but with a bear twist.
Conclusion
Tutu is an enjoyable inclusion to any Animal Crossing game, and I cannot recommend her more. Her aesthetic is cutesy and fun. Her upbeat personality and adorable interactions will brighten your whole day.
Looking for more interesting readings? Check out: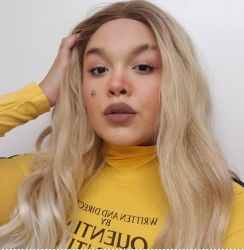 Latest posts by Lillie Forteau
(see all)