When you hear the name "Wolfgang," what immediately comes to mind? It is an immensely famous and common name, especially in Europe. From Catholic saints to German royalty, you will find a Wolfgang. The most popular one is the Austro-German composer Wolfgang Amadeus Mozart.
With its widespread fame, finding a villager with the name is not a shock. The Animal Crossing creators are a smart, clever, and cheeky bunch (seriously, look in between the lines of dialogue, and you will find a lot of puns). With their brilliance, they assigned the name to a wolf villager since the first-ever game.
However, in a strange and confusing way, they did not make Wolfgang's hobby into music. Instead, they made him interested in education. Why? Because in the original Japanese game, his name was just "Lobo," which is the Spanish word for "wolf." In short, his original name was just… "wolf."
Wolfgang in Animal Crossing has many interesting tidbits in his history despite his straightforward appearance. If you have him on your island or you are interested in learning more about him, this article is right up your alley. I also share ideas for making his HHP vacation home if you need them.
Bottom Line Up Front
Wolfgang is a wolf villager with a cranky personality. He appears in every game, both mainline and side games. He mostly retains his house design from Animal Crossing to New Leaf, although they changed it entirely during New Horizons. Wolfgang's star sign is Sagittarius since his birthday is on November 25.
Gender: Male
Species: Wolf
Birthday: November 25 (Sagittarius)
First Appearance: Dōbutsu no Mori
Personality: Cranky
Catchphrase: "Snarrrl"
Preferred clothing style: Cool and active
Preferred colors: Black and green
What does Wolfgang Look Like?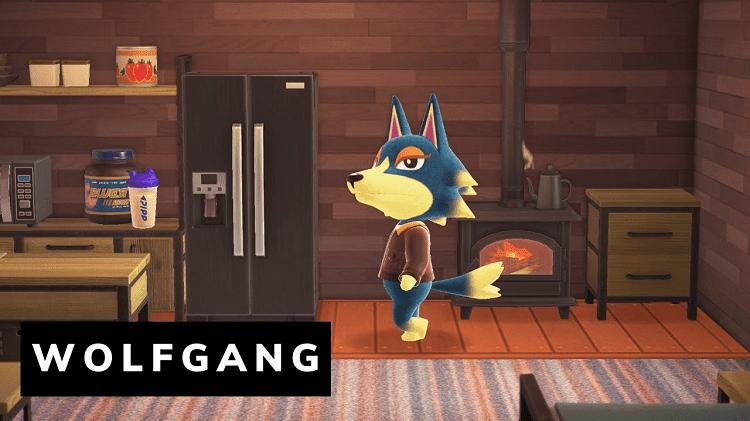 Wolfgang is a wolf with mostly navy-blue fur. Some areas of his body are creamy yellow, particularly the tips of his cheek fur and tail, muzzle, hands, and feet. There is also a creamy yellow outline inside his blue ears, although the insides are mostly purple.
His muzzle and ear outline imply that his skin is creamy yellow while sporting highlights of the same color on his cheek fur. His nose is black, and his eyes are white with black irises and white pupils. He also has orange eyelids and brown eyelashes, which are usually visible because he closes his eyes halfway.
Wolfgang dons a top called the Gracie's Top in Animal Crossing, and he continues wearing it until City Folk. It is a primarily blue shirt with long sleeves and circular patterns. The circles have thick, green outlines and an orange spot inside.
He sports the Gracie Tank in New Leaf, though, which has a similar design as his previous outfit but without any sleeves. Finally, he wears a brown Flight Jacket in New Horizons. It has a yellow collar, dark brown cuffs, and two big pockets on its stomach area.
What is Wolfgang's Personality?
Wolfgang is one of five cranky wolf villagers. If you want a detailed description of how cranky villagers work, I suggest you read our guide about them. Yet, if you want a short explanation of his personality, continue reading.
Wolfgang may act more maturely than others, which may annoy certain types of villagers. He will get along with other cranky villagers as well as lazy and snooty ones. Wolfgang can vibe with lazy neighbors since both personalities tend to be chill. He also loves snooty people due to their habits of gossip.
However, Wolfgang may occasionally get on the nerves of normal, big sister, and peppy villagers. Although he looks and sounds rude on the outside, he is a nice fellow once you get to know him. Similar to other cranky villagers, Wolfgang wakes up at 9 AM and sleeps at 3 AM in New Horizons.
Reasons why You should have Wolfgang on Your Island
I can compare Wolfgang, as with other cranky villagers, to an onion; they appear foul on the outside but have many layers of depth on the inside. He seems rude, but he is a nice person. If you want someone you can chill and hang out with, you can count on Wolfgang.
He can also fit in many themed islands. If you are collecting wolf villagers, you will be forced to reject one since there are 11 of them. Wolfgang should be in your collection because no other wolf has the same colors as him. It also fits his cranky personality.
You can also include Wolfgang on an island full of cranky villagers with a navy-blue appearance. Other notable inclusions would be Boris the pig, Cyrano the anteater, Groucho the bear, Peewee the gorilla, and Tom, the cat.
Wolfgang's House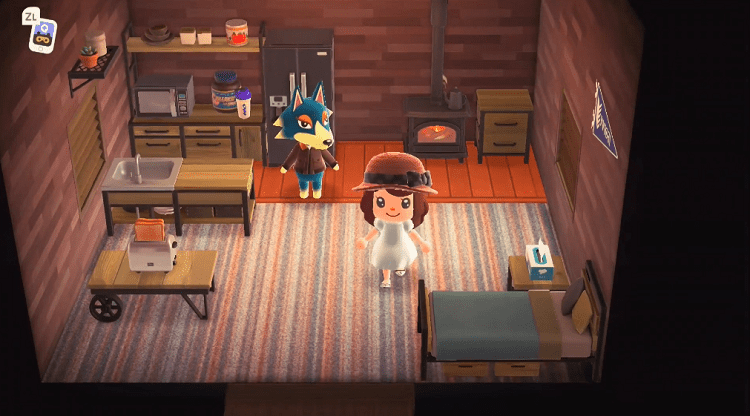 Animal Crossing
Wolfgang owns a house with an emerald-green slated roof and white walls. Below is a list of Wolfgang's items.
High-End Stereo
Mega Howloid
Modern Bed
Modern End Table
Piranha
Rock Guitar
Tricera Skull
Tricera Tail
Tricera Torso
The walls are Concrete Wall
Flooring is Modern Tile
Song is K. K. Rock
Wild World and City Folk
Wolfgang has the same items in these games, although the room layouts are different. They are listed below.
High-End Stereo
Howloid
Mini Echoid
Mini Howloid
Modern Bed
Modern Sofa
Piranha
Rock Guitar
The walls are Concrete Wall
Flooring is Modern Tile
Song is K. K. Song
New Leaf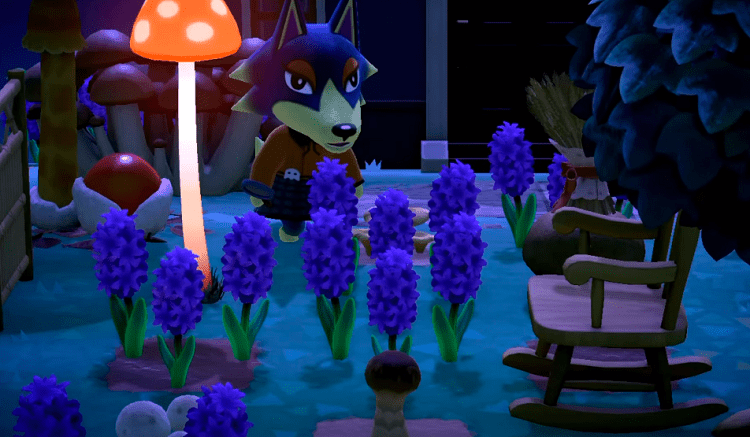 Wolfgang's house in New Leaf has a black arched roof, yellow walls, foundations made of dark wood, and an orange door with a semicircle window. It is surrounded by a cement brick fence with white, purple, and blue flowers on the side. You can find the following items inside:
Cardboard Table
High-End Stereo
Howloid
Mic Stand
Mini Echoid
Mini Howloid
Modern Bed
Modern Table
Piranha
Rock Guitar
The walls are Concrete Wall
Flooring is Modern Tile
Song is K. K. Song
New Horizons
Wolfgang's house received a complete overhaul in New Horizons. From the outside, his house has a black tiled roof, stucco walls painted blue with a dark gray baseboard, white trims, and a black door with a yellow handle. Wolfgang has the following items in his house:
Brown Wooden-Deck Rug (x2)
Double-Door Refrigerator (body: black)
Iron Wall Rack (body: black)
Ironwood Bed (body: old; pattern: blue-gray)
Ironwood Chair (body: old)
Ironwood Clock (body: old)
Ironwood Cupboard (body: old)
Ironwood DIY Workbench (body: old)
Ironwood Dresser (body: old)
Ironwood Kitchenette (body: old)
Ironwood Low Table (body: old)
Microwave (body: black)
Pennant (body: sponsor)
Pop-Up Toaster (body: silver)
Portable Record Player (body: blue)
Protein Shaker Bottle (body: vanilla flavored)
Tissue Box (body: blue)
Wood-Burning Stove
The walls are Dark Wooden-Mosaic Wall
The flooring is Stripe Flooring
Song is K. K. D&B
The Best Furniture to Gift Wolfgang
You can get past Wolfgang's grumpy side and befriend him by giving him gifts that he would love. Wolfgang prefers black and green furniture. Below is a list of sample furniture pieces that he would love.
Housewares for Wolfgang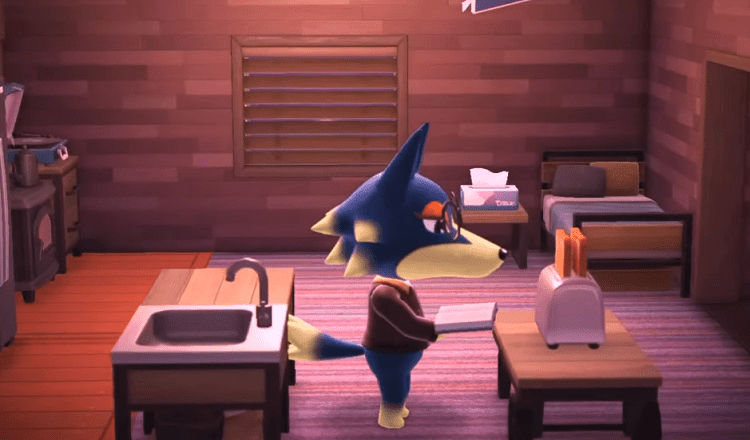 Luxury Car
Elaborate Kimono Stand
Cold Sleep Pod
Electric Bass
Elegant Bed
Gaming Chair
Nordic Table
Bistro Table
DJ's Turntable
Inspection Equipment
Science Pod
Plant Partition
Steamroller
Minicar
Stage Flame Machine
Miscellaneous Furniture for Wolfgang
Elegant Lamp
Professional Headphones
Decorative Plate
Mini Circuit
Soup Kettle
Cassette Player
Cooler Box
Pedal Board
Fish Container
Decorative Bottles
Backlit Sign
Floating-biotope Planter
Ring Light
Cat Grass
Beach Ball
The Best Outfits to Gift Wolfgang
Wolfgang may be a cranky boy, but he deserves to look spick and span. He likes active and cool clothes that are either black or green (or both). If you are looking for ideas on how to dress up Wolfgang on your island, here are some ideas. These outfits include a top or dress-up, headwear, and accessory.
The Green Hipster
Headwear: Phrygian Cap (green variant); costs 880 Bells
Top: Fuzzy Vest (green variant); costs 1,300 Bells
Accessories: Browline Glasses (green variant); costs 1,040 Bells
Total outfit cost: 3,220 Bells
There is no one crankier than the hipster. In the bad stereotypes, they gatekeep things to make themselves feel special and complain when others are not into their taste. It is the definition of cranky, and Wolfgang can fit into his personality more with The Green Hipster attire.
When I think of a hipster, I imagine a bearded man with thick-framed glasses, a cap or beanie, and a checkered button-up shirt or some form of a vest. For Wolfgang, these clothing items will do the trick. The Phrygian cap looks like a large beanie, the glasses fit the hipster aesthetic, and the top completes it.
Alternatively, you can use the green Fedora instead for 1,100 Bells or the Lettered Cap for 560 Bells. Other options for the top include the green Argyle Vest for 1,440 Bells or the green Flannel Shirt for 1,200 Bells. I recommend leaving the glasses on, though, because it sells the hipster image pretty well.
Dark Mode Geek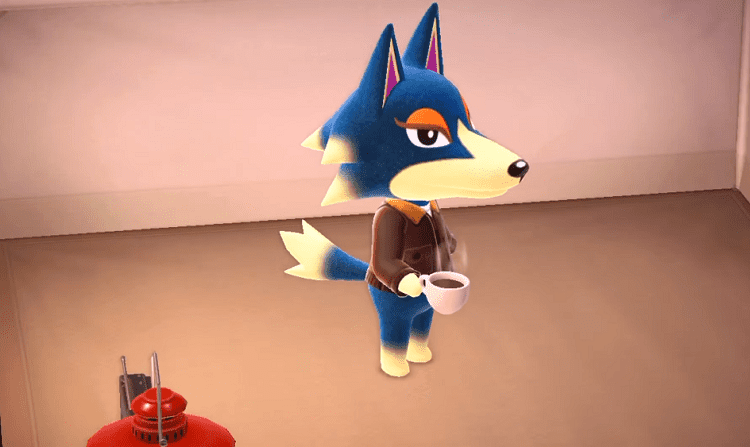 Headwear: Denim Cap (black variant); costs 770 Bells
Top: Robot Hero Tee (black variant); costs 800 Bells
Accessories: Pixel Shades (black variant); cost 1,320 Bells
Total outfit cost: 2,890 Bells
Another way to express the cranky vibes inside Wolfgang is by making him a geek. He is passionate about superhero movies and video games. He constantly expresses his love for something on forums and threads and attacks people who disagree with him on the internet; it is a common sight nowadays.
In the traditional stereotype of a geek who is always gluing his face on the monitor, he loves dark mode. The Dark Mode Geek outfit accomplishes two things. Firstly, it fulfills the stereotype. Secondly, it gives Wolfgang black clothes with cool and active styles, which is something he likes.
Everything is on point. The glasses and top shout out, "I'm a geek." Meanwhile, the cap can be merchandise with a print on it. It is up to your imagination, after all. If the glasses are not to your liking, you can try out the blue Butterfly Shades instead for 1,040 Bells.
Gullivarrr's Jolly Roger Set
Headwear: Pirate Bandanna (black variant)
Top: Pirate Outfit (black variant)
Accessories: Pirate Eye Patch
Total outfit cost: N/A (Get them from Gullivarrr a.k.a. Pirate Gulliver)
Gullivarrr is the pirate version of Gulliver introduced in New Horizon's Summer Update, and he acts similarly to our seagull friend. He washes up on the beach unconscious, and when you wake him up, he will ask for your help.
After finding his communicator by diving, he will give you a present the next day. Sometimes, he will send you clothes, and surprisingly, some of his clothes fit Wolfgang's preferred styles and colors. The items listed here are all black with active and cool styles.
So, why not make Wolfgang a cranky pirate? Getting the clothes may be hard, but dressing Wolfgang up as a swashbuckler is golden. If you can't get your hands on the Pirate Bandanna, you can try the Pirate's Hat, another Gullivarrr item.
How to Design Wolfgang's Vacation Home
Wolfgang's Exterior Design
I recommend assembling a stage outside his house to make him look more like a rockstar. You can place the instruments here, especially the required items; this way, you do not need to place them inside the house, giving you more space for other things.
If you are going in this direction, I suggest adding chairs and tables where people can chill while listening to Wolfgang's performances. You can also make the exterior like a bar where people can order food and drinks while a performer sings or plays music on stage.
Add a kitchen with wares like a fridge and stoves to complete the bar design. You can also add various lighting pieces to give the place some illumination. If you do so, I suggest turning the day to night.
Wolfgang's Interior Design
I recommend the Black Perforated-board Wall as Wolfgang's wallpaper to his house a recording studio look. You can also try out the Club Wall if you want something more intimate.
You can pair the former with dark floorings, like Monochromatic Tile Flooring or Dark Herringbone Flooring. As for the latter, pair it with the Club Flooring.
You can designate an area of Wolfgang's house as a performing stage where you can put the Stage Lights, Amp, and Rock Guitar. You can also place other instruments in that specific area, like a Mic Stand, Silver Mic, Drum Set, and DJ's Turntable. I recommend adding a partition for Wolfgang's bedroom.
However, if you designed the exterior as a stage for his performances, I suggest skipping this area and making his interior homier. Add a living room area, too, and place sofas, tables, and the like. I recommend adding rugs to complete the look. Also, design a kitchen for him!
Wolfgang in Pocket Camp
Wolfgang has been in Pocket Camp since 2018. In this mobile game, he wears the Gracie Tank. Wolfgang prefers the modern theme. Steel is his main reward. To invite Wolfgang, you need the following items:
Desk Light
Desktop TV
Massage Recliner
Modern Cabinet
Modern Desk
Wolfgang's Friendship Gifts
At Lv. 7, you will receive one Gracie Tank and Sparkle Stone
At Lv. 9, you will receive one Sparkle Stone
At Lv. 15, you will receive a crafting request for the Uluru
At level 20, you will receive Wolfgang's Pic and one Sparkle Stone
At Lv. 25-65, you'll get one Sparkle Stone every five levels
Wolfgang's e-Reader Card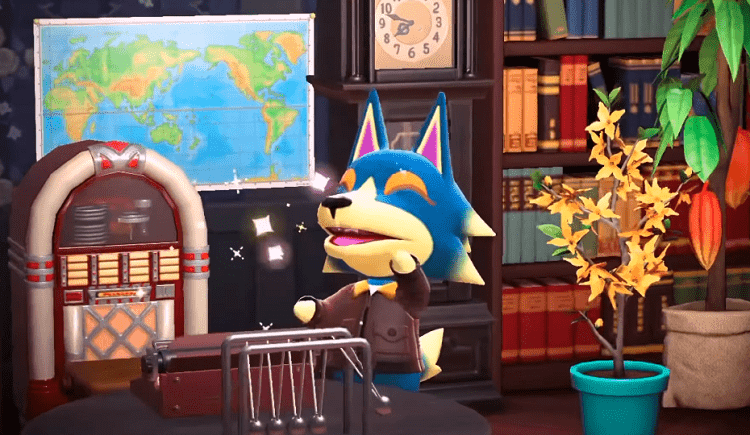 Wolfgang's e-Reader Card has a green background with different cubes inside and a large, yellow "X" over it. At the center is Wolfgang, slightly facing his left with his left arm extended. Meanwhile, his right hand sits at his hip.
The card also contains his name, a wolf symbol, and his card number (#141) at the bottom. Flipping the card reveals more info about him, including his star sign (Sagittarius), his pet phrase ("snarrrl"), his clothes, and his profile.
Wolfgang's Amiibo Card
Wolfgang's Amiibo Card has a cyan background with symbols of a house, butterfly, balloon, pear, and more. There is a wolf symbol on the top-left and a die with a face value of three below it. Then, Wolfgang's card number (#255) is in the top-right corner, and below it is a symbol of a closed fist.
Wolfgang's body is facing behind, yet he looks slightly to the right. Both his hands are resting on his hips. At the bottom, you can see his name, species, birthday, and star sign symbol.
Fun Facts about Wolfgang
I mentioned a fun fact about Wolfgang's name in the intro. However, he holds more surprises that you might not know! Below is a list of unique attributes that Wolfgang has.
You can see Wolfgang on the covers of the following K. K. Slider songs: Animal City, K. K. Adventure, and K. K. Waltz.
Out of 11 wolf villagers, Wolfgang is one of the five cranky ones alongside Chief, Dobie, Fang, and Lobo.
Only Whitney and Wolfgang are the wolves whose name starts with the letter 'W.'
Only Lobo and Wolfgang are the wolves whose birthday is in November; Lobo's birthday is on November 5, while Wolfgang's is on November 25.
Lobo, Wolfgang, and four other cranky villagers were born in November, namely Knox (born on November 23), Boris (born on November 6), Butch (born on November 1), and Kabuki (born on November 29). They constitute 10.5% of New Horizons' cranky villager population.
Wolfgang shares the Sagittarius star sign with four other wolf villagers, i.e., Chief (born on December 19), Fang (born on December 18), Freya (born on December 14), and Kyle (born on December 6).
Chief, Fang, Wolfgang, and six other cranky villagers share the Sagittarius star sign, i.e., Kabuki the cat (born on November 29), Knox the chicken (born on November 23), Buzz the eagle and Monty the monkey (both born on December 7), Rooney the kangaroo (born on December 1), and Tom the cat (born on December 10). They constitute 15.8% of the cranky population and 27.27% of the Sagittarius population in New Horizons.
Chief, Lobo, and Wolfgang are the only wolf villagers who have appeared in all mainline and side games, but two more wolf villagers (Fang and Freya) debuted in Doubutsu no Mori.
Wolfgang is one of the 17 cranky villagers who have appeared in all mainline and side games, but 35 cranky villagers debuted in Doubutsu no Mori.
Wolfgang is part of the six male wolf villagers, which constitutes 54.55% of New Horizons' wolf population.
Wolfgang is the only wolf villager who likes black and green. However, Kyle and Lobo like black, while Audie and Freya like green.
Only Wolfgang and Gonzo, the koala, are the cranky villagers who like black and green. However, 26 more like black while three more like green.
Only Lobo and Wolfgang are the wolf villagers who like cool and active styles. However, Dobie, Kyle, Fang, Freya, Whitney, and Chief like the cool style, while Audie likes the active style.
Wolfgang is one of the ten cranky villagers who like cool and active styles. Two more like the active style, while 39 more like the cool style.
Frequently Answered Questions
Question: Is Wolfgang in New Horizons?
Answer: Yes, Wolfgang is in the latest game in the franchise, New Horizons. He has the same personality as in the previous games.
Question: Is Wolfgang Rare in Animal Crossing?
Answer: I would not categorize Wolfgang as a rare villager in Animal Crossing, but he is still a valuable villager in the games. The cranky personality is the most common one among the wolves, but he is the only wolf with navy blue fur. His preference for colors is unique among the wolves but not among the cranky villagers.
Question: What does Wolfgang Like in Animal Crossing?
Answer: Wolfgang likes green and black furniture and clothes in New Horizons. He also likes cool and active styles of clothes.
Conclusion: Is Wolfgang a Good Villager?
Yes, he is. Wolfgang is a charming villager that caught my eye as soon as I met him. While he is not on my island, I saw him on the Happy Home Paradise program and invited him to design his house. I love his obsession with rock and roll because I would not expect him to be a rockstar.
I connect with Wolfgang because of his ambition to be a journalist in New Leaf. As a writer and journalist during my university days, I would totally vibe with him if I were in the Animal Crossing world. Among the cranky villagers, I think Wolfgang is a great pick.
Wolfgang also looks amazing in a lot of clothes. Among the outfits I assembled, I love how the Dark Mode Geek attire fits him. The black clothes complement Wolfgang's fur. You can also give him blue clothes as long as they have cool or active styles.
Looking for more interesting readings? Check out:
Latest posts by Arthur Monteclar
(see all)