Hazel is a new villager in the Animal Crossing franchise, first appearing in Animal Crossing: New Leaf and continuing in Animal Crossing: New Horizons.
Although she is recent and there's less information on her than other seasoned villagers, we know she has a great personality and stands out from all the other 487 villagers. Why?
Bottom Line Upfront
So, what's the skinny on Hazel? Hazel is the only squirrel with a sisterly personality type. Meaning up until New Leaf, there were no sisterly squirrels (maybe only children?).
Because she's sisterly, she will be a bit more friendly to you immediately. Sisterly types will care more and push you more, making shady comments every once in a while.
General Facts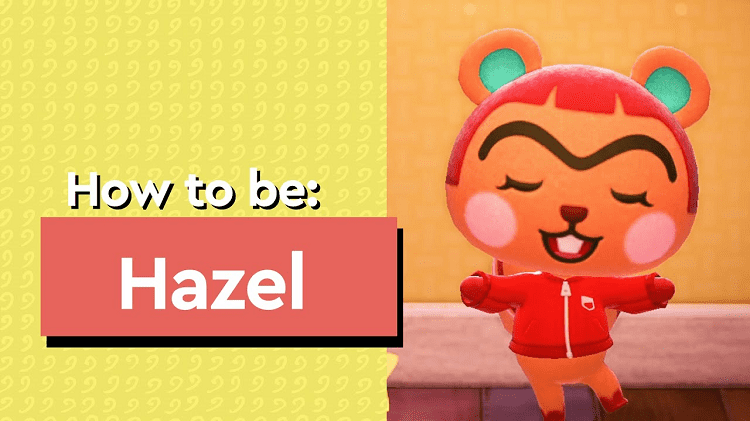 Gender: Female
Species: Squirrel
Birthday: August 30th
Star Sign: Virgo
First Appearance: New Leaf
Personality: Big Sister
Catchphrase: uni-wow!
Skill: Making budgets
Coffee: Blend, no sugar, no milk
Halloween fear: Monster mask
Preferences
Favorite songs: K.K. Disco, DJ K.K.
Default Clothing: Athletic jacket
Default Umbrella: Sunny parasol, apple umbrella
Favorite Colors: Orange, red, yellow
Favorite Styles: Iconic, active, and cute
Least Favorite styles: Ornate
Goal: Dentist
Appearance
Hazel is an orange squirrel. She's a small villager. The insides of her tiny ears are turquoise, a color not seen anywhere else on her. Her hair is darker orange/brown, cut into a bowl cut or bangs. That same color is on her hands and feet.
Her tail has a swirl of orange/brown and a light pink swirl that looks like the same color as her blush. Her face is the most defining feature though, sporting a dark unibrow that stretches the width of her face.
She also has black eyes with a comma-like shape or a small wing liner. She has a small mouth pointed like an upside-down V, and a big white tooth sticking out.
Personality
Hazel has the Sisterly personality type, which means she treats the player like a big sibling or as an older, wiser friend. Sisterly villagers will give you medicine when you've been stung, and they'll tell the player stories from their childhood. They will even give you advice or promise to protect you.
Sisterly villagers do not get along with cranky, snooty, and smug villagers. However, they get along with peppy, lazy, normal, and jock villagers.
Why You want Hazel on Your Island
Hazel is unique for many reasons! She's the only sisterly squirrel, has a unique face with a dark unibrow, and is a very sincere and sweet creature. She is one of the many villagers that you'll be paired with first in New Horizons and is a solid pick if you get her first try!
Houses Across Games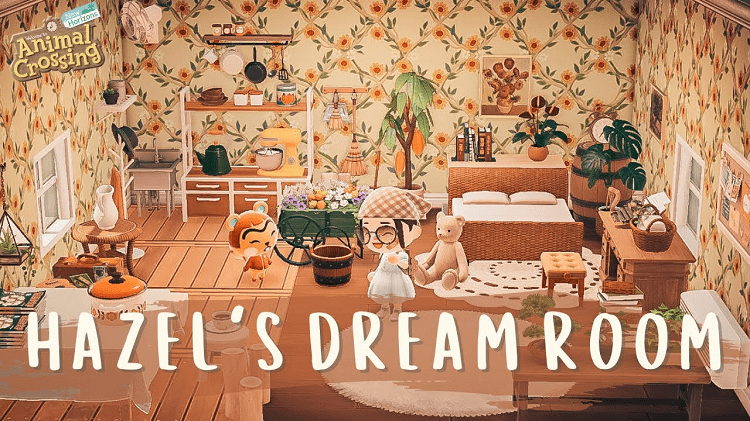 New Leaf
Outside
The outside of Hazel's house is a light sky blue with dark brown wood around the corners. It has a light pink door, a big window at the top, and a triangular red roof.
Inside
Hamster cage
CD player
Corkboard
Patchwork lamp
Cushion
Minimalist table
Patchwork dresser
Patchwork table
Patchwork sofa
Retro drive
Papa bear
Walls are Modern wood wall
Flooring is Birch flooring
Song is K.K. Disco
New Horizons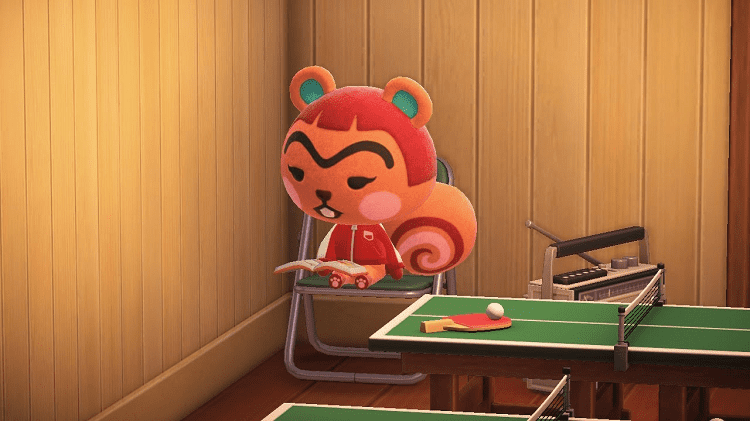 Outside
The outside of Hazel's house is square-shaped, with a light brown panel siding, red striped roof, and red wooden door. There is one window on the front left of the house.
Inside
Folding chair
Two tennis tables
Ball
Champions pennant
Tape deck
Baseball hoop
Wall clock
Wall is Dojo wall
Flooring is Wooden knot flooring
Song is DJ K.K.
Clothing Gift Ideas
Hazel has a limited amount of style, so take the opportunity and run for the hills with your gifts!
Headwear
Outdoor hat
Tropical hat
Kiki & Lala pin
Flashy pointy-ear animal hat
Sombrero
Triangle shades
Lily crown
Cycling cap
Ribbon
Tulip crown
Tulip hat
Flower sunglasses
Hyacinth crown
Bunny ears
Baseball cap
Oval glasses
Halo
Giant ribbon
Tops
Pompompurin tee
Retro sweater
Simple parka
Tomato festival tee
Down ski jacket
Labelle knit shirt
Tank
Open track jacket
Heart Sweater
Layered tank
Thick stripes shirt
Kids smock
Embroidered tank
Tube top
Front tie tee
Poncho coat
Dresses
Jumper work suit
Ogre costume
Orihime outfit
Alpinist dress
Sunflower dress
Floral lace dress
Dollhouse dress
Ballet outfit
Pea coat and skirt combo
Sprite costume
Fairy tale dress
Pompompurin outfit
Impish costume
Bolero coat
Zap suit
Dreamy dress 
Furniture Gift List
Sisterly villagers are easy to gift to in general, as they like many gifts or are honest about the ones they might not enjoy as much. Either way, their slightly sporty but upbeat nature makes it fun to gift to them!
Indoors
Mama panda
Antique clock
Wood burning stove
Upright vacuum
Wooden waste bin
Fine vase
Cat tower
Study desk
Exercise ball
Juicy apple TV
Floor lamp
Schefflera
Simple chair
Fan
Clackercart
Outdoors
Tricycle
Froggy chair
Tulip surprise box
Mountain bike
Garbage bin
Wooden field sign
Wooden storage shed
Kids tent
Cone
Playground gym
Mum cushion
Happy Homes
In Happy Homes, Hazel requests a Cartoon artist's workplace, her initial thought bubble reading, "I want the perfect place to work on drawing cartoons."
You get a good amount of creative freedom, the only required items being Cartoonist's set, Wooden waste bin, and Scattered papers. Artist spaces are easy and fun to create, and the general items given let you have even more freedom! Their favorite song here is K.K. Disco.
Amiibo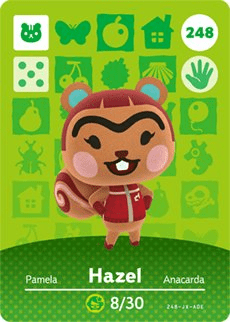 Hazel's amiibo number is #248 from series 3, and her star sign is Virgo, with her birthday being August 30th. Her hand sign is paper, and her dice value is 5. Her card is green, with her posing with her hands on her hips. The number on the bottom reads 8/30.
Any Other Facts
Hazel's name belonged to another squirrel villager far before she arrived in the game; her name belonged to a squirrel now known as Sally.
FAQs
Question: Is Hazel Rare?
Answer: Not particularly! She is new to Animal Crossing but has her own amiibo card. She isn't a popular villager, so you can frequently see her in boxes on other people's islands. She appears in New Leaf, Happy Homes Designer, Amiibo Festival, and New Horizons, so only a few games to find her in!
Question: Are There Plushies of Hazel?
Answer: No, there are no branded plushies of Hazel from Nintendo. However, many independent sellers and small businesses sell plushies like her!
Question: How do You Get Hazel?
Answer: You can obtain Hazel by naturally getting her in several ways: from the starter villagers in New Horizons, camping on mystery islands, or her visiting your own campsite.
She also has an amiibo card easily accessible in the series 3 pack (mystery 6 cards, so a slight chance to get Hazel); you can find her in boxes at other people's islands via groups or posts specifically for trading or getting villagers. NEVER pay real money for those! (Especially since Hazel is not a very coveted villager.)
Conclusion
Hazel is a unique and fun sisterly type to have on your island. Her style may be a bit weird and off-putting at first, but she is my personal favorite personality type, and sisterly villagers tend to have a grip on your heart.
Looking for more interesting readings? Check out: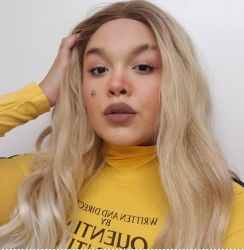 Latest posts by Lillie Forteau
(see all)