Introduction
Animal Crossing is known for its unique characters, each with its style, personality, and even attitudes. Each key character, however, does play an important role on your Island; even if you hate that you are constantly giving your Bells to Tom Nook, you still find yourself interacting with him regularly, and it would also be hard to imagine the Island without him!
Some the characters I love and enjoy interacting with them. It can take some time to get to know them all, but it is certainly worthwhile as there are unique benefits that each of the characters brings! Perhaps you have even avoided a character and are unaware of the benefits they can bring to you; hopefully, not anymore by the end of this article!
Tom Nook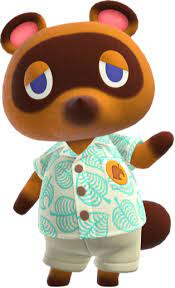 First up, we have one of the most controversial and yet one of the key pillars of island life; Tom Nook! Tom Nook has an essential role on your Island as he is essentially the main townsman through which everything has to be approved. Tom Nook can be found inside the island services building and, of course, owns almost everything in the game, including Nook's Cranny. Tom Nook also is in charge of all the new homes on Animal Crossing (he really is completely rich), meaning as well as what is essentially Towns Mayor he is also your mortgage advisor (I wasn't joking. He is constantly taking your money) Any island upgrades that you want like bridges and inclines; you guessed it; also get paid to Tom Nook.
Apart from being a thief of all of my money and joy by demanding extortionate prices for home and island upgrades, Tom Nook is also based on a Racoon. Although in the original versions of Animal Crossing, the game specified that Tom Nook was actually a Tanuki which is likely where the name Tom Nook comes from; I assume there is also a commentary to be made on the fact that he takes everything from you as a raccoon (although raccoons are adorable thieves)
Tom Nook, although he is a capitalist fiend, does at the very least support his family. His nephews Timmy and Tommy are employed by him in his shop Nooks Cranny; although who is to say if he is paying them or not, right?
In terms of appearance, Tom Nook is a Tanuki who wears a very fashionable leaf print (Hawaiian style shirt) that is white with green monstera leaves on it. Tom Nook also wears matching cargo shorts with his outfit; his body is a nice brown with a much darker brown eye mask style shape around his eyes and the outer edges of his ears, as well as his hands and feet.
Timmy & Tommy Nook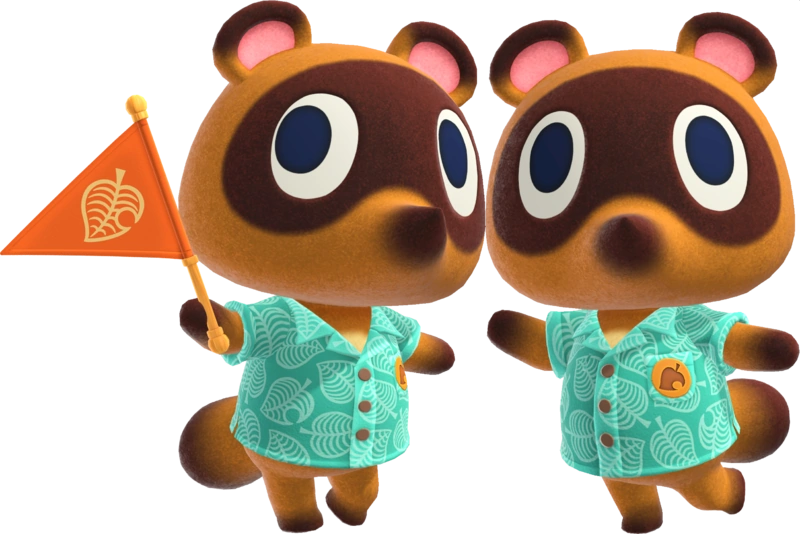 Timmy and Tommy Nook are the nephews of Tom Nook; he likes to keep his business in the family. Timmy is the older of the two, and as they are all related, it is no surprise that Tom, Timmy, and Tommy are all Tanukis/Racoons. Timmy and Tommy, both works in Nook's Cranny and are always polite, pleasant, and happy to see you!
Timmy and Tommy are identical, and in previous iterations of Animal Crossing, Tom Nook specifies that he is not a blood relative to either; their names and resemblance are uncanny, and Tom Nook does refer to them as his nephews.
If you have played the game for a long time, you will no doubt already be aware of Tommy and Timmy from Nook Cranny, where they can be found between 8 AM and 10 PM when the shop closes. Even if the shop does close, however, you can still deposit items into the box outside of Nooks Cranny, and the following day you will receive a phone call to let you know how much everything sold for which will be in your bank account.
Timmy and Tommy are a lovely addition to the Island and often, in their twin-like nature, will be found repeating each other's phrases when you speak with them and finish each other's sentences.
In terms of their appearance, Timmy and Tommy are exact replicas of Tom Nook.
Isabelle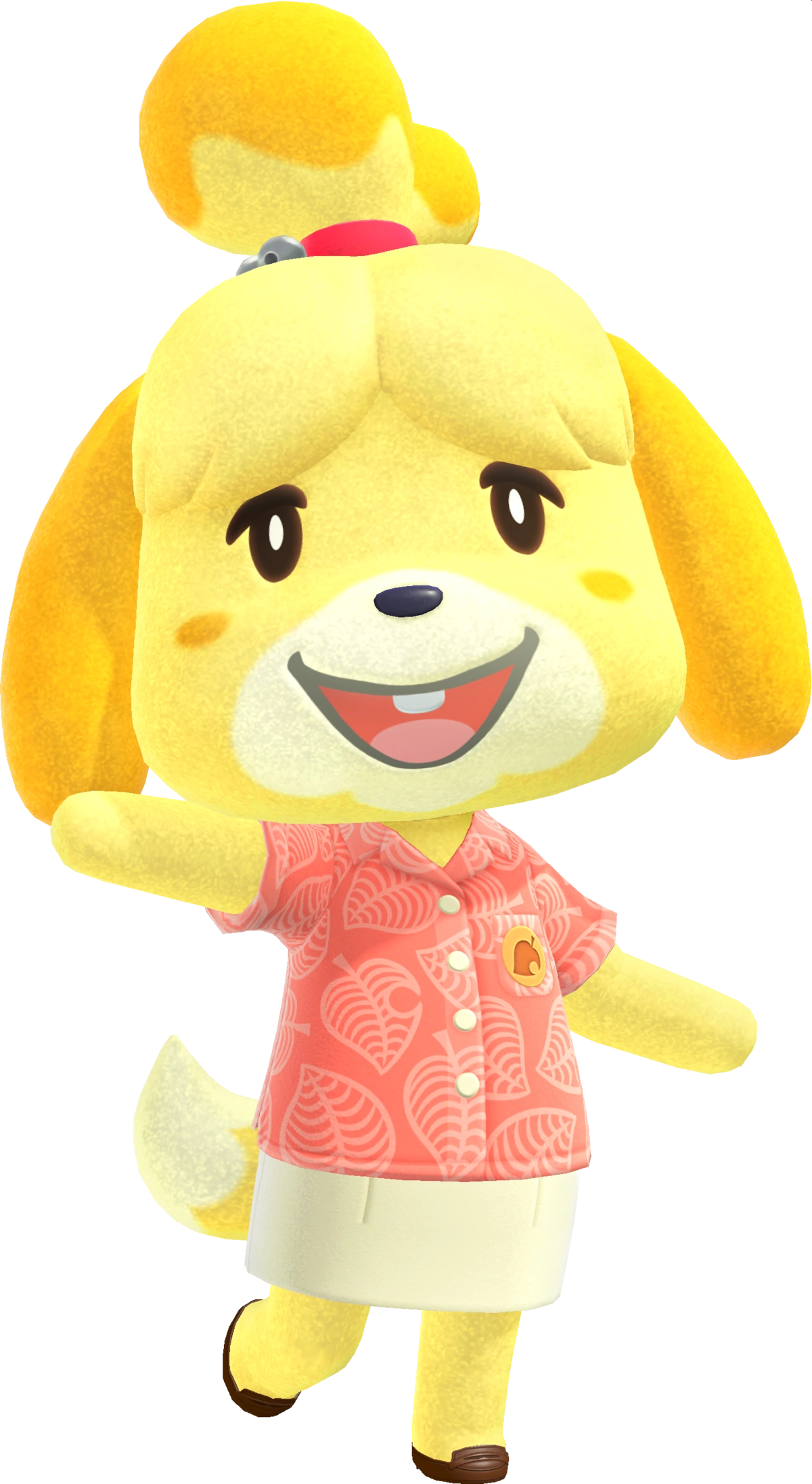 Isabelle is Tom Nooks' right-hand gal! She is also considered Town Mayor but also deals with a lot of inter-community relations and other island admin, including Island evaluations and the reporting of the bad behavior of other residents.
Isabelle is an adorable dog character and can be found inside the community center at the desk next to Tom Nook; Isabelle also makes the island announcements each morning!
Isabelle has one of the cutest appearances of all characters in Animal Crossing. She has a fair/light blonde body with a cargo skirt similar to Tom Nooks shorts; on her upper half, Isabelle wears an adorable cardigan style jumper. Her head is also light blonde with large floppy blonde ears and a bun on the top of her head, resembling a bag on the in-game currency, bells! Get it? Isabelle, is-a-bell!
K.K. Slider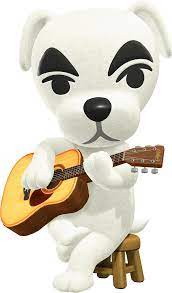 The infamous K.K. Slider! What is an island experience without a little live music, right? Thankfully we will never know as we have the musical stylings of KK Slider available to us. K.K. Slider is a super cool musician (and full-time dog). K.K. is a staple of every single iteration of Animal Crossing to date, and his presence creates a buzz on your Island.
K.K. is not a one-hit-wonder, far from it! As of the latest Animal Crossing Game (Animal Crossing New Horizons), K.K. has a total of 107 songs that he can play! Your villagers can also play K.K.'s music in their homes on their sound systems, and each Resident loves him, causing quite the buzz when he comes to play live music in the town square.
When KK does play in the town square, it is a big event, and the residents gather to watch him play as he sits on his music stool outside Resident services. K.K. is, in fact, one of the main motivators in Animal Crossing New Leaf, where your main goal is to get your Island to a 3-star standard, and when you can do that, as a reward, K.K. A slider will come to play on your Island for you and all of your residents too! K.K.'s island performances happen every Saturday, which is something for you and your residents to look forward to.
K.K. Slider is a dog, and in terms of his appearance, his body is completely one tone white, but with very extreme and thick black eyebrows and a cute black button nose like a terrier.
Blathers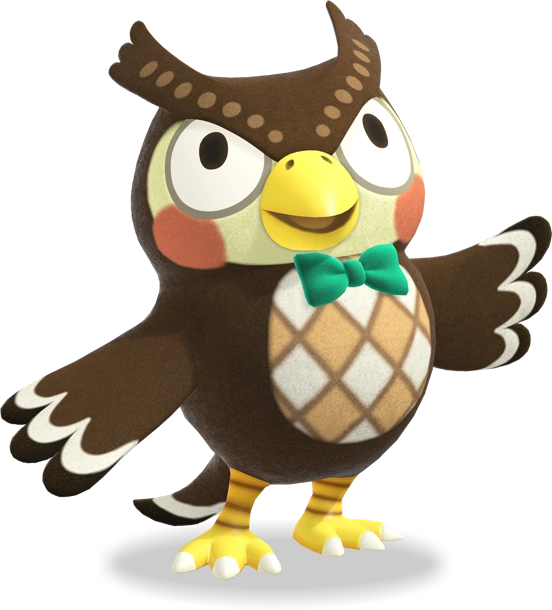 Blathers is a town history and animal buff (although not a fan of bugs; more on this later). Blathers is the curator of the town's Museum and is aptly named as he often will blather on and on if you do find yourself in conversation with him.
Each time you present Blathers with an item, he eagerly asks if he can give you a presentation on the item/animal; to which I admit I cruelly always say no as I just cannot bear to hear him talk that long (much too do on a busy island) although he does look super disappointed if you do say no so if you are particularly sensitive maybe allow him to show you his presentations.
As with the usual stereotype of being intelligent, Blathers is an owl – and a very cute owl at that! Interestingly as previously mentioned, although Blathers is delighted when you provide him with fossils, he is terrified of bugs! Blathers profusely sweats when handed a bug and explains that he hates them and is scared of them, although he still accepts them as donations.
Blathers is a brown owl whose torso looks like a sweater vest as it is checked light brown and white. The extremes of his hands have a swirly white outline, and he has very cute rosy cheeks with a bright yellow beak. He also wears a handsome green bow tie.
Celeste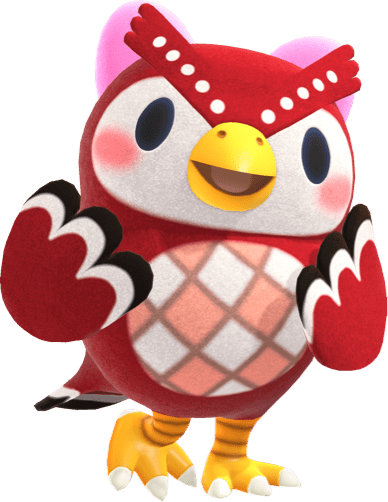 Another friendly and adorable Owl in Animal Crossing is Celeste! Celeste, unsurprisingly, is Blather's sister, and they both work together in the Museum. While Blathers is responsible for donations and assessment of presented items, Celeste (as her star crossed name suggests) operates the observatory in the Museum and studies the stars (which sounds like an amazing job if you ask me)
Celeste first joined the series in Animal Crossing Wild World, and in these earlier versions of the game, Celeste is most commonly presented as a stargazer in the Museum who also runs the giftshop and other concessions with her brother. In the most recent version of the game, however (Animal Crossing New Horizons), Celeste has a different role.
Although she is still passionate about the stars and enjoys watching them, Celeste is a less frequent member of the Island in New Horizons, and only appears on the Island when there is an exciting celestial event. Often Celeste can be found on your Island when there is a meteor shower, although Celeste also visits on clear nights (although this is much more random)
Celeste has an exciting and important role in Animal Crossing New Horizons as she can present the player with the recipe card for a Star Wand. This allows you to change your clothes while you are out and about on your Island or your adventures without having to return home to change. One of my favorite things about Celeste is that she also presents you with recipe cards for exciting and cool zodiac-themed items for your home.
Celeste looks much like Blathers but with a different color palette! Where Blather's body is mostly brown, Celeste's body is red, and her chest is white and pale pink.
Flick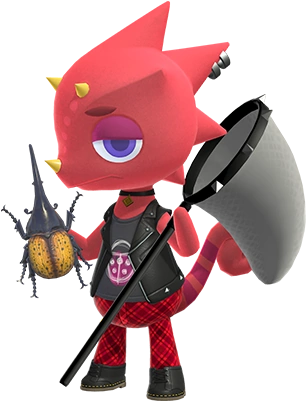 Have you ever met a punk bug collector? If so, then you for sure have met Flick! Flick is a cool and unique character in the Animal Crossing series (mostly due to his punk appearance). Sources say that Flick is a chameleon, but as he is so uniquely dressed, I would not say that it is clear when you look at Flick that he is a chameleon.
Flick's role on the Island is that he hosts what is referred to as the 'Bug Off' This is an island-wide bug-catching competition that takes place in the summer. Specifically in New Horizons, the Bug Off takes place on the final Sunday of June, July, August, and September. Your goal in the Bug off is to collect as many bugs in a set period as you possibly can and then donate these to Flick. The competition can take place anytime after 9 AM until 6 PM. While the first competition is free, the following competitions will cost you 500 Bells to enter and take part.
When there is not a scheduled Bug Off, Flick does still randomly visit the Island and will still purchase any bugs that you have caught. Flick is also a very artistic person, and if you want to, you can purchase models of bugs from Flick.
Flick has a bright red body with tartan print legs; he wears black doc marten style boots. He also wears a sleeveless leather jacket and blacktop underneath with a bug printed on it. He has three yellow horns poking out of his head and four large red spikes on the back of his head like a mohawk. He also wears a black choker.
Gulliver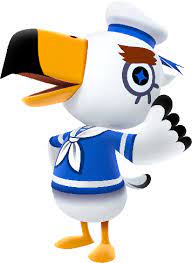 Gulliver is a very confused, strange, and yet lovable Sailor. Gulliver is a seagull which makes sense as he is a lover of the sea and exploring the new area via the water! Gulliver can often be found washed up on the beach on the Island, confused and disorientated.
Gulliver is quite a hazardous traveler, and each time you wake him up on the floor of the beach, he will realize that his communication device (like a walkie talky) is broken, so he can't request that his crew come to pick him up. He will then seek your help, and to get Gulliver away safely, you need to find the missing parts of his device, which are buried in the sand on the beach.
Once you provide all the pieces to Gulliver, he will then call his friends for help, and they agree to come to pick him up; Gulliver will later thank you and reward you for your help.
Gulliver is a white Seagull who wears a blue sailor-style shirt with a white tie in front; he also wears a sailor cap and has crazy bushy brown eyebrows. Gulliver has a large yellow beak with a black tip.
Orville
Orville is a dodo who works in the airport on your Island. He is a dusty blue for the most part but also has a yellow face with a large beak which is brown at the front. Orville has spiky blue hair on the top of his head and wears a white shirt with an orange tie and a black belt. Orville operates the airport and will open the gates for you when needed.
Wilbur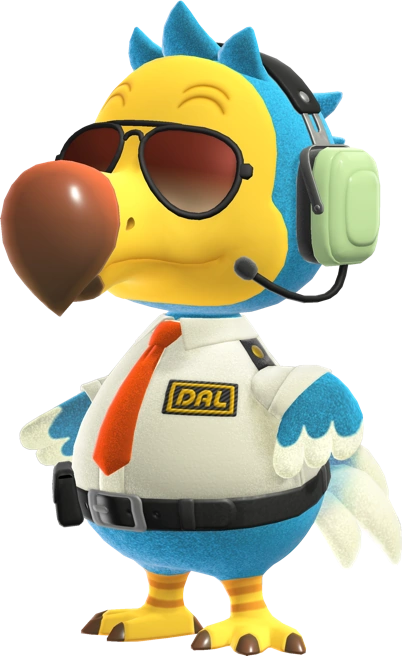 Wilbur is also a dodo who looks much the same as Orville but has aviator-style sunglasses instead (which makes sense as he is the airline's pilot). He can often be seen at the airport when you are ready to board the plane.
Daisy Mae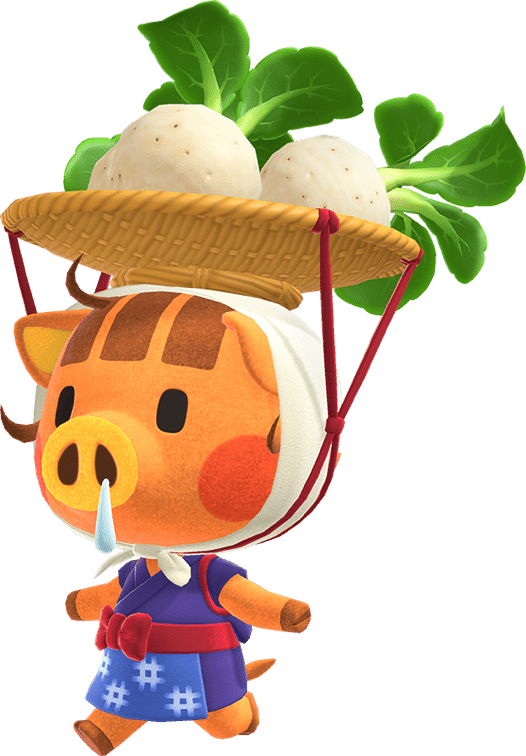 Daisy Mae is a beloved turnip seller on the Island! Daisy Mae is a very cute Boar who carries Turnips on her head, which adds to her adorable appearance. Daisy Mae appears on your Island on Sundays between 5 AM and 12 PM. The price of Turnips varies depending on the day and can be anything between 90-110 Bells. If you decide to purchase Turnips from Daisy, you need to sell them before the next Sunday in the game, or they will rot. To help you decide when to sell the Turnips, you can check in with Timmy and Tommy at Nooks Cranny to see what price they are selling for each day.
Daisy Mae is a Boar who wears a bamboo-style hat on her head that ties with a knot under her chin where she carries her Turnips. She has a cute brown full fringe that pokes out under a white bonnet and rosy cheeks. She wears a blue dress with a red strap across the middle for her carrying device.
Kicks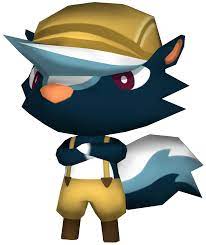 Kicks is a cute but rough-and-tumble style guy! Think of him as your Island's own Dellboy Trotter! (He even kind of talks like him too) Kicks is a skunk who visits the Island at random selling his wares. Kicks can be found outside the plaza in the town square, and you can purchase a range of items like shoes, socks, and bags. Kicks also have his shop on Harvey's Island, where you can purchase items between the hours of 5 AM and 12 AM.
Able Sisters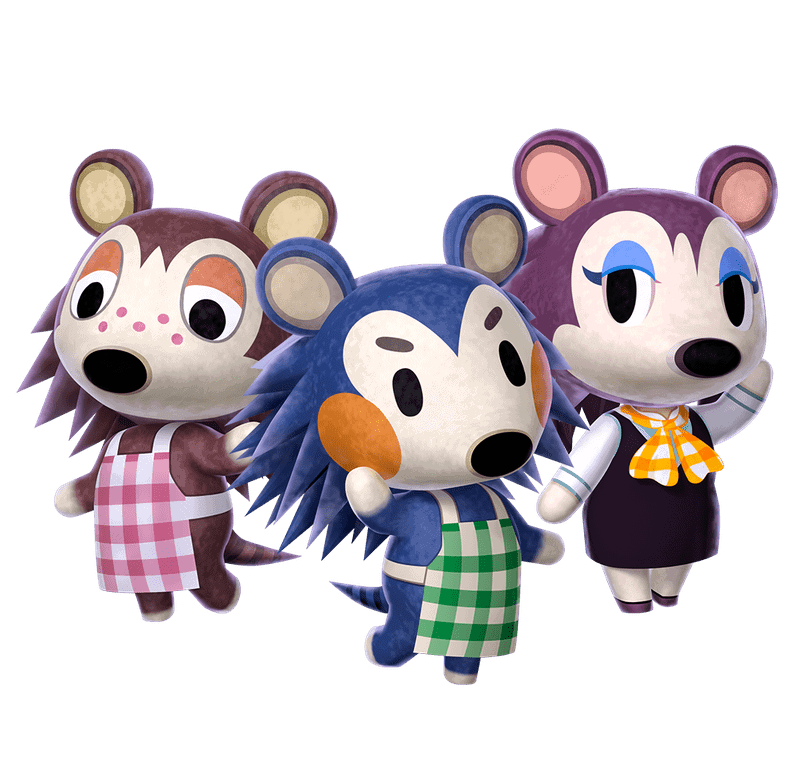 The Able Sisters are a staple of your Island, especially if you are keen on dressing up! The Able Sisters are Sable and Mable, who both own their clothing store. In the latest edition of the game (Animal Crossing New Horizons), the Able Sisters store is open from 9 AM until 9 PM.
Sable and Mable are hedgehogs; Sable is dark brown and wears a checked apron, while Mable is a blue hedgehog and wears a green and white checked apron.
Label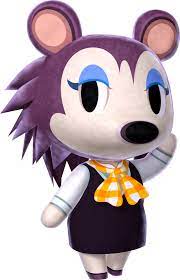 Label is a long-lost sister of Sable and Mable and, unsurprisingly, is also a hedgehog! Label is purple but otherwise very similar to Sable and Mable. Labels' dream is to be a fashion designer, which, luckily for her, she achieves. Although she does not work in the Able Sisters store as she is an independent designer, they appear to be on okay terms.
Label will visit the Island at random and give you fashion-based tasks with some cool rewards if you pull it off!
CJ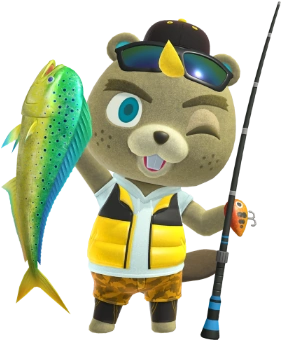 CJ is like Flick, but for fish! CJ is a Beaver who hosts a fishing tournament. Much like Flick, CJ will randomly visit the Island, and when he does, he will buy any of your fish for much more than anyone else would (150% of their cost) when CJ hosts the Fishing Tourney on the second Saturday of January, April, July, and October. During the tournament, you can donate items between 9 AM and 6 PM. Much the same as the Bug Off, you can enter the first tournament for free, but every tournament after that will cost 500 Bells each.
The player has three minutes each time to catch as many as possible to earn rewards and then call to sell the items after if they want to do so.
CJ is a beaver who wears camo-style cargo shorts, a yellow puffer jacket with a white top underneath, sunglasses on his head, and a small black cap.
Kapp'n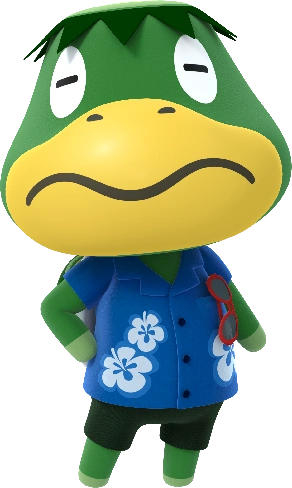 Kapp'n is a relatively new addition in the latest update for Animal Crossing New Horizons. Kapp'n is the captain of the boat that you can find docked at the pier at the beach. Once per day, you can visit a mystery island with Kapp'n on his boat, and he will sing you a lovely song on the way!
Kapp'n is a green turtle who wears a blue Hawaiian shirt with a white floral print and dark green shorts. He has red sunglasses, which are tucked into his shirt.
Harvey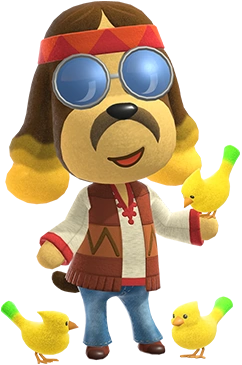 Harvey is a very groovy dog (with a strong hippy style). He wears a sleeveless brown cord jacket with a white top underneath along with blue jeans. Harvey also wears brown shoes and a brown headband with huge circular glasses; Harvey also has a brown mustache.
Harvey has his Island in Animal Crossing New Horizons. You can visit his Island anytime using the airport on your Island. When you visit Harvey's Island, you can use it as your own photoshoot space. Harvey is a photographer and allows you to decorate his home and use clothes to take pictures. He also hosts many other characters in a market-style area on his Island.
Katrina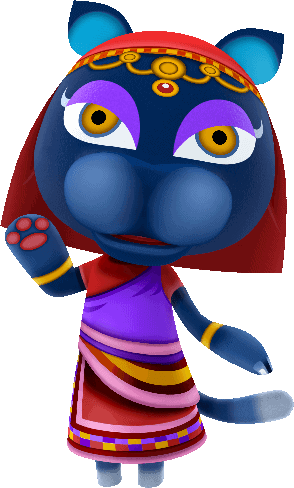 Katrina is a panther who owns a shop on Harvey's Island, where she is a fortune teller. She wears gold bracelets and a gold headdress, along with a regal robe that contains a variety of colors, including purple, pink, yellow, and red.
If you pay Katrina 1000 bells, you can purchase either a prediction of your luck, a prediction of your friendships, or will even a blessing for your friendship for a much larger fee of 10,000 bells (which is not too bad considering that it also doubles your friendship points) Katrina's shop opens at 5 AM and closes at 1 AM.
Sahara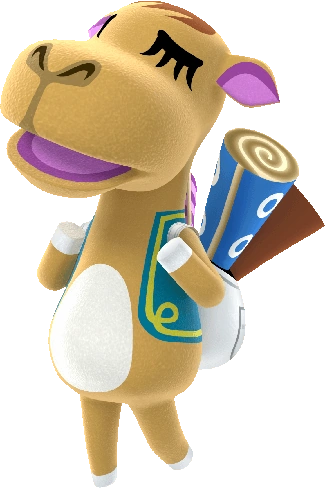 Sahara has very exaggerated long eyelashes with a sleeveless waistcoat which is blue with yellow detail and carries her ware in a rope style bag on her back.
Sahara is a camel that often visits your Island to sell her wares, which are some cool flooring, wallpaper, and even rugs. Although you won't see what they look like until you buy them, that is all part of the fun!
As well as visiting your Island at random Sahara also has a store on Harvey's Island, and her store is open from 5 AM until 12 AM.
Tortimer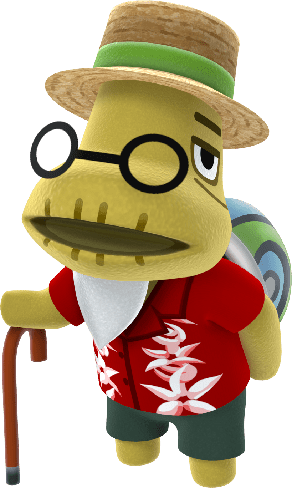 Tortimer is a tortoise (no doy) and a very cute but old one at that! Tortimer wears a very cute straw hat and carries a walking stick. He also wears large round black glasses and has a long white beard. Tortimer also wears a red shirt with floral patterns and dark cargo shirts and has a large swirled shell on his back!
If you visit him on Harvey's Island, he will offer to store some of your items for you.
Cyrus and Reese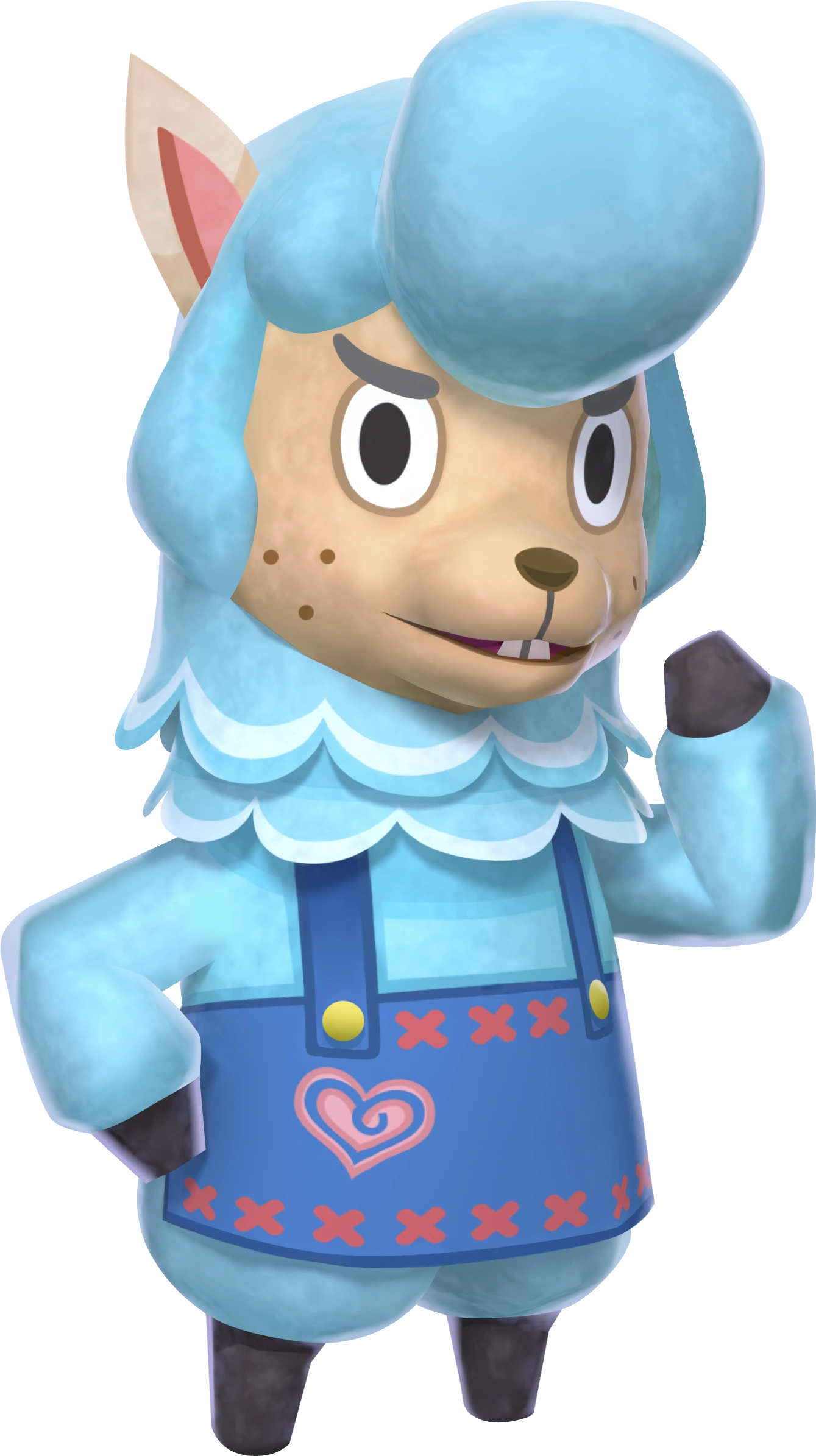 Cyrus is an alpaca who is a cute pastel blue all over and has a large blue tuft of hair on his head! He also wears a dark blue apron with a heart on it. Cyrus has his store with his wife Reese, who is exactly like him but in an even cuter pastel pink and with a red apron!
Cyrus and Reese have a customization shop where you can bring items and edit them! You will pay a fee for this service and receive the updated item immediately after! Their shop is open from 5 AM and closes at midnight.
Harriet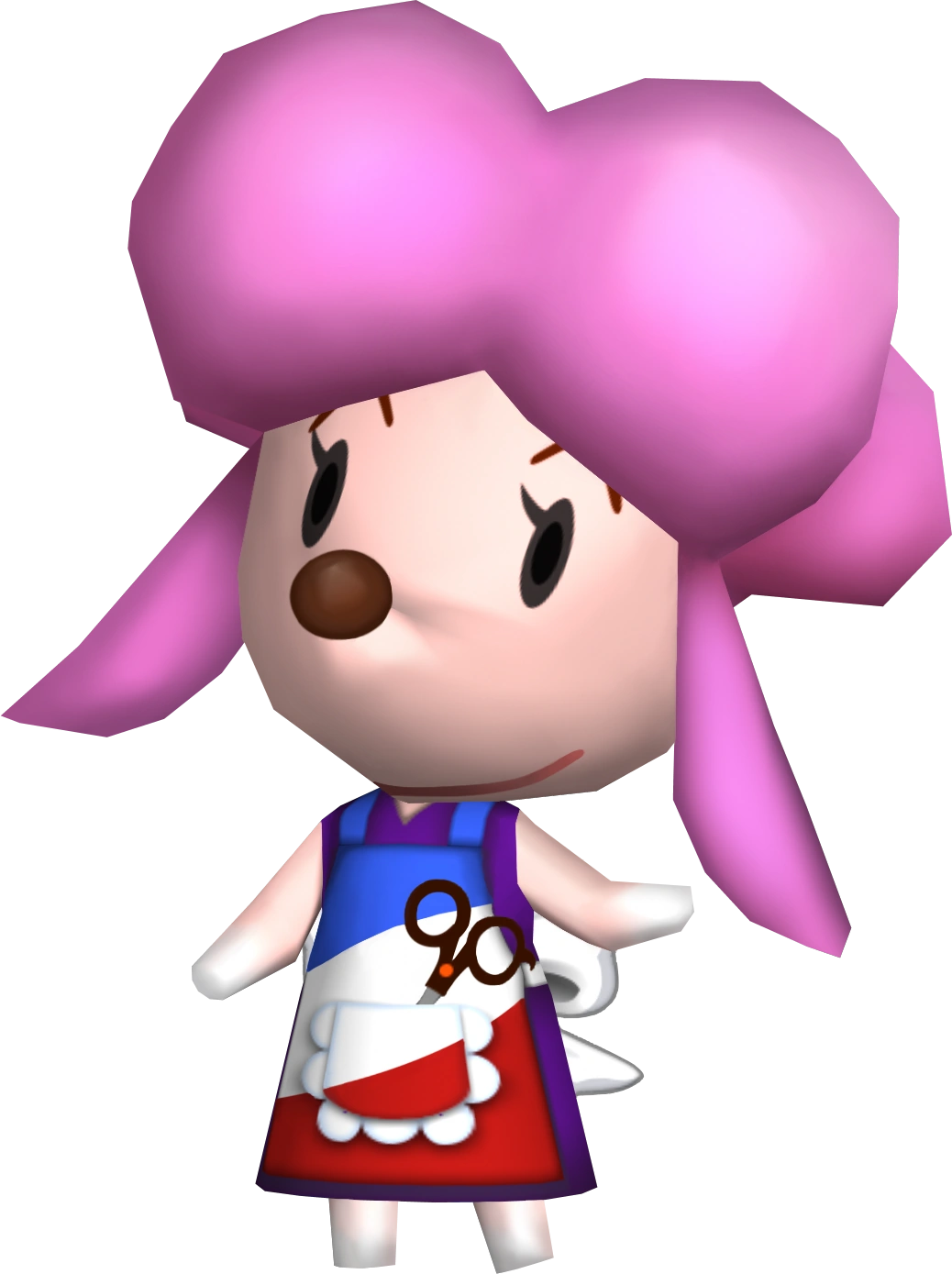 Harriet is a very fancy-looking poodle. She has pink puffy, and floppy hair (like candyfloss) and a cute brown button nose and wears an apron that is striped with red, white, and blue colors and her scissors tucked neatly in.
Harriet is a barber and owns her barbershop on Harvey's Island, which is open from 5 AM until 10 PM, letting you unlock new hairstyles for your character!
Brewster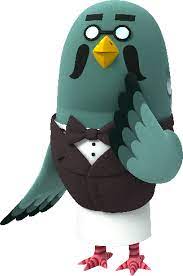 Brewster is a pigeon who works in the coffee shop in the Museum (The Roost), where you can get a piping hot cup of coffee. He is moss green in color and wears a black waistcoat and bow tie with some small circular glasses. He also has a mustache that is split into two strands at either side of his mouth.
Leif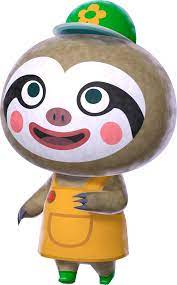 Leif is a Sloth who sells vegetables when he visits your Island, making him one of my personal favorites. Leif appears in the town square between 5 AM and 10 PM, selling his wares, including plants! I have spent a lot of money purchasing flowers from Leif to decorate my Island!
Leif is a brown sloth with a yellow pinafore with rosy cheeks and extreme black eyeliner; he also wears cute green booties and a matching cap.
Summary
There is a huge range of weird and wonderful characters in Animal Crossing, each with their own unique but vital role in the town! Think of them each as a cog that is needed to create a beautiful and harmonious island.
FAQ's
Question: What Villagers Work in Resident Services?
Answer: Tom Nook, as well as Isabelle, works inside the Resident services building; Tom Nook deals with all matters financial such as purchasing bridges, updating your home, and of course, your mortgage repayments. Isabelle, on the other hand, deals with all things that refer to the relationships within the game, such as issues between residents and island evaluations.
Question: What Villagers Sell Clothes?
Answer: The Able sisters sell clothes from their shop once it opens within the game, although clothes can also be gifted from other residents.
Question: Where can I get Crops/plants?
Answer: Leif sells plants and crops when he visits, while you can also get some plants from Nooks Cranny from Timmy or Tommy. You can also buy Turnips on Sundays from Daisy Mae.
Continue reading:
Animal Crossing Lazy Villagers – Complete Guide
A Complete Guide on Animal Crossing Cranky Villagers
Animal Crossing Smug Villagers: A Complete Guide
Animal Crossing Peppy Villagers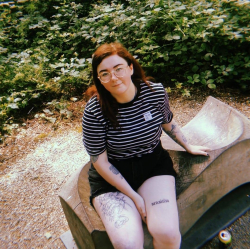 Latest posts by Ella Walsh
(see all)