Introduction
Animal Crossing is a much loved and fiercely protected franchise that has been around for so long that it has really become a staple of people's lives and childhoods!
Part of what allows Animal Crossing to hold our attention for so long is that it feels like a big hug; it is super comforting and relaxing to just get lost and spend hours on your island decorating, chatting, fishing, shopping, you name it! One of the most rewarding parts of Animal Crossing is having happy villagers on your island.
When it comes to villagers, there is sometimes a lack of variety in style. However, Muffy is here to change all of that. If you love your Animal Crossing Island but you feel that something is missing, add that little extra bit of spice; Muffy may be the exact person that you are looking for!
Bottom Line Up Front
Muffy is a sheep with the sisterly personality type who joined Animal Crossing in New Leaf and returned to New Horizons. Muffy is an only child with a music hobby and a unique gothic style. Muffy's birthday is on the 14th of February; in New Leaf, Muffy's schedule is to get up at 11 AM and go to bed at 3 AM, while in New Horizons, Muffy gets up at 9 30 AM and goes to bed at 3 AM. Muffy's happy home vision is a renaissance manor, and this requires an antique clock, Antique Mini Table, and a Street lamp with banners. 
Who is Muffy?
Muffy is a sisterly villager who joined the Animal Crossing franchise and thankfully returned for Animal Crossing New Horizons. The suggestion behind her name is that, like sheep and rams, she has large ears at the side of her head, like ear muffs. Muffy is a gothic kind of girl, and her catchphrase also hints at that which is "nightshade."
Muffy's birthday is on the 14th of February, and her saying is "there's a black sheep in every family," as her unique style would hint that Muffy is also an only child. Muffy has an exciting hobby which is music hobby which means that she can sing anywhere and at any time without stereo playing music, unlike other villagers.
Muffy's Appearance
Muffy is a really cool and really unique villager in Animal Crossing! She is serving 2000's Tumblr goth vibes with her dark purple and black style (honestly, I probably wore something similar as a teenager), But for those of you who never got to experience how iconic Tumblr was at that time, I guess I should be a little more specific!
Muffy is, at the most basic level, a sheep; however, there is so much more to her than that! Muffy has large ram-like ears that are striped purple and light pink; the shades are deep, like a Halloween purple and a blush pink. Muffy's ears are like large ear muffs (which may be the origin of her name)
To further her gothic look, Muffy has spiky black bangs (in a full fringe) with shoulder-length choppy black hair. Muffy also has bright blue horror movie-style eyes with three straight eyelashes on each lash. Muffy has a T-bone-shaped nose and black lipstick (slay). She does have some warmth and depth; however, as she has rosy cheeks, all of this is contrasted however with one of the palest faces I have ever seen.
In terms of style, Muffy wears a long-sleeved purple top with a pale pink collar, the ends of her sleeve are black and white striped (think hot topic wrist bands), and to complete this very specific look, she has a black ruffled skirt and black hooves.
Muffy's personality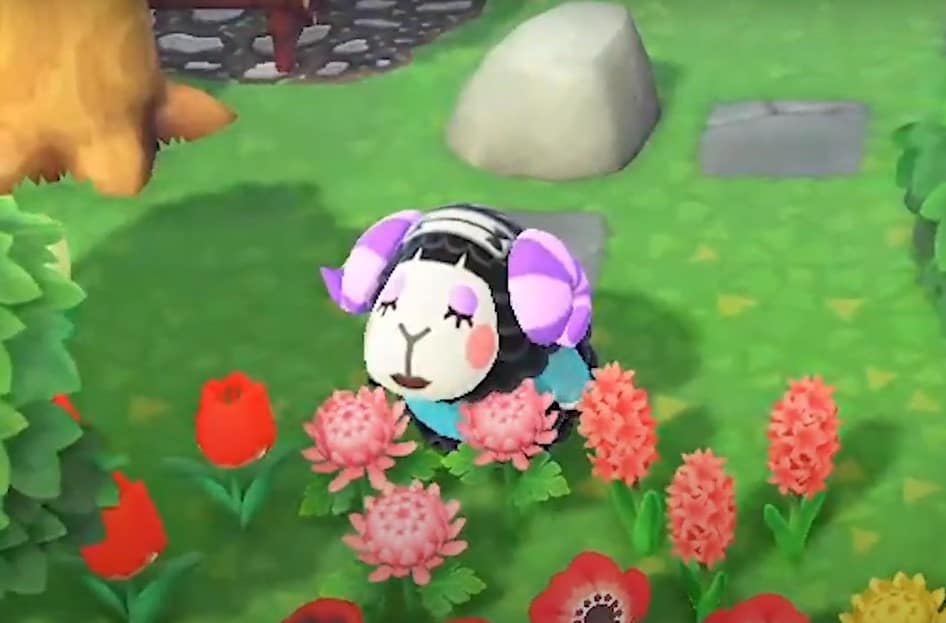 As if Muffy could not get any more perfect in my eyes, she also has an amazing personality. Not all villagers in Animal Crossing are created equal, and some villagers are definitely more friendly and loveable than others, such as the super lovable and fiercely loyal Sisterly villagers.
Sisterly villagers (also called big sister villagers) are called that because, well, anyone who has had a big sister will for sure understand. If you do not have a sister, however, I can explain. Imagine your closest friend; if someone mistreated you, they would stand up for you; they could probably even try to fight them! At the same time, however, they are comfortable enough with you to be brutally honest, even if it's something you do not want to hear; that is a big sister!
Other words that are often used to describe sisterly villagers are caring, honest, loyal, and sometimes a little masculine. Part of what makes these villagers like big sisters is that they will always look out for you and give you advice and help. Any time that I have shaken a few too many trees and walk around looking awful and haggard thanks to a few bee stings, it is always a sisterly villager that has offered me medicine to help me and remind me of the dangers of stings!
How Does Muffy get Along With Other Villagers?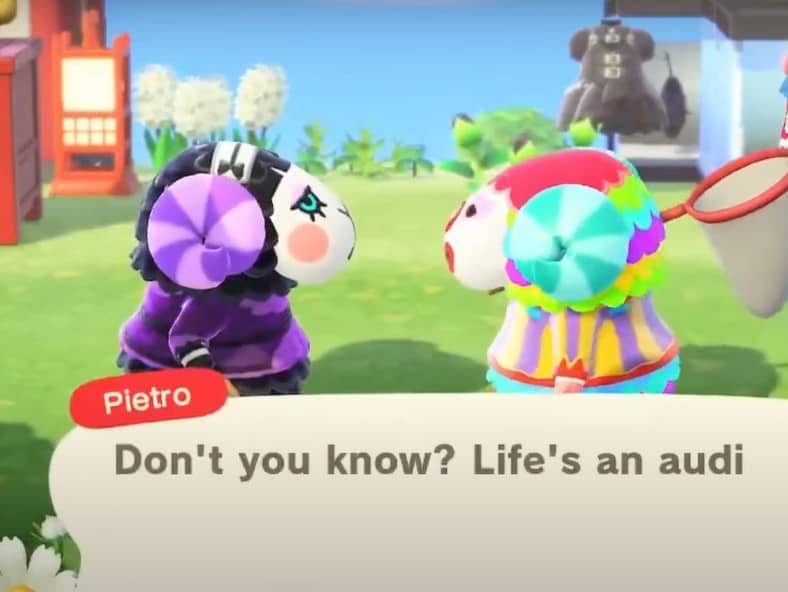 As a sisterly villager, Muffy will easily get along with most other villagers, as she is loyal and caring. Peppy villagers will love her, as they can easily talk with her, and she will listen to them. Her interest in sports and the outdoors will make her interesting to jock and lazy villagers as well; however, Muffy may have a hard time trusting or creating a bond with cranky or snooty villagers as she values loyalty and honesty and so does not like that cranky and snooty villagers gossip about others.
What schedule does Muffy have?
Muffy is a newcomer to Animal Crossing and so has only graced our screens in Animal Crossing New Leaf and Animal Crossing New Horizons. In Animal Crossing New Leaf, Muffy will wake up at 11 AM and go to sleep at 3 AM, while in Animal Crossing New Horizons, Muffy will wake up at 9 30 AM and go to bed at 3 AM.
Muffy's Preferences
Muffy has a very consistent style across her two brief appearances to date; it is very clear from her out-there fashion choices that she really knows who she is, which I love!
In Animal Crossing New Leaf;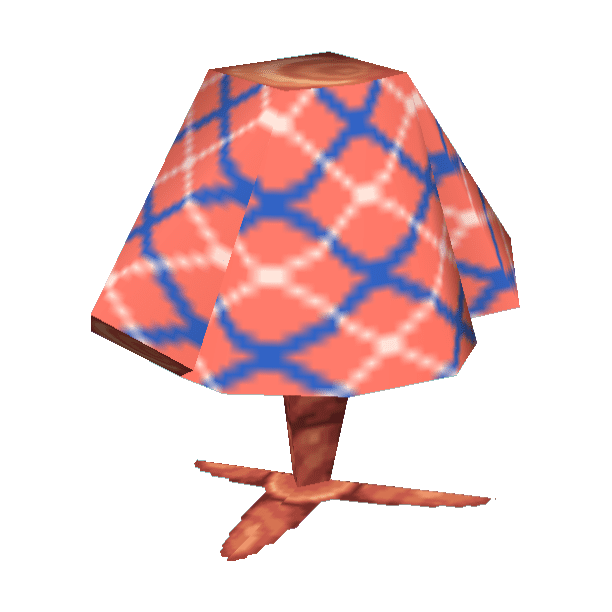 Default clothing: 

Natty Tee

Default umbrella;

 Zebra umbrella 

Favorite style;

 Ornate

Least favorite style;

 Basic

Favorite color;

 Black
In Animal Crossing New Horizons;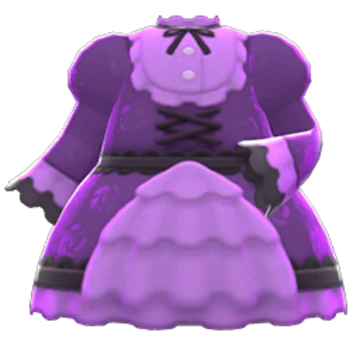 Default clothing: 

Purple ruffled dress

Default umbrella;

 Black chic umbrella 

Favorite style;

 Gorgeous and elegant

Favorite colors;

 Black and purple (no surprise, right)
True to her style and form, Muffy in the Happy Home Update has a vision of an old mansion;
Muffy's Vision;

 Renaissance Manor

Required items;

 Antique clock, Antique Mini Table, and a Street lamp with banners
If Muffy ever gets this home, I want to submit a request to come live in it or at least take some pictures for my own home décor inspiration. 
Muffy's House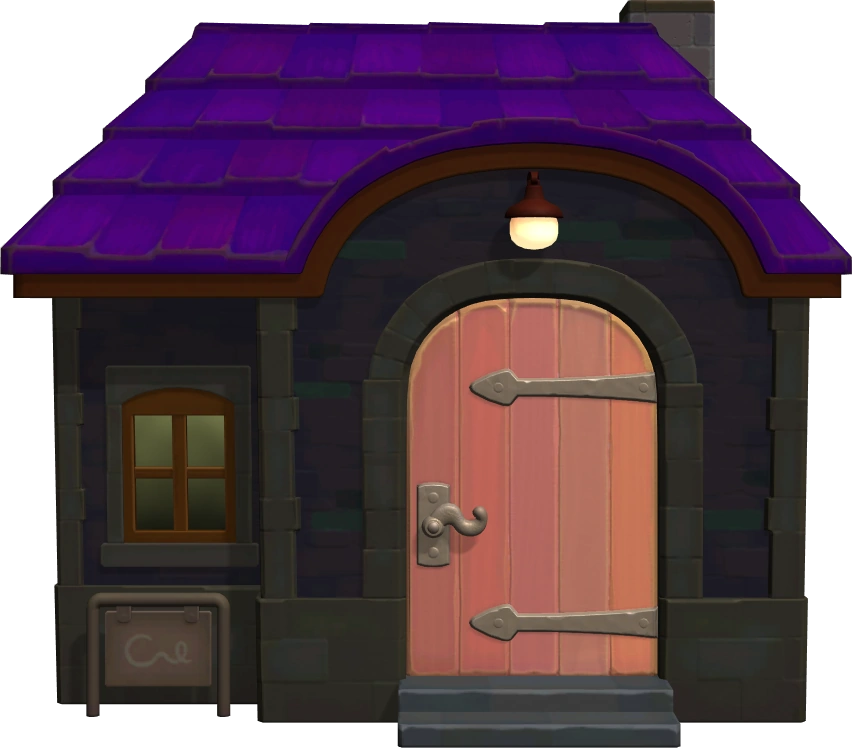 Muffy's two homes are interesting, to say the very least; while I like the furniture and the staples of the home, I do not like some of the carpet or wallpaper choices;
In Animal Crossing New Leaf;
Rococo bed

Rococo dresser

Rococo sofa

Rococo table

Rococo vanity

Pink velvet stool

Phonograph

Rococo clock

Rococo candlestick

Fancy Doll
Muffy has what is described as a sleek carpet but looks like a moss floor, with sleek wallpaper, which is actually nice and pinstriped. The rest of the house is lovely, though, and has Adams Family vibes.
In Animal Crossing New Horizons,
this is my Favorite of Muffy's Homes;
Spinning wheel

Wooden stool

Lily record player

Iron closet

Old sewing machine

Floral swag

Deluxe washer

Rattan towel basket

Ironing board

Antique bed

Ironwood DIY bench

Iron worktable

Shiny bow platform shoes

Iron entrance mat

Lace-up dress

Sturdy sewing box

Sewing machine
The interior is stunning, with a black botanical tile wall and purple Moroccan flooring, which match her clothes and the style that Muffy clearly loves. 
In Happy Home Designer;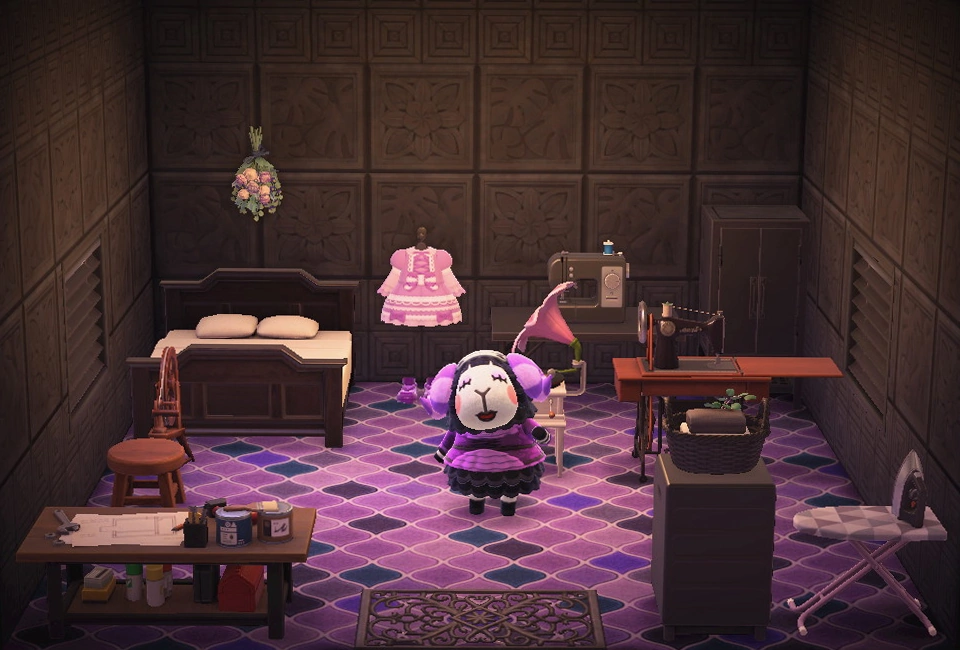 Muffy needs the following for her gothic hangout vision;
Rococo bed

Rococo lamp

Corseted shirt
In Animal Crossing Pocket Camp
You will need the following items to entice our gothic queen to join you;
Friendship level three

Scorpio lamp

Violet screen

Rococo shelf

Rococo table

Rococo sofa
All this effort comes with its rewards, which any pocket camp fans know are pretty standard;
At level seven; Natty tee and sparkle stone

At level nine; Sparkle stone

At level fifteen; Muffy has a crafting request for a Dollhouse

At level twenty; Muffy gives you a picture of herself and some more sparkling stone

At level twenty-five; Sparkle stone
Summary
This can not even get close to doing justice to my gothic queen Muffy; she is one of the unique villagers that you can get in Animal Crossing, and she not only has style but has the personality to match. She is super loving, loyal, and friendly! Anyone would be insanely lucky to have Muffy on their island.
FAQ's
Question: What Type of Villager is Muffy?
Answer: Muffy is a sisterly villager (also known as a big sister villager), which is one of the best character personality types you can get (in my humble opinion, at least)
Question: When is Muffy's Birthday?
Answer: Muffy is a valentines day baby (maybe that is why I love her so much?), and her birthday is on the 14th of February.
Question: When did Muffy Join Animal Crossing?
Answer: Muffy joined us in Animal Crossing New Leaf and returned to New Horizons, and was also added to Pocket Camp.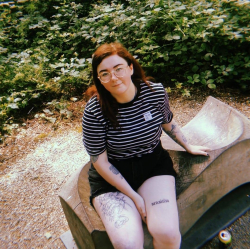 Latest posts by Ella Walsh
(see all)