Ever since the release of Animal Forest in 2001, many villagers in the Animal Crossing franchise have been fondly remembered by players of the game. However, while everyone has their favorites, several villagers are held close to the hearts of fans. Not necessarily with the label of being a favorite, but still with a lot of adoration and love.
Bob, a purple lazy cat villager, is among the few villagers which remain highly praised by every fanatic of Animal Crossing. He's been around since the very beginning, and has continued to grace us with his presence in New Horizons. He's an iconic addition to the franchise and I know I'm not the only person who loves this little critter for all he's worth!
An Introduction to Bob
I'd say that Bob is one of the most iconic cat villagers to be introduced to the Animal Crossing franchise. He's been kicking it since Animal Forest, and the hype hasn't died down since. Before Raymond took the internet by storm upon the release of New Horizons, Bob was arguable the most popular and highly sought-after cat villager. His optimistic and relaxed outlook left fans of the franchise pining for him to join their towns, and I was fortunate to have him live in my Wild World town.
But what makes this cat so cool? Why has Bob remained so incredibly popular even after all these years? Diving into this guide might open up some doors while providing the information you need to become besties with this fantastic feline. I promise it's worth it!
Here are some general facts about Bob to get you started:
Gender: Male
Species: Cat
Birthday: January 1st
Star sign: Capricorn
First Appearance: Animal Forest
Personality: Lazy
Catchphrase: Pthhpth
Bob's Appearance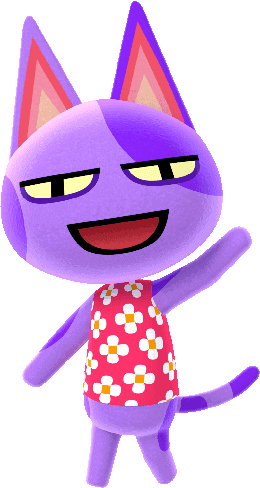 Cat villagers tend to reflect on different breeds of the species. For example, Lolly is a blue-grey tabby cat, Kiki is a black cat, and Punchy has elements of a tuxedo cat in his design. But Bob's design shakes things up a little.
Rather than being based on a breed, he's lavender in color and dotted with large, dark purple spots. In addition, he has the iconic pointed ears of cat villagers with dark pink inners. Of all the cat villagers, his design is one of the most recognizable due to its color palette.
His facial features mirror his lax nature, with two yellow half-circle-shaped eyes and a long black, upturned line as a mouth. He looks smug, almost, despite that not being his given personality. His design is relatively simple yet surprisingly recognizable within every single game. He's worn the same Blossom Tee from Animal Forest until New Horizons.
I love the purple used in Bob's design, which is unusual since I'm not one for fawning over bright-colored, garish villagers. But, I think an air of nostalgia surrounds his design and character, which is why so many people continue to love him.
Bob's Personality
Another thing that makes Bob such a loveable character is his attitude and outlook on life. I have loved Lazy villagers since I first found Filbert in Wild World, and I think Bob is another character that feeds into this love. As I've mentioned, I was lucky enough to have Bob live in my town on Wild World, which was my first experience with the franchise. So Lazy villagers have been a massive part of my experience with the game!
Lazy villagers are easy to get along with and rarely clash with other personality types and villagers. Bob, in particular, has a love for all things food and relaxation, but in particular, Bob is always willing to stop you for a chat about his playful hobby. Because of this, Bob is constantly running around with other villagers on the plaza or playfully chasing a butterfly on a sunny day. I love cat villagers' play hobby because it mimics how cats act and adds to their charming personalities.
Despite snooty and jock villagers disagreeing with the lazy lifestyle, their snide comments or backhanded compliments don't change the outlook of the lazy personality. Lazy villagers know exactly what they like and won't let anyone change that! It's one of the things I respect most about the personality type and possibly why I resonate so deeply with them.
Lazy villagers, alongside all other personality types, have a schedule they stick to in every game. Lazy villagers spend more of their time in their homes rather than out exploring but aren't shy of falling asleep in the sun for a bit! In New Leaf, lazy villagers wake up at 9 AM and go to sleep at 11 PM; however, their schedules are shifted slightly in New Horizons, where they wake up at 8 AM and go to sleep at 11 PM – giving you an extra hour to spend with all your favorites!
Bob's Preferences
Before New Leaf, villagers' preferences weren't as significant as they are now. However, knowing what they like and dislike will play in your favor when it comes to befriending your townfolk. I love learning about what makes my favorite villagers happy, so I can ensure the gifts I give or the letters I send will boost our friendship.
New Leaf and New Horizons are the only games I have paid close attention to the preferences of my islanders/townsfolk, as it feels like there are more incentives to impress than in previous titles. New Leaf, in particular, made it essential to remember your townsfolk preferences due to the coffee-making minigame. Even though this doesn't apply to New Horizons, there are still elements of needing to remember information islanders have previously mentioned.
Bob's Preferences in New Leaf are as Follows

Default clothing: Blossom Tee
Favorite song: K.K. Ragtime
Coffee Preference: Kilimanjaro, no milk, no sugar
Life goal: Detective
Skill: Yo-Yoing
Hobby: Play
Like his attitude, appearance, and house, Bob's preferences between New Leaf and New Horizons have changed minimally between games. There are a few minor differences, such as favorite song, but aside from that, they are mostly the same. Although I'd usually be upset that there are no differences between games, I love that Bob has remained the same as his first appearance in Animal Forest. It once more feeds into the nostalgia surrounding this character, and I hope that is continued in the future of Animal Crossing.
Bob's Preferences in New Horizons are as Follows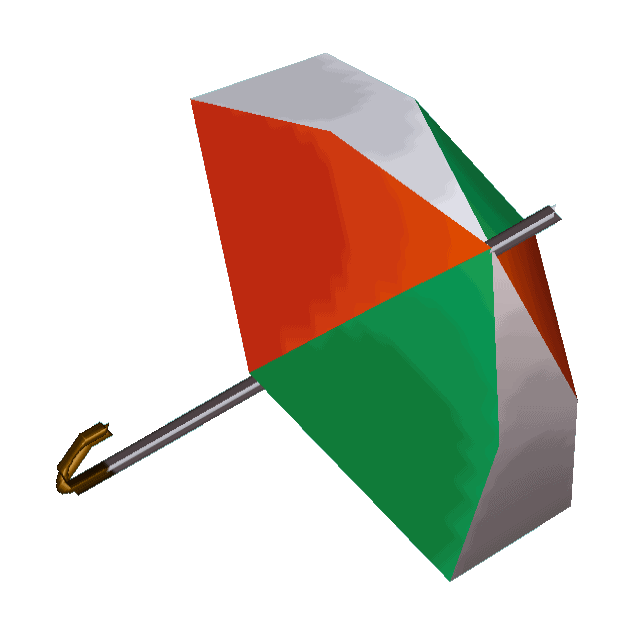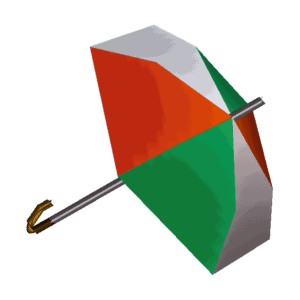 Default clothing: Blossom Tee
Default Umbrella: Gelato Umbrella
Favorite song: Neapolitan
Favorite clothing colors: Red and Colorful
Favorite clothing styles: Simple and Cute
Favorite furniture colors: Colorful, Blue, Aqua, and Yellow
Favorite interior concepts: Child's Room
Hobby: Play
A Gift Guide for Bob
So now you know the ins and outs of what makes Bob happy, you may ask how you can impress this marvelous mog and begin boosting your friendship with him, which is where gift-giving comes in so handy! Taking in Bob's preferences and applying them the next time you go shopping will leave you with a great idea of how to find fantastic gifts for Bob.
Clothing is always the first place I start when it comes to gift-giving unless I'm befriending a villager whose outfit I adore. For example, when I began befriending Olive the cub, I loved her outfit so much I didn't want to change it, so I opted to give her furniture rather than clothing. But if you aren't too fussed about only seeing Bob's Blossom Tee once in a blue moon, then clothing is the best place to begin.
Regarding clothing designs, Bob loves anything simple and cute, and his favorite colors are red and colorful. There are quite a few options that meet these guidelines, but here are some ideas if you're stuck!

Flannel Shirt (Red and Black) – 1200 Bells
V-Neck Sweater (red) – 840 Bells
Rainbow Sweater (Red and Colorful) – 1200 Bells
Simple Parka (red) – 1060 Bells
Sweatshirt (red) – 700 Bells
But if you were searching for a more permanent gift, then Bob is partial to receiving a piece of furniture. His favorite interior concept is Child's Room, which is assumed when you step foot into his house. It's safe to say Bob loves anything playful, so any toys or toyboxes you have lying down would be happily accepted. His favorite colors are blue, aqua, yellow and colorful, so once again, and much like clothing, there are a lot of potential gift ideas with these guidelines.
If you are still stuck, here are some furniture gift ideas for Bob

Study Desk (Yellow) – 7'100 Bells
Elephant Slide (Blue or Yellow) – 2'400 bells
Electric Kick Scooter (Blue) – 4'400 Bells
Throwback Race-Car bed (Yellow or Blue) -3'800 bells
Baby Chair (Blue) – 1'200 Bells
Furthermore, Bob also appreciated a home-cooked meal or a hand-crafted piece of wooden block furniture. If you visit his home in New Horizons, you'll see how fond he is of this set since most of his furniture is hand-crafted and painted. I love giving my islanders something handmade. It just makes the whole ceremony of giving a gift much more personal!
Bob's House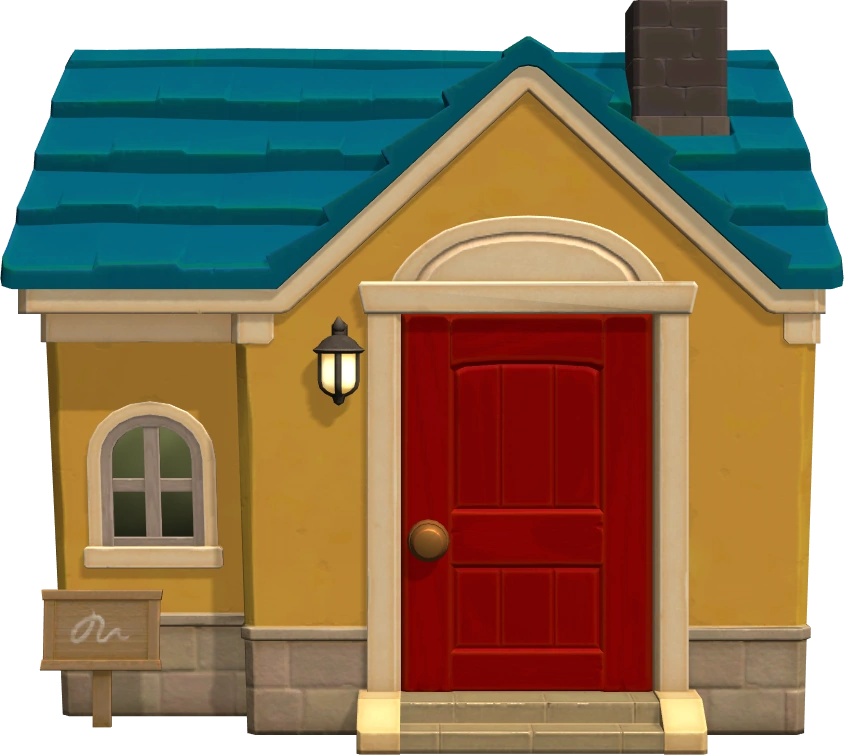 Bob's love for the Kiddie series has remained firmly cemented in his character from Animal Forest to New Horizons. So naturally, I expected Bob's house to receive the same renovation treatment as most other villagers in New Horizons. Still, the only significant difference is the exterior and wallpaper.
In each house, from Animal Forest to New Leaf, Bob showcases the entire Kiddie Series. One of the most notable differences in these games is the placement of the Kiddie Table. In Animal Forest, Animal Crossing, and City Folk, a Kiddie Table is placed in the center of the house. This changes only in Wild World, where the table is set toward one corner.
Aside from this, Bob's furniture rarely moves around. This is one of the reasons I was so surprised when I realized Bob's house didn't change the design in New Horizons. But, of course, it hadn't changed since he was first introduced to the game, so you'd expect he deserved something different!
In New Leaf, Bob has a lot of the same furniture and even keeps his table in the center of his house. But alongside the Kiddie furniture, a few new additions mark a slight change between games. Rather than sticking to one theme, Bob also has two plants and a mountain bike. In addition, the house's exterior has the same design as previous games, with rounded brickwork, a purple roof, pink walls, and a large blue front door.
New Horizons is the only game where Bob's house is ever so slightly changed, but even then, it isn't as notable as other homes. For example, Stitches was another kiddie-themed villager introduced to the franchise in Animal Forest, and his house was also filled with the kiddie series. But when he came to New Horizons, his whole place had a different design. I figured it was because the kiddie series wasn't as easy to come by in New Horizons, especially with the introduction of the wooden-block furniture set. But upon visiting Bob's house and being hit with some familiarity, I wonder why he didn't get the same treatment.
The house's exterior has yellow walls, a blue roof, and a red front door which loses the element of personality that Bob's house previously had. I love when houses look like their inhabitants in Animal Crossing, and I think that previous titles captured Bob's design in the design of his home. The interior shows the playroom wall alongside the kiddie flooring rather than the matching set. Most furniture on display is the wooden-block series with 'colorful' customization. Iconically, the wooden block table sits in the center of the house, paying homage to previous titles.
Bob in Pocket Camp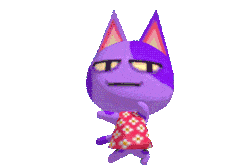 Bob joined Pocket Camp in January 2018 as a villager who randomly appears on the islands surrounding your campsite. As much as I love the rarity scale given to villagers through Treasure Trekking, I prefer finding them on an island and crafting their favorite items rather than finding a map. Unfortunately, Treasure Trekking is so sporadic that it's hard to catch a villager you love, and it depends on luck when you find an island.
Since Bob was the first villager to be designed for Animal Crossing, I don't understand why he wasn't introduced into Pocket Camp when the game was first released. However, the wait was worth it when he joined. I invited him to my camp as fast as I could, especially after the fond memories of Wild World returned. Bob is an adorable addition to any campsite and is happy to join in the fun with all your other campers! I adore seeing him interact with my decor and fellow campers.
To invite Bob to your campsite, you need a minimum friendship level of five. Additionally, you will need to craft the following items:
Capsule toy Machine
Kiddie Table (Basic)
Kiddie Bureau
Kiddie Rug
Kiddie Couch
Crafting these items will set you back 7'270 Bells, 90 Steel, 90 Cotton, 30 Wood, and Six Hip Essences. Additionally, it'll take twenty-one hours unless you speed things up with Leaf Tickets, so it might be worth starting sooner rather than later. I never spend Leaf Tickets on crafting time, so I always wait out the whole time, but I can argue that it's worth it for the villagers you love.
Bob doesn't let you walk away empty-handed, either. As your friendship with him progresses, he will award you as follows:
Level 7 – 1x Blossom Tee and 1x Sparkle Stone
Level 9 – 1x Sparkle Stone
Level 15 – Bob will request you craft a Boot Sculpture
Level 20 – 1x Self-Portrait of Bob and 1x Sparkle Stone
Level 25 – 65 – 1x Sparkle Stone every five levels
Bob's Circus Cookie

It's only fair for one of the most memorable Animal Crossing villagers to have a Fortune Cookie in Pocket Camp. Bob's Circus-themed cookie was released in October 2019, two years after the game's initial release, and it remained for sale until January 2020. Since then, it's been reissued four times, starting with twice a year in 2020 and then dropping to once yearly. I love this cookie, and I'm so upset that I've missed every reissue. So every time there's a fortune cookie announcement, I pray it's Bob's Circus cookie!
However, if you're like me and missed its release and reissue, this cookie can also be found in many gifts. Bob's Circus Cookie is a potential prize in the Sky Blue Gift, Sky Blue Gift+, Circus Gift+, Friendship Blossom Gift, Friendship Blossom Gift+, Vintage Valentine Gift, and Vintage Valentine Gift+. If you have an expansive friends list who always exchange gifts, keep your eyes peeled.
The prizes in this cookie are too cute, and the entire collection would make a fantastic circus-themed campsite. Paired with a few Dom's Funfair Cookie items, you could create a carnival for villagers and campers to enjoy! I love large furniture items which my campers can interact with. Things like rides, slides, and merry-go-rounds are a fantastic addition to any campsite. So Bob's Circus Cookie is another for the wishlist for sure!
The potential prizes you may gain from Bob's Circus Cookie are as follows:
Big-Top Popcorn Tower
Big-Top Stage Screen
Spotlight Stage Rug
Big-Top Balancing Ball
Big-Top Trampoline
Big-Top Treats Wagon
Juggler's Clubs
Big-Top Tightrope
Circus Ringmaster Outfit
Circus Ringmaster Top Hat
Circus Ringmaster Pigtails
When this cookie is reissued, it'll cost fifty leaf tickets for one or 250 leaf tickets for a box. Which may seem expensive, but the rare rewards and unmatched by other furniture you can craft in the game. Remember when I said I don't spend my leaf tickets on speeding up crafting time? That's because I'm saving them up for a box of cookies!
I look forward to when Bob's Circus Cookie comes back into circulation, and I'm keeping my fingers crossed in the hopes I'll be lucky enough to find it and the Nook Fortune Cookie Cart for 5'000 Bells!
Bob's e-Card and Amiibo Card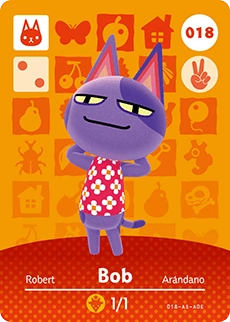 Since Bob was a part of Animal Forest, alongside his amiibo card, he also has an e-Card in circulation. They may be rare, but they are a fantastic addition to any Animal Crossing fanatic's collection. Bob is number 11 in the e-Card collection, but due to his immense popularity, he is potentially one of the hardest to come across. While his card is rarely sold separately, packs of e-Card are frequently sold on eBay, much like amiibo cards. So if you're willing to test your luck, you may rehome this charmer!
But if you're looking to invite Bob to your campsite, then hunting down his amiibo card will be more beneficial. His amiibo card number is 18, meaning he was one of the first villagers to have an amiibo. The first seventeen cards in Series One are NPCs, so Bob is technically not only one of the first villagers but also the first villager in the whole collection. In Series One, Bob is one of four cat villagers to be included, alongside Punchy, Kabuki, and Kiki.
Once again referencing his popularity, buying Bob's amiibo card on its own comes with a fairly hefty price tag. Even though there isn't a rarity scale of villagers in Animal Crossing, mainly because each villager and NPC has their amiibo cards, I'd suggest that Bob is one of the more elusive villagers. If you don't want to try your hand at pulling his card, you can get him through Nookazon, but there's a substantial price over his head there, too.
Bob can live on your island for an average of 1.5 Million Bells or the equivalent of fifty Nook Miles Tickets, given you have an empty slot. With a price like that – I'd be more inclined to use the fifty Nook Miles Tickets to try and search for him via Island Hopping! If you're fortunate, you may be able to find him on Nookazon for a trade, but I can't imagine people are exchanging him for anything less than a Raymond.
Summary
Even though he isn't a character I'd immediately state I love in conversation, I'll always have a special place for Bob in my heart. I have shared many fond memories with him throughout my years in Animal Crossing, and I'm sure if he were to move into my island on New Horizons, we would continue our legacy as best friends. Additionally, I love how many fans of the franchise feel the same towards this purple cat. He's such a memorable character, and he's brought much joy. I'm confident he will continue to do so in the future of Animal Crossing as well!
FAQs
Question: Was Bob the First Animal Crossing Villager?
Answer: With his amiibo card being the first and his birthday falling on the first of January, there has always been a lot of speculation that Bob was the first Animal Crossing villager to be designed for the game. Luckily, the hypothesis was confirmed by the co-Creator of Animal Crossing, Hisashi Nogami, who stated that Bob was the first villager to be designed for the franchise. No wonder he feels so nostalgic!
Question: Can e-Cards be Used like Amiibo Cards?
Answer: No, they cannot. E-Cards were introduced in Animal Forest e+, and while they may function similarly to an amiibo, they are not compatible with NFC readers. Also, rather than scanning them into the game, e-Cards come with a password on the back, which can be input into the game to invite the villager over. Currently, e-Cards are primarily on the market as collectible items rather than an amiibo equivalent.
Question: How Many Villagers are in Animal Forest?
Answer: Not including special characters or islanders, there were 284 villagers in Animal Forest. Which is just over half of how many villagers are in New Horizons!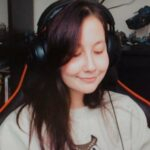 Latest posts by Kara Phillips-Ashman
(see all)