When Animal Crossing New Horizons was released in 2020, it was only appropriate for Nintendo to release a limited edition console to coincide with the release. But, if you remember how desperately everyone wanted a Nintendo Switch, you'll remember how quickly everything sold out.
Currently, it's not too hard to find the Animal Console Nintendo Switch console as a whole, but when elements begin to be sold separately, it's a different story.
With a new Switch console comes new JoyCons, and the Animal Crossing-themed controllers are too sweet to ignore. For any Animal Crossing fanatic, these are an essential addition to any collection, whether you use them for gaming or place them on display. They may not be explicitly covered in Animal Crossing icons and characters, but they are a subtle homage to the game.
However, these controllers are slightly challenging to come by, especially on their own instead of with a bundle alongside the console. So I've created this guide to explain everything you need to know about them, from their original appearance and where you can find them to some great alternatives if you're struggling to come across the original.
The Official Animal Crossing JoyCon Controllers
The Animal Crossing JoyCon Controllers were released alongside the Animal Crossing Nintendo Switch Console for the release of New Horizons in March 2020. In terms of their design, there's no denying that they are pretty plain.
Coming from someone who loves Animal Crossing, I cannot help but feel their appearance is slightly lackluster. Especially when you look at the other controllers released alongside other limited-edition Nintendo Switch consoles, I do appreciate the color palette on the entire console, as I think it perfectly matches the laid-back island life and comfortable tones of the game.
Appearance
The left Joycon has a mint green shell, with standard back buttons as seen on any other JoyCon controller. To match, the right Joycon Controller has a soft blue colored body with black buttons. In addition, both thumbsticks are black, as are both shoulder and trigger buttons. So, all in all, the designs are straightforward, but there's no denying they look the part when paired with the dock and console.
Both controllers come with a soft yellow, sand-colored rail which matches the dock of the Animal Crossing Switch console. Additionally, the pair comes with a patterned blue wrist strap created to match the color scheme of everything else.
I would've loved to see smaller details on the controllers to match the back of the Switch in handheld mode. Some white details could've popped on each controller, especially since the two controllers have cool tones. Of course, a few artists have created shells with more detail that still match the original colors, but I'll talk about that later.
Where to Purchase the Original Joy-Cons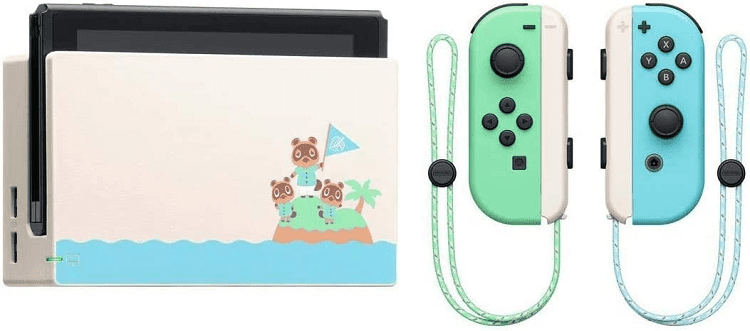 If you're like me and owned a Nintendo Switch before the release of Animal Crossing: New Horizons, you probably didn't get a chance to secure this limited-release console. The release of New Horizons led to Switch Consoles becoming sold out globally for a good few months, especially something as limited and exclusive as this console.
So, if you didn't get an Animal Crossing switch yet and adore the soft, pastel-colored JoyCon controllers that came with it, you may be looking to buy them separately. However, unfortunately, the JoyCon controllers from this release have never been sold separately by licensed retailers.
But that isn't to say that these JoyCon Controllers are not available anywhere. Secondhand retailers may have them in stock due to the popularity of the release, but there are several things to consider when buying something as fragile as controllers secondhand. Firstly, since they were part of an exclusive release, you should expect to pay a hefty sum to match their rarity.
Because of this, it's also best to check the product's authenticity. As I've already mentioned, their design is pretty simple, so it's not challenging to replicate. However, if you've spent a lot of time with JoyCon in hand, cheap, fake alternatives feel entirely different. Additionally, the colors of fake JoyCon may be slightly darker or lighter than the original, which is something else to look for.
Secondly, when buying secondhand controllers (especially JoyCons, which are prone to drift and damage), you should test them if you can, even if this means purchasing, testing, and returning on the same day.
You want to ensure that the controller works if you intend to use it for gaming, of course. However, if you want to add a pair of JoyCon to an Animal Crossing-inspired collection, you can purchase without testing with no strings attached.
Finally, a great way to uncover any hidden issue with secondhand controllers is to discover why they are sold separately from the console. The reasons are usually a great way to find out if there are any connectivity issues or input issues before you buy. In addition, it's unusual for such specific controllers to be sold separately from the console they were designed around, which is another essential thing to consider.
These factors play into why similarly colored shells became so popular upon the game's first release since they allowed more gamers access to working, high-quality Animal Crossing JoyCon without having to buy an entire console.
Fan-Made Shells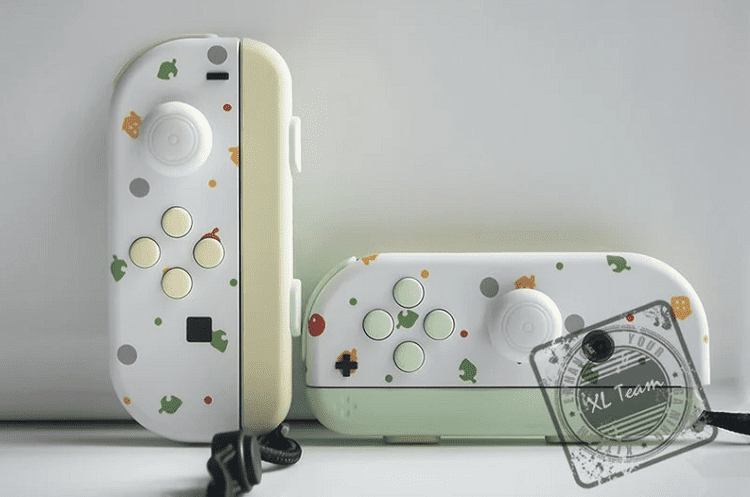 I've mentioned this a few times, but I cannot express the importance of Fan-Made Shells when it comes to themed controllers. Especially with JoyCon. They are a great way to alternate the color of your controllers without buying a new pair each time.
So if you want to get ahold of the Animal Crossing JoyCon, this is the closest you can get to them without forking out for a full console or taking the risk of buying them secondhand.
When you are researching buying shells made by artists, the best advice I can offer is to make sure you are buying something high quality, which is usually noted by the price of a product. Because of the saturated market with products like this, it's straightforward to buy something cheap and mass-produced accidentally.
Cheap plastic will make swapping the shells of your JoyCon Controllers incredibly difficult and prone to breaks which are best to avoid since JoyCon are already vulnerable to breaks as they are. The general rule of thumb is to expect to pay for a high-quality product, and you won't be disappointed.
Because of this, I tend to avoid shells sold on sites like eBay, just because it becomes hard to tell whether or not the images are authentic, and there's not much opportunity to discuss the product with the seller. On the other hand, places like Etsy are great places to look since you will see more detailed product descriptions and images, and the platform is designed for artists to sell their work.
However, artists on social media such as Twitter or Instagram can also provide valuable links to personal marketplaces and websites, guaranteeing a genuine, handmade product and experience.
My Top Pick – CitrusPair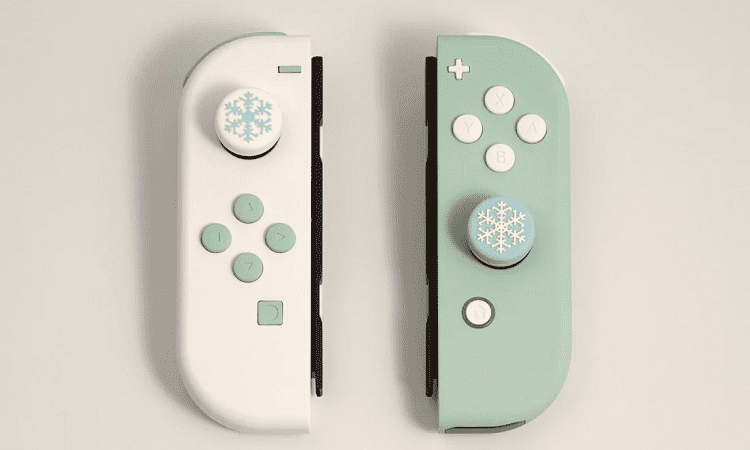 My personal favorite JoyCon or Controller artist is CitrusPair. After gaining a lot of popularity for their replication of Animal Crossing JoyCon, they have specialized in creating a series of muted and pastel-toned JoyCon Controllers to stray from the typical, vivid approach of official Nintendo JoyCon.
Although Animal Crossing JoyCon isn't on their menu, they are open to commissions. The best way to know when commissions are available is to follow their social media or keep an eye on their website.
Cloudy Skies is the closest design they have to the original Animal Crossing JoyCon Controllers. However, my favorite is Peaches & Cream, which takes on a Peach color and a cream color.
They also offer a recycling program, so if you've been having issues with your current JoyCon or want to change their colors without having to unscrew everything yourself, you can send them off and receive an artisan pair instead. Doing this will offer a reduced price compared to buying their controllers outright, without having to sacrifice any of the quality.
Pros
Incredibly high-quality
Authentic product with no risk of break or damage before use
Attention to detail in matching the buttons to the shell color
Recycling Programme for old controllers to receive a facelift
Cons
Quite an expensive alternative since you are buying a pair of new controllers
The Animal Crossing design is the most popular, so it frequently sells out
Other Alternatives for Fan-Made Shells
However, if the current CitrusPair menu isn't taking your fancy and you are desperate for something much closer to the original, I've found various alternatives for you. There is a massive market for similar shells to the initial release.
There's also an enormous market for stickers that cover the color of your JoyCon instead of shells, but I do not get on with them, and they are tough to work with, so they will not be included in my guide.

I've found the best of the best when it comes to Animal Crossing JoyCons to save you from having to question every listing. So here are some more of my top picks for shells:
JoyCon and Backplate by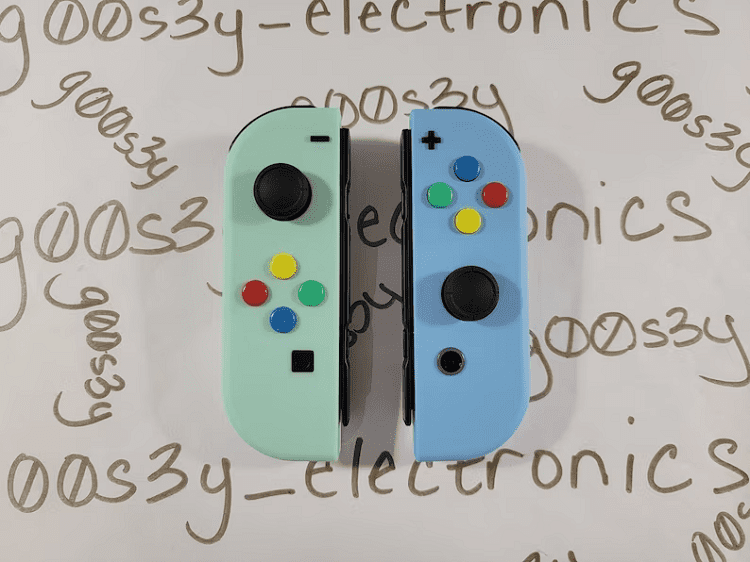 These JoyCons may be slightly on the more expensive end of the scale, but you are also paying for a backplate for your console, which matches the original Nintendo Switch console. So even though they are on the more expensive end of the scale, you'd be getting incredibly close to having an Animal Crossing Nintendo Switch without having to purchase the console.
However, with this set, you will have to fit everything yourself. Unlike a company like CitrusPair, you cannot send off your console for everything to be made for you, so it's best you know your stuff when changing shells and plates for your console. In addition, you must know what you're doing to prevent any issues or damage you may cause to your console.
Design Your Own Animal Crossing JoyCon by RedTeamGaming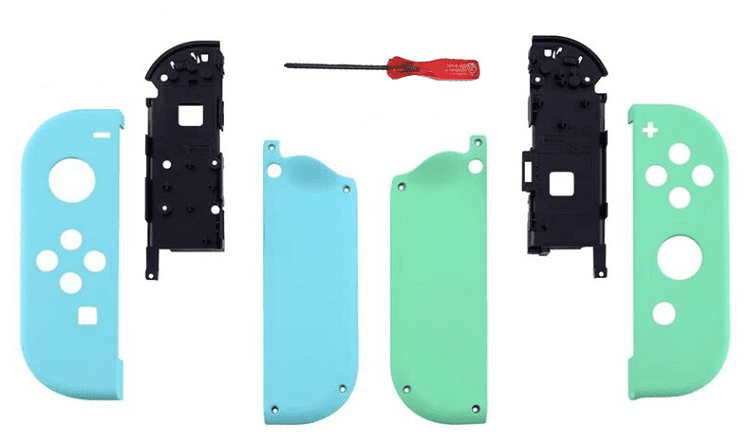 These JoyCon are incredibly close to the original release but not quite perfect. The color palette is a little darker, and given the fair price, they may not have the same smooth feel as the official Joycon, but they certainly look the part.
They are an incredibly close alternative if you can't quite get ahold of the official release. If you're looking for a cheap yet almost perfect option, then this is the suggestion I would have.
Much like the JoyCon and Backplate set, you will need to change the shells yourself, which comes with risks. To make matters easier, this set also comes with the appropriate screwdriver to deconstruct your JoyCon controllers, but you will still need to know your stuff before you change them.
Furthermore, this pair only comes with front-colored shells and black backplates, so you won't receive colored rails or wrist straps.
Animal Crossing JoyCon shell for Nintendo Switch by CMGaming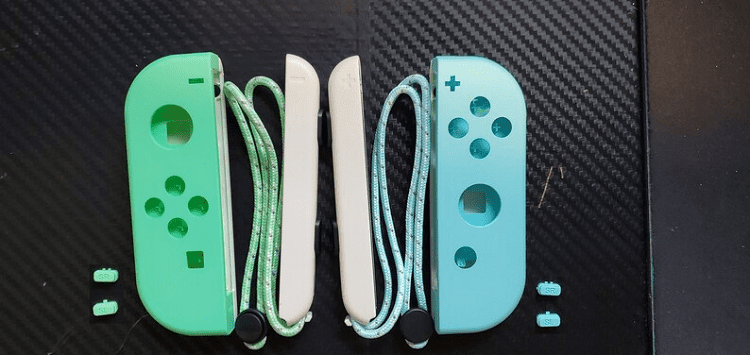 Now, these shells are definitely what I would suggest if you have an appropriate budget. They are identical to the official Nintendo JoyCon Controllers, even down to the colored rail and wrist straps. The colors for the front plates are perfect and beige backplates cover the rear rather than black backplates like the previous suggestion.
The buttons also match the original with white details and black thumbsticks, so aside from a bit of DIY, you will basically be purchasing the original. Even the SR and SL buttons are colored to match the controllers!
Once again, you will need to replace the shells of existing JoyCon controllers, but this set comes with the same tiny screwdriver to make the process easier. I cannot express how perfect I think these JoyCon shells are, and if I didn't already have a set of adorable colored JoyCons, I would love to get ahold of these.
Joy-Con Accessories and Grips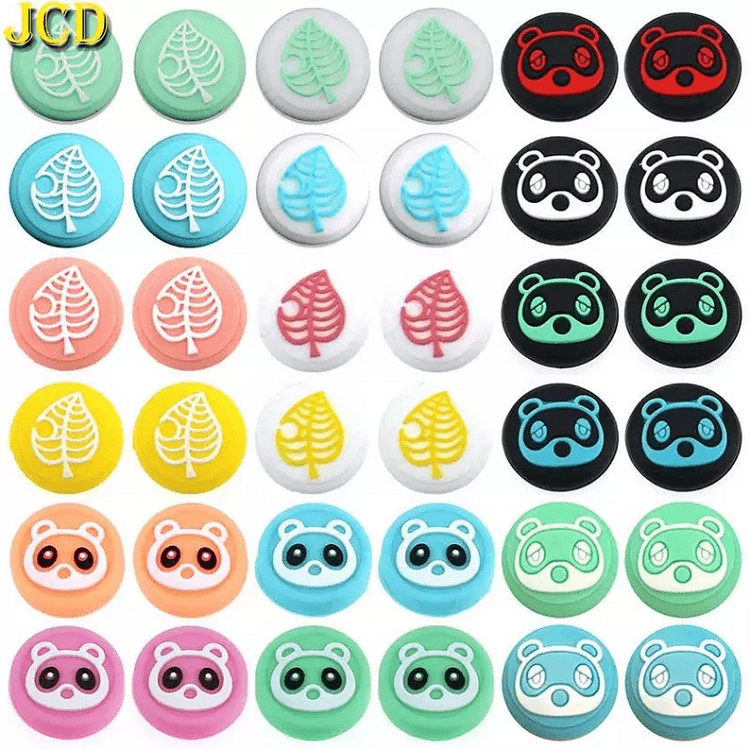 Alongside Animal Crossing-themed JoyCons, there are several things you can add to your setup to create the perfect AC console to sit down and play with. Switch accessories are one of my favorite things to collect, as the console dock can be pretty plain unless you have a limited edition version.
An affordable accessory I love would be thumb grips for JoyCon Controllers. Not only are they affordable, but there are loads of Animal Crossing designs you can apply to your setup. For example, you may have stumbled across Tom Nook or Isabelle-themed thumb grips or even the Nook Inc Leaf Logo, which matches the color palette of the Animal Crossing JoyCon.
Still, a few designs outside of this may better suit your setup. For example, I have a particular soft spot for the fruit-themed grips, especially the peaches, since they are the fruit my island specializes in. However, I recommend these if you're looking for something slightly more subtle to add to your JoyCons.
Also, if you purchase a set of JoyCon shells that don't come with colored rails, you may consider getting an official Animal Crossing JoyCon holder. If you aren't used to having both JoyCons disconnected from the console, a holder can be a gamer's best friend.
The PowerA Joycon Comfort Grips design is charming, especially with the pops of color through the icons in the central panel and the Isabelle design toward the bottom.
While the white design may appear simple at the start, the whole thing comes together once the JoyCon is placed. If you're planning to sit down for an extended New Horizons session, having a comfortable hold on your controllers can prevent cramps.
FAQs
Question: Are Fan-Made Shells NFC Compatible?
Answer: It's essential to know that Fan-Made shells are not an entire JoyCon. The actual controller will need to be purchased separately. However, if you are looking at buying an Animal Crossing-inspired JoyCon pair, the seller will state whether or not the price is just for the shells or the entire controller.
In addition, all JoyCon controllers are NFC compatible, so whether you buy a new controller or swap your color, you will have NFC capabilities. So worry not; you can invite your favorite villagers whenever you fancy.
Additionally, Fan Made Shells usually have a selection of buttons for your controller. These are a great choice if you're looking for an extra slice of personality in your hardware.
Question: Can You Buy the Original JoyCon Controllers on Their Own?
Answer: Since the Animal Crossing limited edition Nintendo Switch was so popular, many gamers were keen to get ahold of it. However, the JoyCon Controllers were never officially sold separately, unlike other limited edition Nintendo Switch Consoles such as Legend of Zelda.
That said, since they are just plain colors and have no exclusive patterns or Animal Crossing Designs, they are pretty easy to replicate. In addition, the fan-made controllers are such a fantastic alternative.
So long story short, you cannot buy the original JoyCon Controllers on their own unless they are secondhand, which always presents the risk of purchasing a controller with drift or various other issues which aren't included in the description.
Question: Are PowerA Switch Controllers NFC Compatible?
Answer: Unlike the official Joycon Controllers, PowerA and most third-party controllers do not have an NFC chip embedded, so they do not allow amiibo compatibility.
Although they are a cheap alternative to controllers and still host a variety of adorable Animal Crossing designs, having NFC compatibility with a game like New Horizons is essential for anyone who wants to invite villagers to their island. So, it's something to consider if you are looking for an Animal Crossing controller yet don't want to rely on JoyCon.
Conclusion
So even though the official Animal Crossing JoyCon controllers that came with the original console are pretty elusive nowadays, there are still numerous ways to incorporate their designs into your setups.
Without spending too much money, you can get pretty close to getting something almost perfectly identical to the original release, so it's worth doing if you are an avid Animal Crossing fan like me.
Although I would love to get the whole Animal Crossing console one day, JoyCons are a great place to start. Especially with the number of accessories, you can personalize your console further. There's no denying that Animal Crossing is an incredibly cute franchise, so I believe everyone's setup can also benefit from some sweet accessories.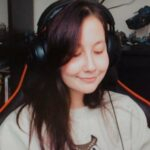 Latest posts by Kara Phillips-Ashman
(see all)