Ah, Dotty, the classic peppy villager (a type that has barely changed over the years); she is one of the original villagers (who also hasn't changed much!). While Dotty is often forgotten amongst the many, many villagers in Animal Crossing, she is a nostalgic character for those who have been playing Animal Crossing for a long time.
Dotty also has one of the prettiest patterns of the rabbit villagers. There's a ton of information on her and her aesthetic, more than most villagers!
Bottom Line Up Front
Dotty was one of the first villagers I'd ever seen, way back in the day, and something about her design is incredibly nostalgic. If you had played any other Animal Crossing games leading up to New Horizons, you've probably already had her as a villager.
She's dependable, fun, and adorable. She's not among my top favorites, but she always brings a smile to my face, and I'm sure she'll do the same for you.
Today we will be going over some gift ideas, all about her (and more stuff you probably didn't know about her), Happy Homes, older games, who she gets along with and who she doesn't, as well as a few more deliciously Dotty things along the way.
General Facts about Dotty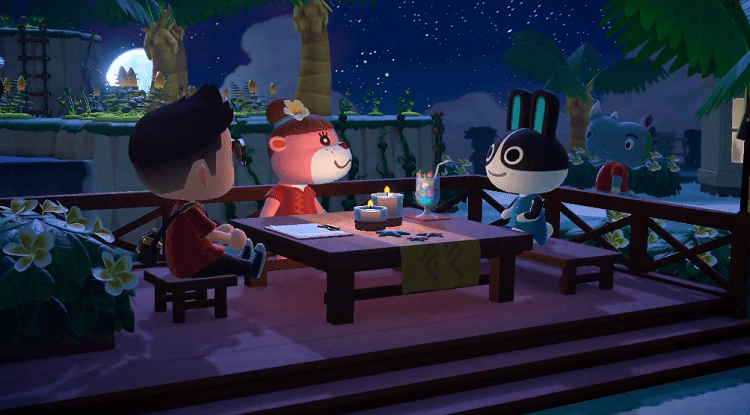 Gender: Woman
Species: Rabbit
Birthday: March 14th
Star Sign: Pisces
First Appearance: Dōbutsu no Mori
Personality: Peppy
Catchphrase: Wee One
Skill: Home repair
Dotty's Preferences
Favorite Songs: Aloha K. K, Drivin' K.K., K. K Jazz, K. K. Lovers, K. K. Technopop
Default Clothing: Blue check tee, sleeveless tunic
Default Umbrella: Yellow umbrella, Lacy parasol
Favorite Colors: Blue and black
Favorite Styles: Stylish, fancy, modern, simple, and cute
Favorite Furniture Colors: Colorful
Least Favorite Styles: Cool and official
Goal: Tennis player
Hobby: Fashion
Coffee: Blue Mountain, lots of milk, three spoonfuls of sugar
Appearance
Dotty's appearance is based on the real-life Dutch rabbit: a black and white rabbit with a primarily black face and a white stripe in the middle. Dotty also has blue on the inside of her ears, referencing the Dutch rabbit with blue eyes.
She has black down the sides of her arms, and the rest of her is a pale white. Dotty has big circle eyes with large black pupils.
Personality
Dotty is a peppy villager, meaning she is thrilled by life, friendly, and ready to become a superstar at any time. Peppy villagers will generally talk to others, including the player, in a nicer way at the beginning of a friendship than most; they will also ask for more favors.
Peppy villagers get along best with other peppy villagers (my favorite combo, as they are so cute together), jock, lazy, and normal. They do not get along with snooty or cranky villagers. (This is primarily one-sided hatred with the snooty and cranky ones.)
Why You Want Dotty on Your Island/Village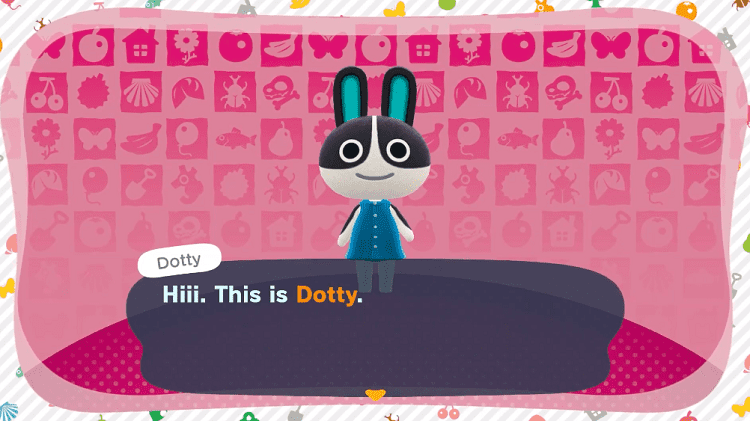 Dotty has a very clever design for a villager, and she stands out far more in earlier games than in the newest ones. I highly recommend her for anything between Dōbutsu no Mori and Wild World.
She can blend in with other peppy or rabbit villagers, so unless you're aiming for an animal or personality-type-specific island or village, she could easily be a pass for you.
House
Dotty's house has gone through some severe renovations throughout the years, going from a moon-themed (speculated to be related to the rabbit moon, which is the same house theme shared by four other rabbit villagers: Carmen, Ruby, Mira, and Sasha), to newer, more modern styles, to one older one that's kind of just there?
She's wild. Let's get into her different homes and what's in them.
Dōbutsu no Mori & Dōbutsu no Mori+
Outside
In both Dōbutsu no Mori and Animal Crossing (possibly Wild World and City Folk as well; I could not find any information on the look of her house in those), she has the same exterior house design, which is a cream wood-paneled house, with a red roof and dark wooden windowed door.
Inside
Work ahead sign board
Fence
Tape deck
Orange cone
Mini sputnoid
Lunar lander
Barricade
Space station
Detour arrow
Request signboard
Wall is Tropical vista
Flooring is Tropical floor
Song is K.K. Technopop
Animal Crossing
Outside
Animal Crossing has the same exterior as Dōbutsu no Mori. How original.
Inside
Five Moai statues
Two Garden stones
Toilet
Tape Deck
Alarm clock
Wall is Tropical vista
Flooring is Tropical floor
Song is Aloha K. K.
Wild World & City Folk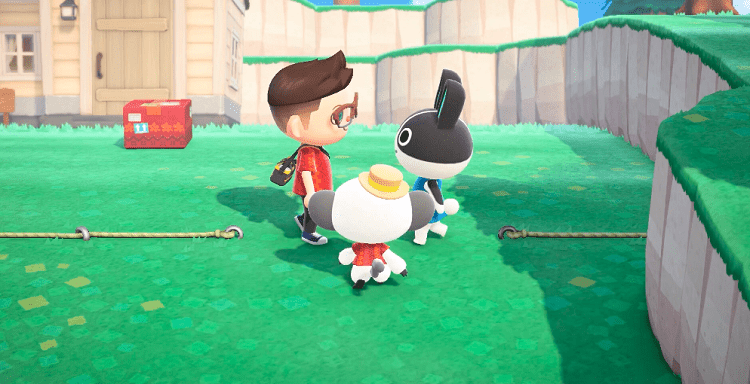 Outside
Does not have exterior decorations.
Inside
Tall sproid
Satellite
Lunar rover
Lunar lander
Three spaceman sams
Wall is Desert vista
Flooring is Saharah's desert
Song is K.K. Technopop
New Leaf
Outside
In New Leaf, Dotty gets an exterior update! She has a round-shaped house with a black roof, red borders and windows, and a yellow door. In addition, the fence around her home is white.
Inside
Small spotlight
Sleek stereo
Cream sofa
Sleek lamp
Sleek side table
Pachira
Storage case
Shower stall
Modern bed
Wall is Stripe wall
Flooring is Sleek carpet (lotta sleek here)
Song is K. K. Technopop
New Horizons
Outside
Another significant design change! Outer and inner! The shape of her house is square, with a black roof, light gray stucco exterior, and a gray windowed door.
Inside
Pop up toaster
Gas range
Simple kettle
Tea set
Portable record player
Yucca
Floral swag
Floor lamp
Pot rack
Wooden simple bed
Wooden wardrobe
Wooden full-length mirror
Ironwood clock
Mini fridge
Wooden end table
Woodland low table
Green shaggy rug
Wall is Green intricate wall
Flooring is Pine board flooring
Music is K.K. Drivin'
Gift Guide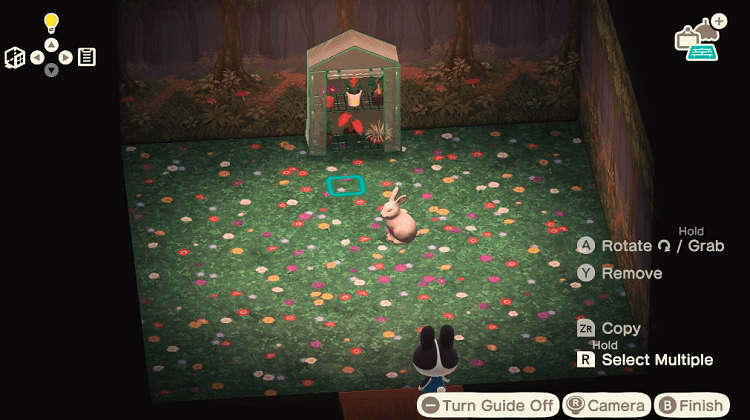 Dotty is a very easy villager to give gifts to because she has various likes! The only part that may be difficult is furniture since you can give her about anything, and it can be harder to narrow down a good list. So I'm here to help you narrow it. I'm like an editor but free, and it's Animal Crossing.
Dresses
Milkmaid dress
Maxi shirtdress
Sheep costume
Long chenille cardigan
Trench coat
Tee dress
Pajama dress
Bubble skirt party dress
Ribbons and hearts knit dress
Sleeveless shirtdress
Floral lace dress
Sailor collar dress
Simple dots dress
Full body tights
Magical dress
Sushi chef outfit
J. outfit
Design overalls
Loose fall dress
Steampunk dress
Shorts outfit
Sheep costume (it's adorable, trust me)
Tops
Tube top
Humble sweater
Layered shirt
Boa blouson
Acid washed jacket
Raglan shirt
School uniform with ribbon
Fired up kanji tee
Tight-knit sweater
Ribbon straps tank
Plaid puffed sleeve shirt
College cardigan
Hello kitty tee
Argyle sweater
Loungewear shirt
Sailor style shirt
Hanten jacket
Dreamy sweater
Tank
Silk floral print shirt
Headwear
Giant ribbon
Round frame glasses
Sushi chef hat
Snowy knit cap
Impish horns
Heart hairpin
Ribboned garden hat
Plain paperboy cap
Octagonal glasses
Plain do-rag
Ribboned small hat (my favorite)
Sailors hat
Patchwork tulip hat
OK Motors cap
Eye mask
Shallow knit cap
Nurse cap
Blue rose crown
Square glasses
Bunny ears (iconic)
Ribboned straw hat
Furniture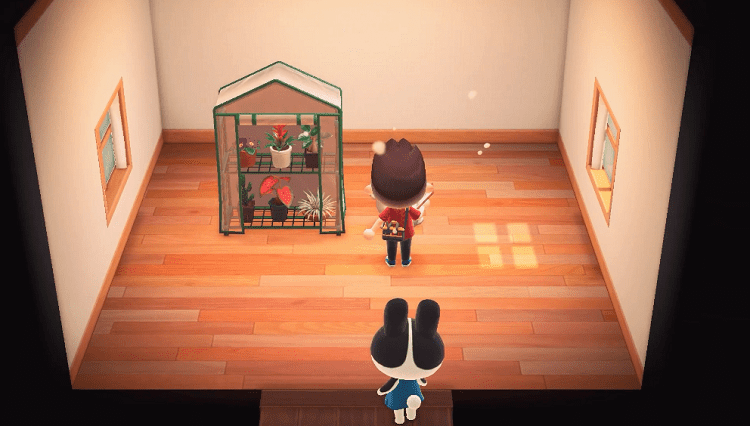 Nordic low table
Simple bed
Cartoonist set
Tea set
Changing room
Simple small dresser
Microwave
Laptop
Fresh food trays
Glass jar
Fan palm
Floor lamp
Pet bed
Revolving spice rack
Retro fan
Mug
Sewing machine
Cutting board
Dessert carrier
Cool side table
Sloppy bed
Stand mixer
Nintendo switch lite
Tulip surprise box
Espresso maker
Cinnamon roll tray
Simple small dresser
Ranch bed
Ranch cupboard
Plastic closing organizer
Gift pile
Outdoor Decorations
Rattan towel basket
Tulip surprise box
Wooden mini table
Menu chalkboard
Retro gas pump
Rattan end table
Sturdy sewing box
Lily pad table
Laptop
Painting set
Bamboo doll
Street lamp
Iron garden bench
Wedding candle set
Fortune cookie cart
Cypress plant
Plant partition
Wedding flower stand
Maypole
Ironwood low table
Natural garden chair
Flower bed
Pocket Camp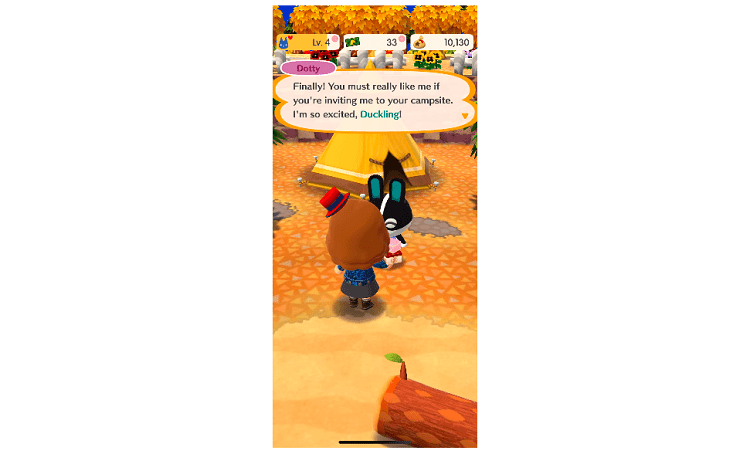 Dotty came to Pocket Camp on February 15th of 2018 and is a reasonably easy villager to get since you don't need a map to find her. You can stumble on her visiting islands, and her requirements to invite her to your camp are also extremely easy.
To do that, you need to have a level three friendship with her first; then she will ask you to make an assorted amount of the "natural" type furniture.
Minimalist lamp (requires six steel and 290 bells to craft)
Coffee maker (requires six steel and 550 bells to craft)
Aloe (requires six wood and 430 bells to craft)
Hammock (requires three wood and three cotton, as well as 420 bells to craft)
(basic) Counter table (requires three steel and three wood, as well as 510 bells)
Once you have her at your camp, start befriending her more! There are rewards at certain levels you reach with friendship. They go as follows:
At level 7, you get one blue checked tee and one sparkle stones
At level 9, you get one sparkle stones
At level 10, you get a reversi piece
At level 20, you get Dott's pic and one sparkle stones
Every five levels following (up to 70), you get one sparkle stones
Dotty also has her own fortune cookie! It's called Dotty's tea party and is an extremely cute, semi-gothic fortune cookie. If you are still waiting to learn what fortune cookies are in Pocket Camp, they can be obtained (usually for 50 leaf tickets) each and are mystery boxes! Each box can contain several things, like clothing and decor.
A fortune cookie can also be found in gifts, which is a triangle-shaped item that can give many rewards, though it would be very rare to get her fortune cookie from the many, many, many they can drop.
If you can get your hands on that fortune cookie, yay! Here's what you may be able to get:
Decor Items
Royal rabbit teapot
Royal rabbit treats
Royal rabbit rug
Royal rabbit teapot
White egg lamp
Black egg lamp
Royal rabbit spoon
Clothing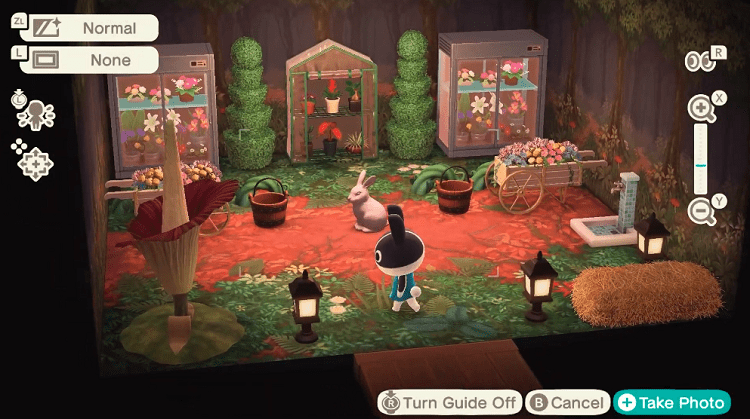 Royal rabbit crown
Royal rabbit dress
Royal rabbit suit
Happy Homes
In Happy Homes, Dotty's request is to make a black and white house, just like her! It is one of the most manageable requests due to its very open-ended nature, and it only requires a modern bed, with an added bit of her favorite song, K. K. Jazz.
I recommend a Modern sofa and a Modern dresser to start! Because this is a simple "two-color" request, it can be highly varied, so have fun!
FAQs
Question: Does Dotty have an Amiibo?
Answer: Yes! She has an E-reader card and an amiibo. What is an e-reader? It is the first version of an amiibo to be used in older games (i.e., Gameboy era). They read exactly like an amiibo and look nearly the same, but there are a few differences between her cards!
• E-reader: The front of the E-reader looks precisely like an amiibo, with an order and the villager in the middle, and her name, gender, and animal type on the front.
On the back, it goes into more detail, stating gender, animal type, and name again on the top, then going into a few more details, like her star sign (Pisces), what she wears (blue check shirt), her catchphrase (wee one), and a short description, which reads:
"Dotty is a talker. Most of the time, she's just talking about herself, and there's plenty to talk about! Let's just say Dotty has "unique" ideas when it comes to interior design."
She is in the series 1 e-reader and is #049
• Amiibo: Unlike the E-reader, amiibos have plain backs with a white design and random items in a pattern across them. The front of the card has been streamlined, with a pink background, her name at the bottom, her star sign, and up top, there's her animal type (rabbit), number (series 4, #335), and her hand sign (rock).
Question: Is Dotty a Good Villager?
Answer: Yes, I believe so! As noted, I think she's best in earlier installments of Animal Crossing, but if you like a black-and-white aesthetic, there aren't many villagers like her.
Question: Is Dotty Rare?
Answer: Not particularly. She has an amiibo, and has been in all games, so she's easy to find across all platforms and games!
Conclusion
I understand why Dotty doesn't get a ton of love. Still, her changing aesthetic, interesting house designs, amazing pattern on her fur, and peppy personality makes her an extremely easy villager to love.
Looking for more interesting readings? Check out: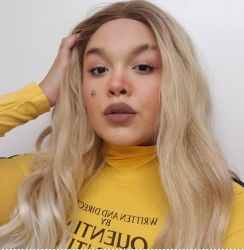 Latest posts by Lillie Forteau
(see all)