Norma: she's cute; she's a cow. She got some love recently with the strawberry cow song trend, as she has many color schemes associated with that aesthetic.
And while she's been in the Animal Crossing franchise since 2003, she has only been in three games (not including Pocket Camp), so she's pretty underrated! Her small horns and blue hooves make her easy to love, that's for sure.
Bottom Line Upfront
Norma was exclusive to an e-reader card and amiibo for two of the three mainline games she has been in, so it's easy not to know her. However, you're not alone: most people probably also don't know her.
Maybe she just came to your island, and you're trying to find some information, or you went back to an old game and noticed she was there! Don't worry. This article covers the basics + some about Norma, gifting ideas, basic traits, amiibo and e-reader information, and more.
General Facts
Gender: Female
Species: Cow
Birthday: September 20th
Star Sign: Virgo
First Appearance: Dōbutsu no Mori e+
Personality: Normal
Catchphrase: Hoof hoo
Skill: Karaoke
Coffee: Mocha with lots of milk and three spoonfuls of sugar
Preferences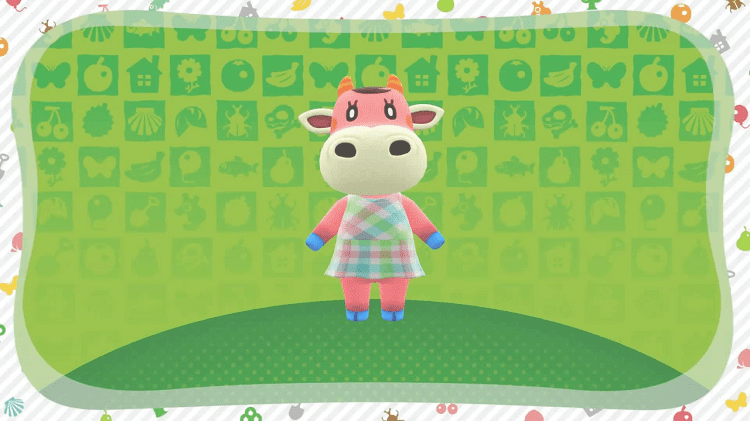 Favorite songs: Mountain song, K.K. Stroll
Default Clothing: Red aloha shirt, blue tartan tee, plaid print dress
Default Umbrella: Lacy parasol, cherry umbrella
Favorite Colors: White and aqua
Favorite Styles: Fresh, cute, simple
Least Favorite styles: Striking, rock n roll
Goal: teacher
Appearance
Norma is a tall pink and blue cow. She has small yellow and orange striped horns. Directly below on the sides of her head are her tiny ears, which are a cream color on the outside and brown pink inside.
She has a brown tuft of fur on the top of her head. Her eyes are oval and black, with two eyelashes on each eye. The inside of her eyes has a small dot of white. She also has orange circles of blush on her cheeks.
Her snout is the same cream color as her ears, featuring two large black nostrils. The rest of her body is pink, except for the bright blue hooves on her arms and legs and the tip of her tail, which is cream.
Personality
Normal villagers like Norma are the coziest and generally easiest to get along with. They love reading, they love music, they're dreamers, and they often talk about their family.
There are 77 Normal villagers in total, which is an only female-type personality, which means it has the most villagers in a women-only personality grouping! Yay, women!
Normal villagers get along with other normal villagers, as well as smug, lazy, and jock villagers. They're more likely not to get along with snooty and cranky villagers.
Why You Want Norma on Your Island
Overall, normal villagers are a very safe and chill choice for any Animal Crossing game. Still, I especially like normal villagers in New Horizons because they get along with most other personality types.
Some of the most-loved villagers are also normal types, like Molly or Marina! Norma is no different from these treasured villagers. She's very easy to love with a cute design and unique cow/normal type pairing!
Houses Across Games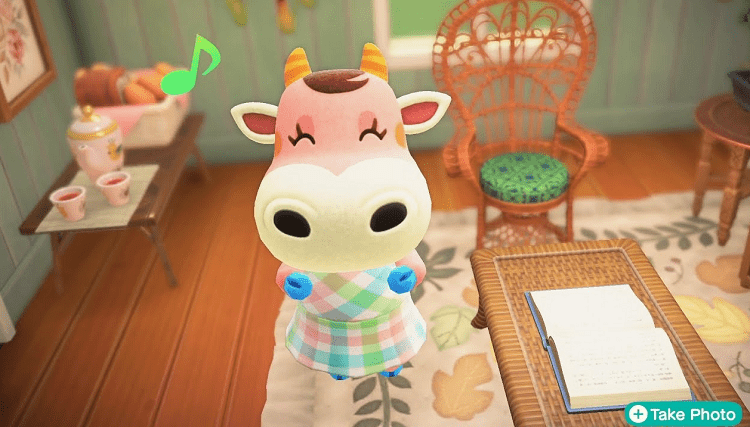 Norma's house style is a bit odd, going for a farmhouse-type look. She also has an RV, courtesy of New Leaf Welcome amiibo, which added new villagers that could only be added via an amiibo card. These villagers come with items and an RV, similar to the Sanrio amiibos.
Dōbutsu no Mori e+
Outside
The outside of Norma's house is a white and brown bamboo, with a thatched roof and surrounded by bamboo fencing. The door is a similar brown wood/bamboo with one window at the top.
Inside
Writing chair
Writing desk
Blue bookcase
Gold stereo
Ranch bookcase
Regal bookcase
Kiddie bookcase
Walls are Citrus wall
Flooring is Diner tile
Song is Mr. K.K.
New Leaf: Welcome Amiibo
Outside
The outside of this house is an orange wood, with a light wood accent color around the door. The door is dark brown wood with a gold-accented window. The roof is bright pink.
Inside
Office clock
Air conditioner
Two kitchen refrigerators
Milk carton
Two milk canisters
Cream sofa
Milk can
Minimalist dresser
Worktable
Walls are White brick wall
Flooring is Basement floor
Song is Mountain song
RV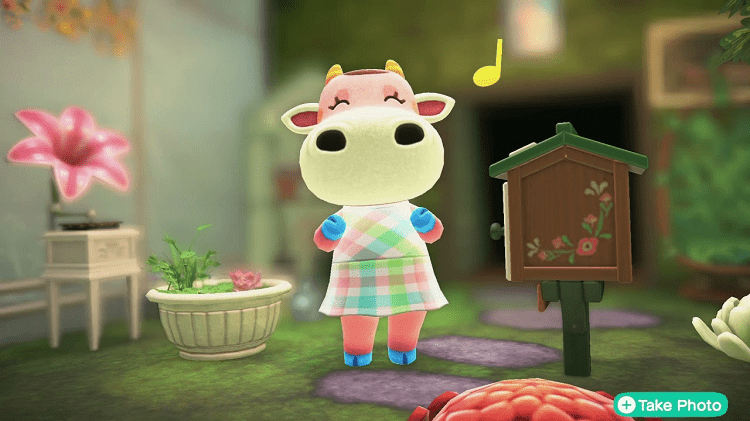 The description reads, "Norma's so proud of her artisanal dairy products that she always brings plenty of samples when she goes camping. Or anywhere, really." The outside of her RV is white with a light brown top.
Inside
Kitchen refrigerator
Milk canister
Milk can
Milk carton
Cheese
Mug
Worktable
Wood display stand
Wall is White brick wall
Flooring is Basement floor
Song is Mountain song
New Horizons
Outside
Norma's house in New Horizons has a rounded shape; the sides are a pale pastel pink clay exterior, with a white thatched roof and a white rustic door.
Inside
Cutting board
Picnic basket
Barrel
Butter churn
Firewood
Log bench
Log round table
Brick oven
Walls are Meadow vista
Flooring is Daisy meadow
Song is Mountain song
Clothing Gift Ideas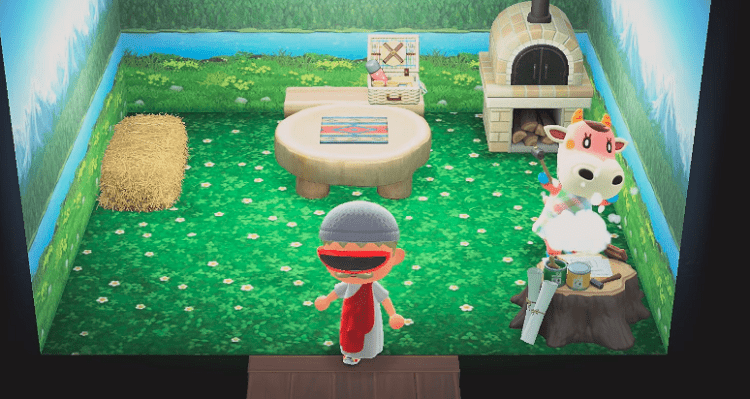 Norma is a cute, cozy villager, which should reflect in her style! She loves simple and cute items, both of which have a vast variety of clothing to choose from.
Headwear
Sailor's hat
Robo antenna
Nook Inc. eye mask
Lunch-service cap
Pom casquette
Student cap
Zen hair clip
Straw boater
Aran knit cap
Kerokerokeroppi pin
Do-rag
Paper restaurant cap
Tops
Denim jacket
Simple parka
Raglan shirt
Lacy tank
Layered tank
Snowflake sweater
Striped shirt
Sailors shirt
Energetic sweater
Simple dots tee
Long denim cardigan
Pom pom sweater
Cardigan school uniform top
Poncho coat
Chick tee
Boa blouson
Hello tee
Dresses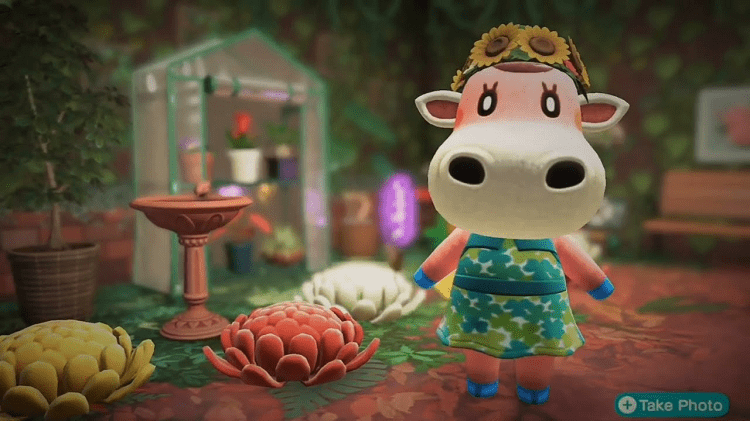 Maid dress
My Melody dress
Festive tree dress
Simple dots dress
Cafe uniform dress
Sprite costume
Ribbons and hearts knit dress
Flower print dress
Lace-up dress
Tee dress
Belted dotted dress
Terry cloth nightgown
Sleeveless tunic
Denim overalls
Heart apron
Fairy dress
Magical dress
Furniture Gift List
Furniture for your villagers: often confusing and hard to gift right. Well, if you need to improve at gifting or decorating, follow this easy guide.
Indoors
Old-fashioned alarm clock
Artisanal bug cage
Bunny day table
Hourglass
Nova light
Log stool
Log dining table
Upright vacuum
Cat grass
Floating Biotope planter
Hammock
Nail art set
Portable record player
Cat tower
Floor lamp
Milk can
Outdoors
Tiny library
Water pump
Vine bench
Angled signpost
Scooter
Potted starter plants
Shell stool
Campfire
Mush table
Green leaf pile
Log garden lounge
Bunny garden decoration
Wheat field
Mush log
Wooden storage shed
Curved streetlight
Birdcage
Pocket Camp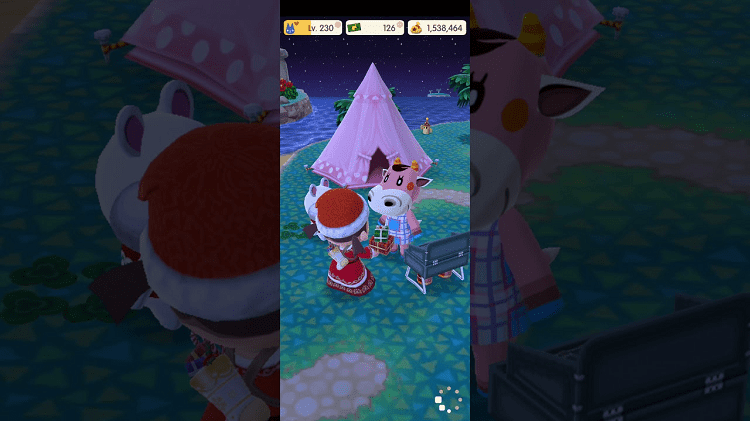 Norma was added to Pocket Camp in December 2020. She doesn't have a fortune cookie, and is not attached to any special events. Her style is cute, and her main gift is preserves.
How to Get Norma in Pocket Camp
Norma's map, which is gold rarity, can be found by Gulliver randomly on the island called Genji and Pals' Island.
Level gifts:
At level 7, you'll get a blue tartan tee and one sparkle stones
At level 9, you'll get one sparkle stones
At level 15, you'll get a bathroom sink craft request
At level 20, you'll get Norma's pic and one sparkle stones
At levels 25-70, you'll get one sparkle stones every five levels
Happy Homes
#41 Norma's first thought bubble reads, "It'd be dreamy to read quietly in a room filled with plants…" Her required items are a flower bed, a tiny library, and a titan arum; her favorite song is K.K. Stroll.
She is looking simply for a place for plants, so it's very lenient on how you style! This is a great choice if you like more creativity in your redecorating.
Amiibo
Norma's Amiibo card is of her in her RV, showing the inside, with the items in the RV (unlocked via her), including:
White brick wall
Basement floor
Cheese
Milk can
Milk canister
Milk carton
Mug
Kitchen refrigerator
Wood display stand
Worktable
E-reader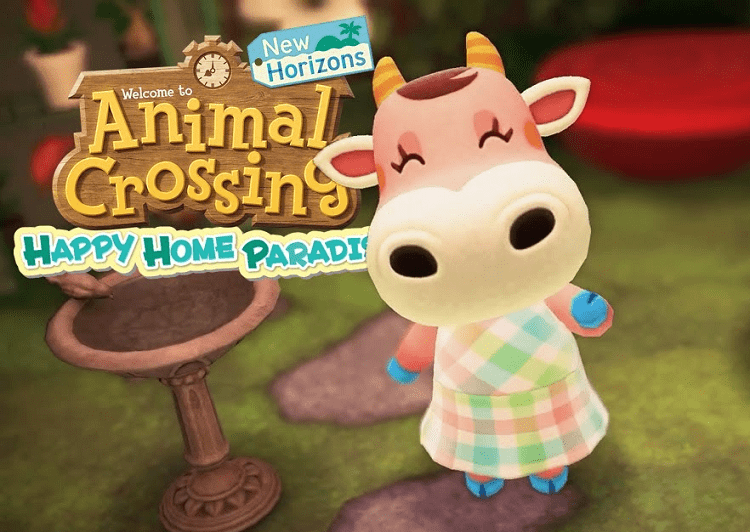 Norma's e-reader card is in Japanese, and her name translates to Isako; she was a part of series 3. Her card is green, with her standing in the middle, posed with her arms stretched out from her sides. On the top corners, it shows her species (cow) and number (#074).
The back goes into more detail, saying her shirt (red aloha), her star sign (Virgo), and her favorite phrase (Ufu).
Her profile reads, "Apparently, she's copying the hairstyle of an actress she admires, but it doesn't really look the same. But don't you think it suits her?"
Her favorite saying is: "One's own things are better than other people's things
(It's better to have something that's your own than borrowing something from others, even if it seems better)."
FAQs
Question: Is Norma Rare?
Answer: Yes, depending on the game. In Dōbutsu no Mori e+, she can only be obtained by e-reader; in New Leaf Welcome amiibo, she can only move in when scanned.
In Pocket Camp, you need her treasure map to invite her. So she's much harder to get in said games than in New Horizons, where she's in the game naturally.
Question: Are there Plushies of Norma?
Answer: No officially licensed plushies of Norma have been sold by Nintendo, but many small businesses sell their own versions and ideas!
Question: Is Norma Popular?
Answer: Norma is not very popular, due to the other Normal-type villagers that are more well-known and easier to get (like Molly)!
Conclusion
Norma is a very cute villager with a fascinating history of being exclusive to cards for so long. She is quite easy to like, and now that she's more easily accessible in New Horizons, I think she's essential to have on your island, even if it's for a short time.
Her cow- and milk-themed items are adorable. She's just too easy to love to say no to!
Looking for more interesting readings? Check out: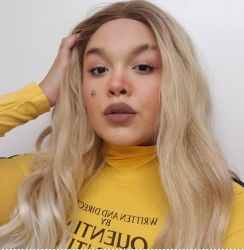 Latest posts by Lillie Forteau
(see all)