Named after the delicious sugary dessert, Merengue is an incredible part of the Animal Crossing series. Her name is pronounced like 'Muh-rang', not 'Meh-reng' like you might imagine. When I first saw Merengue in a video on Youtube, I thought she was the most beautiful villager I'd ever seen, and I determined that one day I would have her on my island. I never gave up, and a year later, I finally got her. She's an absolute delight for many reasons, so here's everything you need to know about Merengue!
Appearance and Personality
Merengue is a rhino who is designed to look reminiscent of a strawberry shortcake, and they absolutely nailed it. She has gorgeous pale pink skin, rosy cheeks, and a white layer on her head that resembles whipped cream. Her nose is simply a giant strawberry. Her whole colour palette is just pink and white, and she looks so beautiful. Merengue is one of several villagers in the game who is designed to look like a particular food. Other examples include Ketchup (a tomato) and Tangy (an orange). Merengue's default clothing is the red chef's outfit.
Merengue has the Normal personality, which is exclusive to female villagers. It means that she is friendly and caring. She's also got a neutral opinion on most topics, so she's not as intense as Peppy or Jock villagers. The great thing about Normal villagers is that they get along with everybody, even Cranky and Snooty villagers. This means you don't have to worry about any arguments cropping up that involve Merengue. As well as having a normal personality, she has the Nature hobby, and so she takes great interest in the natural elements of the island. You may find her examining the flowers and even watering them, or perhaps she'll look at a fossil whilst reading a book about them.
Merengue's initial catchphrase is 'shortcake', presumably as a reference to her appearance. Villagers can have some rather odd catchphrases, so I think Merengue's is definitely one of the better ones. When she's talking to you, she'll often ask you questions to get to know you better. She'll discuss her interests, and she always keeps it light and friendly. She doesn't tend to talk about herself very much, and it may be self-deprecating when she does. She makes it clear that she's very interested in becoming your close friend.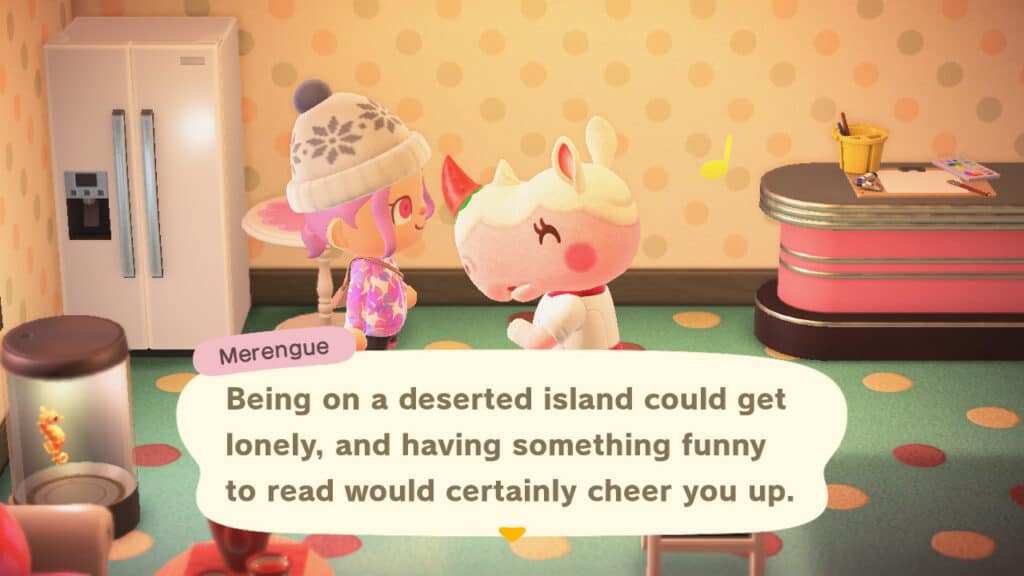 Why You Should Have Her on Your Island
If you love beauty, then Merengue is the obvious choice for your island. She's absolutely gorgeous, and her stunning pink complexion stands out wherever she is on the island. Personally, I think it's always a delight when I see Merengue going about her day. If you want a character who's always happy to see you, then she absolutely fits that bill. Even when she first arrives on your island, she makes an immediate effort to become your friend. Some characters may take a while to warm up, but not Merengue. She's fully invested in being a valuable member of the island right from day one.
Having Merengue also limits the number of conflicts that may occur on your island. Because of her Normal personality, she won't be getting into arguments with any of the other villagers. If you already have other villagers with strong personalities, Merengue is a great way to keep a more mellow tone on your island. Also, some people like to have islands with only one type of villager. So Merengue would fit in on Normal islands, rhino islands, and food-related islands.
She also does convenient things like watering the flowers for you. Whilst most villagers can only water one flower at a time, Merengue can water multiple in one go as she has the Nature hobby. This keeps your island looking its best.
Home Appearance
Merengue's house exterior is understated and elegant, much like her personality. The house has soft grey siding, an excellent neutral colour, as it will go with pretty much any aesthetic that your island has. There's a light wooden window, and the door is a creamy brown colour. She has a front-facing red tile roof, which is mostly obscured by snow during December. Overall, it's a fantastic look, and whilst it's not the prettiest, it's wonderfully simple and will fit right in on your island.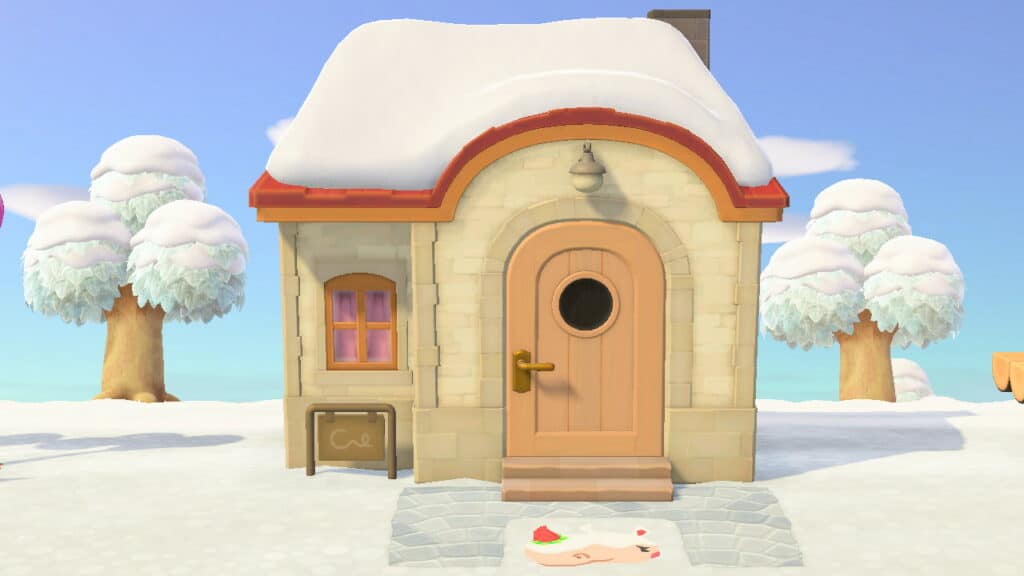 The inside of her house reflects her love of baking, and is primarily pink and white to match her own appearance. The carpet is a minty green with brown and white circles, mimicking mint chocolate chip ice cream. Her wallpaper also has a polka-dot effect, and is a beige colour with faded green and orange circles. An interesting thing to note about Merengue's interior is that she has a fridge in the corner, but when you look inside it, you'll see that she stores her clothes in there! Her kitchen area is very prominent, with a white kitchen island next to the right-hand wall, and a pink and silver kitchen counter in the top right corner. On top of the counter, she has a pink stand mixer and a microwave.
Other items of note in her house include a large lamp shaped like an ice cream, a menu chalkboard, and a cosy white and pink sofa. The entire house is colour-coordinated, and you can tell that Merengue has thought it through well. If you give her gifts such as pet bugs or fish, you may find them displayed in her house.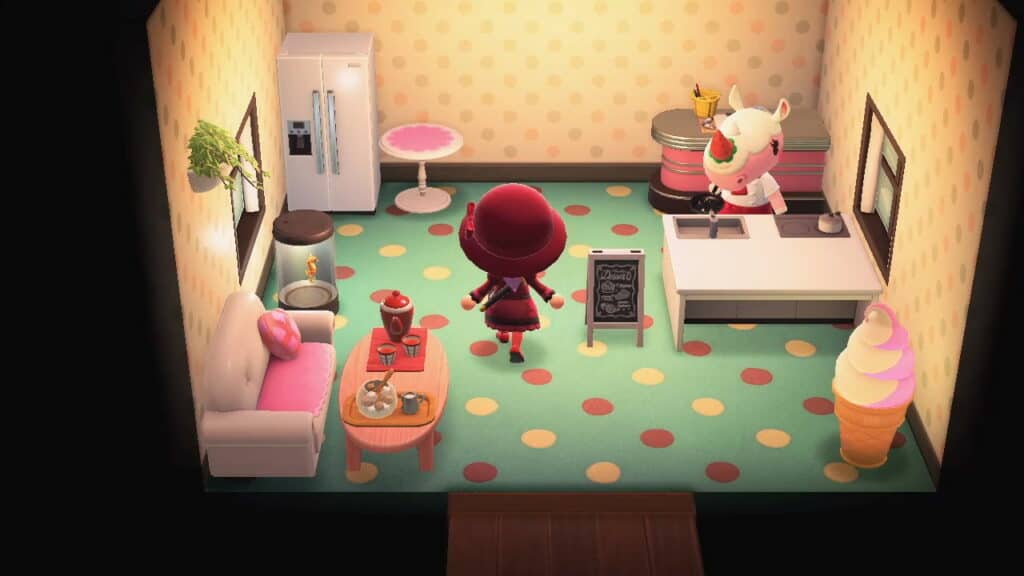 Happy Home Paradise DLC
Merengue is also a part of the Happy Home Paradise DLC that was released in November 2021. The purpose of the DLC is to design vacation homes for clients, and Merengue is one of the possible villagers that you can do this for. If you have her on your island, then you can invite her to Paradise Planning by gifting her souvenir chocolates. Once you've done this, she'll appear on the archipelago (the beach in the DLC), and as long as you're in your work outfit, then you'll be able to offer her a vacation home.
Merengue's request for a vacation home is 'Dessert R&D Department'. She wants somewhere to work on her baking, and come up with delicious new recipes. As with most villagers, certain items are non-negotiable in her request. For Merengue, these items are a store shelf, mixed-fruits tart, and cooking tools. Don't worry about having them in your personal inventory, because as with all houses you design in the DLC, the items are all provided for you.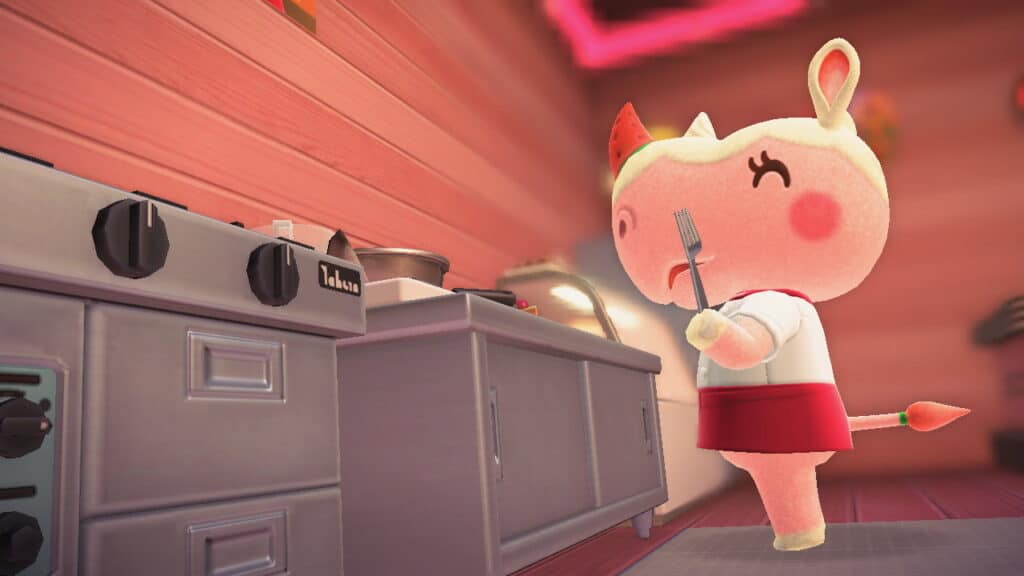 It's up to you what you do with the rest of the design. Try and incorporate items that work well with the things Merengue specifically requested. When designing the home, there will be an order tab that suggests items that would complement each other for the theme. There are plenty of cooking-related items, and the more houses you work on as part of the DLC, the more options will be available to you. I created her a vacation home that matched her personal aesthetic of pink and white, but you might choose to go in a different direction.
Animal Crossing History
Merengue has appeared in four different Animal Crossing games, five if you count the Happy Home Paradise DLC as being separate from New Horizons. Her first game was New Leaf back in 2012. In that title, Merengue's house is themed like a café, and she has several dessert-themed items. She also owns a phonograph that plays K.K. Stroll. Her goal in New Leaf was to be a pastry chef, and she was also skilled at doodling.
In 2015, the game Animal Crossing: Happy Home Designer was launched for Nintendo 3DS. Merengue was available as one of the villagers you could design homes for, in a concept somewhat similar to the Happy Home Paradise DLC. Merengue wanted a candy house, which is relatively similar to her request in the HHP DLC, which is also dessert-themed. She claims "I want to live in a candy house, just like in the fairy tales".
She's also available for the mobile game Animal Crossing: Pocket Camp, and was added to the game in January 2018. Her preferred theme in that game is 'hip', and her primary reward is paper. Just like with the other games, she's passionate about baking, and many of the items she requires from you are related to sweets.
Best Gifts to Give Her
To improve friendships with villagers on your island, you should regularly talk to them, as well as give them gifts. Merengue will appreciate anything you give her, but she does have preferences. Her favourite colours are red and white, and her preferred styles are cute and simple. Bear in mind that any clothes you give her could end up being worn by her, so don't gift items that you don't like the look of. The same applies to furniture, as it could end up displayed in her house. If you want her to have a pet bug or fish, then check the cage design first by placing it somewhere on the island or in your house. You don't want to accidentally gift her a pet if you don't like the aesthetic of the cage.
In terms of clothing, she's unlikely to wear something that's not one of her favourite styles or colours. Fortunately, there's a vast array of clothing in the game, so you have plenty to choose from. Bear in mind, villagers don't wear trousers, so although you can gift them to her, she'd never wear them. Some tops, hats, and outfits that look great on her are:
Blossom Tee (pink)
Alpinist Hat (red)
Magical Dress (red)
Chic Tuxedo Dress (red)
Bunny Ears (red)
Diner Apron (pink)
Other gift options include cute or simple furniture in her favourite colours, or pretty accessories. Bear in mind that expensive gifts are the best way to improve friendships. You can also score many friendship points by gifting her favourite song, which is K.K. Ballad. Remember to wrap any gifts you give her, as that increases the friendship points earned by 1. If you're interested in giving her a special birthday gift, March 19th is her birthday.
Merch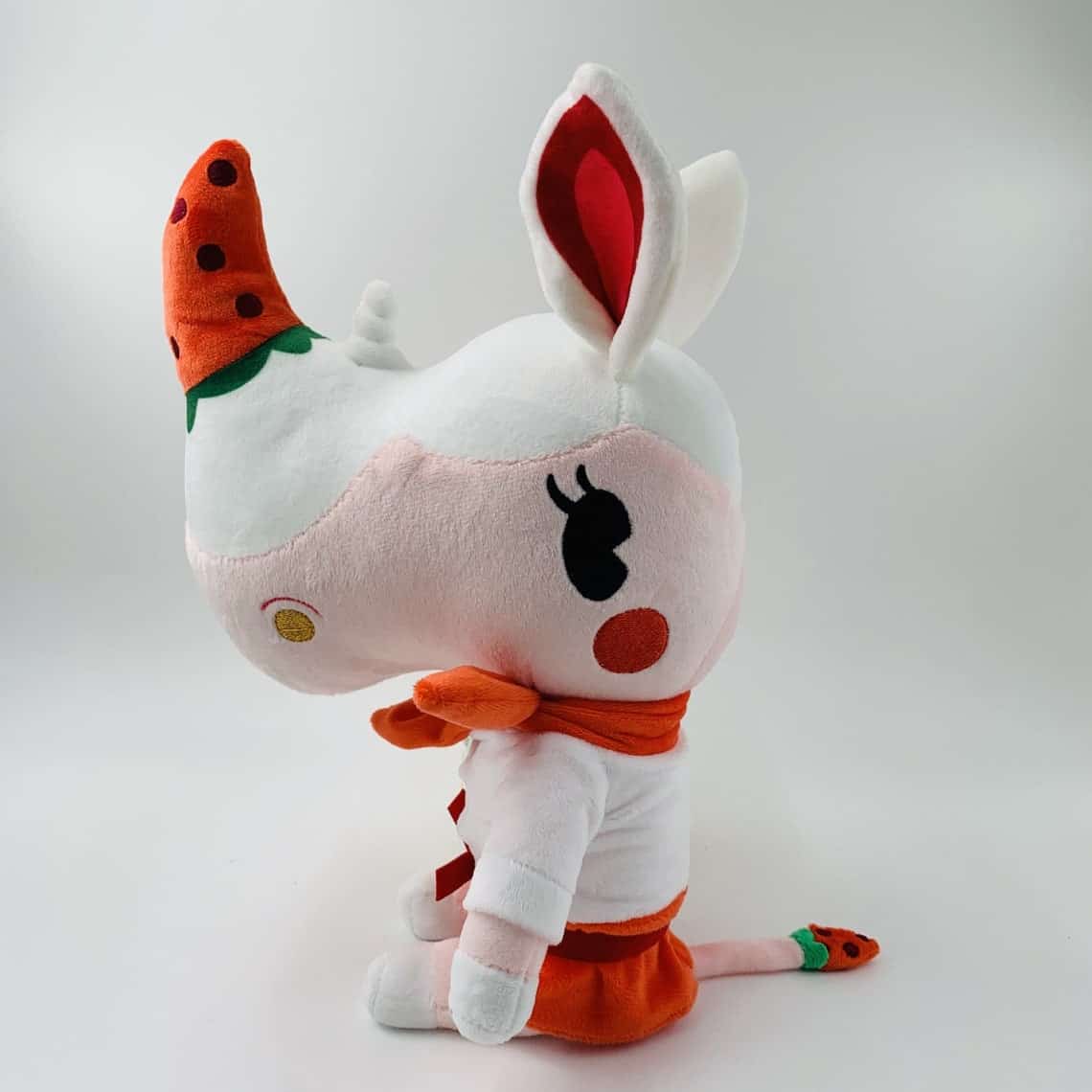 If you love Merengue as much as I do, then you'll probably want to own merch of her. Fortunately, there's plenty of merch available that's specific to her. I've scoured the internet so that you don't have to, and have included several delightful items. There's apparel, decorative items, plushies, and more. Have a look and see what strikes your fancy. Personally, I have a gorgeous throw pillow with her face on, which I love. I also think the Merengue Throw Blanket would be marvellous if you can afford it.
Conclusion
Overall, I think Merengue is a fantastic addition to any island on Animal Crossing: New Horizons. She has a rich history in the series, and has secured her place as a fan-favourite. I hope this article has given a good idea about whether or not she's the right fit for you. She's a wonderful villager with a beautiful character design and a friendly personality. Her request in Happy Home Paradise is a really fun challenge, and keeping her happy on your island is a worthwhile way to spend your time. Enjoy everything to do with Merengue!
FAQs
Question: How Can I Get Merengue on my Island?
Answer: If you're playing Animal Crossing: New Horizons and want Merengue to join you, then there are several ways to do this. Firstly, you might just get lucky and have her be one of your starting villagers. However, with 397 total villagers available, the chances of getting her straight away are pretty low. Instead, she might show up at your Campsite, or on a Nook Miles Mystery Island if you have an empty slot available. If you do have an empty slot, but don't want to fly to Mystery Islands, you can try joining a Facebook group for trading villagers, and see if anyone has Merengue in boxes (that's how I got mine). They may ask for some in-game items as payment, but you should never pay real money as that goes against Nintendo's terms of service. Alternatively, you can use her Amiibo card to invite her to your island.
Question: Which Game was Merengue Introduced in?
Answer: Merengue made her debut in Animal Crossing: New Leaf back in November 2012. This game was available for the Nintendo 3DS, and sold nearly 13 million copies.
Question: Why is Merengue so Popular?
Answer: Merengue is considered a 'dreamy' (the most desirable villagers) by many Animal Crossing players. You will see her making an appearance in many pieces of fan art, and she has plenty of fan-made merch available compared to other less popular characters. Aside from having a friendly personality and getting along with everyone, I'd imagine that the reason most people want her is because of how beautiful she is. Merengue has an incredible design, and her delicious looks stand out. Food-related villagers are often desired simply for their uniqueness, and Merengue is easily one of the prettiest characters in the entire game.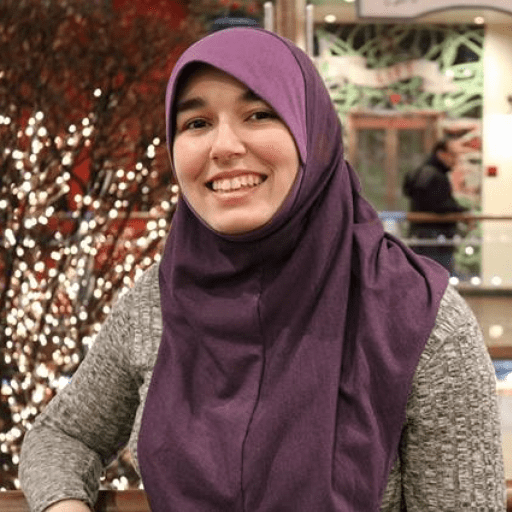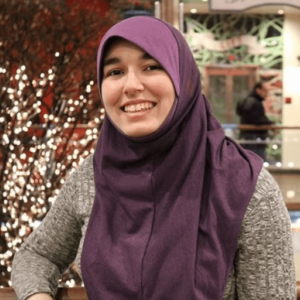 Latest posts by Melika Jeddi
(see all)