Some of the most memorable designs in Animal Crossing are the ones that make the villager look like something else. In my humble opinion, Tia does this the best. What better way to utilize an elephant's trunk than to make it into a tea spout? It's striking and unbelievably adorable. You see Tia and immediately know what she likes and how she acts.
This sweet elephant made her first appearance in New Leaf. She clearly takes inspiration from tea and tea parties. Her head resembles a teapot, and her name is a play on the word tea. Her default clothes even look like something someone would wear to a tea party.
I've never been lucky enough to invite Tia to my island. However, if the opportunity ever presents itself, I'll take it immediately. She doesn't fit my usual preference for natural-looking animals and simple designs, but her colors are so pleasing, and the idea works so well that I can't pass over her.
Tia's Quick Facts
Species: 

Elephant

Gender: 

Female

Personality: 

Normal

Birthday: 

November 18th

Star Sign: 

Scorpio

Catchphrase: 

teacup

Hobby: 

Nature

Favorite Song:

 K.K. Bossa
Tia's Appearance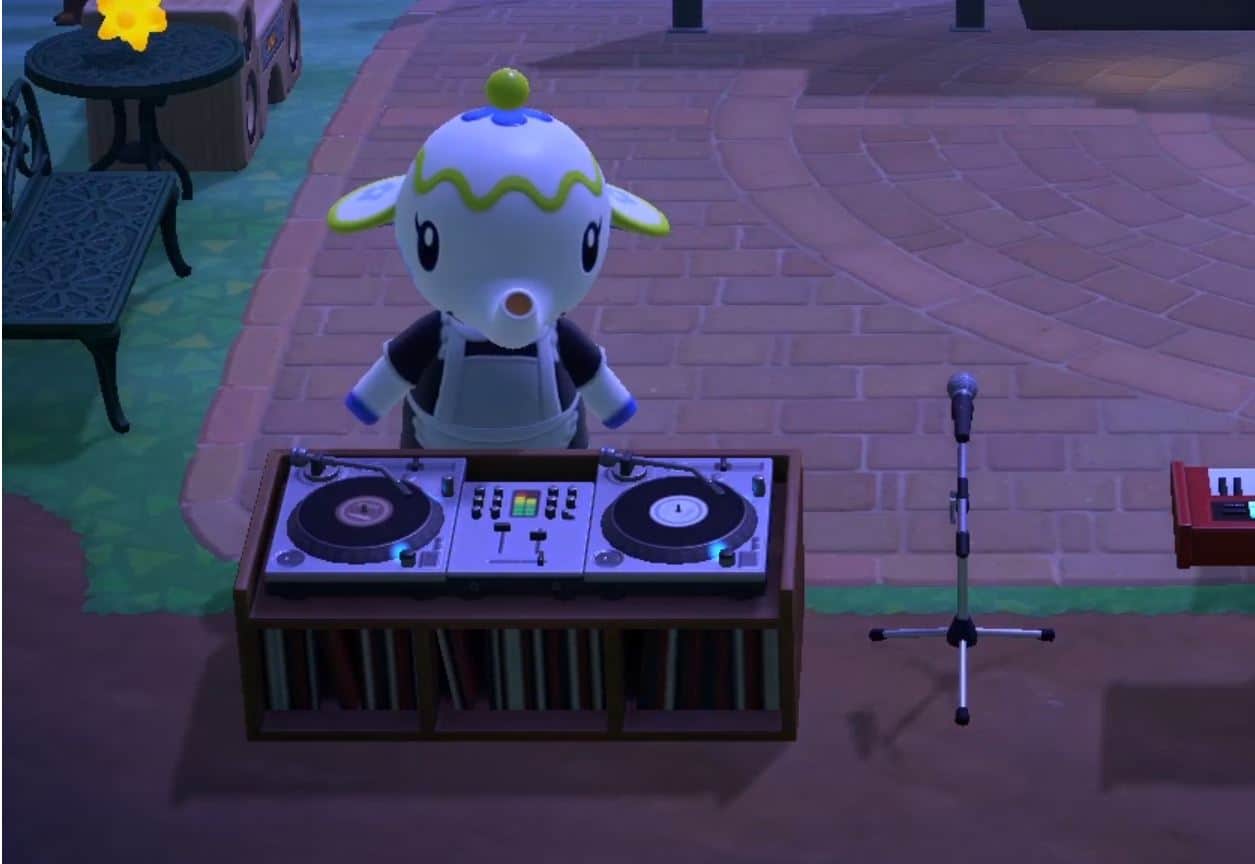 Tia's design is what really sets her apart from most other villagers. Her head resembles a teapot, with her trunk being the spout. The shape of the elephant head means that not much needs to be done to get the idea across, just a few clever markings and decorations.
The most obvious is the little yellow ball sitting atop her head. It is surrounded by a few blue petals to look like a flower. Pairing this with the yellow waves further down creates the illusion of a lid. The flowers on her cheeks and ears resemble the delicate paintings on the sides of fancy teapots. Even her eyes are given a simple yet elegant shape to match but distract from the idea.
These details work together to create a flawless imitation, but my favorite detail is one of the hardest to see. If you get a high angle of Tia, you can see the tip of her trunk. All the elephants have an accent color on the end of their trunks. This helps to distinguish the complex shade from different angles. However, all the other elephants have one that looks like a cap covering the end of the trunk.
Meanwhile, Tia's trunk accent of light brown is only on the flat end of the trunk. It doesn't even reach all the way to the edge. This makes it look like a bit of tea seen through the spout. This small detail shows the care, thought, and creativity put into Tia's design.
Her color scheme is deceptively simple. She only appears to be white with yellow and blue decorations with some black and brown detailing. Yet if you look closer, you can see the color variation. The easiest way is to look at her tail. The blue tip is shaded to look like shiny porcelain; you can see that effect in smaller parts like her hooves or the flower handle.
Tia's Personality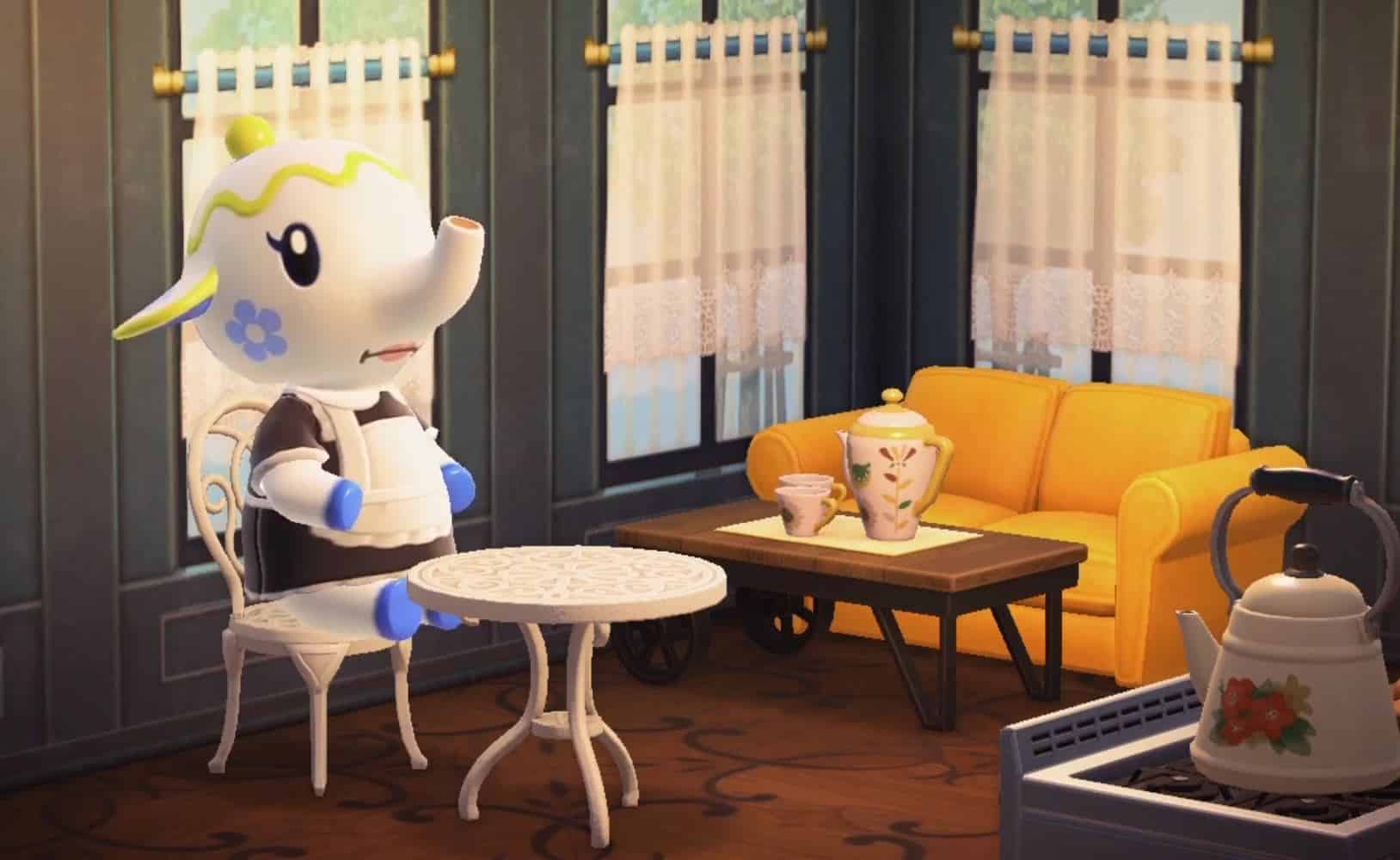 Tia is the perfect companion to join you for a tea party. She's kind, polite, and always ensures you're having a good time. Even if you just met her, she'll be beyond excited to spend time with you. You could spend hours chatting with her over a good cup of tea. No doubt she'll be a fast friend and will soon look for ways to make you smile.
Beyond tea, there are a lot of things that interest Tia. She loves to read and spend quiet evenings learning new skills. Baking and crafting are both things she's expressed a love for, and I'm sure those will help her with her future tea parties. Her curiosity and creativity prevent her from getting bored, even if she likes to stick to a routine.
Whether in a large group of friends, a small hangout, or alone, Tia can always find something to smile about. She'll jump at the opportunity to hang out with you and thrive surrounded by the whole town at parties. There's truly no environment where Tia can't make herself comfortable. She's adaptable, optimistic, and always looking to cheer up her friends.
Tia's House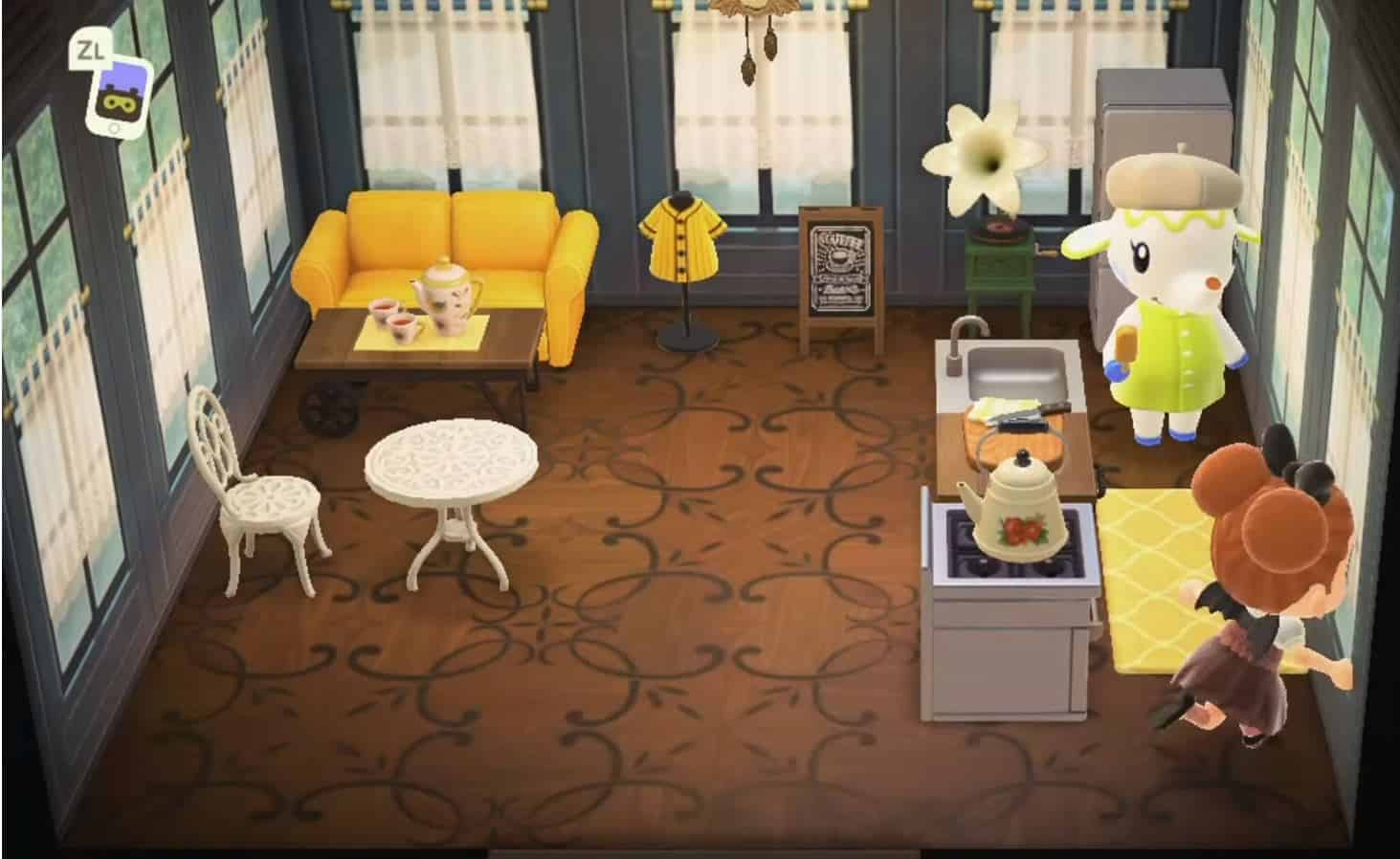 In New Leaf and New Horizons, Tia's house is made to look like a simple yet elegant room to enjoy a cozy cup of tea with a few friends. However, I have issues with the layout of both. There's always some strange empty space that makes the room feel like something is missing.
Her older New Leaf home has an exterior that doesn't match Tia's colors or aesthetic. The roof is a bright teal, which isn't too bad, but the tacky pink fence and the pale yellow door don't match her subdued color scheme. The door also looks like it's made of metal, with rivets on the side and a big diamond-shaped window. The sharp edges and unwelcoming material don't match Tia's gentle nature.
Inside the New leaf house, there's a small kitchen with a table that holds a tea set and a dessert case. The opposite side of the room has a table with a lamp, a phonograph, and a weeping fig. The strangest part of the house is her regal bed sitting against the right wall, under the window. The backboard isn't against a wall, and the area behind it is empty. It makes it seem like the bed got moved and never put back, or there's some empty storage space in the corner. It just seems like a waste of space and opportunity. There's also no place to sit, which makes for awkward tea parties.
The New Horizons house is much more in line with Tia's sensibilities. Baby blue stucco with a white roof and trim make up most of the house. Then there's a darker blue door with two tall windows and a rounded top. The gentle curves and simplicity of the design match the interior and Tia's personality better than her New Leaf house.
Tia's Cafe Curtain Wall lets a lot of natural light. The kitchen now features an ironwood kitchenette, gas range, and fridge. There's also a simple kettle on the range and a cutting board for preparing sweets. The addition of the yellow kitchen mat helps to make it feel like a cozy spot to prepare meals or snacks.
On the other side of the kitchen is the place for drinking your tea. There are now places to sit with a yellow double sofa behind an ironwood low table and a white iron garden chair sitting next to a matching table. There's still a tea set ready to drink, and the phonograph has been replaced with a lily record player that adds some whimsy to the room. A chalk menu board and a cuckoo clock give the impression that Tia is organized yet creative with her creations.
Once again, though, there is a corner with no decorations, this time the bottom left. It bothers me since it would look nice to have a plant or even more seating to drive home the delicate, cozy atmosphere.
Tia's Gift Guide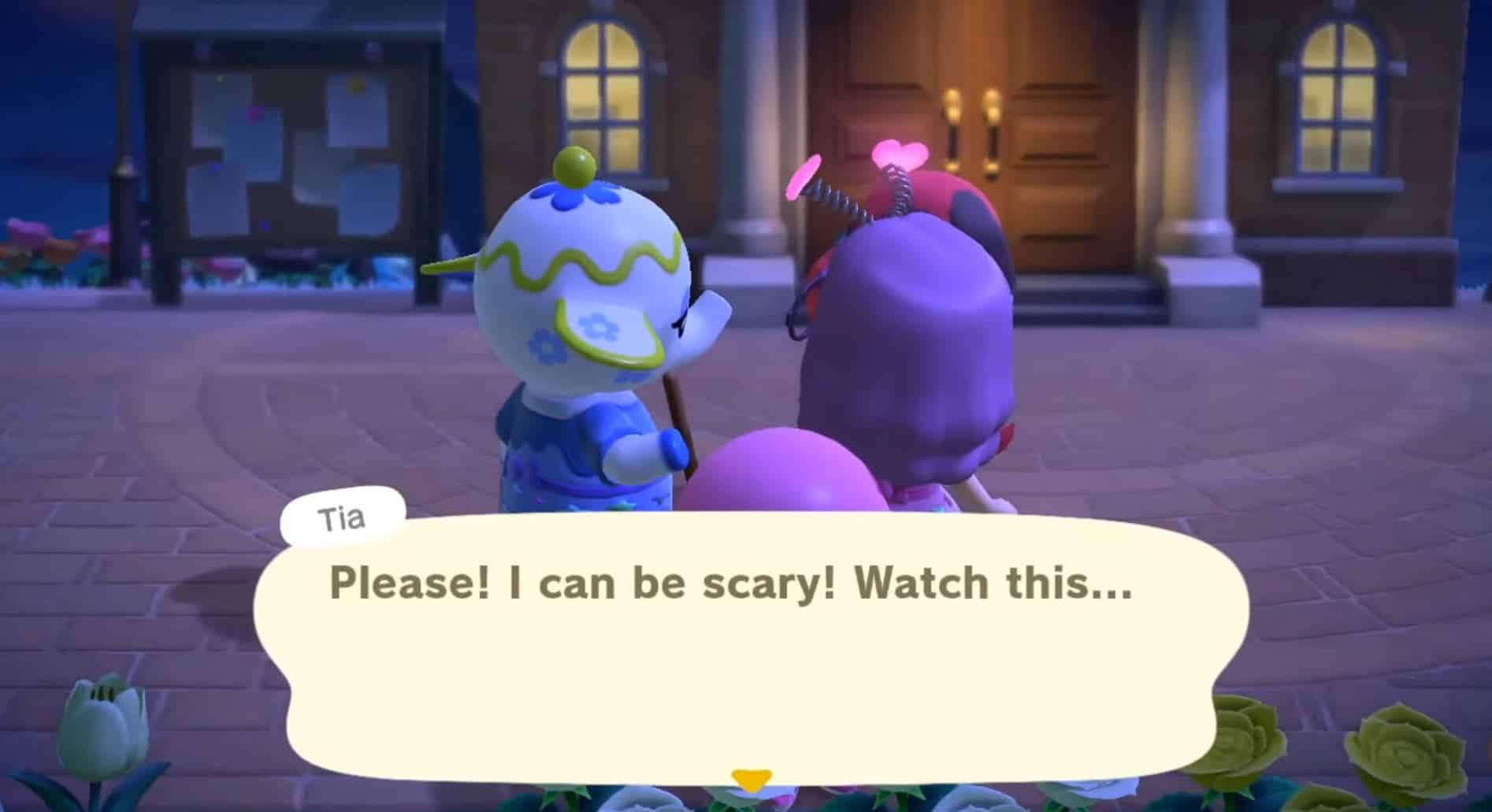 Giving gifts to your villagers is an important part of Animal Crossing if you want to be making friends. You could give them practically anything, but they like some things better than others. Plus, if you give them something ugly, you might have to deal with seeing it in their house or on their body forever. I once accidentally gave my favorite villager an Instant-Muscles Suit, and I cringe every time I see it.
So how do you know what to give a villager? You can give them fossils if you want to leave their wardrobe and house unchanged. It will still increase their friendship level, but they won't display it. However, if you're going to give them clothing and furniture items, you should pay attention to styles and colors.
All villagers have favorite styles and colors. Tia's favorite styles are cute and elegant, and her favorite colors are white and black. Giving Tia items in these colors and styles will make her happier, and they are more likely to fit her aesthetic.
I like giving villagers clothing. They feel much more alive when they have a whole wardrobe of outfits rather than the same thing every day. Here's some clothing that would look incredible on Tia.
Adventure Dress (3,360 bells)

Chic Rose Crown (Craftable)

Black Elegant Hat (2,520 bells)

Black Retro Dress (3,060 bells)

Gray Sweetheart Tank (1,440 bells)
Let's look at some specific items that will look good in Tia's house. I tend to avoid giving villagers furniture since you never know where they will place it, and I don't want to ruin the look of their houses. However, these items will look good if you want to customize their rooms a little bit without the Happy Home Paradise upgrades.
White Afternoon-Tea Set (3,120 bells)

White Glassholder with Candle (420 bells)

Black Monstera (2,040 bells)

Dark Lily Wreath (Craftable)

Apple Tart (Craftable)
Should You Invite Tia to Your Island?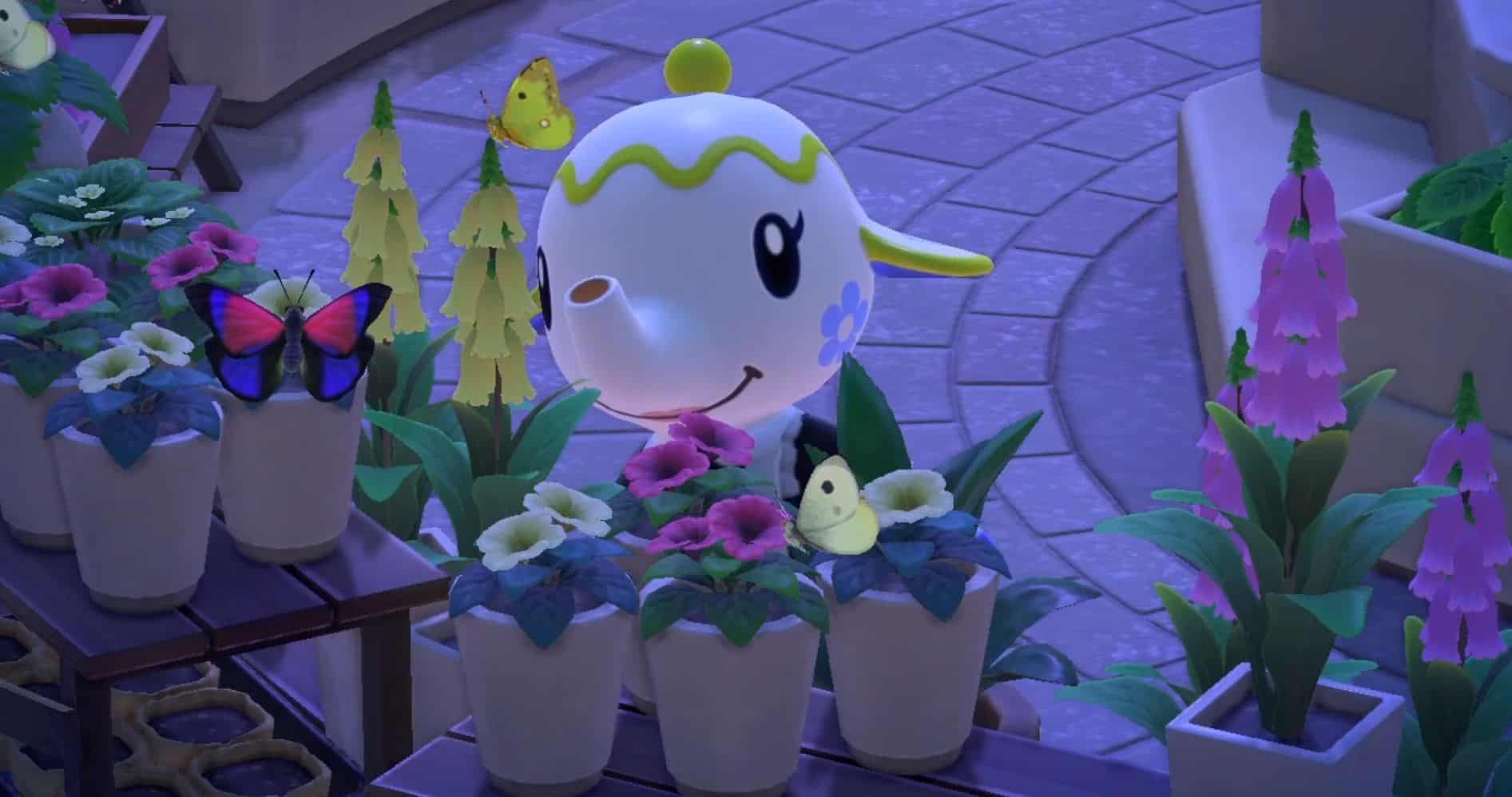 It can be difficult to decide which villagers to invite to your island. With hundreds of options but only ten available slots, you want to make sure you make the right choice, even if they won't be a permanent resident. When I invite villagers, it's typically a spur-of-the-moment feeling. I have a few villagers I know I would invite immediately, and some that will never leave once they live on my island. Yet, most of the time, when I'm island hopping to move someone new in, I invite the first villager I feel some connection with. 
That may be how I do things, but I know many people would rather have a set plan or unified aesthetic. Here are the Tia tips I would recommend for those people. One, don't invite Tia as one of your first few villagers. She'll be stuck with a bland starter house, and no one wants that for their dreamy. Second, be prepared to wait a long time, buy an amiibo, or use a lot of plane tickets. Looking for one specific villager is tough.
So who would most enjoy Tia? People with elegant islands would be the best home for this lovely elephant. If you like to dress your island up to look classy, then Tia will fit in perfectly. She's not ostentatious, but she clearly cares about her appearance. So if you want an island full of luscious gardens, glorious mansions, and places for refined parties, then you should be on the lookout for Tia.
Tia in Pocket Camp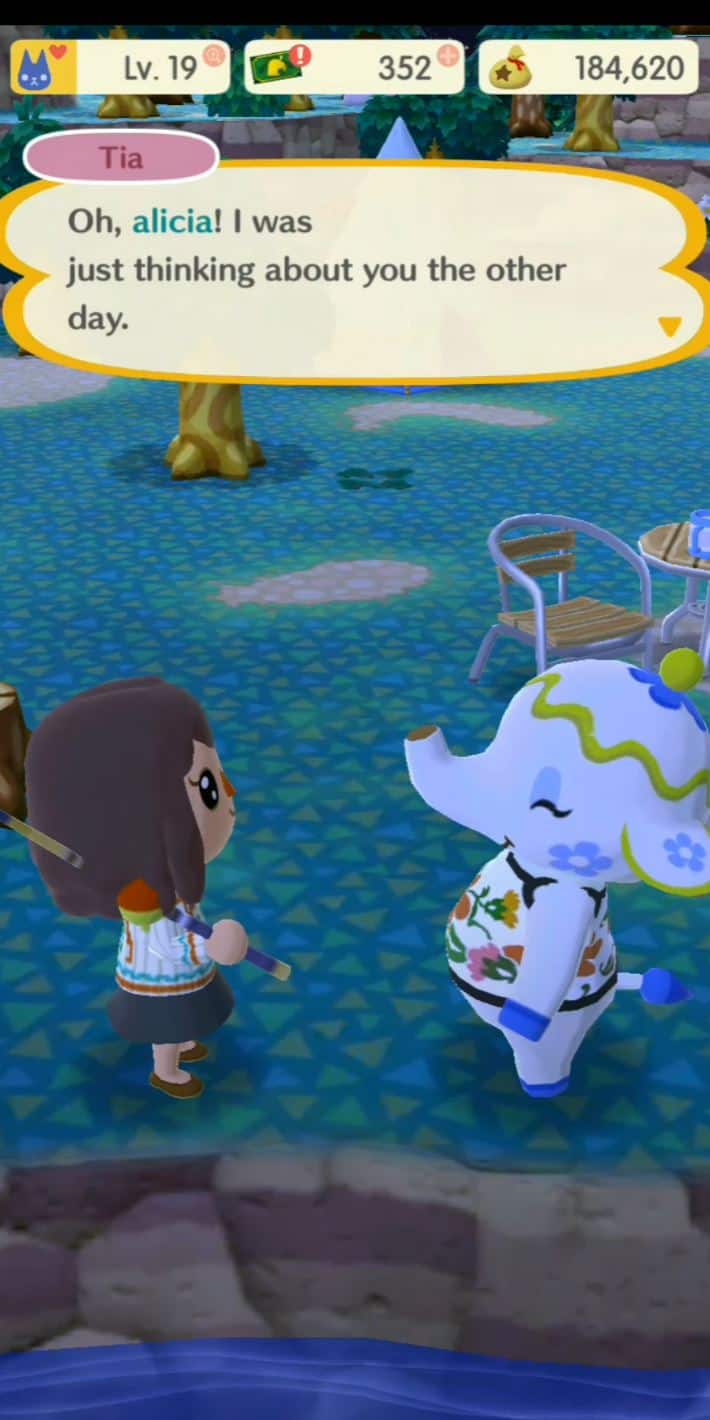 Tia was added to Pocket Camp in the April 2018 update. She prefers a campsite with an elegant theme and rewards you with steel.
As her design and interests might suggest, you'll need a few fancy pieces of furniture to convince Tia to come to your campsite. Once you hit friendship level 3, you'll need to craft the following items. Only then will she visit.
Fancy Tea Set (6 Steel, 390 Bells)

Regal Clock (630 Steel, 30 Wood, 1,900 Bells)

Lovely Carpet (30 Cotton, 920 Bells)

Lovely Pink Table (20 Steel, 20 Wood, 1 Cute Essence, 1 Lovely Tabe, 2,020 Bells)

Regal Chair (30 Wood, 810 Bells)
Once Tia has visited your campsite, you can start talking to her more, and she'll ask for more favors. This will increase her friendship level quicker than happening upon her camping elsewhere. As her friendship level increases, she'll give you rewards ranging from rare materials to furniture. At the following levels, you can expect these rewards.
Level 7: 

Garden Tank and 1 Sparkle Stone

Level 15:

 Birthday Table Recipe

Level 20: 

Tia Pic and 1 Sparkle Stone

Every five levels after: 

1 Sparkle Stone
Tia's fortune cookie is called the Rosewater cookie. It is cream-colored with a blue tip and a pink tip. In the middle is a simple golden crest inspired by the fleur de lis. The cookie was first released on September 3rd, 2018, and has seen several reissues. 
The furniture gained from eating one of Tia's Rosewater cookies is from the grandiose set with an elegant theme. They are all gorgeous pieces meant to resemble the rococo style. They are primarily white and pale blue with gold metalwork. The clothing matches in both name and color. You can find the following items in the cookies.
Grandiose Candelabra (11% chance)

Grandiose Chair (11% chance)

Grandiose Rug (11% chance)

Grandiose Screen (11% chance)

Grandsiose Canopy Bed (9% chance)

Grandiose Vanity (9% chance)

Grandiose Bath (3% chance)

Grandiose Hat (11% chance)

Grandiose Jacket (11% chance)

Grandiose Dress (9% chance)
There are two memories that Tia appears in, Tia's Rosy Bath Time and Chrissy's Super Huge Tea Party. Looking at each of these characters' themes, I'm surprised those weren't switched. 
Tia's Rosy Both Time features Tia, Francine, and Hamlet. Once those villagers and a Grandiose Bath are at your campsite, you'll unlock the memory. It shows Tia finishing preparation for a rosewater bath as Francine approaches. Francine admires the smell and work Tia put into making the rose essential oil and drawing the bath. Hamlet stumbles upon them after a hard workout and mistakes the water for an open hot tub filled with leaves. Francine scolds him and describes the work Tia put into the bath. Hamlet apologizes, but Tia doesn't mind and offers the bath to Hamlet since she prefers the smell. Tia then prepares tea for the three of them, and they relax by the tub.
Chrissy, Tia, and Pierce play roles in Chrissy's Super Huge Tea Party, and you'll unlock the memory with them, and Royal Rabbit Treats. It begins with the trio reminiscing about Tia's last tea party. Chrissy claims she is inspired to throw a tea party too, but doesn't want to steal Tia's style, so she decides to make it huge. They all take charge of a different part of the tea party and gather once they're finished. It turns out that when Chrissy said huge, she meant the teacups and treats would be huge, not just the guest list. So Pierce gathers all the other campers, and they have a wonderful tea party.
Tia's Amiibo
Tia's amiibo card features the elephant against a light green background and a peace sign. She's holding her hands in front of her with one leg bent, making a cute, delicate pose. I'm surprised at how good this card looks. Tia isn't typically depicted with green colors, but they work pretty well.
The card came out with the second series of Animal Crossing amiibos. Other cards in this set include K.K., Labelle, Julian, Filbert, Cookie, and the Super Hero Team. Since it's one of the older series, getting your hands on a card can be difficult. Finding a pack of cards would be difficult, and you aren't guaranteed to get Tia. If you are deadset on getting Tia's card, I'd recommend going to websites like Amazon, Etsy, or eBay. The prices will vary, but I've seen them as low as $5 and as high as $20. So take some time to look for a price that works for you.
You can use the card with New Leaf, New Horizons, Happy Home Designer, and Amiibo Festival. Using the card with these games will unlock Tia in the amiibo features of the game. For example, you can invite her to your camp in New Leaf and New Horizons, which can lead to her moving in. In the Happy Home series, you can use the card to design a house for her. You can even use her as a minigame player in Amiibo Festival.
Conclusion
Tia is a cute elephant with a clever design and theme. Her teacup head makes her distinct and unforgettable. Still, her sweet personality is what really makes her such a great villager. For those with classy, refined tastes or even those who like to play a bit of dress-up, Tia is a perfect choice.
FAQs
Question: Is Tia from Animal Crossing rare?
Answer: It depends on how you define rare. Yes, Tia does have a fairly low chance of showing up in any given encounter. However, she has the same chance as any other villager; none are rarer than others. Looking specifically for Tia is challenging, but so is looking for any other villager.
Question: Which Amiibo series is Tia in?
Answer: Tia appears in Series 2 of the Animal Crossing Amiibo cards.
Question: Is Tia a good villager?
Answer: There's no such thing as a 'good' villager. They all function the same, with differing personalities and appearances. Whether or not a villager is good is entirely up to your tastes. I think Tia is a very good villager.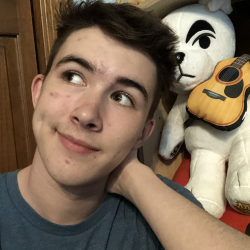 Latest posts by Mika Zans
(see all)