Francine is a rabbit villager with a cute bubbly exterior – and a snotty attitude. She's one of the older characters and has fairly consistently been in the Animal Crossing games. She's a snooty rabbit (one of two in the whole Animal Crossing game series) and the only villager with a sister who is another villager! She's a unique one, that's for sure.
Bottom Line Up Front
Okay, class, we'll be going over the basics of Francine today. No homework, because I already did it for you. You're welcome. But really, maybe you're here because you saw this villager and want to do research, or perhaps she's moved in, and you're like, "Okay, who is this?"
We have all been there. If you want to know fun facts, we got it. If you want to figure out if she's a good villager for you? Also got it.
An Introduction
Francine was introduced in Dōbutsu no Mori e+ and has appeared in every other game except Wild World. She is the most consistent villager I've seen throughout every game she's been in, so it was exciting to see what other areas she might have changed in as well!
But, you may recognize her more for being on the covers of Bubblegum K. K. and Cafe K. K. Or maybe you think Francine is her nearly identical sister, Chrissy, who has a shockingly similar design, just with her main colors being pink and white.
General Facts about Francine
Gender: Woman
Species: Rabbit
Birthday: January 22nd
Star Sign: Virgo
First Appearance: Dōbutsu no Mori e+
Personality: Snooty
Catchphrase: Karat
Skill: Staying awake (could never be me)
Preferences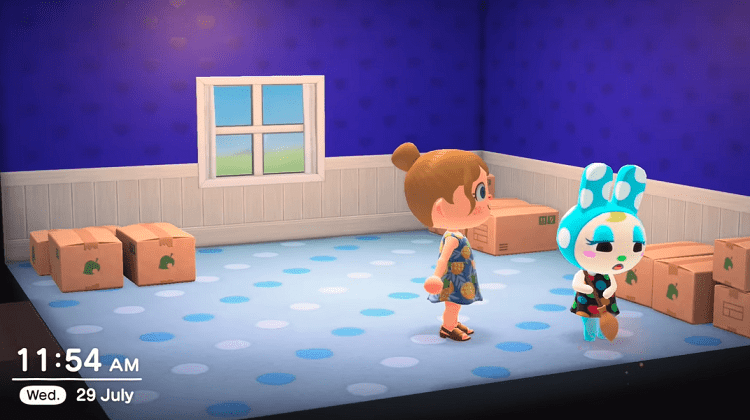 Favorite songs: I love you, K. K. Love Song, Bubblegum K. K., K. K. Cruisin'
Default Clothing: Marble dot dress (in black)
Default Umbrella: Yellow umbrella, Ribbon umbrella, White shiny bows parasol
Favorite Colors: Blue and Black
Favorite Styles: Gaudy, ornate, gorgeous, elegant, and hip (for Pocket camp)
Favorite Furniture Colors: Blue
Favorite Interior Concepts: Playful and trendy
Goal: Designer
Coffee:  Kilimanjaro with a bit of milk and one spoon of sugar
Appearance
Francine is a white rabbit with a blue and white dotted head and ears, with a small tuft of blonde hair sticking out from over her blue head. Both her face and arms are white, with slightly darker blue legs and lighter blue eyelids.
Her cheeks are a rosy pink, her nose a neon green, and she has a wide blue smile. Her default clothing is a black dress with a white collar and rainbow polka dots.
Personality
Francine is a snooty personality type, so she's a bit more judgy and rude than any other villager. Snooty types will often talk behind other villagers' backs.
They may or may not have the best intentions, but they have a heart of gold once you're friends. A very snooty heart of gold, but a heart nonetheless.
Snooty villagers won't get along with sisterly, jock, cranky (depending on the game, snooty can like or dislike each other), or lazy types very well. On the other hand, she's meh on peppy villagers, and gets along with normal and snooty villagers.
Why do You want Francine on Your Island?
Francine is a fascinating villager. She's a snooty type with one of the cutest, most playful designs in Animal Crossing. She also has a sister, Chrissy, who looks essentially the same as Francine, but with a pink and white color scheme – and instead of snooty, she's peppy.
If so, they're the only non-event villager siblings, which honestly sounds like the most fun two villagers to have. They may not get along since Chrissy is a peppy personality type. Siblings, right?
Besides that, if you like the cuter, bubblegum aesthetic, she fits right in. Her pastel colors would also make it so fun to gift her cute tops or dresses. I've had her on my island, and I hate snooty villagers, but something about her aesthetic makes her so worth it.
House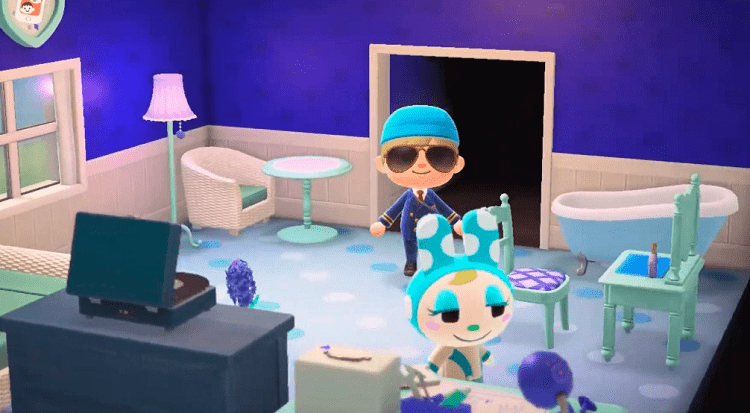 Dōbutsu no Mori e+
Francine's house is an interesting one. The outside of the house is brick, with a very blue roof with a window in the middle.
The inside items go as follows:
Lotus parasol
Polka parasol
Petal parasol
Sunny parasol
Regal bed
Lovely lamp
Lovely vanity
Lovely chair
Lovely end table
Lovely stereo
Lite polka shirt
Red tie dye
Daisy shirt
Birdcage
Wee Dingloid
Mini Dingloid
Walls are Parlor wall
Flooring is Ceramic tile
Music playing "I love you."
City Folk
City Folk takes a sharp turn design-wise. Her original house was very pink and girly, and from now on, it'll be a very simple blue theme.
Inside, you'll find:
Regal table
Regal bed
Regal chair
Petal parasol
Blue bureau
Blue bookcase
Blue dresser
Blue box
Blue bench
Walls are Blue wall
The flooring is Classic carpet
Music playing "I love you."
New Leaf
The outside of Francine's house is far better than the first time around. Francine's house is a cream white on the paneling; the roof is a black/blue, and the door has a very gold knob, a blue patterned door, and that same blue as fencing around the house.
Indoors:
Air conditioner
Electric kettle
Turntable
Pine table
Minimalist sofa
Minimalist dresser
Minimalist ottoman
Blue bookshelf
Blue dresser
Wall is Blue wall
Flooring is Blue flooring
Music playing "I love you."
New Horizons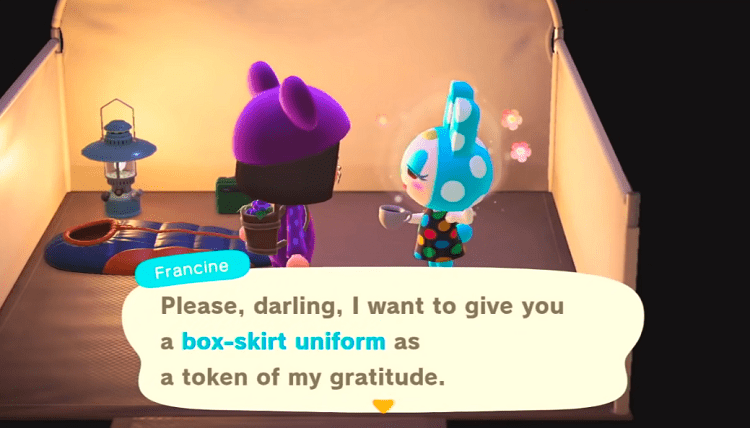 This is my least favorite; it's like City Folk and New Leaf, but worse.
The outside of her house is a square-shaped house with a pale blue iron grill door, mint blue stucco exterior, and a blue wooden tile roof.
The inside:
Rattan bed
Rattan armchair
Cute DIY table
Cute chair
Cute vanity, cute tea table
Cute floor lamp
Cute wall-mounted clock
Chrissy's photo
Wooden chest
Portable record player
Bathrobe
Claw foot tub
Bathroom towel
Shower set
Wall is Blue cute wall
Flooring is Blue dot flooring
Music playing "K. K. Cruisin'."
Gift List
Tops
School jacket
Hand knit tank
Aran knit sweater
Young royal shirt
Tube top
Dresses
Marble print dress
Sleeveless shirtdress
Sequin dress
Shorts outfit
Sweetheart dress
Retro sleeveless dress
Pirate dress
Milkmaid dress
Loose fall dress
Labelle dress
Headwear
Rhinestone shades
Labelle sunglasses
Flashy hairpin
Beret
Tam-o-shanter
Double bridge sunglasses
Tiara
Furniture Gift List
Holiday candle
Aroma pot
Dreamy rabbit toy
Horizontal organizer
Wooden music box
Patchwork low table
Mum cushion
Pop up book
Bathroom sink
Folding floor lamp
Mush lamp
Fragrance diffuser
Piggy bank
Nova light
Gaming desk
Tulip surprise box
Cinnamon roll signage
Pocket Camp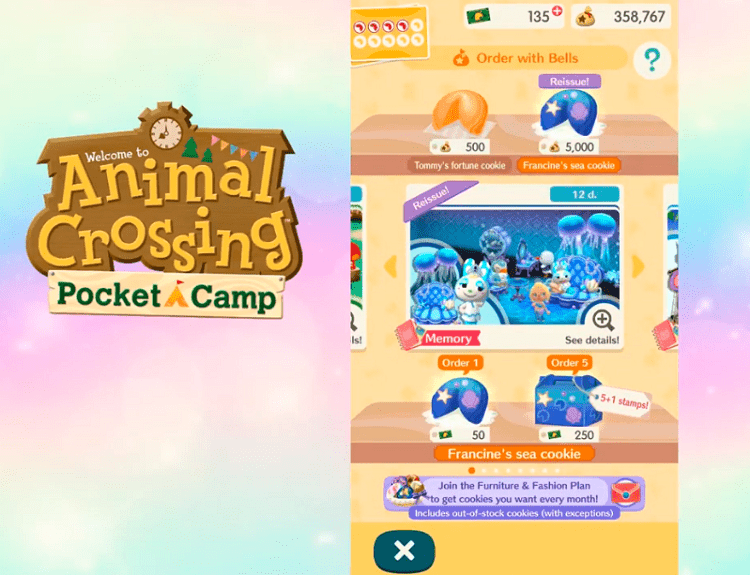 Francine came to Pocket Camp on January 30th, 2018. Her theme is hip, and she's still the snooty personality we know and love.
You don't need anything special to get her; you just have to find her on one of the islands and talk to her enough to invite her to your island. You'll need to be level 7 in friendship, to be exact! Like any other villager, they'll ask you to make certain items they want before they can move in. Here are the items:
Snake plant (requires 30 wood and 1,130 bells to craft)
Polka-dot bed (requires 60 cotton, 60 wood, three hip essence, and 2,280 bells to craft)
Polka-dot closet (requires 60 cotton, 60 steel, three hip essence, and 2,030 bells to craft)
Polka-dot chair (requires 15 cotton, 15 steel, and 1,410 bells to craft)
Polka-dot table (requires 15 cotton, 15 steel, and 1,410 bells to craft)
Yet again (with every villager), you'll receive a gift when you reach friendship milestones. Her's is one of the best I've seen personally, but I'll let you be the judge.
At level 7 friendship, you'll receive one dark polka tee and one sparkle stone
At level 9 friendship, you'll receive one sparkle stone
At level 15 friendship, you'll receive the craftable item, a teacup ride
At level 20 friendship, you'll receive Francine's pic and one sparkle stone
From levels 25-70, you'll get one sparkle stone per 5 levels.
She also has a fortune cookie! Fortune cookies are like mystery boxes; you pay for a list of possible items or clothing. Unfortunately, her fortune cookie isn't much like her aesthetic at all and isn't a hip theme, so it's a bit mismatched but beautiful nonetheless.
Her fortune cookie is called "Francine's sea cookie." It has shells on the cookie and is an ombre blue. Her fortune cookie is only available when her event pops up, so we don't know exactly when you can get your hands on this fortune cookie again.
It was first released on July 1st, 2019, and has had four reissues since then (where you can buy it again). It's not an incredibly popular cookie, so we might have to wait a bit.
The theme of the cookie is elegant, and is definitely under the sea-inspired. Well, I'd hope so; it is in the name. But this might not be for everyone. Personally, I love it!
There are only two clothing drops, but they're the cutest things ever:
Aquamarine tiara
Mermaid dress
The rest of the items are furniture:
Shimmer sea rug
Seashell sofa
Coral wallpaper (not the actual color coral)
Shimmer sea table
Seashell lamp
Seashell chair
Seashell showcase
Seashell vanity
Happy Homes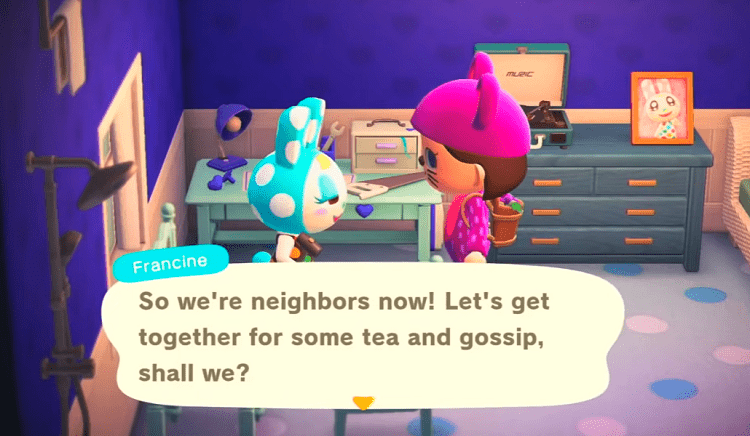 Now, this is the cutest thing ever. Francine's thought bubble references her sister, Chrissy, saying she wants polka dots on absolutely everything. And her request is something her sister, Chrissy, would like. So you're kind of making a house for Chrissy!
The required items are:
Mic stand
Cassette player
Chrissy's pic
And their favorite song is Bubblegum K. K.
What job should Francine have?
I think she would fit in great at the hospital on the Happy Homes. If you don't know, you can build houses in Happy Homes for the community and give villagers jobs! They're very subjective and usually are based on luck for who you hire.
E-reader and Amiibo
Since Francine is one of the OG villagers, she also has an e-reader; girl is getting old! Ha, just kidding, totally normal age. The e-reader card has a lot more information than her amiibo. Her e-reader card is from series 1, and she is number 017.
The front of her e-reader card is bright pink, with her name above the game name (Dōbutsu no Mori e+). She's seen in the same outfit as every other iteration. Her number is on the top right, and her animal type (rabbit) is on the left.
Her clothes are "black marble clothes." Her star sign is Aquarius, her favorite phrase is rurara, and her favorite saying is, "the younger sister's heart, unknown to the older sister."
Her profile reads: "the older sister, she bothers you when you don't need it, but when you need help, she acts clueless. It's selfish." (savage, dang)
Her amiibo is very different, to say the least. Francine is posed in front of a brown background, with her name on the bottom and a 1/22. Her amiibo is a part of series 3, and her number is #299.
Most of the information is given in little blocks on the top. So on the right top is the number; just below that is her hand sign, which is paper. On the left is her animal type (rabbit). And her dice value is 5.
FAQs
Question: Is Francine Popular?
 Answer: Her popularity stems mostly from her interesting aesthetic and the fact that she has a sister that's also a villager. So, while not Raymond-popular, she gets her flowers.
Question: Is Francine Rare?
Answer: No, not particularly. She has an amiibo which is easily accessible and has been in many of the Animal Crossing games.
Question: Is Francine a Good Villager?
Answer: Define good, precisely. I personally don't like snooty or cranky villagers, so by my standards, yeah she's not the best, but if you like snooty villagers and love her aesthetic as much as I do (so, so much), then she's a great villager!
There are many benefits to having her on your island. The main one is that you could get Chrissy too, then have the siblings together! It might get a bit confusing, but still.
Conclusion
Francine is a very interesting villager with a backstory with no backstory, which sounds crazy, but you know if you know. She's mysterious for a villager we know a decent amount about.
She's quirky, and honestly, she is one of the most recognizable villagers for me. Her look is just so unique and fun. So whether or not you love her or hate her, want her off your island or on, you now know more about Francine than the average person.
Looking for more interesting readings? Check out: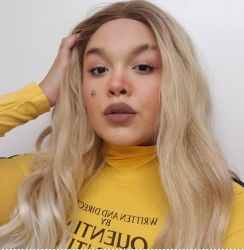 Latest posts by Lillie Forteau
(see all)