Katt is aptly named after being a cat. Katt is a unique character, as she is the only big sister cat in all of Animal Crossing (which sounds unreal when looking at all of the animals across the entire Animal Crossing series). She truly gives off the cool, big sister vibe.
Katt, a villager in Animal Crossing, is one of my all-time favorite characters (I am a huge sucker for sisterly-type villagers). Katt is a laid-back, chill cat with a toothy smile and a kind word to share with you. She loves to hang out in the plaza and people-watch, sing anywhere she can, or take leisurely strolls through town.
No matter what I'm doing in Animal Crossing, I can always count on Katt to be around to lend an ear or give me some advice when I'm feeling down—or make me feel down. She can be a bit blunt in her advice and conversation, not shying away from being honest with the player.
An Introduction to Katt
Katt was introduced into the Animal Crossing series in New Leaf, so she is a relatively new character addition. However, she has been in every game since (New Leaf, Pocket Camp, New Horizons). She is the third of four siblings and talks about wanting to be a professional swimmer one day.
Not only can you see her in the base games she appears in, but also in the side game Amiibo Festival and Happy Homes. Don't worry if you don't recognize her name; she has many different versions for different countries (most animals do!).
In Japan, she is known as Choi; in Spanish she's called Melina, and so on. She's actually only named Katt in English and French.
General Facts about Katt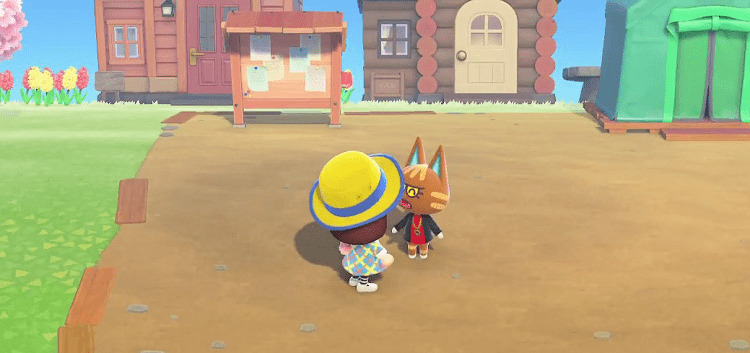 Gender: Woman
Species: Cat
Birthday: April 27th
Star Sign: Taurus
First Appearance: New Leaf
Personality: Sisterly
Catchphrase: Purrty
Skill: playing Old Maid (I don't know either, girl)
Katt's Preferences
Favorite songs: K.K. Disco, Surfin' K.K, K.K. Tango, K.K. Rock
Default Clothing: Old School Jacket (red) for New Horizons. Pep squad tee for New Leaf + Pocket Camp
Default Umbrella: Spider Umbrella for New Horizons, Leopard for New Leaf
Favorite Color: Purple
Favorite Styles: Cool, Rock n Roll
Favorite Furniture Colors: Purple and Black
Favorite Interior Concepts: Cool
Goal: Swimmer
Coffee:  Kilimanjaro no milk no sugar
Appearance
Katt is a gingery brown cat with cream stripes around her face, legs, tail, and arms. Her paws are an off-white color, and the insides of her ears are a turquoise blue. Katt has yellow eyes that are flat at the top with eyelashes on the sides. Katt sports a smile with two widdle fangs sticking out.
Personality
Katt has the big sister/sisterly personality type, which means she's kind to the player but is also sassy and blunt. She talks about her home life occasionally and gives the player life advice. It looks as though she has a band from the interior of her New Leaf and New Horizons houses, where she has a guitar and a sound set up.
When she becomes the player's best friend, she will give the player life advice, usually on how to fight or how to relax more. She will also take care of the player when stung by wasps, treating the player kindly and with a big sister vibe (how fitting!).
Sisterly villagers can often spread rumors about other villagers, but nothing too bad. She doesn't hate many types, so she's a great addition to most islands or towns if you have a diverse range of personality types.
Why You want Katt on Your Island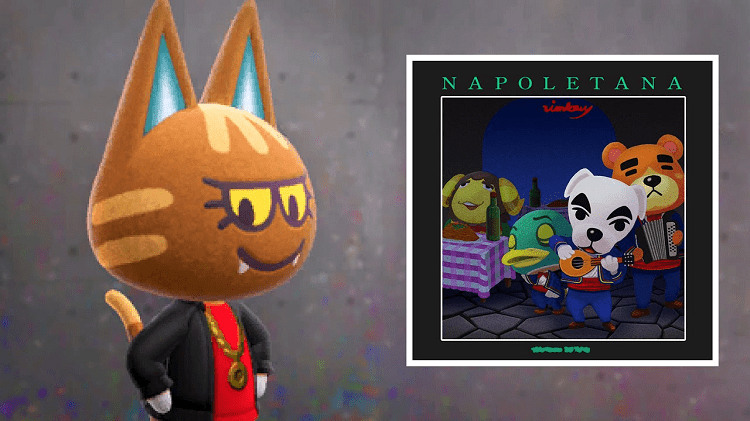 Katt is a great sisterly character to have on your island/town. Since she is the only cat with a sisterly personality (out of 23 cats, too!), she would be perfect for a cat-only island/town, but she stands out on her own as one of the coolest characters there is. I had her on my music-themed island, and she fit in exceptionally well with everyone else!
While I love Katt in both New Horizons and New Leaf, I personally like her best in Pocket Camp. She fits in incredibly well with the "cool" furniture and the game's general aesthetic. Though she is much more challenging to get in Pocket Camp, I fully think it's worth it.
House
Her house mostly stays the same from New Leaf to New Horizons. Both have boxes, a mini setup of guitars, a drum set, and a couch. New Horizons adds a workbench, a few more boxes, and a trash bag. The exact items go as follows for each game:
New Leaf
Small Spotlight
Pothos
Exit sign
Cardboard table
Executive toy
Two sleek sofas
Drum set
Electric guitar
Amp
Rock guitar
Mic stand
High-end stereo
Wallpaper is music room wall
Music is Surfin' K.K.
Flooring is steel flooring
New Horizons
Diner sofa
DIY workbench (red)
Two cardboard boxes
Another cardboard box with stickers
Iron wall lamp
Portable record player
Drum set
Effects rack
Electric guitar
Stacked magazines
Trash bags
Ventilation fan
Flooring is steel flooring
Wallpaper is perforated board wall
Song is K.K. disco
The outside of her house consists of a red vertical door, brown panel siding, and a grey-striped roof.
A Gift Guide for Katt
Yay!!! You have Katt; now what? What do you give to her? Finding the right gifts that the villager will like is a dilemma. That is why I am here, reader; there is no need to stress or be pressed. Remember, her favorite styles are cool, and her favorite colors are black and purple, so anything that fits that foundation is a great gift!
Clothing Gift Ideas for Katt: Dresses
Jack's robe
Ancient belted robe
Tight punk outfit
Long down coat
Long pleather coat
Mysterious dress
Mage's dress
Jinbei
Suit with stand-up collar
Tops
Spider web tee
Text shirt
Bulldog jacket
Thread-worn sweater
Striped tee
Bowling shirt
Acid washed jacket
Collarless shirt
Skull tee
Flight jacket
Camo tee
Front tie tee
Headwear
Impish horns
Round shades
Fox mask
Octagonal glasses
Labelle sunglasses
Mage's hat
Tiny shades
Bunny ears
Pirate eye patch
Furniture Gift Ideas for Katt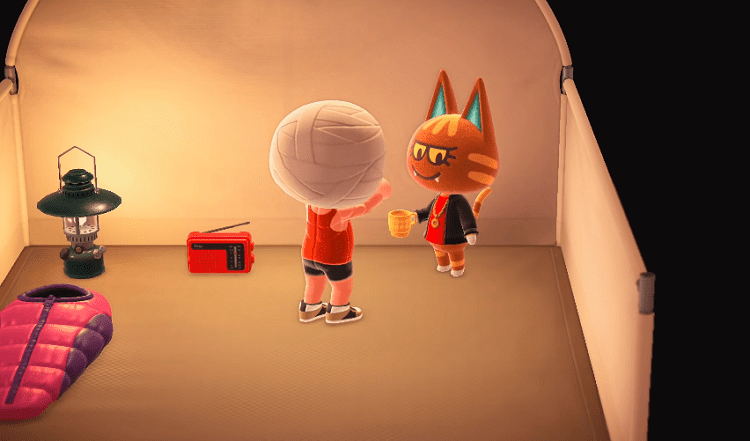 To go with her grunge garage band vibe, give her some of the messy but cool items in the game. These are what I found to be the most like her and that Katt would love:
Juicy apple TV
Snare drum
Rolling cart
Plasma ball
Wooden box
Cardboard sofa
Floor sign
Portable record player
Heart shaped bouquet
Milk can
Portable radio
Study desk
Telescope
Floor light
Ukulele
Old-fashioned alarm clock
Katt in Pocket Camp
In Pocket Camp, Katt is available through Blather's treasure trek; she has her own map, which you must explore to unlock. Unfortunately, her map is gold rare, so it will take a while for you to find her.
You can find maps in many ways; the easiest would be from Gulliver bringing it back to you. You can also get maps from special in-game events, character requests, and by popping balloons.
When you level up your friendship with any villager, you'll get items or materials. While she might not provide a lot of cool stuff, I think it's worth it to befriend her for the large bookshelf alone. This is what Katt gives:
Level 7 One Pep-Squad tee and One Sparkle stone
Level 9 One sparkle stone
Level 10 Snare drum (craft)
Level 20 Katt's pic, one sparkle stone
Level 25-70 one sparkle stone every five friendship levels
Katt in Happy Homes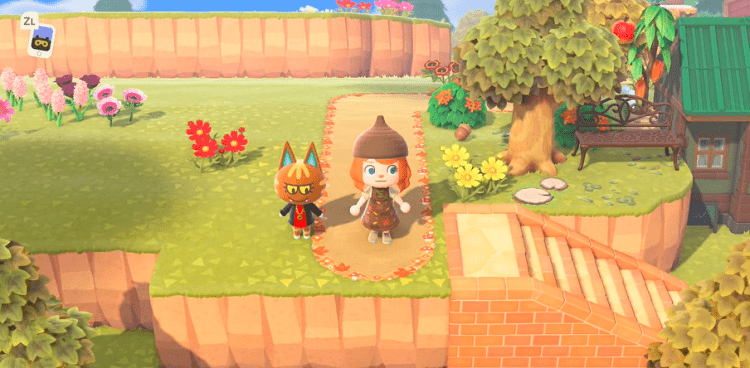 Katt's thought bubble reads, "I want my own rockin' amphitheater for music!" So Katt will request a rockin' amphitheater, and the required items will be silver mic, stage lights, and an electric bass. The preferred song is K. K. Rock!
Katt is #323 in Series Four of the Animal Crossing amiibo cards. Her dice value is three, and her hand sign is paper. Amiibo cards can be used to bring in islanders to both Happy Homes and your own island!
With Happy Homes, you can invite the character in immediately, but if you want that character on your own island, you have to invite them to the campsite three times and make the requested item they will tell you about.
After the third time, they will want to stay on your island and can take the place of any other villager on your island if it is full.
What job should Katt have?
As you probably know, in the Happy Homes DLC, you can build important buildings and give villagers jobs! I personally recommend Katt as a barista, as her sisterly personality fits the kind but stubborn skills needed to work in a café environment. She may clash too much with others in a job like the hospital or being a teacher.
FAQs
Question: How Do I Get Katt?
Answer: As most players know, getting the exact villager you want can be challenging, but it's worth it once you have them.
There are several ways to get Katt to come live on your island:
• You can use an amiibo card to invite her to your campsite, which will prompt her to ask you to make sure items (you need to invite her three times before she can move in)
• She can naturally (albeit randomly) show up at the campsite
• You can island-hop when you have an open plot of land
The other option is going into free villager trading groups on Facebook, Twitter, etc., and looking for or asking about the villager you want. Sometimes these villagers are free; sometimes, players will ask for items or bells. Never take a villager when someone asks for real money, as it could be a scam.
Question: Is it Worth it when You have Another Sisterly-type Villager?
Answer: I personally do not like to repeat personality types on my island, but I love sisterly characters, and the personality isn't as tedious as some others can get. So, I would say yes! But she won't be for you if you don't like sisterly characters or want only cutesy characters.
Question: Is Katt a Boy or a Girl?
 Answer: Katt is a girl villager. Even though she has a tomboyish charm, she has been a woman in every game.
So, Villager, what are You Waiting for?
Katt is a character with a classic game feel yet is still a new addition. Her cool and down-to-earth design makes her stand out as a unique and interesting villager, and with the fact that she's the only sisterly cat in any game, she's a must-have for people who like to collect interesting types.
Something about her rugged charm makes her so unique to her animal type as well as sisterly types. Because of this, I think she's a great villager to have, especially if you can get her sooner than later.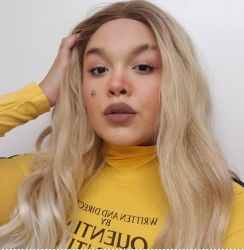 Latest posts by Lillie Forteau
(see all)