Black cats are an iconic symbol and are widely recognized. They are signs of bad luck, the companions of witches, and cute voids that stare back at you.
When people imagine different kinds of cats, black will be one of the first variations that they think of. Kiki is the black cat of Animal Crossing and has been present in every game since the beginning.
She doesn't have the same fanbase as many other cats, but it's obvious that Kiki is a classic. She's not the brightest or the most eye-catching, but that's where her charm comes from. Simple, dark colors make her distinct, and her simple design keeps her looking like a real-life black cat.
I haven't yet been able to find Kiki and bring her to my island. Yet I hope she'll soon make her appearance and bring some slightly spooky vibes.
Quick Facts
 

Species: 

Cat

Gender: 

Female

Personality: 

Normal

Birthday: 

October 8

Star Sign: 

Libra

Hobby: 

Education

Catchphrase: 

kitty cat

Favorite Song: 

Only Me
Kiki's Appearance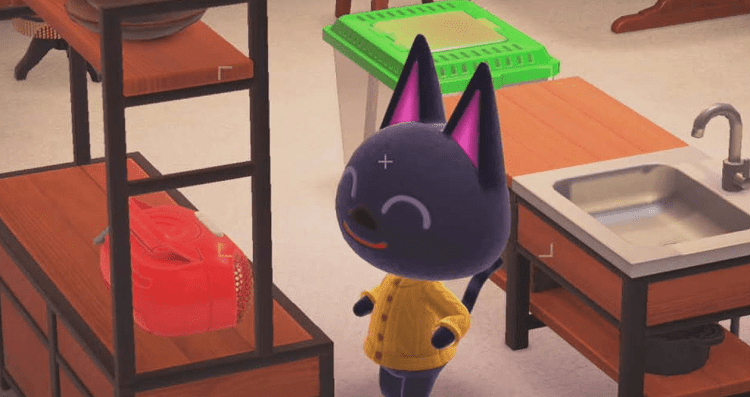 There isn't a lot of complexity to Kiki's appearance. Her entire body is black, with slightly darker areas on her paws and tail. The only other colors that can be found are around her face, with her bright pink ears, yellow eyes, and red mouth.
Even her nose stays black, differentiating from her fur by being slightly darker with a grey highlight at the top.
The most attention-grabbing part of Kiki's appearance is her eyes. They are large and perfectly round with huge black pupils and a ring of yellow. It can be slightly unsettling since they are so large it feels like she's sharing directly into your soul. On the other hand, wide eyes can also look curious and innocent; it all depends on your perspective.
One thing I find rather surprising is Kiki's default clothes, which have remained the same since the first game. I would have expected something dark or plain given her simple appearance and tastes, but instead, she's always wearing a green argyle sweater.
Her yellow eyes match the thin yellow stripes, but the lighter green in New Horizons feels out of place against her dark fur. It looked much better in earlier games when the red diamond patterns were larger, and the green was darker. It made the whole color palette feel more cohesive.
Kiki's Personality
Kiki is truly a sweet and caring cat. She may seem shy at first, but as you get to know her, she'll open up more and eventually express her appreciation for you and your friendship regularly.
While Kiki enjoys spending time with her friends, her favorite hobbies are when she's home alone. She likes to spend hours reading and planning new ideas for the next time she crafts or bakes. She'll look forward to sharing her latest creations with the entire island when she's done.
No matter what personalities may be on your island, Kiki will get along with anyone. Her easy-going attitude makes her instantly likable to anyone, and her kindness ensures everyone will love spending time with her.
Kiki's Home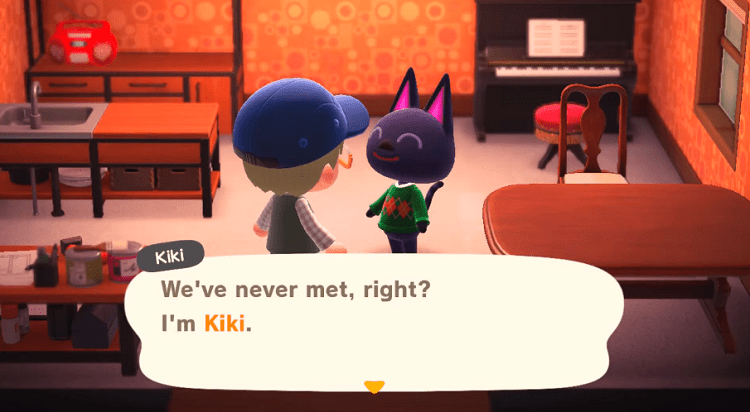 Despite being one of the villagers with the most house designs, Kiki's house hasn't changed all that much from the original game. Most notable is that she's always had the eye-catching Mod Wall adorning her interior. To match that bright orange, she's also always had warm-colored wood furniture.
In earlier games, like Wild World and New Leaf, Kiki has had an affinity for the Ranch series, retro stereos, and cacti. However, in New Horizons, she trades the ranch furniture for selections from the ironwood and antique series. Her retro stereo is also downsized to a cute music player.
In her New Horizons home, it looks like Kiki's interior design is focused on creation. One corner of her room is dedicated to an ironwood cupboard and kitchenette, making a lovely little kitchen.
Across from that is a permanent ironwood DIY workbench which makes it look like she's thinking about crafting behind just the occasional recipe you might get from every villager. Then lastly, there is the piano in the far corner, implying that she doesn't just like making tangible things like food and crafts but also music.
Gift Guide
Of all the ways to increase your friendship level with your villagers, daily gifts are the most effective and the most dangerous. If you give them something they like, it will make them like you so much more, but if you provide them with something that you don't like, you may be stuck seeing them with it forever.
The easiest way to safely give villagers gifts is to use fossils. All villagers like to be given identified fossils, and they won't appear in your villagers' homes. You don't have to find something new every day, you have a constant free supply, and you don't have to worry about your gift hanging around for too long.
However, you may want to mix it up occasionally. When making friends with your villagers, giving them something more unique can be fun. It'll make you feel closer to them, rather than just another character you have to talk to to get new items.
For these personal gifts, you should focus on clothes and furniture that your villager will use. Keep in mind villagers don't like all gifts equally.
Every villager has preferred styles and colors, and gifts matching those preferences will increase their friendship level much more. In Kiki's case, her favorite style is simple, and her favorite colors are beige and brown.
Let's look at some specific items that Kiki will like, starting with clothes. Clothes are my favorite kind of item to give villagers. It makes them feel much more alive when they have a wardrobe to choose from and wear different clothes daily.
Plus, it can be fun to make their personality shine behind their sometimes repetitive dialogue. These clothes are ones that Kiki will like and will suit her very well.
Brown Frugal Dress and Brown Frugal Hat (588 and 420 Bells)

I mention these together since they can make a whole outfit that looks like a cute little witch.

Brown Plover Dress (1,920 Bells)

Beige Cardigan School Uniform Top (1,560 Bells)

Orange, Yellow, and Black Colorful Striped Sweater (1,440 Bells)

Brow Tortoise Specs (1,248 Bells)

Brown Tulip Hat (756 Bells)
I find that gifting furniture is the more dangerous game. Your villager will randomly put the item in their house, replacing a similarly sized object. This means if you give them the wrong thing, you could end up with their house looking uncoordinated or messy.
This can be easily fixed with the Happy Home DLC since you can unlock the ability to redecorate villagers' houses. However, if you don't, you're stuck with whatever gets put there.
Here are some furniture ideas to prevent that fate and keep Kiki's house looking good. Side note: I would prioritize the wreath since no homes come with door decoration, and it can be easily replaced.
Brown Timber Doorplate (Craftable)

Natural Knife Block (1,440 Bells)

Mini Cactus Set (480 Bells)

Veggie Basket (Craftable)

Brown Study Carrel (3,840)
Should You Invite Kiki to Your Island?
The choice of what villagers come to your island is highly personal. I, an internet stranger, shouldn't have the final say in your animal companions. However, if you are totally lost on whether or not you'd enjoy Kiki on your island, I can guide you with some of my own thoughts.
If you like villagers that aren't fantastical and brightly colored, you'll definitely like Kiki. She's one of the only villagers who is primarily black but doesn't make it look edgy or overtly spooky.
My favorite villagers almost always look realistic, and Kiki is the most realistic-looking cat. She has the most natural color, and her lack of patterning means there isn't much simplification needed to make her fit the Animal Crossing style.
Some people like to have heavily themed islands and include their villagers to make every level of their game match. Kiki is perfect for a few themes.
If you've got an island where it's always Halloween, Kiki would be ideal. As a black cat, she blends in well with dark surroundings and would look incredible amongst a pumpkin patch. She'd be like a little witch familiar.
The only people I wouldn't recommend Kiki to would be those looking for big, bright, and instantly memorable villagers. While I love Kiki, I admit she doesn't pop out from the huge Animal Crossing rooster.
Not everyone wants a villager that looks so plain. If you want the wildest, funniest, and brightest villagers to bring your fantastical island to life, then you should probably pass on Kiki.
Kiki's Amiibo
In line with her early appearance in the games, Kiki's amiibo cards were also one of the first to appear in series one. Her card was number 34. Other characters used to introduce Animal Crossing into Amiibo were Isabelle, Tom Nook, Molly, and Bob. 
Kiki's card shows her standing in front of a purple background that looks fantastic against her black fur. She's posing with her hand against her cheek, looking up and to her right. The hand symbol on the card is the open paper hand.
You can use Kiki's amiibo card in nine games. The four Animal Crossing games are Animal Crossing: New Leaf, Animal Crossing: Happy Home Designer, Animal Crossing: Amiibo Festival, and Animal Crossing: New Horizons.
The card allows you to add Kiki's character to the game. You can use the card to invite Kiki to your town or island for the mainline games. In the spin-off games, you can ask Kiki to decorate her home for the Happy Home games or use her to play mini-games in Amiibo Festival.
The other five games Kiki's card can be used in are Style Savvy: Styling Star, Conga Master Party, Mario Kart 8 Deluxe, Kirby: Planet Robobot, and Taiko Drum Master: Atsumete Tomodachi Daisakusen. In these games, the card can unlock Animal Crossing-themed items, abilities, or music, depending on the game.
In these cases, Kiki's card functions the same as any compatible Animal Crossing card and is not specific to her.
Kiki in Pocket Camp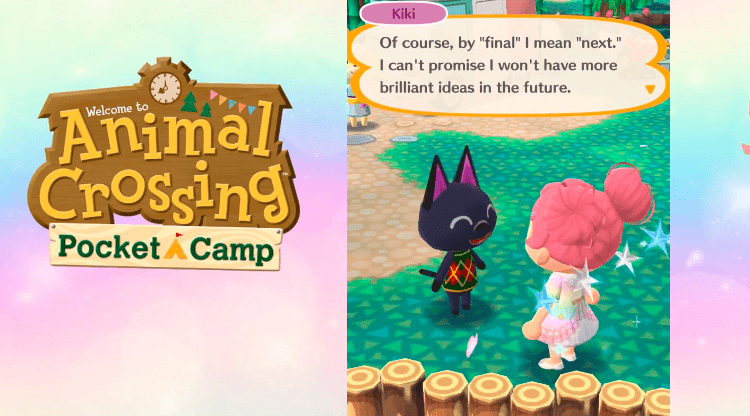 Kiki was introduced to Pocket Camp on October 16, 2018, a year after the game's release. Her favorite theme is harmonious, and she primarily rewards you with wood.
She functions like a normal camper, so you can find her on islands and fulfill her requests to increase your friendship level and invite her to your campsite.
To invite Kiki to your campsite, you'll need to get her to friendship level five and have the following items at your camp.
Fish on a Board 

3 Preserves

3 Wood

320 Bells

Counter Table (Zen)

5 Steel

5 Wood

Counter Table (Basic

500 Bells

Sink

15 Wood

15 Steel

1,320 Bells

Freezer

15 Preserves

15 Steel

590 Bells

Sushi Tray

30 Preserves

30 Wood

3 Harmonious Essence

1,740 Bells 
As you do more and more things for Kiki, her friendship level will increase. When you reach certain levels, you'll unlock special rewards.
Level 7: Argyle Knit Shirt and 1 Sparkle Stone

Level 9: 1 Sparkle Stone

Level 10: Lucky Black Cat Request

Level 20: Kiki's Pic and 1 Sparkle Stone

Every five levels afterward: 1 Sparkle Stone
In October 2020, Kiki was given a Halloween-themed fortune cookie called Kiki's Black Cat Cookie. The cookie has become available for Halloween every year since.
The cookie is a pale purple with silver-trimmed black tips. The silhouette of a black cat walks along the center of the cookie.
All the rewards the cookies give are elegant-themed furniture and clothing. Everything has a gothic look, with lots of blacks, purples, and sleek shapes.
Black Cat Sculpture (3-Star Rarity)

Fancy Feline Lamp (3-Star Rarity)

Fancy Feline Planter Stand (3-Star Rarity)

Fancy Feline Display Case (4-Star Rarity)

Fancy Feline Screen (4-Star Rarity)

Fancy Feline Sofa (4-Star Rarity)

Fancy Feline Hearth (5-Star Rarity)

Black-Lace Dress (3-Star Rarity)

Cat-Ear Wig with Ribbons (4-Star Rarity)
Two memories include Kiki, An Extra Spooky Surprise, and Kiki's Curios.
An Extra Spooky Surprise requires Lucky, Dotty, Vic, Kiki, and a Frightful Manor. The memory begins with Vic, Dotty, and Kiki taking a shortcut but getting lost and finding the Frightful Manor. They are all confused, and Kiki reveals that she heard a rumor about the King of Monsters finding a new place to live every year.
This is when Lucky emerges from the manor, scaring off his friends. As they run, Lucky chases them, and when he catches up, he apologizes. Everyone realizes that the spooky village Lucky built has been spooking all the campers.
Dotty suggests they throw a party and the memory ends with all the campers hanging out around the spooky furniture.
To unlock Kiki's Curios, you'll need Kiki, Bruce, Maddie, and a Fancy Feline Hearth at your campsite. The memory begins as Kiki finishes her gallery filled with gothic black furniture.
She runs to the back room to finish putting things away right before Bruce and Maddie walk by. They check out this new shop and notice the black cat theme.
Bruce suggests this is a witch's lair, and Maddie tells him witches aren't real. Then they hear rustling and banging and get scared. Kiki emerges from the back room and is mistaken for a statue brought to life with dark magic.
After Bruce and Madie calm down, Kiki explains that she made this gallery to reflect a witch's lair from one of her favorite books. The memory ends as the trio spends some time admiring her decorating.
FAQs
Question: Is Kiki Popular in Animal Crossing?
Answer: Not particularly. I rarely see Kiki mentioned on any social media platform. This means she isn't the favorite of many people but isn't widely disliked either.
Question: Is Kiki a Good Villager?
Answer: There isn't really such thing as a good villager in Animal Crossing. They all serve the same purposes in the same ways; whether they are good is up to personal tastes. As someone who prefers villagers that look like real animals, I like Kiki.
Question: What is Kiki's Favorite Color?
Answer: Kiki's favorite colors are beige and brown.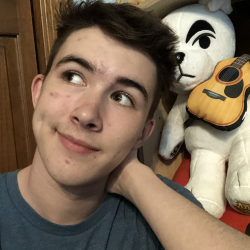 Latest posts by Mika Zans
(see all)