One of my favorite parts of the Animal Crossing franchise is how events and holidays get celebrated within the game. When I was younger, I'd wait all day to celebrate Halloween with my villagers.
Or I'd spend all day looking for chocolate eggs to get unique easter furniture. Likewise, I wait patiently each year for the next event and chance to interact with an NPC you get to see once a year.
Since these events only come once a year, it's essential to make the most of them! It's a chance to meet characters you didn't know before these events. There are a lot of Animal Crossing NPCs that new players might not be familiar with.
One of which is the enigma of Pavé, one of my favorite characters and arguably the most energetic NPC Animal Crossing has to offer!
An Introduction to Pavé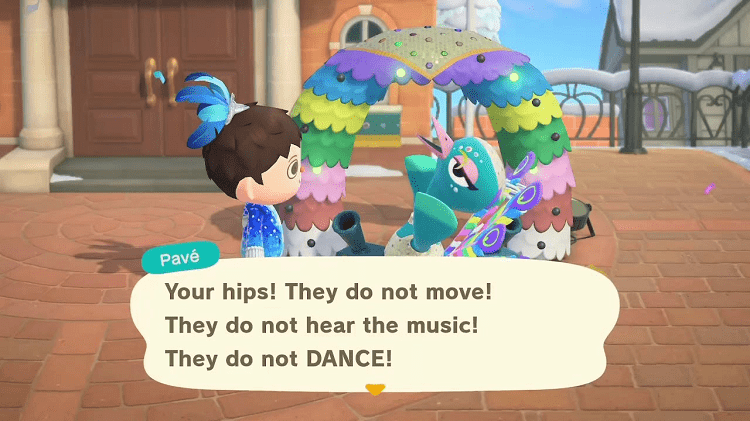 Pavé is a one-of-a-kind NPC and has a very unique and recognizable look. Like the other Animal Crossing NPCs, he has a unique flair to separate him from your day-to-day Animal Crossing villagers. He is a very brightly colored peacock, unlike any species you may have encountered in the franchise before.
The primary body color is an outstanding turquoise, with purple, green, and yellow accents. When you experience the rainbow feather request of Pavé, you'll notice how similar the two look side to side. He also showcases rainbow face paint over his eyes, a pink beak, and plumage of rainbow tail feathers.
But the main wow factor of this character is his incredible dance moves and accompanying outfit. He wears a rainbow choker that matches his tail-feathers, white dance clothes dotted with rainbow flecks, and black dance shoes.
Whenever you encounter Pavé, he will always be dancing. In every game he has appeared in, this has been the most memorable part of his character. In New Horizons, you can finally dance alongside Pavé, but you'll sadly have just to watch if you're playing any game before that.
There's no explanation behind his name, but it's speculated to come from the Portuguese word pavão (peacock).
Here are some general facts about Pavé;
Species: Peacock
Gender: Male
Birthday: March 3rd
Amiibo number: 313
Appears: City Folk, New Leaf, Pocket Camp, New Horizons
Festivale!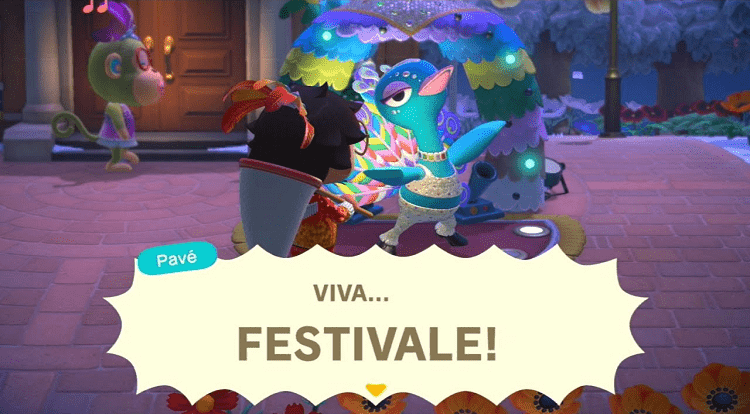 Pavé is the host of an exciting event in the Animal Crossing franchise. If you're a party animal, then his event is for you. I've never enjoyed parties in real life, so being able to experience them in Animal Crossing is ideal for me. Pavé brings incredible energy to anyone's town or island. Because of this, I always look forward to the new year because it means one thing. Viva La Festivale!
Viva La Festivale is an event in several Animal Crossing games. This event usually occurs during late February or early March, depending on your game and what year you're playing.
You'll know when it's coming because the whole town (or island) gets excited. If you're playing New Horizons, the beginning of Festivale will be noted by Nooks Cranny starting to sell some party gear. In City Folk, the candy sale will begin in early February to mark the beginning of the celebrations.
On the day of the event, you'll meet Pavé for the first time. I remember being in awe the first time I encountered Pavé. But, as I said, his energy is unmatched and will bring a smile to anyone's face.
Although Pavé doesn't get as much recognition as he deserves in Animal Crossing, Festivale is a one-of-a-kind experience for any first-time player. The event also lasts the entire day rather than just an evening, like Halloween. So you can make the most of your time with Pavé!
It's a simple event to go on. You can search for feathers while completing daily tasks if you're looking for feathers. But finding candy in City Folk is challenging. However, the engagement with townsfolk is enjoyable and worth the challenge. Plus, the rewards and furniture gifted by Pavé in any game are worth any amount of effort.
Pavé in City Folk
Pavé first appeared in Animal Crossing City Folk during an event announced as 'Viva la Festivale.' This event occurs in Animal Crossing City Folk two days before Ash Wednesday.
There is no set date, depending on which year you play. Although we hadn't met Pavé yet, there were rumors of an excited peacock visiting our town at some point.
When you leave your house at the beginning of the day, you'll notice confetti sweeping through the air. That's how you know the party has arrived! Animal Crossing City Folk approaches Festivale differently from the more recent titles, which I will cover in more detail a bit later on!
Much like the other events, the soundtrack will also change for the event. Once you have spoken to Pavé, he will request a specific color of candy which he needs to keep dancing.
To get this candy, you'll need to either buy it from Nooks or play games with your townsfolk, who will give it to you as a reward. I love how involved the townsfolk get in Festivale and how willing they are to play games with you. Even though they are as simple as a coin toss or rock, paper, scissors, it's still fun!
There's no guarantee of what color candy you'll get in return for winning. It's a total gamble, but if it's not the one you're looking for, try speaking to another villager! They'll happily play too.
Once you have the candy Pavé asked for, you'll need to speak to him outside the Town Hall. Giving him a piece of candy will result in a happy dance and a reward for your hard work. In addition, there is a furniture set that you can unlock if you complete several tasks. The Pavé series consists of thirteen potential pieces.
The Pavé series includes:
Pavé Bed
Pavé Bookshelf
Pavé Buerau
Pavé Chair
Pavé Chest
Pavé Clock
Pavé Closet
Pavé End table
Pavé Lamp
Pavé Sofa
Pavé Table
Pavé Wall
Pavé Floor
Pavé in New Leaf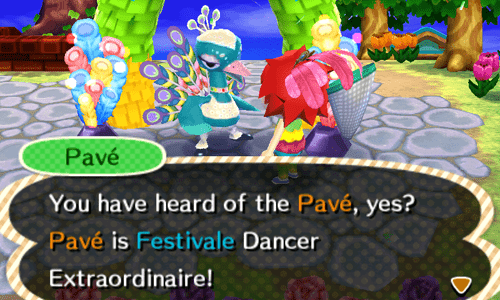 New Leaf took a different approach to the event. You'll have to speak to Pavé to kick it off. But you'll notice that all villagers are dressed up and looking sharp! You'll spy confetti across the town again, just like in City Folk. Even though the event may be a little different in this game, Pavé still has the same flare!
Rather than requesting candy in this game, Pavé searches for four different color feathers floating alongside the confetti. These can be caught with a net, just like any insect. They'll be straightforward to spot amongst the confetti and won't float away if you run through them accidentally.
Pavé will ask for a specific feather color to support his dancing as he did with the candy in City Folk. Unfortunately, it's never appropriately covered why he wants them; maybe they've gone missing from his great tail.
Either way, they're fun to run around and collect. Alongside the four primary feather colors, purple, red, green, and blue, an elusive rainbow feather may be spotted floating around. These rainbow feathers are a true rarity, and Pavé offers a perfect reward for anyone who finds one.
Like City Folk, the rewards for exchanging these feathers are one of the thirteen pieces of the Pavé collection I've already mentioned. New Leaf has no new additions, but they certainly have the same charm and look as when you first see them in City Folk.
When Animal Crossing Welcome Amiibo was released, Pave could be invited via amiibo card to stay in his RV Camper. He displays seven pieces of his furniture set within his RV, the couch, lamp, clock, end table, wall, and floor. Visiting Pavé in his camper will also be the only time you'll catch him not dancing and not in his Festivale setup!
Pavé in Pocket Camp
During the event "Viva Festivale with Pavé," our favorite peacock graced the garden of your campsite to dance the night away. The event took place on February 28th, ended on March 11th, 2019, and hasn't returned since.
I've been playing Animal Crossing Pocket Camp since it came out, so garden events are muscle memory at this point! To help Pavé, you needed to plant a handful of flowers, harvest 'dancing festivibees', and present them to Pavé for several rewards. These varied from crafting materials to event materials.
The main appeal of this event was to unlock the Pavé dance stage, Pocket Camp's equivalent to the Pavé furniture collection of other Animal Crossing titles.
I love any item that encourages campers to have fun. The dance stage is one of them since Pavé is the NPC equivalent of fun! In previous Animal Crossing titles, villagers would wander around and not interact with anything. Seeing them enjoy the world you've set up for them adds to the cuteness of Animal Crossing, especially when they're dancing away on a stage!
Pavé in New Horizons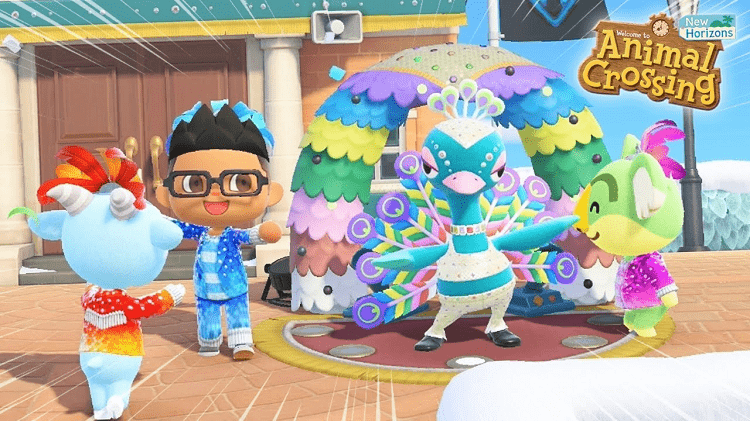 Although Pavé wasn't initially included in New Horizons, he was included in the 1.7.0 update. A few other NPCs were also included in the update simultaneously, including Jack and Jingle. You'll need to have the 1.7.0a update if you want to experience Festivale!
The event takes place on February 15th, and much like Viva la Festivale in New Leaf, you have to run around your island and catch Pavé's floating feathers. But rather than receiving the furniture directly, Pavé gives out the DIY recipes to create multiple pieces of unique furniture in your own time.
I was so skeptical when crafting was introduced to Animal Crossing. It felt like a lot of extra effort, which wasn't needed in the game. But after diving in and playing the game for a good few years now, I've learned to love it. I find it incredibly convenient when you have an event and want to decorate your island accordingly.
You can go wild as soon as you have the recipe and materials! I had a mysterious island when Jack finally gave me Halloween DIY cards. It feels fair to do it for every other NPC event now!
Pavé will gift you one of nine potential items in exchange for three feathers of the same color. These items will be available for purchase in Nooks Cranny in the lead-up to Festivale, but I'd say they feel more remarkable when you get them from Pavé himself.
The nine potential items you might receive are:
Festivale balloon lamp
Festivale Confetti machine
Festivale Drum
Festivale Flag garland
Festivale Lamp
Festivale Parasol
Festivale Stage
Festivale Stall
A new addition to the event is rainbow feathers. These can be caught the same way as others and can be used to customize the furniture items bought from Nooks or gifted by Pavé.
He might ask you to trade in three rainbow feathers for an item, and you can not trade in any other feathers. However, you can craft rainbow feathers! Pavé will give you the crafting recipe for a rainbow feather during your first interaction.
To craft a rainbow feather, you will need:
1 x Green Feather
1 x Blue Feather
1 x Purple Feather
1 x Red Feather
Exchanging three rainbow feathers will be rewarded with rarer furniture items. After a few exchanges, you will receive a Festivale float. This item is so extravagant compared to other event-exclusive things! You can also purchase outfits to match your islanders from the Able Sisters, and you can buy a Festivale reaction pack from Nooks Cranny.
The reaction pack includes four new reactions that your islanders will approach you and do during the event. My favorite is when my islanders throw confetti into the air with excitement. It feels like your own personal celebration! They will also be willing to trade feathers like in New Leaf.
FAQs
Question: When is Festivale?
Answer: Festivale occurs at the end of February or early March, depending on the year and game you're playing. In 2022, Festivale took place on February 28th. The event lasts all day and ends at 5 am the following day. The best way to see when Festivale will take place is to look for the signs on your island, such as the noticeboard or items being sold in Nooks Cranny!
Question: Can Pavé Live on my Island?
Answer: Unfortunately, Pavé cannot live on your island. He is a special character rather than an islander and is only available to see on the day of his special event. Luckily, now The Roost has been added to Animal Crossing New Horizons, and you can invite Pavé for a coffee!
Question: Can I Buy Pavé Feathers?
Answer: You can only find Pavé feathers floating on your island on the day of Festivale. In previous games where Pavé was looking for candy, you could buy it from Nooks Cranny. So sadly, you'll need to work to get Pavé feathers. But I promise you'll have fun while doing so!
Summary
Now you know everything there is to know about Pavé, you're ready to enjoy Festivale! In February, the party will come to your island or town, so keep your eyes peeled and release your inner party animal. It's one of my favorite events and has been since I first experienced it in City Folk.
There's just something so wholesome about the town coming together to celebrate something, and the way everyone is dancing is too cute to handle. Viva la Festivale!
Continue reading:
Animal Crossing Special Characters Guide
Animal Crossing Lazy Villagers – Complete Guide
Animal Crossing Normal Villagers Guide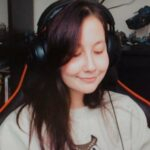 Latest posts by Kara Phillips-Ashman
(see all)