I never really cared for squirrel villagers in Animal Crossing. I had Static on my island for a while, and I liked him well enough, but when he asked to leave, I was perfectly happy to see him go. I saw others raving over Marshal and Ione, but I just didn't see the appeal. But then I met Poppy, and it was love at first sight. I wasn't actively looking for a new villager. I loved 8 of my 10 villagers, and I liked one of the others, so there was only really one villager I wanted to leave, and I was in no rush. But I saw that someone was staying at my campsite and figured I should go and say hi. I stepped inside, and there was Poppy, in all of her adorable majesty. I knew immediately that I had to have her, and so I reset the game several times until she finally asked to replace the right villager. She's been a staple of my island ever since, and I love popping by to visit her. She's a delightful character, and I'm so excited for you to learn all about her!
Appearance and Personality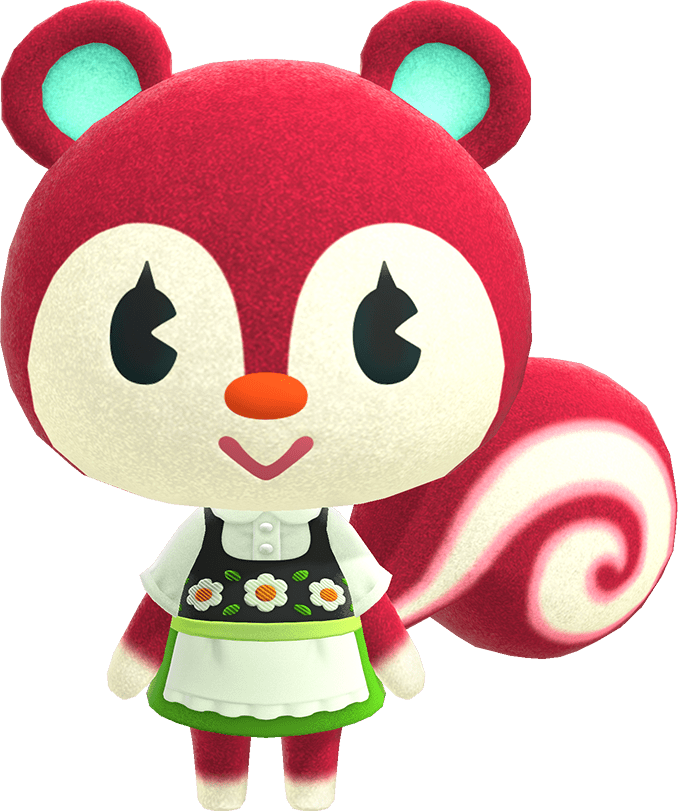 Poppy is absolutely beautiful, and being the superficial player that I am, this is the main reason I wanted her in the first place. She has flawless red skin, which looks almost burgundy in certain lights. Her face is outlined with two cream-colored arches over the eyes, which connect to form an almost heart shape at the chin. She has an adorable orange button nose, which looks so cute above her tiny red mouth. Her black eyes are a fascinating shape; they look like Pacman wearing a party hat. The insides of her ears are soft turquoise, which adds a splash of extra color without being overpowering. She wears the Alpinist Dress, which suits her, but unfortunately, I have Celia on my island who already wears that, so it's frustrating having a duplicate. It's still a very pretty dress, though. Poppy also has adorable white paws at the end of her red arms. But, in my opinion, Poppy's best feature is her tail. It's in the same rich red color as her body but has a white swirl running through it, and the effect is stunning. It reminds me of the raspberry ripple ice-cream pots that I used to devour as a child, and I wonder if that nostalgia is part of the reason I love her appearance so much.
How Wholesome is her Evening Plan?
Poppy has a Normal personality, which is my second favorite personality after Peppy. Normal villagers are kind and friendly, with a calm demeanor, and they make for great residents on your island. I'm sure the algorithm is probably random, but Poppy, in particular, seems very sweet. I'm always receiving letters in the mail from her, and she says such lovely things. Her catchphrase is 'nutty,' which is pretty on-brand for a squirrel. The only downside is that it sometimes feels like she's calling me crazy, even though I know that's just what she says.
Poppy has an Education hobby, which means she takes an academic interest in things on the island. She will go around with a magnifying glass and inspect things like flowers, trees, bugs, and any fossils you may have displayed. Villagers with the Education hobby enjoy books and can be seen holding a novel and reading whilst wearing glasses.
Why You Should Have Her on Your Island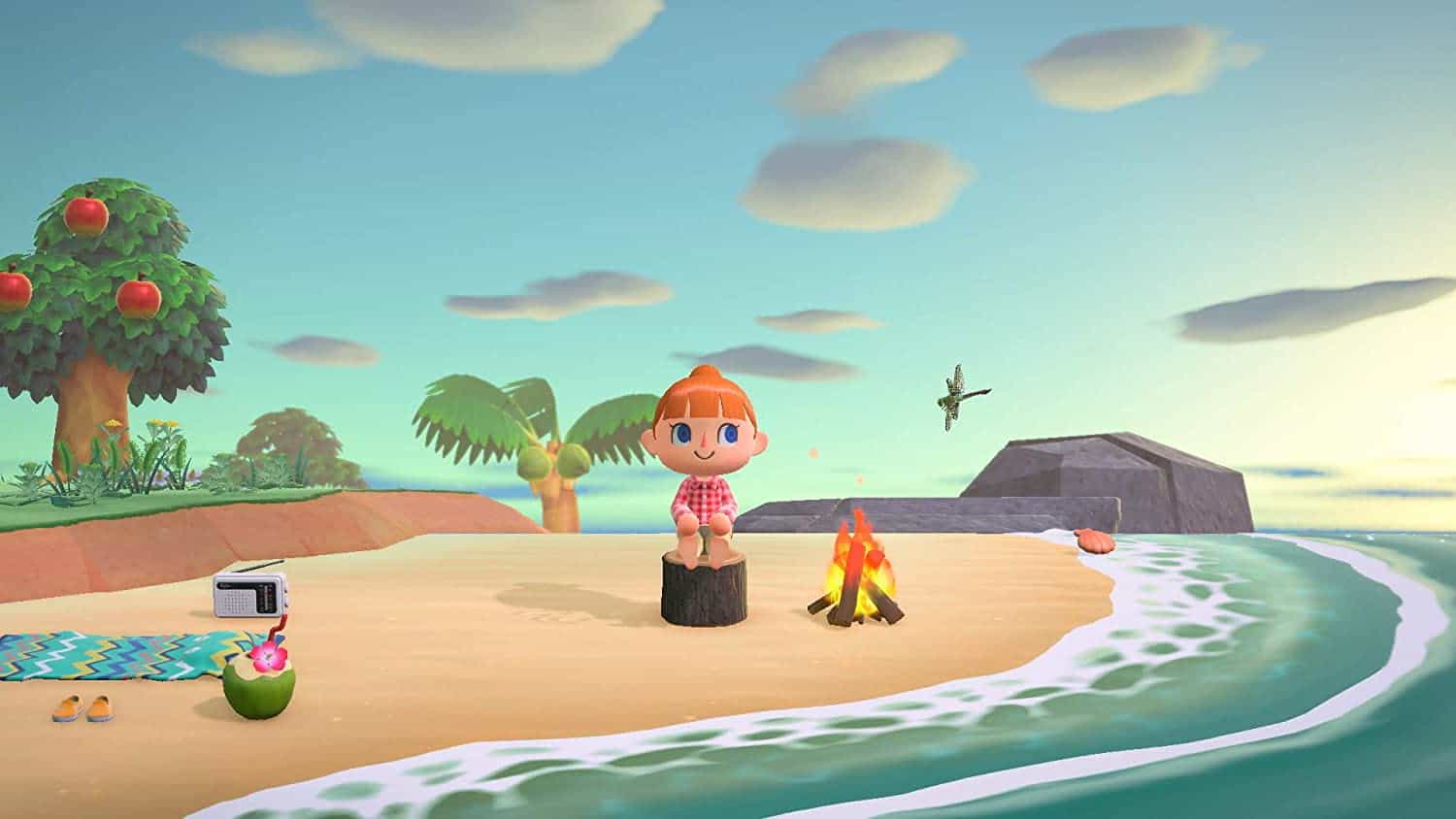 I think that Poppy is an excellent addition to any island for several reasons. Firstly, of all the personality types, Normal villagers are the most amicable as they will get along with any other personality type. This means that no matter which other villagers you have on your island, Poppy will attempt to befriend them. I always like to have at least three or four Normal villagers on my island, just to round out the personalities. There are many great Normal villagers, with 77 appearing in Animal Crossing: New Horizons, but I genuinely believe that Poppy is one of the best, alongside Merengue.
She's such a cheerful soul.
She's so beautiful, and it always makes me smile in delight when I see her going about her daily activities. Her vibrant red coloring stands out amongst the greenery of my island, as red is complementary to green in color theory. If you like to have pretty villagers who also have a great personality, then Poppy is your girl. Speaking of personality, Poppy is great at building your self-esteem. She always seems happy to see you, and in her dialogue, she makes it clear that she's supportive of your endeavors. She will offer you compliments on topics such as your sense of style or your ability to catch bugs. Poppy is, therefore, a great villager if you want someone who will make you feel special on your island.
Finally, she's convenient for a few themed islands. Perhaps you want all red villagers, in which case Poppy would fit in as red is her primary color. She's also helpful if you have a squirrel island (although I don't see why you'd want that when none of the other squirrels come close to being as awesome as Poppy). Finally, she's named after a flower, so if you're looking for villagers with nature names, then she's perfect.
Home Appearance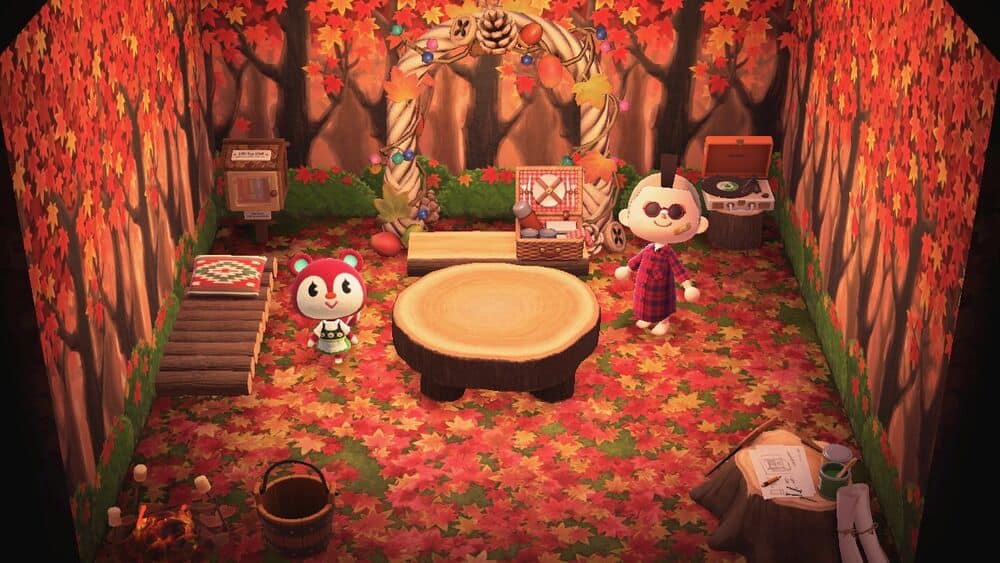 The exterior of Poppy's house is decidedly average, I'll admit. It's not ugly at all, but it also lacks the quaint beauty of other homes, such as Cookies. The roof has light-brown curved shingles that appear to be almost a terracotta color. The front of her house is a very light shade of grey, bordering on white. There's a slightly darker shade of warm-grey running along the base of the house, and the two colors complement each other well. She has a square-edged red vertical panes door, which is the most colorful part of an otherwise neutral exterior. There's a grey sign outside the house that will display her name when you read it.
The inside of her house is much better than the outside and has a delightfully cozy ambiance. It screams autumn, and everyone knows that's the best season of the year. Poppy has the Autumn Wall as well as the Colored-Leaves Flooring, which is perfect together, and shows that she has a very keen eye for design. She has a lot of furniture from the log collection, which makes sense seeing as she's a squirrel, and in real life, squirrels live in trees. She also has the Tree's Bounty Arch, which is a DIY recipe, so I like to imagine Poppy scurrying about the island, collecting the materials to put it together. She owns a Portable Record Player, which plays the tune Forest Life. It's always such a calm, relaxing vibe when I visit her house, and although the exterior is rather bland, the interior more than makes up for that.
She may not wear the red trench coat I gave her, but it looks great on display in her home!
Happy Home Paradise DLC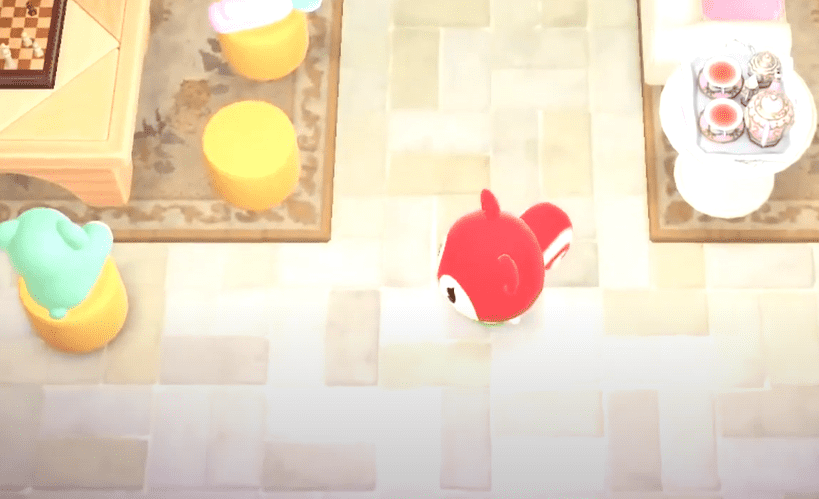 On 5th November 2021, Animal Crossing: New Horizons released its first paid DLC, Happy Home Paradise. This fantastic addition to the game allows players to work as a designer for Paradise Planning, which provides custom vacation homes for villagers. Every day there will be a random selection of villagers on the archipelago, and you can talk to them to offer them a house. It's a great way to add new villagers to your game without them having to take up one of the ten spots on your island. However, you can also invite villagers from your island by gifting them Souvenir Chocolates that you buy from Paradise Planning. That's what I did with Poppy because I thought it would be really cute to design a vacation home for her.
This is her reaction when you give her the souvenir chocolates.
When you stand next to a villager on the archipelago, you'll see their request above their head. Poppy's is 'I'd like to spend more time with my pets and plushies…'. When you accept the request, she'll give you the name of her planned home, which is 'Pet Plushie Palace,' and I must admit I'm a massive fan of the alliteration. The three items you have to include as part of it are the Birdcage, Hamster Cage, and Puppy Plushie. One thing that upsets me about Animal Crossing is that the pet cages they have are entirely unsuitable, and even though I know the animals aren't real, it's still sad to think of them stuck in such tiny cages. I usually try to avoid them when decorating homes, but obviously, this wasn't an option here. Poppy is a sweet character, though, so I'm sure she doesn't realize how cruel those small cages are. I also find it funny that the game has Hamster Cages when there are hamster villagers available.
I had a lot of fun designing Poppy's vacation home. It gives you plenty of options for furniture in the Order tab, and aside from the toys and pets, I liked giving it a natural vibe. I chose wallpaper and flooring that was reminiscent of a wild field, and then I put in as many plushies as I could. The customization options on the plushies are brilliant, and the range of colors makes them look like entirely different toys. Poppy seemed thrilled with the design, and it's great being able to have her on my island and in my DLC.
I put plushies EVERYWHERE
Animal Crossing History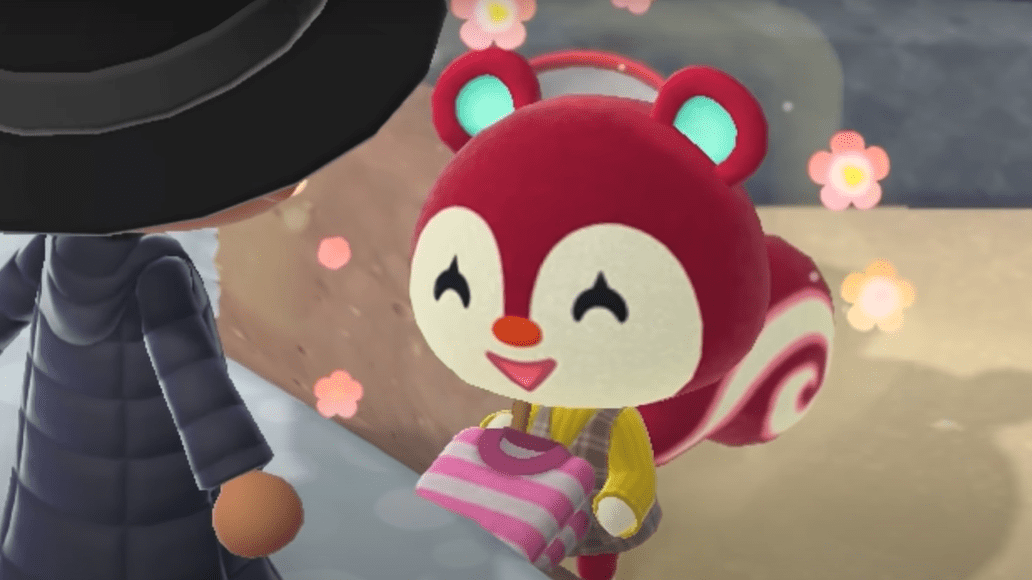 Animal Crossing: New Horizons was the fifth game that Poppy made her appearance in. The first title that she was in was called Animal Crossing: City Folk (or Animal Crossing: Let's Go to the City/ Animal Crossing: Let's Visit the Town in some countries). This was an urban-based game, and the player could visit the shops and interact with the villagers there, including Poppy.
She was next available in New Leaf, which was released in 2013 (or 2012 for Japanese players). This was a game that was full of new features, but they kept some old stuff in, too, including our girl Poppy. This title allowed for a lot more customization and was an immersive experience. The game has the campsite as a feature, which is where villagers could appear, and then be invited to move in. This would have been how you could get Poppy in your town if she wasn't already a resident.
Happy Home Designer was released for the 3DS in 2015. This had very different gameplay mechanics than the main series titles and was instead focused on customizing houses, very similar to the Happy Home Paradise DLC. In HHD, Poppy asks for a 'pet-friendly paradise,' so clearly, her personality has stayed very similar since then, as her request is almost identical in the HHP DLC.
Poppy can also be found in the mobile game Pocket Camp. You'll need to have level 5 friendship with her to invite her to your campsite, and she'll also require some items. You'll need to craft her a Bowl Sink, Tree-Stump Rug, Classic Buffet, Classic Sofa, and a Classic Bed. Once you provide her with all of those, she'll be able to stay with you. Her preferred theme in this game is Modern, and she tends to reward you with Sparkle Stones.
Best Gifts to Give Her
Poppy's favorite styles are cute and elegant, and her favorite colors are green and yellow. These preferences are important to bear in mind when choosing a gift for her. This applies to furniture items, as well as clothing. She also loves the song Forest Life by K.K. Slider, so if you have a copy of it (obtained by attending his concerts outside Resident Services), then you can gift that to her. Note that anything you give to her could end up displayed in her house, so make sure you like its aesthetic. This also applies to items such as bugs, fish, and sea creatures. I'm going to recommend some clothing items below, but you should choose items that appeal to you personally.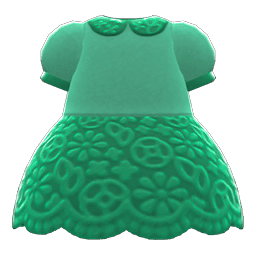 Hibiscus Hairpin (yellow) (This is the only item that fulfills all four of her preferences)
Dotted Raincoat (green)
Coatigan (green)
Floral Lace Dress (green)
Pintuck-Pleated Dress (lime)
Retro Shades (blue)
Outdoor hat (green)
Best Merch Items
If you love Poppy, and you want to shout it to from the rooftops (or at least shout it to everyone who enters your room), then why not buy yourself some merch? You can find items to display in your home, or perhaps even some apparel so you can take her out and about with you. I especially love the Bookworm Poppy Bookmark as it's very on-brand for Poppy, given her Education hobby. I'm also really impressed by the Plush Pillow, as it's handmade and looks just like her! However, I think my favorite piece of merch has to be the Poppy Watering Flowers T-Shirt, as it's just so unbelievably cute!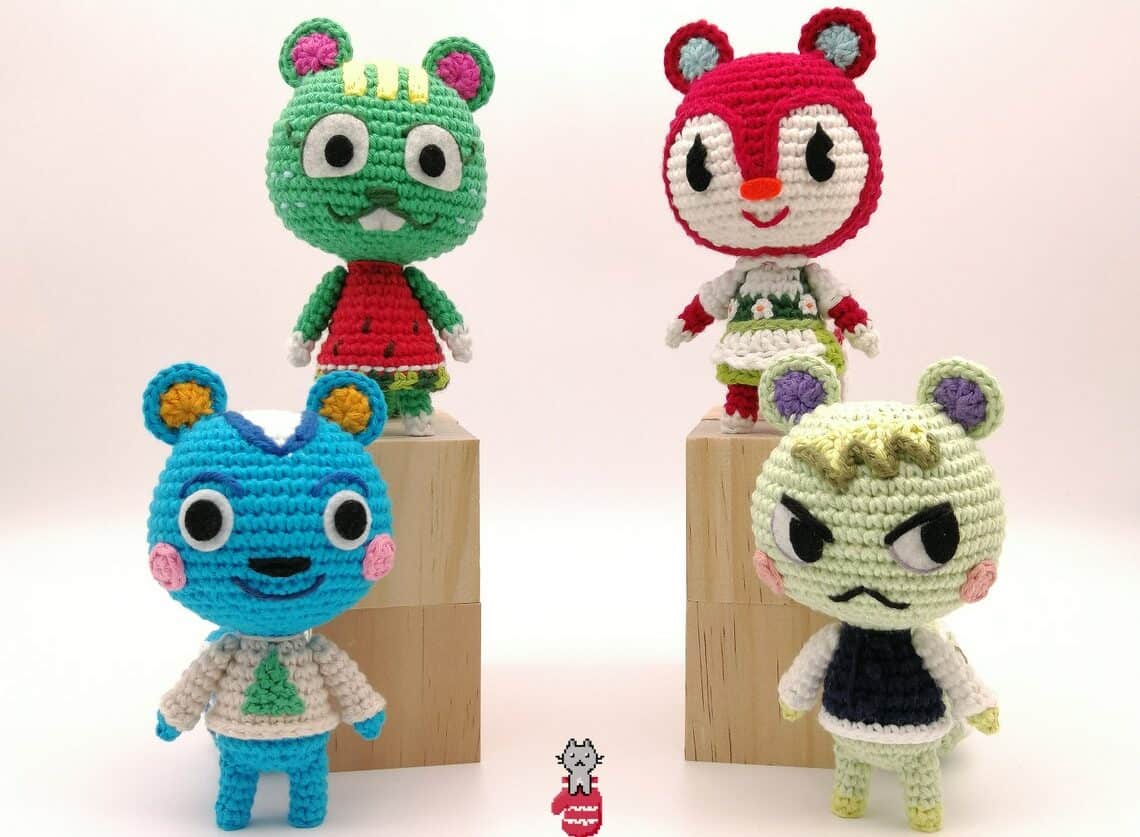 Conclusion
Overall, I think Poppy is a fantastic villager with a beautiful character design and a wholesome personality. The exciting thing about Animal Crossing is that there are hundreds of characters, and so some of them slip under the radar. That makes it feel so much more special when you discover a new favorite, and that's exactly what happened for me with Poppy. If she'd never visited my campsite that day, I'd probably have never known of her existence. I'm so glad I was lucky enough to get to know her, and I want all of you to have that chance too! I hope that one day you'll have the opportunity to have her on your island, and when you do, you'll now know exactly what to do with her!
Her chilled attitude is calming to witness.
FAQs
Question: Which Game Does Poppy First Appear in?
Answer: Poppy first appeared in the title Animal Crossing: City Folk, all the way back in 2008. For those of you in Oceania or Europe, the game was released under the title Animal Crossing: Let's Go to the City. There were 210 villagers available in this game, which is a fair amount, although not as many as the 397 currently in Animal Crossing: New Horizons. Since her first appearance, Poppy has been a villager in a total of five Animal Crossing games.
Question: How Many Squirrel Villagers are There?
Answer: Animal Crossing has 22 squirrel villagers in total, 19 of which appear in New Horizons. The ones in New Horizons are Agent S (Peppy), Blaire (Snooty), Cally (Normal), Caroline (Normal), Filbert (Lazy), Hazel (Sisterly), Ione (Normal), Marshal (Smug), Mint (Snooty), Nibbles (Peppy), Peanut (Peppy), Pecan (Snooty), Poppy (Normal), Ricky (Cranky), Sally (Normal), Sheldon (Jock), Static (Cranky), Sylvana (Normal), and Tasha (Snooty). As you can see, there's at least one squirrel villager for all eight of the personalities.
Question: Is Poppy a Popular Villager?
Answer: Whilst she doesn't get as much love as she deserves, Poppy is still a relatively popular villager. She's not as famous amongst the Animal Crossing community as favorites such as Raymond or Ketchup, but she still has a decent reputation. Long-term fans will know her from other titles in the series, such as New Leaf, and newer fans can still appreciate her beautiful character design and friendly personality.
Question: Where Can I Play Animal Crossing: New Horizons?
Answer: If you're wondering which platforms you can play Animal Crossing: New Horizons on, it's exclusively limited to the Nintendo Switch. It's available for purchase as a physical copy, and you can usually find it in video game retail stores, or on online retail websites. It's also available as a digital copy from the Nintendo eShop. The RRP is $59.99.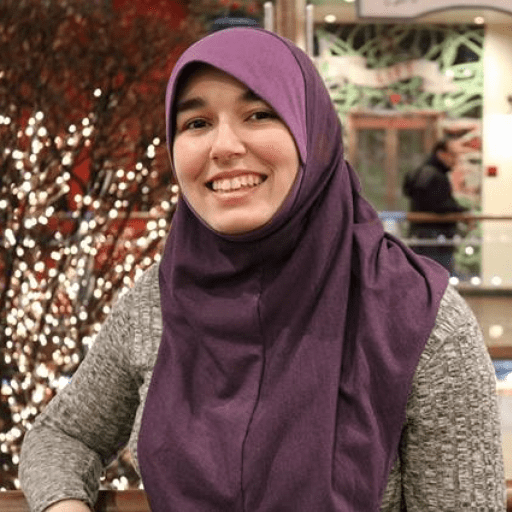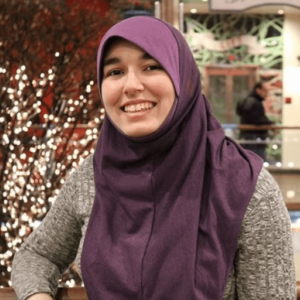 Latest posts by Melika Jeddi
(see all)