Animal Crossing is home to various species, so everyone has their favorites. But in turn, this means that people also have their least favorites. Personally, I've always loved the squirrel species. Since my first experience with the Animal Crossing franchise, they've been my favorite, and it would take a lot to shake them off the pedestal I hold them on.  
I've never spoken to anyone who has claimed goats to be their favorite villager species, but after seeing many people fall in love with Sherb, I've been intrigued to understand why. He's a cute villager, but I don't think he'd be one of my favorites. The launch of New Horizons introduced players to this sky-blue goat, and people have been in love with him ever since!
An Introduction to Sherb
When Animal Crossing New Horizons was released in March 2020, several new villagers were released alongside the game. Sherb was one of eight new villagers to join the crew – and the only goat of the gang. He wasn't the most popular of the lot – but he became well-loved by a number of Animal Crossing fanatics! 
He isn't one of my favorite villagers, but I can absolutely understand why so many people love him. Out of every goat villager, Sherb is one of the cutest. His lazy personality makes him all the more charming too. I think he's a character you can certainly learn to love the more time you spend with him!
Here are some general facts about Sherb to get you started:
Gender: Male

Species: Goat

Birthday: January 18th

Star sign: Capricorn

First Appearance: New Horizons

Personality: Lazy

Catchphrase: Bawwww

Sherb's Appearance
Goat villagers have never been one of my favorite species in Animal Crossing. I find their designs are either too sweet or really horrendous, so I've never gone out of my way to invite them to stay with me. It's challenging to find a middle ground, so I just avoid them – which feels mean when you meet a character like Sherb!
Sherb is a sky blue goat villager with a tuft of darker blue hair and two white and grey horns. He has two bright eyes and two lightly blushed pink cheeks. On either side of his head are two large ears, a typical feature of goat villagers. Usually, I find any Animal Crossing character with prominent features adorable. But like I said, I just don't feel the same about goat villagers!
Sherb has a tiny pink nose to match his pink cheeks, and his mouth is permanently curled into a smile. It's safe to say he is an incredibly joyous villager who is more than happy to be embracing island life. While his whole body is light blue, he has four white hooves and a tiny blue tail. 
The most interesting part of Sherb, I find, is his seasonal sweater which he wears all year round. He wears the White Winter Sweater, which is grey and white. Consequently, it matches his grey and white striped horns. 
I think they wanted to make sure Sherb is cozy every hour of the day, which is why he wears this sweater. He always goes on about napping – so at least now he can be comfortable, warm, and ready to nap at all times!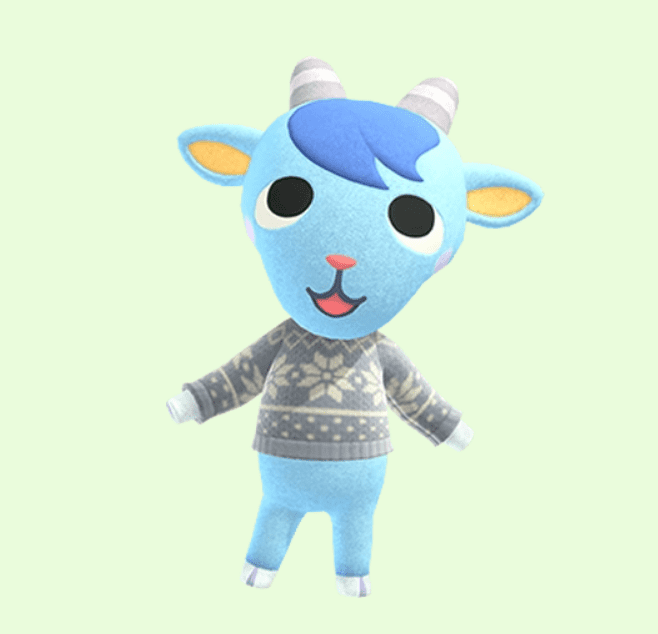 Sherb's Personality
Sherb's entire character revolves around his adoration for sleep and naptime, so it's safe to assume he has a lazy personality. I love lazy villagers – from their laid-back lifestyle to their willingness to chat about the bugs that have infested their homes. They have such a relaxed charm and have been my favorite type of villager since I first played Wild World. Plus, as an avid snacker myself, there's nothing as wholesome as when they refer to you as their snack buddy. 
Lazy villagers primarily spend more time in their homes than other villagers; however, Sherb has a nature hobby – he still loves a trip outdoors. He will usually stand around admiring flowers or chasing after butterflies throughout the day. It's adorable to watch any villager do this, and it's one of my favorite things Nintendo implemented into New Horizons. 
Seeing your islanders running around and engaging with the island is unmatched in cuteness. It motivates me to decorate areas for each villager to maximize their island life. So when they show an interest in something, like Sherb and his love for the natural world, I'll help tailor their experience to suit that! 
Additionally, their lax nature means that lazy villagers are one of the easiest to get along with. My island is predominantly lazy villagers, so I've been fortunate to avoid any conflict. But, lazy villagers are looked down on by jock and snooty villagers. Lazy types confuse jocks with their personality and way of life, while snooty villagers find them annoying. As a result, this is one of the reasons I won't invite any snooty villagers to live on my island! I can't risk anyone falling out with Filbert. 
It's hard to imagine being annoyed or angered by a character like Sherb since he seems too gentle to find negativity. However, I think lazy villagers deserve more love in the Animal Crossing community! Their attitudes and approaches to life and its obstacles are things I've been trying to adopt since I started playing Wild World. What's not to love when you're stranded on a beautiful island with adorable creatures and cozy homes? It sounds like paradise to me!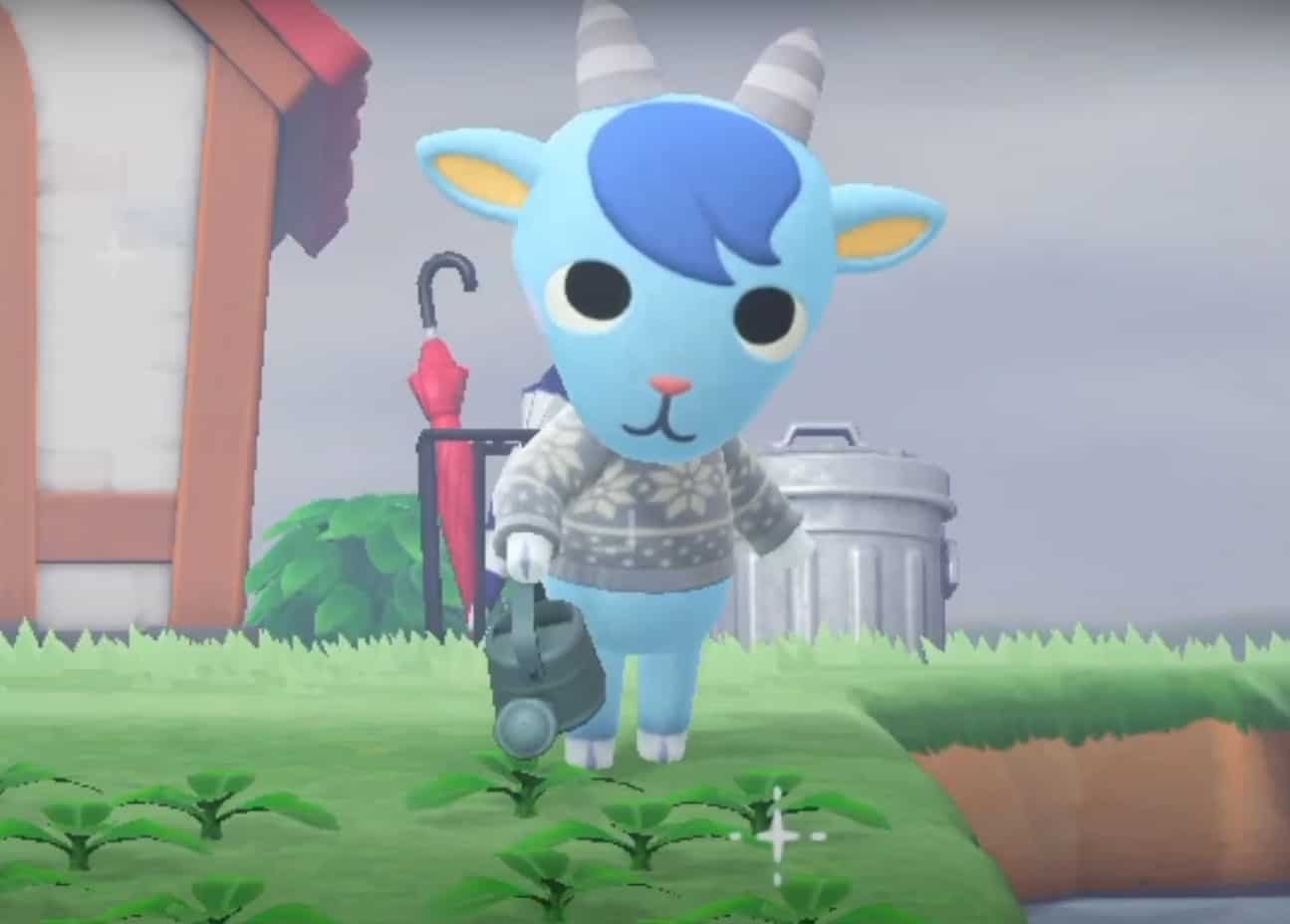 Sherb's Preferences
We already know that Sherb is an avid fan of napping, but there is much more to his character than that. Even though he's incredibly new to New Horizons, he still has preferences like every other villager. There are recurring themes in everything he loves – mostly revolving around his favorite colors, blue and grey!
Here are Sherb's preferences in New Horizons!:
Favorite song: K.K. Hypno

Default clothing: White Winter Sweater

Default Umbrella: White Vinyl Umbrella

Favorite clothing colors: Blue and Grey

Favorite clothing styles: Simple and Cute

Favorite furniture colors: Aqua, Purple, and Blue

Favorite interior concepts: Fancy, Living Room, and Local

Hobby: Nature
The nature hobby is my favorite in Animal Crossing. I love how certain villagers get excited about exploring the world around them. It's also really encouraging when you start a new island, and your fellow islanders are as happy to explore as you! It makes the task of starting fresh significantly less overwhelming and also exposes some adorable character animations such as smelling flowers or running after specific bugs!
A Gift Guide for Sherb
Should you find Sherb moving into your island, the best way to become good friends is by giving him gifts. He may not be a villager you actively search for, but he may very well be a villager you cherish once he's here. I know that Sherb isn't necessarily a villager I'd use Nook Miles Tickets to go hunting for, but I can imagine I'd love him if he were to buy an empty plot or visit my campsite.
Out of all the goat villagers, he's one of them that I'd befriend after a while, but I believe that might just be down to my love for lazy villagers! Regardless, Sherb is always more than happy to receive a gift or two – and won't be afraid to return the favor now and then! 
If you're a bit tight on bells, then clothing gifts may be the way to go. Sherb's favorite colors for clothes are blue and grey – which I would've assumed anyway due to his design and White Winter Sweater! His favorite styles are simple and cute, which perfectly sums him up!
Here are some clothing gift ideas for Sherb:
Long Denim Cardigan (Blue or Grey) – 2'000 bells

Boa Parka (Grey) – 1'800 bells 

Knit Hat (Grey) – 560 bells

Dreamy Sweater (Blue or Purple) – 1'440 bells

College Cardigan (Blue or Grey) – 1'200 bells
However, if you're looking for something to offset his purple wallpaper and flooring and bring a little more character into his home – you may want to gift him some furniture. His tastes are a bit more on the expensive side, but they make him incredibly happy! Sherb's favorite colors for interior design are aqua, purple, and blue, and his favorite themes are local, living room, and fancy. 
Here are some furniture gift ideas for Sherb:
Picnic Basket (Orange or Blue) – 1'300 bells

Fan (Aqua) – 1'700 bells

Water Pump (Green or Grey) – 2'700 bells

Popcorn Machine (Blue) – 4'900 bells

Monstera (White) – 1'700 bells
As you increase our friendship with him in New Horizons, you'll learn more about his personality, and eventually, he may gift you a self-portrait! I love befriending lazy villagers because they send some amusing letters. If you receive one from Sherb, he'll state that he's dipped in gravy – I would take it as a compliment!
Sherb's House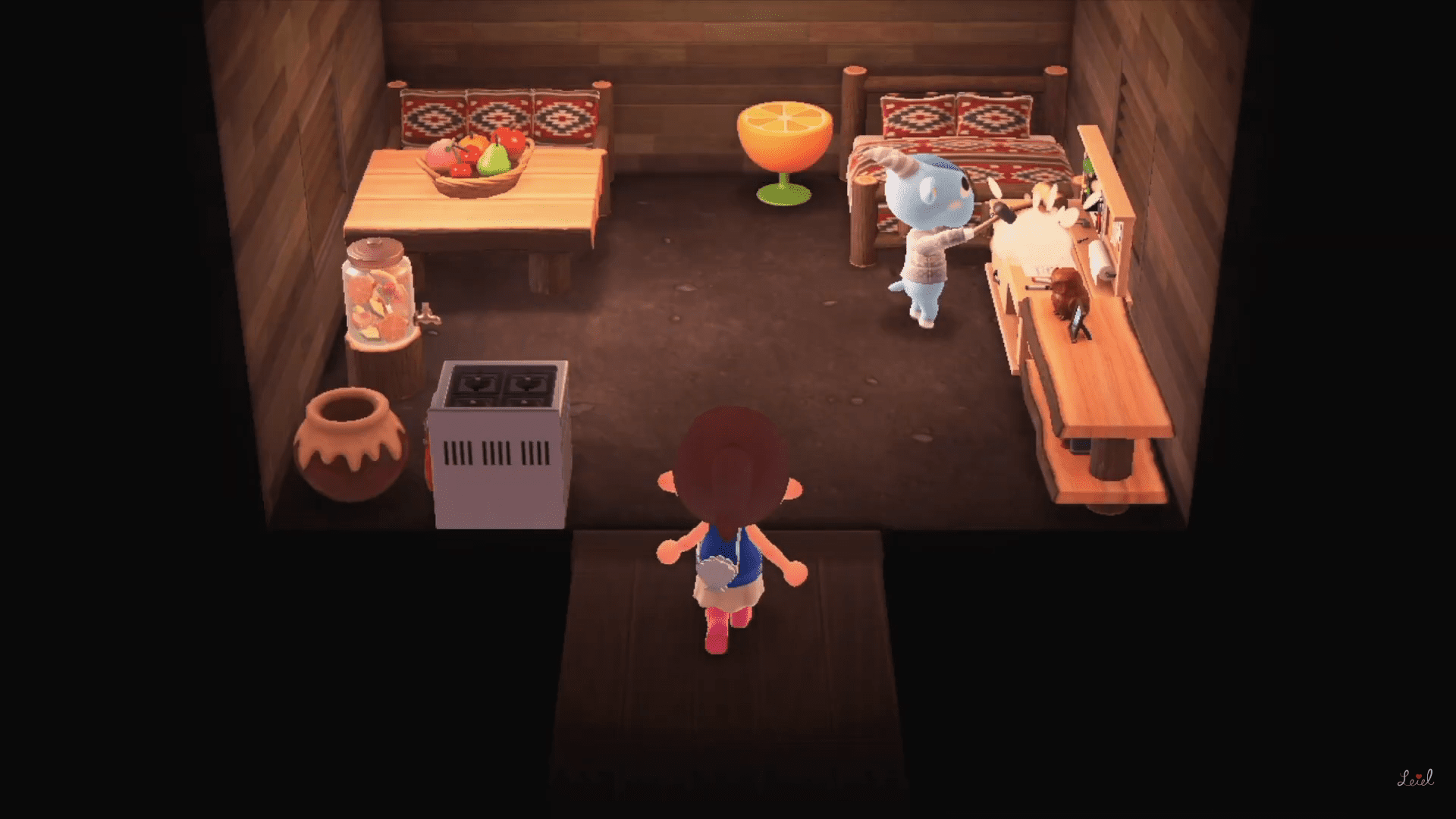 Since Sherb is a relatively new character in the Animal Crossing franchise, he's only had one house – his home in New Horizons. 
The exterior of Sherb's house matches the color of his entire body, so it is a very gentle blue. The house has the most rounded design of every exterior option in New Horizons. Additionally, the door is dark blue, matching Sherb's tuft of hair, and the roof is white. Once you get to know Sherb, this house will become instantly recognizable because it genuinely does look like him! This is one of the few instances where Animal Crossing has implemented a character's design into their exterior decorating skills. 
However, the interior doesn't match the same blue tones – since he displays a purple desert-tile wallpaper and a matching simple purple floor. I wish more appropriate wallpaper and flooring were used in this house. I love purple, don't get me wrong, but I think it clashes with Sherb's soft, pastel design. The exterior does such an excellent job representing his design and gentle personality; it's a shame that the garish purple offsets all this. 
That being said, Sherb does utilize the furniture he displays to emphasize the blue theme. Which I think makes the clash worse! Throughout his house, Sherb displays light blue furniture aside from a black end table, which is only there to hold his music player. From one step into Sherb's home, you can tell that he's a fan of the cute furniture series.
He has several pieces from the set on display, including the cute bed, cute floor lamp, cute DIY table, cute wardrobe, cute sofa, and cute tea table. Not to mention his cute music player – which plays his favorite song K.K. Hypno. 
Every piece of furniture from the cute set comes in five variations, white, sky blue, yellow, red, and blue. Sherb opts to use the sky blue variation since it's a lot lighter and less bold than the darker blue. I don't think the cute set's dark blue and black variations would match his home and personality AT ALL, so I'd settle for clashing wallpaper rather than an all-around hideous home!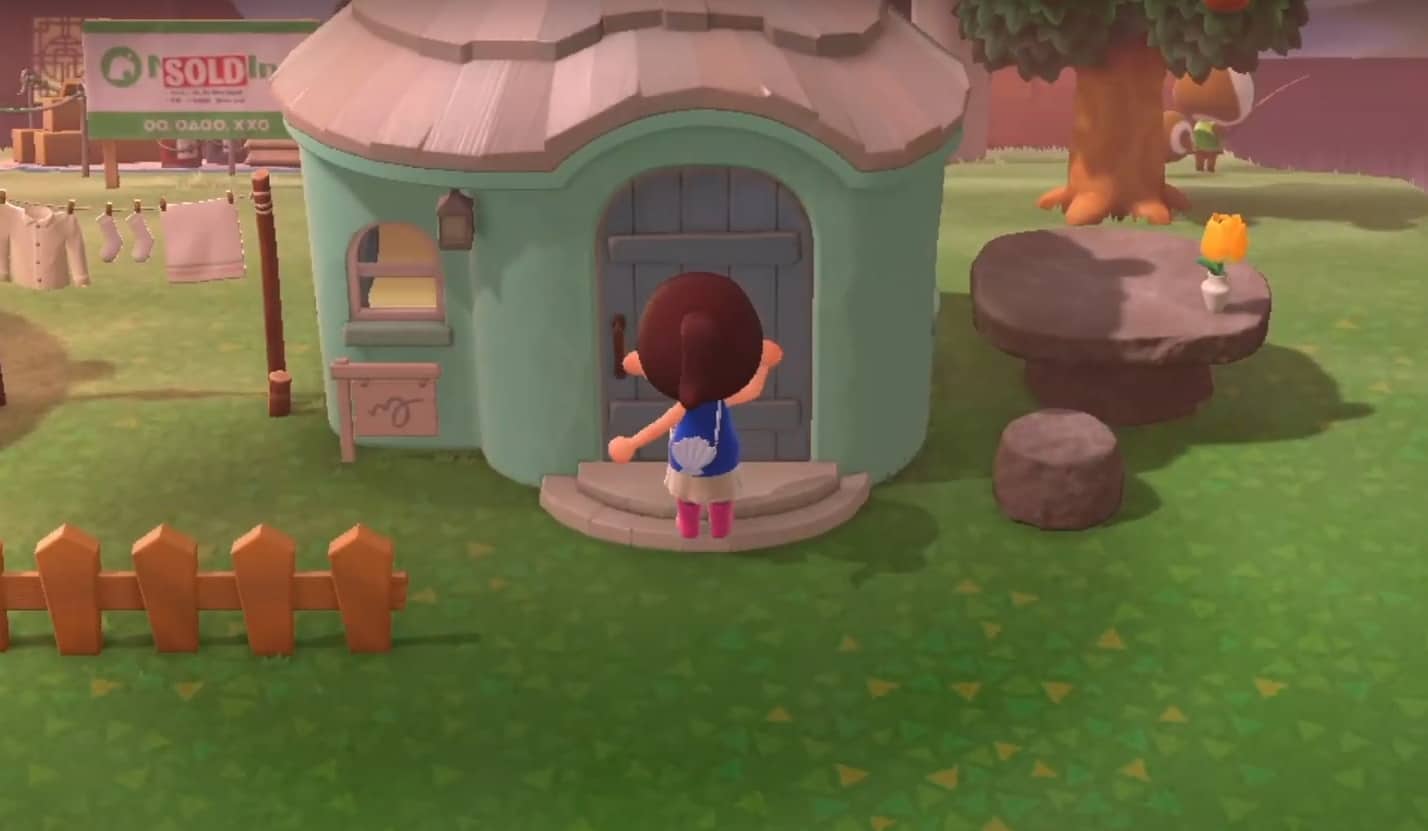 Sherb in Pocket Camp
Since he's a new villager in the franchise, Sherb was released alongside the first wave of new villagers in New Horizons. Then, in a March update in 2020, Sherb was added to Pocket Camp as a treasure trekker reward like Dom, Judy, and Audie. During the update, the island "Audie and Pals" was available to players – which is the only way Sherb and his friends have been known to meet so far! 
Treasure Trekking is a costly way of gaining access to your favorite and some reasonably rare villagers in Pocket Camp. You need to spend bells and leaf tickets to get Gulliver's ship to an island, and you're not even guaranteed the reward you're after. For example, the chance of getting Sherb's map with the Audie and Pals island is one in eight. The villagers' maps may have the highest probability of being pulled, but there are still very slim odds.
Sherb's map is also of a gold standard, which means it's rare. There are twenty spaces on his map before you can speak to him, and the most common reward you'll come across is bronze treats. Although these treats are a fantastic way of boosting your friendship with your campers, sometimes I feel like I have them pouring out my ears. I love that they make my campers happy, but they take up so much storage space!
Luckily, Sherb's map isn't cheap on using materials either. Each roll will set you back twelve natural essences, so you best have been saving them up! Because I have a natural themed campsite, most of my natural essences went into building amenities and increasing their level. So I wouldn't have anywhere near enough to get Sherb!
However, if you do get around to inviting him over to stay on your campsite, I'm sure you'll reap the rewards. Sherb's favorite style of camp is natural (so he'd fit right in on mine!), and he primarily gives cotton as a reward. He's a cutie, but if you think he will do anything besides using your decorations as a napping post, you'd be mistaken.  
As your friendship level increases with Sherb, he will reward you at the following milestones:
Level 7: 1x Winter Sweater and 1x Sparkle Stone

Level 9: 1x Sparkle Stone

Level 15: Sherb will request you craft an aroma pot

Level 20: 1x Self Portrait and 1x Sparkle Stone

Level 25 – 60: 1x Sparkle Stone every five levels

Sherb's Naptime Cookie
Pocket Camp has created his sleep-themed fortune cookie since this friendly little goat became quite a popular villager due to how soft he is. Sherb's nap-time cookie was first released in May of 2022 and was available until August. Unfortunately, it is yet to be reissued. Still, due to the contents of the prizes, which are pretty similar to Celeste's furniture set, I'd imagine this cookie will be reissued again in the future.  
As I've already mentioned a few times, Sherb loves all things sleep. So it's only appropriate for his fortune cookie to coincide with his favorite things! I adore the pieces featured in this cookie. Paired with a proper, starry campsite background, this set could make your game an always cozy, stargazing wonderland. It would undoubtedly make Sherb one happy goat! 
Sherb's Naptime Cookie has the possibility of returning one of these prizes:
Nap-time Bassinet

Nap-time Bookshelf

Nap-time Cloud Mobile

Nap-time Rocking Goat

Giant Cloud Cushion

Nap-time Crescent Bed

Nap-time Window Seat

Nap-time Loft Bed

Cloudy Pyjama Set

Handheld Goat Plushie
My favorite item from this entire set has to be the Handheld goat plushie. It's not something you can decorate your campsite with, but it makes your character look cuter! I mean, you're running around with a plushie – what's not to love? I also adore the fact it's a goat rather than a bear, so if you are a Sherb mega fan – you can take that little hommage to him on every adventure to Breezy Hollow and beyond.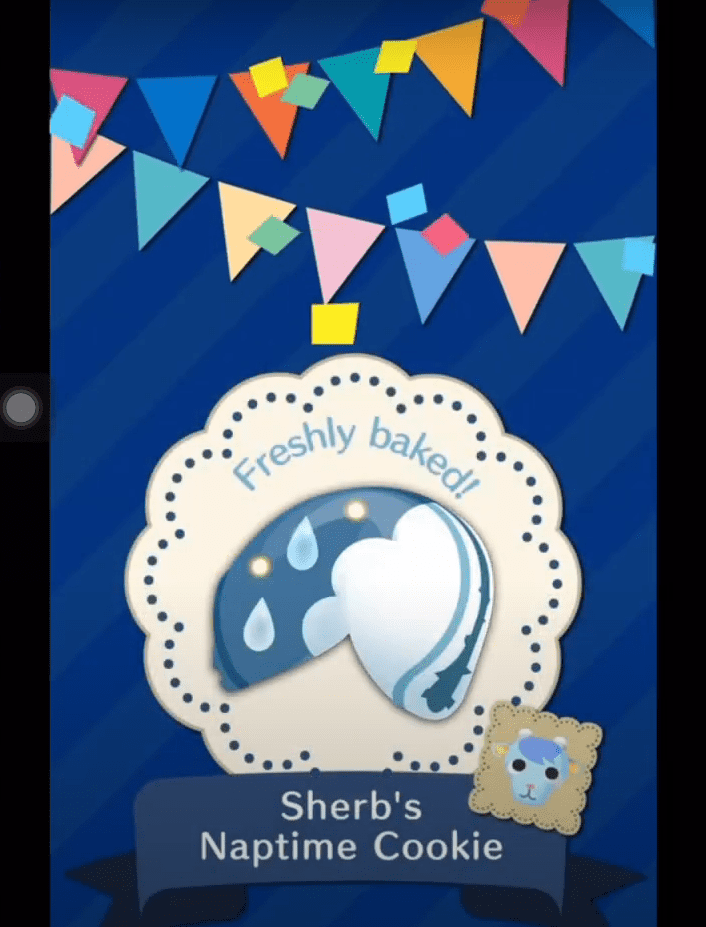 Sherb's Amiibo Card
Series five of the Animal Crossing amiibo cards is the latest release and features every new villager and NPC that came to New Horizons. Due to it including so many new characters – you can already imagine the chaos of getting your hands on a pack! 
I tried to get these cards on release day since Happy Home Paradise was coming out, but they sold out almost instantly. I think many people were buying the packs in hopes of getting Raymond, a cat villager. He was released alongside Sherb and is arguably the most popular villager in the entire franchise.  
Since he isn't too popular, Sherb's amiibo card is usually in circulation. It's not too expensive either, so he should be reasonably easy to pick up if you're a collector! Additionally, his card is number 425 in the collection, and he's the only goat in Series Five. 
If trying your luck at amiibo cards isn't for you, and you still want to invite Sherb to your island, it may be worth looking at Nookazon. Before the set of amiibo cards was released, every villager who couldn't be scanned in was accompanied by a hefty price tag. But now they all have an accompanying card – it's much easier to have the bells to buy them.  
Sherb has an average price of two-million bells, which may seem like a bank breaker for a villager few people are super excited about. However, the equivalent in Nook Miles Tickets is around the seventy mark. Of course, this is still incredibly expensive, but I think people were just keen to get ahold of the new villagers as soon as they could. 
With no amiibo cards, they definitely had a rarity tagged to them. I think Nookazon is an easier way for people to get ahold of their favorite villagers without spending real-world money. Hence why prices for certain villagers are still so high!
FAQ
Question: How Many Goat Villagers are There?
Answer: As of New Horizons, there have been ten goat villagers throughout the franchise. Eight of them are available in New Horizons. The two goats that aren't, Iggy and Sven, were exclusive to the Animal Forest series of games. Unfortunately, they were dropped when Wild World came out and haven't been picked up since. Six goat villagers are male, while four are female. 
Question: Where can I buy Amiibo Cards?
Answer: The best place to buy amiibo cards is directly from the official Nintendo website. It's the most efficient way to check if specific series are in stock (which I needed when Series Five came out!), and they are also sold for the most genuine price. I find buying amiibo cards from other distributors results in a higher price tag, and sometimes packs have been opened and the best cards removed. 
Question: Is Sherb a Rare Villager?
Answer: Before his amiibo card was released, Sherb, as well as the other new villagers, were considered rare. It's easy to get the card and scan a villager rather than stumble across them. This is why I think their prices on Nookazon are so high. Even after the card was released, Sherb is still quite a popular villager, and being one of 397 characters to potentially move into your island – I'd say he is pretty rare! However, I'd argue that he's rarer in Pocket Camp than in New Horizons due to the scarcity of his map.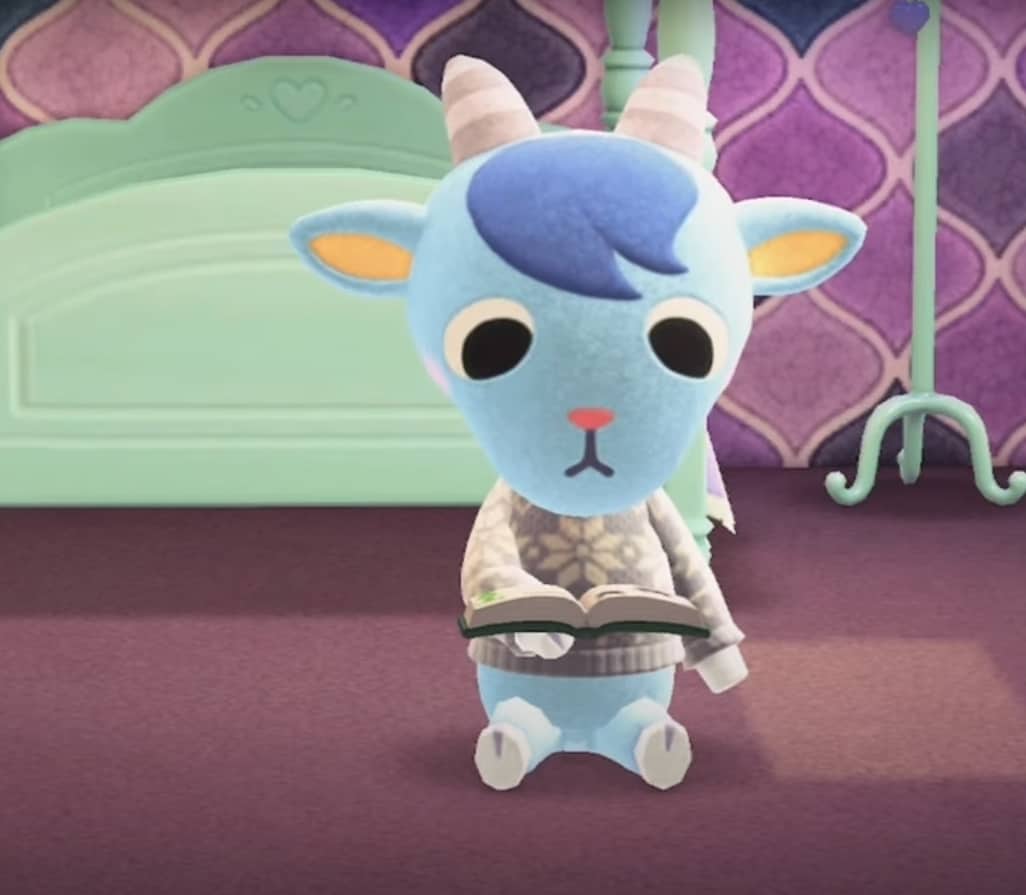 Summary
After diving into everything that makes Sherb so charming, I can see why he is well-loved. I relate to his love for napping and his relaxed personality. Plus, his choice of furniture is pretty cute. Finally, even though I went into this stating I didn't feel very positive towards goat villagers, I could see myself loving having him around if he lived on my island.  
Sherb seems like a hidden gem in the goat villagers. You may not go out hunting for him, but he could become one of your most prized possessions if he sets up camp with you!
Continue reading:
Animal Crossing Normal Villagers Guide
A Complete Guide on Animal Crossing Cranky Villagers
Animal Crossing Peppy Villagers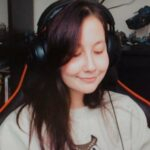 Latest posts by Kara Phillips-Ashman
(see all)