The release of Animal Crossing New Horizons reignited players with their love for their favorite characters while also bringing a new loveable bunch to the table. Among this collection of creatures, a watery-eyed, adorable little sheep began to steal people's hearts all across the globe. Including me! I find sheep villagers hit and miss with their designs, but this one, in particular, was incredibly adorable to me.
It's time we got to know him a little better than just his appearance and learn about how to become great friends with Dom. Because he is undoubtedly an unforgettable addition to Animal Crossing!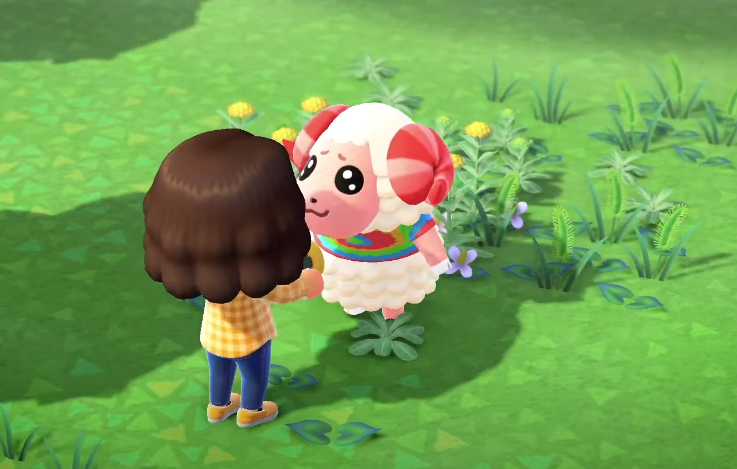 An Introduction to Dom
Dom joined the Animal Crossing crew when New Horizons was released in March 2020. Alongside seven other new villagers added upon the game's release – Dom marks the only sheep. Subsequently, he is also the first jock sheep to be added to the Animal Crossing franchise since Animal Forest e+.
Although his appearance isn't the favorite of many, Dom has some wholesome charm about him. His emotional facial expression and big watery eyes have made their way into many players' hearts. Including mine! I adore this white sheep. Maybe that's because I got lucky and Dom visited my campsite, but no matter the reason – I do love him.
Here are some basic facts about Dom to get you started:
Gender: Male

Species: Sheep

Birthday: March 18th

Star sign: Pisces

First Appearance: New Horizons

Personality: Jock

Catchphrase: Indeedaroo
Dom's Appearance
Out of 397 villagers in Animal Crossing, only sixteen of them are sheep. Eleven of these sheep are female, leaving only five to be male, which is where Dom comes in! He is one of the most expressive sheep and is well known amongst Animal Crossing fans for his feminine and expressive looks. Much like Sasha, the lazy rabbit. 
Dom is a pink-skinned sheep with a coat of white wool. Due to his pink skin, he has a pink face and matching arms and legs. His hooves are white and match his coat of yarn – and he has two large hot pink horns on either side of his head. But the main talking point of his design is his facial features. Dom is arguably one of the most expressive Animal Crossing villagers. 
Dom has dark pink facial details and a tiny black nose to accompany his large, glittering black eyes. When you see Dom roaming about the island, he usually has a small smile. But when you interact with him, you get to see the full potential of his malleable emotions. As I've already mentioned – Dom is very expressive. But he is most known for his sad expressions should you upset him while chatting. 
When chatting away to this frail little sheep, he will clearly express how he feels through the detail on his face. He may always look like he's about to cry, but you'll see the signs of when he may shed a tear. Dom looks even sweeter before he's about to cry, as strange as it sounds. His eyes ripple, and he gets a crease on his forehead. I've noticed that Dom is an incredibly anxious character and usually finds something to wobble about, whether it regards his hobby or something another villager has said. 
In terms of what Dom wears, since he has only featured in New Horizons and Pocket Camp – he hasn't had much time to develop his style. However, the tie-dye shirt accompanied his debut in New Horizons and reflected the new approach to sheep's clothing. Rather than just having the sheep wear their shirt like a scarf – they finally get to wear it like other villagers. When Dom was finally released into New Horizons, he was seen wearing the Rainbow Tee in the same scarf-like style as the older games.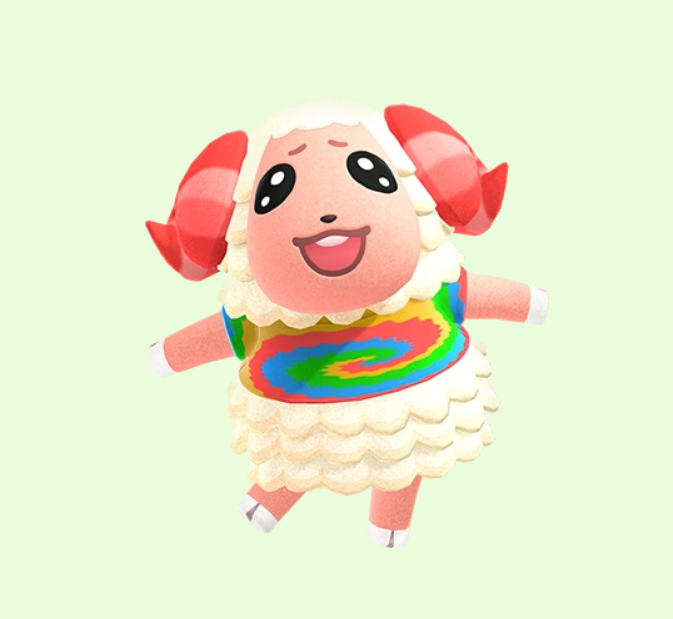 Dom's Personality
As I've already mentioned, Dom is one of three jock sheep. The other two, Gen and Woolio, were exclusive to the first few Animal Crossing games and haven't made an appearance since. So when the eight new villagers were announced, Dom was the only jock sheep and continues to hold that position in New Horizons. 
Due to his jock personality, Dom is very in tune with his exercises, and he loves to explore outside of his house. I've never been a massive fan of jock personality types, but since meeting Roald and Dom especially, I've started to come around to them.
Dom has the play hobby, which is unusual for a jock villager since they are usually paired with fitness. But because of this, Dom is usually seen running around happily or playing with other villagers on the plaza. The play hobby perfectly suits his personality since even his house is a little childish. This might also explain his overly emotional side!
The jock personality also means that these villagers are more likely to invite you to play games over the island. I know that Dom is always keen on a game of hide and seek, even if his thick wool gives his hiding spot away every time. During fishing tourneys, jock villagers will also be the most competitive.
Even though I've admitted my distaste for jock villagers, they are effortless to befriend. Other villagers feel this way since jocks get on with almost every personality type. However, they may get on well with peppy, sisterly, and normal personality types, but their lifestyle will make them clash with lazy and cranky villagers. Luckily for Dom – he is way too cute to stay angry at!
In New Horizons, jock villagers follow a routine of sleeping between 12:30 AM and 6:30 AM if you have no ordinances in place. They're one of the first villagers awake and out, so you can definitely make the most of your one-on-one Dom time! Even during the day, when everyone is awake, Dom is always interested in island life and is always ready to explore.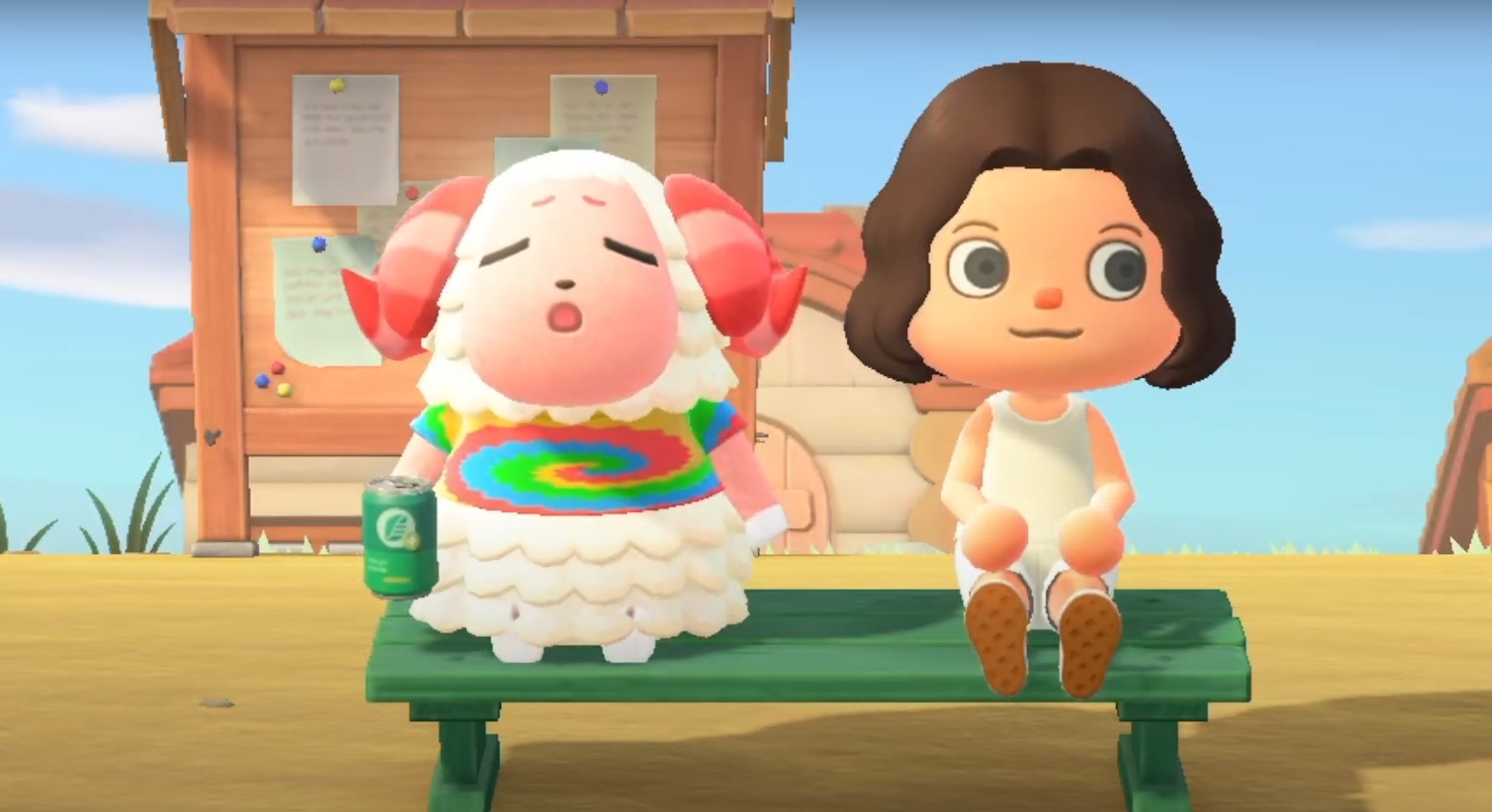 Dom's Preferences
Even though he was only introduced to Animal Crossing New Horizons, Dom still has his likes and dislikes in the game. Even though he's a new character, he has a distinctive style and preferences in New Horizons. Taking one step into Dom's house will expose a few of his favorite things, but there's still more to learn about what makes this sad sheep smile!
Here are a few of Dom's favorite things and a few essential features of his personality to remember:
Default clothing: Tie-Dye Shirt

Default umbrella: Red Umbrella

Favorite song: K.K. Country

Favorite colors for clothing: Red and rainbow

Favorite styles for clothing: Active and Cute

Favorite interior design: Garden and Park

Favorite colors for furniture: beige, brown, aqua, white and green.

Hobby: Play
I always love learning about a jocks personality outside of sport and exercise. After meeting Roald in New Horizons, he let me know there is way more to what makes them happy than just bench pressing or working out. Although he doesn't look like a jock on the surface, Dom is one of the most playful. I know I've already mentioned it, but he's always running around the island with other villagers because of his hobby. It's so cute, and due to his facial features, he always looks like he's having the time of his life.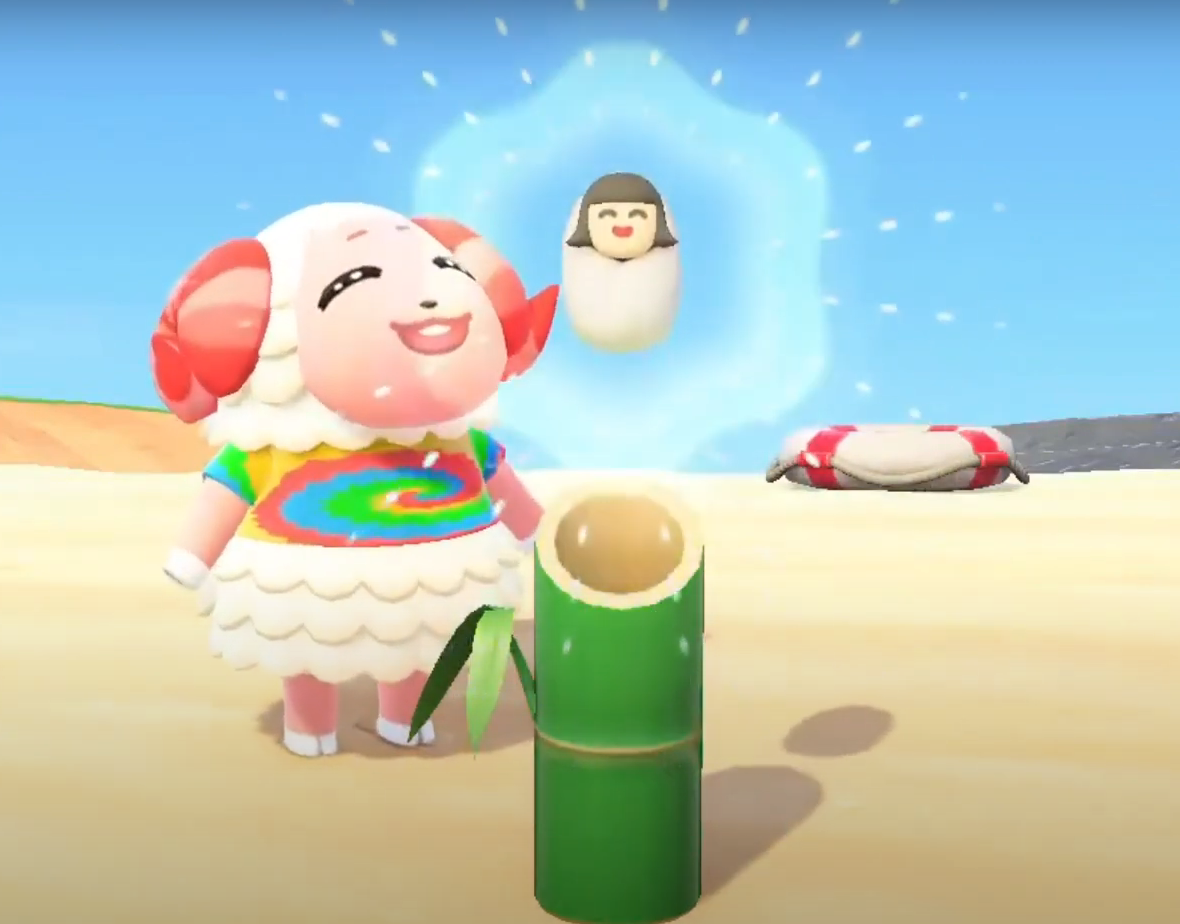 A Gift Guide for Dom
Now you've learned a little about what he loves; you may be starting to consider how you can get into his good books. Sure, Dom is easy to get on with from the get-go, but if you want to become best friends, showering him with gifts is the best way! Luckily there is a pretty generic set of favorites with Dom – which you can probably assume from stepping foot inside of his home. But still, the effort is always appreciated.
Dom's favorite styles are active (which can be assumed through his personality) and cute in terms of clothing. This is lucky for me since it's also my favorite style. I buy double everything cute in the Able Sisters to give my islanders. Anything with a heart on or light, pastel colors will go down a treat with Dom!
However, he also likes to follow a theme with his colors, which is vital to consider. Something red will be acceptable, but Dom especially loves anything rainbow, which can make for some seriously garish fashion choices. 
Here are some ideas of clothing gifts Dom would be more than happy to receive:
Heart Sweater (red) – 1'000 bells

Rainbow Sweater (red) – 1'200 bells

Down Jacket (red) – 1'120 bells

Balloon Hat (rainbow) – 1'120 bells

Athletic jacket (red) – 960 bells
However, his favorite styles and colors for the inside of his home are different from his fashion sense. While he may love everything red and cute to wear, his home is themed around everything outdoors. When you first visit Dom's house, you may feel a little shocked to enter the outdoors from the island – but it's what makes Dom happy!
In terms of color, rather than red and rainbow, he prefers beige, brown, aqua, white, and green. I was surprised when I found out that one of his favorite colors to decorate with was beige, as Dom presents himself as a pretty beige-free zone!
Here are some ideas of furniture gifts for Dom:
Throwback race-car bed (red or black) – 3'800 bells

Tricycle (red/orange) – 1'600 bells

Elephant Slide (red or aqua) – 4'200 bells

Monstera (red/green) – 1'700 bells

Floating-biotope planter (white/green) – 1'600 bells
Luckily for us, his taste isn't too refined. So it won't break the bank to gift him a few items now and then. Due to his love for the outdoors, Dom is also partial to hand-crafted gifts. Anything from the mushroom DIY collection with the toadstool coloring is loved. The same can be said with the tire stack DIY. Dom won't turn his nose up as long as it's colorful. So it's safe to say if you're a bit strapped for cash, this sheep is still easy to please.
Dom's House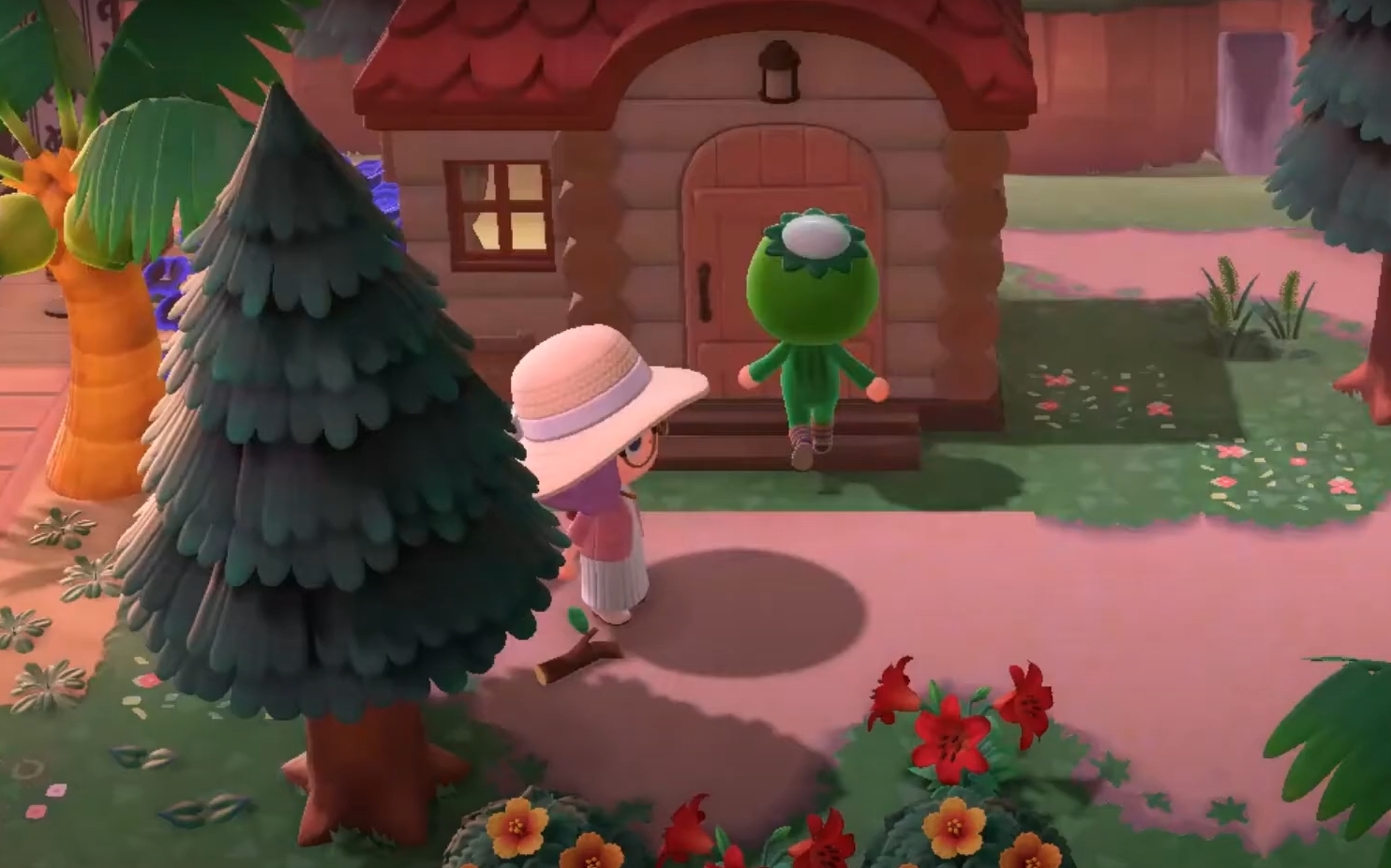 Dom's house emphasizes his love for everything outdoors, as you've probably guessed. It's like walking from your island into someone's garden, except obviously you're inside his home. I always find it amusing to visit an islander's home and find something completely unexpected – which was the case with Dom. When you first meet him, there isn't any reference to this adoration for outdoor life. But when you begin to befriend him, you'll learn how much he loves every aspect of it.
The interior of his home showcases the backyard-fence wall and the matching backyard lawn flooring. Which perfectly sets the scene for his garden home. Surprisingly, Dom also proudly displays a few DIY items around his house, such as the hay bed and a red brick oven. On the rare occasion you wander in to find him crafting, it's certainly a sight. I don't think I've ever seen someone so upset to hold a hammer!
In terms of furniture, Dom also displays the following items in his house:
Firewood

Log stool

Log Stakes

Mosaic Tile Faucet

White picnic basket

Red lawn mower

Rainbow inflatable sofa

Red cassette player
Everything is ideally in line with the outdoor theme, and his house looks the part because of it. Every time I visit, I feel like I'm going on a camping trip.
As for the exterior of his abode, the design is relatively basic. But, if anything, the outside of his home looks almost like him! It has a white log cabin exterior with a red shingled roof, and its front door is a pale pink (paired with the roof color – this looks like Dom's horns!), even though it's a fundamental approach to exterior design, it certainly feels homey. Which is think is precisely what Dom is going for.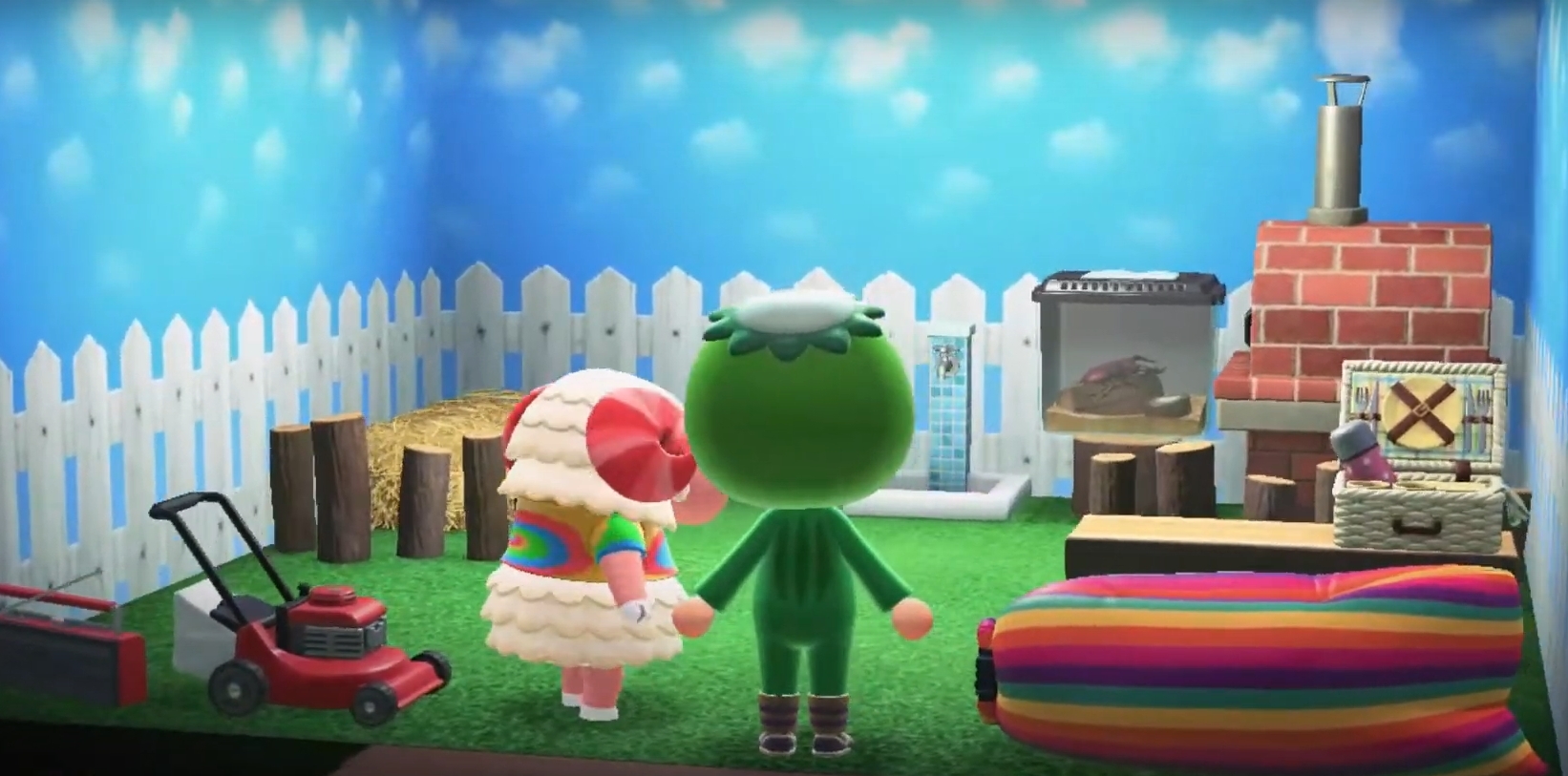 Dom in Pocket Camp
 Since he was one of the newest villagers to be released when New Horizons was released, Dom didn't join Pocket Camp until the game's release date. March 20, 2020. In what I like to call the New Horizons update, he was one of the eight new villagers to join the game. Out of all eight villagers, I'd say he was the most anticipated. Fans waited with bated breath for this adorable little sheep to join Pocket Camp, but unfortunately, he wasn't as simple to invite as other villagers.
Dom can be invited to your campsite through treasure trekking. Which, to any Pocket Camp fanatic, is one of the longest slogs of the game. Dom's map is of gold rarity to make matters even more frustrating, and the task is now quite challenging to come by since it was primarily released when New Horizons came out. However, if you're still eager to make an effort, keep your eyes peeled for the island named "Audie and Pals," where you'll find the first wave of New Horizons villagers residing.
The total travel time for this island is six hours, and you have a one in eight chance of getting Dom's map. Alongside him are three other islander maps, Judy, Audie, and Sherb. If you aren't lucky enough to get a villager map, you have a shot at pulling a gold leaf ticket map; gold treats, silver treats, or bronze treats. So the odds of you getting lucky enough to find Dom are slim but still worth a shot.
Dom's map hosts twenty-five spaces, and various treats are scattered across as rewards. Each roll will set you back twelve hip essences, which is subsequently Dom's favorite campsite theme. Luckily, you don't need to craft him any furniture afterward – since you'll probably rinse your stores of hip essence before you even get round to it! But it's all worth the effort when you find this precious guy making himself at home on your campsite. Then you can start the journey to becoming best friends!
As you befriend Dom, his friendship rewards are as follows:
Level 7 – 1x Rainbow Tee and 1x Sparkle Stone

Level 9 – 1x Sparkle Stone

Level 15 – Dom will request you build a kick scooter

Level 20 – 1x Self Portrait and 1x Sparkle Stone

Level 25 to Level 60 – 1x Sparkle Stone every five levels

Dom's Funfair Cookie
In November 2020, Dom also had a unique fortune cookie following his release into Pocket Camp. His funfair-themed cookie is one of my favorites since its primary color palette is everything pastel I adore. Additionally, the rewards feature a lot of interactive objects for your happy campers to have fun with. Especially the Ferris wheel! One of my favorite elements of Pocket Camp is seeing my campers having fun with my decorations – so, as you can imagine, I was all over this cookie.
Dom's Funfair Cookie had its first run from November to February in 2020, and since then, it has only been reissued twice. Once from July to August in 2021, and again from January to February in 2022. It's a reasonably rare cookie since it's only entered the shop a few times.
Next time it's reissued, I recommend saving all your leaf tickets. It's worth the money for sure, and like I said, your campers will love it too. But if you have a hefty friends list who are constantly sending pressies your way, you may also find this cookie in the following gifts; Sky-Blue gift, Sky-Blue gift+, Funfair Gift+, New Years Snow Gift, New Years Snow Gift+.
I'd assume this cookie will be reissued due to Dom's popularity in the Animal Crossing community and also the nature of its prizes. I know I'm not the only one who takes pride in having a super-fun campsite for their campers. Additionally, every item in this collection falls under the 'cute' category – so what's not to love?
If you buy Dom's Funfair Cookie, you may receive one of the following items:
Funfair Fence

Funfair Panda Ride

Funfair Street Lamp

Funfair Trash Can

Funfair Arched Entrance

Funfair Concession Cart

Funfair Swing Ride

Funfair Ferris Wheel

Funfair Popcorn Bag

Glowy Sheep-Horn Hat

Dom's Amiibo Card
Dom's amiibo card also took a little while after his first appearance to be released to match him being one of Pocket Camp's newest recruits. Series five of the Animal Crossing amiibo collection was released in November of 2021, over a year after New Horizons was first released. Alongside the first 'wave' of new villagers (Raymond, Judy, Audie, etc.), the second wave of new villagers was also released in the collection. Making it one of the most anticipated amiibo releases yet. 
The release was timed to coincide with the launch of Happy Home Paradise, the paid DLC for New Horizons. As I fully intended to get the DLC, the amiibo launch was almost essential after meeting the new villagers. I was lucky enough to have Dom living on my island (the campsite gods had my back!), but I still wanted the collection to scan for both the DLC and collect.
Sadly, the first release of series five amiibo cards sold out almost instantly! However, it was expected since so many people like me were waiting for the new villagers to be released to complete their collection. Also, with characters like Raymond and Shino having their first amiibo appearance, you had to have your finger on the pulse even to get a look at these cards.
Dom is the only sheep to be released in series five and takes the position of number 427. As I mentioned at the beginning of this guide, Dom is a marmite character. Unfortunately, while people like me find him heart-wrenchingly adorable, it's relatively common to find people who think his design is horrendous. Because of this, his amiibo card is always in circulation.
If you struggle with finding his amiibo card, Dom is frequently listed on Nookazon, but he is a little on the expensive side. Nevertheless, you could rehome this sweet sheep for an average price of two-million bells or eighty nook miles tickets. He's worth it, I promise! You just have to bite the bullet and ignore the price tag.
FAQs 
Question: How Many Animal Crossing Games has Dom Been in?
Answer: Dom is a relatively new Animal Crossing character and has only appeared in two Animal Crossing games. His first appearance was in New Horizons and is his only mainline appearance in the franchise. Outside of New Horizons, Dom was added to Pocket Camp simultaneously. 
Question: Is Dom a Rare Villager?
Answer: Before his amiibo card came out, Dom was considered a rare villager. Since he was new, it was reasonably difficult to find him island hopping. I got fortunate, and Dom visited my campsite, so I invited him to stay. Now his amiibo card has been released; he isn't considered so rare. But as any villager goes, if you can't scan them into the game, they're hard to come by!
Question: Can you get Dom at the Beginning of New Horizons?
Answer: In New Horizons, you begin with two villagers every time you start a new island. It was quickly determined that these two villagers would be a jock and a sisterly villager. If you are fortunate, there is a one in seventy-eight chance that your beginning jock will be Dom!
Summary
If you came into this guide feeling as though Dom is a lousy example of character design, then hopefully, now you know a little bit more about him, you'll start to warm up. If you already loved him, then learning a little bit about what he likes and dislikes may encourage your journey of friendship with him! I've always loved this sheep, ever since I first laid eyes on him when New Horizons came out. He will remain a well-loved character on my island. Until I start again – that is!
Continue reading:
Ultimate Guide to Poppy in Animal Crossing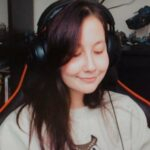 Latest posts by Kara Phillips-Ashman
(see all)