Animal Crossing: New Horizons is a game of aesthetics. Those that have the best color combos, rarest furniture items/sets, and the cutest villagers are considered "good" at the game. 
While some people will judge the various decorations and furniture items around your island, others will go straight to your home decor skills. You have six rooms to cover with wallpaper, rugs, and furniture, and the first one everyone will see is the living room. 
First impressions are everything, and if you are struggling with a theme to follow, or need some inspiration, check out these Animal Crossing: New Horizons living room ideas. It can be hard to stare at an empty room and be thinking of endless ways to furnish your living room. This article is here to help you and give you the living room setup you have been looking for.
Bottom Line Up Front
Of the designs I am about to share, the beach-themed living room by Reddit user u/shanelmarieapple is my favorite. The design contains a variety of furniture from different sets and craftable materials to bring it to life. Can you picture a living room that contains two different tables, a live fish, a dog plushie from the Christmas gift set, and three different types of chairs? Keep reading to find out how these various items come together to form a perfect beach house.
Selection Criteria
Some of these designs are my own, and I chose to show them off for a reason. They are all based on my hobbies and interests. I'm extremely passionate about education and have a huge interest in plants — you will soon see how I decided to bring those passions to my virtual world!
On the other hand, the designs I am sharing from Reddit, Instagram, Tumblr, and Pinterest all have one thing in common. They incorporate furniture items from different sets to form one cohesive living room. Some of these living rooms feature more than half a dozen furnishings from different sets and seasons, and they still work! Read on to see the results. 
Animal Crossing Living Room Ideas
Plant Themes
If you would rather spend your time devoting hours and hours to playing ACNH to unlock all the season items, chances are kids are not for you — but I am sure you would make an amazing plant parent! 
Gather your plants and bright furniture to fill your living room with positive energy. Invite your villagers over to smell the fresh flowers and admire your insect models. Before you go with the idea, make sure to stop by Nook's Cranny to pick up some allergy medication. You will need it. 
Besides the theme I made, check out the following one I found on Pinterest.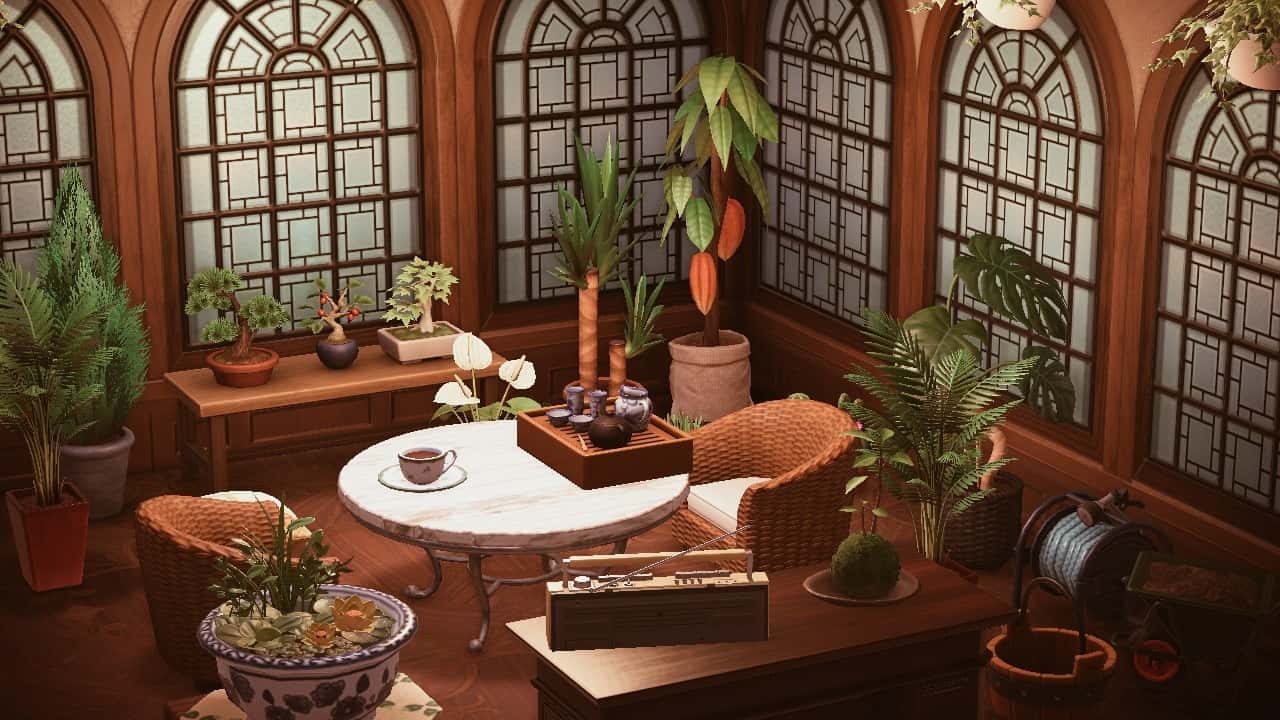 From Tumbler user Skwivr, she created a tea/garden area as a room in her room. I enjoy the peaceful tone this room gives off. 
Your Favorite Color
The following themes are based on one color. I have the same thing to say about all of them; I love how most of the furniture is from different sets.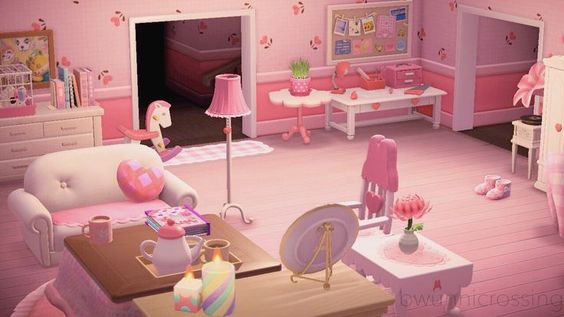 From Pinterest user Bwunni.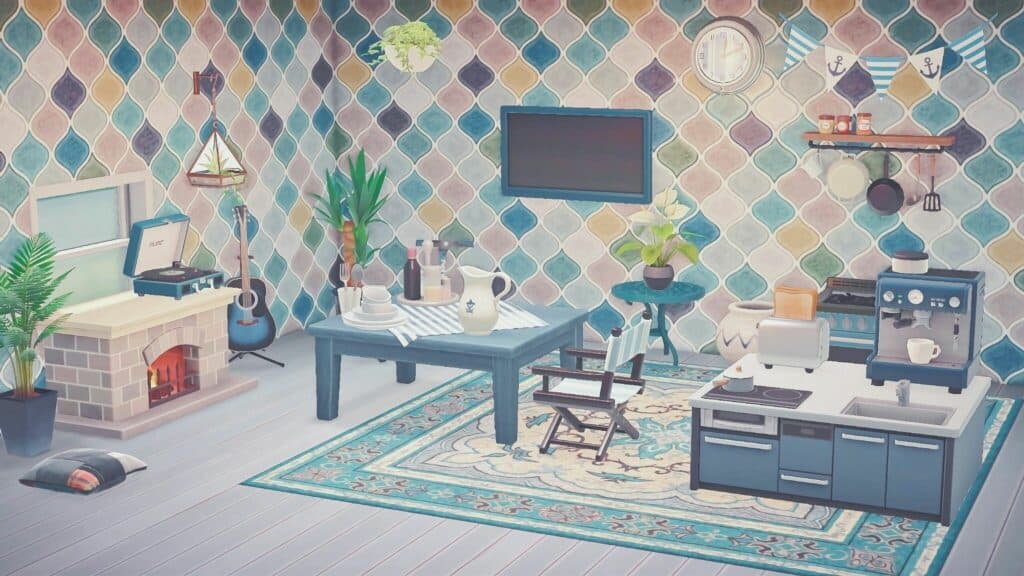 Posted by Pinterest user ​​サザンカ.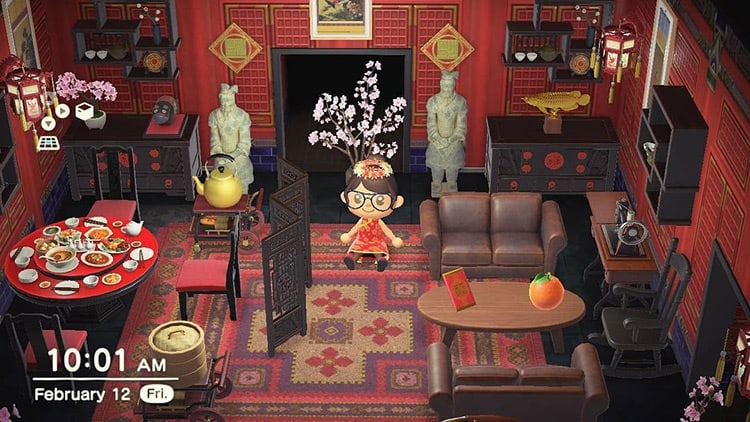 In addition to a red theme, this room also follows a Chinese theme. Posted by Instagram user acnh_tricklelife.
The Current Season
Once the holidays are upon us, I run to Target, Walmart, Marshalls, or Ross to find decorations to go with the season. The same goes for my island. 
I will spend hours at the edge of my island waiting for seasonal crafting recipes to fall out of balloons. I will place them all over my island so that my sacrifice is never forgotten.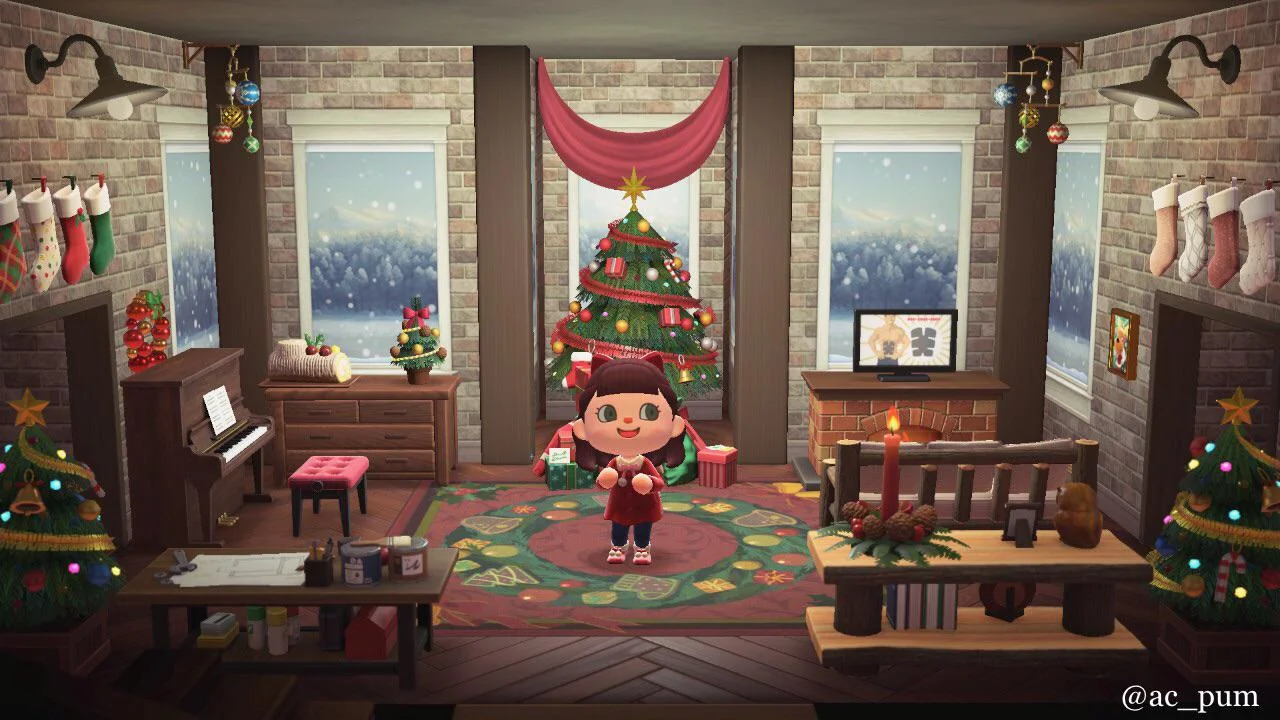 Reddit user RestlessThunder created this Christmas-themed room using a combination of Christmas decorations and other dark wood pieces. The wallpaper they used pulls it all together, and the piano is a nice touch.
The Second Kitchen
This one goes out to all my foodies out there.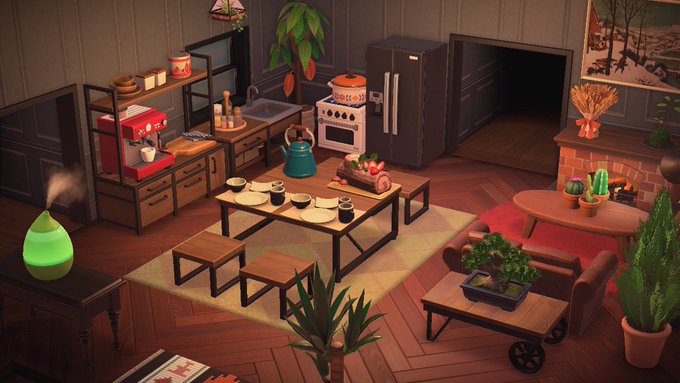 Who doesn't love to enjoy a nice meal and drink with your best buds? Sit at the table while watching a movie or head to the bar to get some vacation juice. Are you interested in the bar panel design? I made it myself! I am not much of an artist, but I am extremely happy with how this came out. I just looked up some pictures of bar shelves and did my best to copy my favorite one. Before I went into the design app, I decided to try and draw the design on some scratch paper. That made the transition from an online picture to a custom design a lot easier.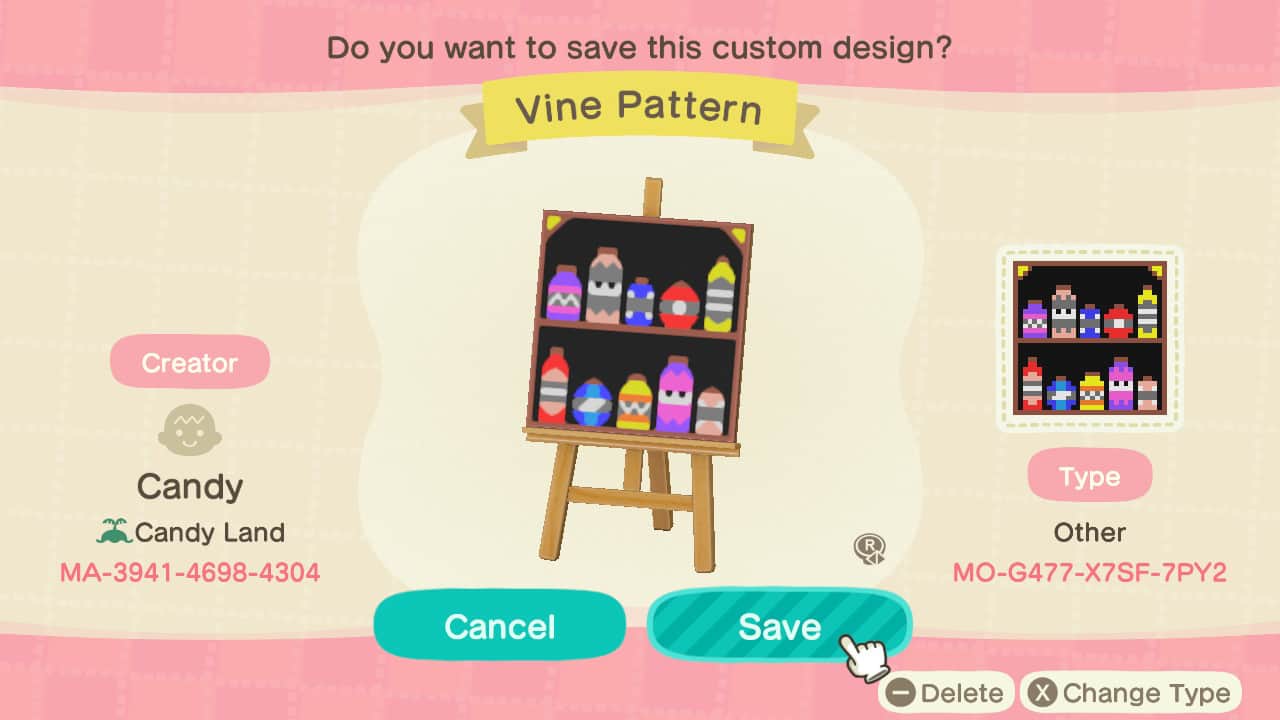 I came across this design by Pinterest user izlin natasya. I like how this design is almost half kitchen and living room. The various greenery around also caught my eye. 
Black and White
Sometimes, keeping it simple can get you a long way. The following designs follow a black and white palette, with some pops of color here and there.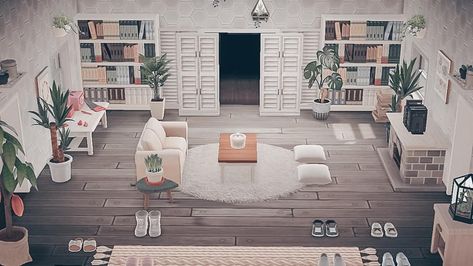 From Reddit user u/iheartkiwi.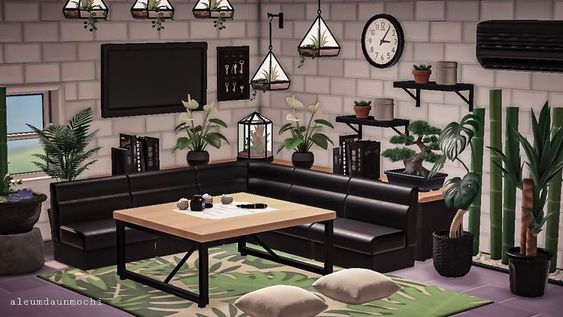 This theme could also fit in with the planet themes, however, I feel this design has a more modern twist to it. From Pinterest user RhaenyraAmayra.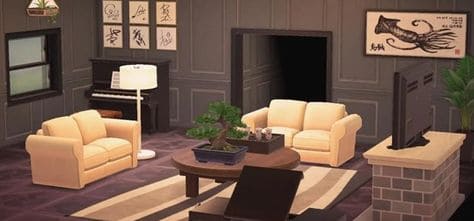 While you can almost count the number of furniture items on both your hands, I love how minimalistic and complete this design looks. By FandomSpot writer Zach Rosenberger.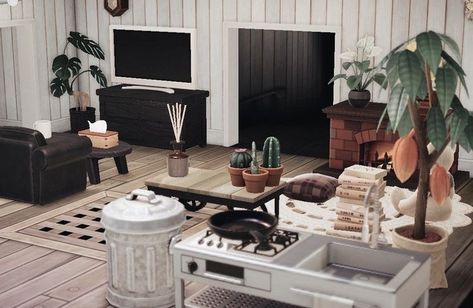 Same with this design by RhaenyraAmayra on Pinterest. While she throws in a couple of plants, this design still has a lot of open space but looks complete. 
Other Themes
The Study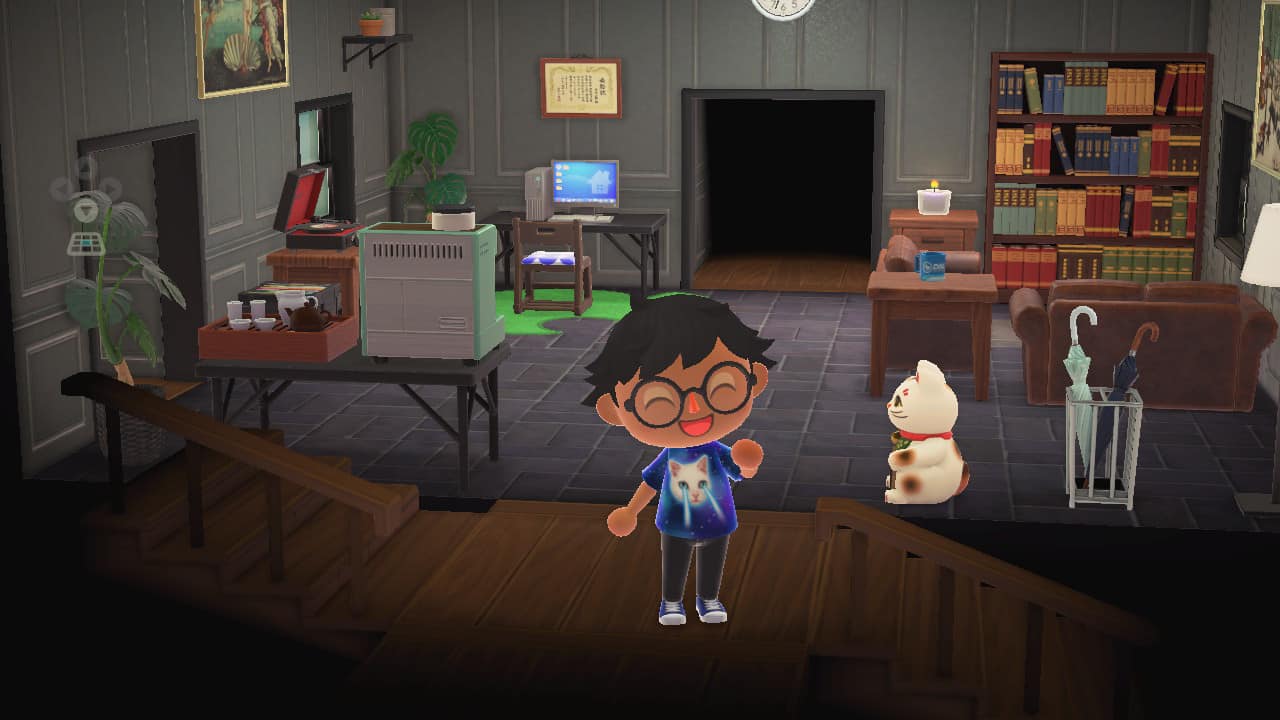 Are you working towards your master's degree? Or maybe you are studying to locate your next scorpion/tarantula island? Then this is the setup for you. 
Enjoy a cup of coffee while you indulge in some online research in the corner, or take some time to relax by grabbing a book and chilling on the couch. Whatever you are doing, do not forget to play some classic K.K. Slider tunes while you do it. 
Working on my Fitness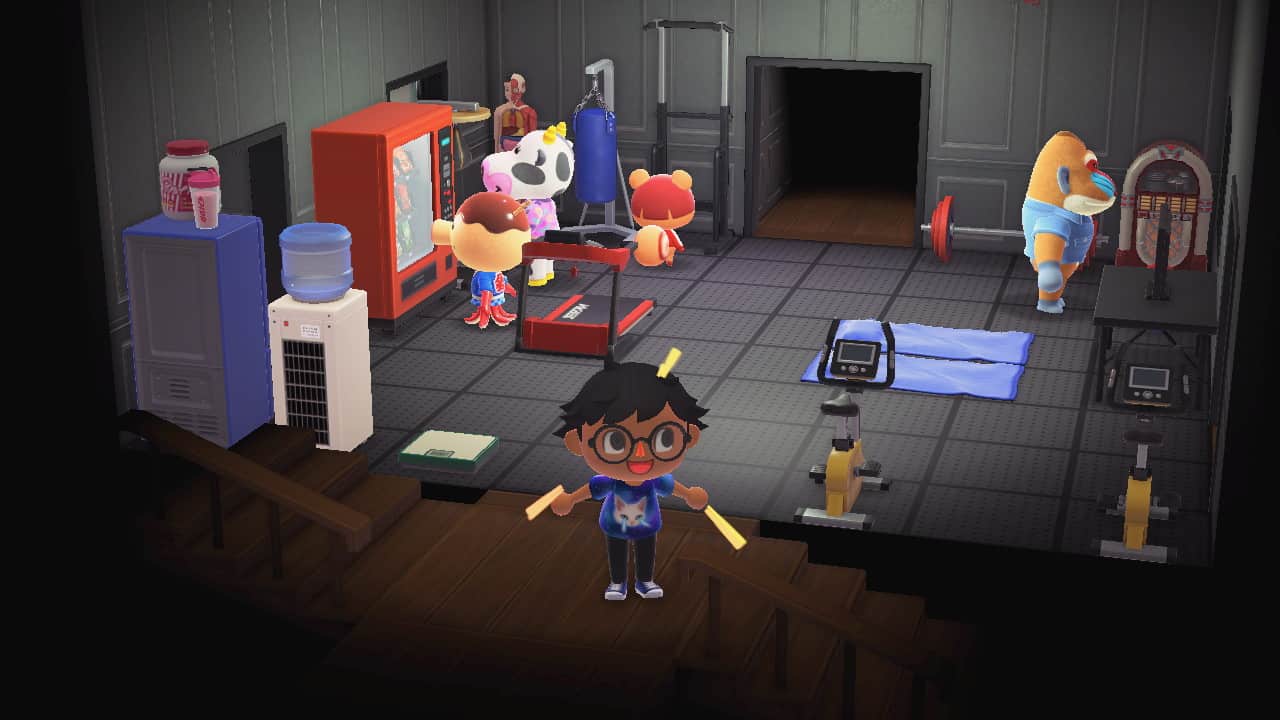 Who says gamers can't be fit? Combine your passions for gaming and lifting to create your own (virtual) home gym. Blast the music, get your pre-workout in, and invite your neighbors over to hit some personal records. 
I found it challenging to find the flooring that fit this theme, so I made my own. It is a basic design, so it was not as challenging as the bar shelves. However, I took inspiration from the foam padding I would see in people's home gyms on social media. 
The Ultimate Hangout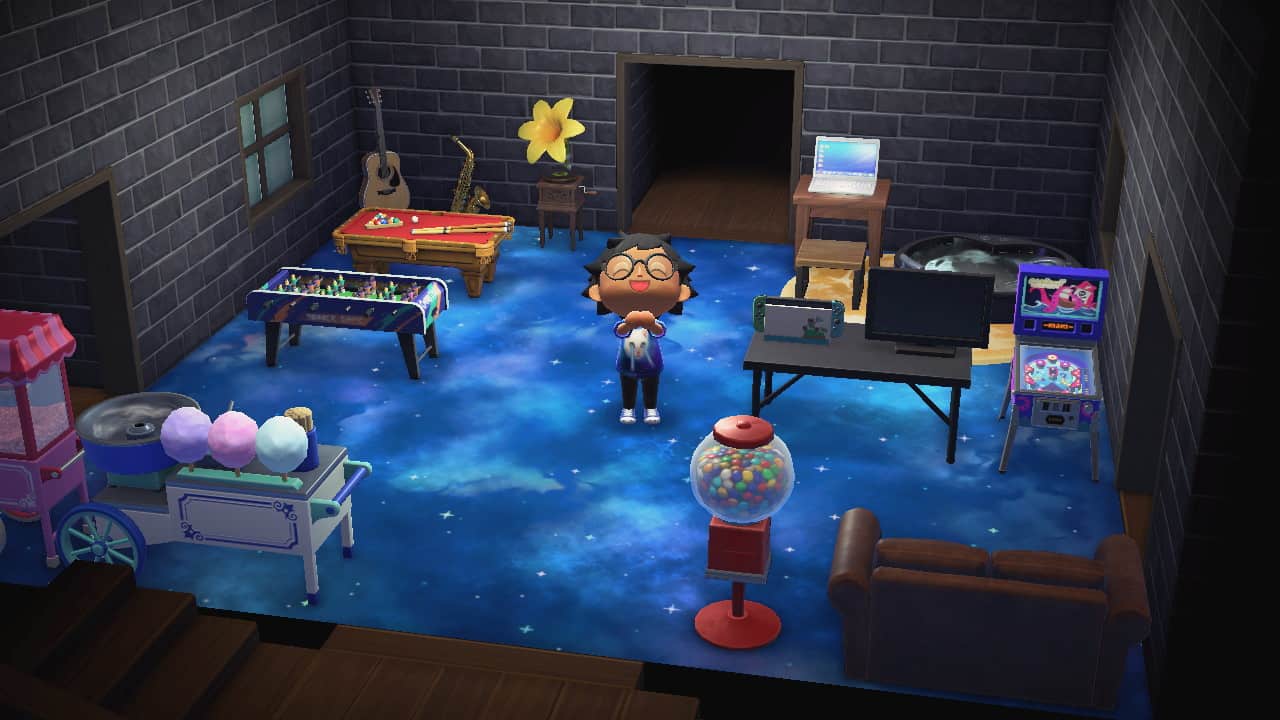 There is always one friend's house we always want to go to. Maybe they have a pool or a huge flat screen. Make your living room the ultimate hangout, and your dream villagers will be begging to live on your island. 
Give yourself some options! Play a game of pool, hop into the hot tub, or chill out with your friends or villagers.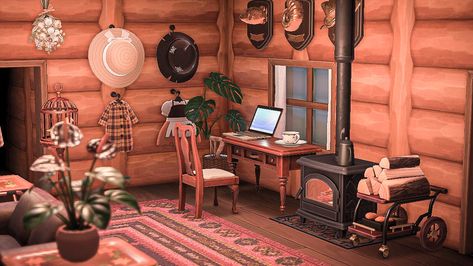 While you can't see the entire room, I love how Oakcrossing on Tumblr used hats and shirts as part of their design.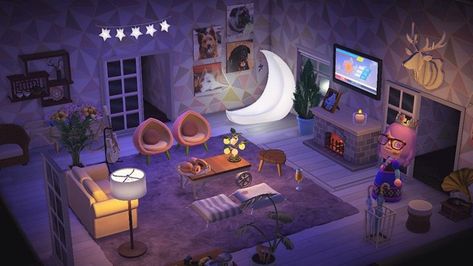 While the lights will be on most of the time, some designs shine brighter at night. Take a look at this design by FandomSpot writer Zach Rosenberger. I am obsessed with that lamp on the table, so if anyone has it, please let me visit your island!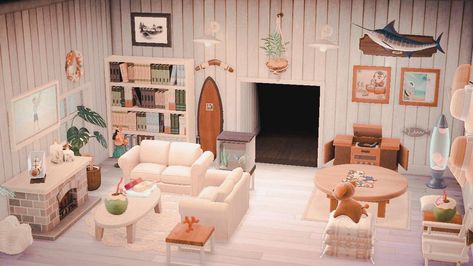 I came across this screenshot posted by u/shanelmarieapple on Reddit and instant wanted to visit the beach. 
FAQs
Question: How do I get More Furniture?
Answer: There are a couple of ways, and here are a few of them. 
Your Trees: Every day you log in, there will be two trees on your island that will drop furniture when shaken. It can be a hassle running around and shaking 20-30 trees, so I chopped all but two of my trees down. 
Mystery Islands: While you are searching for villages using your Nook Miles Tickets, do not forget to shake the trees there. On each mystery island, there will be a tree that will drop a furniture item when you shake it. 
Balloons: Balloons will spawn on your island every five minutes or so. Use your slingshot to burst these balloons, and sometimes, they'll drop crafting recipes for furniture and furniture items. The content of the balloon about the color has not yet been solidified, but any balloon is worth popping and getting the reward.
Nook's Cranny: Make sure to drop by Nook's Cranny every day. Timmy and Tommy will have two to five furniture items for sale every day. The chances of finding something you don't have every couple of days are pretty high. 
Wisp: Now and then, you can find a ghost wandering the island at night named Wisp. When you speak to Wisp, Wisp will lose five spirits because you scared him. Once you find all five spirits and return them to him, he will offer you a reward. You get two options, something new or something expensive. For the sake of getting more furniture, I would suggest something new all the time. 
Bottles: Once to twice a day, you can patrol the shores of your island in search of washed-up bottles. When you find these bottles, they contain crafting recipes. But if it ends up being a recipe you already know, they sell for a couple of hundred bells. 
Your Villagers: Now and then, when you speak to a villager, they will gift you a piece of furniture. They can even send you furniture items through the mail. Another special event that happens between your villagers and you are games. Usually having something to do with cards, if you win their games, they gift you with furniture or clothing items. 
Other People: While I was in my ANCH mood, I joined four different Facebook groups. Each of the groups had times/sections where players could chitchat about turnip prices, island visitors, and what type of furniture is for sale in Nook's Cranny. I had decided I wanted to make a diner on my island, and I wanted to use the pieces from the diner set. I had only had the table and bar, but chitchatting with other players helped me gain access to the entire set in a couple of days.
Question: How do I Find Wisp?
Answer: Wisp is a special villager. This means he does not have a set schedule, you may find him on a Monday, but next week, he could show up on Thursday or not at all. To find Wisp, log in during the night. I have seen him wandering my island from 8 p.m. to 4 a.m.
Question: How do I Find Other Custom Designs?
Answer: The easiest way is to use the pink ATM-looking machine in the Able Sisters shop. You can search designs by name, creator ID, or design ID. To get creator and design IDs, head over to Google or Pinterest and look for some designs you find interesting. Most screenshots of designs will have the creator and design IDs on them.
Question: Where can I Find More Ideas?
Answer: If you have a specific theme you are going for, but need some ideas, try looking at a Youtube, Instagram, Pinterest, Reddit, or Twitter post. You can also find some designs through Google, Bing, or any other search engine. Fans love to share screenshots of their hard work.
Final Thoughts
Coming up with your living room set can be quite a challenge, and it can take some time. However, mixing sets, customized pieces, and making your designs can get you extremely far. As I mentioned earlier, the kitchen design I created was by far my favorite. It somewhat shows off my personality; loud, colorful, extroverted, and fond of food. 
On the other hand, the design I shared by Reddit user u/shanelmarieapple was my favorite. I love the bright color, the mixture of obtained and craftable furniture, and the use of craftable material. They all came together to form an outstanding beach-themed living room.
Continue reading:
Animal Crossing Smug Villagers: A Complete Guide
10 Interesting and Welcoming Animal Crossing Campsite Ideas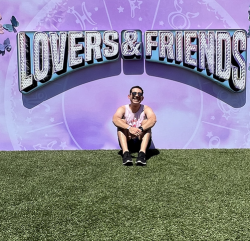 Latest posts by Candy Plascencia
(see all)