Stitches has been one of the most reliable cuties in Animal Crossing since he was introduced into Wild World. He's been featured in every title and has become a viral character.
Whether it's because of his adorable teddy-bear design or the nostalgia fans hold around him, Stitches is one of my favorite villagers. Once you learn a little bit more about him, I'm certain you'll feel the same way and be inviting him over to your town or island in no time.
An introduction to Stitches
Stitches first joined Animal Crossing in Wild World, where I met this little cub for the first time. I fell in love with his teddy-bear design and optimistic and fun outlook on life. Since his debut, many Animal Crossing fanatics have felt the same way about him! He's become an incredibly sought-after villager, which can only be down to how adorable he is.
Even though some may find his color palette garish or his design slightly chilling, he's a beautiful addition to any town or island. But, again, I can speak from experience! He's one of the few villagers who is technically not an animal but an object that has been brought to life through the magic of Animal Crossing.
So let's get to know this cub! Here are some facts about Stitches to get you started:
Gender: Male
Species: Cub
Birthday: February 10th
Star sign: Aquarius
First Appearance: Wild World
Personality: Lazy
Catchphrase: Stuffin'
Stitches' Appearance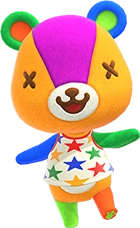 It's not breaking news that Stitches is considered one of the cutest villages in the Animal Crossing franchise. Many factors go into this, but the main one is his appearance, of course! He is one of twenty cub villagers and potentially the most interesting of the whole bunch. While most other cubs are designed to resemble an actual animal, Stitches has adopted a unique design.
Rather than being based on an animal, Stitches was designed to look like a teddy bear. His body is predominantly orange, but he has several patches of color segmented throughout his design. All of which appear to be connected via a few stitches – which I'm assuming is how he got his name.
In addition, the middle of his head hosts a band of purple, and he has a white muzzle in the center. My favorite design element is his eyes, which are two stitches in the shape of an X. I think that this feature is the most unique element of his whole design!
Stitches' left ear is blue with a green inner, and his right ear is green with an orange inner. These colors are also mirrored in his arms and legs, which are either blue, green or a brighter orange to the rest of his body. Towards the bottom of his shirt, you can see a semicircle of a white tummy, but we never see more than this!
In every Animal Crossing game, he has worn the Starry Tee, which won't change unless you gift him another piece of clothing. The only time you won't see him sporting this outfit is during an event or tourney.
I love cub villagers and currently have Stitches on my island in New Horizons. He is one of three cubs living there, all of whom are adorable. However, there's something about Stitches design that makes him even more desirable. I think it's because I've always loved having plushies, and with his teddy bear-inspired design, it's like my childhood toy has come to life. Additionally, I had Stitches in my first Wild World town, so maybe there's an air of nostalgia around him too.
Stitches' Personality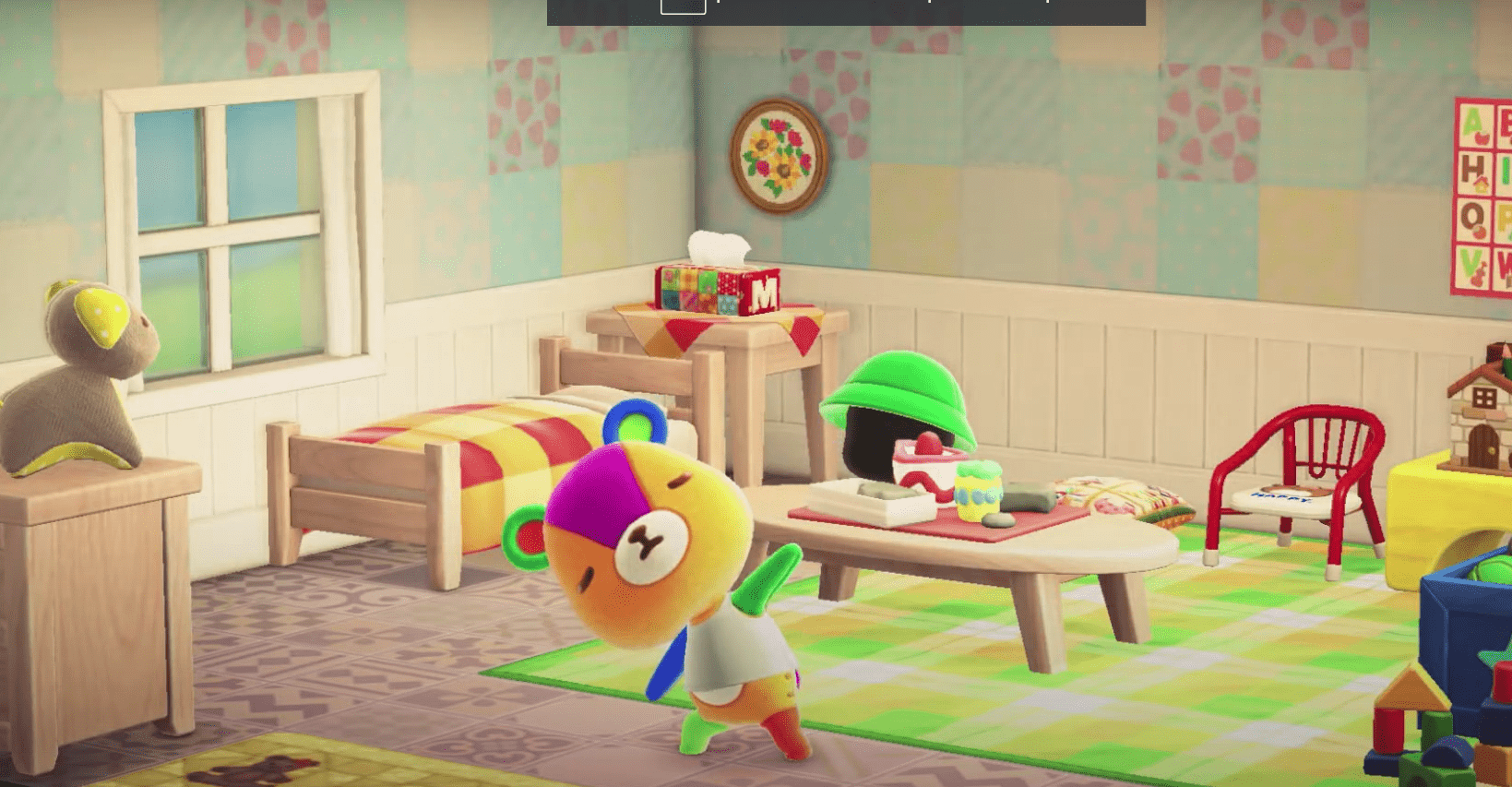 Alongside being one of twenty cubs, he is one of seventy-three lazy villagers. I think this personality perfectly suits his character, primarily when he's referred to as a doofus. Since he's a teddy bear rather than being an actual animal, it's almost like some of the stuff he says comes from a brain filled with stuffing.
Due to his personality, Stitches is always happy to stop for a chat about snacks or a recent tv show he's watched. His character is incredibly laid back and easygoing, and he gets on with most villagers. This tends to be because he doesn't take anything as an insult and doesn't understand any criticism of his way of life. Snooty, peppy, and jock villagers find it difficult to know how lazy villagers are happy living the way they do.
Lazy villagers are also prone to talking about their hobbies. In Stitches' case, his hobby is play. Once again, this perfectly represents his character and is one of the only instances where villagers have their hobby and personality implemented into their homes. Stitches will invite you to his home from time to time, where he will proudly show you his toy collection or crumbs he's spilled on the floor.
I love lazy villagers, and I have done since I first played Animal Crossing. After Stitches moved into my first town, he's remained one ofmy favorite lazy villagers alongside Filbert, and I can't see that changing soon!
Stitches' Preferences
Since Stitches' has been in Animal Crossing games since 2006, his preferences have been firmly cemented into the franchise. He knows what he likes, so he has a refined taste, even when his preferences have shifted slightly in New Horizons.
If you want to make a good impression with this lovable cub, then you'll need to know what he loves in every game. Even though every game before New Horizons rotates the same preferences, you may benefit from noting the differences.
Stitches' preferences in Wild World onwards are as follows: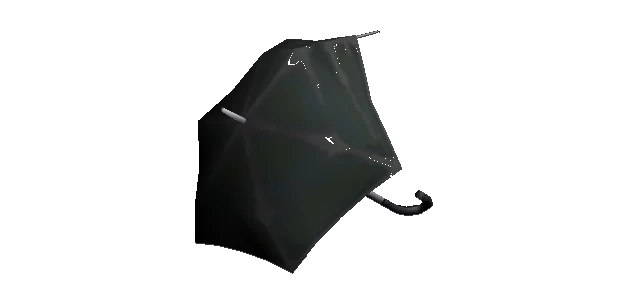 Favorite song: K.K. Lullaby
Default clothing: Starry Tee
Default Umbrella: Bat Umbrella
Skill: Forgetting Stuff
Goal: Lawyer
Coffee Preference: Blend, just a little bit of milk, one spoonful of sugar
Favorite color: Colorful
Favorite clothing styles: Flashy
Although there are no differences from Stitches' debut in Wild World to New Leaf, alongside the majority of new villagers, Stitches received a well-deserved upgrade in New Horizons. Even though he may have lost his coffee preference, his favorite colors and interior designs have changed. Of course, Stitches' preferences are dependent on which game you're playing, so it's essential to take note of whatever is appropriate and applies to you.
If you are new to the Animal Crossing franchise and playing New Horizons, there are a few differences between Stitches' preferences. So to find the perfect gift, you'll need to look into what has changed!
Stitches' preferences in New Horizons are as follows:
Favorite song: K.K. Lullaby
Default clothing: Starry Tee
Default Umbrella: Panda Umbrella
Favorite color for clothing: Colorful and White
Favorite clothing styles: Simple and Cute
Favorite interior designs: Child's Room, Fancy, Living Room
Favorite interior colors: Yellow, Colorful, White, Green, and Orange
A gift guide for Stitches
Now we know everything this cub loves, you will probably want to make him your best friend. I mean, who wouldn't want their childhood teddy as an animate companion for day-to-day life? I certainly would. Luckily for Stitches, he's an overly friendly character already. In no time, he will be referring to you as his snack buddy. But if you want to get into his good books, swing by his home with a gift or two.
Luckily, with Stitches having a firmly cemented personality and style, buying gifts for him is even more accessible in New Horizons than ever. So naturally, the best gifts are clothing or furniture, though he won't turn his snout up at a home-cooked meal. So if you're looking at quickly boosting your friendship to get his portrait, it's time to head into the shops!
For clothing, Stitches favorite styles are simple and cute – which we expected from his adorable design already. His favorite colors are white and colorful, so the world is your oyster. But, of course, Stitches is open to trying any styles you think will make him even sweeter!
Here are some clothing gift ideas for Stitches: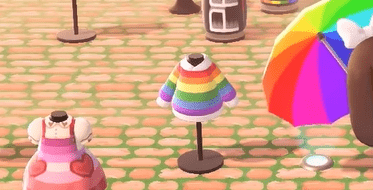 Chick Tee (White or Aqua) – 800 bells
Boa Blouson (White) – 1'680 bells
Knit Hat (White) – 560 bells
Pom Pom Sweater (White) – 1'440 bells
Rainbow Sweater (White) – 1'200 bells
Although clothing is a cheaper alternative to gift-giving, Stitches always looks for more toys to add to his collection. Since one of his favorite interior designs is child's room, it's safe to suggest that he would be more than happy to receive any sort of toy. I love how detailed some of the toys are in New Horizons, and as an avid fan of them, I love to collect them both in-game to mirror real life.
Alongside child's room, Stitches favorite styles are living room and fancy. Both contradict his style, but we can't judge him for that. Stitches' loves feeling comfortable and cozy in his home – which I relate to. As a lazy villager, he spends a lot of time in his house, so being comfy is crucial! If you're willing to pay some extra bells, Stitches is more than happy to get a gift to decorate his house with now and then.
Here are some furniture gift ideas for Stitches:
Dollhouse (Green or Colorful) – 4'000 bells
Puppy Plushie (White or Orange) – 2'400 bells
Baby Bear (colorful) – 1'800 bells
Dinosaur Toy (Black or Red) – 2'400 bells
Monstera (White or Green) – 1'700 bells
Stitches' House
Interestingly, Stitches' home is one of the most recognizable in all Animal Crossing games. Initially, it was pretty bland on the exterior, but as soon as you step through the door, you are welcomed into a world of color.
There are several hints towards Stitches' toy character design, and his interior decorating skills only encourage this. Although his home has faced a few changes throughout different games, similar themes and items are featured.
Stitches' Home in Wild World and City Folk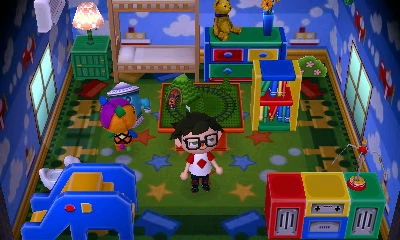 In Wild World and City Folk, Stitches' home stays the same. He displays the playroom wall and the playroom carpet, which references his appearance as a teddy bear rather than an actual cub. His furniture also corresponds to his appearance and matches the playroom theme. As I mentioned in his gift guide, Stitches loves to display all his toys. Within his home, he has an elephant slide, a jack-in-the-box, a wooden rocking horse, a train set, a hammock, and a green lamp.
Additionally, a few pieces from the kiddie furniture set, such as the Kiddie Stereo that plays K.K. Lullaby and a kiddie dresser are on display. As much as I love Stitches' and I love the playroom theme he has – I find the colors on the Kiddie Set quite vivid and garish. Especially paired with the playroom wall and floor.The exterior of his home is frankly a little depressing. Rather than maintaining the bright nature of the inside, it's grey and p
ale blue. The only lick of color comes in the yellow door handle and the beams on the roof – so aside from that, there's no tell-tale sign that it is Stitches' home.
Stitches' Home in New Leaf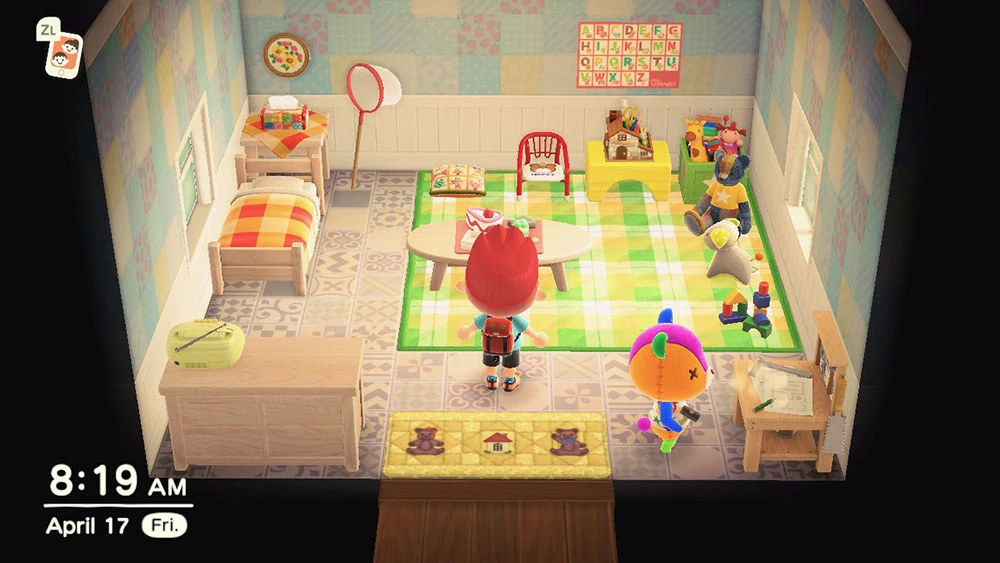 A few of the same items are on display in his New Leaf home, and he has the same wallpaper and flooring. However, he also adds some extra pieces, such as a wooden bunk bed and sunflowers. The main difference in the home is the exterior.
Compared to his Wild World home, Stitches' New Leaf abode is a world of color. Even the outside of his house looks like the kiddie furniture. It has a red roof and yellow walls and is incredibly square. It also has a bright blue door and is usually surrounded by a green hedge.
This home is easily recognized as Stitches' due to the coloring of the exterior, which is a really lovely contradiction to the grey home he was slumped with in Wild World and City Folk!
Stitches' Home in New Horizons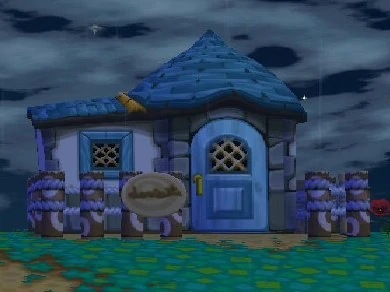 As most villagers received, New Horizons gave Stitches' home a new lease of life. Rather than maintaining the same garish designs and color palettes, this home contains a softer and more refined style. In addition, rather than featuring the kiddie furniture, Stitches has a designated 'play corner' in his house, where he keeps most of his toys.
Additionally, his house is highly cozy due to how many rare 'mom' gifts he displays. He has the mom embroidery above his bed, the mom pen pot, the mom tissue box, and the mom plushie in his toy corner. Outside of the player receiving these gifts, they are tough to come by in-game. I love how he displays these items, mainly because most of them have a patchwork design. I love how these items link to his launch into Pocket Camp.
Stitches also has a lot of hand-crafted wooden furniture over having any kiddie furniture on display. I find that these items make his home feel like a dollhouse, which is only encouraged by his teddy bear design. It all feeds into the fact he is an animate toy rather than an animal, and I adore how subtle the hints are to it.
Stitches' in Pocket Camp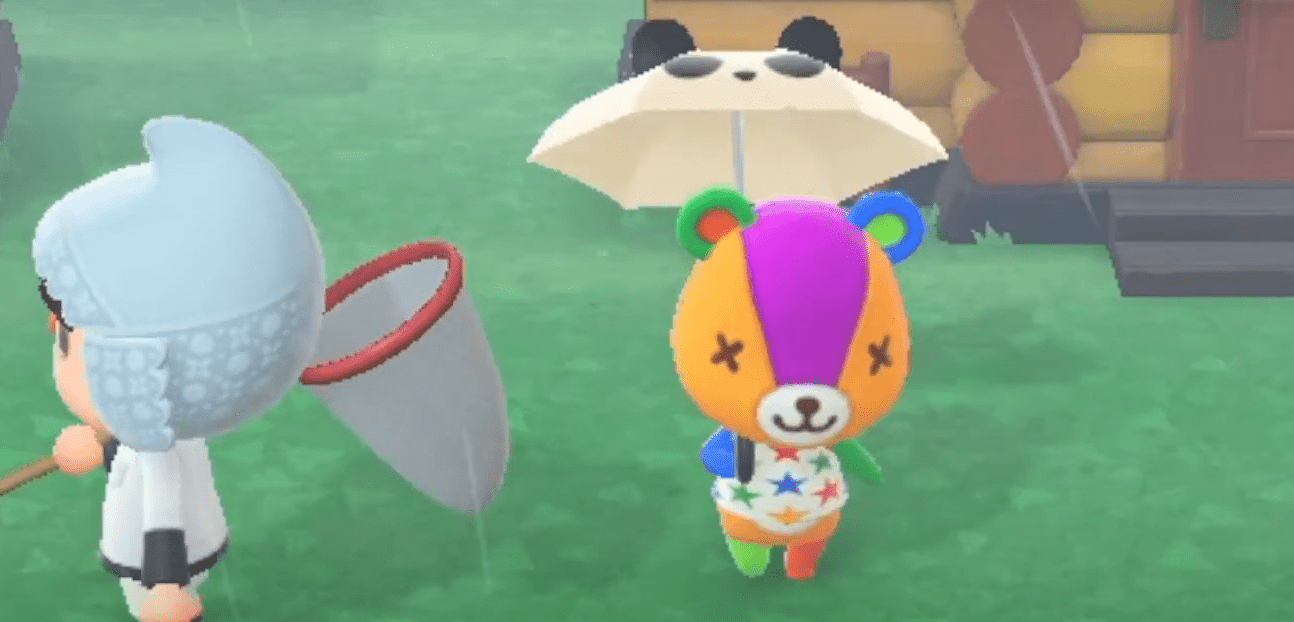 Stitches is considered a hip villager in Pocket Camp due to his favorite campsite theme. He joined the game in January of 2018, only a little after the game was released. Although he is a trendy character, for a good reason, given how adorable he is, he wasn't released as part of Blathers' treasure trekking. I honestly think this is surprising, considering how many famous villagers are hidden within treasure maps!
I invited Stitches to my campsite as soon as I could. To do the same, you will need to reach level five friendship. The best way to do this is to give him a few treats every time you can, which is helped by his lazy personality and love for all things sweet! I always keep a pocket full of gold snacks to become good friends with villagers. It's the quickest and most reliable way to increase your level rapidly!
Once you have become good friends with Stitches, you may want to consider beginning to craft some of his required furniture. However, preparing the furniture before you invite the villager is also feasible if you want to save some serious time and hassle. I always try to begin crafting furniture requirements as soon as I know which villagers I plan on inviting. Unfortunately, some of the required craft times are ridiculously long!
If you're planning on inviting Stitches to stay at your campsite, you'll need to craft the following items:
Kiddie Clock (Green Kiddie)
Balloon Lamp
Kiddie Dresser
Dotted Rug
Kiddie Bed (Green Kiddie)

The crafting time for these items is twenty-seven hours in total, which is pretty long compared to other villagers released when the game first came out. In terms of materials, these crafts will set you back fifteen steel, twenty-five wood, twenty-five pieces of cotton, forty-five paper, and six hip essences. Additionally, it'll cost 7'590 bells. This doesn't seem like a lot of materials and money, but when I first played Pocket Camp, some of these materials were difficult to come by. Now I have a small stockpile of necessities; I could invite Stitches over in a heartbeat. But it took some hard graft to get there!
Additionally, both Kiddie items he requests are a different coloring to their initial theme. To craft the green kiddie counterpart of these items, you will need to prepare the basic kiddie variation first. These two pieces will set you back a further 180 wood, 90 cotton, and 90 steel. While the bed only takes seven hours to craft, the clock will set you back a whopping eleven, so I suggest crafting furniture or starting as soon as you know who you're planning on inviting. On top of the 7'590 bells, these two items will cost an additional 2'560 bells.
So, after all that effort, you'd imagine Stitches would reward you handsomely! Which, much like every other Pocket Camp villager, he does. As you increase your friendship level with this loveable cub, he will occasionally reward you at milestones. In between these milestones, Stitches favorite reward to gift is steel.
Increasing your friendship level will entitle you to the following rewards:
Level 7 – 1x Star Tee and 1x Sparkle Stone
Level 9 – 1x Sparkle Stone
Level 15 – Stitches will request you to craft a Popcorn Machine
Level 20 – 1x Self-Portrait and 1x Sparkle Stone
Level 25 – Level 65 – 1x Sparkle Stone every five levels
Stitches' Patch Cookie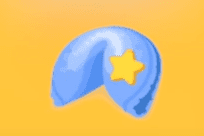 Stitches' Patch Cookie was initially released in May 2019 and was only available for sale for four days. Unusually, every cookie's reissue has only lasted a few days. This limited release has only been encouraging the rarity of the items within the collection, and because of how popular Stitches is makes Pocket Camp players only want it more!
The cookie has a similar patchwork design to our favorite cub, so it compromises four different colored squares connected by a yellow thread. Occasionally, it can be found in the fortune cookie cart for 5'000 bells – if you're fortunate. Aside from this, it'll set you back a few leaf tickets for one during its reissue phase.
If you receive a lot of in-game gifts, you may receive a cookie, but it's purely down to luck. Stitches' Patch Cookie can be found in Lucky Tangerine Gifts, Lucky Tangerine Gift+, and Nordic Patchwork Gift+. I have yet to be lucky enough to come across a cookie in any gift, let alone this rarity! I hope it gets reissued, as some of the prizes are incredibly sweet. Since I love to have a cute camp all year round, I think some of these items would be a fantastic addition.
Stitches' Patch Cookie contains the following prizes:
Patchwork Bear Lamp
Patchwork Bear Rug
Patchwork Hammock
Patchwork Bear Sofa
Patchwork Bear Table
Patchwork Ghostlet Sofa
Large Patchwork Bear
Patchwork Bear Hood
Patchwork Shirt
Patchwork Pants
Stitches' Amiibo Card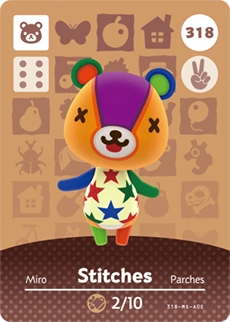 Interestingly, Stitches has two amiibo cards. Though both cards do the same thing, and the only difference between them is their number and design, they might be worth collecting if you really love this bear.
The first amiibo card was released in the Animal Crossing amiibo collection series four. It's number 318 in the collection and is relatively easy to come by. With two amiibo cards being home to our favorite colorful cubby, one of them is bound to be slightly more sought after than the other. Luckily, Stitches' standard amiibo card is not the rarer of the two.
In series four, Stitches is sandwiched between Goldie and Pinky, and he is one of three cubs released in the set. Alongside Tammy and Barold, it's safe to say that fans believe Stitches is undoubtedly the cutest of the three cubs. As much as I think Barold deserves a little more love, I can't disagree! Stitches is a sweetheart!
However, his second card is infinitely harder to get ahold of. As Stitches was part of Welcome Amiibo on the Wii U, alongside four other cards, he had his limited run of amiibo cards. The other members of this exclusive crew are Goldie, Rosie, K.K. Slider and Isabelle. Despite being exclusively released for Welcome Amiibo, these cards act the same as regular cards and are compatible with all Animal Crossing games that register Amiibos.
The only difference on the card is Stitches' pose, where instead of standing face on, he is wearing a little hat and holding a net. Although it is a cute pose, and I understand why the card is so rare, I think I would happily settle for Stitches' standard card to add to my collection!
FAQ'S
Question: Is Stitches a Rare Character?
Answer: Stitches isn't necessarily a rare character, but he is one of the more popular and sought-after ones. Technically, there are no rare characters in Animal Crossing, and all odds of villagers moving in and out of towns and islands are dependent on luck. But, of course, you can always use an amiibo card to scan him in!
Question: How Many Animal Crossing Games has Stitches Been in?
Answer: Since Stitches has been in Animal Crossing since Wild World, he has appeared in seven Animal Crossing titles. This includes Pocket Camp, Amiibo Festival, and Happy Home Designer. So it's safe to say we aren't short of Stitches content!
Question: Can I Use Amiibo Cards in Wild World?
Answer: No, amiibo cards are incompatible with Animal Crossing Wild World. The first game amiibo cards were compatible with was New Leaf, but an NFC reader needed to be connected to the DS. Also, before New Leaf, amiibo cards were incompatible with any previously released Animal Crossing titles.
Summary
I love this little bear right down to his stuffing. I think Stitches is a fantastic addition to Animal Crossing, and he's been a part of my experience with the game for as long as I can remember. So when I found out he was moving into my island on New Horizons, it felt like I was playing Wild World for the first time!
As far as cub villagers go, you can't deny the fact Stitches is one of the sweetest. So how could you say no if you contemplated inviting him to stay? Everyone needs a snack buddy in their life, and Stitches would be more than willing to fill the role!
Continue reading:
Animal Crossing Characters Guide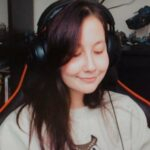 Latest posts by Kara Phillips-Ashman
(see all)