Even though Animal Crossing is known for bringing in a massive number of species, and presents hundreds of brightly colored villagers, sometimes they don't just resemble their animals. There have been references to inanimate objects, like teddy bears with Stitches and Maple or teapots with Tia, another popular subcategory in species is villagers that look like food. 
Food-themed villagers may initially look like animals, but their appearances have a few details you can only notice up close. Their details may seem a little tacky to some, but to others, these food-themed villagers are the crème de la crème! I think they can be adorable. After having Zucker on my first island in New Horizons, I've grown to love food-themed villagers. 
If you're still unsure, and their looks aren't giving too many hints, then the name of a villager tends to hint toward the food they represent. So, it's safe to say that's the case with Tangy, our adorable citrus cat!
An Introduction to Tangy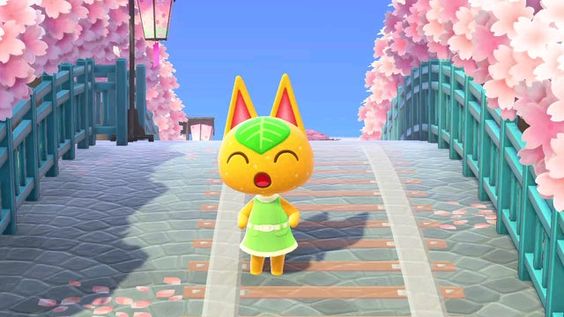 Tangy is one of the first villagers from the Animal Crossing franchise, and she has become one of the most recognizable cat villagers due to her appearance. I have loved her since I had Wild World; she was one of the first villagers to live in my town. Her peppy personality and bright design bring color and excitement to anyone's town or island, and I think many players have started to realize this!
When New Horizons came out, many people felt nostalgic about Tangy due to how many games she appeared in. In addition, she rapidly became a favorite villager for many, becoming one of the most sought-after islanders in New Horizons. However, as much as I love her, she is yet to live on my island. As much as I love my memories with her in Wild World, she's not been at the top of my list to move in!
There are many features of Tangy that have stayed the same since she debuted in Animal Forest. She has seen the likes of every mainline Animal Crossing game, so her style and personality have been firmly ingrained in the game. So no matter which game you're playing, a Tangy will be ready and waiting!
Here are some facts about her to get you started:
Gender:

Female

Species:

Cat

Birthday:

June 17th

Star sign:

Gemini

First Appearance:

Animal Forest

Personality:

Peppy

Catchphrase:

reeeeOWR
Tangy's Appearance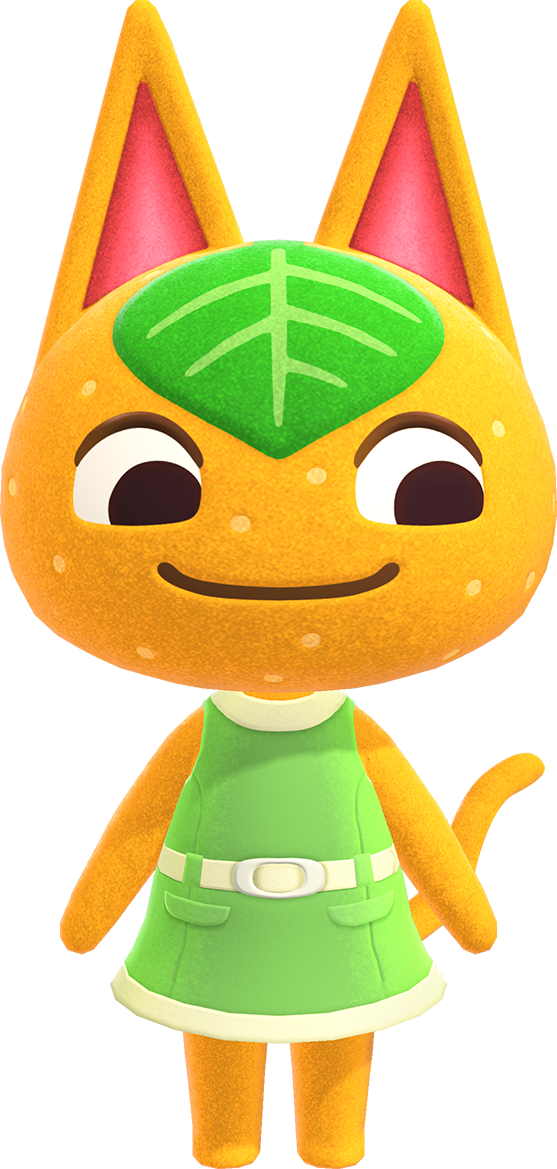 When Tangy is mentioned, many people will think of her appearance first. I'd say she is one of the most recognizable cat villagers, if not one of the most recognizable villagers in general! Aside from being brightly colored, Tangy has many interesting details that make her unique. 
She has the same look as every other cat villager; however, she is bright orange and has a green leaf atop her head. Which may be a hairstyle, but it's never been stated. Also, pale white/yellow spots over her face make her whole head look like an orange rather than just a ginger cat. Accompanied by the name Tangy, it's safe to assume Tangy is a citrus fruit-themed cat.
The rest of her body is orange but lacks in the spots. So her rounded head is the only fruit-themed part of her. Unlike many other villagers, her paws and feet aren't tipped with a different color either. 
Her face is the only detailed part of her body, and she has two large bright eyes alongside her spots. She has two large black pupils constantly looking to the side, and her mouth is always curved into a smile. Tangy is one of the happiest villagers in the entire Animal Crossing franchise, and she always has some excitement to share with the player. 
From Animal Forest to New Leaf, Tangy wears a blue and white wide-stripe shirt. But in New Horizons, she wears a green and white retro dress which I think suits her look much better. The green in the dress compliments the green leaf on top of her head, pulling her character together nicely. 
Tangy's Personality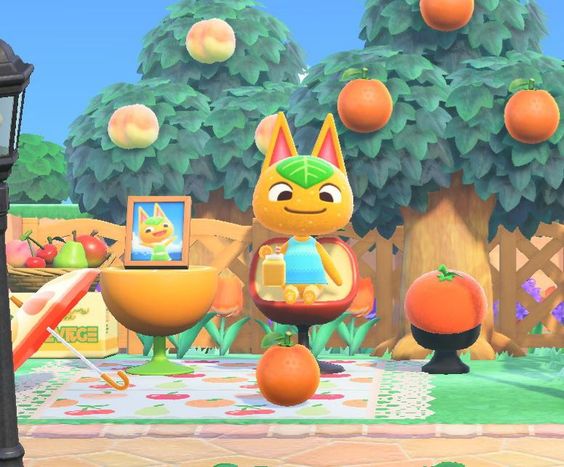 Peppy villagers are among some of the happiest personalities in the Animal Crossing franchise and always appear to be in a good mood. They are upbeat and excited to talk to the player and other villagers and will never be discouraged from a task. Additionally, they love to play games with the player, so they won't stray from inviting you to a scavenger hunt or a game of hide and seek. 
Due to their positive outlook, peppy villagers are easy to get on with. In turn, they quickly befriend every other villager in the game. The only clash will come from cranky villagers, who peppy villagers think are old and boring. But then again, these grumps are hard to befriend by every personality type. They keep themselves to themselves, so no matter how hard peppy villagers try – they just can't crack that shell!
As much as they love to chat, peppy villagers tend to over-react when having trivial conversations, and they get upset easily even if it doesn't last long. This is because peppy villagers have a shorter attention span than other villagers, so they will usually forgive and forget pretty quickly! If you find yourself upsetting a peppy villager, fear not. Within the next hour, you'll be back to best friends. 
There are sixty-three peppy villagers as of New Horizons, all-female, and Tangy is one of six peppy cat villagers. In New Horizons, she follows a strict schedule of waking up at 7:00 AM and going to sleep at 1:30 AM. During the day, Tangy usually wanders around the island looking for someone to speak to, or due to her musical hobby, she can be found hanging around the plaza singing to a crowd of adoring fans. 
Tangy's Preferences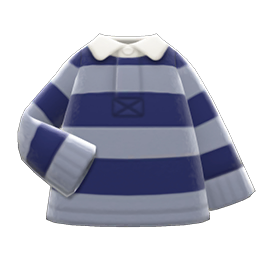 As I've already mentioned, Tangy has been in every Animal Crossing game since the title debuted. So, as you can imagine, her preferences have been reinforced in every game. She knows exactly what she likes, and due to her personality, she won't shy from letting you know! Tangy is excited to share her preferences with the player and will recommend certain things she loves. 
Before New Leaf, there were only a few differences in Tangy's preferences. Such as her favorite song being Senor K.K. and the clothing she wears. New Leaf is where her preferences shine through her personality, and they are most important in New Leaf and New Horizons should you want to befriend this lovely cat. 
Tangy's Preferences in New Leaf are as follows:
Default clothing:

Wide-Stripe Shirt

Favorite song:

K.K. Island

Coffee Preference:

Blue Mountain, regular amount of milk, two spoonfuls of sugar

Life goal:

Hair Stylist

Skill:

Doing handstands

Hobby:

Music
Between New Leaf and New Horizons, Tangy's personality only grows. The changes in her preferences usually reference her favorite colors and styles, which you need to learn in more detail in New Horizons. Outside of this, there are a lot of similarities. I love the focus on villagers' personalities and how this is referenced in the preferences in New Horizons, and this is a feature I find previous titles lack. 
Should you be lucky enough to have Tangy live on your island in New Horizons, she has a lot of favorites to learn. If you have the Happy Home Paradise DLC and plan on redecorating her house, then her favorite furniture themes and colors are essential to note. 
Tangy's preferences in New Horizons are as follows:
Favorite song:

I Love You

Default clothing:

Green Retro Dress

Default Umbrella:

Strawberry Umbrella

Favorite clothing colors:

Green and Yellow

Favorite clothing styles:

Simple and Cute

Favorite furniture colors:

Green, Orange, Yellow, Red, and Beige

Favorite interior concepts:

Fancy, Kitchen, Child's Room, and Retro

Hobby:

Music
A Gift Guide for Tangy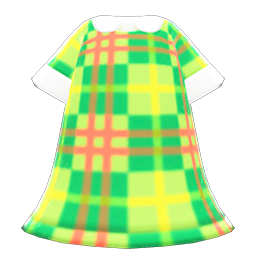 Every Animal Crossing game has used gift-giving to encourage your friendship with a villager. With Tangy, she's more than happy to receive any gift. But after studying her preferences and learning what she loves, a few things will help you become besties. 
The two paths to go down when shopping for your favorite villagers are clothing or furniture. These two items are the easiest to come across rather than crafting or cooking, and you're guaranteed to give your favorite villager a gift they'll love! 
Regarding clothing, Tangy's favorite styles are simple and cute, and her favorite colors are green and yellow. I think anything green looks terrific on her, and anything that brings out the adorable leaf on her head is a win-win!
Here are some clothing gift ideas for Tangy:
Lively Plaid Dress (Green and yellow) – 1,800 bells

Overall Dress (Yellow and Green) – 2'000 bells

Fairy Dress (Green) – 3,640 bells

Simple Checkered Dress (Green) – 1,200 bells

Dotted Raincoat (Green and Yellow) – 1,600 bells
However, if you love how Tangy's green retro dress and don't want to change it, then you may want to get Tangy some furniture instead. Her home is already adorable, so you'll need to buy her things which suit the style she already has! Her favorite interior styles are fancy, kitchen, child's room, and retro, which already has many gift-giving opportunities. However, there are even more opportunities since her favorite colors for furniture are green, yellow, red, orange, and beige. You'll be hard pushed not to find something suitable!
Here are some furniture gift ideas for Tangy:
Dreamy Bed (Yellow and Orange) – 9'500 bells

Tea Set (Green and Yellow)– 1'000 bells

Garden Wagon (Green) – 3'180 bells

Cat Tower (Beige) – 3,000 bells

Tricycle (red and orange) – 500 bells

Painting Set (Yellow) – 1'600 bells
Tangy's House
Tangy's home has seen a lot of different interiors over the years in Animal Crossing. However, one theme has stayed prominent through Animal Forest to New Horizons – citrus. In every house, Tangy has hosted a barrage of fruit-themed items in every home to reinforce her food-themed appearance. She is a perfect example of Animal Crossing using a character's appearance to base their house on, which is something I love about the game!
Animal Crossing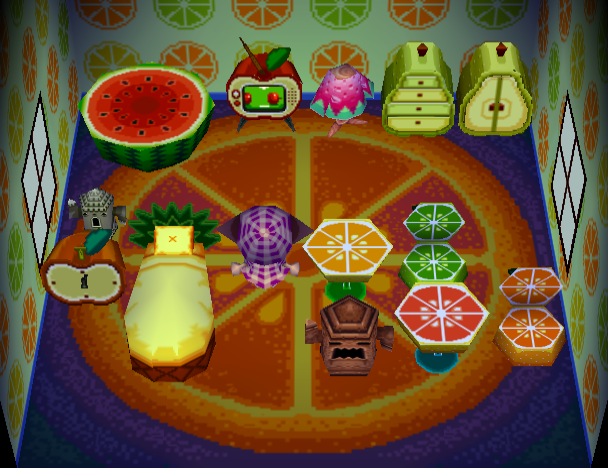 Tangy's home in Animal Crossing is my favorite of the three different designs she's had. I think this is mainly down to how colorful and memorable it was when I first played the game. Additionally, she has the same carpet in most Animal Crossing games as Filbert (my favorite villager) did in Wild World. 
In her home, she displays the citrus floor, matching wallpaper, and many citrus-themed furniture items. She has the pineapple bed, orange chair, lemon table, pear wardrobe, apple clock, pear dresser, watermelon table, and lime chair. When I played Wild World, I wanted the citrus series so badly! The watermelon table was an item I couldn't ever find, but I fell in love with it as soon as I stepped foot in Tangy's home. 
Tangy also has a kiddie stereo which she uses to play her favorite song in this game, Senor K.K.
New Leaf
Tangy has many of the same furniture in her New Leaf home, such as the pineapple bed and the orange chair. However, she also gets a little interior redesign. While she still has a strong citrus theme, she gains two items from the cabana series. She has the cabana dresser and bookcase, some sunflowers, a ukulele, and a high-end stereo. 
Rather than keeping the same song, Tangy's favorite song in New Leaf changes to K.K. Island. I love that she has the same citrus flooring and wallpaper, which gives in to the nostalgia of the first Animal Crossing game. However, I'm really upset that Tangy didn't get to keep her citrus interior in New Horizons.
New Horizons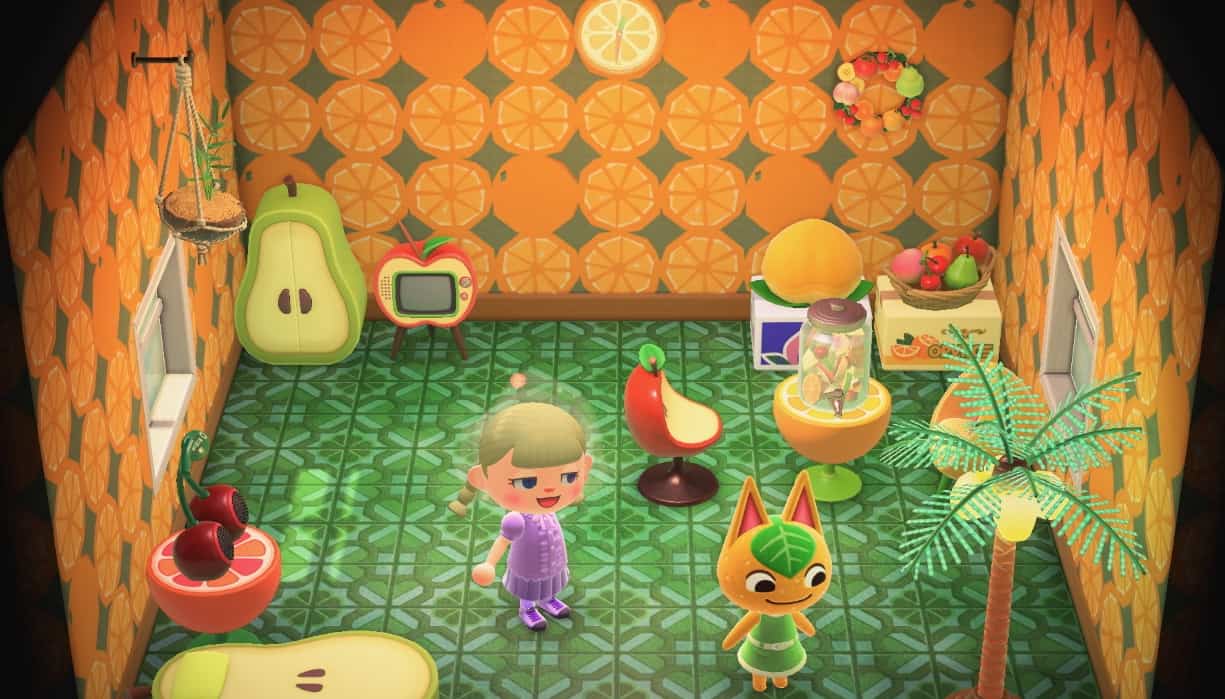 In New Horizons, alongside most of the original villagers released in Animal Crossing, Tangy gets an entire interior redesign. Rather than having the citrus wallpaper and flooring, Tangy's new lease of life displays the orange wall and the retro green flooring. Additionally, she only has a few items of fruit-themed furniture. 
In New Horizons, you can craft fruit furniture depending on the fruit on your island. You're given a few recipes early in the game, but as I said, you're limited to your native fruit. On the other hand, Tangy's interior design isn't limited to your island's native fruit!
In her home, she has the pear bed, the pear wardrobe, an orange clock, an orange end table, a blood orange end table, an apple TV, and an apple chair. These are the only items that can be crafted from the island's fruits; however, she also has a yellow peach chair and a yellow peach surprise box. Her home also features a palm tree lamp and an infused water dispenser. As much as this new design suits the game, I miss how vibrant Tangy's home used to be. It's just not the same without the bright purple and orange carpet!
Tangy in Pocket Camp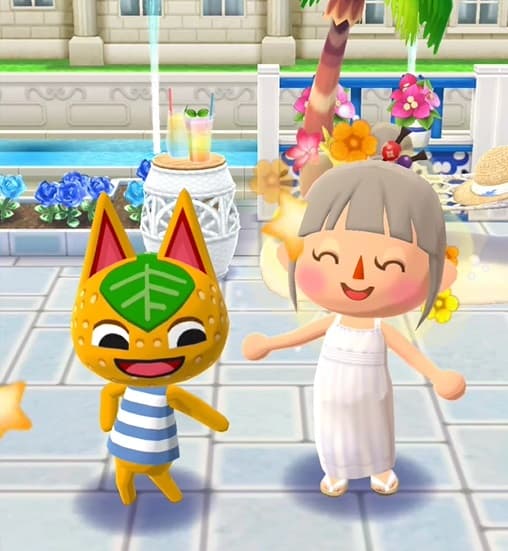 Tangy was introduced to Pocket Camp in June of 2021; however, she isn't as easy to obtain as other Animal Crossing villagers. Rather than appearing randomly on the islands surrounding your campsite, Tangy was released as part of Blathers Treasure Trekking. Unfortunately, this means she can only be invited via finding her map, which has relatively slim odds. 
The Tangy and Pals island takes six hours to travel to via Gulliver's ship, and there's no guarantee when it will be displayed in-game. In addition, there are no scheduled re-issues of certain islands via treasure trekking – so if you're on the hunt for a favorite villager, you'll need to keep your eyes peeled constantly. 
Finding Tangy's map from the Tangy and Pals island has a one-in-eight chance, alongside two other villagers and a handful of other rewards. The other islanders you may come across are Gonzo and Ally. There is no correlation as to why these villagers were grouped, but I think that is the case with most '… and pals' islands. 
Tangy's map consists of twenty-five spaces, and each dice roll costs twelve hip essences. Silver and bronze treats are predominantly scattered as rewards over the whole map, with the occasional space hosting a gold treat. Luckily, these rewards aren't scarce, so as soon as you finish the map, you can invite Tangy over and immediately boost your friendship with treats. It's a shame that it takes so much effort to get to her first!
Although Tangy isn't easily obtainable, should you find and complete her map, there are no furniture crafting requirements to get her to move in, nor do you need a pre-existing friendship level with her. You can ask her to move to your campsite from the get-go, and she will be more than happy to oblige! From there, you can start climbing the friendship ladder with her. 
As you increase your friendship level with Tangy, she will reward you as follows:
Level 7 – 1x Wide-Stripe Tee and 1x Sparkle Stone

Level 9 – 1x Sparkle Stone

Level 15 – Tangy will request you craft a lemon table

Level 20 – 1x Self-Portrait and 1x Sparkle Stone

Level 25 – 60 – 1x Sparkle Stone every five levels
Tangy's Amiibo Card and e-Card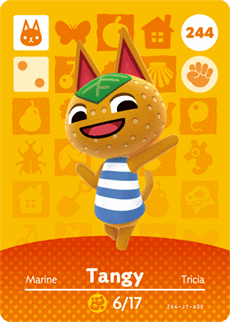 Since Tangy was a part of Animal Forest, she was one of the first few villagers to have an e-Card before amiibo cards existed. Her e-Card is a beautiful addition to any Animal Crossing fanatics collection, but it's tough to come by due to how outdated they are now. However, if you are searching to complete your collection, Tangy's card is number 125!
Regarding her amiibo card, she's number 244 and was a part of the Series 3 release. Due to how difficult e-Cards are to come by, it's much easier to collect amiibo cards. However, as I mentioned, Tangy became incredibly popular when New Horizons was released. Her card became highly sought after, and with packs selling out in seconds, it was hard to find a pack, let alone a single card!
If trying your luck at finding these cards isn't your style, then Tangy can also be found on Nookazon. Unfortunately, referencing her popularity again, she comes with a pretty high price tag. Tangy costs an average of 1'500'000 bells or forty Nook Miles Tickets, making her one of the most popular and subsequently most expensive villagers on the site!
Summary
Inviting Tangy to your town, island, or camp is a great idea if you're looking for a little bubble of joy. Peppy villagers are lovely additions to anyone's game, and everyone needs a little cloud of positivity! Tangy is one of my favorite peppy villagers and one of my favorite cat villagers. She's a core addition to the Animal Crossing franchise; it's hard to imagine any game she wouldn't be a part of!
FAQ
Question: Are There Any Male Peppy Villagers?
Answer: Unfortunately, no. All peppy villagers are female, and it's been said that jocks are the closest equivalent to peppy villagers. In the future, I would be surprised if Nintendo Didn't break the stigma and introduce some male peppy villagers into the game. I think characters like Sasha would make great male peppy villagers!
Question: How Many Peppy Villagers are There?
Answer: There are sixty-three peppy villagers throughout Animal Crossing games, but in Animal Crossing New Horizons, there are only fifty-three. I don't know why every villager isn't included in the newest game, but with the introduction of many new characters, I understand there wouldn't be space. Plus, with only ten slots for villagers on your island, it would choose from deciding who will live where even harder. 
Question: How Many Games has Tangy Been in?
Answer: Tang was one of the first villagers to debut in Animal Forest and has been a part of every game since! I'd say she's one of the most recognizable villagers due to her appearance, and I understand why she gained so much popularity. Her appearance in every Animal Crossing game means she's seen players come and go and has remained a favorite of thousands worldwide. I'm sure she'll continue to do the same in future Animal Crossing titles!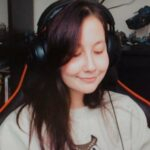 Latest posts by Kara Phillips-Ashman
(see all)