There's nothing like playing Animal Crossing and catching up with your villagers! The delightful catchphrases and wholesome dialogue provide a calming effect, making me return for more gameplay to destress. 
Some villagers are more relatable than others. Cranston, in particular, is one I adore most due to his easygoing personality and laidback lifestyle. Continue reading to find out more about this charming fellow!
An Intro To Cranston
According to the Animal Crossing: New Horizons Official Companion Guide, Cranston is an ostrich. However, he resembles a sandhill crane. In that case, the name "Cranston" might come from the word "crane." Cranston's Japanese name, トキオ (Tokio), is also a reference to the Japanese crested ibis. That's no surprise since his character design fits the ibis perfectly.
The "ostrich" category of villagers is confusing because most of these villagers look like other birds, such as flamingos and storks. In my opinion, the creators should have labeled them as "large birds" instead.
Take a look at these basic facts about Cranston: 
Gender: Male

Species: Ostrich

Birthday: September 23

Star Sign: Libra

Personality: Lazy

Catchphrase: "Sweatband"
Cranston's Appearance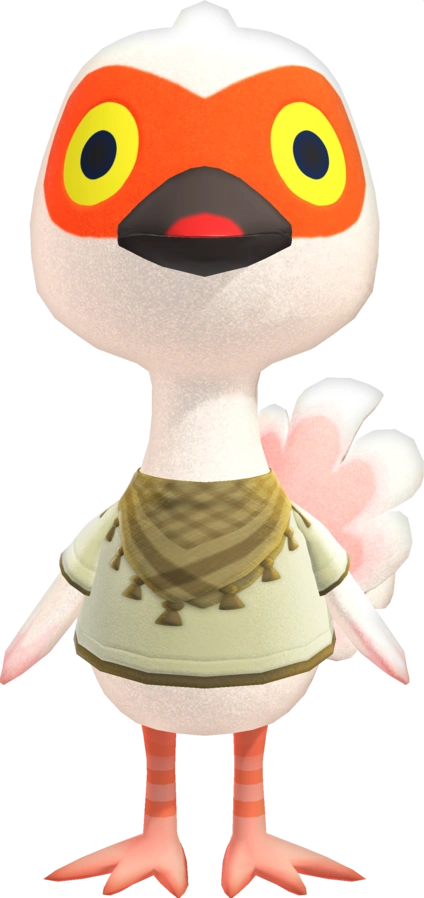 Cranston's character design is simple yet memorable. He is generally white with light pink feathers at the base of his tail and the tips of his wings. Cranston also has three large, white feathers protruding from the back of his head, which represents the crest of the Japanese crested ibis. On top of that, he has a unique red spot at the tip of his beak, and dark pink stripes on his adorable light pink legs.
This bird's greatest features are his gigantic, yellow eyes framed by red feathers. It seems like Cranston is gazing into your soul every time you chat with him, but he's probably just contemplating what he'll have for dinner.
Cranston's character design hasn't changed much over the years either. The bird's default attire in Animal Crossing: New Leaf is the Lotus Tee. Meanwhile, his default clothing in Animal Crossing: New Horizons is the Oversized Shawl Overshirt.
Cranston's Personality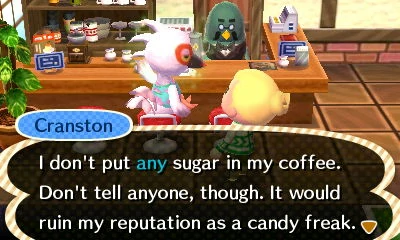 A whopping 12 ostriches dwell in the Animal Crossing: News Horizons world! Cranston is the only lazy one, making him a rare catch. As a laidback villager, he enjoys being around funny individuals. Therefore, telling Cranston hilarious jokes is a quick way to befriend him. Cranston also goes to bed at 11:00 p.m. and wakes up at 8:00 a.m. every day in New Horizons.
Lazy residents constantly profess their love for food, and Cranston is no different from the rest of them. He frequently rants about his favorite snack when I talk to him. I thought this would get irritating after a while, but Cranston's passion for food is the epitome of innocence. Besides, we can all relate to this bird's love for delicious meals.  
When Cranston isn't talking about food, he's talking about bugs. In fact, it seems he's befriended the creepy crawlies in his home. Cranston cares about them so much that he sent me a costume through the mail because it scared his bug friends. Although this attachment to insects is a bit strange, I can't help but admire his compassion.
Cranston's affection for bugs suits his nature hobby. I often find him reading about bugs, fishes, flowers, and fossils when I visit his house. Cranston will also examine bugs, trees, and plants when he's outside.
The lazy ones are some of the best villagers since they typically click with other personalities. However, they tend to clash with jock and snooty characters. Jocks pride themselves on their dedication to exercise, so they detest the lifestyle of lazy villagers. Snooty villagers also highly value their appearances, and sometimes they can't fathom why lazy villagers don't feel the same.  
Cranston's Preferences
In Animal Crossing: New Horizons
Default Clothing: Oversized Shawl Overshirt

Default Umbrella: Camo Umbrella

Favorite Song: K.K. Faire

Hobby: Nature

Favorite Style: Simple and Cool

Favorite Colors: Beige and Brown
In Animal Crossing: New Leaf
Default Clothing: Lotus Tee

Default Umbrella: Maple Umbrella

Favorite Song: Steep Hill

Skill: Backflips

Favorite Style: Modern

Favorite Color: Red
What Should I Gift Cranston?
If you'd like to impress Cranston, be sure to gift him things that are simple, cool, beige, or brown!
Don't know where to start? These items are sure to do the trick:
Headwear: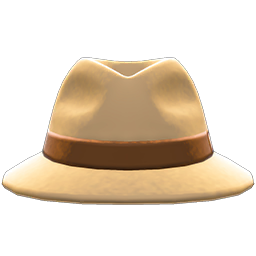 Fedora (Beige)

Fast Food Cap (Brown)

Conductor's Cap (Brown)
Tops: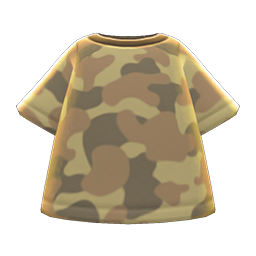 Camo Tee (Brown)

Checkered Sweatervest (Brown)

Coverall Coat (Beige)
Glasses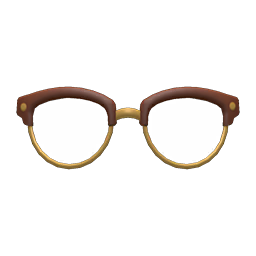 Browline Glasses (Brown)

Wooden Frame Glasses (Dark Brown or Brown)

Tortoise Specs (Brown or Beige)
Cranston's House
In Animal Crossing: New Leaf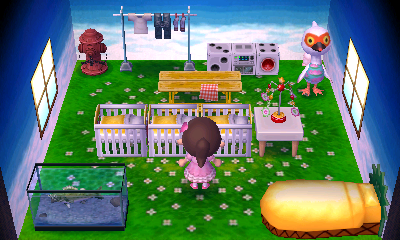 Cranston's home design has drastically changed over the Animal Crossing franchise. 
In New Leaf, his home gives off outdoor vibes, contrasting his home in New Horizons.
Cranston's New Leaf home consists of the following:
Daisy Meadow Carpet

Sky Wall Wallpaper

Three Baby Beds

Dice Stereo

Pineapple Bed

Clothesline Pole

Picnic Table

Fire Hydrant

Sea Bass

Merry-Go-Round

Minimalist Mini table
The idea of an outdoor-themed interior is interesting, but these items don't compliment each other well. The place looks like it was thrown together by a child, and I wish there were more cohesion.
In Animal Crossing: New Horizons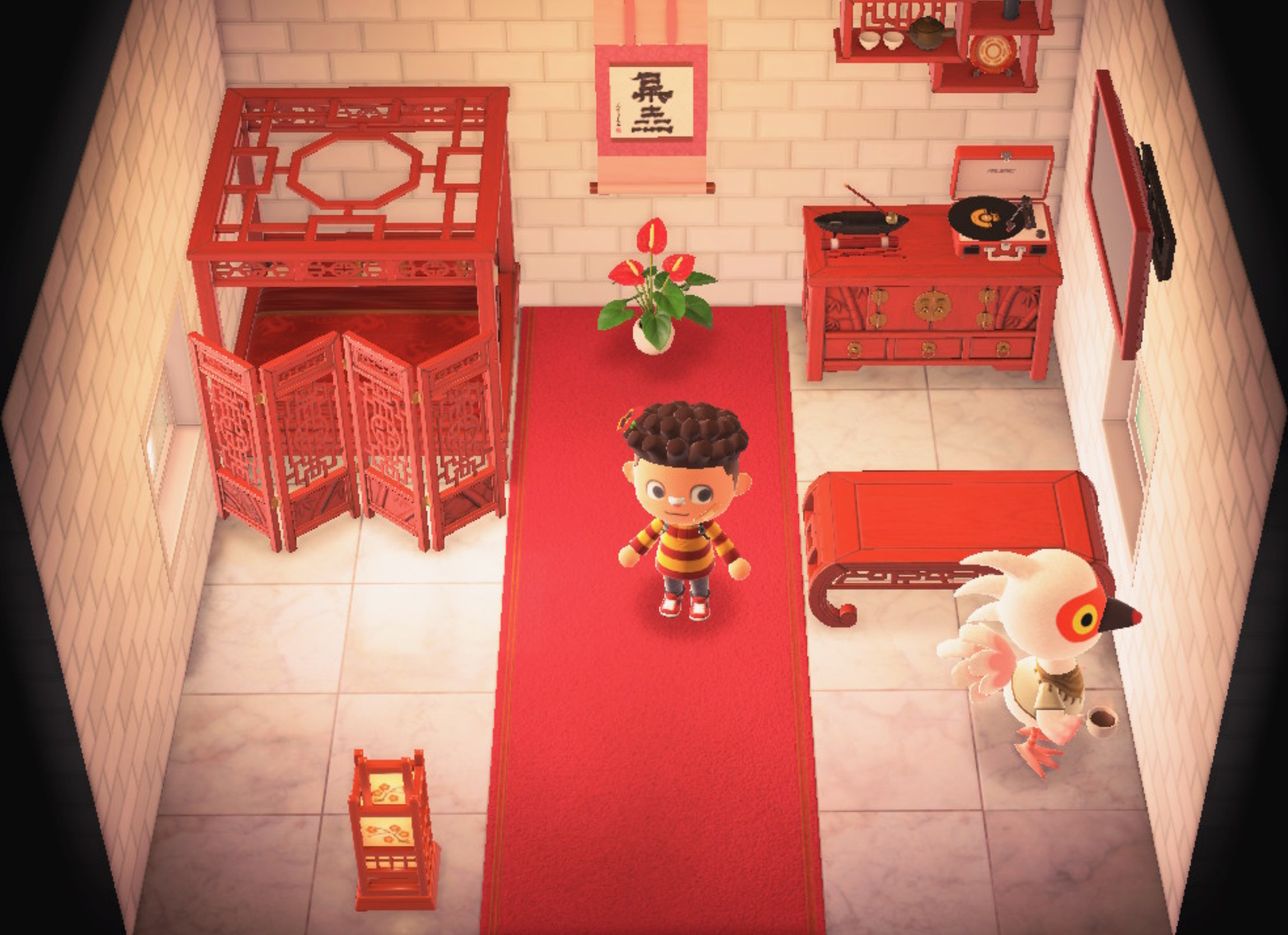 Thankfully, Cranston's interior designing skills improved ten-fold in Animal Crossing: New Horizons.
The bird adopts the stunning Imperial collection, making an extravagant adjustment to his home. 
Take a look at what's inside his zen approach to decoration:
White Subway-Tile Wall

Stone Tile

Imperial Partition

Imperial Bed

Imperial Low Table

Imperial Chest

Imperial Decorative Shelf

Imperial Dining Lantern

Incense Burner

Hanging Scroll

Paper Lantern

Portable Record Player

Anthurium Plant

2 Red Carpets

Wall Mounted TV (50 in)
Cranston's home is one of my favorites. It's elegant and simple, which suits his style perfectly. The layout of the furniture could be more practical. For example, I think the low table should be parallel to the TV, and there should be a chair facing the TV so Cranston can comfortably catch up on his beloved sitcoms!
Although I admire Cranston's default home, it's entirely different on my island. He uses the DIY Log series to decorate his house on my island.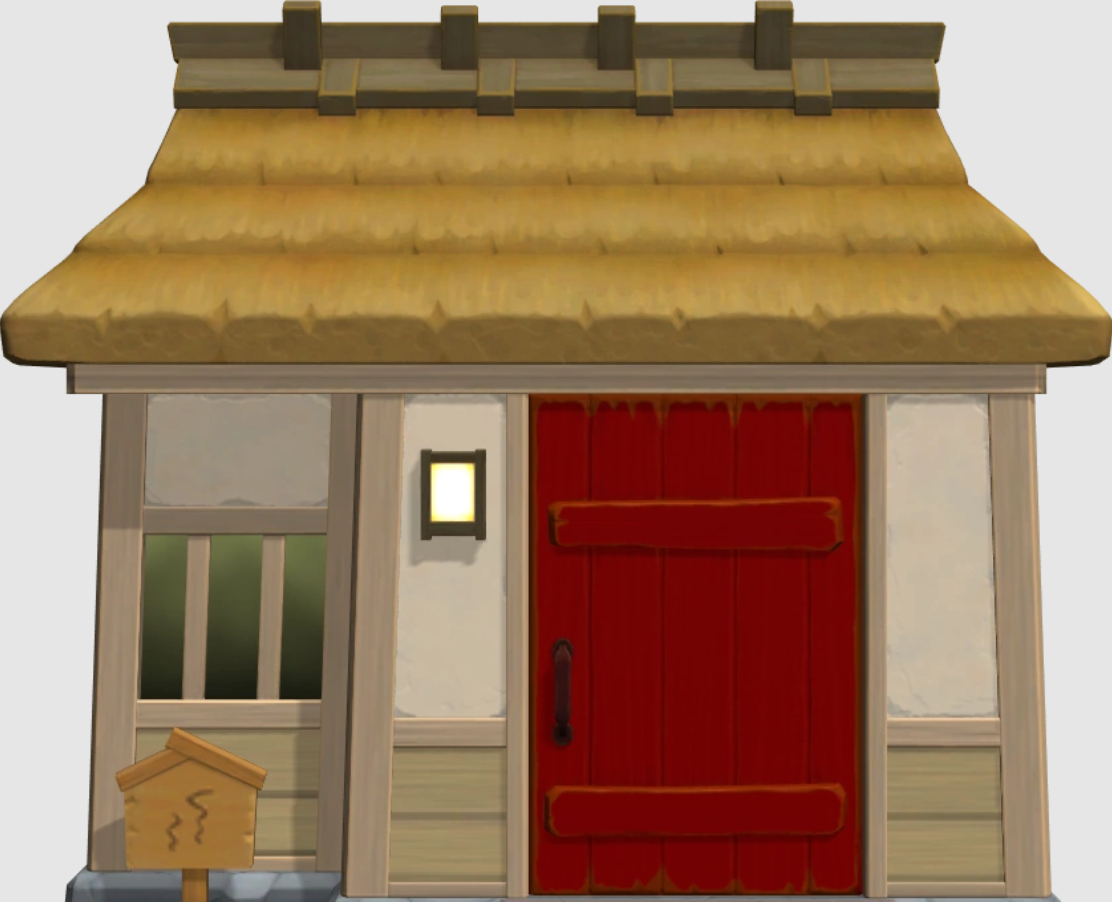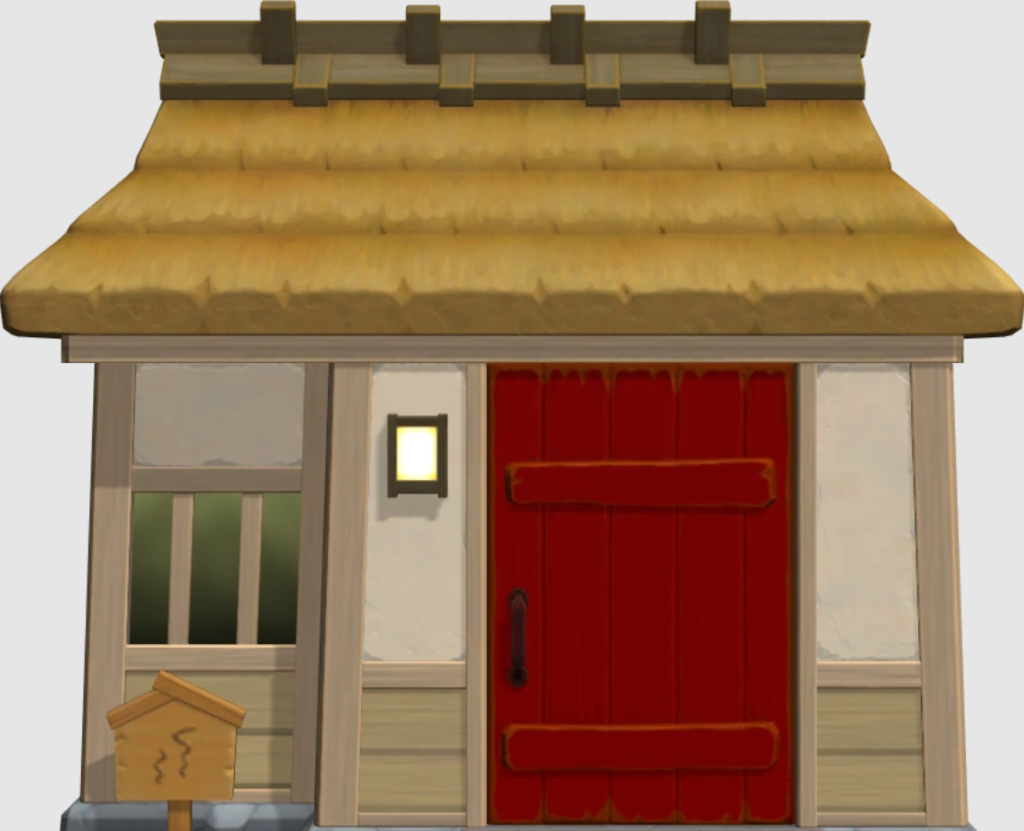 This version of Cranston's home has:
Wooden-Mosaic Wall

Dirt Flooring

Log Chair

Log Bed

Log Dining Table

Log Stool

Log Decorative Shelves

Log Extra-Long Sofa

Gas Range

Fruit Basket

Pot

Cherry Speakers

Infused Water Dispenser 
Since Cranston is one of my first three villagers, his home design is basic. I like the coziness of this version of Cranston's house, but I'm also bored of it since the furniture is ordinary. Fortunately, you can redecorate a villager's home by completing the Animal Crossing: New Horizons DLC and complaining to Isabelle about the resident's house.
Cranston in Pocket Camp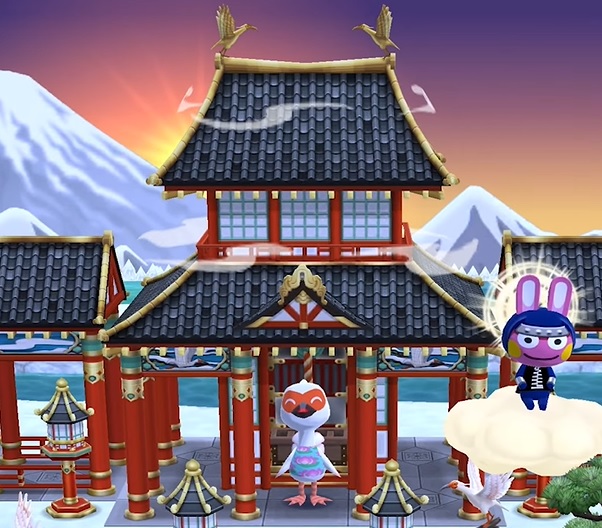 Like many other residents, you can earn Cranston as a villager in Pocket Camp. Once you obtain his villager map from Gulliver, complete Blather's Treasure Trek to welcome this loveable bird to your campsite! Cranston's style is harmonious and mainly gives steel as a present.
As your friendship with him increases, you'll receive the following:
Level 7: You'll receive 1 Lotus Tee and 1 Sparkle Stone 

Level 9: You'll receive 1 Sparkle Stone

Level 15: You'll receive a crafting request to make a Deer Scare

Level 20: You'll receive 1 Cranston's Pic and 1 Sparkle Stone

Levels 25-60 (for every 5th level increase): You'll receive 1 Sparkle Stone
Cranston in New Horizons' DLC
One of the best updates to Animal Crossing: New Horizons is the addition of Happy Home Paradise! Cranston's vision in the DLC is a Nice Rice Paradise where he wants to indulge himself with rice dishes. 
Go crazy with your interior design skills, but be sure to include these items:
Tea Table

Curry with Rice

Bamboo Lunch Box
Unique Cranston Merch
It may be challenging to find Cranston-themed merchandise since he isn't popular. Nonetheless, you can start your search with these items I found on Redbubble and Etsy!
This Cranston T-shirt made by Enchanted Animal is simple and cool, much like Cranston's style! It features this bird with a bright smile and the iconic Animal Crossing leaf in the background for only $23.60. The print location can also be on the back or front of the shirt. This shirt also comes in 18 colors, from sizes small to 3XL. I'd personally choose the orange shirt since it matches the color scheme of the print best!
Emma D, another Redbubble user, sells this Cranston iPhone case! On this cover, the ostrich wears his Oversized Shawl Overshirt while blankly staring off into the distance. The background is navy blue with random shapes in different colors, giving the case an artistic look. The shop owner also lets you choose a case style that suits you! Soft cases cost $25.03, snap cases cost $30.08, and tough ones cost $36.11. The best part is the owner makes cases for older iPhone models, like the iPhone 4S, and newer ones!
My favorite item is this Cranston 3D Printed Figure I found on ArtisticTouchPrints' Etsy profile. This 4-inch figure depicts Cranston gleefully raising his wings in the air while wearing his famous Lotus Tee. A painted figure of this ostrich costs $30.00, and an unpainted one costs only $20.00. This item could make an extraordinary gift to anyone who cherishes Cranston!
FAQs
Question: Can Lazy Characters Break the Fourth Wall?
Answer: Many players report lazy villagers breaking the fourth wall. They'll go on a rant, telling the player everything is fake, and the town exists for people's amusement. Then, the lazy residents will say they were kidding and continue with their lives. Let's hope they never find out the truth.
Question: What is Cranston's Goal?
Answer: Cranston is an aspiring CEO. That doesn't sound like the ambition of a lazy villager to me!
Question: What is Cranston's Coffee Preference in Animal Crossing: New Leaf?
Answer: Here's the perfect cup of coffee for Cranston:
Type of Beans: Blend
Amount of Milk: None
Amount of Sugar: None
Question: Does Cranston Have an Amiibo Card?
Answer: Cranston has one amiibo card that's compatible with Animal Crossing: New Horizons, Animal Crossing: amiibo Festival, Animal Crossing: Happy Home Designer, and Animal Crossing: New Leaf. 
It shows Cranston in his Lotus Tee on a purple background with his star sign, name, and birthday at the bottom. You can buy Cranston's Happy Home Designer card for $1.95 on Amazon.

Conclusion
Although people overlook Cranston, there's a lot to love about this lazy ostrich. Cranston's fixation with food is endearing, and all of us can learn from his chill lifestyle. He reminds us to relax occasionally, and there's nothing wrong with that! 
Continue reading: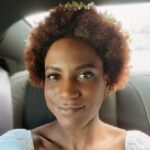 Latest posts by CaLea Johnson
(see all)