There are eight unique sheep villagers in New Horizons, but I find Eunice strange among them. At first glance, she seems innocent and kind and can give you a warm hug amidst a cold winter. Her fluffy appearance and mellow smile can make any day a bright one.
However, one thing sticks out like a sore thumb to me: her catchphrase. Her initial catchphrase is "lambchop," which is weirdly morbid for a sheep to say. She is calling you, the player, a piece of sheep meat. Her favorite saying is also very ominous! What does Eunice hide underneath those beady eyes?
Jokes aside, Eunice is always a welcome villager on my island. She has such a calm face you might mistake her for a lazy villager. Her light pink skin makes her look innocent, and the other sheep with similar skin colors are either too wacky for me (Dom) or too rare that I can't be bothered to acquire (Étoile).
If you have Eunice on your island and want to know more about her to become closer, this guide will help you out. If you are building a vacation home for her instead via Happy Home Paradise, this guide will give you ideas on where to start.
Bottom Line Up Front
Eunice is a sheep villager with a normal personality who appears in every game in the series (except for Wild World). Her house in New Horizons has a blue theme, but her older house designs are different. Since her birthday is on April 3, she is an Aries.
Gender: Female
Species: Sheep
Birthday: April 3 (Aries)
First Appearance: Dōbutsu no Mori
Personality: Normal
Catchphrase: Lambchop
Preferred clothing style: Elegant or simple
Preferred colors: Beige or orange
What Does Eunice Look like?
Eunice is a sheep with light pink skin and navy-blue wool. Her wool does not cover her arms, legs, and face. Her horns have orange and light orange stripes, although you can faintly see them. Her hooves on her arms and legs are yellow. She has a strand of wool hair curled on her forehead.
Her eyes are round, and due to her skin color, you might mistake her for having black beady eyes. However, her eyes are white with large black pupils. Eunice's snout and mouth are pink. Her mouth is shaped like a cat emoji's smile.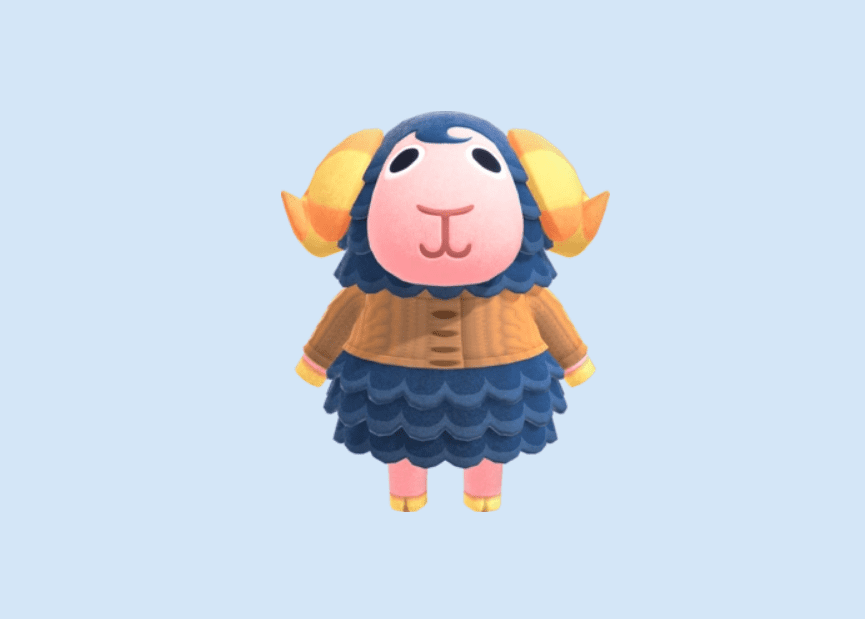 What Is Eunice's Personality?
Eunice is a sheep with a normal personality type. You can learn more about normal villagers here, but in summary, she gets along well with everyone, no matter their personalities. She can chill with lazy villagers, be excited about sports like jocks, be grumpy at inconveniences like cranky villagers, and more.
Eunice's fluffy wool and warm smile fit perfectly with her personality. She rarely gets angry at anything, though you can expect her to be a clean freak.
Reasons Why You Should Have Eunice on Your Island
If being a charming sheep is not enough of a reason to have Eunice on your island, she is a kind soul to anyone she meets. Thus, you do not have to worry about her arguing with others. I also recommend having her if your island has a theme.
If your island only has blue or navy-blue villagers, Eunice will be a great fit. If you want to fill it up with sheep instead, you can have Eunice as the normal type among them. Eunice would also work well on an island of normal villagers of different species.
Eunice's House
Animal Crossing
Eunice's house has a yellow slated roof with white walls and a dainty chimney. Inside, you can find the following items:
Classic Cabinet
Classic Sofa
Ebony Piano
Lacy Parasol
Mega Dekkoid
Mini Dekkoid
Plinkoid
Retro TV
Weeping Fig
The walls are Kitchen Wall
Flooring is Kitchen Flooring
Song is K. K. Waltz
City Folk
In City Folk, Eunice's interior items are as follows:
Classic Bookcase
Classic Sofa
Ebony Piano
Lacy Parasol
Mega Puffoid
Mini Puffoid
Retro Stereo
Retro TV
Weeping Fig
The walls are Kitchen Wall
Flooring is Kitchen Flooring
Song is K. K. Waltz
New Leaf
In New Leaf, Eunice's house is a tall rectangle with a flat black roof, a pink metallic door, and a gray cement chimney. The walls are yellow with orange bricks of random intervals. A trimmed hedge encompasses the house except for the door. Inside are Eunice's items:
Classic Buffet
Classic Sofa
Cuckoo Clock
Ebony Piano
Mega Puffoid
Minimalist Lamp
Morning Glory
Pink Velvet Stool
Retro Stereo
Spring Shirt
Weeping Fig
The walls are Blue-Trim Wall
Flooring is Round Carpet
Song is K. K. Waltz
New Horizons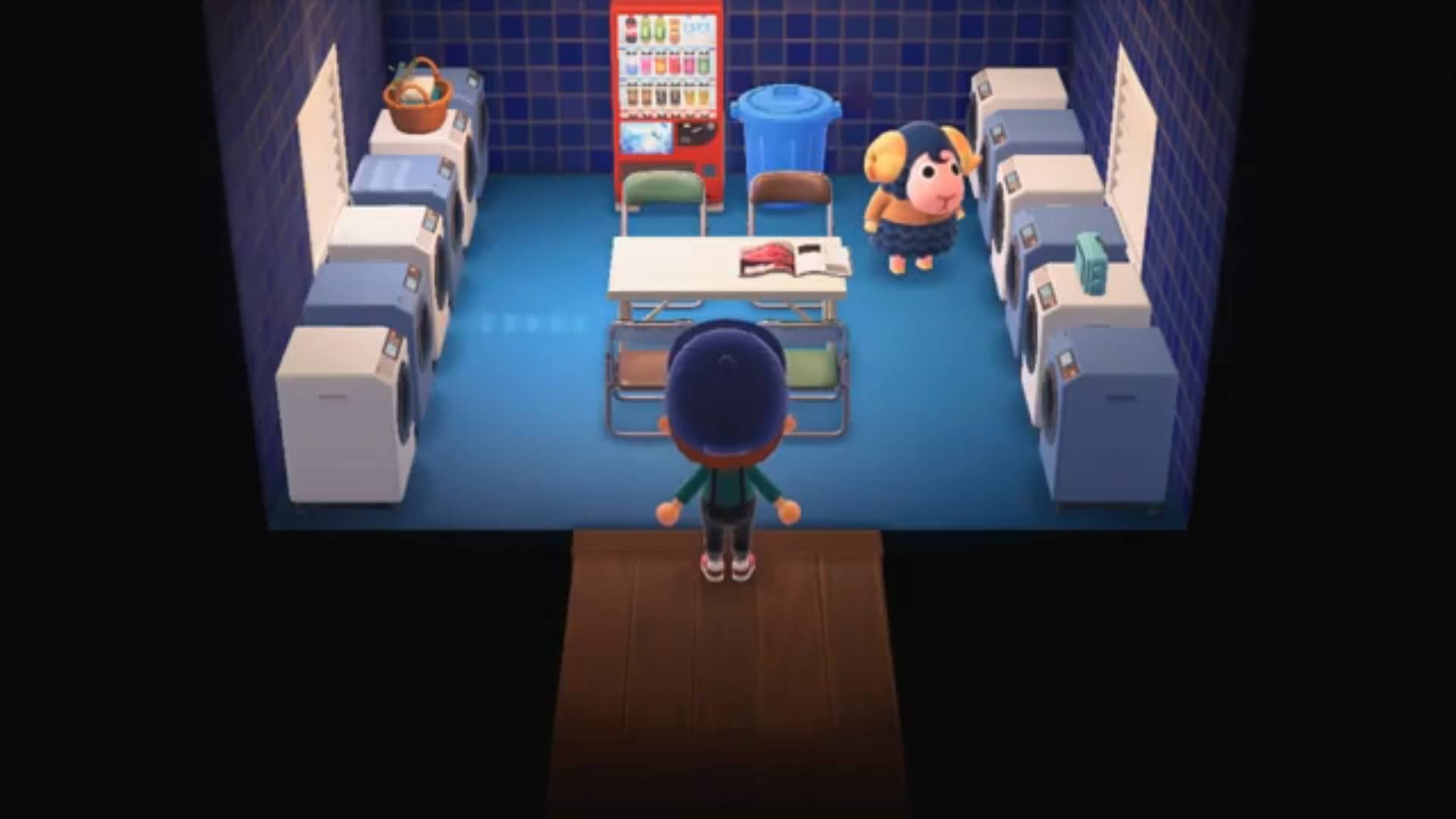 In New Horizons, Eunice's house has a brown slated roof and black walls with brown brick trims. It also has a pink door without intricate designs. Below are the items you can find in Eunice's house:
Deluxe Washer (body: white; x6)
Deluxe Washer (body: blue; x6)
Drink Machine (body: red; pattern: sports drink)
Folding Chair (body: brown; x2)
Folding Chair (body: green; x2)
Garbage Pail
Iron Worktable (body: white)
Magazine (pattern: cars)
Portable Radio (body: light blue)
Rattan Towel Basket (body: reddish brown)
Surveillance Camera
Wall Clock (body: silver)
Wall Fan (body: blue)
The walls are Blue Tile Wall
The flooring is Blue Rubber Flooring
Song is K. K. Disco
The Best Furniture to Gift Eunice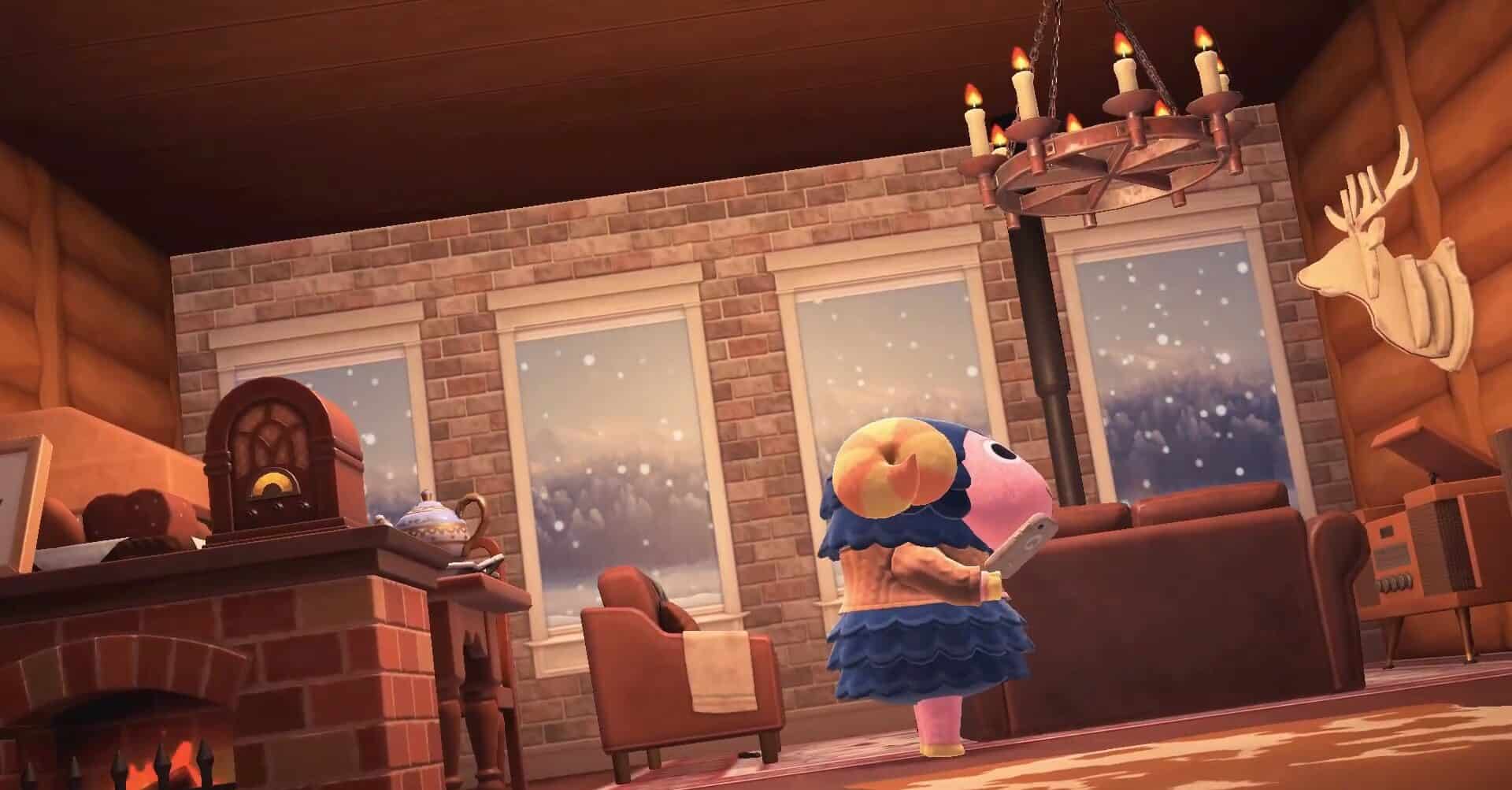 If you want Eunice to like you, you need to give her the furniture she would like. Eunice loves orange and beige, so I suggest buying pieces of those colors. Here are some examples:
Housewares for Eunice
Dormant Volcano
Elegant Bed, Sofa, Dresser, Chair, or Console Table
Nordic Table, Shelves, Sofa, Lowboard, Chair, or Low Table
Scooter
Papa Bear
Loft Bed with Desk
Ski Rack
Drum Set
Lecture-hall Bench or Desk
Zen Lowboard
Soft-serve Lamp
Upright Organizer
Horizontal Organizer
Lily-pad Table
Low Screen
Simple Panel
Paper Lantern
Floor lamp
Decorative Pillar
Castle Tower
Miscellaneous furniture for Eunice
Elegant Lamp
Dress-up Doll
Sturdy Sewing Box
Framed Photo
Wooden Music Box
Ringtoss
The Best Outfits to Gift Eunice
Eunice may seem bland to some people because of her simple design, but with imagination and creativity, she can look like the most special villager on your island. Here are some matching outfits that she would love to wear and that would look great on her.
Cozy and Blue Aran
Headwear: Aran-knit Cap (blue variant); costs 800 Bells
Top: Aran-knit Sweater (blue variant); costs 1,200 Bells
Accessories: Double-bridge Glasses (blue variant); cost 1,100 Bells
Total outfit cost: 3,100 Bells
Since Eunice is rocking the blue wool, why not accentuate her most prominent feature with her clothes? This outfit is a perfect match for her, especially during the winter. Her wool and outfit made from medium yarn is a great mix. Plus, Eunice seems like the kind of sheep who would love knitting.
Aside from the color scheme, she would love to have these as gifts because all of the items have elegant and simple styles. Since the headwear and top are part of the same theme, neither sticks out from the rest. If you look closely, they have similar knitting designs.
Party in Beige
Headwear: Bowler Hat with Ribbon (beige variant); costs 1,100 Bells
Top: Fancy Party Dress (beige variant); costs 2,400 Bells
Accessories: Rimmed Glasses (brown variant); costs 630 Bells
Total outfit cost: 4,130 Bells
Eunice likes beige and orange outfits, and if she is in a happy mood for a special occasion (like a party), why not make her wear clothes that would make her happy? The Party in Beige outfit is catered to her liking; giving these items to Eunice will bring a smile to her face, and she will look fantastic in them.
As I mentioned, the attire is perfect for parties like birthdays, New Year celebrations, and the like. Her top makes her the life of the party, partially thanks to the pearl necklace. Her hat is sophisticated and dainty for a sophisticated event, and the glasses are simple yet ideal to complete the whole getup.
Alternatively, you can substitute the top with the orange Fashionable Royal Dress; it costs 6,000 Bells, which is more expensive than the Fancy Party Dress. If the alternative is also not up to your taste, you can try the beige Embroidered Tank. The top only costs 960 Bells, which is cheaper than both items.
Simple Vacay
Headwear: Ribboned Straw Hat (black variant); costs 490 Bells
Top: Casual Chic Dress (navy blue variant); costs 2,400 Bells
Accessories: Simple Sunglasses (black variant); costs 880 Bells
Total outfit cost: 3,770 Bells
If you want Eunice to enjoy the island life instead, this Simple Vacay outfit will make her look like an islander ready for the beach. While these items are not her preferred colors, they are all simple, which will still make her happy. They are colored to fit Eunice's navy-blue wool and turn it into a chill vibe.
The top is loose and flowy to match the carefree summer air. The hat is an iconic symbol of island life, but the ribbon around it makes it more unique and fit for Eunice. Finally, the sunglasses complete the relaxed vibes of a simple vacation. This outfit is best for the summer season and on the beaches.
Alternatively, you can pick the beige Top Coat for 2,000 Bells if you do not like the dark theme. You can also choose the blue Ribboned Garden Hat for 700 Bells since it is bigger. You can also ditch the sunglasses if it obstructs your desired vision for Eunice.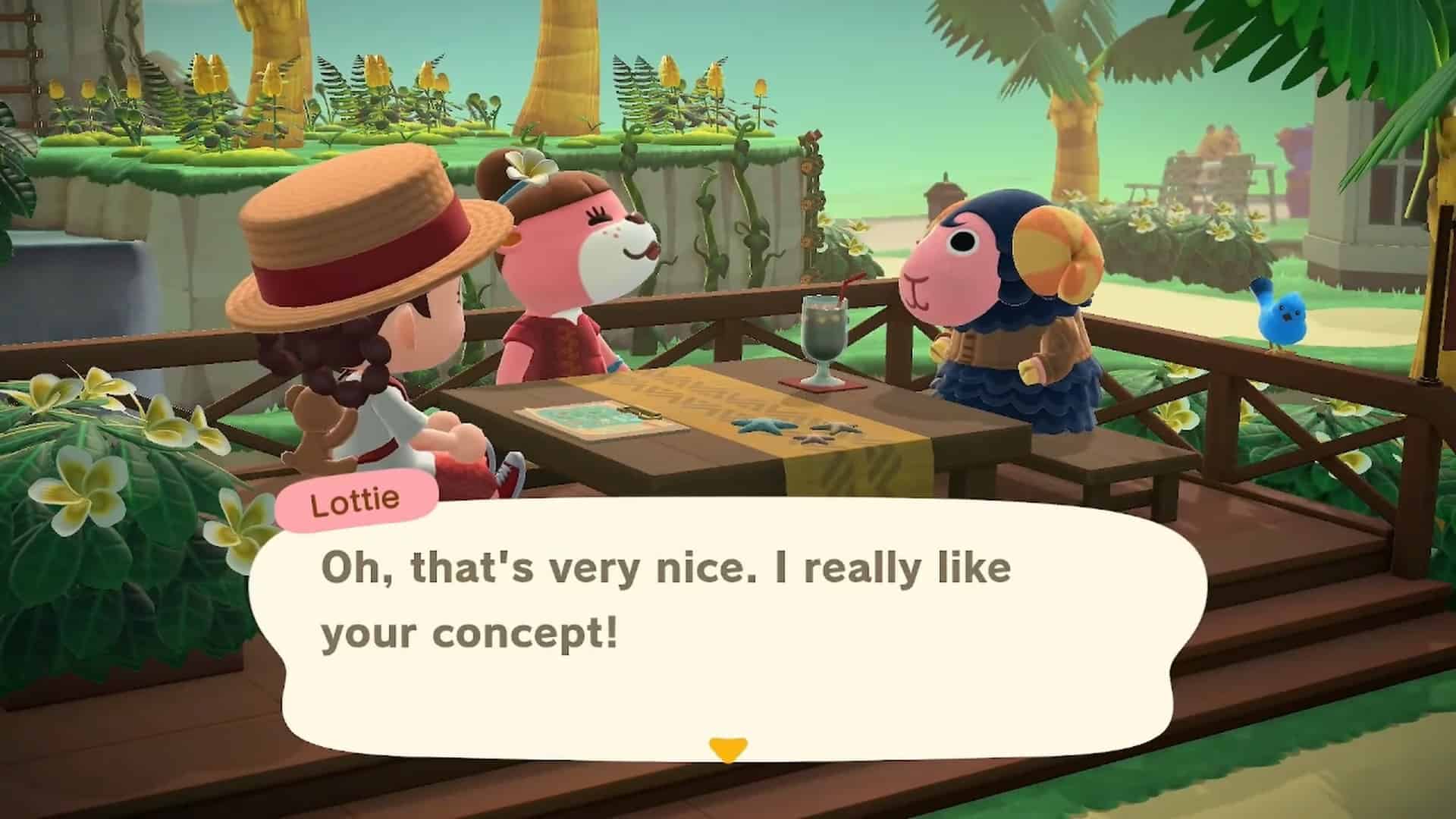 How to Design Eunice's Vacation Home
In HHP, Eunice wants a vacation home that is warm and comfy in the middle of winter.
Eunice's Exterior Design
I recommend placing furniture used to warm someone up in the cold outside. The bonfire and campfire are great examples of such furniture items, and you only need to craft them. Campfire cookware is also a good addition if you want a kitchen set outside.
Outdoor folding chairs and tables are perfect, paired with a fire pit. A good arrangement would be two chairs and a table in the middle, along with a fire pit in front.
Another great addition would be a heated bathtub on a winter night, and a furniture item for it would be the kettle bathtub or oil-barrel bathtub. The former is more sophisticated, while the latter is more primitive, so choose whichever fits your desired motif.
Similarly, an outdoor bath might work in this white wonderland; it will look like a heated onsen in a Japanese winter.
Eunice's Interior Design
For the wallpaper, I recommend the wooden cabin wall because it will make Eunice's vacation home look like a heated cabin amidst the frosty season.
Next, if you want to pair it with a stone floor, I recommend slate flooring or brown-brick flooring. If you want wood, you can try dark-block flooring, dark herringbone flooring, or common flooring.
Because of the wall's aesthetic, furniture pieces made of logs will work wonders. I recommend log dining tables, benches, decorative shelves, beds, sofas, chairs, and stools.
A rocking chair will fit great with this item. Try to match it with your other furniture, i.e., if you are using dark wood for other things, use dark wood for the rocking chair.
A pot rack on the wall nearby will help accentuate the kitchen. Food dishes will work well, especially if they are piping hot.
For the living room, I recommend adding the kotatsu. A fireplace will also work. If you decide to include one, make sure to decorate the surrounding. Firewood and plants will be great additions to make it authentic. For the walls, I think the cuckoo clock and deer decoration will fit well with the overall motif.
Eunice in Pocket Camp
Eunice came to Pocket Camp late but still beloved. The developers added her back on January 31, 2022, as part of Blathers' Treasure Trek. In other words, you can get her by completing the challenges on her map. Eunice prefers the rustic theme, and his main reward is paper.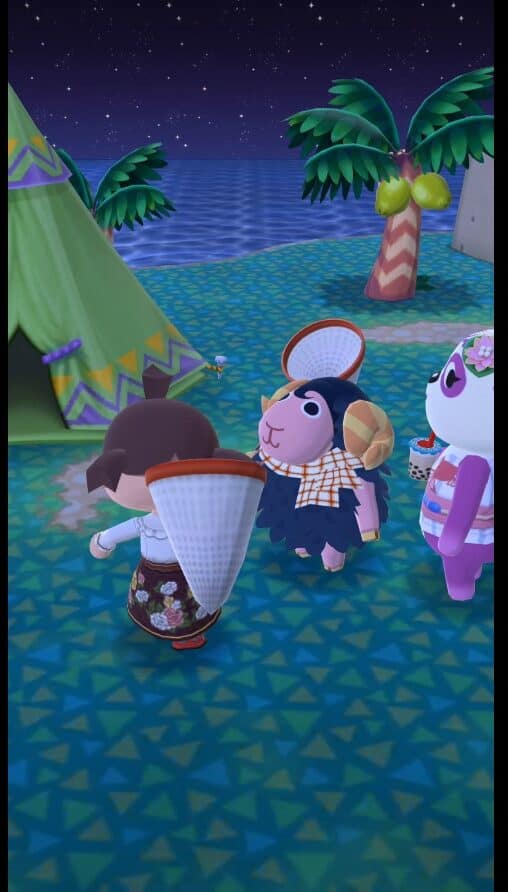 Eunice's Friendship Gifts
At Lv. 7, you will receive one Red-Grid Tee and one Sparkle Stone
At Lv. 9, you will receive one Sparkle Stone
At Lv. 15, you will receive a crafting request for the Automatic Washer
At level 20, you will receive Eunice's Pic and one Sparkle Stone
At Lv. 25-65, you'll get one Sparkle Stone every five levels
Eunice's e-Reader Card
Eunice's e-Reader Card has three backgrounds split vertically. The left background is orange, the middle one is green with numerous light-green triangular patterns, and the right one is sky blue. Eunice is facing to the left (i.e., her right) with her arms spread wide. She is wearing a red grid shirt.
On the card's bottom-left corner is a sheep symbol, and the bottom-right corner is her card number, #073. The back is white with text boxes having the same backgrounds as the front. Her star sign is written here (Aries), as well as her clothes, pet phrase, and profile.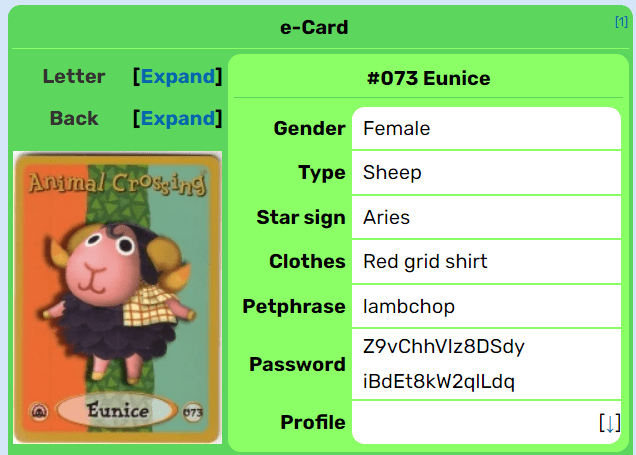 Eunice's Amiibo Card
Eunice's e-Reader Card has a pink background with different kinds of symbols. On the top-left is a symbol of a sheep, and below it is a die with a face value of two. In the top-right corner, you can see her card number (#081), and below it is a symbol of a hand in the formation of a rock.
Eunice is now facing right, and she is placing her hands on her face like a shocked person. However, her face is still smiling. She is slightly raising her left leg. There is info about Eunice at the bottom, i.e., her name, birthday, and star sign.
Fun Facts about Eunice
Despite her pleasant appearance, Eunice is somewhat of an enigma. She looks plain, but who in their right mind calls their friend a piece of sheep meat? If you want to know some interesting facts about Eunice, you have come to the right place.
Eunice's name may be composed of a pun. A female sheep is called a ewe, which has a similar pronunciation as Eunice's first syllable.
Out of 14 sheep villagers, Eunice is part of the four with normal personalities alongside Étoile, Stella, and Vesta. This personality has the most sheep villagers.
Only Eunice and Étoile are sheep whose name starts with the letter 'E,' and they are both normal villagers.
Eunice is part of the five sheep villagers who celebrate their birthdays in April; the rest are Cashmere (April 2), Pietro (April 19), Stella (April 9), and Vesta (April 16).
Eunice shares the same star sign (Aries) with five other villagers, i.e., all the sheep born in April, and Baabara, whose birthday is on March 28.
Eunice is the only sheep villager who is present in all mainline games except for Wild World. However, there are four other normal villagers with the same conditions: Jambette the frog, Midge the bird, Peaches the horse, and Sydney, the koala.
Eunice is part of the 11 female sheep villagers, which constitutes 78.57% of the sheep population in New Horizons.
Eunice is part of the six normal villagers born in April, alongside Ava the chicken, Bertha the hippo, Melba the koala, Stella, and Vesta. They constitute 9.5% of the normal villager population in New Horizons.
Eunice is part of the eight normal villagers with the Aries star sign. They are Celia the eagle, Fauna the deer, Lolly the cat, Skye the wolf, Melba, Stella, and Vesta. They constitute 12.7% of the normal population and 23.5% of the Aries population in New Horizons.
Eunice is the only sheep villager who likes beige and orange. However, Stella and snooty Cashmere like beige, while Vesta likes orange.
Eunice is the only sheep who likes simple and elegant styles. However, smug Pietro, Stella, and Vesta like the simple style, while snooty Baabara, Cashmere, big sister Muffy, and snooty Timbra like the elegant style.
Eunice is the only normal villager who likes beige and orange.
Eunice is not the only normal villager who likes simple and elegant styles; others include Bettina and Dora the mice, Kitt the kangaroo, Nan the goat, and Sally the squirrel.
Eunice is part of the 11 normal villagers who like beige and one of the three normal villagers who like orange.
Eunice is part of the 33 normal villagers who like the simple style and one of the 24 normal villagers who like the elegant style.

Frequently Answered Questions
Question: What should I gift Eunice in ACNH?
Answer: Eunice likes simple and elegant clothes that are beige and orange. I recommend giving her the beige career jacket, which costs 1,600 Bells, the camel checkered muffler, which costs 1,440 Bells, or the beige collarless coat, which costs 2,000 Bells. If you want to give her furniture, buy beige or orange ones.
Question: What are Eunice's favorite colors in ACNH?
Answer: Eunice's favorite colors in ACNH are beige and orange. Giving her furniture or clothes of these colors will make her happy. You can give her clothes in different colors but make sure they are of simple or elegant styles.
Question: Is Eunice rare in ACNH?
Answer: Eunice is not a very rare villager in ACNH, but she still deserves to be a beloved one. She shares a normal personality with other sheep villagers, and there are other sheep or normal villagers with similar star signs or birth months. However, her taste in colors is unique among normal or sheep villagers.
Conclusion: Is Eunice a Good Villager?
I think Eunice is a good villager because of her simple charm and beauty. Her wool looks so welcoming and huggable. Her catchphrase is a bit bizarre, but I love how morbidly hilarious it is. If you are not a fan of her catchphrase, do not worry; you can change it when you become close friends with her.
Her personality is also refreshing. She is a genuinely nice villager who tries to befriend everyone she meets, no matter who they are. Her being a sheep also helps with the image since sheep are known to be gentle creatures. If you want to hug her, you are not alone! Many people have loved her since the start.
She will be a great addition to your island. If you have themed islands, she would fit perfectly on islands with a blue theme. Other villagers with a navy-blue motif include Ace the jock bird, Axel the jock elephant, Boris the cranky pig, Derwin the lazy duck, Groucho the cranky bear, and Hugh the lazy pig.
Looking for more interesting readings? Check out:
Latest posts by Arthur Monteclar
(see all)