Your Campsite is one of the most important buildings in Animal Crossing, if it can be called a building. But it quickly has the most potential for decoration, terraforming, and bringing your aesthetic into the game. I had my Halloween-inspired campsite in the middle of a witches' coven for the longest time before changing, again and again, to show all my fantastic and creative ideas. Some people try to match their campsite to their favorite islander, and some want it to be on the peak of their island, surrounded by flowers and fences. 
What is a Campsite?
A campsite is a wooden platform decorated with a banner, a few split logs, a portable lantern, and a cooler. Your campsite occasionally hosts a visitor to your island! When you have a visitor (which Isabelle may or may not announce, depending on the content of her morning announcement that day), the platform is filled with a hooped canvas tent lit from inside. There's nothing like running to your campsite to knock at the canvas door, flap, head in, and see who wants to move onto your island. The wait while you head in is almost unbearable. So will it be someone you cannot imagine on your island whatsoever? Or your dream islander (I'm looking at you, Raymond!). 
Bottom Line Up Front
The campsite doesn't have to be a tucked-away building all on its own, but a space for creativity and coziness. Utilizing every space and structure you have makes for a unique and beautiful island. Even if you don't use any of these ideas, I hope it inspires you to upgrade your campsite to new levels.
Selection Criteria
One look at Pinterest, and you'll know that there are countless ways to design on your island, including your campsite. When it comes to creating a welcoming space for visitors, here are my selection criteria for inspiration ideas for designing the area around your campsite:
Decorating with a mix of DIY recipe items, items that can grow on your island, and items you can purchase or that drop from the sky

An aesthetic that I want to either complement my island decorating theme or that gives me options for displaying seasonal items

Can use variable amounts of space (and know that you can relocate the campsite by discussing the move with Tom Nook, paying $10,000 bells, picking a new location,  and waiting overnight)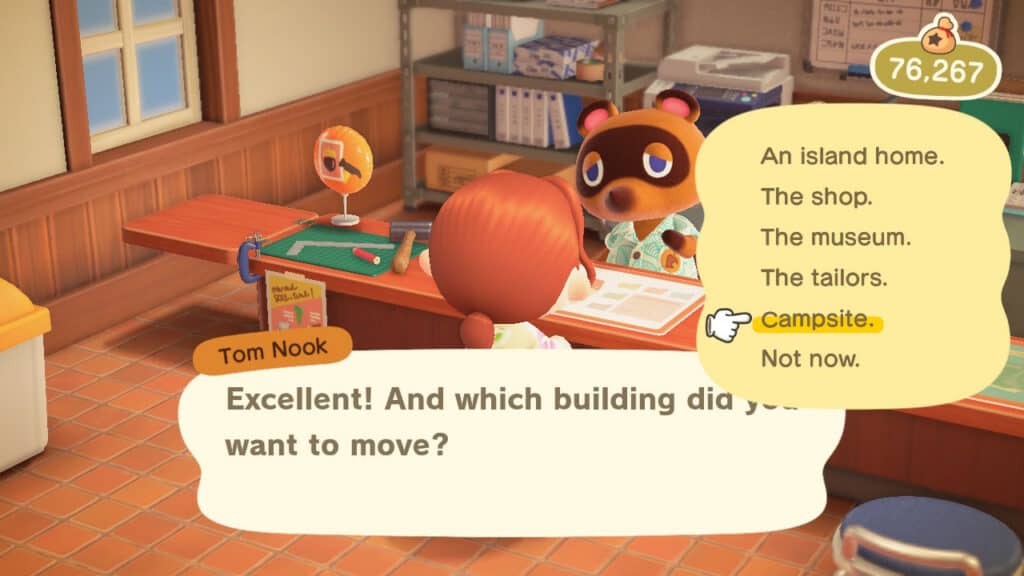 I'm pretty proud of this list, so let's get started.
Nature-Inspired Animal Crossing Campsite Ideas
Fruity Favorites
If you've collected all of the fruit and have a decent amount of DIY recipes, a fruit campsite can be charming. Mixing and matching fruit decorations give the campsite a tropical vacation vibe. If you want to go a step further, making your campsite near the beach and creating a juice bar will enhance the relaxing atmosphere. Adding some of the food recipes is a great touch. We all know that orange juice is a great way to start the day.
Suggested Items
Orange/Peach/Pear Smoothie (DIY)

Apple/Orange End Table

(DIY)

Peach Surprise Box (DIY)

Peach Chair (DIY)

Pear Bed (DIY)

Pear Wardrobe (DIY)

Fruit Basket (DIY)

Infused Water Dispenser (DIY)
Farmlands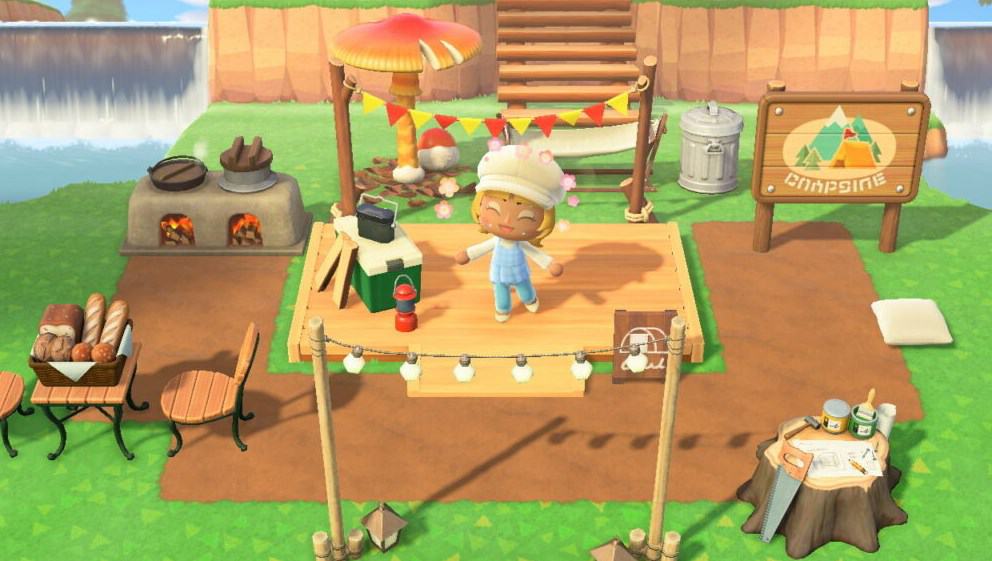 With the addition of crops to the game, the idea of having a whole island filled with fresh foods is quite delicious. A little fenced-in farm with your campsite can be a smaller solution to using all of your free space. 
This idea is to transform your actual campsite building into a unique site. Placing beehives around it and adding a few trees can make it feel like a beekeeper's dream. If you add fencing and hay, it can look like a barn or chicken coop. Be sure to add a garden spot for ease of watering, as well as your watering can. Add a potting bench, a pitcher of water, and some plants to show you're serious about growing crops. You can also make the campsite just as cozy as it feels by adding lights, rows of your favorite crop, and a relaxing chair.
Suggested Items
Box-shaped Seat (DIY)

Project Table (DIY)

Barrel (DIY)

Sideways Pirate Barrel

Bonsai Shelf

Classic Pitcher (DIY)

Water Pump (DIY)

Garden Faucet

Hay Bed

(DIY)

Veggie Basket (DIY)

Beekeeper's Hive (DIY)

Garden Wagon (DIY)

Crops

Trees

Birdhouse

Watering Can (DIY)

Wooden Bucket (DIY)

Wooden Storage Shed (DIY)

Fencing of your choice
Bamboo Zen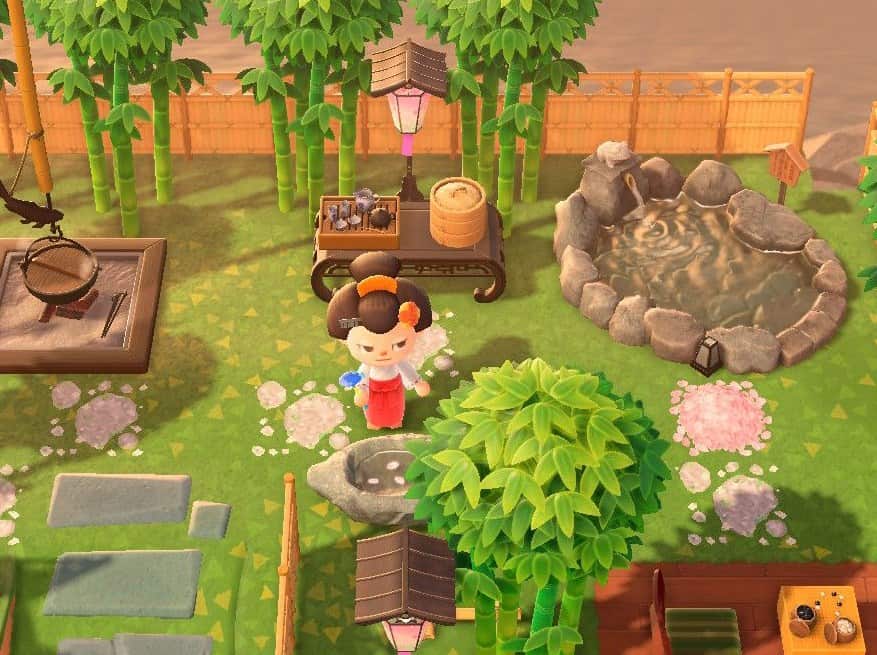 This is quite a relaxing idea for your campsite. There are many bamboo DIYs, so creating a bamboo grove in front of your campsite is easy and refreshing—and can provide you with more harvestable bamboo for crafting. With a little bit of terraforming, you can have waterfalls cascading behind, with calming ponds and trees with pears, matching the green of the bamboo. It can be changed slightly for winter when natural growing bamboo is blue-white. Also, it would be pretty calming to fish outside a glowing tent, water rushing behind you.
Suggested Items
Bamboo Speakers (DIY)

Bamboo Candleholder (DIY)

Bamboo Stool

(DIY)

Bamboo Floor Lamp (DIY)

Bamboo Bench (DIY)

Hearth (DIY)

Bamboo Noodle Slide (DIY)

Pond Stone (DIY)

Outdoor Bath (DIY)

Pile of Zen Cushions (DIY)
Treehouse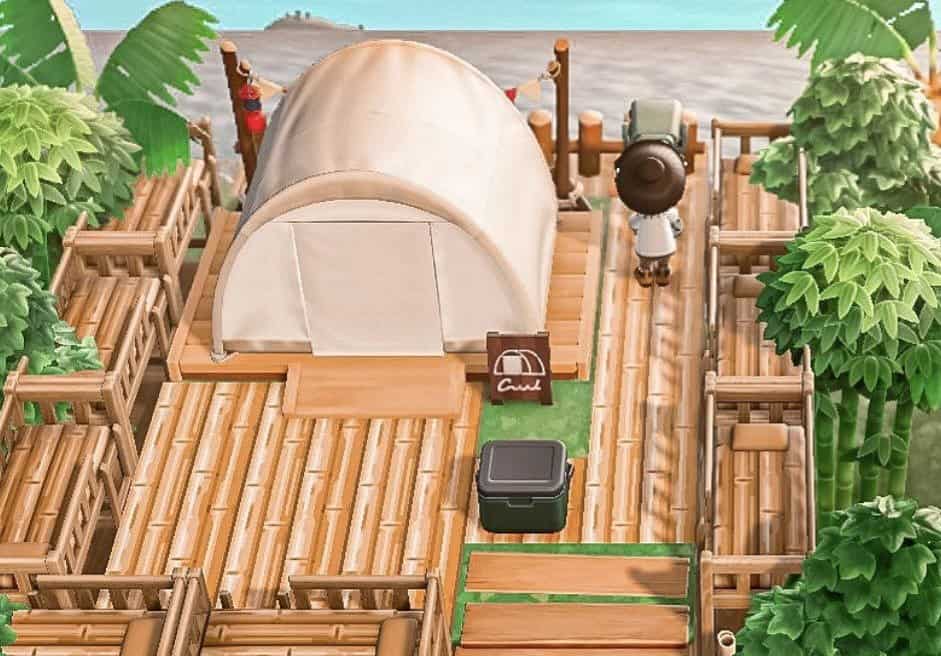 The most complex of the bunch requires a bit of terraforming, time, and perspective. 
Put your campsite building on a higher level, covering the cliff with vines, moss, or custom panels to hide the cliff itself, making an illusion of it floating in a tree—kudos for putting a tree behind the campsite and adding to the visuals. Inclines and ladders make the aesthetic come to life. Having a garden nearby also animates the scene with woodsy goodness. The Treehouse plan covers reality and creates a new one with our items. It's trippy to see a treehouse in Animal Crossing, as it can look quite authentic.
Suggested Items
Vine Ladders

Mossy Rock (DIY)

Garden Cart (DIY)

Panels (customized)

Butterfly Models

Mushroom Items (DIY)

Trees (of course!)

Log Stools (DIY)

Brick Well (DIY)

Plants and Bushes
Pop Culture-Inspired Animal Crossing Campsite Ideas
Medieval
Inspired by Game of Thrones or The Witcher, there are plenty of medieval or medieval-inspired items in the game. A great idea is to bling your campsite out to make it look like a castle, a war camp, or simply showcase the beauty and hospitality of the medieval ages. 
This takes a lot of iron and gold, as armor is crucial in taking you back in time. Remember how vital fire was back then, and utilize tiki torches and campfires for a gorgeous nighttime effect. There are also flags, tents with the illusion of more knights, helmets that can perch on tables for display, hammocks for resting spaces, and even a peachy crown fit for a ruler.
Suggested Items
Damaged Castle Walls, Gate, and Tower 

Waterfalls and Double Ramp

Tiki Torches (DIY)

Plate Armor (DIY)

Golden Candlestick (DIY)

Golden Rose 

Checkout Counter

Campfire (DIY)

Pennants

Knight's Helmet (DIY)

Double-edged Sword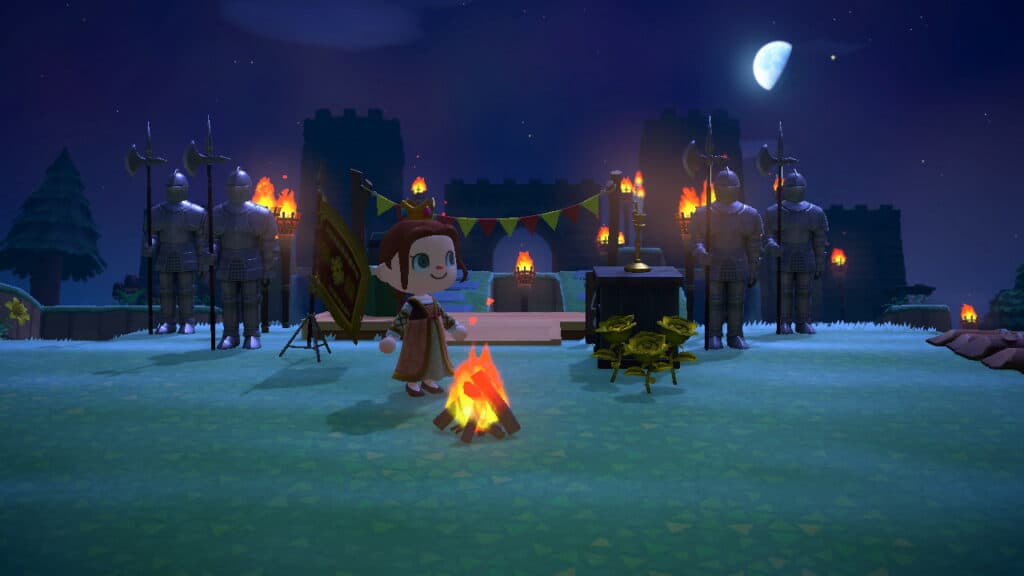 Café
Like a day at a café, you can make your campsite just as cozy outside. A café is a staple in any town, so why not put it on an island? It's the first impression your new islander will see, and while Brewster might have his little place, you can't customize it. 
My favorite island café ideas are color-themed. So only pink, or orange, or pink and orange. It will take a lot of customization kits and time, but it's incredibly aesthetically pleasing when it's finished.
This is the most versatile campsite idea on the list because you can use just about anything. Let your imagination run wild! It doesn't need to be a traditional café (or even the Central Perk!) You can make a winery or library with a tiny coffee corner. I've tried everything, giving it a rustic vibe that'll level up your café and campsite.
Suggested Items
Menu chalkboard

Coffee Beans

Pro Coffee Grinder

Coffee Grinder

Espresso Machine

Siphon

Stovetop Espresso Maker

Cream and Sugar

Coffee Cup

Coffee Mug

Tea Set

Tiny Library

(DIY)

Natural Garden Chair (DIY)

Natural Square Table (DIY)

Orange Double Sofa 

Street Piano

(DIY)
Creative or Playful Animal Crossing Campsite Ideas
Art Studio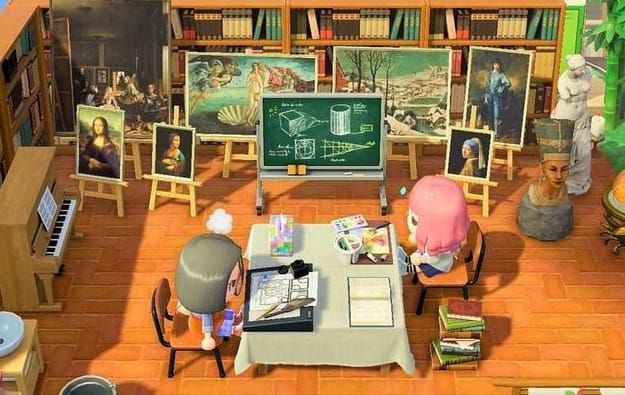 This one might be harder and require more creativity than the average campsite design, but it's worth it. For artists, sometimes it can be hard to find an outlet. So when the studio I went to closed for a while, I felt comfort in making my little art studio inside my fantasy island…and I know others feel the same. 
I recommend a mixed media art studio, including paintings, wood stools with pots for pottery wheels, a brick oven as a kiln, and art supplies lying around. You can do so much more, depending on your artistic leanings. 
Suggested Items
Pot (DIY)

Brick Oven (DIY)

Clay Furnace

(DIY)

Painting Set

Bookshelves

Open Wood Shelves (DIY)

Paintings and Statues (Redd)

Trash Can

Pitcher (DIY)

Wooden Stool (DIY)

Ironwood Cupboard (DIY)

Clay
Midnight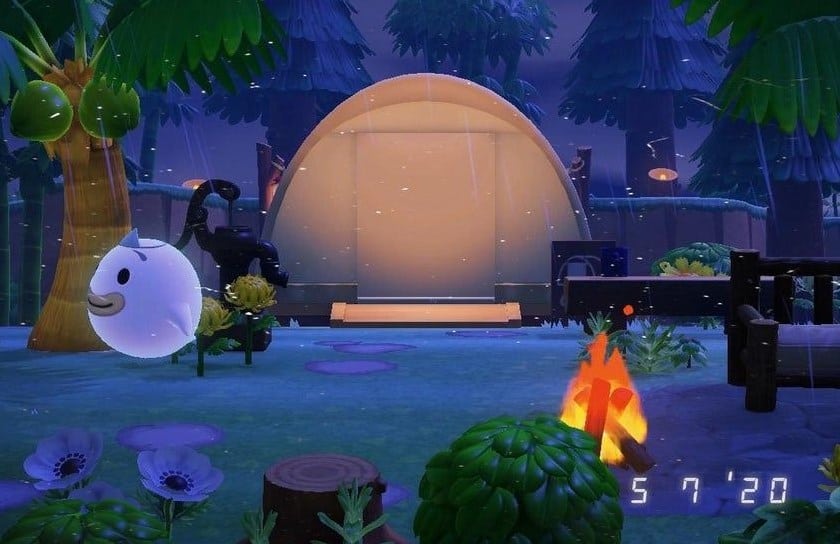 If you're an avid star DIY collector, this campsite idea is for you.
A river path leads to a magical starry night…
The great thing about this is that you can take two excellent routes: a starship landing from space or a night surrounded by stars. 
Star fragments are sometimes hard to come across, only found the day after a meteor shower, where you made a wish on a shooting star(s). Getting all the star DIYs can be even more challenging (thanks, Celeste!), so this is a long-term campsite customization plan. But once you're rich, fill the spot around your campsite with star chairs and golden zodiac items. They're all beautiful items on their own, but they make for an extraordinary sight as a collection. Some of these items can be customized.
Suggested Items
Star Fragments

Flying Saucer

(DIY)

Golden Zodiac Items (DIY)

Crescent Moon Chair (DIY)

Nova Light (DIY)

Rocket (DIY)

Lunar Landar (DIY)

Lunar Rover (DIY)

Moon (DIY)
Playground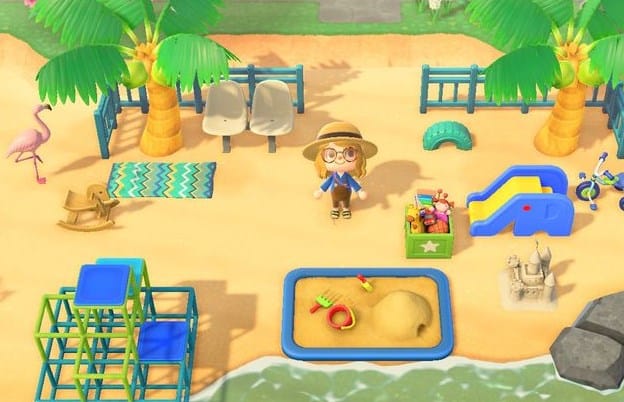 If you want a playful option, this has to be #1. You can place it by the beach for more of a "playdate near the ocean" vibe, create a sporting area, or fashion a classic grassy playground with toys and flowers all about. The key is to make it look natural, nothing too close or too far, as some playground items can interact with islanders. It will bring out the playful, inner child in everyone on the island.
Suggested Items
Beach Ball

Sand Castle

Plastic Pool

Elephant Slide

Resetti Model

Ring Toss (DIY)

Boomerang (DIY)

Playground Gym

Swinging Bench (DIY)

Basketball Hoop

Basketball

Baby Chair

Hammock

Street Organ

Drinking Fountain (DIY)
My Best of the Best Animal Crossing Campsite Idea
Horror Campsite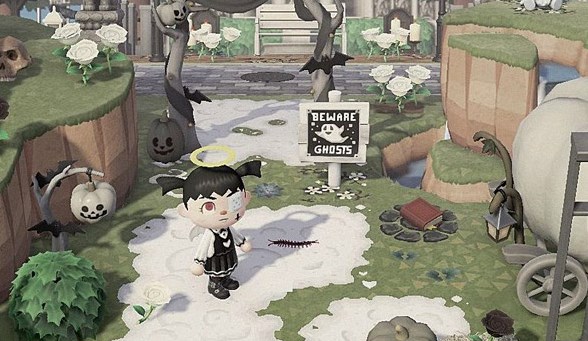 This is probably one of the easiest if you've collected all of the spooky items in the game. Horror is a vast genre, so your campsite can be a simple Halloween theme, with jack-o-lanterns, trees, and candles. You can even place a table next to the campsite entrance with candy, perfect for trick or treating.
You could also use items outside of game holiday events, such as Halloween. Customizing items to be black or gray makes a fantastic backdrop to the spooky campsite. For example, iron sets, wood chairs with black cushions, a skeleton or two…the kettle bathtub makes a perfect cauldron. 
Suggested Items
Skeleton

Kettle Bathtub

(DIY)

Scarecrow (DIY)

Throwback Container

Fortune-telling Set




Western-style Stone (DIY)

Stone Tablet (DIY)

Stone Fence (DIY)

Spooky Arch

(DIY)

Spooky Lantern (DIY)

Lab Experiments Set

Antique Console Table

Throwback Gothic Mirror

Horned Ogre Mask
FAQ
Question: How do you get a Campsite?
Answer: You can unlock the ability to build the campsite by upgrading your Resident Services building from the original Nook tent to an actual building. It can be achieved by paying Tom Nook the debt you owe from getting to the island, fulfilling tasks set by Tom Nook's two kids (Timmy and Tommy), building a bridge, and getting three islanders to move to your island by crafting items. 
Once you get to the Resident Services building (note: it will be closed for a day while being built), talk with Tom Nook. He will talk a LOT about his favorite musician, K.K. Slider, but also give you a recipe for a campsite! 
Gather the materials required for the recipe: 15 wood, 15 softwood, 15 hardwood, and 15 iron nuggets. If you don't have a workbench yet, use the one right near where you talk to Tom Nook at his counter. 
Craft it, and then choose where you'd like your campsite placed on your island on your island. Then talk with Tom Nook again, and he'll make you wait the rest of the day for the campsite to be built. It's so exciting!!
Question: How do you Invite a Visitor to Move to your Island?
Answer: You've headed into the tent and been pleasantly surprised! Of course, you'd like to ask this visitor to move to your island! But how? Talk with them! Some play hard to get, and some are pretty eager to move to the island. 
If you have space on your island, keep talking with the islander and ask them to move in! They will double-check to be sure you want to invite them. Some islanders request that you play a card game with them. The answer is entirely random, FYI, so just keep trying.
If your island already has ten islanders, the visitor will randomly pick one islander that may be leaving. If you don't want that particular islander to go, don't pursue this further.
The key to success in inviting a islander is persistence! Keep talking, being welcoming and friendly.
Question: Can I Use an Amiibo Card to Invite a Specific Islander?
Answer: Yes! They will visit three separate times (you must invite them each time) and ask you for a craftable item. Make the item and bring it back to them. They will then ask you who you'd like to replace for them to move in. It can be an excellent option for when you want to get rid of a specific islander quickly. 
This is a Great Start to Inspire your Campsite Journey! 
You can decorate the area around your campsite to fit your island aesthetic, create a welcoming atmosphere for potential islanders, and take advantage of the ability to illustrate an often underrated space. It might be easy to forget the campsite as a whole when you never get the islander you want, but it can be so much more than a little building that's rarely used. ANCH is all about decorating and using up every space you have, but it's also about the friendships you have with your islanders, and what better than to create the best first impression with a cozy campsite, made for the islanders you'll love.
Continue reading:
A Guide to All the Dog Villagers in Animal Crossing: New Horizons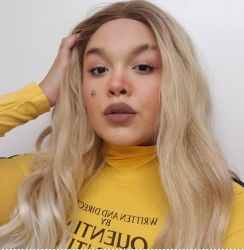 Latest posts by Lillie Forteau
(see all)