One of the brilliant aspects of Animal Crossing New Horizons that sets it apart from earlier Animal Crossing games is the immense amount of freedom for outdoor decoration. With hundreds of furniture options in dozens of colors and aesthetics, there are near-infinite possibilities to decorate your island. Even when you have an idea of what you want it can be hard to decide where to start on such a large empty island. When overwhelmed by choice it can help to narrow the perspective. Why not start your decoration by surrounding something on your island you can't change to make sure it's uniquely yours? The way you surround your buildings can say a lot about you ad your island. Shops and the museum are landmarks of every island that visitors will gravitate toward. So let's discuss some ideas to make sure your visitors admire your island.
The Museum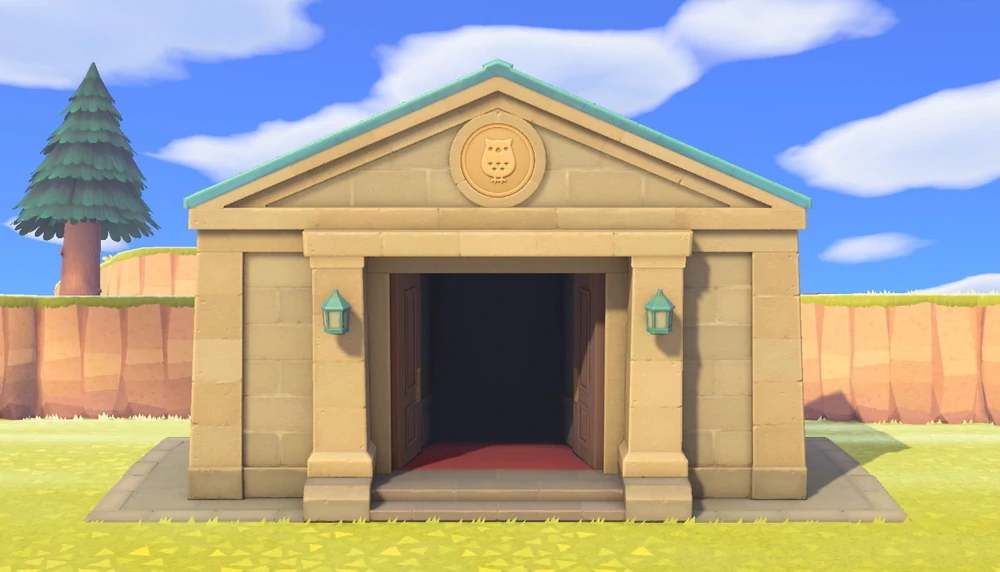 It may just be that I have a soft spot for museums in real life, or that I'm a huge nerd that wants to exist in rooms filled with fascinating information, but the museum is by far my favorite building in Animal Crossing. When I was young and played Wild World I spent most of my time either in the museum or hunting bugs, fish, fossils, and art to fill it up.
Now not much has changed since then. The museum in New Horizons is breathtaking both inside and out. I've placed it in the center of my island and put the utmost care into decorating it. Even if you don't have the same soft spot for your museum as I have for mine it is undeniable that the historical building commands a lot of attention and requires an environment to match.
Ideas that Showcase What's in the Museum
My favor to decorate the museum is to have the outside be just as much of an educational exhibit as the inside. This makes it feel like the museum is a beacon of learning and information. I'm sure that Blather's would appreciate most of these ideas as well.
The Dig Site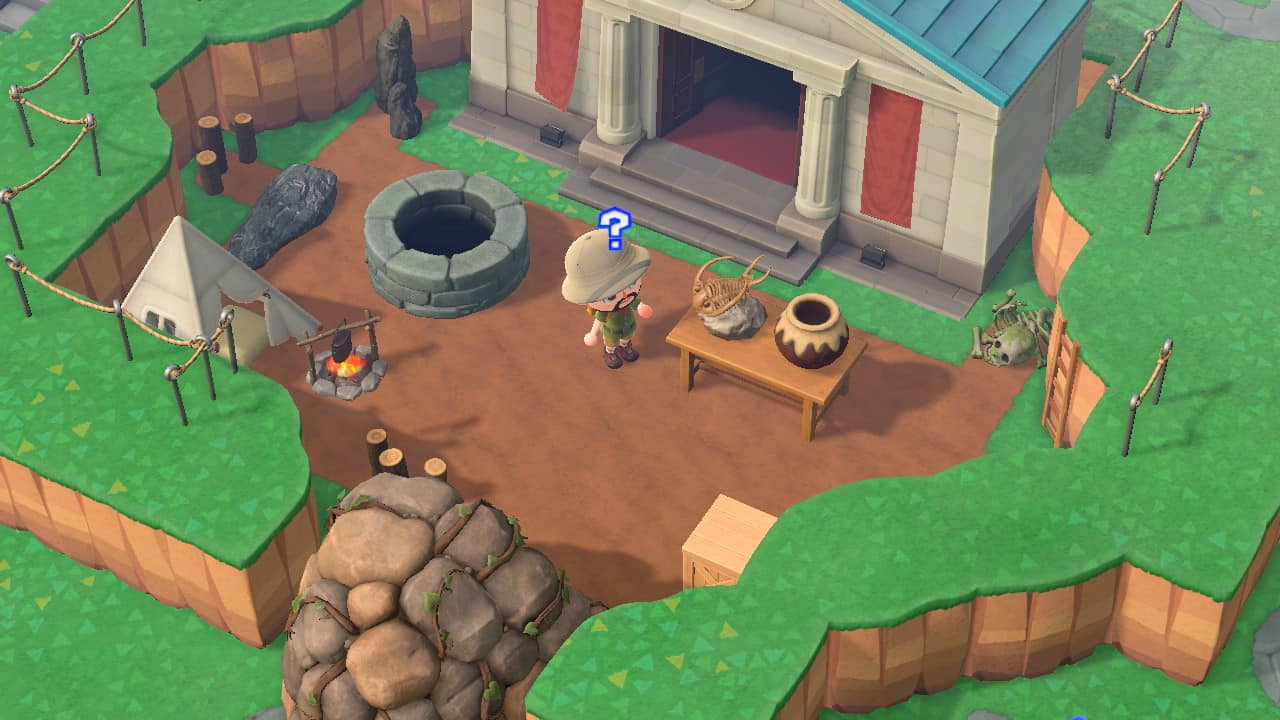 Why not make put your museum somewhere that looks like it's actively discovering something new? This idea focuses on the fossils found buried around your island and in the basement of the museum. It's an excellent excuse to use old or dirty-looking items that may not match other parts of your island.
Suggested Items
Creepy Skeleton
Pot
Wooden Box
Kid's Tent (white)
Simple Well
Campfire Cookware
Shovel
Rope Fence
Cave
Flat Garden Rock
Handcart
Log Stakes
Project Table
Place some of your favorite fossils, finished or unfinished, around the edges of your archeological camp to make it look like they've made some progress in their search. This idea probably requires the most terraforming as freshly dug earth is essential to the theme. I'd suggest surrounding your museum with cliffs and paving the ground with dirt, dark dirt, or sand. Utilize rounded corners and some random shapes to make the area look natural and avoid uniformity.
The Statue Garden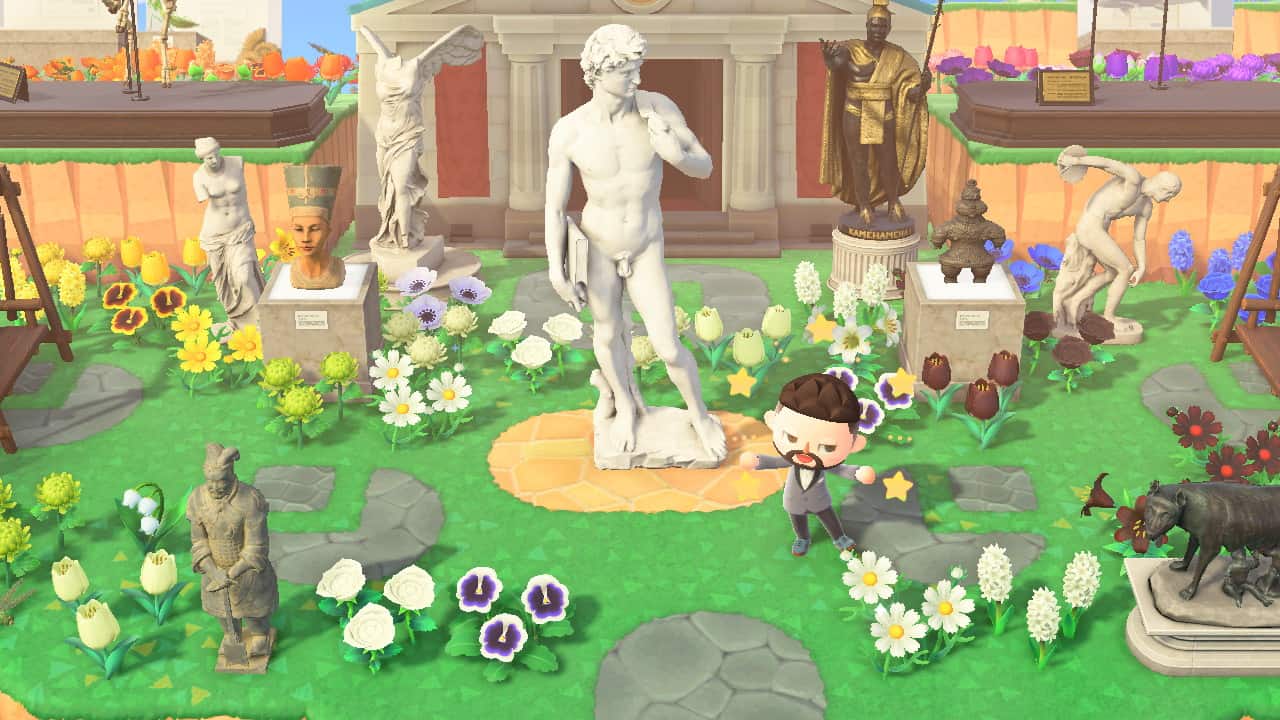 With its stone exterior, colorful banners, and grand columns, the museum is a work of art. One way to decorate it would be to surround it with even more art! This idea focuses on the lovely gallery housed on the top floor of the museum. It'll make an excellent area to take peaceful art and see some art enhanced by the beauty of nature.
Suggested Items
Beautiful Statue
Familiar Statue
Gallant Statue
Great Statue
Mystic Statue
Robust Statue
Display Stand
Garden Bench
Birdbath
Flower Bed
You may have to make some shady deals with Redd to get everything you want but it'll be well worth it to look at a marble statue, glinting in the sun and surrounded by greenery. At least with this collection, you don't need to worry about if the piece is fake or not. After you have your art collection you can surround them with some of your favorite greenery. You can choose your favorite flowers, shrubs, or trees to color the land around your museum. You can also use plant furniture if you want something more detailed or you just don't want to clean it up every time it rains.
The fun part about using flowers around your statues is the freedom of color. I have my garden arranged in a rainbow circle that includes every flower available in the game. You could include every color of one flower, every flower of one color, or create your palette through a unique mix. Using warm-colored flowers, like red, orange, and yellow, would match the museum's red banners and yellow owl sigil above the door. Cool colors, like blue, and purple, could tie the blue roof of the museum into the surroundings. White flowers could match the marble statues while black flowers could make them stand out from their surroundings.
Beyond the art and plants make sure your garden is a nice place to hang out. Include pathways to lead your visitors to the art and benches for them to rest and take in their surroundings. Add some street lights or use lighted display stands to make the museum just as breathtaking at night as it is during the day. If you choose to make the museum the head of the garden rather than the center you could circle your art around a fountain to make it all feel grand.
The Menagerie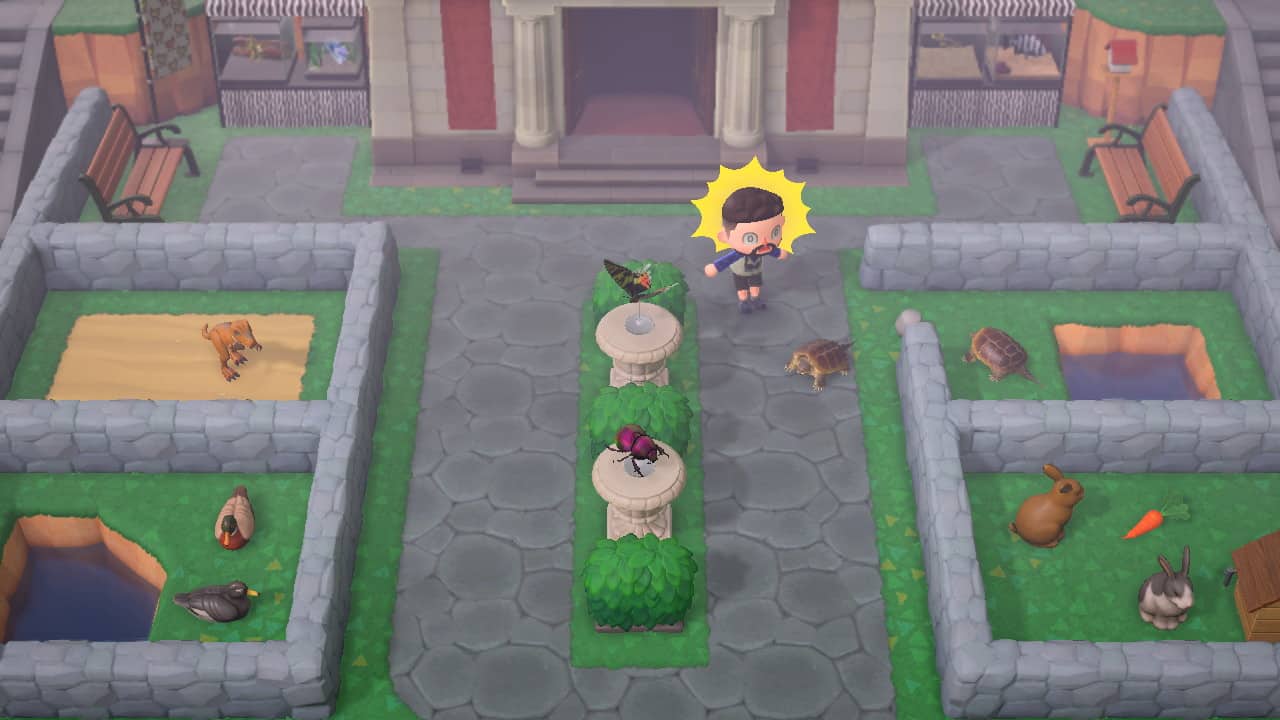 The two wings of the museum focus on the wildlife found on your island and this idea brings them into the spotlight. By using creatures you've caught or models you've commissioned from Flik you can make a sort of zoo around your museum. It will be a welcome spot for critters and visitors alike!
Suggested Items
Bug and Fish Models
Caught Fish and Bugs
Stall
Turkey Day Garden Stand
Birdhouse
Decoy Duck
Bunny Garden Decoration
There are a few different directions you can go with this theme. You can take the garden advice from the Statue Garden idea to make it look like a celebration of biodiversity where local critters can come to rest. If taking this path I would recommend using primarily bug models, though I would suspect Blathers may not be much of a fan of this idea.
The more unique direction would be to emulate a zoo. You can divide the area around the museum into enclosures with fences and decorate them with animals and their accessories: make a small pond to house some ducks, or plant some carrots to feed the bunnies. To utilize fish you've caught place their tanks in a stall to make an excellent outdoor aquarium. A few bugs and fish aren't confined to a typical cage or tank when placed and can make your zoo feel all the wilder. Snapping turtles, spider crabs, and horseshoe crabs aren't confined to tanks at all when placed. This gives a lot of creative freedom so you can create their very own enclosures or place them right outside a pen to stage an escape and give some story to your island.
NPC Themed Ideas
The Able Sisters have their tailor's shop and the Nooks have their cranny but other characters sometimes feel neglected since they don't have their own special space. One way to solve this is to make them a space yourself and some characters would fit right in hanging around the museum!
Blathers' Study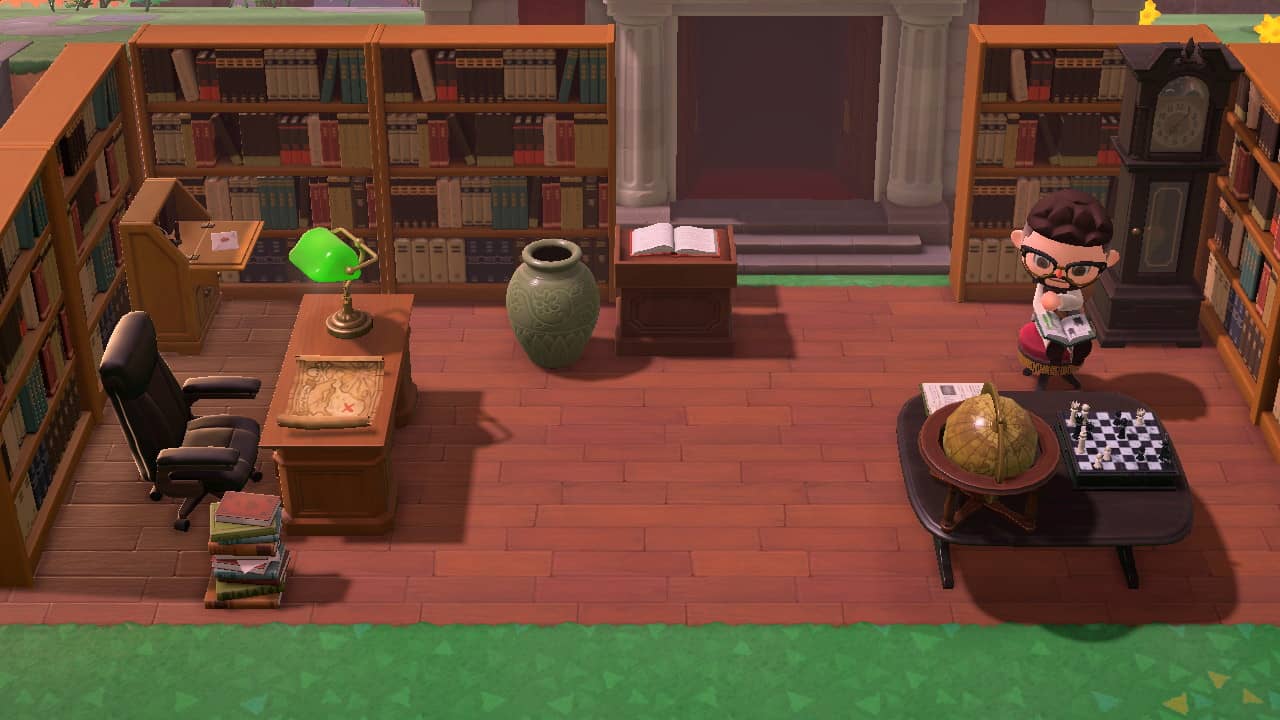 Unlike the other characters I include here Blathers does technically have his own space in the museum but he's either reading or sleeping in a large marble lobby. He doesn't have a well-decorated shop or any indication of a break room. This idea will give him his own cozy study space right outside his door!
Suggested Items
Wooden Bookshelf
Antique Bureau
Antique Map
Antique Table
Stack of Books
Chessboard
Cool Globe
Den Desk
Den Chair
Podium
Porcelain vase
Velvet Stool
Banker's Lamp
To achieve this study, pave an area in front of the museum with wooden or stone paths. Use bookshelves to create walls, maybe use plant partitions as the front wall so your work is easily visible. The antique furniture will make the area feel old, like the office of a university professor. Scattering the smaller pieces around can give the idea that Blathers has a lot of projects he is researching, but not in the most organized fashion. On the other hand, you could organize the pieces on neatly rowed tables to give the impression that Blathers is organized in his studies and might be preparing to share his findings.
Celeste's Observatory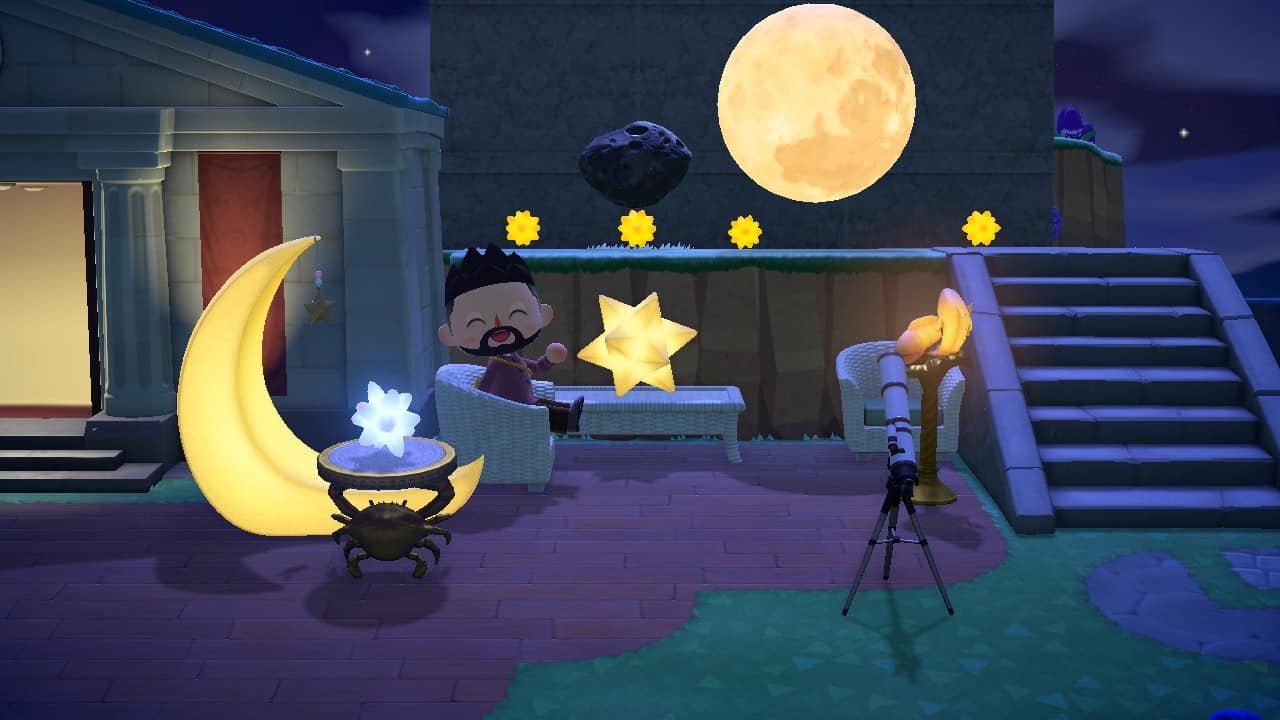 The number one thing I miss from Wild World is Celeste's cute, little observatory. At least in New Horizons, she can wander your island gazing at meteor showers instead of being stuck in a gift shop like in New Leaf. Yet I think she still deserves to have her special area. Making an observatory right outside the museum can keep brother and sister close either, yet close to their separate interests.
Suggested Items
Telescope
Moon
Crescent-Moon Chair
Nova Light
Pisces Lamp
Asteroid
Cancer Table
Rattan Low-table
Rattan Armchair
You can pave the ground beneath the observatory or leave it as grass to make it feel more natural. This build works well when you have your museum in a dark part of your island so the soft lights draw you in and add to the space theme. If you want it to feel more elegant you can add more furniture from the zodiac set. That will make it fancy and eye-catching. If you want the spot to feel cozier you can remove some of the more fantastical furniture and replace it with things like the outdoor folding chair to make it feel like a casual spot for star-gazing.
Gulliver's Collection
You get a lot of pretty cool furniture from Gulliver but they can often be hard to work into your island. If I don't have an Egyptian or desert-themed island where am I supposed to put a pyramid? Well, this idea can create a sort of cultural hub to show off the various places a certain clumsy sailor has visited.
Suggested Items
Furniture pieces gifted by Gulliver
Turkey Day Garden Stand
Hedge
This build is fairly simple and relies more on large attention-grabbing pieces than a more meticulous build with lots of details and bits. Simply surround the museum with your favorite gifts from Gulliver, place the small items on stone stools to make them look more presentable then use the hedges and wooden partitions to break the space up. The gazebo makes a great entrance into your museum of cultural wonders.
Ideas for Small Spaces
You only have so much space to work with on your island and there may be things you want more than a grand museum entrance. A small, simple space can be just as inviting or interesting as a large one. Here are some ideas for your museum if you want to conserve some space.
Gift Shop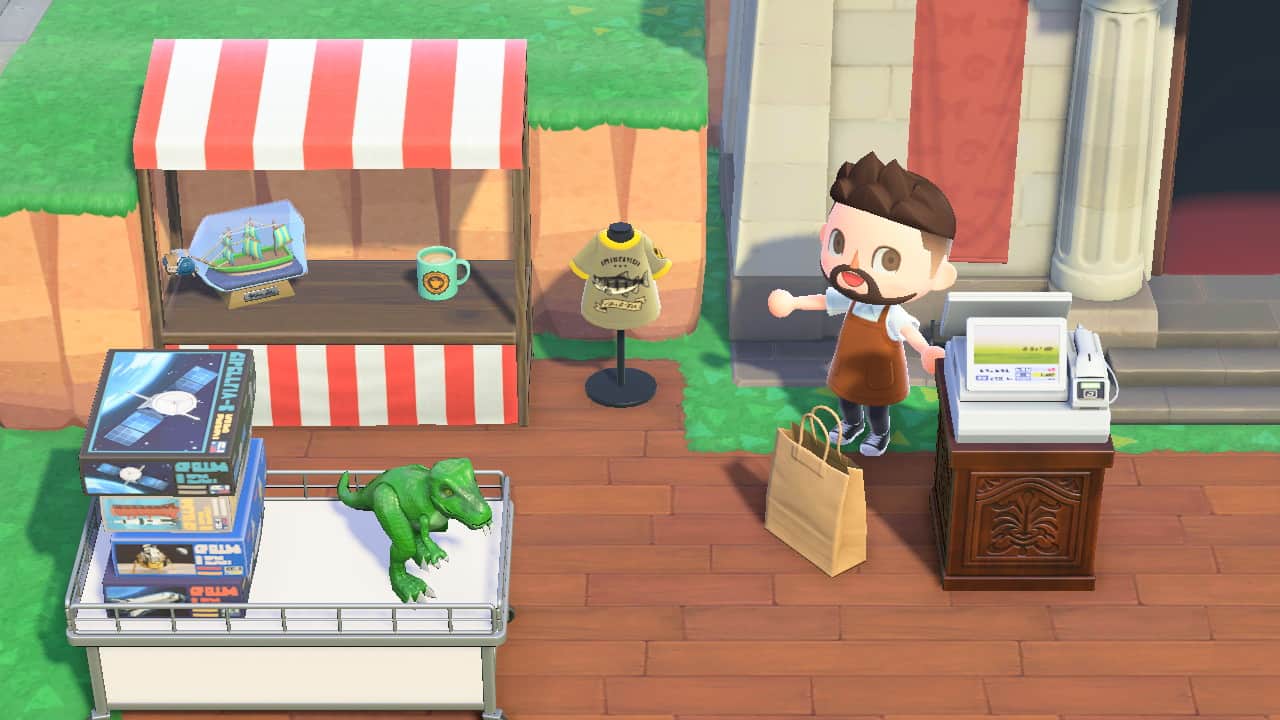 Nearly every museum has an enticing gift shop near the entrance full of oddly alluring treasures. In New Leaf, the museum held a gift shop on its upper floor for tools and museum-themed wallpaper and flooring. You can bring the idea back with your little collection to entice visitors.
Suggested Items
Stall
Merchandise Table
Checkout counter
Touchscreen Cash Register
Sturdy Paper Bag
This is the base furniture of your shop, a place to put merchandise and a place to buy it. You can add more stalls or tables for more merchandise depending on how much space you want to fill or the size of your gift inventory. There are plenty of things you can put in your gift shop, so I've given them their list.
Gift Ideas
Fossil: It can be identified or unidentified but either way, drop the item instead of placing it
Mug
Book
Dinosaur Toy
Pop-Up Book
Globe
Hourglass
Lucky Cat
Magic Kit
Model Kits
Newton's Cradle
Plasma Ball
Stacked Magazines
If you want to get even more personal with it you can use custom designs to spice up some of the above items, like the mug, or sell t-shirts and hats. You could either make your museum logo design or you could find one that's been shared online.
Cafe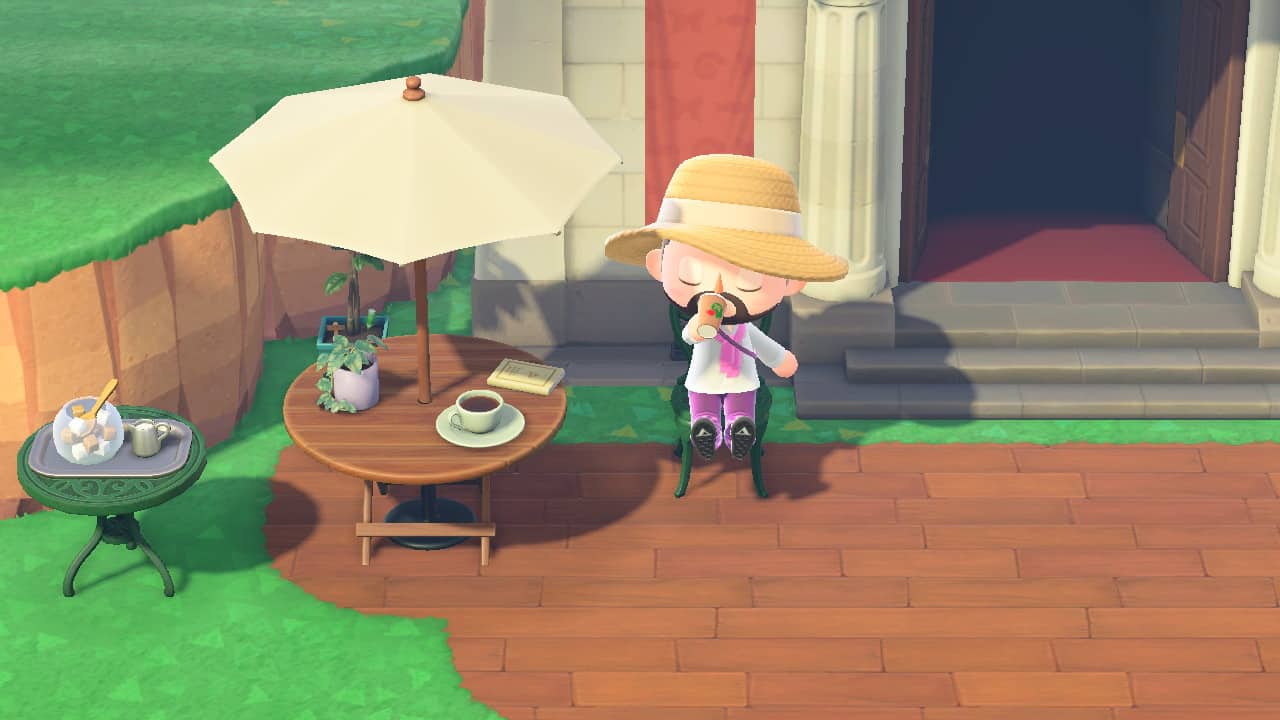 With the Roost housed inside the museum, this idea may seem a bit redundant. Consider, who doesn't love a cafe with both indoor and outdoor seating? You'd simply be adding on to the Roost and adding your flair.
Suggested Items
Bistro Table
Iron Garden Chair
Iron Garden Table
Cream and Sugar
Take-Out Coffee
Coffee Plant
There isn't much to this idea. The bare minimum to convey the idea is a table, chair, and something to drink. Even the above list is more than required.  Little spaces like this make your island feel like a place where you can hang out. Small spots for everyday activities make everything feel just a little more alive.
FAQs
Question: Is it Worth Donating to the Museum in Animal Crossing?
Answer: It depends on what aspects of the game you value the most. Since the museum is one of my favorite parts of the game I always prioritize it but if you aren't as interested in filling the museum that's up to you. Overall though, I wouldn't say donating to the museum is too much work. Completing it may take a lot of time, but if you donate the fish, bugs, art, and fossils you happen to collect while playing it will get pretty full.
Question: Does Blathers tell you When you Have all the Fossils?
Answer: Yes, when you complete any museum collection Blathers will congratulate you for your effort and thank you for your donations. If you are unsure of how close you are to completing your fossil collection, or any other collection, you can see how many empty spaces there are in the museum exhibit.
Question: How do you Keep Blathers' Tent?
Answer: If you like the aesthetic of the tent Blathers starts in then you have to refrain from donating anything to him. After fifteen donations the larger museum will be built and you'll lose the tent forever.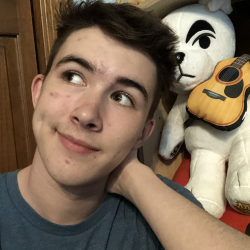 Latest posts by Mika Zans
(see all)