An Introduction to Fang
Fang is one of the original Villagers who appeared in the first Animal Crossing game and most games since (excluded only from Wild World)! Fang is a cranky villager, so he may not be the most pleasant to be around, but I love him nonetheless. Actually, he's my favorite cranky villager, due to his beautiful appearance. 
Fang has a mixed bag of what we know about him. While he's been in a lot of the franchise, he keeps to himself and doesn't reveal much information about himself. We know he has siblings and he's exceptionally grumpy if you try to wake him; in fact, his house will read: "I'm catching some Z's right now; wake me and REGRET IT." This waking-up mode is the same with all cranky villagers.
Fang's name in other countries isn't as diverse as, for example, with Molly. He's mostly known as Fang but in Germany, he goes by Grimm (what a reference to Grimm's tale of Little Red Riding Hood!).
Besides that, let's get into the technical stuff about our wonderful, lovable Fang!
General Facts about Fang
Gender: Male
Species: Wolf
Birthday: December 18th
Star sign: Sagittarius
First Appearance: Animal Crossing (appears in all but Wild World)
Personality: Cranky
Catchphrase: cha chomp
Skill: Mental math
Goal: Hairstylist
Early riser!
Fang's Preferences
Favorite songs: K.K. Faire, K.K. Calypso, K.K. D&B, K.K. Steppe (he's on the cover!), K.K. Chorinho
Default clothing: Snowy sweater or icy shirt
Default Umbrella: Bat and snow umbrella
Favorite clothing colors: Beige, white, and aqua
Favorite clothing styles: Official
Least favorite clothing styles: Cute
Favorite furniture colors: Brown
Favorite interior concepts: Classical, wooden, modern
Hobby: Education
Coffee: Blend, lots of milk, three spoonfuls of sugar
Fang's Appearance
Fang is a gray and white wolf with yellow eyes, purple eyelids, a black nose, and pink inner ears. His look hasn't changed since his first appearance. He has a white muzzle, paws and tummy spot, as well as spiky hair and a bushy tail. He's quite attractive, especially to Fang fangirls (raises hand!), because of his unique look.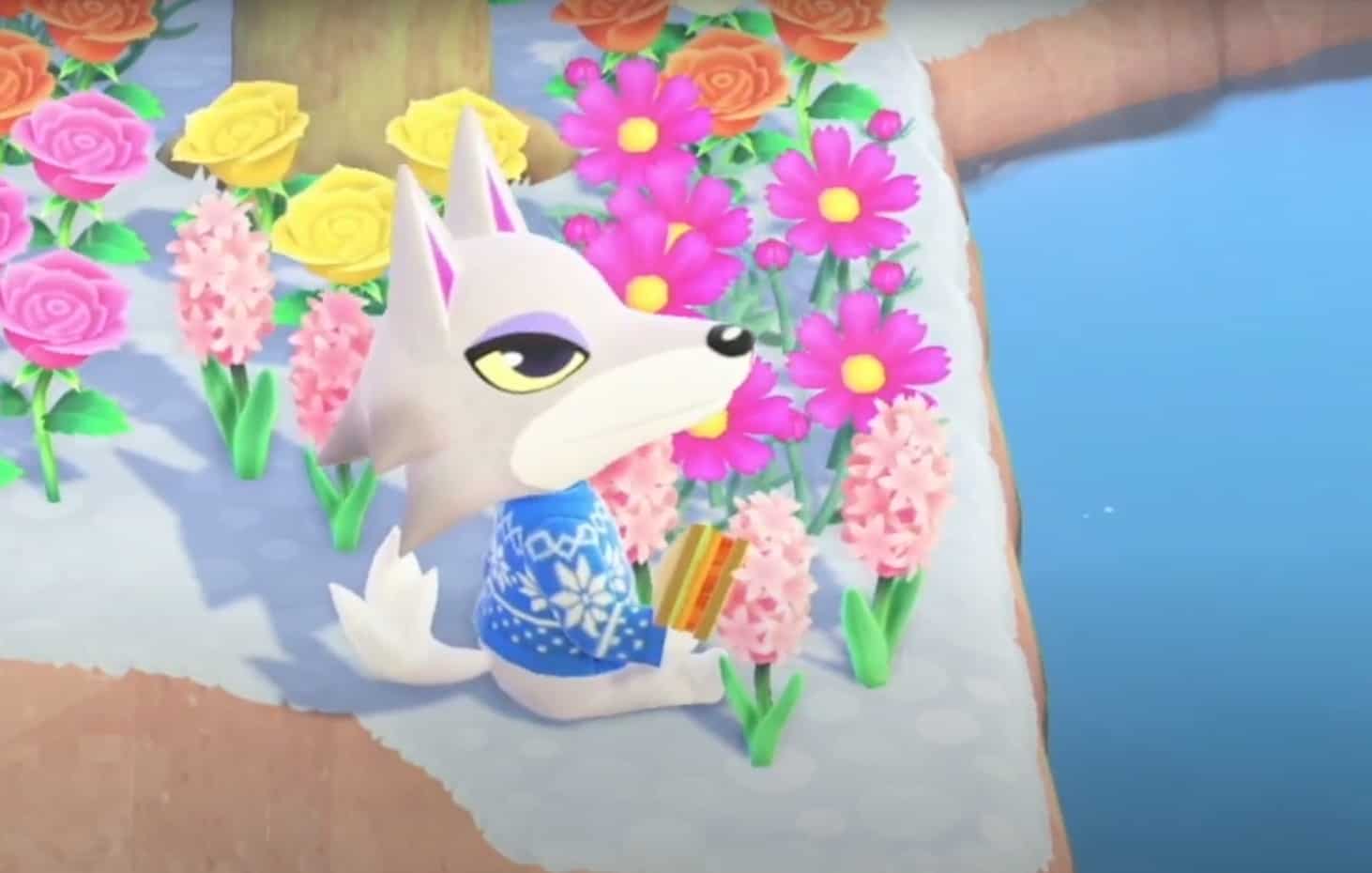 Still the Same Great Fang in New Horizons
Fang kept most of his personality and looks from game to game. The only major changes in New Horizons are a softening of his look, his shirt (which changed into a sweater), and his eyes not looking opposite ways. However, he still gets along most with lazy, snooty, and smug villagers, and can't easily get along with preppy.
Honestly, I prefer Fang in New Horizons. I like the art style better, and that cozy sweater gets me every time.
Fang's Personality
Fang is a cranky villager. Cranky villagers will almost always seem upset and don't like it when you disagree with them, and they will get angry if you don't accept a quest. He can be extremely sweet, though! He's quoted in City Folk saying, "If pals were restaurants, you'd rank 5 stars in my book. Shame you're not a restaurant." It's ok; he doesn't hate you, he just hates it here.
Why You Want Fang on Your Island
If you want a full wolf island, obviously, Fang is a must. But overall, I can't recommend Fang if you wish to have a drama-free island. Now, he is a perfect choice if you love dramatics and seemingly more interactive villagers.
When you are lucky enough to hear him sing, you'll be amazed at his gorgeous baritone voice. I place some gyroids around the outside of his house just to get him singing in public. I love to have singing villagers, and his deep voice is stellar.
Fang is one villager that I won't let leave my island, as I truly like his aesthetic and personality.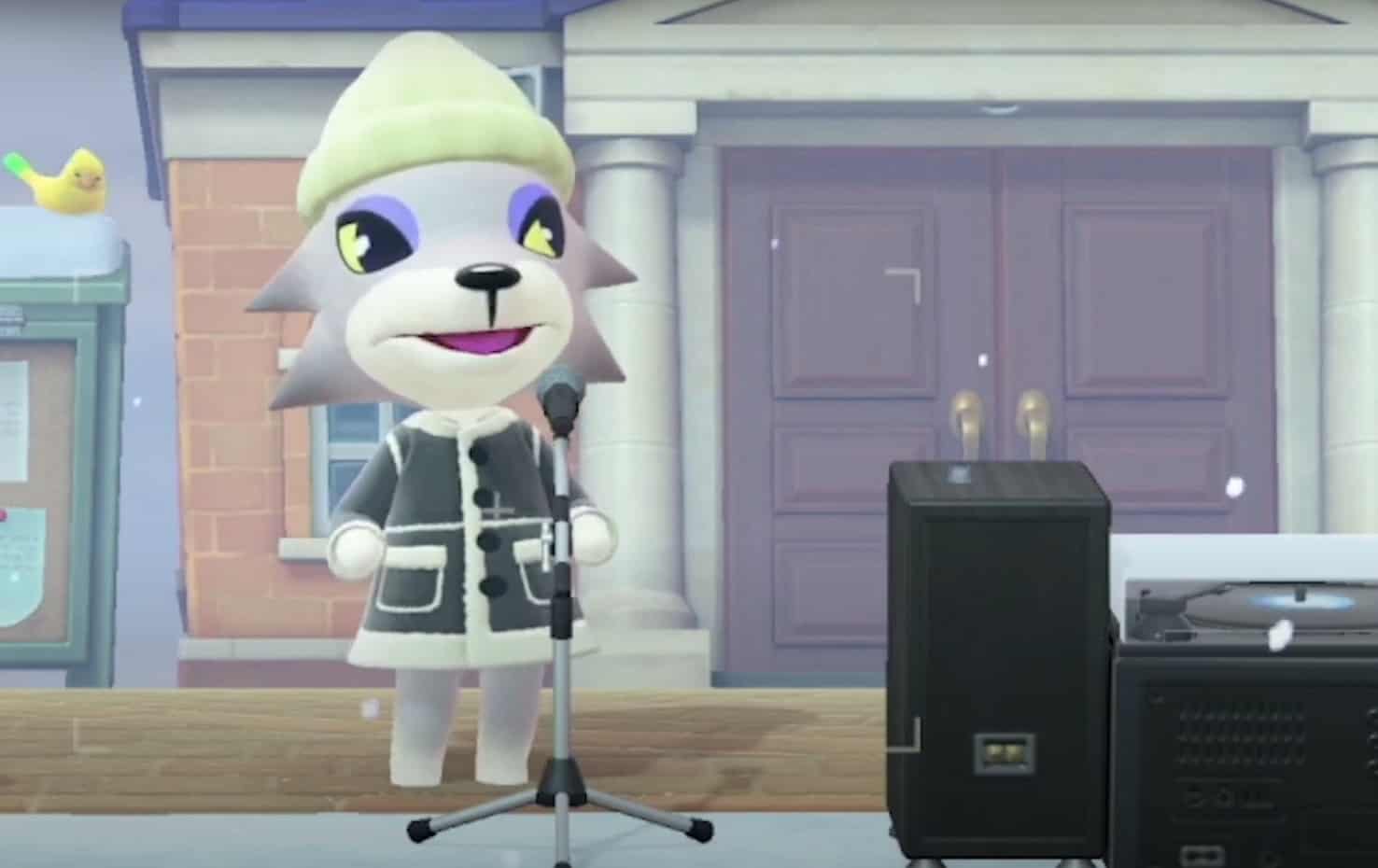 Fang's House 
Fang's house is bare compared to others, and it hasn't changed much throughout all the games he's been in. His house is probably my favorite because of the matching aesthetics that carry through each game, and how beautifully curated it is.
Throughout the various Animal Crossing games, the exterior of Fang's house goes from a dark house with a wrapped roof (Animal Crossing, City Folk) to more of a Maasai-looking dwelling in New Leaf, with the same wrapper roof but a more colorful exterior. In New Horizons, honestly, the house looks more suburban, with cream stucco walls and brown column accents.
In the original Animal Crossing, as well as in City Folk, the indoor atmosphere is dark, with screen walls. In New Leaf and New Horizons, the interior seems more library-esque, with glowing lights and a cozy feel.
In all of his houses, Fang always features dark tile flooring, and has a Hi-Fi stereo.
My favorite of all Fang's houses is the New Horizon house, as it seems more mature, design-wise, and welcoming.
A few other items that Fang has collected have made it into his house more than once:
Exotic chest (1,800 bells)

Floor lamp (1,400 bells)

Any plant

A Gift Guide for Fang 
Who doesn't love to give their favorite villagers gifts…and see what they give you in return?! Here are some favorite gift ideas for Fang:
Clothing Gift Ideas for Fang:
One Pieces
Denim overalls in blue (1,600 Bells)

Bath towel wrap (630 Bells)

Tee dress (1,500 Bells)
Fang looks TOO adorable in that tee dress, and it was the first clothing gift I gave him. I was quite pleased.
Tops
Knit sweater (960 Bells)

School uniform with necktie (1600 Bells)

Robot hero tee (800 Bells)

Snowflake sweater (960 Bells)

Denim jacket (1400 Bells)

Barista uniform (1600 Bells)
I'm a coffee fiend, so my favorite top for Fang is, of course, the barista uniform.
Headwear
Do-rag (560 Bells)

Plain paperboy cap (1,400 Bells) 

Faux fur hat (1,300 Bells)

Knit hat (700 Bells)
My favorite headwear is the plain paperboy cap. He looks so cute and it's just too fun to see him wearing it!
Furniture Gift Ideas for Fang
I highly suggest sticking to Fang's theme unless you plan to fully redecorate with Happy Home! For gift ideas, keep with his favorite colors and items that are close to the aesthetic already in his home:
Luna's bed (900 bells)

Double sofa (4,300 bells)

Pot (craft)

Glass holder with candle (350)

Elegant dresser (35,000 bells)

Nordic shelves (16,000 bells)

Tape deck (2,900 bells)

Newton's cradle (1,300 bells)

Decorative plate (14,000 bells)

Framed photo (500 bells)

Fragrance diffuser (1,400 bells)

Fancy violin (140,000 bells)

Globe (1,800 bells)

Iron hanger stand (craft)
Fang in Pocket Camp 
Fang was added to Pocket Camp in 2018. He has a modern style and gives mostly steel and sparkle stones for his gifts. 
He requires Classic Clock, Classic Table, Basket Chair, Lady Palm, and/or Natural Lamp.
Level 7 friendship, he will reward the player with an icy shirt and one sparkle stone 

Level 9, he will reward the player with one sparkle stone

Level 10, he will request that the player craft a mustache Matryoshka

Level 20, he will reward the player with pic of Fang and one sparkle stone

Levels 25 through 60, for every five levels, the reward is one sparkle stone

Fang in Happy Home
In Happy Home, Fang wants chairs; he loves chairs and celebrates chairs. So you must design a house with three chairs for him: the Peacock Chair, the Hanging Chair, and the Basket Chair. You can also add as many other chairs as possible…58 are unlocked for him! I suggest adding more than just chairs, but just to the walls and ceiling. Posters, fans, etc.
Fang's Amiibo Card
Fang is #338 in series 4 of amiibo cards. His dice value is =five, and his hand sign is paper.
Fang also has an E-reader card, which is much like the amiibo card, but much older, aka the OG. His profile reads as "Fang likes the winter most, because he can blend in with the snow and sneak up on people. And if he doesn't feel like talking, he can curl up in the snow and practically disappear. There's "snow"-body quite like Fang!"
It also shows his star sign, Sagittarius, his "pet phrase," which is cha-chomp, his clothes (icy shirt), and his password.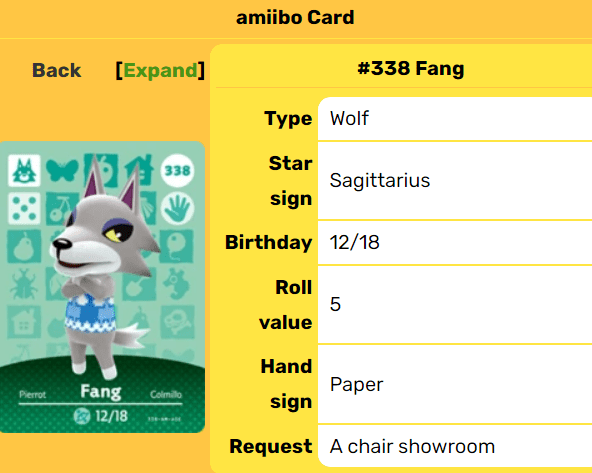 Fang Merchandise
Who doesn't want more Fang in their lives? (Raises hand, beams at the thought.) Get excited! We have a whole article on animal crossing merch, but if you want some more specific Fang gear, I've linked to a few of my favorites. 
Proclaim your love of Fang to the world with this adorable sticker! Bonus points for the snowman, which matches his sweater.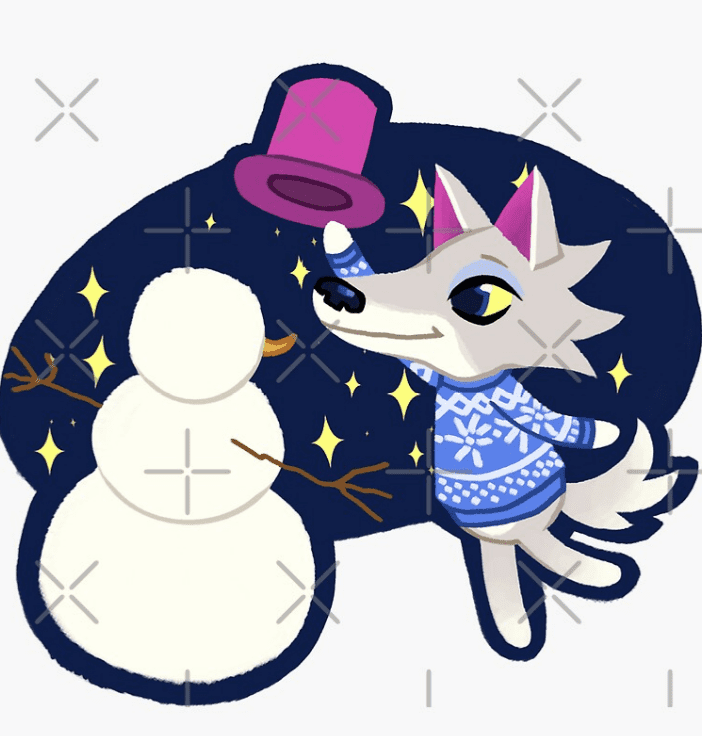 These stickers represent all of the wolves in Animal Crossing; Fang is genderbent in this version!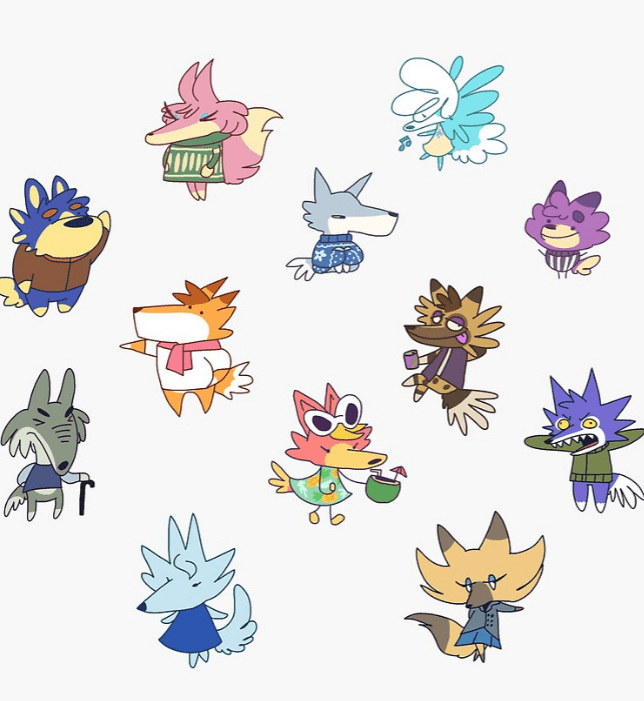 Want a homemade Fang arigumi? So did I…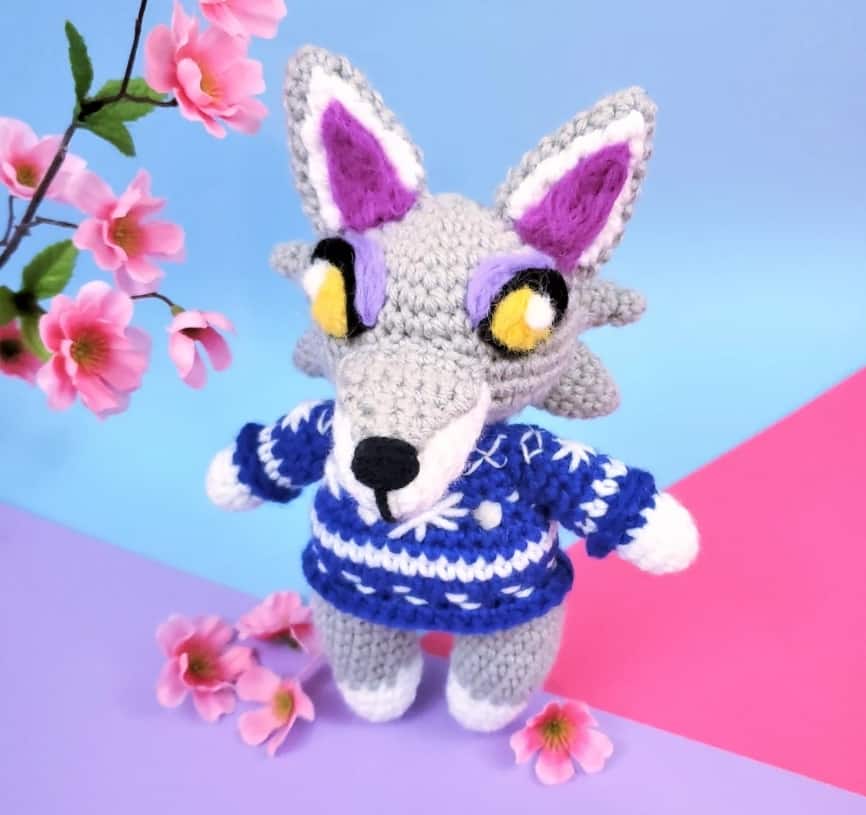 These Fang earrings are just too sassy for words…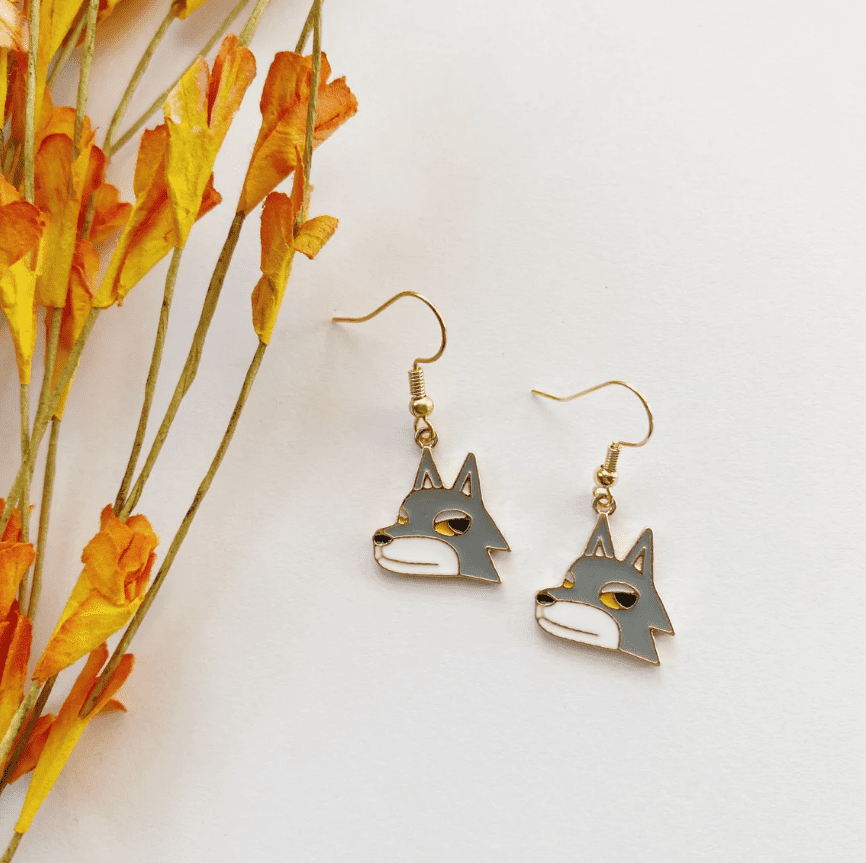 FAQ
Question: How do I get Fang?
Answer: As most players know, getting the exact villager you want can be challenging, but it's worth it once you have them.
You can use an amiibo card to invite him to your campsite, which will prompt him to ask you to make three items (you need to invite him three times before he can move in).
He can naturally (albeit randomly) show up at the campsite.
You can island-hop when you have an open plot of land; sometimes, you'll find islanders on islands without a plot, but the chances are extremely rare.
The other option is going into free villager trading groups on Facebook, Twitter, Reddit, etc. Never take a villager when someone asks for real money, as it could be a scam. Some people will ask for bells, a different villager to trade, or items. 
Question: Is Fang Worth it When you Have Another Cranky Type Villager?
Answer: I think so, yes! Fang is an original villager, which is extremely special and always a cool thing to brag about. Also, his house is just perfect!
Question: Is Fang a Rare Villager?
Answer: No! Fang has an amiibo and an E-card, and I found him on my second island hop ever on New Horizons. As with every villager, it can be hard to find them simply because there are so many animals in the game.
Question: Where can I find Fang's Amiibo Card?
Answer: Fang is a part of Series 4, which is easily found in any online or in-person stores. Buying his amiibo from individuals will cost you between 5-7 dollars.
Question: How Does Fang Interact with Other Villagers?
Answer: Fang is often crabby with everyone, so he won't get along with everyone or be kind to most villagers like normal type villagers. He likes smug villagers, sometimes lazy, and jocks. He doesn't get along with Preppy at all. 

Why Fang Is One of My Favorites
Fang is charismatic and filled with personality, and he has a long history with Animal Crossing. He's extremely beautifully colored in design and is such a unique-looking wolf villager. Fang can also be hilarious with how uptight he is. He's also one of the most interesting villagers to talk to. Overall, there are many reasons Fang should be a part of your little family.
Continue reading: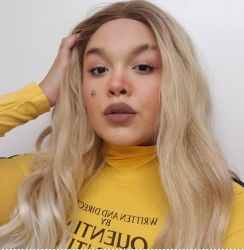 Latest posts by Lillie Forteau
(see all)