I've put well over a hundred hours into Animal Crossing: New Horizons, and it's one of my most-played games ever. I'm able to invest so much time into it because there's just so much to see and do within it. Even once you've 'completed' the game, you're never done, as there will always be the option to customize your island or to find exciting new villagers. One way to ensure you decorate your perfect island is by collecting as many DIY recipes as possible, such as the Wildest Dreams DIY pack.
The Wildest Dreams DIY pack is one of several recipe collections that you can find within the game, and it's one of the most versatile. It's perfect for those just starting out with the game who don't have many items yet with which to decorate their home. It could also suit veteran players who are looking for a more simplistic aesthetic. Either way, there are many uses for the items within it, most of which can be customized.
If you're planning to start decorating your home and island, the Wildest Dreams DIY pack is an excellent place to start… Let's learn all about it!
The Quick Facts:
How much does the Wildest Dreams DIY pack cost? 6,980 Bells
How many recipes are included in the Wildest Dreams DIY pack? 6
Where can I get the Wildest Dreams DIY pack? Nook's Cranny
Do I need to purchase any other DIY packs first? Yes, the DIY for Beginners pack
D.I.Why… What's the Point of DIY Recipes?
So you may be wondering why a player would even bother collecting DIY recipes. I mean, what's the point of them when you can just buy items instead? Simply put, DIY recipes give you much more control over the design of your island. Whilst you could just go to the shop and buy something new, this method can be very limiting.
For starters, the shop only offers 3 unique items a day (plus 2 smaller items which you can buy multiples of). It will also occasionally offer one extra seasonal item during events such as Toy Day. Either way, that means you only have 6 items to choose from on any given day, and they'll be completely random. As such, there's a good chance that there won't be any items that you actually like, and even if there are, there won't be any synergy between them. Not to mention the fact that some items can be particularly pricey, and you may be running low on Bells.
Meanwhile, with DIY recipes, you get so much more choice over your items. Instead of getting the item itself, you simply get a recipe for it, meaning that if you don't like it, then you can simply just not build it. Similarly, if you do like it, you can craft it as often as you like. DIY recipes also come in collections, and it's much easier to get items that complement each other. If you liked a collection that was available in the shop, you'd have to buy the items one at a time and just hope that you got a chance to purchase the others. Whereas with the DIYs, you can just wait until you have a complete set and then craft them all in one go.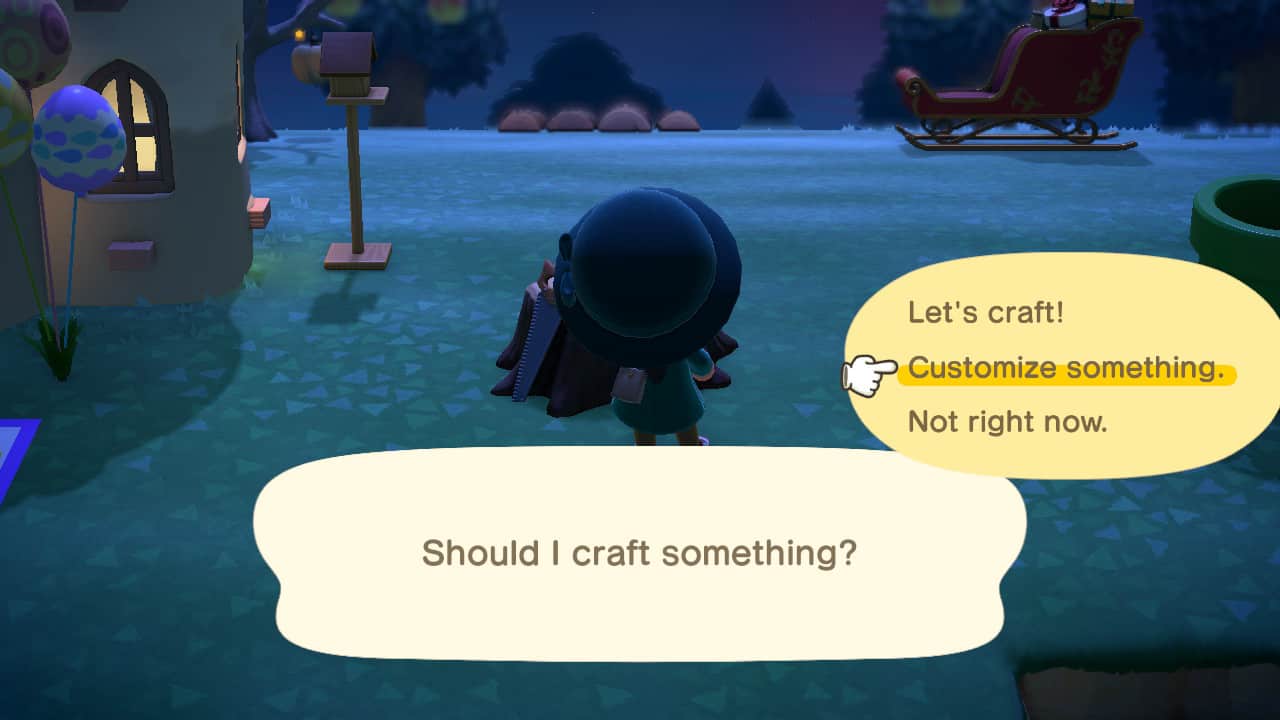 Another reason DIY recipes are so much more convenient is that you craft them using materials rather than bells. Depending on your play style, it can be pretty tricky to save up Bells, plus you'll be spending most of them on house upgrades at the beginning of your game. Whereas crafting materials can be found for free all over your island. Some recipes require specialist materials like Star Fragments, but for the most part, they use easily sourced materials such as Wood or Iron.
How to Get Wildest Dreams DIY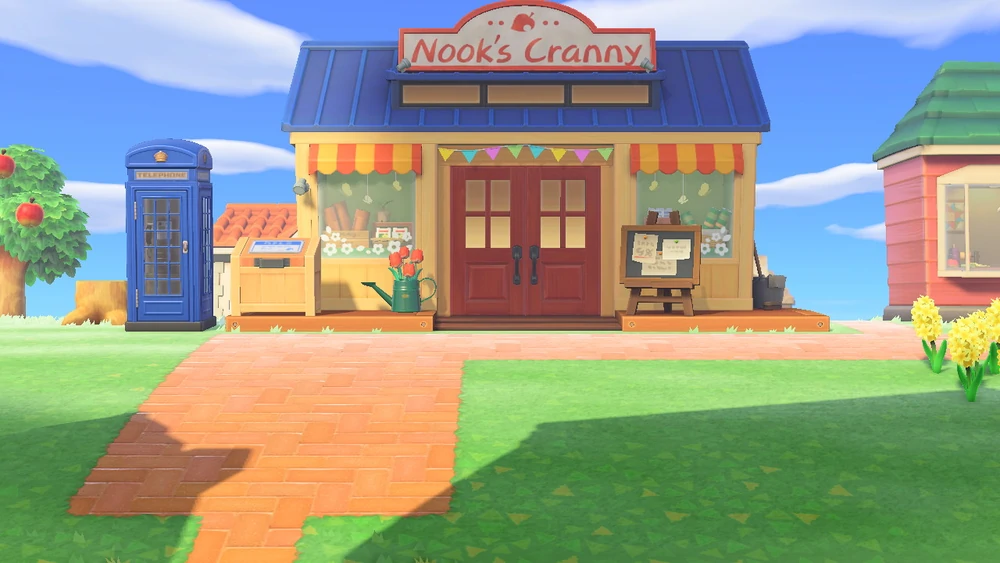 The Wildest Dreams DIY pack can be purchased for 6,980 Bells as Nook's Cranny. Naturally, you'll first need to ensure that Nook's Cranny has been constructed, which means playing through the first part of the game and upgrading your tent into a house, as well as donating at least 5 bugs and/ or fish to Blathers. Once you've done that, Timmy and Tommy will require some start-up materials for you, and then you'll be able to buy items from Nook's Cranny.
This particular DIY pack also requires some additional steps to be completed. First, you must have already purchased the DIY for Beginners pack, which is also available at Nook's Cranny and only costs 480 Bells. You'll also need to complete the tutorial that the game gives you on customization. Once that's out of the way, you'll finally be able to purchase the Wildest Dreams DIY pack. To do so, simply walk into Nook's Cranny, interact with the cabinet, and navigate to the Miscellaneous tab. You'll see several DIY recipes available for purchase, including this one.
Recipes Included in Wildest Dreams DIY
There are a grand total of 6 recipes included within with Wildest Dreams DIY pack. It's an interesting range of items, but they're all ones that would go well in a player-owned home. They might also be worth considering for decorating in the Happy Home Paradise DLC. In the DLC, you gain access to any items you've previously crafted, making DIY packs like this ideal. So, without further ado, here are the recipes included!
Brick Oven
This charming item has a very rustic feel, and would work well in a kitchen or living room space. There's a domed roof, as well as a small chimney, and a pile of firewood below it. The default item has a red brick roof with black oven doors, a silver chimney, and dark brown bricks at the base. However, there are several color variations that are also available:
Brown – This is a more subtle variation, and has light brown/ peach bricks on both the roof and the base, as well as gray oven doors.
White – This is probably my favorite color variety, and features pleasant white/ peach bricks as well as black oven doors and a black chimney.
Black – A very sleek design, this one features black and dark gray bricks, a black chimney, and black oven doors.
The Brick Oven can be crafted using 8 Clay, 2 Iron Nuggets, and 6 Wood. As such, it's a pretty accessible recipe as all these items can be easily found around your own island. If you want to change the color to one of the variations above, you can do so by using 6 Customization Kits, or going to Cyrus at Harv's Island and paying 4,500 Bells. I always go to Cyrus when I want to customize something simply for convenience, as he's right next to Tortimer (who gives free access to all your home storage). However, if you're low on Bells then doing it yourself is a cheaper choice as Customization Kits only cost 600 Bells, for a total of 3,600 Bells to customize the Brick Oven, making it 900 Bells cheaper than with Cyrus.
The Brick Oven can be found in the homes of the following villagers – Beau, Dom, Ketchup (my all-time fave villager), Nate, Norma, Spork, and Winnie. It's also a required item in the Happy Home Paradise DLC for these characters – Anicotti, Billy, Broccolo.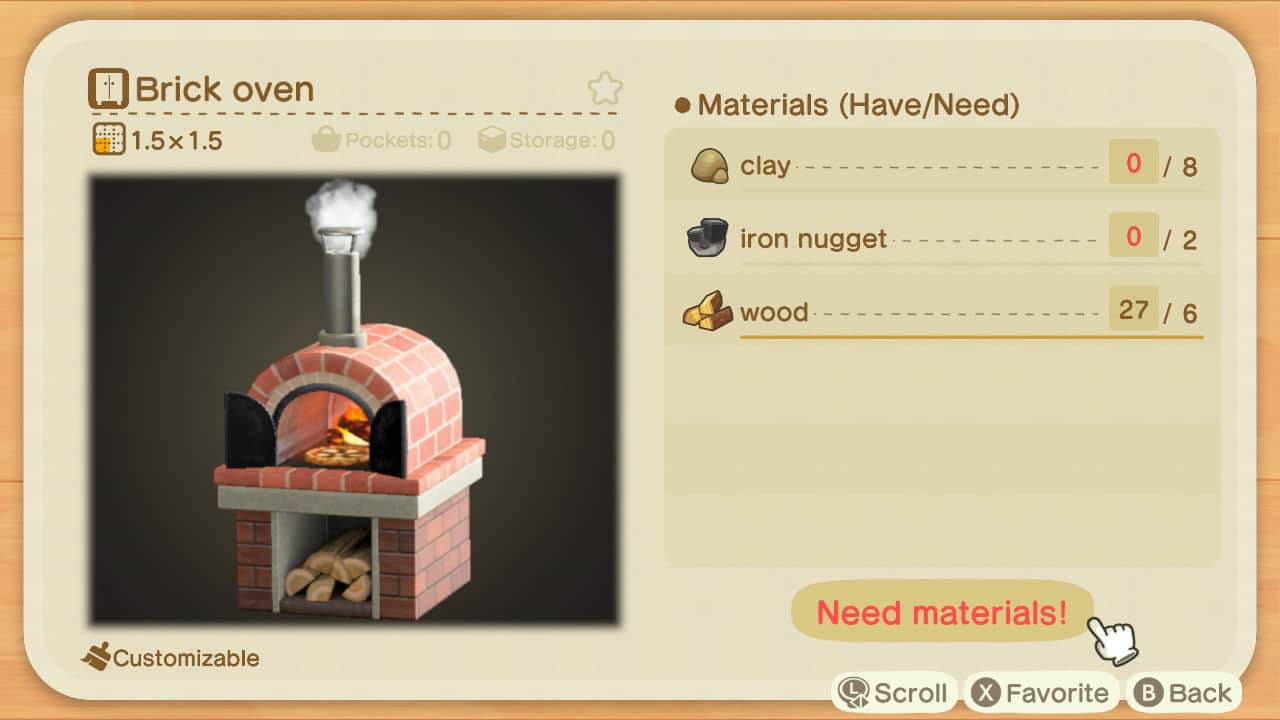 Hearth
This is the only item in the Wildest Dreams DIY pack that cannot be customized. If you craft this, you will be stuck with the default color, so make sure that you like it before you make it. Fortunately, it's already a pretty fancy item to look at, so doesn't really need any variations.
The appearance of the Hearth is somehow both minimalist and striking simultaneously. It features a gray base with a brown border, and in the center of the base is a small pile of wood with a pot upon it. A hook is attached to the handle of the pot, and a wooden pole holds up that hook and extends all the way to the ceiling. A metal fish connects the wooden pole to the metal hook, forming a triangular shape, and it's a great detail for them to include.
You can craft the Hearth using 2 Bamboo Pieces, 5 Iron Nuggets, 4 Clay, and 5 Hardwood. Whilst still relatively easy to get as there are no specialist materials, it's not as accessible as the Brick Oven. You will need to use a Nook Miles Ticket to fly to a Mystery Island, and continue doing this until you land on the one that has Bamboo Trees. The good news is that if you're an experienced player, you probably will have already encountered this island from the start of the game when you were flying to islands to get new villagers. You can also dig up Bamboo Shoots to planet on your island so you can harvest more Bamboo in future.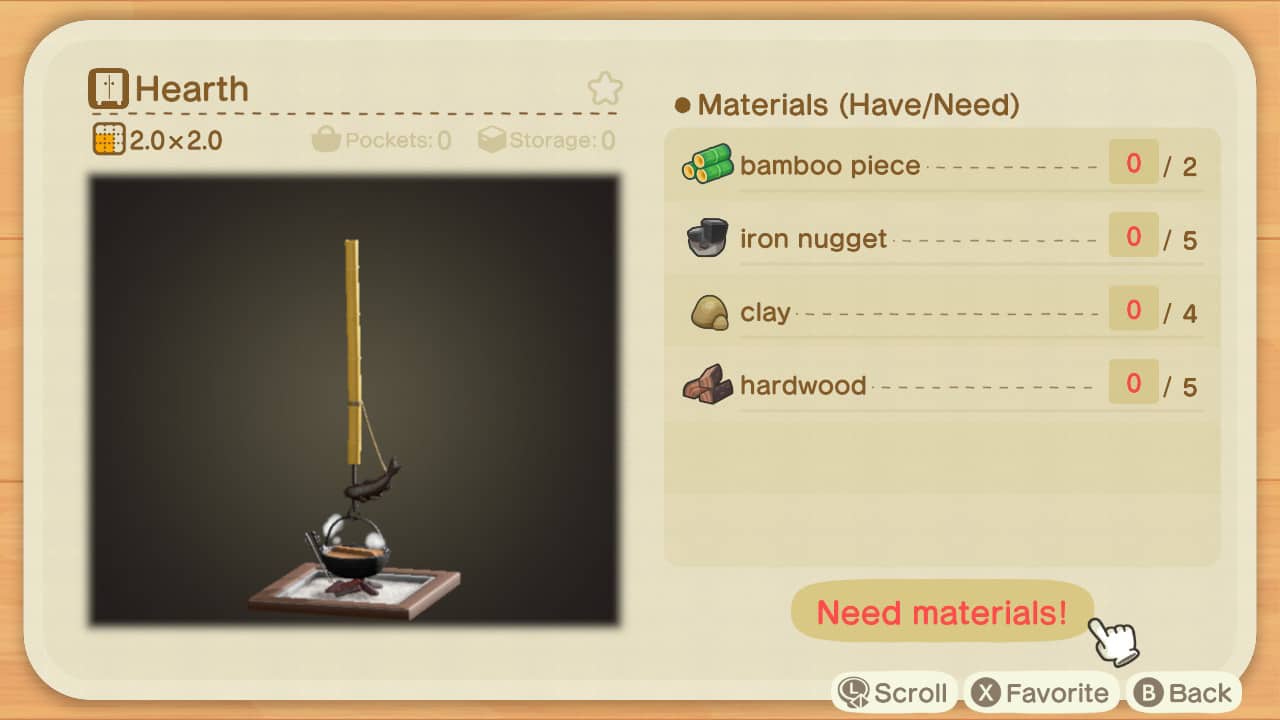 Iron Wall Lamp
This is a very simplistic item, but one which can add some extra charm to a room. It's wall-mounted, meaning it doesn't take up your floor space, and can be placed above something else. The default design features a plain circular black wall bracket attached to a black fixture shade. A bulb can be seen protruding below the fixture shade. All of it is carefully colored to look precisely like iron.
This item has exactly one variation, and that comes in white. The design is identical to the black version, except the entirety of the item is painted white. The bulb itself is still the same semi-transparent shade that it is in the black version, though. Although the texture is the same, the white color gives the impression of a cheaper material being used, and it doesn't look as obviously metallic. I think that the black version is definitely more elegant, but the white one could also work well depending on the style of the rest of the room.
To craft the Iron Wall Lamp, you'll need 4 Iron Nuggets and 2 Clay. Whilst that's not much at all, I do think the number of Iron Nuggets is a bit high considering the size of the item, and I'm not really sure why the clay is needed. Personally, I think this should have been just 3 Iron Nuggets, but alas, I'm not involved in the development of Animal Crossing: New Horizons. If you want to customize it to get the white variation, you have two choices. You can either take it to Cyrus and have him change it for 3,800 Bells, or you can do it yourself at a crafting table with 5 Customization Kits. It's 800 Bells cheaper to do it yourself.
Several villagers have the Iron Wall Lamp as part of their home decoration. These are – Bella, Cyd, Flo, Katt, Moose, Ribbot, Roscoe, and Static. I actually had Static on my island briefly before letting him go as I wanted a different villager. However, I do sometimes regret saying goodbye to him, as he had a fantastic voice, and is definitely my favorite of the Cranky villagers. If you have the Happy Home Paradise DLC, none of the characters require the Iron Wall Lamp, but several of them give you the opportunity to unlock it for decorating.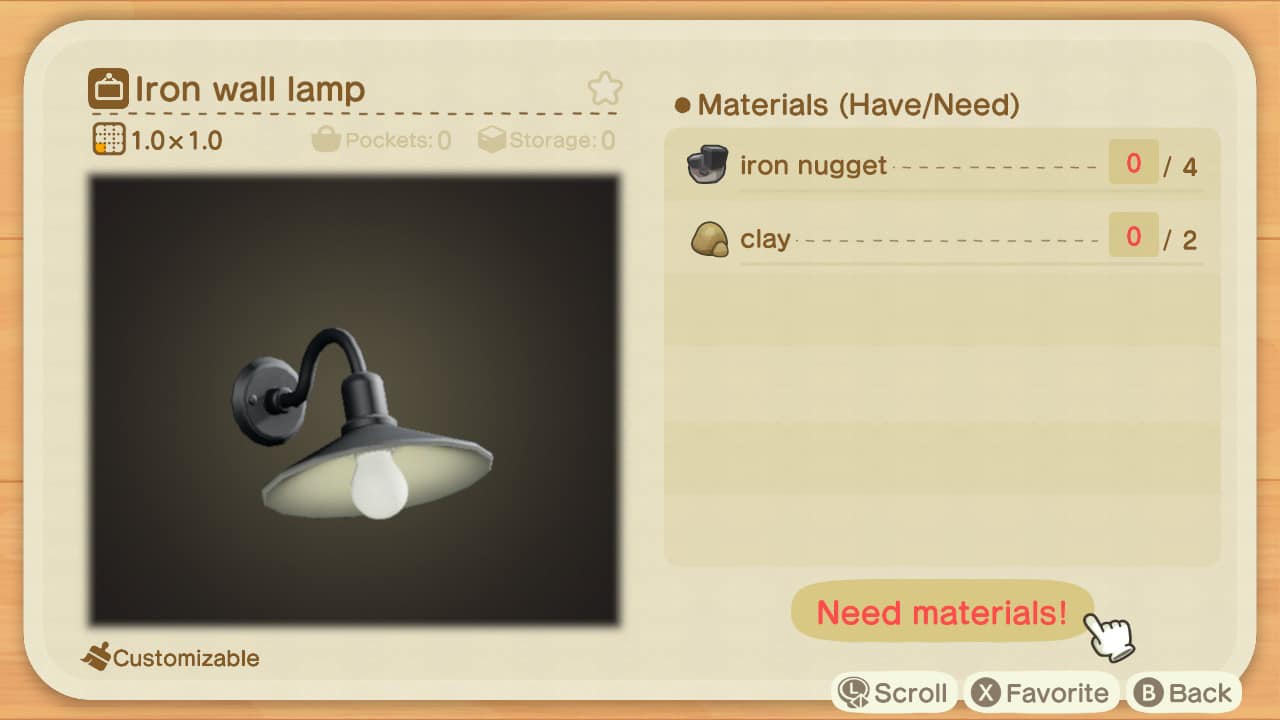 Ironwood Kitchenette
This is definitely the most complicated item to craft out of the entire Wildest Dreams DIY pack, but we'll get to that in a moment. Let's start by taking a look at what it actually is. This isn't a particularly interesting design, but it's one of those items that has so much versatility that it becomes desirable even though by itself it's nothing special. This would go perfectly in a kitchen, and the shape makes it ideal for running along the edges of the room. The default design has light-brown birch wood for the surfaces, black iron legs, and a silver sink. Pots and pans are visible on the lower level of the kitchenette. The variations for this design are:
Teak – Identical to the default Birch design, but with orangey teak wood instead.
Walnut – The surfaces of this one are a delightful medium-brown color. You can really see the grain of the wood.
Old – 'Old' is definitely an apt description for this variation, as the surfaces are a mixture of brown colors and look rather worn out. I find this design to be pretty ugly, but I'm sure some people like it.
Oak – The color for this one is somewhere between Birch and Teak, with it being not quite as light as Birch, but not quite as orange as Teak. The wooden grain is quite pronounced.
Crafting this is not a simple process of just gathering materials and then going for it. You first need to craft the Iron Wood Dresser (7 Wood, 4 Iron Nuggets), and the Cutting Board (2 Hardwood, 1 Iron Nugget). Both of those recipes can only be obtained from other villagers. Then once you have those, you also need 4 Wood, and 3 Iron Nuggets. This is the only item in the Wildest Dreams DIY pack that requires you to have obtained other recipes first. If you want to customize it, Cyrus will do it for 5,200 Bells, or you can do it yourself with 7 Customization Kits.
The Ironwood Kitchenette appears in several villagers' homes. These are – Annabelle, Bangle, Bertha, Bianca, Celia (severely underrated villager, she's wonderful!), Cyd, Gabi, Gonzo, Henry, Kiki, Kitt, Lopez, Maella, Marty, Opal, Queenie, Quinn, Tia (my white whale, I'm still desperately trying to find her for my own island), Ursula, Vivian, and Wolfgang. It's also a required item for designing the restaurant in the Happy Home Paradise DLC.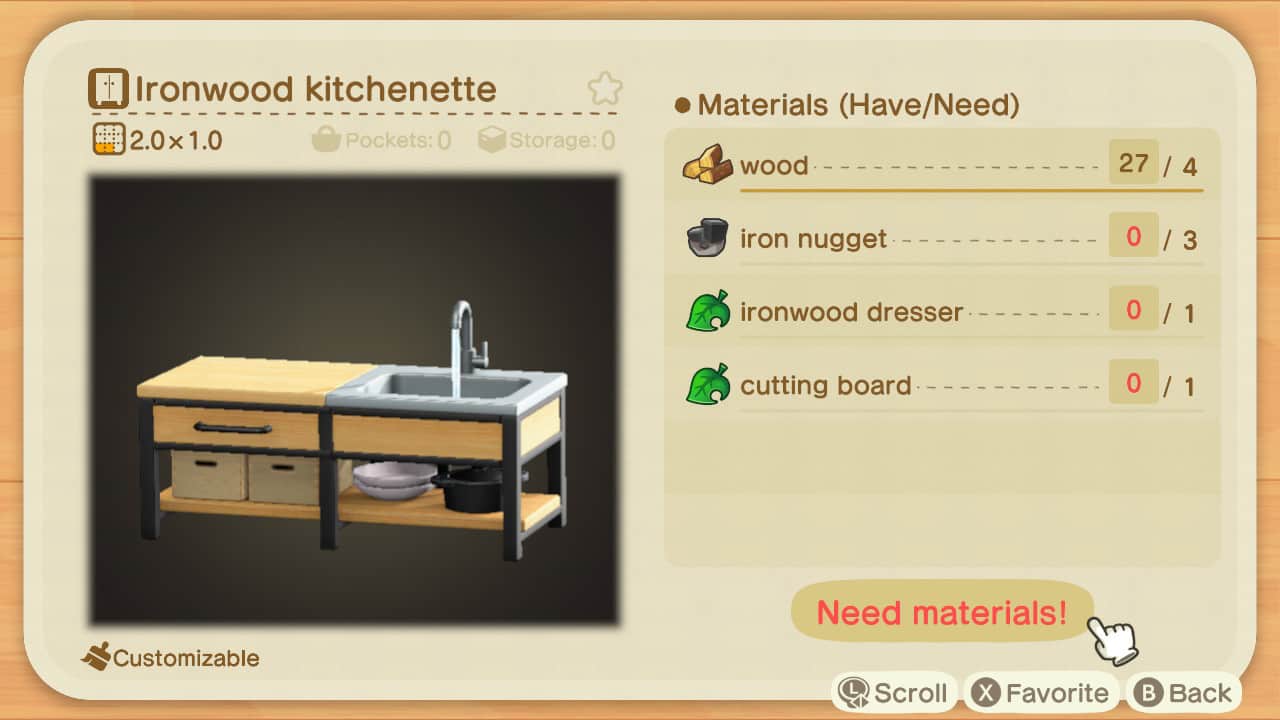 Plain Sink
'Plain' is absolutely right, and I'll be honest, I find the base design of this to be super boring. However, the shape is a convenient one for either a kitchen or bathroom space in your home, and with the variations, I can see it being useful. The default design features a light-brown wooden table with a drawer at the base, with towels piled on top of the drawer. Then on top of the table is a small round white sink with a silver tap perched over it. Nothing particularly exciting about it, but some of the following variations look better:
Brown Wood – The surfaces of the table are in a deeper brown color, and the tap is brass as opposed to silver. There's also an intricate blue pattern around the rim of the sink bowl.
Dark Wood – The table surfaces are in a dark-brown color, and the tap is dark silver. The towels atop the drawer are beige rather than white, and the sink bowl is a metallic dark-green.
White Wood and Tile – The lower part of the table is the same as in the default Natural design, but the top is a tiled surface with light and medium-blue tiles. The sink bowl is still white, but the tap is brass.
Gray Wood and Tile – The lower part of the table is gray with the wooden grain clearly visible, and the towels are beige. White tiles adorn the top of the table, and the tap is white like the sink bowl.
Black Wood and Tile – The lower part of the table is formed of black wood, and the towels are grayish in color. The surface of the table has medium and dark-blue tiles which are very vibrant against the plain black wood. The sink bowl is white but the tap is black.
You will need 6 Wood, 4 Clay, and 1 Iron Nugget to craft this item. These materials can be easily obtained around your island, making this a simple item to craft. If you want to customize it (and you really should, as I do not recommend having the default version of this in your home), then you can do it one of two ways. Either go to Cyrus on Harv's Island and pay him 3,100 Bells, or use 4 Customization Kits at a crafting table. You save 700 Bells by doing it yourself.
The plain sink appears in the homes of the following villagers – Caroline, Chadder (I will never not be terrified of his appearance), Doc, Friga, Gabi, Gigi, Lily, Megan, Melba, Mint, Paolo, Pippy, Poncho (such a great name), and Stella. It's also necessary for the Happy Home Paradise DLC if you're designing a home for Lionel, as it's one of his required items.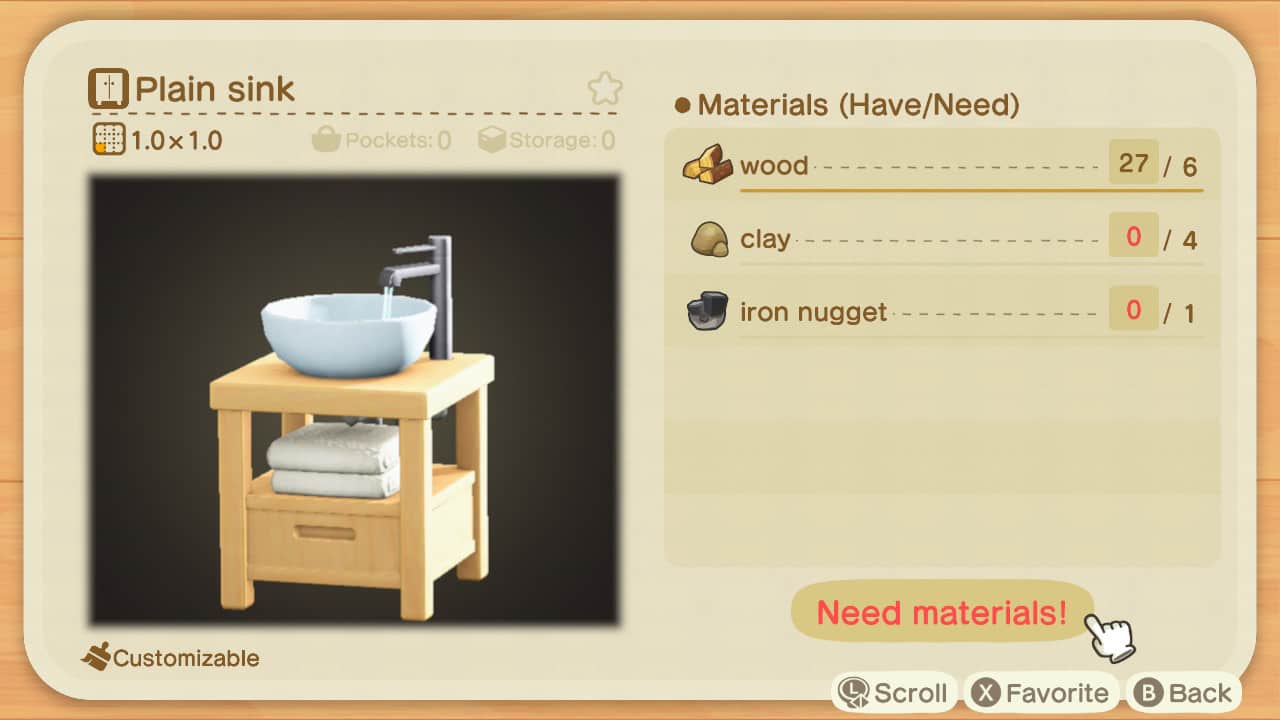 Wooden Fish
This is such a fun item to have included, and it's the only Miscellaneous item in the Wildest Dreams DIY pack. Although I've never seen one of these in real life, I have seen the frog variant. Essentially, it comes with a wooden stick that you run along the ridges on its back, and it makes a funny croaking sound. I would imagine the Wooden Fish serves a similar purpose. The default design features red and purple diamonds on a base shaped like a pillow, with a golden yellow wooden fish upon it. There are intricate details carved into the back of the fish. Beside it on the pillow sits a light-brown wooden stick with a white tip. There are a couple of extra variations of this one, and they are:
Unfinished Wood – The base is red and green, and the colors feel very fruity, almost like a strawberry or a watermelon. The fish itself is a plain light-brown wood color, and the stick is identical to the default Camphor-Tree Wood design.
Zelkova Wood – The base is cream and purple, and the fish is a deep dark-brown wood color. The stick is in the same dark-brown wood, but the tip is still white.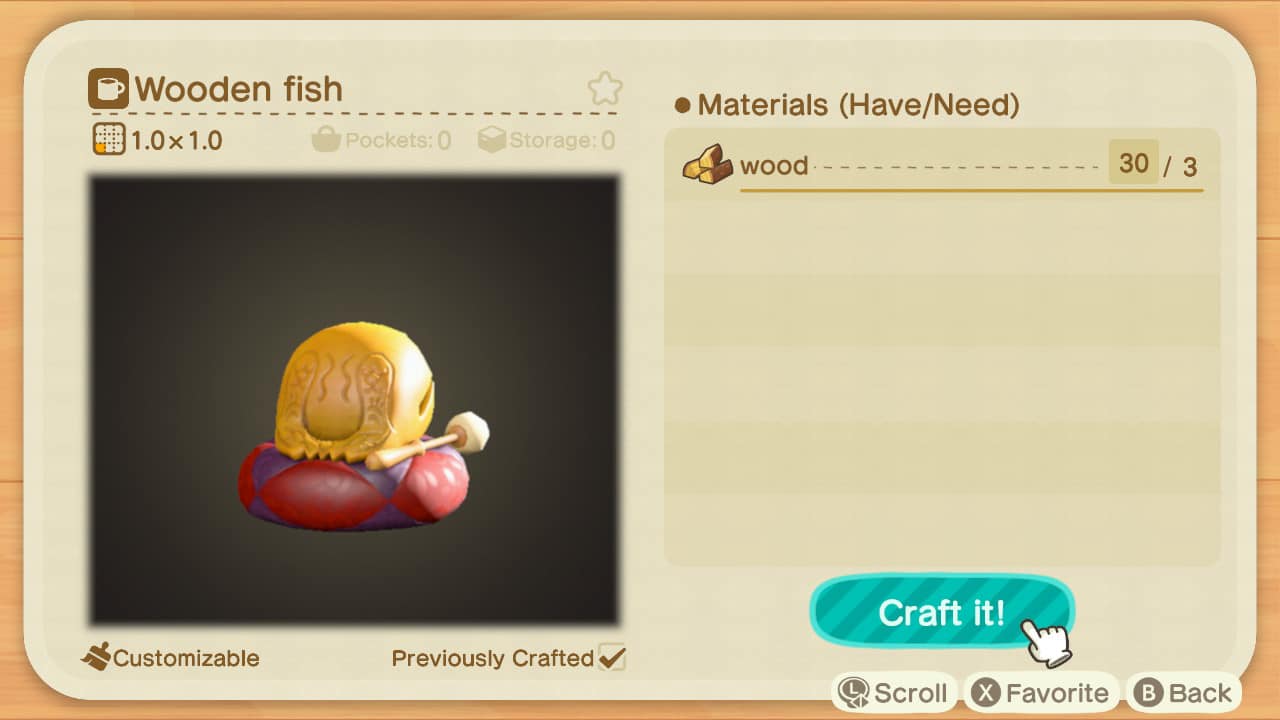 The Wooden Fish is the easiest to craft of all the items in the Wildest Dreams DIY pack, requiring just 3 Wood. This can be obtained very simply by chopping trees on your island. Experienced players are likely to already have a large amount of Wood in their storage anyway. It's also super convenient to customize. It's only 1,000 Bells if you take it to Cyrus, or you can do it yourself with 1 Customization Kit, saving yourself 400 Bells.
None of the villagers have this item in their home, and I really think they're missing out. It's such a fun design, and I think it would've fit a lot of their styles. It's not a required item for any of the homes in the Happy Home Paradise DLC.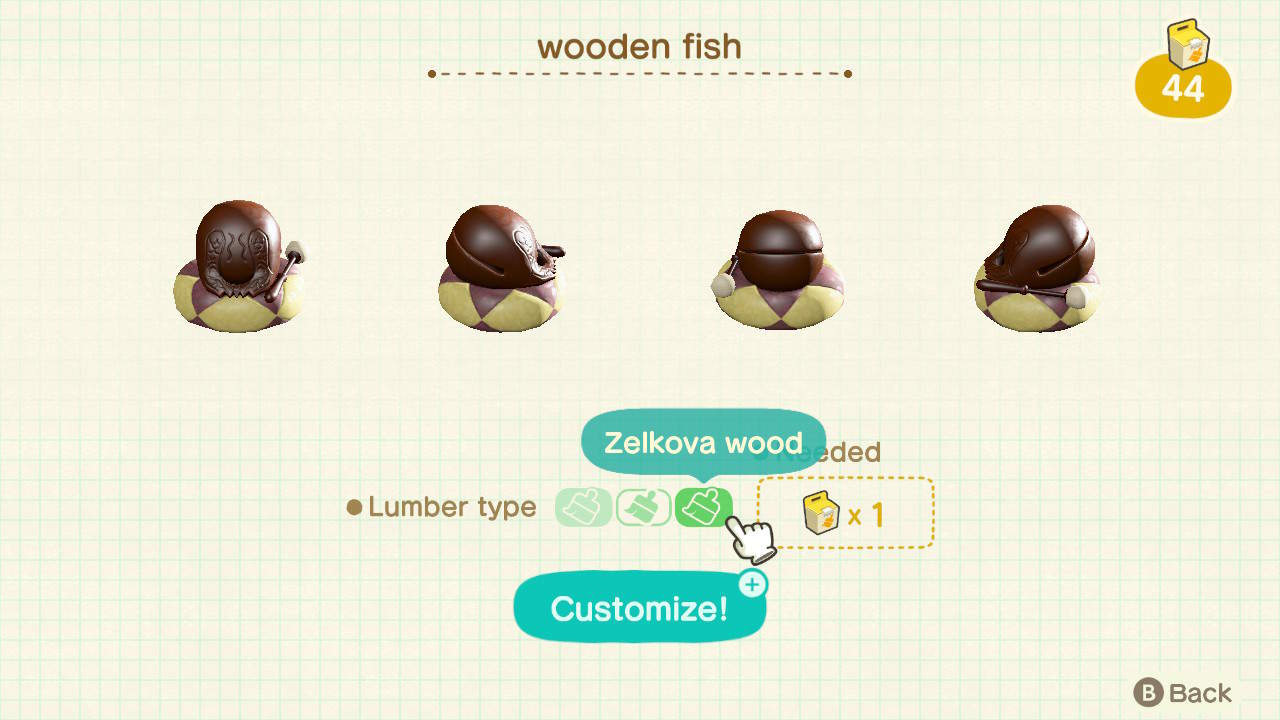 Alternative DIY Recipes
If you're not totally hooked on the Wildest Dreams DIY pack, don't fret. There are plenty of other recipes available in Animal Crossing: New Horizons that might be more to your taste. You can get a new DIY recipe every single day by searching along the coastline of your island. You're looking for a glass bottle, inside of which is a message from one of the many villagers in the game. Once you've read the message, you'll receive a DIY recipe. Unfortunately, these aren't always guaranteed to be new, and you may end up with several duplicates, but at least you can gift those to other players.
You can also get DIY recipes from your villagers. Just walk into your villagers' homes every day, and the chances are that at least a couple of them will be working on DIY projects. You can tell if this is the case as they'll be standing at their crafting table, and there will be a hammering animation to show them hard at work. To get the recipe, just talk to them and confirm that you would like a copy of the recipe, and it'll appear in your inventory.
Of course, the above methods will result in you receiving recipes at random. If you're looking for a more curated collection, you can try purchasing one of the other DIY packs available in Nook's Cranny. I'd recommend the Test Your DIY Skills pack, as it offers lots of items that can be easily customized to suit the aesthetic of your island.
If the recipes and packs still don't satiate you, then perhaps you should consider the multiplayer approach. To do this, you'll need to have a Nintendo Switch Online subscription. You can find an Animal Crossing on a social media site like Facebook, and every now and then, you'll find players offering free recipes (or sometimes they'll trade for Bells/ crafting materials). Then you just input their Dodo code at the airport, and you can fly to their island to stock up on new recipes. I used this method to complete the Gold items collection.
Conclusion
Overall, the Wildest Dreams DIY pack introduces the player to a wide variety of recipes. It averages out to 830 Bells per recipe, and I think this is pretty affordable. Yes, it's more expensive than other DIY recipes in Nook's Cranny, but it's still a price I'm happy to pay. Honestly, once you've accumulated a large number of Bells, DIY recipes are a lot more valuable than money. I'd be willing to pay probably up to 2,500 Bells per recipe, or more for a particularly good one. And this DIY pack has several decent ones.
My personal favorite has to be the Wooden Fish, but I also like the simplicity of the Iron Wall Lamp, and some of the design variations for the Brick Oven are really pretty. If you're looking to decorate your home, then this DIY pack is a great place to start. You can fit these items in and around more specialist items that you may wish to include, and create fantastic synergy.
Hopefully this guide is useful to you, and you now have a better idea of whether the Wildest Dreams DIY pack is right for you, and what you would use the items for. Which recipe will you craft first?
FAQs
Question: Can I Customize the Items in the Wildest Dreams DIY Pack?
Answer: Yes. With the exception of the Hearth, all the recipes have variations on the design, and you can customize them by selecting your item at a crafting table and using the customization kits. The number of variations available depends on which specific item you've selected.
Question: What Happens if you Buy the Wildest Dreams DIY Pack Twice?
Answer: Well, to put it simply, you would then have two copies of the Wildest Dreams DIY pack. Instead of learning all the recipes again, you would receive each one individually in your inventory. You could then give them away to other players who may not have learned them yet. However, if you're not sure whether or not you've bought it yet, Timmy and Tommy will always give you a warning if you try to buy DIY recipes that you already own.
Question: How Many DIY Recipes are in Animal Crossing: New Horizons?
Answer: There are 781 total DIY recipes in Animal Crossing: New Horizons as of August 2022. This does not include the 141 cooking recipes. Nintendo have said that there will be no more free updates to the game so this number is unlikely to change, but it's theoretically possible that a paid DLC could come out with more DIY recipes in the future.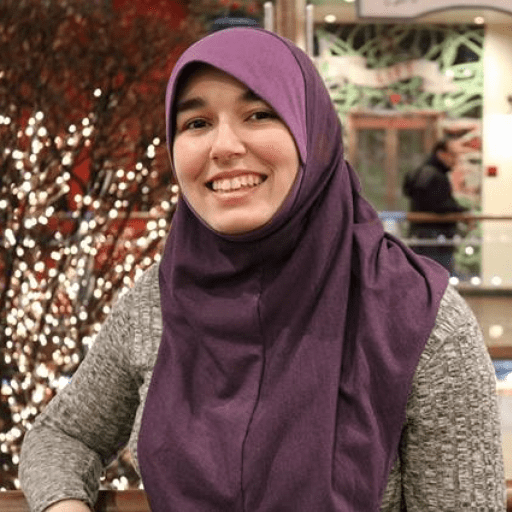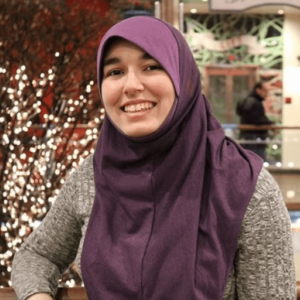 Latest posts by Melika Jeddi
(see all)