Scoot is a lovable duck who has been with us on this Animal Crossing journey since the beginning. Something about his stupid look is charming, and everyone I've ever talked to has seen him and has no clue what the heck is on his head—or why he wears a frog shirt when he's a duck.
I can answer those questions, plus more! I know, you're welcome; no need to thank me yet, though.
Bottom Line Up Front
Scoot is a jock-type duck villager who's been in every Animal Crossing game except Wild World. He's had four different house layouts (five houses in total), two cards, and one heart to share with all of us.
So today, you'll learn everything you need to know about Scoot—and maybe even some stuff you didn't know you needed to know, including basic facts, why you might want him, where to find him, etc. Spoiler alert: I recommend him to anyone.
General Facts about Scoot
Gender: Male
Species:

Duck

Birthday:

June 13th

Star Sign:

Gemini

First Appearance:

Dōbutsu no Mori

Personality:

Jock

Catchphrase:

Zip Zoom

Skill:

Climbing trees
Preferences
Favorite songs:

My Place, Marine Song 2001, K. K. Calypso, Mr. K. K.

Default Clothing:

Frog tee

Default Umbrella:

Flame umbrella, blue umbrella

Favorite Colors:

Blue and beige

Favorite Styles:

Playful, trendy

Favorite Furniture Colors:

Simple, active

Least Favorite styles:

Historical

Goal:

Rugby player

Coffee:

 Mocha with a regular amount of milk and two spoonfuls of sugar
Appearance
Scoot is a green duck (his shade of green varies, depending on the game) who is known for his white cap that has a strap under his chin. It is heavily debated what exactly his cap means or is from, but from what I gather, it's most likely a Japanese swimming cap (more on that later).
His cap has the numbers 1-5 in New Horizons, and in other games, it's 1-2 or 1-3. In Japan, this represents their grade in school, so we know he is a student!
He has small pink circles on his cheeks and a yellow beak that's the same color as his legs! In every game, he wears a cream and green frog t-shirt. He has slightly closed eyes with visible eyelids and brown pupils.
Personality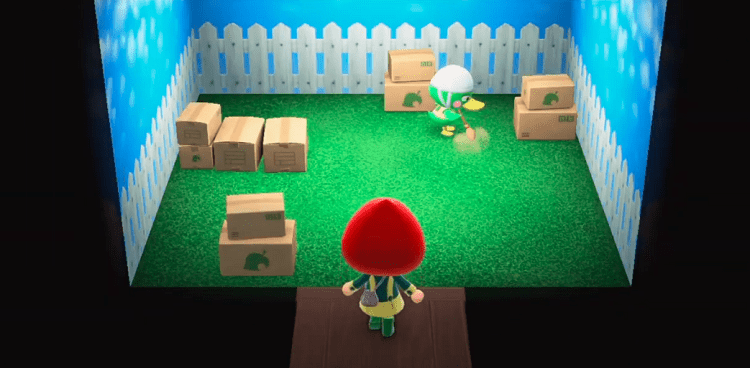 Scoot is a jock-type personality; this means Scoot's interactions are almost always based on working out or playing sports. Jocks may ask you to work out with them if you've been active, etc. Jocks are also more likely to be seen doing workout-type movements in game! They are also pretty stupid, often misspelling common words.
But they are also sweet and sometimes can't show their emotions very well, making excuses for why they're crying: the whole "I'm sweating through my eyes" type shtick.
Jocks tend to get along with villagers with peppy, sisterly, smug, and normal personalities. They do NOT get along well at all with snooty/cranky, and of course, lazy types.
Honestly, I avoid having those four types on an island together because they can be the meanest. But hey, if you love the drama, then that's the perfect chaotic combo. 
Why You Want Scoot on Your Island
Look, I'm not a fan of jock-type villagers. I'm playing a game; I don't want to be reminded I'm not working out. But jocks are incredibly sweet and so stupid it's funny. His look is unique, and something about ducks is always adorable.
He would fit in well with a themed island with ducks, jocks, weirder-looking villagers, or just a odd gathering of villagers that fit your own theme. His love for swimming is also a huge plus, especially when you put him right next to water!
House
Scoot has had five houses with four unique designs.
Dōbutsu no Mori, Dōbutsu no Mori+, and Animal Crossing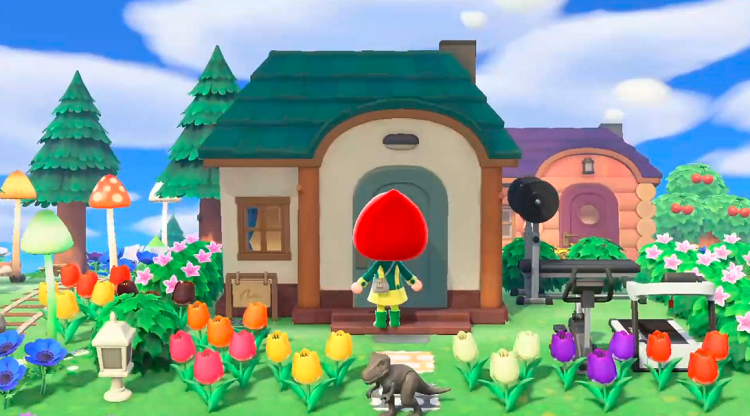 Outside
Scoot's house has a blue pointed roof, with a wooden awning above the purple wooden door with a gold handle. The sides of the house are white with wooden corners. A wooden fence surrounds it.
Inside
   

Pop machine

   

Drink vending machine

   

Cabana armchair

   

White boombox

   

Two corn plants

   

Two Mini Lamentoid

   

Two Mega Lamentoid

   

Crustacean carp

   

Pond smelt

   

Piranha

   

Small bass

   

Wall is Cabin walls

   

Flooring is Shanty mat

   

Song playing is K.K. Calypso
City Folk
Inside
   

Cabana bed

   

White boombox

   

Two Mega Oombloid

   

Two corn plants

   

Pike

   

Salmon

   

Wall is Cabin wall

   

Flooring is Shanty mat

   

Song playing is Marine Song 2001
New Leaf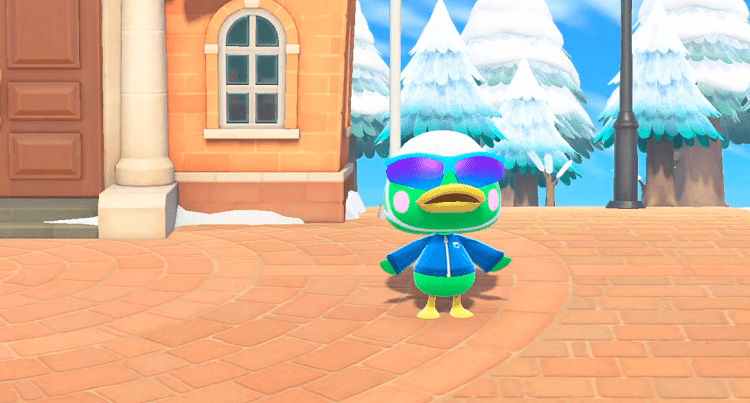 Outside
Scoot's house has a yellow pointed roof, blue paneling on the sides, and small windows. The door is a metal white with a shaped window at the top. A bush fence surrounds it.
Inside
   

Wall fan

   

Soda case

   

Scale

   

Milk case

   

Ice cream case

   

Wash station

   

Spa chair

   

Bathtub

   

Massage chair

   

Tea tansu

   

Lady palm

   

Walls are Bathhouse wall

   

Flooring is Slate flooring

   

Song playing is Marine Song 2001
New Horizons
Outside
Scoot's house is square, with a turquoise slate roof and white stucco siding. The house has a pale blue basic door with a silver door handle.
Inside
   

Cute music player

   

Simple DIY workbench

   

Poolside bed

   

Log bench

   

Beach towel

   

Portable toilet

   

Plastic pool

   

Handy water cooler

   

Hose reel

   

Garden faucet

   

Wall is Backyard fence wall

   

Flooring is Backyard lawn

   

Song playing is My Place
Gifts for Scoot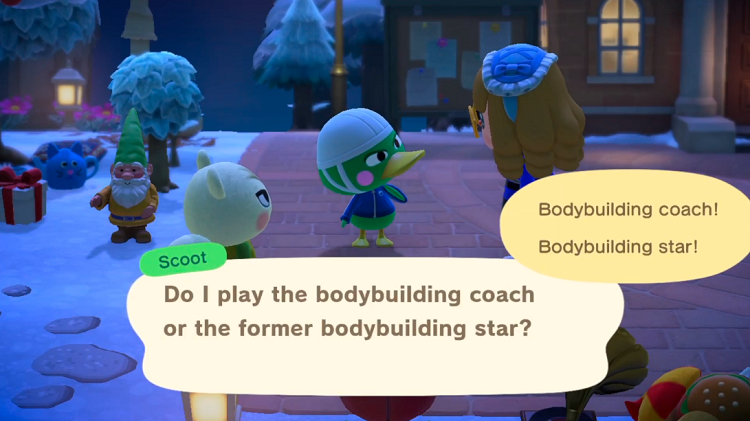 Scoot is a reasonably easy villager to gift to. There's a lot of simple, active, sporty, peppy, and trendy clothing and furniture. Blue is his favorite color, which is also one of the most common colors in game. You'll probably be fine if you don't gift historical items, but here's a curated list of the best gifts to give Scoot.
Clothing Gift List
I would choose more school-like fashion and furniture because it is speculated that Scoot would be in 5th grade, judging from the numbers on his swimming cap. A 5th grader living alone on an island is wild enough, so you might as well make it fun, too? It's weird.
Tops
   

Football shirt

   

Boa fleece

   

Camo tee

   

DAL tee

   

Down ski jacket

   

Muscle tank

   

Basketball tank

   

Acid washed jacket

   

Down jacket

   

Mountain parka

   

Open track jacket

   

Athletic jacket

   

Layered shirt

   

Puffy vest

   

Track jacket

   

V-neck sweater

   

Labelle knit shirt

   

Gym tee

   

Fischerhemd

   

Hoi! Tee

   

Tee parka combo

   

Hip wrap shirt

   

College cardigan

   

Cardigan school uniform top
Dresses
   

Tee dress

   

Linen dress

   

Parka dress

   

Long chenille cardigan

   

Zap suit

   

Long denim cardigan

   

Fishing waders

   

Sleeved apron

   

Farmer overalls

   

Jinbei

   

Ice hockey uniform

   

Baseball uniform
Headwear
   

Do-rag

   

Tropical hat

   

Straw hat

   

Bottom rimmed glasses

   

Swimming cap

   

Plain paperboy cap

   

Sports cap

   

Mini straw boater

   

Outdoor hat

   

Goggles

   

Rain hat

   

Plain do-rag

   

DAL eye mask (or regular)

   

Student cap

   

OK motors cap

   

School hat

   

Bicycle helmet

   

Sporty shades

   

Double bridged glasses
Furniture Gift List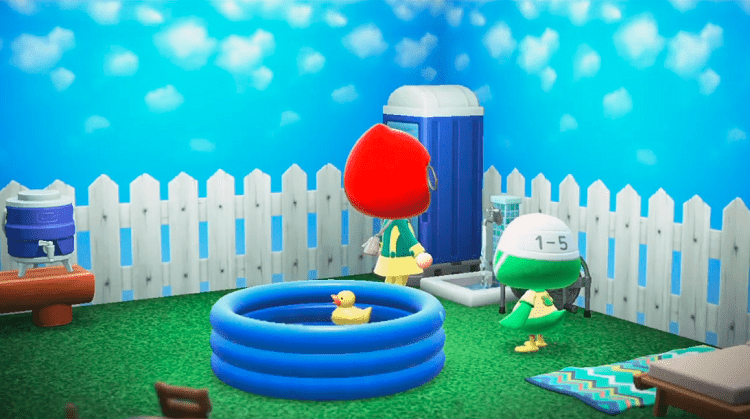 Indoors
   

Surfboard

   

Milk can

   

Beach towel

   

Rattan towel basket

   

Rattan waste bin

   

Tire stack

   

Weight bench

   

Fresh cooler

   

Imperial partition

   

Drinking fountain
Outdoors
   

Hose reel

   

Windmill

   

Plain wooden shop sign

   

Hammock

   

Scooter

   

Barbecue

   

Evergreen ash

   

Birdbath

   

Outdoor bench

   

Playground gym
Pocket Camp
Scoot is a relatively new character to Pocket Camp, being introduced in June of 2021. Because of this, there isn't too much in the game for him. He doesn't have a fortune cookie, but he does have some good friendship item gifts! He has the sporty theme and is still that lovable jock personality. His main gift is steel.
You can only get Scoot at your camp via his map from Gulliver's ship. 
Scoot's map is of gold rarity, and you must go through Blather's treasure trek to unlock Scoot. This requires you to spend sporty essence (12 each) to roll a die and move forward in the map. It is much like a board game, but you have to constantly give it money. Less fun.
   

At level 7, you'll receive a Frog Tee and one Sparkle Stones

   

At level 9, you'll receive one Sparkle Stones

   

At level 15, you'll receive a plastic pool craft (item request quest)

   

At level 20, you'll receive Scoot's pic and one sparkle stones

   

Every five levels after that 'til level 70, you'll receive one sparkle stones
Just like every other villager in Pocket Camp, at level 8, you'll unlock being able to dress your villagers; at level 10 you'll be able to have lost item request quests.
Happy Homes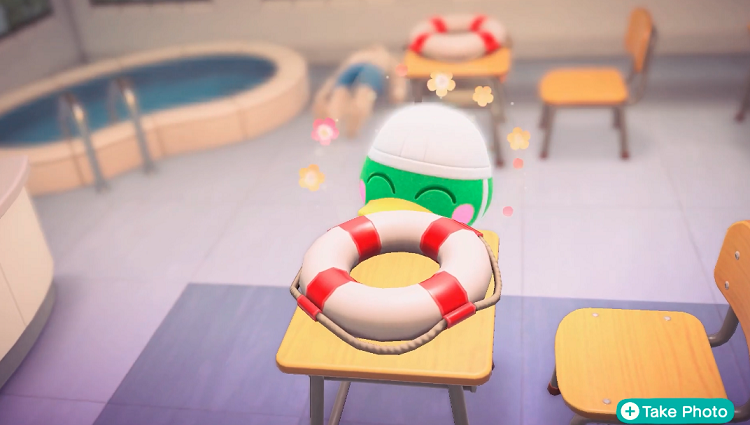 In Happy Homes, Scoot's thought bubble reads as, "I need to live in a house with a pool so I can train."
The required items are backyard pool, shower, and a life ring. Everything else is up to you!
I recommend placing him next to the ocean, even if it's a smaller plot. I've seen the outside of his house being more decorated than the interior. It would be interesting to have the inside of his house a post workout spa, and the outdoors being the training place!
E-reader/amiibo
E-reader
Scoot's E-reader card is purple and brown on the front, with Scoot posed in a happy manner. The card reads Animal Crossing at the top, and at the bottom, there's a sign that shows a duck and his card number, #050.
On the other side is more information, his name again, his gender (male), and his star sign (Gemini). It also states the clothing he wears (frog tee) and his catchphrase (zip zoom)
Below that, the profile reads:
"To put it bluntly, Scoot is an odd bird. He's convinced everyone is out to get him, so he wears that goofy cap on his head for protection. Maybe he's just been whacked on the head with a net one too many times."
Amiibo
His amiibo card background is a bright orange, and Scoot is posed waving in the middle. On the left, it shows his species (duck), and right below that, it shows his dice value (2).
On the other side, it shows his # number in a circle (#147) and his hand sign, which is paper. He is in series 2 of Animal Crossing amiibos.
FAQs
Question: Is Scoot a Rare Villager?
Answer: Not particularly. He's not a highly popular villager, but he's been in most games and has an e-reader card and amiibo.
Question: Which Games are Scoot in?
Answer: Scoot is in Dōbutsu no Mori (and +), Animal Crossing, Animal Crossing City Folk, Animal Crossing New Leaf, Animal Crossing Pocket Camp, and Animal Crossing New Horizons.
Question: What is the Easiest Way to Get a Specific Villager Like Scoot?
Answer: The absolute easiest way is to buy his amiibo card, either buying it separately from an independent seller or in an Animal Crossing amiibo card pack.
But if you do not want to spend money, you can always look on online groups for people who wish to trade villagers or just want them gone. Most of my favorite villagers came from Facebook groups where people posted their villagers in boxes that were free to get.
Never pay money for trading like that. Always be safe with who you talk to, and always double-check.
And, of course, the bleh way that no one likes: visiting islands. Generally, to get the villager you want, you'll use 20+ nook miles tickets to go to islands (when you have an open plot), and there will be a villager wanting to move in!
A little weird they're on an island alone, but either way. Of course, this method never guarantees success, and it can take hours, but it is entirely free and safe. One trick is not carrying a ladder; the villager will be on ground level so you can get in and out more quickly.
Conclusion
Scoot is just an adorable, lovable duck jock. He's been in the games so long now I'm sure that for many players, he's nostalgic. I know his cap always makes me laugh when paired with a hat. Out of all the jocks, he has to be up there with the very best.
I really cannot recommend him enough—I mean a green duck with a frog tee alone is great, but his little cap? His dumb but sweet attitude? Who can say no? Plus again, he is a literal child, so you really can't say no…
Looking for more interesting readings? Check out: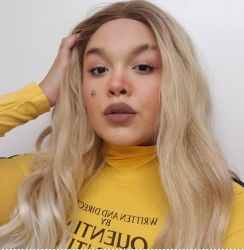 Latest posts by Lillie Forteau
(see all)