Cheri is one of the original Animal Crossing villagers, and she has appeared in most of the Animal Crossing games. However, she is unique because she is one of only two villagers who appear in the original Animal Crossing game and the games after it, but is not part of the Animal Crossing show, Doubutsu no Mori. Cheri is a relatively popular villager due to her cute style and the nostalgia she can bring to many players. 
Bottom Line Up Front
Animal Type: Bear Cub 
Personality Type: Peppy
First Game: Animal Crossing 
Birthday: March 17th
Favorite Colors: Yellow and aqua
Favorite Style: Cute and simple
Appearance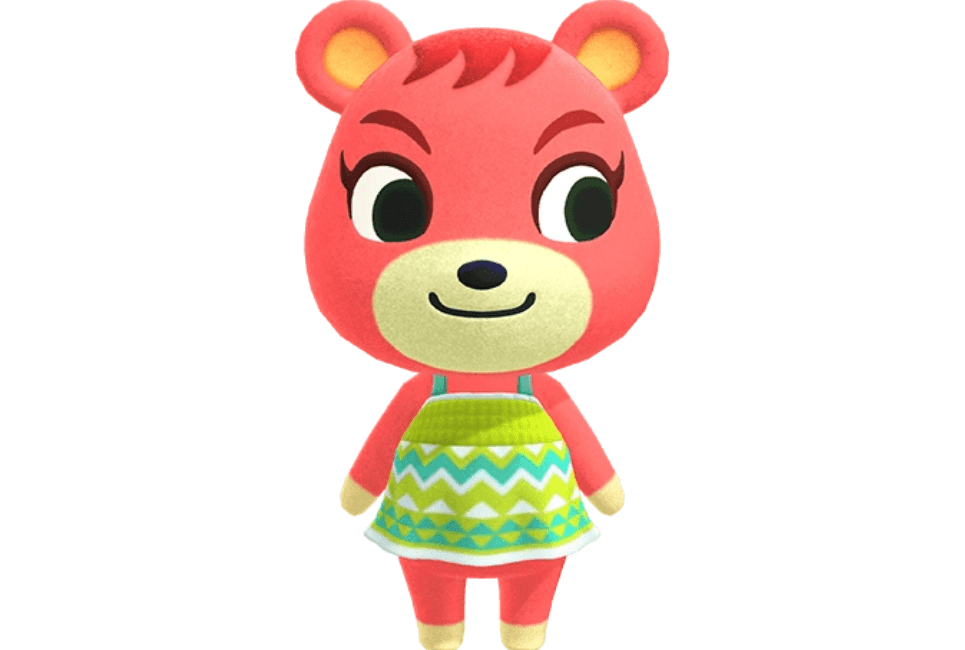 Cheri is a reddish-pink bear cub, a color which some may consider "cherry" like. Cheri's coloring may be where her name is derived from, but some players have also theorized that her name might be a reference to her "cheery" personality. 
Cheri is almost completely the reddish-pink color with some beige accents. Cheri has a beige patch of fur around her snout, as well as on her hands and feet. The inside of Cheri's ears is yellow-ish, and she has a dark red patch of "hair" on top of her head. 
Cheri's appearance is one of the things that makes her so popular in Animal Crossing. Players are enchanted by her beautiful big eyes and her sassy arched eyebrows. Cheri's eyes are so large they take up almost half of her entire face. Her eyes don't have any color; they are purely white with big black pupils. Cheri also wears my favorite makeup style: winged eyeliner! Cheri has bold wings on both of her eyes; she doesn't necessarily have eyelashes, but these wings give her the appearance of lashes. 
Cheri's eyes are a bit odd because she is always looking down and to the side. If you ever see a picture of Cheri, you will notice that she is one of few Animal Crossing villagers who doesn't look straightforward. Cheri is by no means shy, so this side-eye look is likely meant to be taken as a "sassy" attitude. However, I feel like the sassiness would be better accomplished by having Cheri look to the side and upward instead of down. As it is, it makes Cheri look bashful. 
Cheri has a small black button nose with a thin line mouth underneath. Cheri wears a permanent smile on her face, but it makes sense as she is one of the "cheeriest" villagers in the game! 
One of my favorite things about Cheri, and all bear cub villagers, is her cute fluffy tail. Cheri's tail is a round puff that sits right underneath her shirt (or dress), and it is the same color as her fur. It is not visible in most "official" pictures of Cheri, but if you invite her to your island, you will get to see it as she walks around. 
The main flaw in Cheri's character design is her head-to-body ratio; this is a problem for all bear cub villagers. Many players like the bobble-headed nature of the bear cubs. Their heads are enormous and very round. Ironically, as round as their heads are, if the bear cubs had completely circular heads like their bear counterparts, they would be much cuter! The slight oval shape is offputting and takes away from the adorable nature of the bear cubs just a bit. 
Personality
Cheri is a peppy villager. Peppy villagers are extremely easy to make friends with. They are excitable, and they are always ready to have a chat with the player or with other villagers. Peppy villagers are almost always cheerful, and they show very little in terms of the range of emotion. Peppy villagers will like to put on a bit of a show and will often be found wandering around the island performing some sort of reaction. At the max friendship level with peppy villagers, they will give the player the mischief reaction, which is appropriate since peppy villagers tend to cause a bit of mischief if they feel they are not getting enough attention. 
Peppy villagers get along with most other types of villagers, and they get along particularly well with jock types (which is often seen as the male equivalent of the peppy type). Peppy villagers do not like snooty and cranky villagers, and they will often be upset by some of the things that snooty and cranky villagers say. Peppy types won't shy away from interacting with the snooty or cranky types on the island. However, they may complain about an insult that they received from one of these types. 
Why You Should Have Cheri on Your Island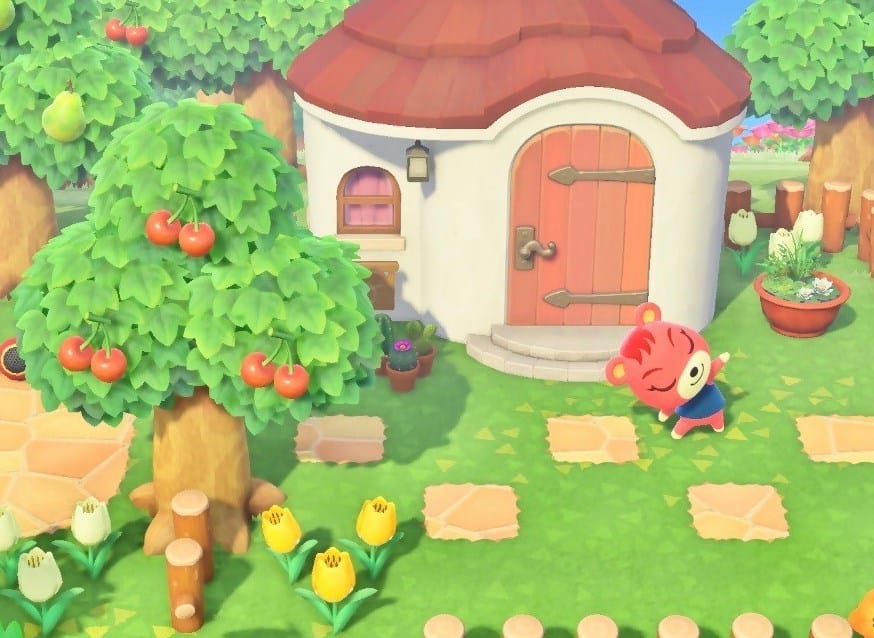 Cheri is the perfect peppy villager to add to your island! She is a character that has been part of the Animal Crossing world since its beginnings. Cheri's talent is "staying positive," and she certainly does a great job of it! No matter what is happening on your island, Cheri will find the silver lining. 
Cheri is super social, like most peppy villagers, and she will talk to everyone on your island. She is easy to become friends with, and she will try to make sure that all the other islanders like her. She is hard to discourage once she sets her mind to something, she will be sure to accomplish it. 
Cheri has the fashion hobby, so she will be able to give you professional fashion tips taken straight from the pages of her favorite magazine, Ms. Nintendique. Cheri's fashion hobby also means that you can gift her wearable headwear, and she will appreciate clothing gifts more than other villagers. Having a villager with the fashion hobby is essential for any island. Often, I feel uncertain about an outfit or a particular hat, and I will go to my favorite fashion consultant for advice. Cheri will be nice in her critique, but she will let you know if something you are wearing doesn't quite work with the rest of your outfit. 
The exterior of Cheri's home is simple and chic, which means that it will work well anywhere on your island. Most of her home is a beige color, and she has a red roof. I think that Cheri's home works particularly well next to the Able Sisters' shop, which is apt, considering Cheri's deep love of fashion! 
Cheri is one of the more popular villagers, and she can be found near the top of many tier lists. Cheri is usually an A or B-tier villager; she isn't typically considered S-tier, but certain lists may have her in that category as well. If having popular villagers is important to you, Cheri would make a great addition to your island!
Home Appearance
Cheri has three different homes, as she has been in the original Animal Crossing, New Leaf, and New Horizons! In each variation of the game, Cheri's home has changed, with the largest update happening in New Horizons. Cheri's interior in both Animal Crossing and New Leaf was discombobulated and chaotic, with random pieces of furniture covering her entire floor plan. The only aspect of Cheri's home that has remained consistent is her bright red roof! I like that the Animal Crossing developers kept Cheri's roof red, as it is a great match to both her name and her fur! 
In New Leaf, Cheri's home has a futuristic, modern vibe. She has a few pieces of the Astro set, the Astro bed, dresser, table, lamp, cd player, and shelf. She also has a few items from the minimalist set, the minimalist sofa, and the ottoman. The largest furniture item in Cheri's New Leaf home is the shower stall, which almost looks like a futuristic teleporter next to all of the Astro furniture! The New Leaf design of Cheri's home isn't terrible, the furniture works well together, and it is placed nicely around her home. However, the biggest problem that I have with Cheri's New Leaf home is that it doesn't match her personality. Cheri is cherry, peppy, and cute! She doesn't have a particular interest in science fiction or space, and the orange and white theme doesn't match her color preferences. The interior of Cheri's New Leaf home isn't right for her. 
In New Horizons, Cheri's home got a complete revamp. The interior of her New Horizons home is red and white, with no particular furniture set involved. The largest item in her home is the cute bed in red. Cheri's home is laid out as if it were a studio apartment. She has two areas in her home, the bed/living area, which has her cute bed, and her red double sofa; the other area is her kitchen/bath area, which contains the clawfoot tub, tankless toilet, gas range, mini-fridge, revolving spice rack, cute tea table, bathroom towel rack, and pot rack. Cheri does have some other small items in her home, but for the most part, everything works very well together. Cheri has one of few homes in the Animal Crossing world that seems like it would function as a real living space! Not only has she managed to accomplish designing a functional space, but it is also super cute, and it matches her fur color; cherry red! 
As mentioned earlier, the exterior of Cheri's home is a light beige with a red roof. In New Leaf, she does have a red roof, but her home is wooden brown, and she has a pink door. In the original Animal Crossing, Cheri's home's exterior is similar to New Horizons with a red roof and a cream white base. 
Best Gifts For Cheri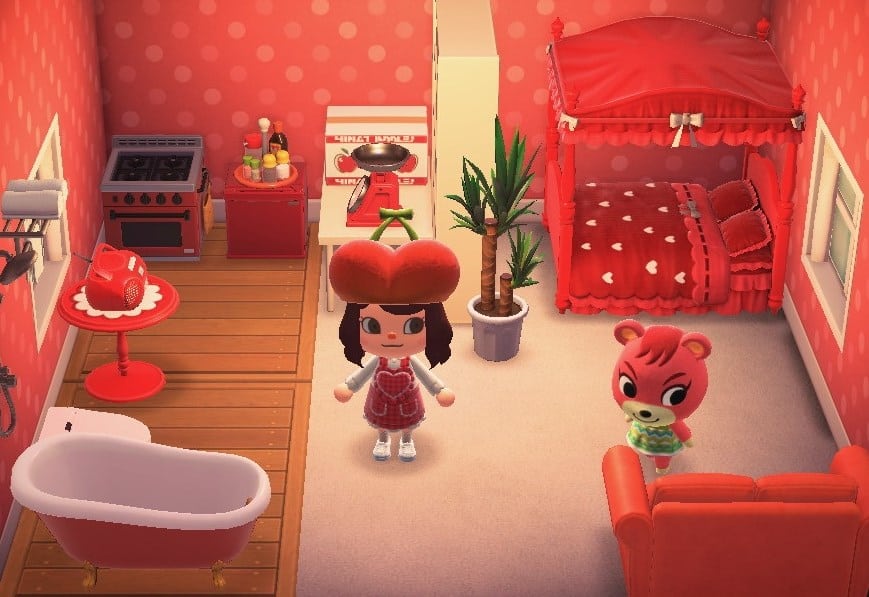 Cheri is fun to shop for because her favorite color is yellow! Yellow is such a fun and happy color, not to mention; it looks incredible on Cheri! Cheri enjoys items that are simple or cute. Identifying clothing that is simple or cute is relatively easy. You can look for things that don't have super bold patterns or look for items with lots of ruffles and frills! 
Some of my favorite simple items for Cheri include the linen dress in yellow, the raincoat, energetic sweater, cardigan shirt combo, simple dots dress, simple parka (comes in aqua or yellow!), and the layered tank. 
My favorite cute items for Cheri are the frilly dress, silk floral-print shirt, lacy dress, fairy dress, plaid puffed-sleeve shirt, apple dress, ribbons, and hearts knit dress, and the fairy tale dress. There are a ton of other cute items that Cheri would enjoy, but I think that this list encompasses the items that look best on Cheri. 
Since Cheri has the fashion hobby, she can wear hats and glasses! Finding the perfect headwear for Cheri is a daunting task. I once gave Patty, another peppy villager with the fashion hobby, the silly goggles, and now she won't take them off! My once cute cow villager now looks a bit crazy walking around my island. Here are the items that I would recommend for Cheri; the giant ribbon (in yellow), ribbon, plumeria hairpin, heart hairpin, patchwork tulip hat, floral hairpin, school hat, and any of the flower crowns. 
Cheri is passionate about fashion and clothing, so I would recommend gifting her clothing over furniture. However, if you want to give Cheri furniture, some items would work well for her. Some of the best items fit the theme she already has; kitchen or bedroom items in red! I would gift Cheri the espresso maker, microwave, cute floor lamp, cool side table, dish drying rack, coffee cup, and pop-up toaster. 
Cheri in Pocket Camp
Cheri's description in Pocket Camp is the perfect explanation of her personality; "Cheri is as cheerful as she is determined. Almost to a scary degree." This hardcore cheeriness can be a turn-off for some players, which is why, despite her popularity, Cheri isn't found on a lot of islands. However, if you are looking for a villager who will always have something positive to share, Cheri is a good option. 
Cheri's preferred theme is a bit odd, considering her personality and interests in the other Animal Crossing games. In Pocket Camp, Cheri prefers the sporty theme. It seems to make more sense for Cheri to prefer the cute theme, like most other peppy villagers. Unfortunately, Nintendo has not released an explanation on why Cheri prefers the sporty theme in Pocket Camp. 
Cheri has been part of Pocket Camp since its release in 2017. She is one of only 40 villagers that has always been part of the game. There are now 286 villagers in Pocket Camp, and that number is constantly on the rise. Many players have Cheri at a high friendship level since she has been around so long, and therefore, Cheri's picture may be prevalent at your friends' campsites! 
Cheri primarily gives steel as a reward for completing missions. Her default clothing is the Sunflower tee, which you can change at level seven friendship. To bring Cheri to your campsite or your cabin, you will have to reach friendship level seven and craft five different items. The items that Cheri requires are; the round mini cactus, flower pop carpet, fruit basket, table with cloth, and the cream sofa. Her crafting request at level 15 is the shower stall, which is a featured item in her Animal Crossing New Leaf home! 
You can receive Cheri's picture at level 20 friendship, like most other characters in Pocket Camp. To be able to get to level 20 with Cheri, you will have to build the sporty-themed amenities. The first is the sporty tent, then the halfpipe, and finally the swimming pool set. 
Cheri's Amiibo Card
Cheri is unique as she is one of very few Animal Crossing characters that have both an e-reader card and an Amiibo card! Since Cheri has been part of the Animal Crossing universe from the beginning, she gets to have two cards to her name. The e-reader card looks very old-school, but it has an interesting profile on Cheri, which says, "Cheri likes things her own way. She can even be a little pushy, but whether it's her attitude or her expression, she's often mistaken for a boy. But she thinks she's pretty, and that's all that matters." 
The profile on her e-reader card strikes me as odd because Cheri doesn't look like a boy to me! There certainly are characters that are more androgynous, but Cheri isn't one of them. She wears makeup and likes more traditionally girly things. I did not have the chance to meet her, though, back when I was playing the original Animal Crossing, so perhaps her personality has changed over the years. 
Cheri's original e-reader card is number 39, and she is featured wearing the yellow bar shirt. She has her hands on her hips and her legs spread apart. She represents the more determined part of her personality in this e-reader. It has her catchphrase on it, "tralala," which has not changed from the original game! 
Her Amiibo card is a light pink color, it is the number 23, and her hand sign is scissors. She is posed in more of a cute way on her Amiibo card, with one hand in the air and the other on her hip. One of her legs is in the air and bent to the side just a bit. She is wearing her sunflower tee, and her mouth is open into a large happy smile! Cheri looks super cute in her Amiibo card, and it's one of my favorites. I would certainly recommend having it for any Cheri fan!
Cheri Merchandise
When I started researching Cheri merchandise, I thought that I might see some mix-ups with Cheri/Cherry, as those villagers often get confused due to the close nature of their names. However, oddly, when I was looking at Cheri merchandise, a lot of what came up was Murphy merchandise. Murphy is a green bear cub who I absolutely love, but I wouldn't typically relate him to Cheri. Regardless, I was able to find some fun Cheri merch. 
Cheri Mug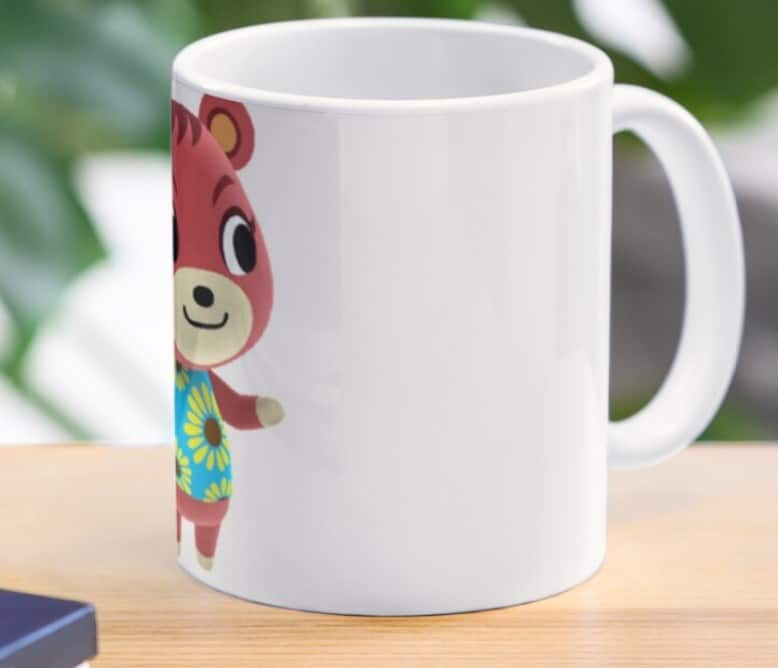 This Cheri Mug is a great way to start your morning with Cheri's smiling face! The mug comes in two styles, the classic mug and the tall mug. I particularly like the tall mug version because it allows you to have a bit more style than the traditional classic mug. Cheri is depicted in her original Animal Crossing style on this mug, and she is shown wearing her sunflower tee. The mug is only $17.77, and it is certainly worth the price! It is dishwasher safe, holds 11oz of liquid, and has a great image of Cheri front and center. 
Cheri Singing Notebook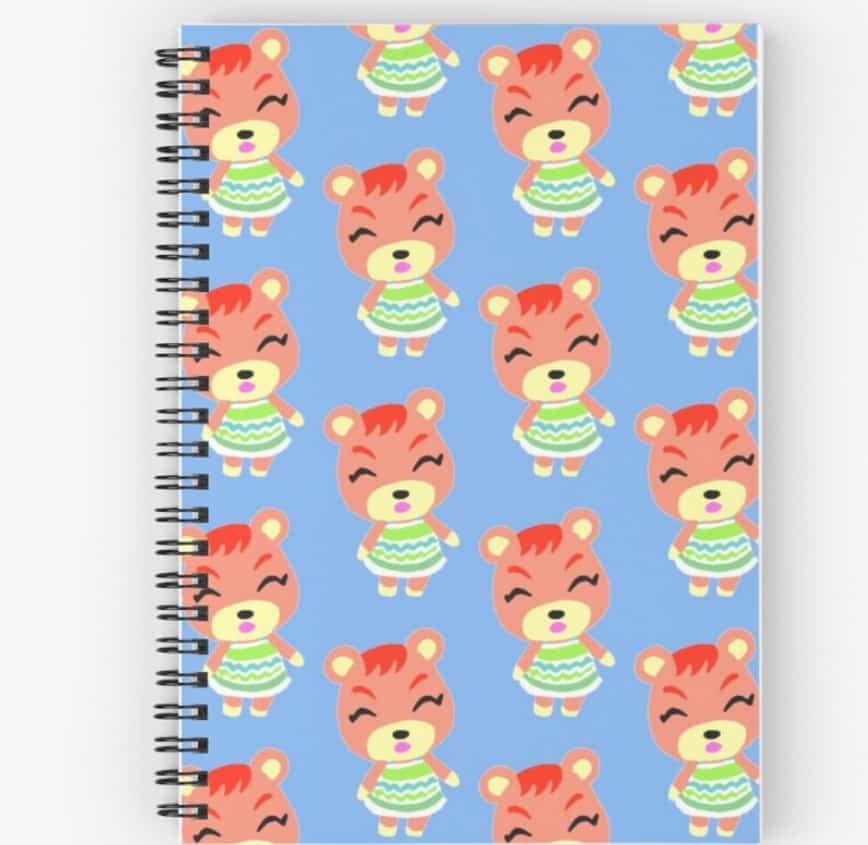 This Singing Cheri Notebook is a super cute method of inspiration for all your writing needs! I own more notebooks and journals than I can count, and this Cheri Notebook is certainly one that I would like to add to my collection. It features a cartoonish, lineless Cheri with her little mouth open in an O shape, as if she were singing. She wears the zig-zag print dress, which is her starting outfit in New Horizons. Her eyes are closed, but you can still tell she is singing some kind of cheery song! I love the light blue background on this notebook and the way that it highlights the pink hues in Cheri's fur. For only $16.45, I think this notebook is a great deal. It has 120 lined pages, and you can also get it with graph paper if that is your preference. This artist has the design available on over 30 products, including a mug, sticker, or zipper pouch, as well as the notebook. 
Cheri No Background Tee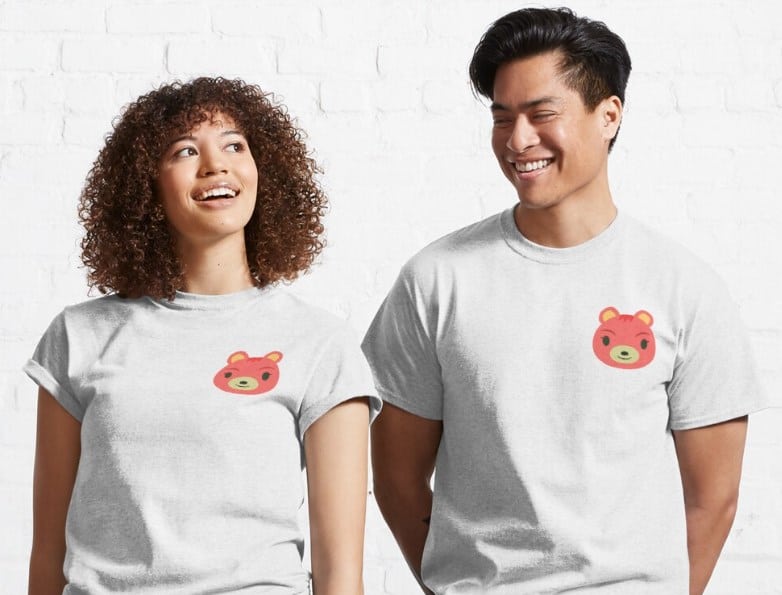 This Cheri no background tee is a perfect way to covertly rep your love for the cub everywhere you go! It is mostly white, with a stylized version of Cheri's face over the left breast. Cheri's face is pretty plain in the design. She has simple black pupils, a fully rounded pink head, think lines for eyebrows and her mouth, and her cute black button nose. However, the reason I love this shirt so much is that it almost looks like Cheri is the "brand" of the shirt. Modern clothing brands are now coming out with very simple designs that just feature their logo, small, usually somewhere on the chest part of the shirt. This tee replicates that style, using Cheri's face as the "logo." I think Cheri would be thrilled to be considered a high fashion brand, and I like to imagine she is when I wear this tee. The shirt comes in multiple styles, and the base design is $22.66. It comes in numerous different colors, but I would highly recommend sticking with the plain white background. 
FAQ's
Question: How Many Games Has Cheri Been In?
Answer: Cheri has been part of seven Animal Crossing games, including the original Animal Crossing, New Leaf, New Horizons, Happy Home Designer, and Pocket Camp. She was also part of the Amiibo Festival and Doubutsu no Mori e+. Oddly, she was not featured in the original Doubutsu no Mori. She was also not part of Animal Crossing Wild World or Animal Crossing City Folk. Cheri has been part of the most successful Animal Crossing games, as well as most of the spin-off games. 
Question: Is Cheri A Good Villager?
Answer: Everyone has different preferences for villagers; however, on a general whole, Cheri is regarded as an excellent villager! She is ranked either A or B tier on most Animal Crossing tier lists, making her more popular than most other characters. I'm not a huge fan of Cheri's persistent cheeriness, and I do love Rosie and Patty as my peppy villagers. There are perks to having Cheri on your island, and most players regard her as a wonderful islander! 
Question: What is Cheri's Default Outfit?
Answer: Cheri is one of few villagers who has three different default outfits! Most villagers who have been around from the beginning have two default outfits, but their clothing remained consistent until New Horizons. However, Cheri's outfit changed from the original Animal Crossing to New Leaf. In the original Animal Crossing, she wears the striped bar tee, in New Leaf, she has the Sunflower tee and in New Horizons, she is wearing the zig-zag printed dress. In Pocket Camp, she also wears her Sunflower tee. I think Cheri looks best in the Sunflower tee. It suits her perfectly because it is a combination of her favorite colors, aqua and yellow!
Conclusion
Cheri is an upbeat, positively determined peppy bear cub villager. She is super cute and very popular within the Animal Crossing fan community. She has the fashion hobby and will make sure to tell you what is right (or wrong) about your outfit at any given time. She has been in the Animal Crossing world since the beginning, and therefore she is a nostalgic character for longtime players of the game. Cheri is a great addition to any island that needs a peppy villager to add positivity to the island vibes!
Continue reading:
Animal Crossing Build A Bear Guide
Animal Crossing Sisterly Villagers Guide
Latest posts by Karrina-Bella Yaeger
(see all)