Animal Crossing is one of the calmest and cutest games out there, and the Animal Crossing Sanrio Amiibo cards take that to the next level. The latest entry to the series New Horizons welcomed new and veteran players of the game. Even if you can find some older fans grumbling about features they miss from New Leaf, all of us have played a fair number of hours on the Nintendo Switch, paying back our debt to Tom Nook and finding more exciting things to do while on this island gateway.
Bottom Line Up Front
The Animal Crossing Sanrio Amiibo cards are some of the best in the series. They are cute, the items are outstanding, and you get all characters in one go instead of gambling in hopes of finding a villager you like.
Amiibo Cards 101
The Amiibo feature has featured in multiple games, varying from character add-ons to Nintendo's super hit Smash Bros to different vehicle options in Mario Kart. As for Animal Crossing, Amiibo cards help us get desired villagers or other goodies for our villages and islands! The options vary from rare figures of Isabel, Tom Nook, and other beloved NPCs from the game series to cards with every single character ever introduced to the game.
An Animal Crossing Amiibo pack varies from series to series, but traditionally it is four random villagers with one shiny card with a random choice of an NPC. You do not know who you will get from the original Nintendo Amiibo card sets, but the Sanrio Animal Crossing pack is an exception. Unlike the classic Nintendo AC Amiibos, you get a total of six cards with all the Sanrio-inspired Animal Crossing characters. 
What Is Sanrio?
Sanrio is primarily known for the funky and world-famous Hello Kitty, which has inspired many toys, merchandise, games, movies, shows, cute, kawaii movements, and just being an all-around icon. If you have not heard of Sanrio, you have at least heard of Hello Kitty. Besides the adorable little cat, Sanrio also has many other famous characters worth having on your Animal Crossing island.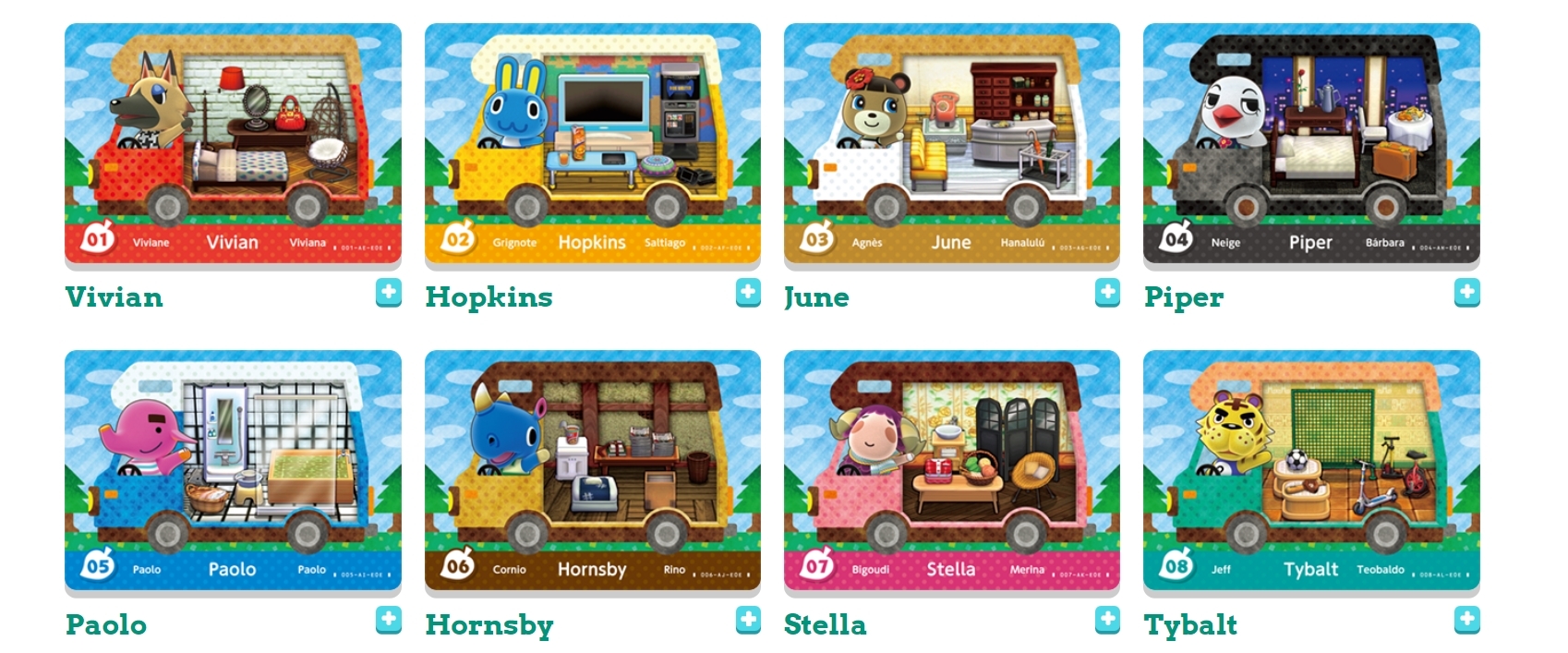 What Does Every Card Give Me?
Every card will allow you to invite one of the six characters inspired by Sanrio to your island. They make their appearance at the campsite where you will be able to meet them and get them to move over with the right approach. And live about with your other villagers.
Just make sure that you have an empty plot before they move in. Another important detail is that the game will force your characters to swap if all of them are full. You will have to relocate a villager to make the new one move in. The system also applies to other Amiibo cards that summon villagers, not just the Sanrio ones. 
Besides inviting the new characters as villagers, you'll be able to unlock the cute furniture that will match their Sanrio-inspired personalities. The newcomers can also participate in Harv's Island Photopia as models for the challenges. You can get the furniture items associated with the characters by inviting them to live on your island. The invitation process happens through the Nook Stop in Residential Services.
If you call the animal of choice to Harv's Photopia, you will also unlock the items if you do not want the hassle of moving. 
When it comes to Brewster's The Roost, don't worry, you can also call the Sanrio characters in for a friendly chat over a warm cup of coffee. These conversations are excellent opportunities to learn more about their personalities and history.
Once you get the DLC, Happy Home Paradise, after completing jobs for five to six clients, you will have the lucky opportunity to call in and make a vacation home for the Sanrio character (or characters) of your choice! You'll get rewards for decorating their home and enjoy some fun with them! The challenges may be tricky to complete based on what they ask you to do, but the results are worth it.
If you are very into decorating and trying to go up and reach the rank of GOAT (greatest of all time) in your decorating career in the DLC. 
Nintendo first released the Amiibo Sanrio cards for the Nintendo 3DS New Leaf Animal Crossing entry, but they are also applicable for the Nintendo Switch's New Horizons, allowing lots of fun!
A Card Will Give You the Ability to
Invite a Sanrio inspired Villager to the campsite and later to the island

Get Sanrio themed furniture

Use the Sanrio character as a model in Photopia

Call the said character to The Roost to enjoy coffee

Build a vacation home for the Sanrio Character
Characters Inspired by Sanrio
These cute characters are the product of a collaboration event with Sanrio. They are original Animal Crossing villagers whose design draws inspiration from traditional Sanrio aesthetics. They are not Sanrio characters themselves, so you cannot invite Hello Kitty to be in bell debt from Tom Nook. But the animals inspired are cute by themselves and have very loud, obsessed Sanrio personalities. 
Chai, the Elephant, Inspired by Cinnamoroll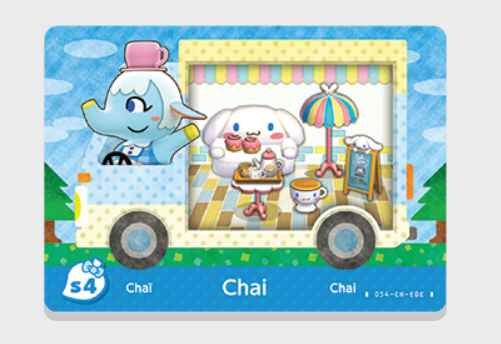 Despite being called Chai, her Japanese name comes from the Swedish word 'Fika.' It means to have tea or coffee with a side of a pastry and always with friends. Like most Sanrio animals, Chai does not embody the same animal as the Sanrio character from whom she draws inspiration.
Cinnamoroll is a dog, although many people believe them to be a bunny or rabbit of sorts). A popular fan theory about Chai being an element refers to the Disney film Dumbo. In that movie, the elephant could fly with his long ears, which is a skill he shares with Cinnamoroll.
Items unlocked by scanning the Chai card:
Cinnamoroll Parasol

Cinnamoroll Rug

Cinnamoroll Floor

Cinnamoroll Hat

Cinnamoroll Jacket

Cinnamoroll Sign

Cinnamoroll Sofa

Cinnamoroll Shoes

Cinnamoroll Stool

Cinnamoroll Tray

Cinnamoroll Table

Cinnamoroll Wall
Chelsea, a Deer, Inspired by My Melody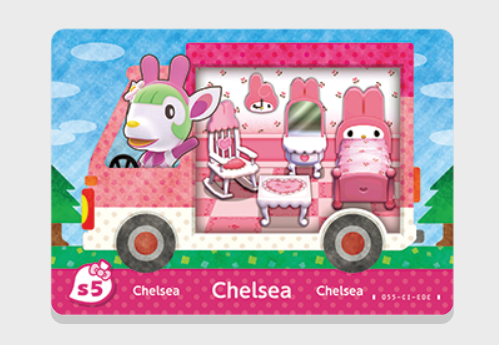 Chelsea is a deer inspired by the bunny called My Melody. Her clothing choices draw heavy inspiration from her idol. Chelsea wears outfits almost identical to My Melody and shares her playful personality in Animal Crossing New Leaf and New Horizons. Her catchphrase is 'pound cake,' and this is no coincidence. These are My Melody's favorite food, so this deer has been doing her homework about her idol. 
Items unlocked by scanning the Chelsea card:
My Melody Dress

My Melody Bed

My Melody Chair

My Melody Clock

My Melody Dresser

My Melody Floor

My Melody Hat

My Melody Outfit

My Melody Rug

My Melody Shoes

My Melody Table

My Melody Wall
Etoile, a Sheep, Inspired by Little Twin Stars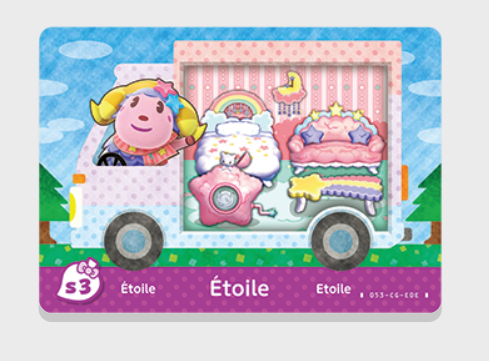 This cute sheep's name means Star in French, which would explain her direct and obvious name origin. For those interested in complex Animal Crossing lore, on April Fools' Day, it is revealed that Etoile has a twin, just like her beloved Little Twin Stars. Even though her character comes from humans, she is a sheep in Animal Crossing.
The story goes that the sleepy icons inspired this design choice, as we associate counting sheep with trying to fall asleep. Her birthday is on Christmas, December 25th, which falls on the Birthday of Animal Crossing villager Ruby. 
Items unlocked by scanning the Etoile card:
Cloud-making Machine

Kiki and Lala Dress

Kiki and Lala Pin

Kiki and Lala Shoes

Kiki and Lala Bed

Kiki and Lala Clock

Kiki and Lala Socks

Kiki and Lala Sofa

Kiki and Lala Table

Kiki and Lala Wand

Kiki and Lala Wall

Kiki and Lala Floor

Kiki and Lala Rug

Kiki and Lala Outfit
Marty, a Cub, Inspired by Pompompurin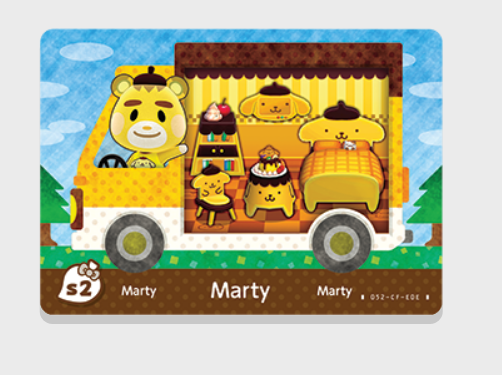 Marty looks a lot like Pompompurin with his color scheme. His idol is Sanrio's lovely dog. Marty is the eldest of two siblings, something he reveals to players during Animal Crossing New Leaf. He is also a famously lazy villager. Marty has all the lazy villager traits and characteristics. He is one of the cutest Sanrio Animal Crossing characters, and I love him dearly.
Despite being a lazy villager, he has the Play hobby, meaning he can stretch out his arms to the side and run around the New Horizons island, so make sure to make way for Marty! 
Items unlocked by scanning the Marty card:
Pompompurin Bed

Pompompurin Chair

Pompompurin Outfit

Pompompurin Pudding

Pompompurin Dress

Pompompurin Floor

Pompompurin Hat

Pompompurin Rack

Pompompurin Wall

Pompompurin Rug

Pompompurin Table

Pompompurin TV
Rilla, a Gorilla, Inspired by Hello Kitty Herself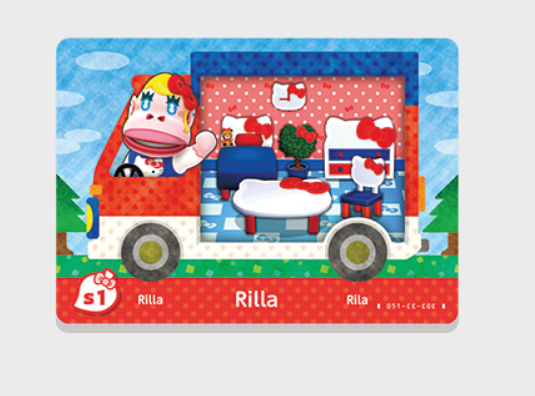 Curiously enough, Rilla is probably the least popular Sanrio Animal Crossing character. You would think that coming from Hello Kitty would make Rilla the star of the show. Players scan her card to get the Hello Kitty items for the island. Hello, Kitty is one of the most famous cats ever, but Rilla is a gorilla, as her name hints. She is the only Gorilla character in Animal Crossing that does not have a Fitness hobby.
Instead, Rilla prefers to spend her free time with Nature. She also has a twin sister, just like Hello Kitty has Mimmy. It is a great touch that shows how thorough the Sanrio design team has been with this Hello Kitty dedication. All the apple-related items Rilla requests in the Animal Crossing DLC Happy Home Paradise are a direct nod to Hello Kitty's favorite food, apple pies. It also references the fact that Hello Kitty is three apples tall. 
Items unlocked by scanning the Rilla card:
Hello Kitty Floor

Hello Kitty Hat

Hello Kitty Dress

Hello Kitty Planter

Hello Kitty Rug

Hello Kitty Outfit

Hello Kitty Bed

Hello Kitty Chair

Hello Kitty Clock

Hello Kitty Drawers

Hello Kitty Shoes

Hello Kitty Table

Hello Kitty Wall
Toby, a Rabbit, Inspired by Keroppi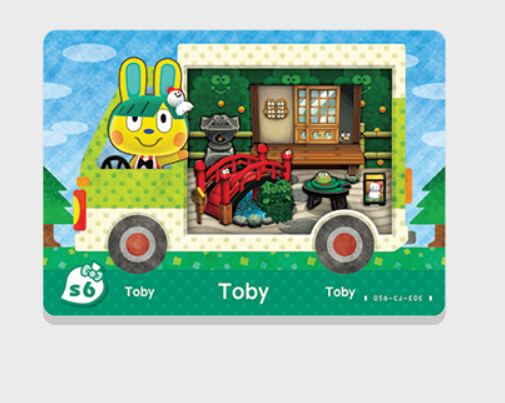 Keroppi is a famous frog, while Toby is a cute-looking rabbit obsessed with him and all things about the froggy. His initial phrase is Kero Kero, which is how the Japanese language represents frog noises. Toby is the youngest of 5 siblings, as he shares with us on April Fools Day in New Leaf. He has a music hobby in the game entries. If Toby is a villager, you will find him singing around the island without having a stereo, so get ready for the Toby acapella! 
Items unlocked by scanning the Toby card:
Gray Patterned Floor

Green Boots

Green Gingham Shorts

Kerokerokeroppi Screen

Kerokerokeroppi Top

Kerokerokeroppi Tray

Kerokerokeroppi Wall

Kerokerokeroppi Cake

Kerokerokeroppi Doll

Kerokerokeroppi Pins

Kerokerokeroppi Rug

Shoji Bench

Stone Lantern

Suspenders Shirt

Tranquil Bridge
Sanrio Card Pack Availability
Remember that you only need one card pack to get all six characters inspired by Sanrio! Each Amiibo pack guarantees all of them, meaning players do not have to buy multiple ones in hopes of lucking out like with the other Amiibo Animal Crossing Cards.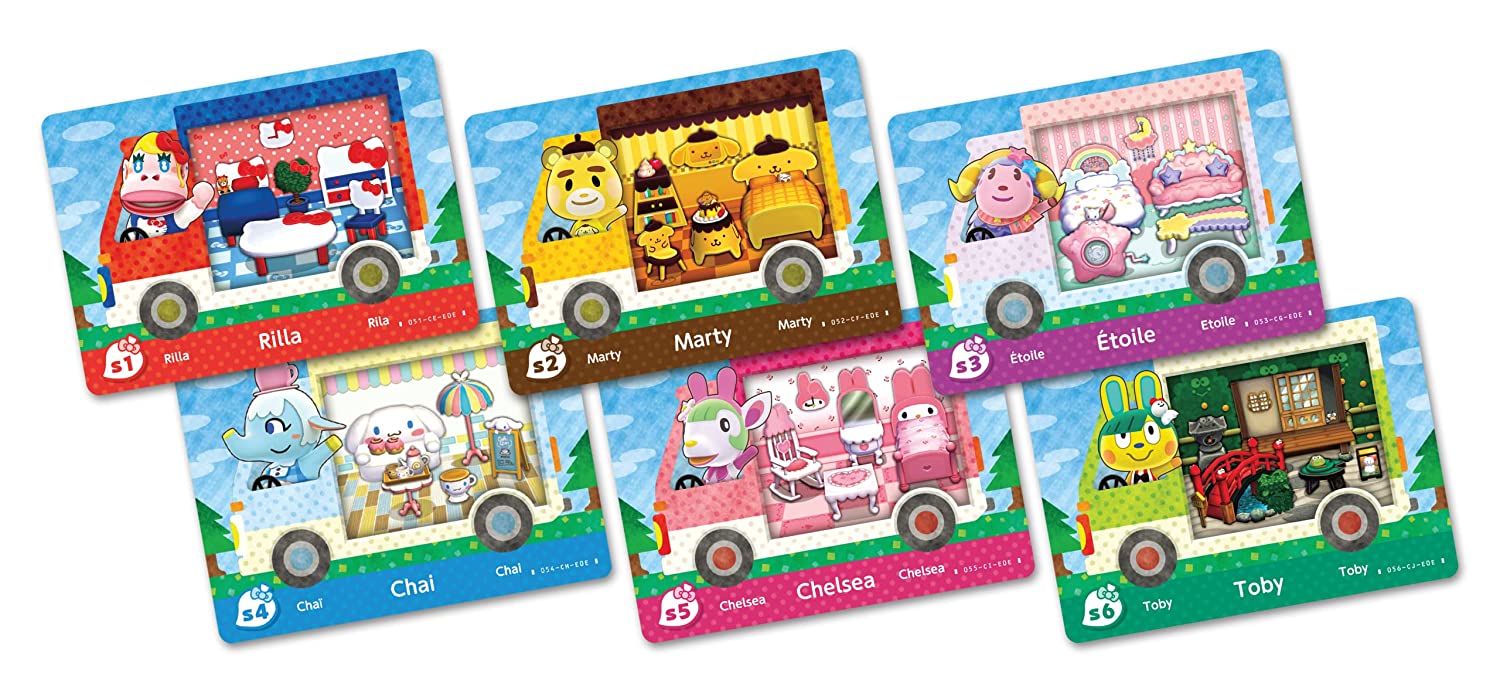 In the USA and the UK, there are a lot of scalpers who get their way by buying them ahead and selling them for ridiculous prices on eBay and other websites. In mainland Europe, the problem is not as bad. I have encountered plenty of them in FNAC stores (a French retailer available in different countries from Spain to Brazil), while other stores do not stock any Animal Crossing cards. It is also possible to order them through Amazon, but you have to check for their availability.
FAQ
Question: Are Animal Crossing Sanrio Cards Limited Edition?
Answer: They are not limited edition, but they may be hard to find in your region, specifically if your stores are prone to scalper raids. 
Question: Are the Animal Crossing Sanrio Cards Random?
Answer: No. You get the same six characters as everyone who buys a pack. Make sure not to buy doubles! 
Question: Can Sanrio Amiibo Cards be Reused?
Answer: Yes, as many times as you would like! The chips in the cards are not affected when they are activated.
Question: Do Sanrio Villagers Stay on Your Island?
Answer: As long as they agree to move into a lot/house from the campsite, then yes, they do! Make sure to give them gifts and listen to their requests to make them more likely to stick around.
Question: How do you get Sanrio Items Without Inviting the Villagers?
Answer: The characters do not need to move in to unlock the furniture. So long as you scan the matching villager card of the items you desire to acquire, they will be available through the Nook stop. Remember that you can order only five of them per day! 
Final Thoughts
The Sanrio characters are all great and are a lovely addition to the Animal Crossing franchise, as long as you can find the cards. I was lucky as we have them in bulk here, so there was no need to hunt the cards down. I love all of the characters as a dedicated Sanrio fan from childhood. I think the furniture items are adorable and a must-have if you like a stylish and fun island design.
While the decorator DLC is challenging with these cute folk, it is rewarding and relaxing to see these cuties get happy! I highly recommend buying the Animal Crossing Sanrio Amiibo cards, specifically if you want some Amiibo additions.
Continue reading 
Animal Crossing Build A Bear Guide
Animal Crossing Smug Villagers: A Complete Guide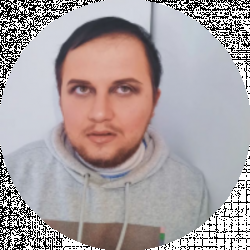 Latest posts by Jamie Tugayeva
(see all)