Animal Crossing is one of those games where if I see an item with a character I like on, I have to buy it. After playing Wild World in 2006, where gaming merch was incredibly few and far between, being able to walk into a shop now and see a variety of Animal Crossing goodies just begging for me to take them home is a sight. The choices are overwhelming too.
I visited Nintendo New York a few years ago, and I stood staring at the Animal Crossing section for an upsetting amount of time. Part of you wants to buy one of everything, but a college student's part-time job says otherwise. Due to the visual appeal of Animal Crossing, you already know their merchandise is adorable.
If there's one thing that I crave most about this franchise's merchandise  – it's plushies. Giving your favorite character a little squeeze when the virtual version is heart-wrenchingly wholesome is a must-have for any fan. There have been several occasions where I wished I could leap through the screen and scoop up all my islanders. So when Build-A-Bear teased their collaboration with New Horizons, I lost my mind.
I own a few Build-A-Bear plushies already, so I know the friends they make are incredibly high quality.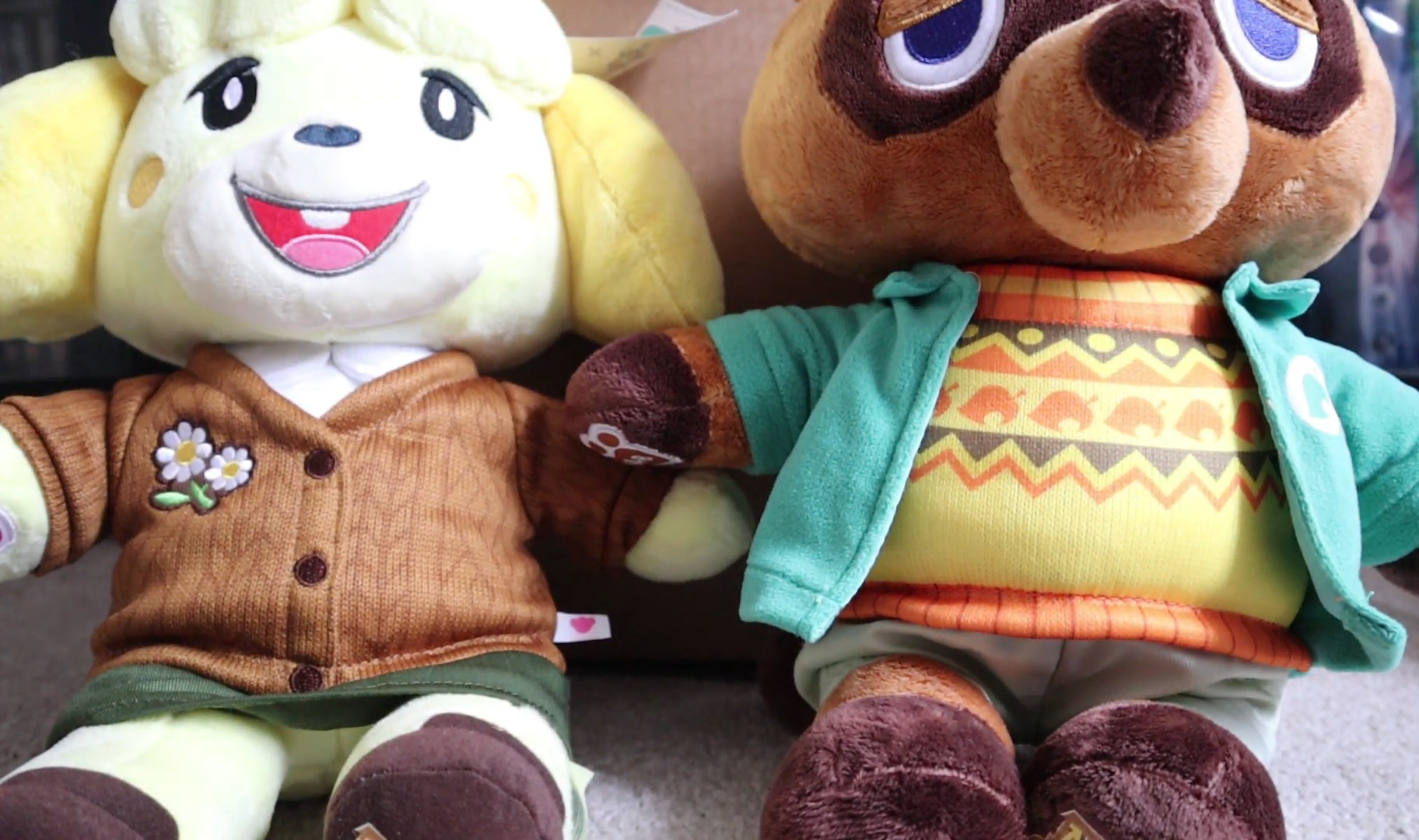 When Was It Announced & Released?
The collection of fuzzy friends was teased in late March 2021, leaving us to speculate who we thought would be in the release for just under a month. A series of Instagram pics and social media posts drummed up my excitement, and I wasn't the only person who combed the internet to find out as much as I could. Naturally, I wanted a plushie version of my favorite islander, but the chances were slim with over 400 possible plush pals. There are other high-quality plushies available across the internet.
However, a Build-A-Bear is any collector's dream. I have a handful of Nintendo brand AC plush already. My only complaint is the size of them. While they look lovely on display, I would love a slightly larger cuddle buddy. Hence my undying excitement for the B-A-B launch.
The collection hit online stores on the 10th of April 2021. It was like getting tickets to a concert. I sat staring at my laptop as a stick figure walked alongside a queue. I must've sat staring at it for an hour and a half while I scrolled through Twitter. To this day, I don't think I have ever been excited about a merch launch.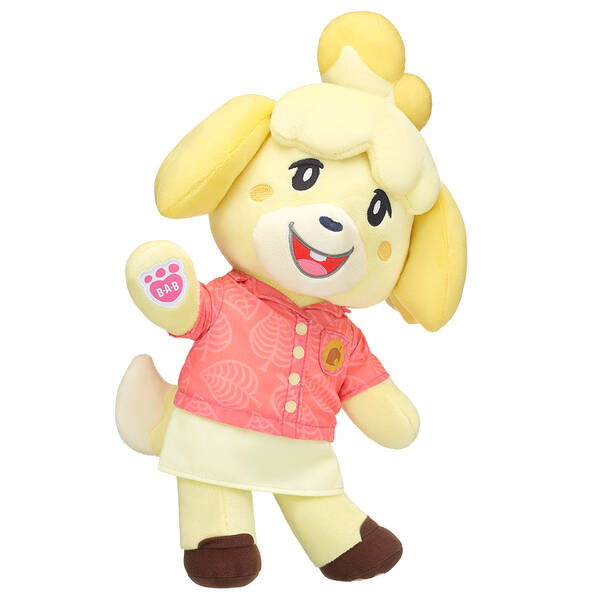 Our favorite yellow puppy has to embody plush form. I should have put bells on the expectation that this release would include Isabelle. She's an iconic character for the franchise. It would be sad not to see her in glory.
She features a coral color button-up shirt with the Nook Inc logo and a light yellow pencil skirt. Isabelle is one of the two plushies released in the first wave of AC x B-A-B plush toys. Originally it wasn't an option to just buy the plush on its own, as Build-A-Bear tends to feature in its new releases.
The Isabelle bundle came with a soundbox in her summer uniform. Unusually, the outfit comes with the plush rather than being sold separately. But the plush can be purchased via the Build-A-Bear website on its own now, and adding sounds and scents are optional.
I am not new to the joys of these launches, being the proud owner of a neat little Pokemon B-A-B collection. So 'Bears' coming in bundles of sounds and appropriate accessories isn't a new scheme for this launch.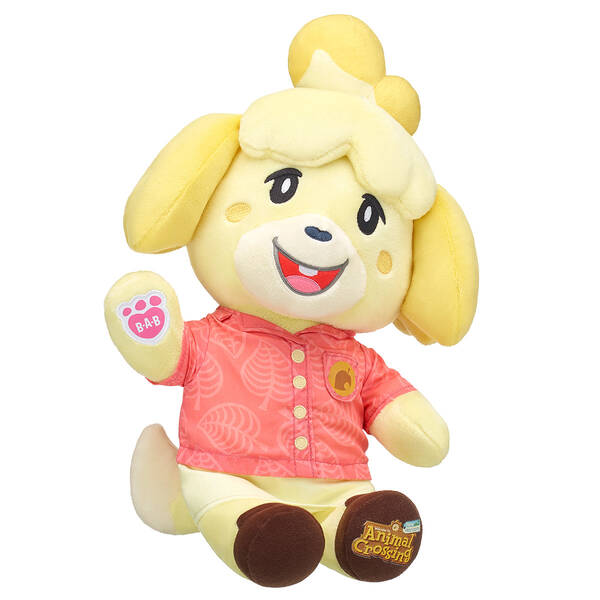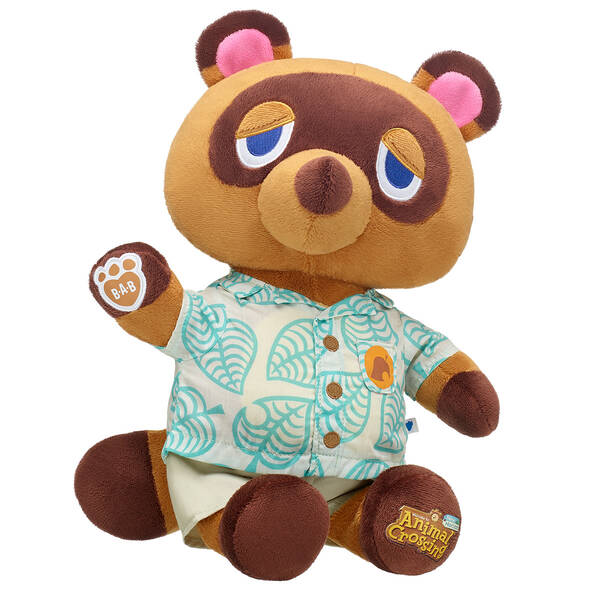 There needs to be the devil on the opposite shoulder to go alongside our favorite cheerful sunshine. Once again, I should've put all my bells on Tom Nook being a part of the same wave. Tom and Isabelle are almost the Pikachu and Eevee of the Animal Crossing world. You can't have one without the other.
Wearing a light blue version of the Nook Inc shirt and some beige shorts, Tom Nook is ready to take on island adventures from the couch with you. He's definitely my favorite of the pair, as his round features just work so well in plush form. Plus, this plushie is a decent coping mechanism when you're thousands in debt for taking a holiday package you didn't expect to pay for.
Much like the original release with Isabelle, this plushie was only available for purchase as a bundle. But she is now available on the Build-A-Bear website individually.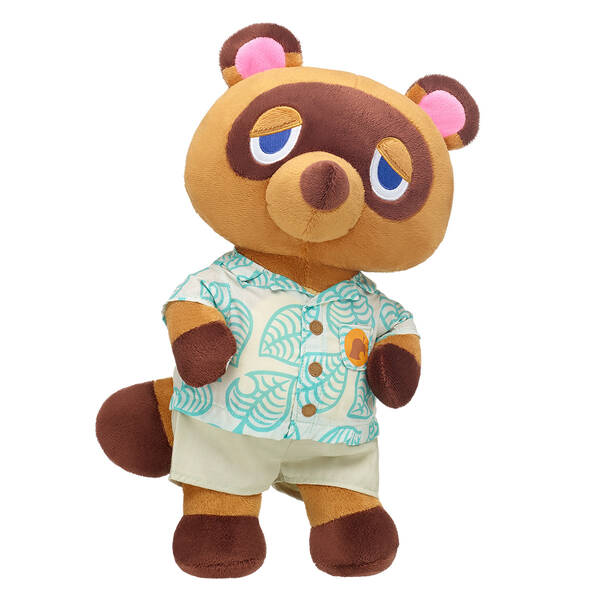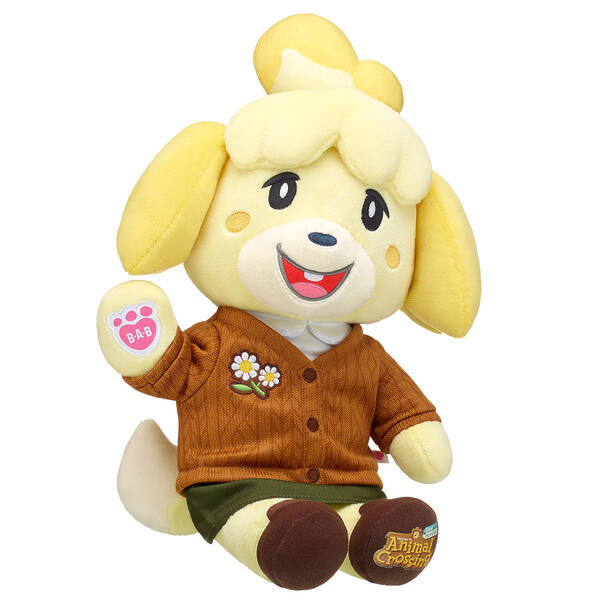 Rather than releasing an exclusive outfit, this release took me by surprise when they announced the 'winter collection' of Tom and Isabelle rather than releasing an exclusive outfit. I'm all for special editions; as a collector of things, I love the idea of having something different and a little bit rare. But I can't shadow my disappointment when I saw this secondary release of plushies.
The actual plush toy of Tom and Isabelle are the same as when they first came out. They don't even have different embroidered features, which is disappointing considering how anticipated this entire release was. As I mentioned already, the only difference is the outfits the two characters are sporting.
Rather than the summery Nook Inc uniform, Isabelle wears a burnt orange, knit style cardigan with white cosmos details and a mossy green pencil skirt rather than yellow. On the other hand, Tom Nook wears a blue overcoat with leaf detail and an orange, yellow, and brown knit-style jumper with the same logo. It's a cute jumper, but I wouldn't pay the total bundle price for just a pretty sweater.
Sure it's adorable to see the characters in different outfits, and if you're really into having a themed room, seasonal plushies are a great addition. However, I just can't help but feel like this was a wasted release. There are so many characters that could've been released alongside a winter outfit. In addition, I would've loved to see another pair of NPCs accompany Tom and Isabelle. Frankly, I think Blathers and Celeste would make adorable Build-A-Bears.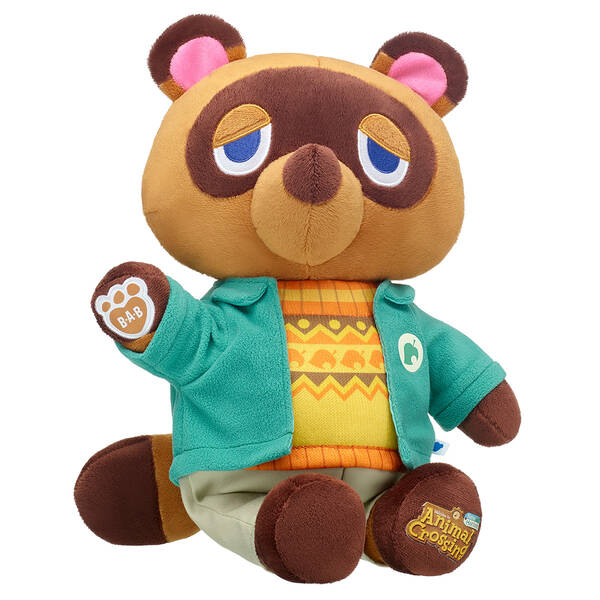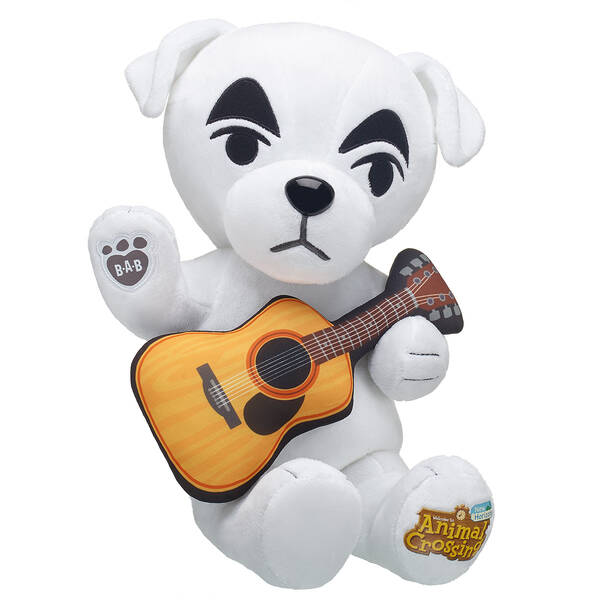 The third release from the collection came as one of my favorite NPCs – K.K. Slider. My initial reaction to seeing this plushie was a little odd. First, I thought it was bizarre that they hadn't given K.K. any clothing, but he looks terrific once he has his plush guitar accessory. Frankly, I believe that this plushie is the best-looking one in the entire collection. He's got beautifully embroidered features and looks the most like his virtual avatar.
My only issue with the release of K.K. is that he's only available to buy online in a bundle. So unless you take a trip to your nearest workshop, K.K. will be delivered with a sound-box. Although for a collector, the entire package, including the accompanying song, is ideal. But for me, who wants to give these plushies a big squeeze, having a sound box inside is uncomfortable. You don't want a plushie with a useless hunk of plastic inside once the batteries die.
K.K is also the tallest of the Animal Crossing Build-A-Bear collection, standing at 41cm, while Isabelle and Tom Nook stands at only 38cm.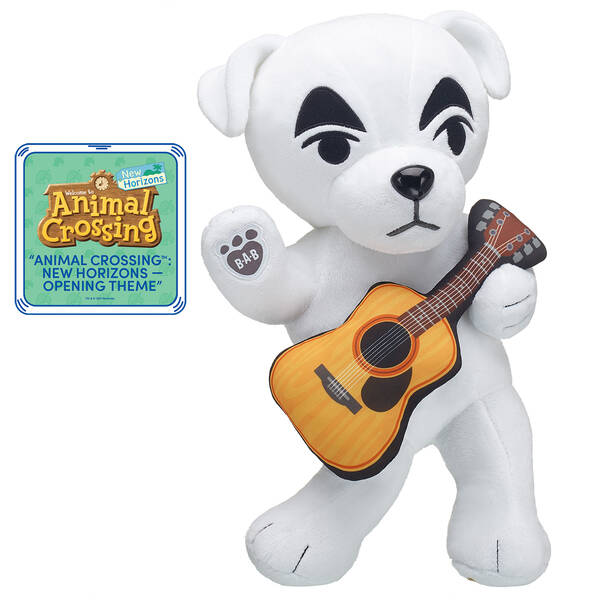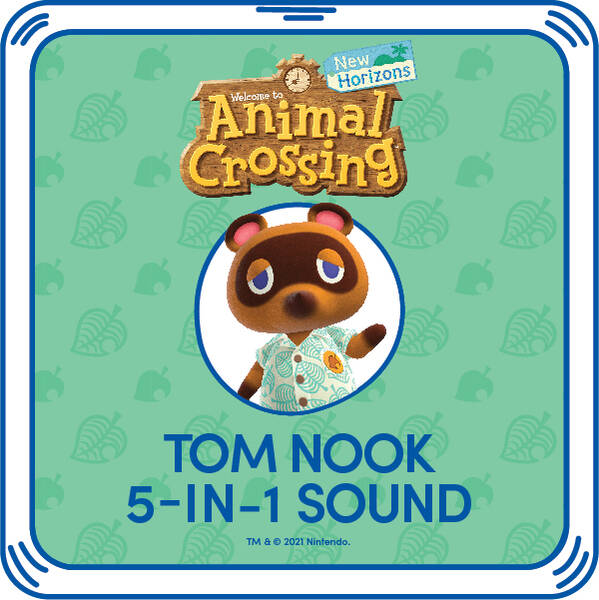 Several sound packs were released exclusively alongside the Animal Crossing collection. I've never been a fan of these things, but I can see why some people want to bring their plushies alive with audio. Also, certain sound-boxes such as phrases are exclusive to the character you're ordering if you're ordering online.
5-in-1 Phrase sound-boxes are available for Isabelle and Tom Nook, which cycle through a few emoticons and animalese in the characters' voices. Isabelle's phrase box showcases bashful, animalese, joy, back to animalese, and the happy sound effect. On the other hand, Tom Nook features a hearty laugh, animalese, the sly emoticon, back to animalese, and determination. I love that they didn't include the same emotions for both characters since it brings the pair to life.
It's so representative of their personalities in the game, and it's a neat little detail to include, which may go overlooked by any casual browsers.
The K.K. Slider plushie doesn't come with a 5-in-1 phrase box like the other two. Instead, you can buy a snippet of K.K Disco to serenade you to sleep. Featuring an original song was a great option to include rather than another phrase box. Once the AC collection expands, it would be great to have a variety of plushies with their personalities shining through sound. Plus, since this soft toy comes with his guitar, it seems only appropriate to have him capable of singing.
All plushies available in the collection can get the New Horizons theme as a sound box. So if having separate phrases isn't for you, there's always this option. It's classic, and if you just plan on getting one of the five available plush pals, then you may just want the theme tune of the game itself. Although this isn't something I would go for, I see the appeal. Hearing this tune again is so reminiscent of playing the game for the first time; it's almost nostalgic.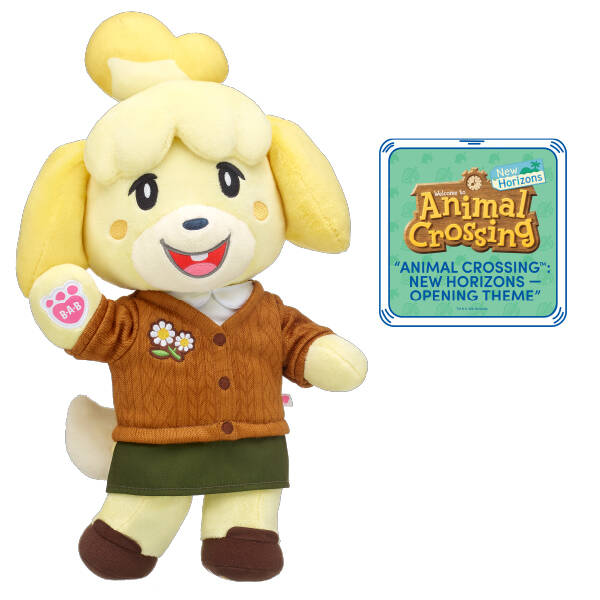 Accessories & Clothing
If you don't want to buy a whole plushie yet still want a cute tribute to Animal Crossing, a handful of accessories and clothing items have been released. The best part is that any Build-A-Bear can use them. I think that these items are a sweet tribute to the game, and in a way, I like them more than the actual plushies. They're more of a subtle nod to the franchise.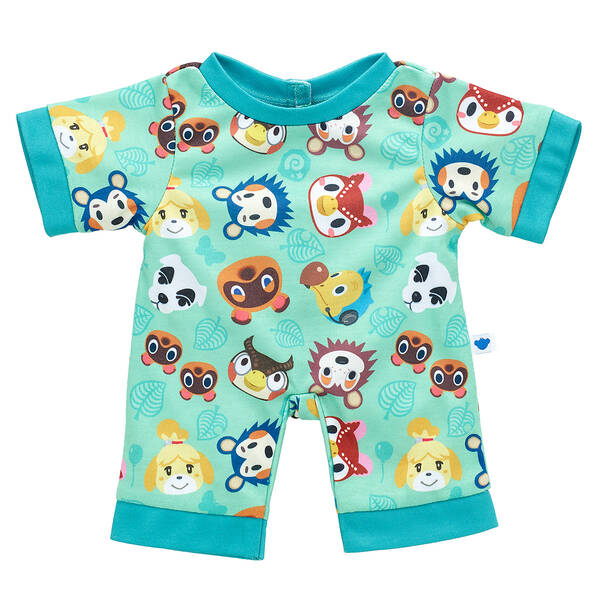 My favorite clothing item and the only AC-themed one released is the Animal Crossing New Horizons Sleeper. It's a beautiful mint green color with an all-over print. The print features the Nook Inc leaf logo (I'm sensing a theme) and several New Horizons NPCs: Celeste, Blathers, Mabel, Sable, Label, Orville, Tom, Isabelle, Timmy, and Tommy. I hope the inclusion of these familiar faces are possible hints towards which plushies we can expect to see in the future! I can't express how excited I would be to see a Celeste.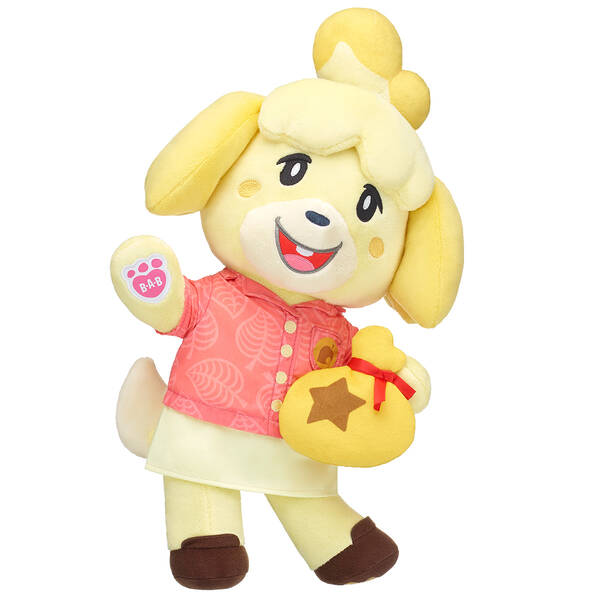 Build-A-Bear homes a few hand-held (or paw-held?) accessories called wristies. I had seen the Pokemon collection of wristies before, which are a few berries you can find in-game, so I didn't know what to expect when I saw there would be Animal Crossing ones. Luckily, these little accessories are cute.
You can get your bear either a present (like the ones you find attached to a balloon I accidentally dropped into a river or pond more times than I like to admit) or a bag of bells. Both of which are about palm-sized, soft little plush pouches. If you're looking for a good cosplay accessory, the elasticated wristbands are easy to wear yourself. The bears don't get to have all the fun!
FAQ
Question: Where can I get the Animal Crossing Build-A-Bear Collaboration?
Answer: The Animal Crossing x Build-A-Bear collection is available to buy now on the Build-A-Bear website. Luckily, all plushies are currently in stock, but a few of the accessories are sold out.
Question: Will There be Future Releases of Other Characters?
Answer: Although there isn't currently any news of an upcoming release, the B-A-B team did say that these three plushies wouldn't be the only ones released in the collection. Since there are over 400 Animal Crossing characters that would look adorable in plush form, I find it hard to think they would stop there.
Question: Are Build-A-Bears Expensive?
Answer: A Build-A-Bear plushie is more expensive than other plush toys available on the internet. The Animal Crossing collection starts at about $42 a plush, but the accessories are a cheaper alternative. If you buy in-store, you're paying for the whole experience of creating your bear, so it does seem a little on the expensive side if you buy online.
On the other hand, the quality of a Build-A-Bear plush is unmatched unless you buy a Nintendo licensed plush, where you'll probably be looking at a similar price tag anyway.
Summary
The future of the Animal Crossing collection at Build-A-Bear seems pretty mysterious right now, but I think it has some exciting potential for future releases. So if you're looking to add a cuddly critter to your New Horizons collection, then this is where I would point you. Plus, I know just how high-quality these plushies are from first-hand experience!
Continue reading: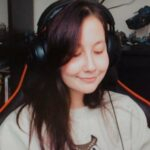 Latest posts by Kara Phillips-Ashman
(see all)