It's common knowledge to any Animal Crossing player that everyone has their favorites. Every time you meet a fan of the game, the question of who is everyone's favorite will always be dropped at some point – closely followed by reasons as to why. Whether you like them because they're cute or because they were one of the first villagers you met in your first Animal Crossing game. There is always a reason behind your choices.
My favorite Animal Crossing villager has been Filbert since I first played Wild World in 2006. I loved everything about him, from his wide eyes to the horrendously neon citrus carpet in his house. When he moved out of my town after I took a break from the game for a week, I could've cried (and I probably did – I was only a child.) But luckily, we have been reunited in every game since, and with the power of amiibo cards, we have been guaranteed best friends in New Horizons.
But since everyone has favorites, there are bound to be villagers people don't get on with. Likewise, there are characters in the game that the other in-game characters don't get on with. So even without reasons, there are bound to be a few that players don't get on with either.
It's hard to believe there could be characters in Animal Crossing that don't feel as comforting as those we love and grew up loving. But it's easy to say that developers of Animal Crossing went out of their way to may a handful of visually unappealing characters to make an equal balance of gorgeous and grotesque.
So let me introduce you to Barold, a perfect example of when artists take their anger out on their work. He's been proclaimed as one of the ugliest characters in Animal Crossing. It's time we find out why.
An Introduction to Barold
This little cub was introduced to us in Animal Crossing New Leaf, and the internet was quick to share their distaste. Sure, he isn't what you'd expect from an Animal Crossing villager. He lacks in the cuteness department, but players weren't even giving him a chance before they declared he wasn't particularly lovable.
After his New Leaf debut, Barold was swiftly added to New Horizons. But, sadly, he didn't quite cut it for Pocket Camp. It's a shame, as Barold could add some flare to campsites, and I think he'd promote a tech-heavy fortune cookie. But that's not to say there isn't Pocket Camp in the future for Barold. Currently, the game only hosts 286 villagers, so there is always a chance that he'll come in an update.
It's safe to say players are not openly admitting to loving this little guy, but I would give him a chance if he moved into my town – maybe after finding out a little more about him, you would too!
Here are a few facts about Barold to get you started:
Gender: Male
Species: Bear
Birthday: March 2nd
Star sign: Pisces
First Appearance: Animal Crossing New Leaf
Personality: Lazy
Catchphrase: Cubby
Barold's Appearance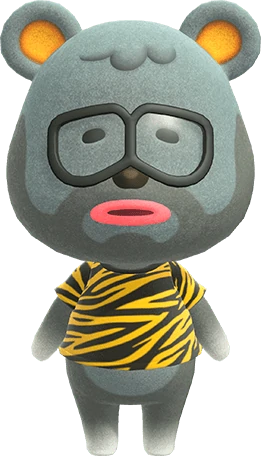 As I've already mentioned, Barold's design is not as cute as we are used to in this game. On the contrary, it's nowhere near cute at all.
Barold is a member of the cub species, which you'd assume means he is small and cute like the rest of them. Cub villagers are usually referred to as baby bears and are the only species of villagers in Animal Crossing, which are based on the childhood stage of an animal. Features of cub villagers usually reference their teddy-bear like designs, like Maple or Stitches, which look similar to plush toys you may have as a child.
There are twenty cub villagers, and there's a pattern of at least one new cub villager being added to every mainline Animal Crossing title. For New Leaf, Barold, Tammy, and Marty were the cubs added. For New Horizons, the new addition to the cub crew is Judy.
Cub villagers are very easy to recognize compared to the bears. They are half the size, with their heads taking up most of their height. I have two cubs currently living on my island, Olive and Marty, and they are both too cute. Their large heads and tiny bodies emphasize that they are the child-like version of bears. They make the bear species seem out of place since they are so tall.
Barold is a dark grey cub with strange darker grey stubble. He's one of the only villagers to have facial hair (I find this so bizarre because he's an animal, so isn't he already covered in fur?) – and ironically, the other creatures to have this feature have been siphoned off by players. Nevertheless, I'm sensing a theme!
Barold has white tips on his hands, feet, and tail to accent his dark fur. He has a little plume of hair on his head and tiny black eyes. I'd say that this is the most unsettling part of his design since they widen with specific emotions. Something is chilling about seeing his eyes widen while chatting away. The most stand-out feature of Barold's design is his sizeable pink mouth, which remains neutral until you talk to him. I'd say this element of his design is what people find the most unsettling, just because it seems so out of place when the rest of his body is so dark.
To bring home the tacky nature of Barold, he wears a tiger shirt in both New Horizons and New Leaf, which matches the tangerine inner of his ears. He also wears large, black-framed square glasses to bring out his eyes.
Barold's Personality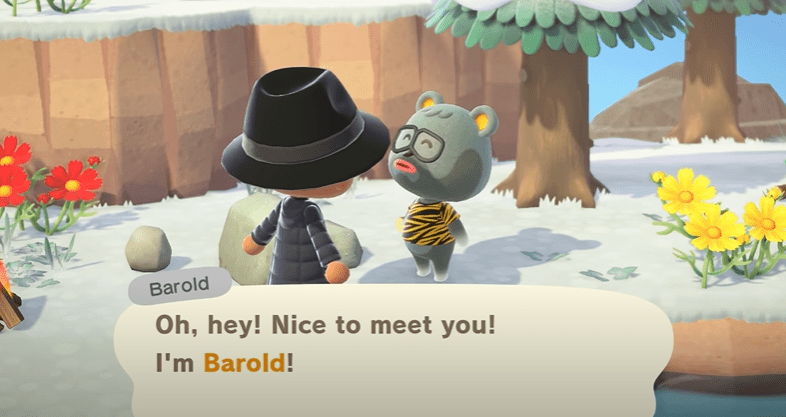 Out of twenty cub villagers, six of them are lazy. Just by looking at Barold, you can assume that this would be the personality he was given! Even though his appearance is unsettling, his nature makes him really easy-going and generally quite friendly.
Lazy villagers are incredibly easy to befriend. They are confident in their hobbies and lifestyle, so they don't take on criticism, and others respect them. They are satisfied with their hobbies and lifestyle, so they don't take on criticism, and others respect them. Lazy villagers are very talkative and excited to share updates or anecdotes with you every time – even though their personality label leads you to believe they won't try!
But you'll want to catch them while they're still awake – since they tend to sleep for the longest time. In New Horizons, lazy villagers sleep at 11 pm and wake up at around 8 am the next day. From m own experience with lazy villagers, I've noticed that they spend the most time inside their homes – and when they come outside, they usually bring a snack and sit in the sun for a while!
Since he has the hobby of 'play,' Barold is more likely to run around with his arms outstretched behind him or pick up a stick and play with other villagers. If this doesn't make you warm up to him, I don't know what will. When I find my villagers playing like this, it always melts my heart – no matter what they look like!
The lazy personality is very friendly towards most villager types, except jocks – who disagree with their choice in lifestyle and believe they are wasting their days milling about doing very little – and snooty villagers who think the diet of a lazy villager is worth criticizing.
Unfortunately, while lazy villagers don't react to the comments from a jock, they are frequently bought down by the criticism. So if you witness an interaction between a lazy and snooty villager, it may end up with the lazy villager feeling a bit upset.
Barold's Preferences
As you'd expect from every other villager, Barold has his preferences. While they might not be as sweet or memorable as many others, they are still worth remembering if you want to give this little cub a new chance at life. Since he's only been in two mainline Animal Crossing games, we are still learning about what makes Barold who he is, but there are still several things we have learned already!
Barold's Preferences in New Leaf are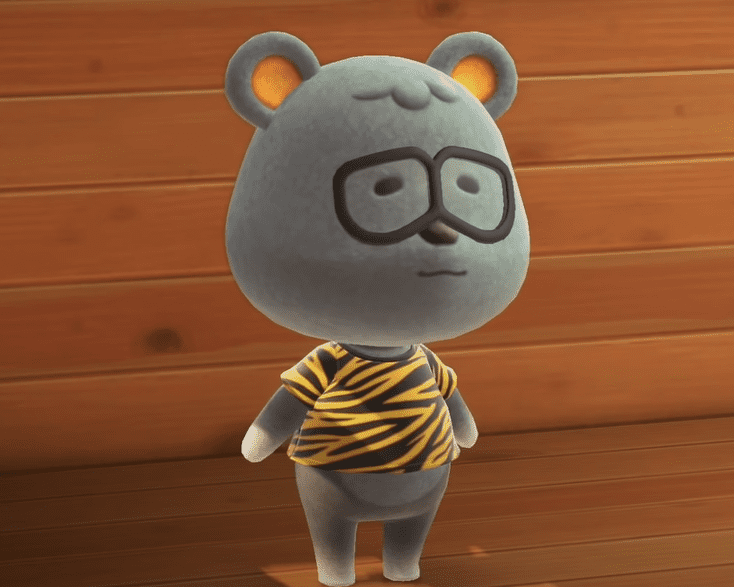 Default clothing: Tiger Shirt
Favorite song: My Place
Coffee Preference: Blue Mountain, no milk, no sugar
Life goal: Programmer
Skill: Computing
Hobby: Play
His preferences don't change much between games; however, there aren't many differences. I feel bad for Barold because no one cares enough about him, so he's not liked sufficiently for changes to be noted in his preferences. Even his clothes and house have stayed the same between games!
Barold's Preferences in New Horizons are

Life goal: Programmer
Umbrella: Vinyl Umbrella
Skill: Computing
Hobby: Play
Favorite song: K.K. Song
Default clothing: Tiger Tee
Gift Guide for Barold
Now you know a few of his preferences; you might ask what gifts would suit this loveable cub. Plus, giving him a few gifts might show you a side to Barold you wouldn't expect if you just leave him be. And you never know, you could become best buddies! Gift-giving in Animal Crossing is the best way to improve your friendship with any villagers.
It's important to remember that each villager has their favorite colors and styles when it comes to receiving gifts. Barold's favorite styles in particular are simple and cool, and his favorite colors are yellow and black. For the interior of his house, his favorite concepts are office, outdoors, and facility, and his favorite style and color for furniture are black, grey, and white. So essentially, Barold likes anything that looks like him.
Here are some clothing gift ideas for Barold: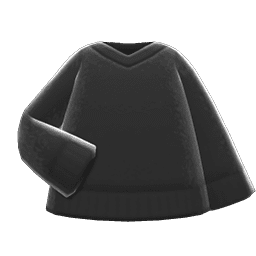 V-Neck sweater (in black) – 840 bells
Parka Undercoat (in yellow) – 2'320 bells
Knit Hat (Black) – 560 bells
Denim Jacket (Black) – 1'400 bells
Short Peacoat (Black) – 1'680 bells
School Hat (Yellow) – 560 bells
Tight Knit Sweater (Black) – 800 bells
If you're a little tight for bells but still want to make an effort for Barold, then clothing is a much cheaper alternative to buying him furniture. Anything black or yellow goes down a treat with him, so he's pretty easy to please in the fashion department! All the items listed above are available to buy from the Able Sisters. You don't even need the whole shop to start finding appropriate gifts! Make an effort from the first day you meet him.
Here are some recommended furniture gifts for Barold: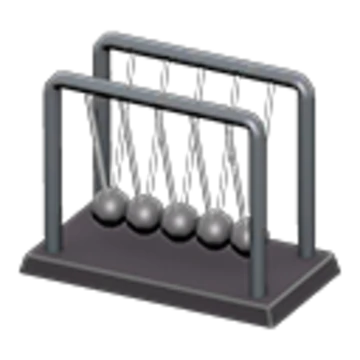 Newtons Cradle – 1'300 bells
Safe (in black or grey) – 3'600 bells
Brine-Shrimp Aquarium – 1'400 bells
TV with VCR (in black)  – 3'800 bells
Camp Stove (in black or grey) – 1'300 bells
Portable radio (in white or black) – 1'500 bells
These furniture items are available from Nooks Cranny, so it's essential to check every day if you're on the hunt for great gift ideas.
Barold's House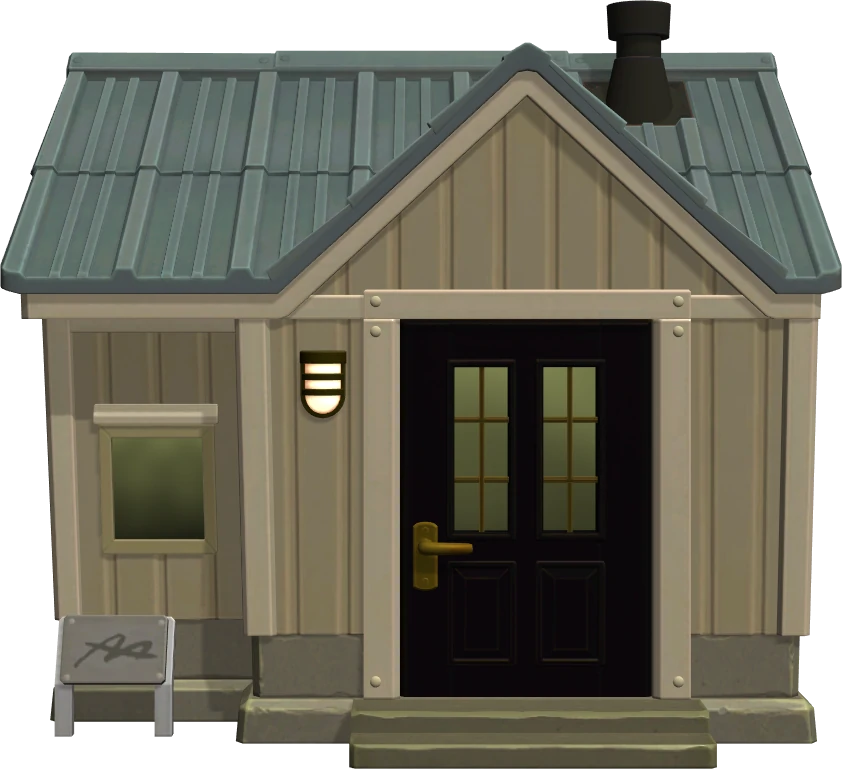 Barold's house may also be one of the things people find most unsettling about this character. His New Leaf and New Horizons home follows a very similar theme and is quite office-based once you step inside. The color scheme matches Barold's design, so as you can imagine, it's pretty bland and monochrome!
If you didn't know about Barold's skills and life goals, then you'd probably assume that he just has a passion for office life. But once you learn about his love of programming and computing, his interior design begins to make sense. Sure, it's not as homey as other villagers who have created log cabins and winter wonderlands within their homes – but it's comfortable for Barold, and that's all that matters!
The exterior of his New Leaf abode is metallic grey with a black roof. Even the outside looks technical and bare, so it's not that shocking when you visit! The interior is decorated ceiling to floor in all things tech. The floor is tiled, and the wallpaper is covered in blinds. The furniture he has chosen to display looks like it's been stripped straight from a business. Inside this obscure house, you'll find a water cooler, a whiteboard, a printer, a server, and a giant teddy bear.
As I said, not much has changed between games either. However, the exterior of his home in New Horizons isn't as jarring and has more of a homey feel to it which is nice. The walls are off-white, and the roof is grey, making it look like corrugated iron. However, there's still a hint of Barold's industrial theme.
Inside is much like his first house, with a tiled floor and a few repetitive furniture items. Barold hosts four walls of security monitors for this house, which is entirely unnerving. Why does he need to monitor something so intensely? Is he watching the whole island? I don't know if I'd like him to answer, but I am incredibly thankful for the happy home paradise DLC, which will let me re-decorate the interior of his house if he ever moves into my island.
Barold's Amiibo Card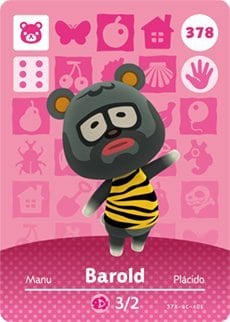 Barold's amiibo card was released in series four of the Animal Crossing amiibo card collection. I'd say it's one of the easiest and cheapest cards to come across just because of how much players don't like him.
If you're on the hunt, it's always worth keeping an eye out on the internet, as I always see people trying to shift him from their possession!
He is number 378 in the collection – so he is sandwiched between Sydney the koala and Nibbles the squirrel. In addition, he is one of the only cubs to be released in this wave of cards alongside Tammy and Stitches. I find this cruel as Stitches is one of the most loved cub villagers, and Barold is possibly the most hated.
But like I said, maybe I should keep an eye out for this card and give Barold the same chance as I would any other villager. I think he could be an excellent companion on my island, so maybe I'll take one for the team!
FAQs
Question: Is Barold in Pocket Camp?
Answer: No, Barold is not currently in Pocket Camp. There are only 286 villagers currently in Pocket Camp, so there are still quite a few patiently waiting to make their camping debut. When Barold is eventually added, I'd love to see what sort of tech-savvy requirements he will request before we can invite him over.
Question: Which Game did Barold First Appear in?
Answer: Barold first appeared in Animal Crossing New Leaf, and since then, he has only been in New Horizons in mainline games. He also features in Happy Home Designer and Amiibo Festival, but fans overlooked these games, and most characters featured in previous AC titles were also included. 
Question: What Species of Animal is Barold?
Answer: Barold is a member of the cub species, don't let his facial hair baffle you! Even though it seems like he would suit the bear species a bit more.
Summary
Now I've dived into the world of Barold a bit further; I feel much more loving towards this cub. Sure he has his design flaws, and he may have a strange way of living. But it makes up a memorable character nonetheless!
The thing I love about Animal Crossing is how unique the villagers are, which gives all players a reason to pick their favorites. It also makes for some interesting conversation – especially if you meet someone who finally admits to loving Barold.
Get to know more characters by checking these guides below: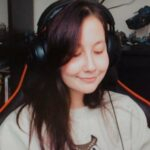 Latest posts by Kara Phillips-Ashman
(see all)