Tipper is one of only eight cow villagers in Animal Crossing. I have a soft spot in my heart for cow villagers; cows are my favorite animals in real life! The cows in Animal Crossing don't get much love, they are often at the bottom of tier lists, and not too many players invite cow villagers to their island.
I think that the cow villagers are just as cute as any other species. Cow villagers have just as much personality, and they are unique villagers because there are so few of them in the game. Tipper is a great cow villager to have; she is the traditional black and white spotted cow. My other favorite cow is Patty, who represents the traditional brown cow. 
Bottom Line Up Front
Animal Type: Cow

Personality Type: Snooty

First Game: Animal Crossing Wild World

Birthday: August 25th

Favorite Colors: Colorful (Rainbow) and pink

Favorite Style: Gorgeous, Cute
Appearance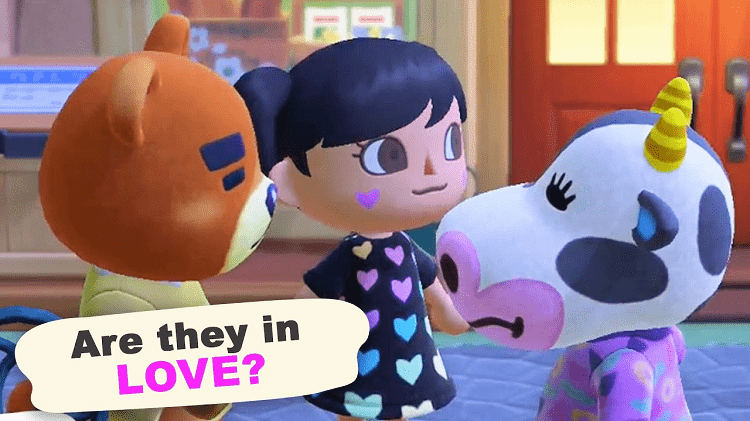 Tipper looks precisely like what you would think of if asked to picture a "cow" video game character. She has a wide, bright pink nose with large dark nostrils in the center of her face. Her smile spreads across her nose; she is constantly grinning from ear to ear! The right side of her face is a bright white, and she has a large black splotch behind her left eye.
One of my favorite features Tipper has is her gorgeous lashes! If you have spent time with cows in real life, you know how enchanting their thick, long lashes can be. Tipper is one of very few Animal Crossing characters who has lashes at all, and they are stunning on her. 
Tipper's body is mainly white, with a few black spots on her legs. She has yellow hooves and hands. She also has yellow horns with orange stripes throughout. Her tail is white with an ombre transition to black at the tip. Her right ear is black, and her left ear is white. The inside of her ears is a bright light blue.
Tipper's original outfit in New Horizons is the retro sweater, which does look pretty good on her. I prefer her previous starter outfit; in New Leaf, Wild World, City Folk, and Pocket Camp, Tipper can be found wearing the rainbow tee. The rainbow tee suits Tipper so well; it is bright, colorful, and stylish, just like she is! 
Tipper's appearance is similar to an older Animal Crossing character who was last included in the original Animal Crossing game, Belle. Belle was also a typical white and black spotted cow. She had the peppy personality instead of Tipper's snooty personality. There are speculations on why certain villagers are removed or replaced, but Nintendo hasn't released any official reasons. 
Personality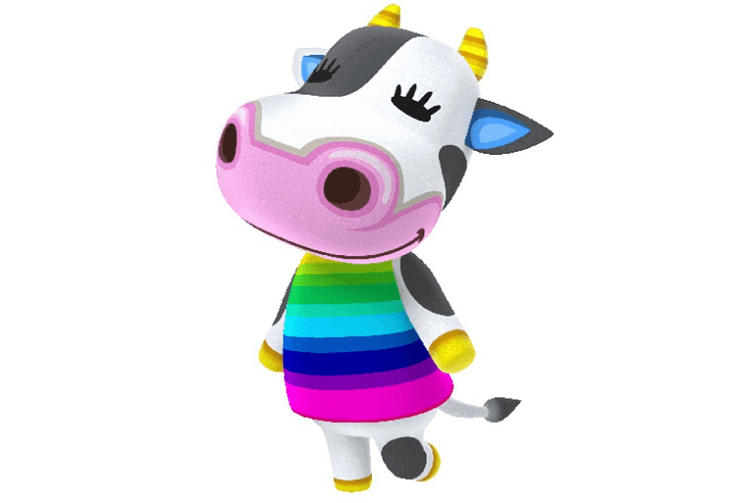 Tipper has the "snooty" personality type. Snooty villagers are mainly concerned with their looks, makeup, fashion, and style. Snooty villagers can be rude and demeaning. They are relatively intelligent, very well-spoken, and certainly full of confidence. Unfortunately, snooty villagers don't get along with many other personality types.
The only other personalities they get on well with are smug and cranky. The smug villagers share their interest in fashion, and cranky villagers have the same well-spoken maturity that snooty villagers value. Snooty villagers see themselves as being higher class than most other villagers. 
Snooty villagers can cause issues on your island if you don't have the correct mix of personalities to support the snooty villager. Peppy villagers get easily annoyed by snooty villagers' constant negativity, normal villagers get sad when snooty villagers talk about them behind their backs, lazy villagers are offended by the remarks made about their lifestyle.
Jock villagers get irritated with snooty villagers' disregard for exercise. If you like to be a problem solver on your island, adding a snooty villager to your island will give you a lot to do. 
Despite snooty villagers' tendency to be a bit uppity, they are incredibly sweet once they get to be friends with the player. I like that snooty villagers make the player work for their friendship more than other villagers. Many villagers are easy to get along with right off the bat, but the friendship doesn't ever seem to grow.
With a snooty villager, you will be able to tell when they are beginning to trust and like you more. It is very satisfying to get that first compliment from a villager that often has nothing nice to say. I also like that snooty villagers tend to be a bit sarcastic.
Most of my conversations with friends in real life have a healthy dose of sarcasm. Peppy villagers' constant positivity and enthusiasm can get to be a lot; it is nice to get some sarcastic humor from a snooty villager. 
Snooty villagers also bring great style to your island! Their homes have beautiful, usually more expensive, furniture. They also enjoy getting clothing as gifts more than some of the other villagers, making gifting pretty easy for snooty types. 
Why You Should Bring Tipper To Your Island
I would have no reservations about bringing Tipper to my island if I were to meet her at my campsite. I love all of the cow villagers; I did have the pleasure of meeting and bringing Patty to my island, but unfortunately, she is the only cow villager I have come across in my two years of playing Animal Crossing.
The rarity of cow villagers is one of the main benefits of having a cow on your island; there are only eight cow villagers in total! Running into a cow is not something that happens often; if you find this sarcastic, funny, beautiful gal at your campsite, take advantage of that opportunity. 
Tipper's name and her catchphrase are also giggle-worthy. Her name refers to the (horrendous) practice of cow tipping, pushing a cow over when they are asleep. Her catchphrase also refers to cow tipping; Tipper often says "pushy." While I am not a fan of cow tipping, the Animal Crossing developers did make a good joke about it with the character Tipper. 
Tipper will bring plenty of fashion and makeup tips to your island. Tipper's tips will be much appreciated if you are a fan of all things stylish like I am. There are times when I am unsure whether or not I like an outfit that I change into; snooty villagers are the first characters I speak with, and they will always give me the brutal truth about my style choices. 
Snooty villagers, including Tipper, are great for late-night players. Tipper's skill is "staying up late," and she certainly does! Tipper will be active until 2:30 AM, and she will be up again at 8:30 AM.
If you are a late-night player like I am, having a villager available to speak with in the early AM. Snooty villagers stay up the latest out of all the villager types; they will be making sarcastic remarks about you and the rest of the island into the wee hours of the morning. 
Home Appearance
Tipper's home is one of my favorites in Animal Crossing. Even though I don't have Tipper on my island, even looking at pictures of her home is calming. Some snooty villagers boast about their great style, but they don't have the decor to back up their claims. However, Tipper does.
Her home in New Horizons is an elegant monochromatic white theme with a few powerful black accents. Black and white designs are always my favorite for home decor; even in my home, all of my furniture is black or white. Of course, this black and white design is perfect for Tipper because it matches her character color scheme.
The grand piano, antique bed, and clawfoot tub are her most notable furniture pieces. Tipper's home has a good layout; a bed area, a small living room area, and a bathroom. Her home is one of very few in Animal Crossing that looks like it would work as a real home. Tipper's home could function as a (super) small studio apartment. 
In New Leaf, Tippers home looks relatively similar to the New Horizon's version. The biggest difference is the lack of a bed in her New Leaf home.
This doesn't make a huge difference, and her home in New Leaf is still very nice if a bit cluttered with smaller items. In older versions of the game, Wild World and City Folk, Tipper's home was awful. Tipper's home had a bedroom/kitchen layout in these versions of the game, with a classic bed and the kitchen sink being the main focus.
Oddly, there is a huge antique clock right in the middle of the floor. This clock is wildly out of place and ruins the home entirely. Fortunately, Nintendo removed it in New Horizons and New Leaf, which are played significantly more than the other two games Tipper has been featured in. 
The exterior of Tipper's home is simple; in New Horizons, her home has a basic white stucco base with an orange stone roof and a light green rustic door.
The simplicity in the exterior is lovely because it means that her home can fit almost anywhere on the island. Tipper's home would make a great "city" home, next to the town square or shops. But it would also look fine in the hills or on the beach. In New Leaf, the exterior of Tipper's home is a bit less refined. It does have the same white base, but it has a blue roof and a bright pink door. 
Best Gifts for Tipper
Tipper is unique in her gift preferences because she likes "colorful" things, which means that when you see a rainbow dress in the Able Sisters' shop, it was made for Tipper! Most animals like one or two colors, but Tipper embraces the rainbow. That doesn't mean that if there is a single color item that isn't pink, Tipper will want it. She only likes items with multiple colors or in full pink. 
Tipper is a stylish cow, so I like to give her items that suit her stylish needs. The fancy party dress or the floral lace dress in pink are elegant options that look great on Tipper. The satin dress or the marble print dress are also good choices. If you want a more casual look for Tipper, she will like the flashy cardigan, the caterpillar costume, the garden tank, or the flower print dress.
If you are looking for good headwear, you might consider; the colorful striped knit cap, the tiara, the star hairpin, the giant ribbon, or any flower crowns. There are tons of items similar to those previously listed that would also work for Tipper. When looking to buy a gift for Tipper, it is important to keep three things in mind; she likes cute, expensive, or colorful/pink things. 
When giving Tipper furniture, I hate to stray from her monochromatic look in her home. Small furniture items in black or white are preferable, but some larger white furniture items may work as well. The birdcage in black, the wooden waste bin in black, and the hourglass in black all look fantastic in Tipper's home. The white heart-shaped bouquet or the elegant sofa in white work well. 
Tipper in Pocket Camp
Tipper is a unique animal in Pocket Camp because you can only befriend her by finding her Blather's map and completing it with either leaf tickets or hip essence. At that point, you will be able to invite Tipper to your campsite or your cabin without having to craft any extra items. Tipper was added to the game in December of 2020, but because of her rarity, many players still haven't met her. 
Tipper's preferred theme is "hip," which means to increase the amount of friendship you can have with her, you will need to build the mush tent, the patchwork ghost sofa, and finally, the bouncy cake. I like the "hip" amenity line because the "tents" have such fun designs. Hip amenities and animals were added more recently than the original themes, and therefore, many players haven't had the time or the resources to complete the line yet. 
Tipper's primary reward for completing quests is preserves, and her specialty item that you can craft at level 15 friendship is the milk can. Tipper's description is, "Tipper is a Virgo. At least that's her excuse for being so pushy all the time." Her catchphrase is the same, "pushy." 
Tipper's Amiibo Card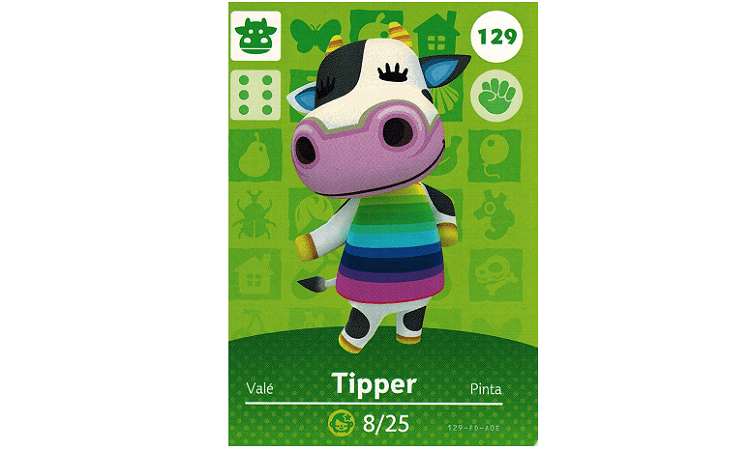 Tipper's Amiibo card is one of my favorites. I love the green background; it highlights her black and white fur nicely; it also catches some of the hues in her rainbow tee quite well. Tipper is standing facing front, with one hand on her hip and the other out to the side. The pose is perfect for Tipper; sassy yet classic.
The only issue I have with Tipper's Amiibo card visually is that her yellow horns blend into the green background a little bit. They don't stand out as much as I think they should. However, this is a minor detail, and for the most part, the card is exceptional. 
Tipper's card number is 129, her hand sign is rock, and her dice value is 6. There are many places you can obtain Tipper's Amiibo card if you would like to purchase it and have her move to her island right away.
This listing has Tipper's Amiibo card offered for 7 dollars, and they do offer a 30-day money-back guarantee if there are any issues with the card. 
Tipper Merchandise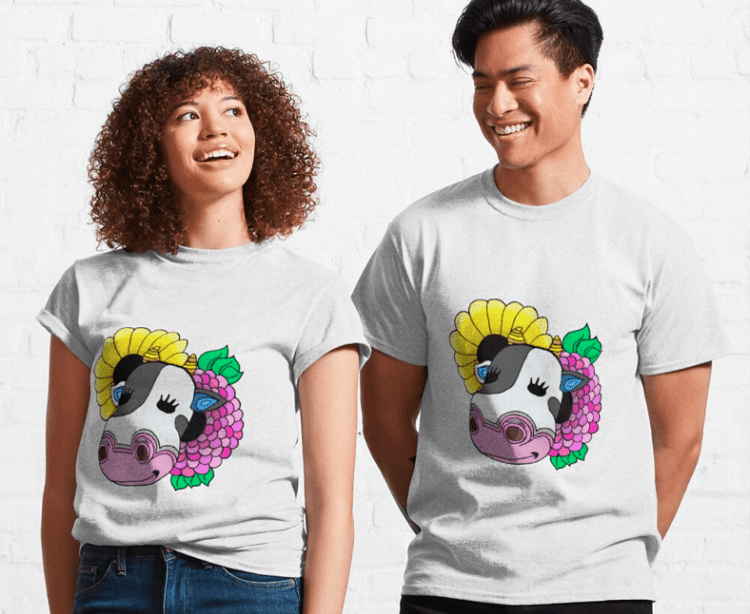 Since Tipper, and cows in general, isn't one of the more popular Animal Crossing characters, it can be hard to find good merch for her. However, I was able to find some super cute stickers, a fun Tipper mask, a cute Tipper t-shirt, and an adorable Tipper planter. 
This Tipper sticker, which features Tipper in her original Animal Crossing design with her rainbow tee, is my favorite. I think that Tipper's design is so clean and stylish that any changes to her character aren't necessary. You can find some anime-inspired Tipper stickers, as well as some more simplistic sketched stickers, but I think the traditional Tipper is the way to go.
This sticker is $3.21 when purchased as a single, but if you buy ten, the price is reduced to $1.61. There is no reason not to buy a few Tipper stickers and put her pretty face all over the place! Alternatively, you could share your favorite Animal Crossing cow with your friends and family. 
The Tipper-inspired mask is such a fun way to show your love for her while keeping yourself safe from sickness! Anyone who doesn't play Animal Crossing might not know that this mask is a reference to the game; it mainly looks like a cutesy cow nose mask.
However, for the true Tipper fans, the large signature smile and the shading in the nostrils will be instantly recognizable. The mask is 11 dollars, and it comes in both kids and adult sizes. 
I absolutely adore this flower power Tipper t-shirt. The flowers the designer chose are perfect accents to Tipper's color scheme. The yellow sunflower highlights Tipper's horns, and the purple/pink hydrangea matches her nose color. I also like the line art feel of the shirt; it is a more casual representation of Tipper.
I love Tipper's original design, and I think the shirt would have been just as good in the Animal Crossing style, but the line art version works well here too. The shirt comes in different styles and in different materials, so it is very customizable. The base version for the classic tee is $22.66. 
Lastly, this Tipper planter is my favorite item on this list. I think that the polished, white sculpted Tipper honors her well. Tipper would love to see her face in this classic design. I also like the Tipper planter because it combines two things that will brighten any household; plants and Tipper. This item would look great on a windowsill or on your front porch!
I have the hardest time growing anything, and seeing Tipper's smiling face whenever I went to tend to my plants would give me the motivation I needed to keep trying. The Tipper planter comes in two sizes, small and medium. The small size is about 6 dollars, and the medium is 17. 
FAQs
Question: Is Tipper a Good Villager?
Answer: Absolutely! I would welcome Tipper onto my island with open arms if I had the chance. Tipper's home is incredibly stylish, and it looks great anywhere on the island.
Tipper has a unique character design that is aesthetically pleasing, and her personality is great. Tipper's sarcastic quips throughout the day always make me smile when I speak with her in Pocket Camp.
The only "downside" to bringing Tipper on your island is that she does have a tendency to start drama with some of the other villagers. I think that this makes Animal Crossing more fun and interesting, but some players prefer their island to be more of a perfect utopia where everyone gets along. If you are that type of player, Tipper may not be the best choice for you. 
Question: Is Tipper a Popular Villager?
Answer: Unfortunately, cows are one of the most overlooked species in the Animal Crossing world. Both cows and bulls tend to rank very low on tier lists, and many players just don't pay much attention to them.
Tipper sits as either a C or D tier villager on ranked lists, which makes her one of the less popular villagers in the game. I think this is a tragedy, as Tipper is a great character who has a lot to offer your village! I might be biased, as I do love all of the cows, but I don't agree with the tier lists that have them consistently ranked really low. 
Question: What is Tipper's Hobby?
Answer: Tipper, unsurprisingly, has the fashion hobby. Tipper loves all things style and glamour. Tipper can often be found carrying around her pink purse or reading a fashion magazine. Tipper will often talk about style or fashion and make comments on the player's fashion choices as well as the fashion choices of other villagers.
Animals with the fashion hobby are really fun to have on your island because they can wear unique headwear that other villagers can not! You can gift eyewear to villagers with the fashion hobby, and you will see them put it on occasionally and walk around with their fancy glasses and purse or briefcase.
I made the mistake of giving Patty, who I have on my island, the silly glasses once, and now she will sometimes walk around my island looking a little bit scary. It does always make me laugh, though. 
Conclusion
Tipper is a bold, interesting, and fun addition to any island. She has a beautiful character design and a wonderful home that will fit in well wherever you decide to put it. Tipper's sarcasm makes her stand out from the other personality types, which are always positive or energetic.
Tipper gives great fashion advice as well as some killer makeup tips. While cows tend to be overlooked by many Animal Crossing players, I absolutely adore them; Tipper is one of my favorites. If you get a chance to meet this sassy cow, I recommend taking full advantage of the opportunity and moving her to your island permanently! 
Continue reading:
Animal Crossing Normal Villagers Guide
Animal Crossing Peppy Villagers
Latest posts by Karrina-Bella Yaeger
(see all)