Ever wanted to go on a cruise and meet new and interesting people and maybe make some friends on their way? Maybe do some shopping while you are there, go and see a museum?
Sounds great, right, and maybe you also want to do all of that virtually! If so, Animal Crossing is perfect for you; it's adorably designed with elements of island management and social management. There are lots of things you can do with your time, such as fishing, shaking trees (much more fun than it sounds), and helping all the residents of your island to get along.
The best part of Animal Crossing, for me anyway, is getting to know all of the unique characters that can come and go!
Bottom Line Up Front
Bianca is a peppy white tiger whose name means white in Italian; and was first introduced in Animal Crossing New Leaf and is also present in Animal Crossing New Horizons and was added to Animal Crossing Pocket Camp. Bianca is only one of seven tiger characters you can get in New Horizons and is a delight to have on your island.
As she is peppy, she is an easygoing, happy-go-lucky character who can easily make friends with others. Bianca has the play hobby and so can often be found running around the island, playing by herself with her arms out, pretending to be an airplane. Her birthday is the 13th of December, and she has five other siblings.
Who is Bianca?
Bianca is a female tiger who has the peppy personality type. There are only seven tiger villagers that you can get in Animal Crossing New Horizons, and only two of these are peppy, so Bianca is quite rare indeed! Bianca is a nice character to have (as most peppy characters are), and there is much more to know about Bianca; here are some key facts;
Name;

 Bianca

Gender;

 Female

Species;

 Tiger

Birthday;

 the 13th of December

First appearance;

 Animal Crossing New Leaf

Hobby;

 Play

Siblings;

 Bianca is the second youngest of six siblings

Personality;

 Peppy

Catchphrase;

 Glimmer
Bianca's Appearance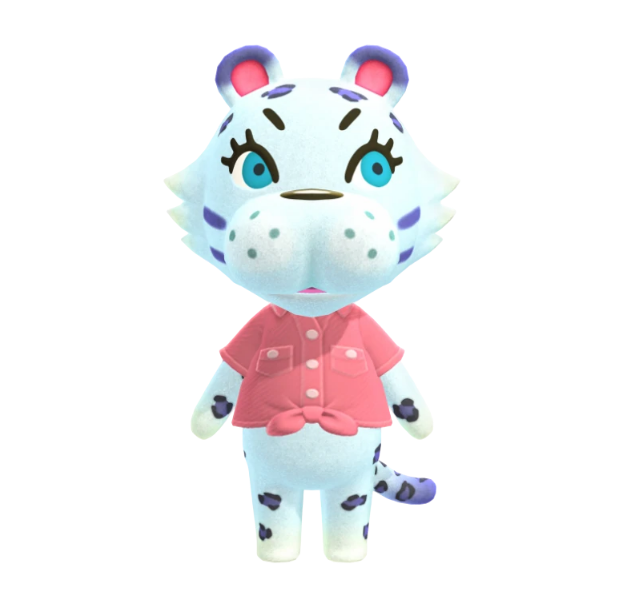 Bianca looks kind of like a Snow Leopard (with notable variations), mostly because she is a tiger that is also primarily white in color. She has bright blue teal-colored eyes and black pupils, with three eyelashes on each eye that flick outward (like heavily applied mascara) or another flashback comparison, like the Mii characters on the Nintendo Wii. Bianca has blue and purple spots throughout her body, the top of her head has purple spot patterns, and the tips of Bianca's ears are also purple, although the insides of her ears are a healthy bright pink. Bianca also has two purple stripes on each side of her face. Bianca's snout is quite big and protrudes with a flat back tip of her nose (kind of like a dog's nose). On the sides of her snout, Bianca has four dark green spots on each side. There is a very small triangle opening at the bottom of Bianca's snout, which shows her bright pink tongue.
In terms of style, Bianca is quite simple; she wears only a bright pink shirt which is tied in the middle in a knot; I personally have always found this quite strange as she doesn't have any bottoms, which other characters can get away with but because Bianca has quite a human-like form with long legs it really draws attention to the fact that she has no bottoms on. The remainder of Bianca's body (her hands and legs) are also white with purple markings like she has on her head; and has these on the inside of her hands and on her thighs and knees. Bianca also has a long white tail with a darker purple tip.
Overall, Bianca is a very cutely designed character, although I feel that her shirt does not do her justice and could be dressed much better.
Bianca's Personality
Being a peppy character, Bianca has the pleasure of being my favorite type of character that you can get in Animal Crossing. Peppy characters are great because they're so easygoing, you know those kinds of people you sometimes meet, and they see a flower, and suddenly it's the best day ever or the best flower ever? That's peppy villagers! They are usually always happy and enjoying life; they get along well with others as they see the best in people and are happy, jolly people. They are seizing the day kind of people and can often be seen out the living and enjoying their life.
Some people do not enjoy peppy villagers because although when they're happy, they are super happy, they can be seen as dramatic and have a flair for dramatic storytelling when talking to you – they are never rude or aggressive, though, unlike smug villagers who I really do not like.
Bianca's Preferences
In Animal Crossing New Leaf, Bianca, as with all other characters, has her own opinions and styles, such as;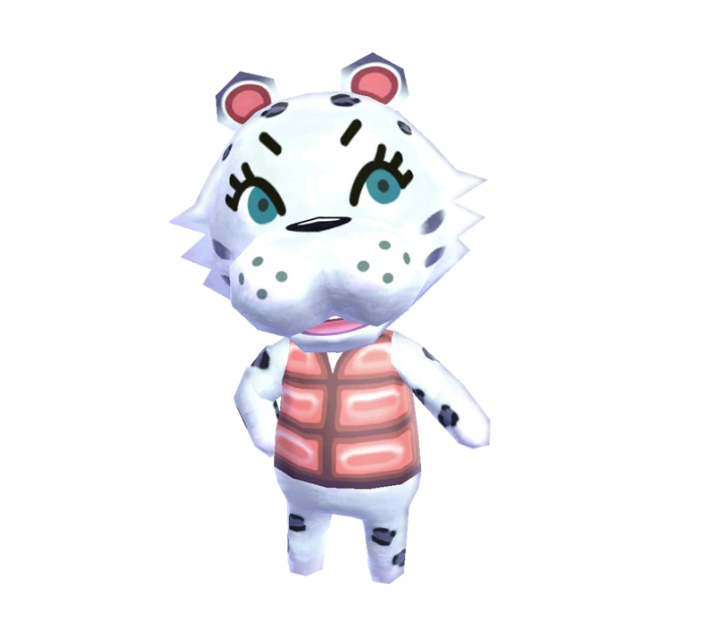 Default clothing;

 Red down jacket

Default umbrella;

 Toad Parasol

Favorite style;

 Modern

Least favorite style;

 Iconic

Favorite colors; White

Siblings;

 Fifth of six siblings

Hobby;

 Play
In Animal Crossing New Horizons, Bianca likes the following;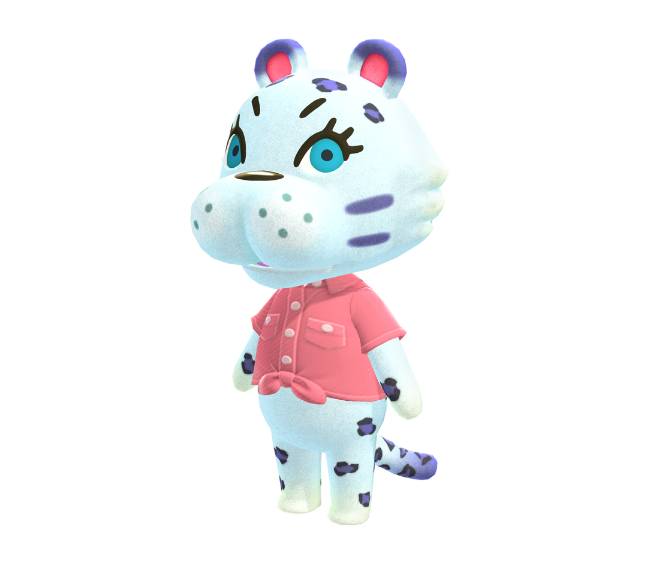 Default clothing;

 Front tie-down shirt in pink

Default umbrella; 

Mini flower print umbrella

Favorite style;

 Cute

Favorite colors; Pink and orange

Siblings;

 Fifth of six siblings

Hobby;

 Play
Bianca's House
Bianca's house is unique (a word I have chosen very carefully) as I personally do not like her home decoration at all, mostly because of her floor (in Animal Crossing New Leaf, that is), which I find gross; but you will know why very shortly!
In Animal Crossing New Leaf, Bianca's home has the following items;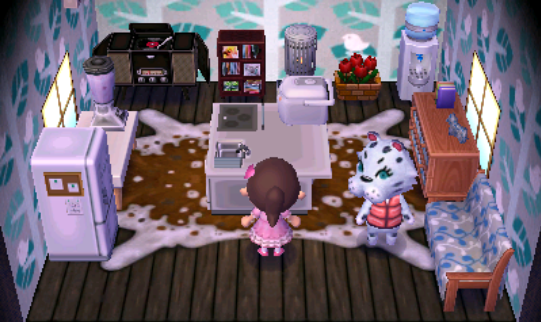 Rice cooker

Air conditioner

Mixer

Space heater

Water cooler

CD shelf

Red tulips

Retro stereo

Breaker

Kitchen island

Alpine dresser and alpine sofa

Minimalist table
Bianca does have items that match and so also has an alpine wall, and the floor is the dreaded cowhide rug. The external of Bianca's home is more colorful than other homes that you would typically find in Animal Crossing New Leaf! While it has the standard wooden sign and white fencing, it has a bright and funky patterned pink door with white and blue paneling and a dark blue roof.
Bianca's home in Animal Crossing New Horizons is very different from her home in New Leaf! It is much more simply designed and organized with a lot more open space. It has the following items;
Refrigerator

Rattan bed and end table

A low wooden table, full-length wooden mirror, and wooden wardrobe

Diner sofa

Cute tea table

Mixer

Iron wall rack

Cutting board

Humidifier
Bianca's internal wall is a white brick wall with stylish leopard print flooring. The external of the house is very beautiful and classic cottage style. The external wall is a nice stone color with brick detailing in grey/almost sage green color. Bianca's roof is a salmon pink/red color.
Bianca's request for the happy home designer is that she wants "A snowman's life", kind of similar to Sprinkle's request. To complete this, you will need;
Snowman

Snowman Matryoshka
Bianca in Animal Crossing Pocket Camp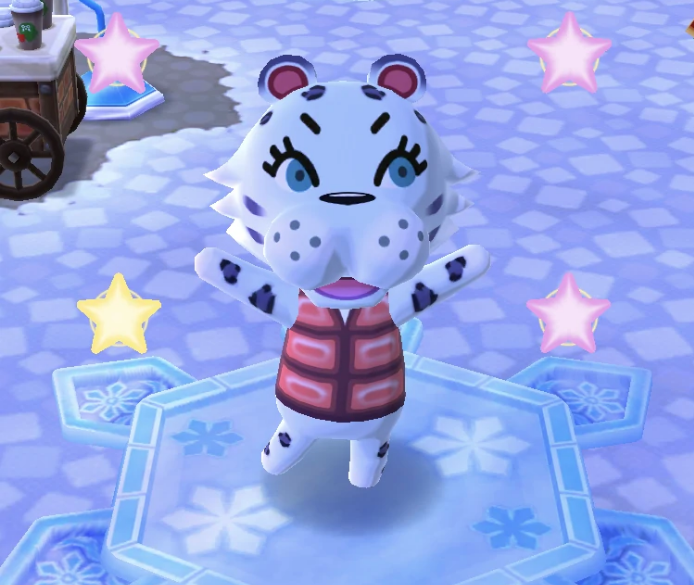 Bianca is an available character to come and join your island in Animal Crossing Pocket Camp. If you are super keen to get Bianca to come and join you on your island, you need to work first of all to get friendship level five. Once you have reached level five, you also need the following items;
Holly

Camp stove

Small igloo

Garden table

Directors chair
Bianca also offers rewards as all characters do within Pocket Camp once you have her as a friend, these include;
At friendship level seven; you receive a red down jacket and sparkle stone

At friendship level nine; you receive a sparkle stone

At friendship level fifteen; You will get a request for a Snowboard

At friendship level twenty; You will get a picture of Bianca and some more sparkle stone

At friendship level 25-60; You will get sparkle stone
Summary
Bianca is a nice character to have on your island, and if you want an island of residents who are easy to manage and don't want to spend much time mediating the relationships on your island, then peppy characters are always good to have as they rarely cause drama with others. There is also something very heartwarming about seeing characters with the play hobby running around your island when you are relaxing with your game, especially in the snow, although truthfully, they are adorable in any setting.
FAQs
Question: What Type of Character is Bianca?
Answer: Bianca is a peppy villager; this means she is pleasant, easygoing, and happy! She loves life and gets along with most other villager types, although she can often be criticized for being immature and dramatic.
Question: What are Bianca's Favorite Colors?
Answer: Bianca likes anything pink or orange! Or ideally, maybe a combination of both?
Question: What is Bianca's Hobby?
Answer: Bianca has the play hobby, which is the cutest hobby ever! Characters with this hobby can often be found running around adorably with their hands out by their sides, imitating an airplane as kids do.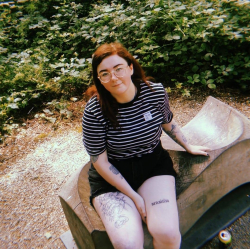 Latest posts by Ella Walsh
(see all)