Introduction
Animal Crossing is a super comforting game that has been around for a long time now, and part of the reason that Animal Crossing has been able to do this is that it has so many different characters. There are so many options as to what type of islander you can get; this ranges from something as small as a frog to something as big as a Rhino! There are even more layers to this as each animal can also have a different personality type, either lazy, normal, peppy, jock, cranky or snooty.
As well as all of these different factors, each character within Animal Crossing also has their variety and character development, which means their personalities can change over time, as can their expressions of who they are, such as the way they design their houses, the music they like and the way they want to dress and their hobbies! One such diverse and super lovable character is Dobie.
Bottom Line Up Front
Dobie is a wolf villager with the lazy personality type in Animal Crossing; however, in Animal Crossing Welcome Amiibo and New Horizons, Dobie becomes a cranky villager instead. Dobie has a younger sibling and has a nature hobby, and also has aspirations to be a writer. His homes are stacked with books (literal wall to wall with books), and he can often be around reading books about fish, trees, and anything else to do with nature!
Dobie wears a two-tone long-sleeved sweater vest (blue and purple) with cute little matching buttons. His skin is sage green, and he always wears a content smile! In the Happy Home update, his vision is an author's retreat, and he requires a Shoji divider, Cypress bathtub, and an Essay set.
Who is Dobie?
Dobie is a sweet little old man and a librarian-style character! Dobie is the eldest of two siblings and is a wolf-type character with a lazy personality type. Dobie has appeared in Animal Crossing, Welcome Amiibo, and New Horizons. Dobie's catchphrase is "ohmmm" like he is meditating. Dobie's favorite saying is "Old longings never truly fade."
Dobie's birthday is on the 17th of February, and Dobie has a nature hobby and so can often be found among the trees or beside the river because of their lazy personality Dobie has (which is not a bad thing, by the way). Dobie will get up at 8 AM and go to sleep at 10 PM.
Dobie's Appearance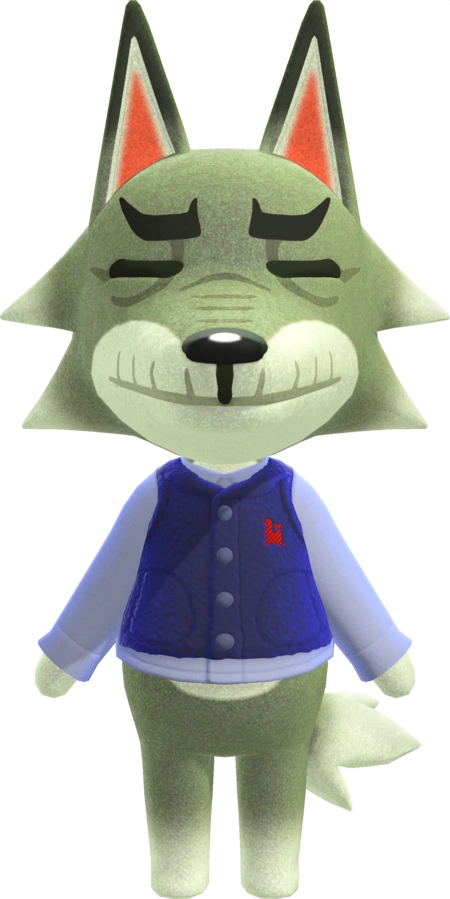 Dobie has something so incredibly comforting and wholesome about Dobie! He gives me little old man librarian vibes and looks like he smells like coffee and books; he adds variety and something a little bit different and more homely to your island!
Part of what makes Dobie so cozy and cute is that he wears a long-sleeved pale blue/almost purple top with a really sweet sweater vest over the top of his shirt! The sweater vest is a dark and deep blue color with lighter colored buttons down the middle that match his top underneath. At the top right of his sweater vest, he has a nice dark red crest that looks strikingly similar to a Ralph Lauren-style polo shirt! Except instead of a horse, it appears to be a rather sweet seal looking upwards and showing his tail!
In terms of Dobie's physical appearance, his skin color is a sage green color and almost looks like felt in its texture; he has small paws which poke out of his shirt and long slim legs with nothing on (a very weird but common design amongst the Animal Crossing villagers) In true form he has a bushy tail which pokes out of the right side of his body which is much lighter green and is spiky. Dobie's head is the same color as his body, and he has large thick bushy black brows, with eyes that are black slats that give a permanently closed look. He has a cute black button nose with a white shimmer on the top; he has a soft oval shape around his muzzle and mouth. His mouth is flat and long with dull line markings (like a pumpkin). Dobie has two large spikes coming out of each side of his face and very long tall ears, which have a small white inner marking and are bright orange all on the inside.
Dobie's Personality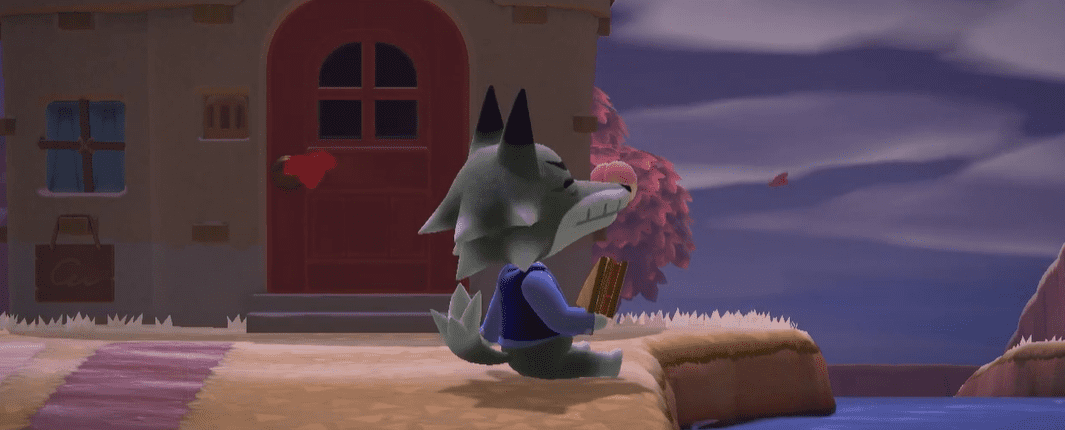 In line with his grandpa-style appearance, Dobie has the lazy personality type, which is a great amicable character type to have on your island. Dobie's lazy personality style makes him very easy-going and laid back; he is very much a go-with-the-flow type guy, very zen, and loves slow living (Which is why I love him). I often think that if I was a villager, I would be a lazy villager (at a push with lots of caffeine, I could be maybe a peppy villager)
Dobie will communicate easily and build friendships with peppy, normal, and sisterly villagers very easily as they share a similar outlook on life that allows them to enjoy each other's company and just chill together without any judgment or barriers to friendship. Villagers that Dobie would struggle with, however, are jock and snooty villagers as jock villagers prioritize their appearance and regular exercise and are constantly on the go and obsessing over their looks – and so jock villagers have a hard time accepting that lazy villagers are happy just sitting under a tree or fishing and not actively engaging in regular exercise.
In a very similar way, Dobie will struggle with snooty villagers as they also can obsess over their appearance (although more from a fashion and style perspective), and while snooty villagers could spend a day getting ready to go out or to pick an outfit; they cannot understand that lazy villagers are happy simply tumbling out of bed and going about their day and enjoying life at their own pace.
While Dobie is a lazy villager for the majority of his time in various animal crossing titles, it is important to know that in Animal Crossing Welcome Amiibo onwards, Dobie has a Cranky personality. In these more recent games, Dobie also has ambitions of being a writer, and you will see when we dive into his houses through the years later that his homes start to have an authors vibe to them (Which I love, as an avid reader and also a writer)
Dobie's Preferences
Dobie's personality changes incrementally over time and through the different versions of Animal Crossing, and you can find out what these differences and changes look like below!
In Animal Crossing

Default clothing:

 Blue aloha shirt

Default umbrella:

 Paper parasol

Favorite style:

 Fancy

My least favorite style:

 Funky
In Animal Crossing, Welcome Amiibo

Default clothing: 

Sweater vest

Default umbrella:

 Bat umbrella

Favorite style:

 Official

My least favourite style:

 Ornate
In Animal Crossing New Horizons
Default clothing: 

Fuzzy vest

Default umbrella:

 Busted umbrella

Favorite style:

 Simple and Cool
In Animal Crossing New Horizons, with the Happy Home update, Dobie wants the following style for his home:
Dobie's Vision: An authors retreat
Required items: Shoji divider, Cypress bathtub, Essay set
Dobie's House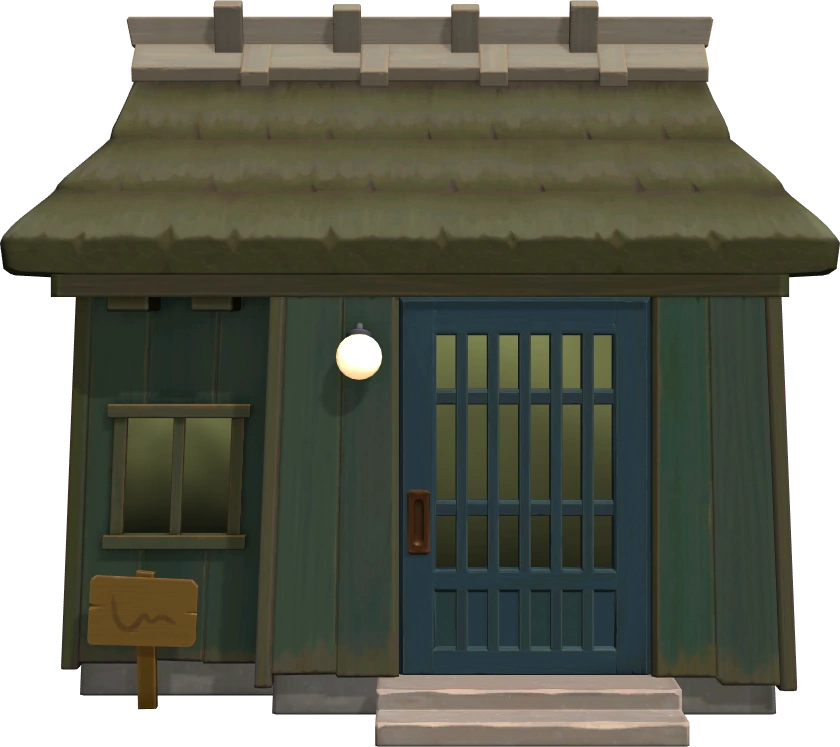 One of my favorite things about Animal Crossing is having a good snoop around other people's houses (and also judging how other people's houses are designed and decorated), So something really exciting as a long-time player of Animal Crossing is seeing how character's style and designs evolve.
I love Dobie's homes in particular because they are similar to the vibe that I would have in my own house! You can find some key details about Dobie's homes below.
In Animal Crossing, Dobie's Home Contains the Following Decorative Items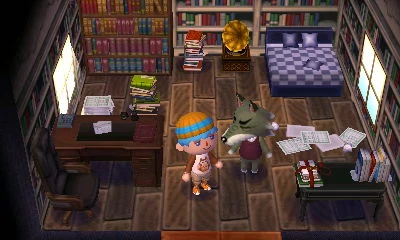 Tea vase

Red vase

Pond lantern

Deer scare

Shrine lantern

Garden pond

Mossy stone

Stone couple

Tape deck
The interior of Dobie's home has a garden wall and a Mossy carpet floor. I am a big fan of the carpet in particular.
In Animal Crossing Welcome Amiibo, his Home has These Decorative Items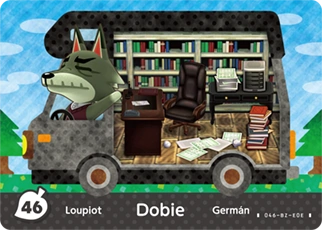 Modern bed

Large bookshelf

Scattered papers

Console table

Editors desk

Document stack

Stack of books x2

Phonograph

Editors chair

Book stands

Strapped books

Yellow certificate
I wasn't joking when I said there's a big book theme as time goes on! The wall has a library wall design (which, again, he is living my dream) along with an oil-stained floor.
In Animal Crossing New Horizons, Dobie's Home Contains the Following Items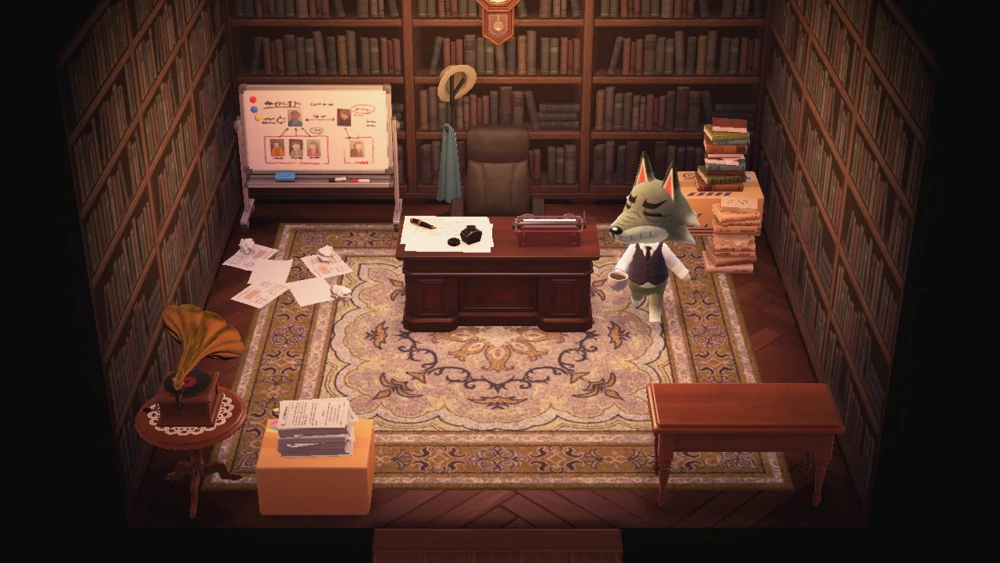 Den chair

Iron hanger stand

Stack of books

Yellow Persian rug

Antique console table

Pendulum clock

Rotary phone

Scattered papers

Whiteboard

Cardboard box x2

Document stack

Antique mini table

Den desk

Phonograph

Stack of books

Essay set

Typewriter
This final version of Dobie's home is the fanciest and most well-designed; it also has a classic library wall and dark herringbone flooring.
Dobie in Animal Crossing Pocket Camp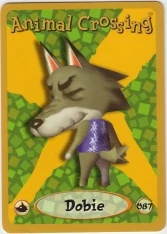 If you are super keen to get Dobie on your island in Pocket Camp (Which I would completely understand why by the way), you will need the following;
To complete Blathers Treasure Trek Map – you need 12x Dobie's essence and then to get the Map from Gulliver on a Gold Island.
Once you get the hard work done and invite Dobie to your island, he can reward you for your efforts in the following ways;
Friendship level seven:

 Sweater vest and sparkle stone

Friendship level nine:

 Sparkle stone

Friendship level fifteen:

 You get a crafting request from Dobie for an Editors chair

Friendship level twenty:

 Dobie's picture and sparkle stone

Friendship level twenty-five:

 Sparkle stone
Summary
I hope that after reading this (and maybe after seeing Dobie in whichever version of Animal Crossing you are currently playing) that you love him or can grow to love him as much as I love him! Dobie is truly a delight to have on your island and can be a welcome addition who easily slots in with other villagers and will rarely cause you any trouble at all.
I hope you enjoy your interactions with him and also that you can appreciate and visit his home!
FAQ's
Question: What Type of Villager is Dobie?
Answer: Dobie is a lazy villager, which means he is laid back and has a calm approach to life. Dobie does not care too much about superficial things and doesn't argue with or judge others, and can easily get along with most villagers. Dobie's personality does change from lazy to cranky from Welcome Amiibo onwards. Cranky villagers are the male equivalent to snooty villagers and so can be rude and judgemental and do not easily get along with others as a result.
Question: Does Dobie Have Any Siblings?
Answer: Dobie is the eldest of two children in his family.
Question: What Kind of Animal is Dobie?
Answer: Dobie is a wolf character, and you can see the hints to this in his appearance, especially with his big ears and grin!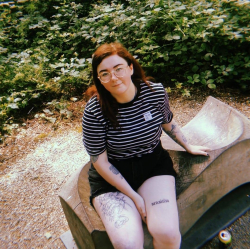 Latest posts by Ella Walsh
(see all)