Ah yes, Teddy—the big jock bear with a huge heart; he has been with us throughout the entire Animal Crossing franchise. He is one of the only jock villagers I like, and I've never heard a bad thing about this good bear.
Bottom Line Up Front
Here is your all-you-ever-need guide on everything Teddy. You'll get details on his preferences, clothing, gift ideas, house exterior and interior, DLC content, as well as any spinoff Teddy may appear in the Animal Crossing franchise. Since Teddy has been in Animal Crossing since the beginning, he has had some changes throughout the years (most original villagers do, and most of the significant changes were made in New Horizons, which is very interesting!).
General Facts
Gender: Male
Species: Bear
Birthday: September 26th
Star Sign: Libra
First Appearance: Dōbutsu no Mori
Personality: Jock
Catchphrase: Grooof
Skill: Playing old maid
Coffee: Blend, regular milk, two spoons of sugar
Preferences
Favorite songs: Mr. K.K., K.K. Salsa, K.K. March
Default Clothing: Club tee, energetic sweater
Default Umbrella: Paper parasol, frog umbrella
Favorite Colors:  Brown, green, black, yellow, orange
Favorite Styles: Simple, basic, fresh, charming
Least Favorite styles: Strange, funky, ornate
Goal: Police officer
Appearance
Teddy is a very run-of-the-mill jock villager, just cozier and more normal-looking than most jocks. His colors are deeply reminiscent of a Teddy bear, and his cute collar shirt is very mall-store stuffies with cute clothes.
He's a tall villager with brown/orange fur and lighter yellow spots on his face, chest, arms, and legs. His ears are rounded, and the insides are pink. His face is rounded, with big black bushy eyebrows, closed eyes in a rectangle shape, and a yellow snout with a black nose and smile.
His appearance has made Teddy a fairly popular villager, especially for the bear animal type, as their shorter counterpart, cubs, have many, many more famous villagers than bears.
Personality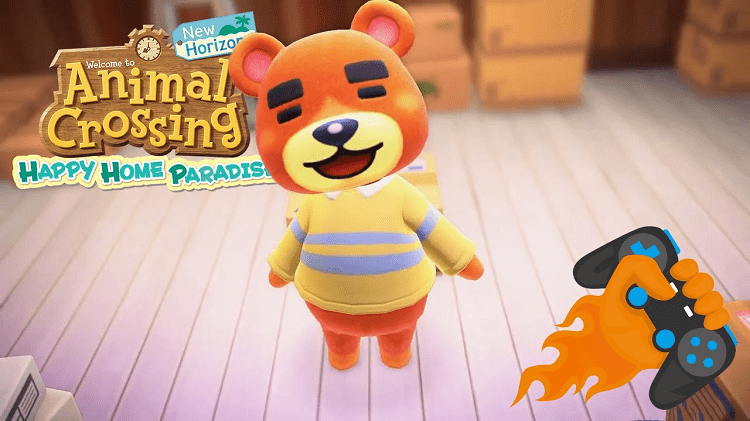 Teddy is a jock personality type. This means he values exercise, working out, and protein shakes. He will talk about how many reps he did or how much he ran today. Jocks will also speak with you about your working out.
They are generally pretty dumb but charming: A classic himbo type. Other villagers generally do not like jock-type villagers. Who really wants to be told to work out, right? Jock villagers love normal and peppy-type villagers, they like smug villagers, and they hate cranky, snooty, and lazy villagers due to their contrasting natures. They also don't get along well with sisterly types.
Why you Want Teddy on your Island
If you like jock villagers but sometimes not the look, this cute teddy bear villager would be a perfect fit. He's easy to dress up, and it's fun to design his house. He's also a tall villager, which can be hard to run into! If you're doing a type-specific island, like bear or jock, I'd put him near the top of my list of villagers you must have.
House
Animal Crossing
Outside
Teddy's house has a rounded bright red roof, matching colors with the door awning. The walls of the house are off-white with wooden beams. It has a small window at the top and a cute wooden fence around it.
Indoors
Dracaena
Mama bear
Ebony piano
Space heater
Writing desk
Retro stereo
Blue golf bag
Retro T.V.
Writing chair
Walls are Chic wall
Flooring is Plush carpet
Song is Mr. K.K.
Wild World
There is no outdoor to look at specifically! But the indoors is campy and cozy.
Indoors
Mama bear
Ebony piano
Retro T.V.
Retro stereo
Writing chair
stool
Writing desk
Fireplace
Blue golf bag
Walls are Chic wall
Flooring is Plush carpet
Song is Mr. K.K.
City Folk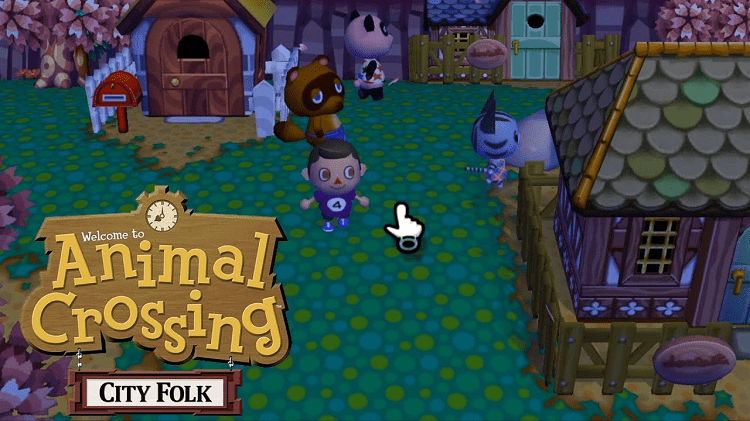 Same as Wild World: nothing to see on the outside! The inside is the same as Wild World but rearranged.
Indoors
Mama bear
Ebony piano
Fireplace
Writing desk
Writing chair
Stool
Retro stereo
Retro T.V.
Blue golf bag
Walls are Chic wall
Flooring is Plush carpet
Song Mr. K.K.
New Leaf
Outside
Teddy's house is charming and very different from the usual houses in Animal Crossing. His house is made from wood logs, and the slanted green roof matches its spunkiness. It has a lighter-colored wooden door with small glass windows at the top. A brick fence surrounds the house.
Indoors
Ebony piano
Yellow certificate
Globe
Fireplace
Dracaena
Writing desk
Writing chair
Large bookshelf
Retro tv
Retro stereo
Golf bag
Pink velvet stool
Walls are Chic wall
Flooring is Plush carpet
Song is Mr. K.K.
New Horizons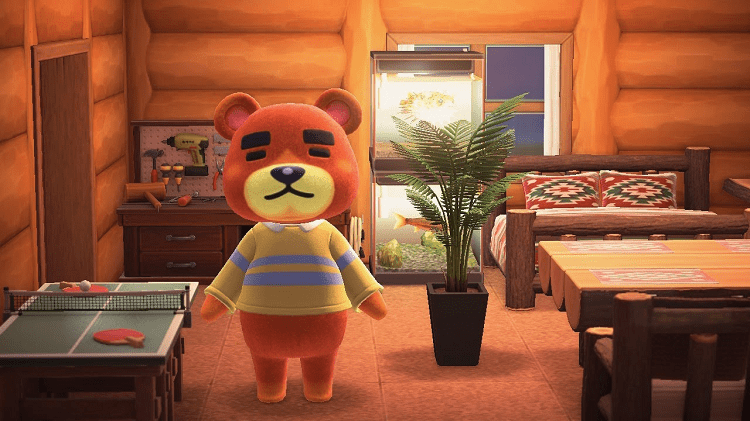 Outdoors
Another significant change in Teddy's house can be seen in ACNH. The outside has a log cabin feel, with entire logs making up the house. It has a dark red roof that slants down like a triangle. It has a light above the door, which is windowed maple. It's a basic square-shaped house.
Indoors
Log dining table
Log bed
Log extra long sofa
Log wall-mounted clock
Log decorative shelf
Portable record player
Fan palm
Macrame tapestry
Walls are Cabin wall
Flooring is Cork flooring
Song is Mr. K.K.
Teddy Gift Guide
An essential part of the game is giving villagers gifts! Here's what to gift Teddy:
Tops
Simple parka
Short peacoat
Hoi tee
Layered polo shirt
3 shirt
College cardigan
Nook Inc. tee
Puffy sleeve blouse
Cardigan shirt combo
Energetic sweater
Fired up kanji tee
Dresses
Jumper work suit
Raincoat
Simple dots dress
Trench coat
Long chenille cardigan
Parka dress
Linen dress
Denim overalls
Maxi shirtdress
Full body tights
Headwear
Tulip hat
Eye mask
Nook Inc. bandana
Double-bridged bridge glasses
Plain paperboy cap
Do-rag
School hat
Bottom rimmed glasses
Knit hat
Bandage
Furniture Gift List
Gifting is an essential part of animal crossing! But you may not think to gift furniture or need clarification on what they may like. Here's a clear list of what Teddy would like most based on color preferences and styles ideas
Indoors
Nordic shelves
Aroma pot
Simple sofa
Barbell
Vacuum cleaner
Throwback wrestling figure
Magazine rack
Terrarium
Baby bear
Upright speaker
Floating biotope planter
Table lamp
Vintage dresser
Patchwork bed
Laptop
Log decorative shelves
Nordic sofa
Floor lamp
Patchwork low table
Foosball table
Outdoors
Surfboard
Ball
Angled signpost
Campsite sign
Mush table
Street lamp
Potted starter plants
Tire stack
Round topiary
Garden lantern
Pocket Camp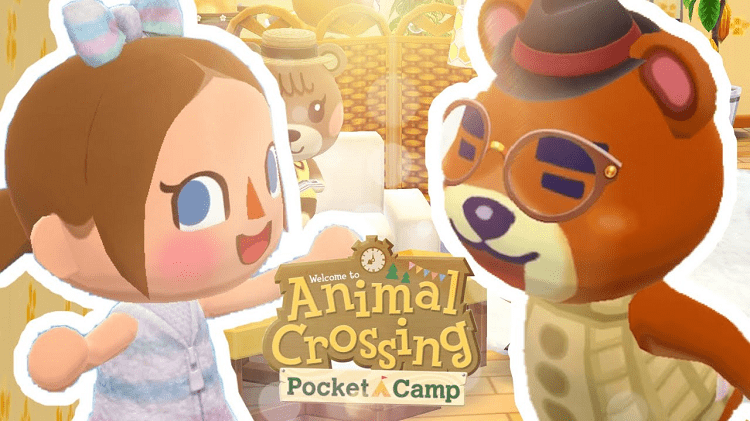 Teddy is a hard villager to get here. He was added early in 2019 and is a Treasure Trekker; that means you have to find his map and play it through. Villagers aren't guaranteed in maps, and you first have to find the specific one of the villager's maps you want. His map is of gold rarity.
Teddy's theme is natural, and his main gifts are paper. His friendship rewards are very interesting, as well. And because he's a map villager, you don't need higher friendship to get him to move to your camp.
Friendship Gifts
At level seven, you'll get one Club Tee and one Sparkle Stones
At level nine, you'll get one Sparkle Stones
At level 15, you'll get a special request item with the crafting recipe of the Wooden Bear item
At level 20, you'll get Teddy's Pic and one Sparkle Stones
At levels 25-70, you'll get one Sparkle Stones every five levels
Plus, at level 8, you unlock being able to dress your villager, and at level 10, you unlock lost item requests for the villager
Happy Homes
In Happy Homes, Teddy will ask for "something to celebrate my victories." His vision is an award podium. Only two items are required: a platform and a mic stand. From there on, it's all you!
The following items are unlocked for decoration when you decorate his home:
Mic stand
Platform
Teddy's pic
Gold HHA trophy
Desktop mic
Ringside table
K. salsa
Sporty floor
Sporty wall
Paper parasol
Club tee
Amiibos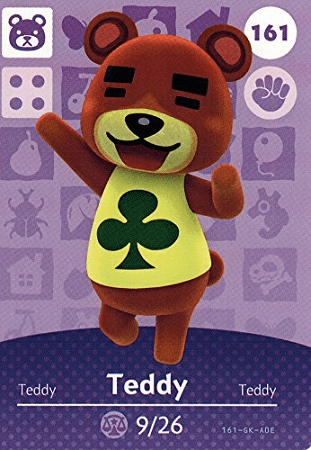 Teddy has both an amiibo and e-reader card.
E-reader
Teddy's e-reader card looks very 80s-inspired. The background is purple with an orange shape; Teddy stands in the middle, posing with his back facing forward and looking over his shoulder.
On both the front and back are symbols of the bear type and a male sign. More on the back: it says his star sign (Libra), his clothes (club shirt), his phrase (grooof), and below that, his profile, which reads,
Teddy is obsessed with his health and fitness. He truly believes that if everyone would play sports, the world would be a peaceful place. That's probably because he's never met a sore loser before.
His number is #016; he's a part of series 1.
Amiibo
Teddy's amiibo has a purple background, where he's posed in front with a victorious pose and a wide smile, fist bumping the air. On the left, it shows his type (bear) and his dice value (4). On the right, it shows his number, #161. Below that is his hand sign (rock. Finally, at the bottom, it has his name and his birthday (9/26). His amiibo was a part of series 2.
You can get either of these off reseller sites like eBay, Etsy, and Mercari; you can also take a chance at getting his card in the mystery packs.
FAQs
Question: Does Teddy have any plushies?
Answer: Teddy does not have any officially licensed plushies, but many handmade ones are sold online by small businesses.
Question: Is Teddy rare?
Answer: No, not particularly. Teddy has been in the Animal Crossing franchise since the original Animal Crossing game, and he has an e-reader card and an amiibo. You can often see him in villager trading groups, as well. This doesn't mean he's disliked; actually, a lot of the beloved villagers get traded the most. You shouldn't have to pay to get him or take forever to find him, so don't pay real money for a trade or spend hours on island hopping.
Question: Is Teddy a popular villager?
Answer: On many popularity lists, he's placed very differently, but the general consensus is he's an average villager. Unlike Raymond or Molly, you'll never have to give an arm and a lung to get him. That doesn't make him an unlikable villager, though. You can see for yourself!
Conclusion
Teddy is just a cute Teddy bear with a push-up-focused twist. He's fun, and though jocks can be trouble with how many villagers hate them and how much they love working out, they're very entertaining. He's worth the time and energy in any game he's in.
If you don't like jocks, this is the jock for you. If you do like jocks, this is the kick for you. His different look and personality make him unique and incredibly likable to anyone.
Looking for more interesting readings? Check out: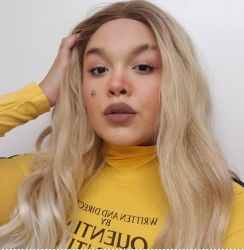 Latest posts by Lillie Forteau
(see all)