Animal Crossing has a lot of quirky characters, and it is justified. As a villager, you need to have a bit of uniqueness to stand apart from the 397 villagers present in the latest entry. Villagers like Ankha, Raymond, or Lucky stand out because of their unique appearances or personalities.
Ankha is a cat whose design shouts "Egyptian royalty," Raymond is the only smug cat and has heterochromia (i.e., different-colored eyes), and Lucky is a dog wrapped in paper similar to a mummy. Another unique villager that piqued my interest while playing is Sprocket, a jock ostrich.
Sprocket sticks out like a sore thumb because of his robotic theme. He has a shiny, metallic look on him with screws and bolts twisted in. His eyes look dead but alive at the same time. I wonder why they designed Sprocket to be a jock robot when robots do not have muscles, to begin with at all.
Although Sprocket is not the only villager whose looks resemble a robot, there are only three of them in the franchise: him, Cephalobot, and Ribbot. If you are interested in Sprocket, as I and many others are, this guide will help you learn more about him, including the things he likes, hates, and more.
Bottom Line Up Front
Here are essential details about Sprocket in New Horizons that you need to know.
Name: Sprocket
Species: Ostrich
Birthday: December 1 (Sagittarius)
Personality: Jock
Gender: Male
Catchphrase: "zort"
Preferred clothing style: Simple and Active
Preferred colors: Orange and Green
What does Sprocket look like in Animal Crossing?
Sprocket is a featherless ostrich because his entire body is made of metal. His head is green, his body is dark gray, and his legs and beak are orange. His green head has lines of screws and bolts on, giving the impression of it being made of several metallic plates screwed together.
His eyes look like it is made of reflective blue glass. He has six strands of hair on his scalp and a dark gray tail sticking out from behind him. His tail and wings have silver markings at the tips. His orange legs have dark stripes on them.
At the back of his head, there is an orange "04" mark stylized like a 14-segment display. His torso gradually changes color, being green from his head to dark gray to his stomach.
What is Sprocket's personality in Animal Crossing?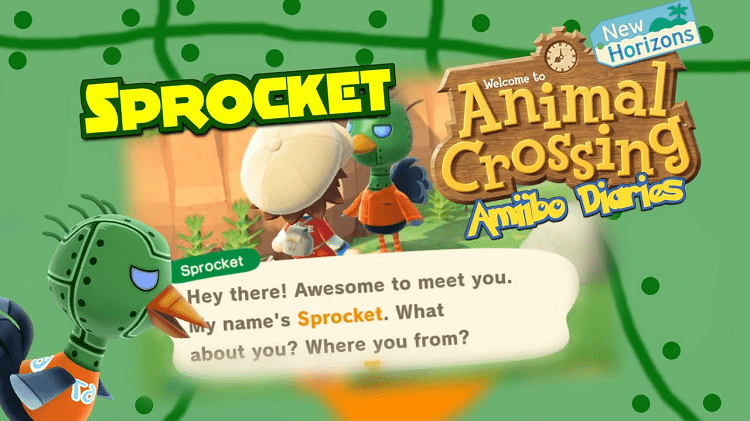 Sprocket is a jock villager, and as such, he likes to work out and be fit. He often entices others, including the player, to be physically active. They are incredibly energetic, which can make other villagers with different personalities than them become annoyed.
For example, lazy villagers need help getting along with Sprocket because of their conflicting ideals. I have written a more detailed analysis on jock villagers before, so I suggest you check it out if you want something more substantial.
In Animal Crossing and New Leaf, Sprocket falls asleep by midnight and wakes up at 7 AM. In New Horizons, his sleeping and waking hours became delayed by 30 minutes (i.e., he sleeps at 12:30 AM and wakes up at 6:30 AM).
Sprocket's house throughout the Animal Crossing games
Sprocket's house underwent many changes throughout the games he was in. While the interior design remained similar in the Japanese and English versions of the first game (albeit with minor changes), they redesigned everything in New Leaf. Then, they did it again when New Horizons arrived.
Below are detailed descriptions of the items, layout, and more of Sprocket's house designs in the said games.
Sprocket's house in Doubutsu no Mori / e+
In the first games, i.e., the original Japanese Doubutsu no Mori, Sprocket's room has a concrete floor. The walls are made of metal partitions assembled together using screws and bolts.
Items
Barricade
Extinguisher
Fence with Vinyl
Folding Chair (x2)
Lunar Rover
Mega Plinkoid
Mini Plinkoid
Morning Assembly Stand (x2)
Office Locker
Orange Cone
Robo-Clock
Robo-Stereo
Striped Pylon
 
 
Wallpaper
Industrial Wall
Flooring
Concrete Floor
Music Playing
K. K. Technopop
Sprocket's house in Animal Crossing
Strangely, the developers slightly changed the items in Sprocket's room when they translated the game for the Western audience. The room layout, floor, and walls are the same, but some items were changed. Specifically, the northern part of the room got replaced.
Items
 Blue Corner
 Boxing Barricade (x2)
 Cement Mixer
 Extinguisher
 Flagman Sign
 Folding Chair (x2)
 Judge's Bell
 Lunar Rover
 Mega Plinkoid
 Mini Plinkoid
 Office Locker
 Orange Cone
 Red Corner
 Robo-Clock
 Robo-Stereo
Wallpaper
Industrial Wall
Flooring
Concrete Floor
Music Playing
K. K. Technopop
Sprocket's house in New Leaf
Having Sprocket with a house of his own on your game can be difficult to experience since he got included during the Welcome Amiibo update. So, you need an Amiibo figure of him to invite him over to your town. In this game, the interior design is completely different from the previous entry.
Items
Big Amp
Electric Bass
Floor Monitor
Silver Mic
Sound Mixer
Synthesizer
Wallpaper
Stadium Wall
Flooring
Backyard Lawn
Music Playing
K. K. Metal
Sprocket's house in New Horizons
Sprocket was not abandoned in New Horizons, as he can be a part of your neighborhood in the game. The interior design is different again. The wall is made of gray stony plates assembled together like bricks. A faint blue glow shimmers beneath the cracks of the wall.
The floor design resembles that of a circuit board; it is green and metallic with a lot of silver and gold circuits.
In terms of external design, Sprocket's house has a green wooden siding wall painted green. Meanwhile, the roof is striped and gray. The door is made of iron painted green, and the ring handle is made of bronze.
The outside wall has a white baseboard made of stone. Near the door is a small, fancy lamp. The window is a simple glass pane.
Items
Amp (x2)
DJ's Turntable
Drum Set
Effects Rack
Electric Bass
Electric Guitar
Pedal Board
Silver Mic
 
Wallpaper
Future-Tech Wall
Flooring
Circuit-Board Flooring
Music Playing
K. K. Metal
Sprocket's Preferences
Favorite furniture or clothing style

Cool (Animal Crossing)
Sporty (New Leaf – Welcome Amiibo)
Simple and active (New Horizons)

Favorite colors

Blue (New Leaf – Welcome Amiibo)
Orange and green (New Horizons)

Style dislikes

Fresh (Animal Crossing)
Historical (New Leaf – Welcome Amiibo)

Initial clothing

67 Shirt (Animal Crossing, New Leaf – Welcome Amiibo)
Orange Jumper Work Suit (New Horizons)

Initial umbrella

Flame Umbrella (Animal Crossing)
Leopard Umbrella (New Leaf – Welcome Amiibo)
Busted Umbrella (New Horizons)
All about Sprocket in Happy Home Paradise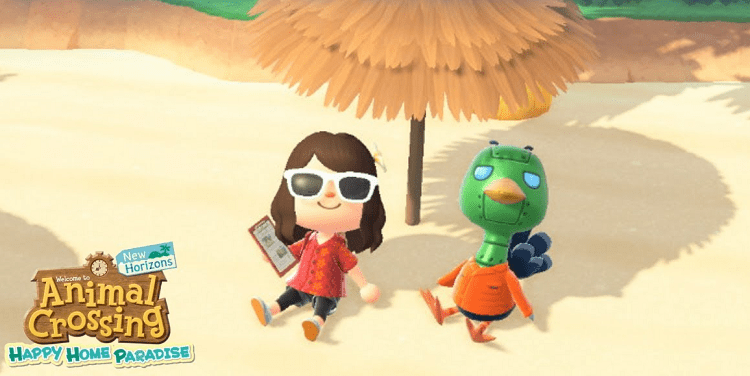 If you have Happy Home Paradise, a certain monkey gives you a job designing vacation homes for villagers. Sprocket can be one of your clients! If you design his house, follow his requests below.
Thought bubble: "A factory that makes robots or mechs would be awesome!"
Client's vision: The Robo Depot
Required items: Robot Arm, Conveyor Belt, Tin Robot
Favorite song: Rockin' K. K.
You need to incorporate the required items in the design so that he will be satisfied with his home. After making him happy with your job, a bunch of furniture pieces will unlock for you. You can buy them from the HHP Catalogue via Wardell.
All about Sprocket in Other Games
All about Sprocket in Pocket Camp
More than a year after New Horizons was released, the developers of Pocket Camp added Sprocket into the mobile game. Below are the important facts about him.
Initial clothing: No. 67 Shirt
Biography

Description: "they say it's important to be young at heart, and Sprocket is a clear example of this. Or is he just young? No one really knows."
Preferred theme: Cool
Reward: Steel

Invitation requirements

Win the Blathers' Treasure Trek minigame (Sprocket and Pal's Island)

Rewards for friendship

On Level 7: No. 67 Shirt
On Level 9: Sparkle Stone
On Level 15: Crafting Request for Floor Monitor
On Level 20: Sprocket's Pic and Sparkle Stone
On Level 25 to 60: Sparkle Stone
Ideal Gifts to Give to Sprocket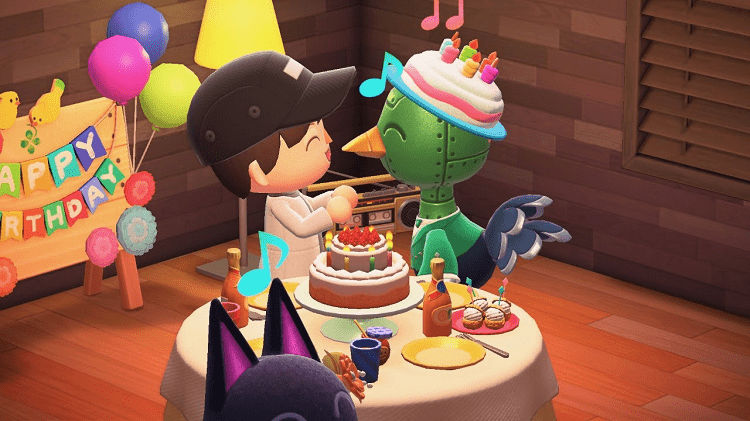 Ideal gifts for Sprocket in Animal Crossing
In Animal Crossing, both the original and international versions, Sprocket likes cool clothes and dislikes fresh ones. Below is a list of clothing items you can buy for him. Note that you can find all of these tops in Tom Nook's Store.
| | |
| --- | --- |
| Clothing item | Price |
| Moody Blue Shirt | 123 Bells |
| Arctic Camo | 320 Bells |
| Desert Camo | 320 Bells |
| Jungle Camo | 320 Bells |
| Skull Shirt | 320 Bells |
| Spiderweb Shirt | 320 Bells |
| Zipper Shirt | 320 Bells |
| Racer 6 Shirt | 380 Bells |
| Racer Shirt | 380 Bells |
| Rally Shirt | 380 Bells |
Ideal gifts for Sprocket in New Leaf
In New Leaf, Sprocket likes clothes and furniture that are blue or sporty. On the contrary, he dislikes them if they are historical. Below is a list of blue and sporty furniture items that you can buy for Sprocket.
You can buy all of them from Timmy and Tommy's Store except for the last two items; you can buy them from Timmy & Tommy Shopping Catalog.
| | | |
| --- | --- | --- |
| Furniture item | Variation | Price |
| Hurdle | N/A | 980 Bells |
| Boxing Barricade | N/A | 1,050 Bells |
| Boxing Mat | Blue | 1,180 Bells |
| Golf Bag | Blue | 1,600 Bells |
| Bilboquet | Blue | 2,000 Bells |
| Ball Catcher | Any | 2,040 Bells |
| Speed Bag | N/A | 2,990 Bells |
| Mountain Bike | Blue and orange | 3,380 Bells |
| Submarine | Blue | 8,000 Bells |
| Tent | Blue | 8,000 Bells |
If you want to give Sprocket some clothes instead, below is a list of blue and sporty clothing items you can buy for him. You can buy all of these tops from the Able Sisters.
| | |
| --- | --- |
| Clothing item | Price |
| No. 2 Shirt | 250 Bells |
| Deep-blue Tank | 280 Bells |
| Blue-stripe Shirt | 340 Bells |
| MVP Tee | 370 Bells |
| Blue Gym Tee | 420 Bells |
| Blue Jacket | 420 Bells |
| Blue Track Jacket | 420 Bells |
| Jockey Shirt | 420 Bells |
| Blue-zap Suit | 640 Bells |
| Cycling Shirt | 640 Bells |
Ideal gifts for Sprocket in New Horizons
In New Horizons, Sprocket likes furniture that is orange or green (or both). If you want to give him some furniture pieces, I have a list below of orange and green items that will surely make him happy.
They may appear in Nook's Cranny, but if you have it in your catalog already, you can purchase one directly from the Nook Shopping Catalogue.
Furniture item
Variation
Type
Price
Tin Robot
Orange
Miscellaneous
3,500 Bells
Record Box
Green, logo
2,600 Bells
Pop-up Toaster
Green
2,300 Bells
Garden Gnome
Hungry gnome
1,900 Bells
Decorative Bottles
Green, orange labels
1,100 Bells
Billiard Table
Green
Houseware
77,000 Bells
Peacock Chair
Brown and green
27,000 Bells
Nordic Shelves
Natural wood, butterflies
16,000 Bells
Plant Partition
Terra-cotta
6,100 Bells
Rock Guitar
Sunburst, emblem logo
3,100 Bells
Sprocket's favorite colors also apply to his clothes. As for style, he prefers simple and active styles for his clothes. The list below has a sample of simple and active clothes that are either orange or green (or both). You can buy everything from the Able Sisters.
Clothing item
Variation
Type
Price
Sleeved Apron
Orange
Top
960 Bells
Shop Uniform Shirt
Orange
1,080 Bells
Coverall Coat
Avocado
1,120 Bells
Madras Plaid Shirt
Green
1,120 Bells
Fast-food Uniform
Orange
1,200 Bells
Tiny Party Cap
Orange
Headwear
560 Bells
Fast-food Cap
Orange
800 Bells
Coveralls with Arm Covers
Orange
Dress-up
1,600 Bells
Jumper Work Suit
Orange
1,050 Bells
Farmer Overalls
Green
1,600 Bells
Sprocket's E-Reader Card
Before the Amiibo was a thing, Nintendo sold collectible cards called e-Cards, and you can insert them in devices connected to your console known as the e-Reader. Many games supported this gimmick, and Animal Crossing was one of them. Sprocket has an e-Reader card to invite him to your game.
The card background has a brown mosaic of differently-shaped triangles. A crude, purple X mark is also in the background overlapping the pattern. Sprocket is running to the left with his wings stretched like an airplane.
On the bottom of the card, there are labels unique for Sprocket. From left to right, there is a symbol of an ostrich, his name, and his card number, #111.
The back contains more information about Sprocket; he is a male ostrich with the Sagittarius zodiac sign. He sports a No. 67 Shirt, and his catchphrase is "zort." Then, at the bottom, his profile reads as such:
"Nobody knows who built Sprocket. Whoever did it was probably near-sighted, though. And on top of that, whoever built him filled his robotic brain with delusions of grandeur."
Sprocket's Amiibo Card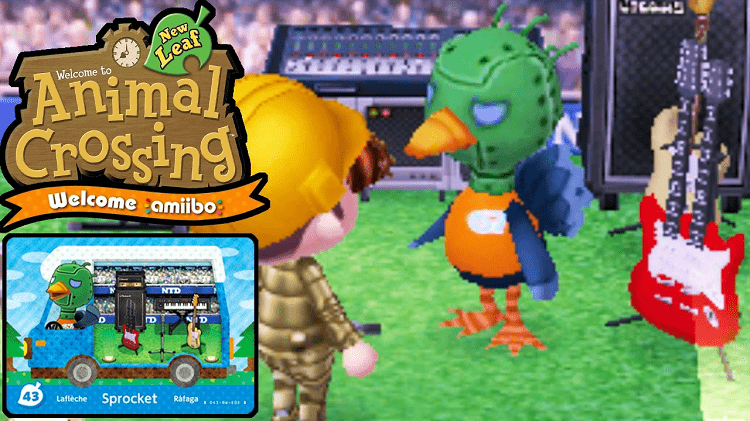 Because Sprocket was introduced in the Welcome Amiibo update in New Leaf, his Amiibo card looks different from the others. Instead of a card with his profile in the middle, it is of him driving a blue RV with a white roof.
The RV's inside is shown on the card; it contains the items in his room, i.e., the electric bass, double-neck guitar, big amp, silver mic, synthesizer, and floor lights. In the bottom-left corner, you can see his new number, #43.
Frequently Answered Questions
Question: How do I Get Sprocket in New Horizons?
Answer: The only surefire way to get Sprocket on your island is by scanning an Amiibo card of him. Firstly, you need to have built the campsite beforehand. Also, the Resident Services needs to be a building instead of a tent. Then, interact with the Nook Stop Kiosk so that you can scan the Amiibo card.
Doing so will invite them to the campsite. Once they are in the campsite, you can invite them over to be a resident on your island.
Question: Is Sprocket Rare in New Horizons?
Answer: I would say Sprocket is one of the rare Animal Crossing villagers out there due to a couple of reasons. Firstly, he is one of only three villagers with a robotic theme. Secondly, he is the only ostrich villager with a jock personality (and vice versa).
Question: How do I get Rid of Sprocket in New Horizons?
Answer: If for some bizarre reason, you want Sprocket out of your island after being a resident, you can ignore him. Ignoring him will increase the chance of him wanting to leave your island. So, refuse to talk to him. You can also complain to Isabelle at the Resident Services building about Sprocket.
Conclusion: Is Sprocket a Good Villager in Animal Crossing?
I love Sprocket's design! I think he is an incredibly well-designed villager with a unique theme. For some reason, he is a jock, similar to another robotic-themed villager, i.e., Ribbot. Still, I love hanging out with jock villagers. Thus, Sprocket will be a great friend to have on your island.
If you have a lot of lazy villagers, they may conflict ideals with Sprocket due to his ecstatic and extroverted energy. In New Horizons, there are 11 ostriches, so you can make an island full of these large birds. Still, Sprocket might stick out like a sore thumb because of his lack of feathers.
Adding Sprocket to your island alongside Cephalobot and Ribbot will fulfill the robot trio. Unless you do not want a robotic or mechanical theme, Sprocket will always be a great addition. His energy will always bring a smile to your face every time you open your Nintendo Switch and play the game.
Looking for more interesting readings? Check out:
Latest posts by Arthur Monteclar
(see all)