With Animal Crossing being potentially one of the most wholesome, unique gaming experiences out there, you'd expect an element of personalization to be included. From hand-picking which villagers should move in to selecting where their homes will go, there is so much space to make your experience with the franchise unique.
But New Horizons isn't the first instance where we have been able to customize our gameplay. Although it hasn't been as extensive in the past, there's still an element of personalization through planting flowers, interior decorating, and changing your roof color.
But Animal Crossing New Horizons is one of the only titles within the franchise that lets you take complete control of how your entire living space looks. Rather than previous titles only giving the option for a new lick of paint every time you pay off a loan, you have total control and encouragement to decorate your island from peak to sea, starting with customizing your home.
Home Customization in Previous Animal Crossing Titles
As I've already mentioned, home customization in previous Animal Crossing games was incredibly limited. Of course, you could decorate the interior until your heart was content, but this wasn't enough for someone like me who loves to have their entire island themed.
Because of these limitations, I remember using my previous homes as glorified storage rather than using rooms as intended. Each room was undoubtedly filled with character, but rather than having any cozy, homey aspect; it was filled ceiling to floor with moon jellyfish or seasonal furniture I was waiting to sell.
But still, ther was an element of personalization available. Each time you paid off a loan, Nook would politely ask which color you'd like your roof to be. I loved this element, especially since my favorite color would change so frequently when I was younger. Plus, if you got particularly unlucky and started the game with a green roof, you always had the chance to change.
Here are the colors you could have your roof in previous Animal Crossing titles:
Yellow
Orange
Red
Green
Blue
Hot Pink
Pink
Purple
Lilac
Aqua
Pea Green
Black
Grey
White
Brown
Sky Blue
In Wild World, a can of paint could be bought from Nookington's for 980 Bells. Outside of paying off a loan, this was the only way you could change your roof color. But this changed in New Leaf since Nook's Homes was introduced, where you could walk in and change the color and pattern of your roof.
How to Unlock Home Customization in New Horizons

As you gently progress through New Horizons and develop your theme and style on your island, you'll probably notice how garish and vibrant villager homes look against your picture-perfect landscapes. On several occasions, I could sense myself feeling annoyed at how bright, and off-putting my house seemed on my natural, forest-themed island. So knowing that I could change this in the near future became one of the elements of New Horizons I was desperate to unlock.
But, much like every other element of New Horizons, being able to unlock home customization comes with a few milestones to overcome first. There's no such thing as a life in Animal Crossing without an element of hard work.
You will need to complete the following tasks before you can start to make your house a home:
First, upgrade your tent to a house, costing 5'000 Nook Miles.
Next, build a new home, costing 98,000 Bells.
Increase the size of your room, costing 198,000 Bells.
Upgrade your home to have one additional room, costing 368,000 Bells.
Finally, upgrade your home to have two additional rooms, costing 548,000 Bells.
These upgrades and additions will cost a total of 1,212,000 bells, which is an incredibly intimidating amount of money. Luckily, you don't have to pay off loans in lump sums. When paying off the debt I owe to Nook; I try to face it a few thousand at a time. After a week of hard work, you'll be surprised at how close you are to an additional room!
Once each of these milestones has been completed, walking into Resident Services will trigger Tom to start telling you about home customization. At first, I expected the customization to be minimal – so I was relieved when I saw menus of potential customization features for my home. Additionally, there are so many colors and styles to play around with, so you can make your home fit the theme of your island.
Roof Colors and Styles
As you can decorate every inch of your island outside your home, the limits for personalization in New Horizons seem endless. But, when it comes to redecorating your home, you do hit some limits.
At the same time, you unlock a few options once you've upgraded your home a few times, and several more options open as you progress through the game. The DLC, Happy Home Paradise, is also home to several customization options. But it's best to begin at the beginning and start with the roof colors you'll unlock first.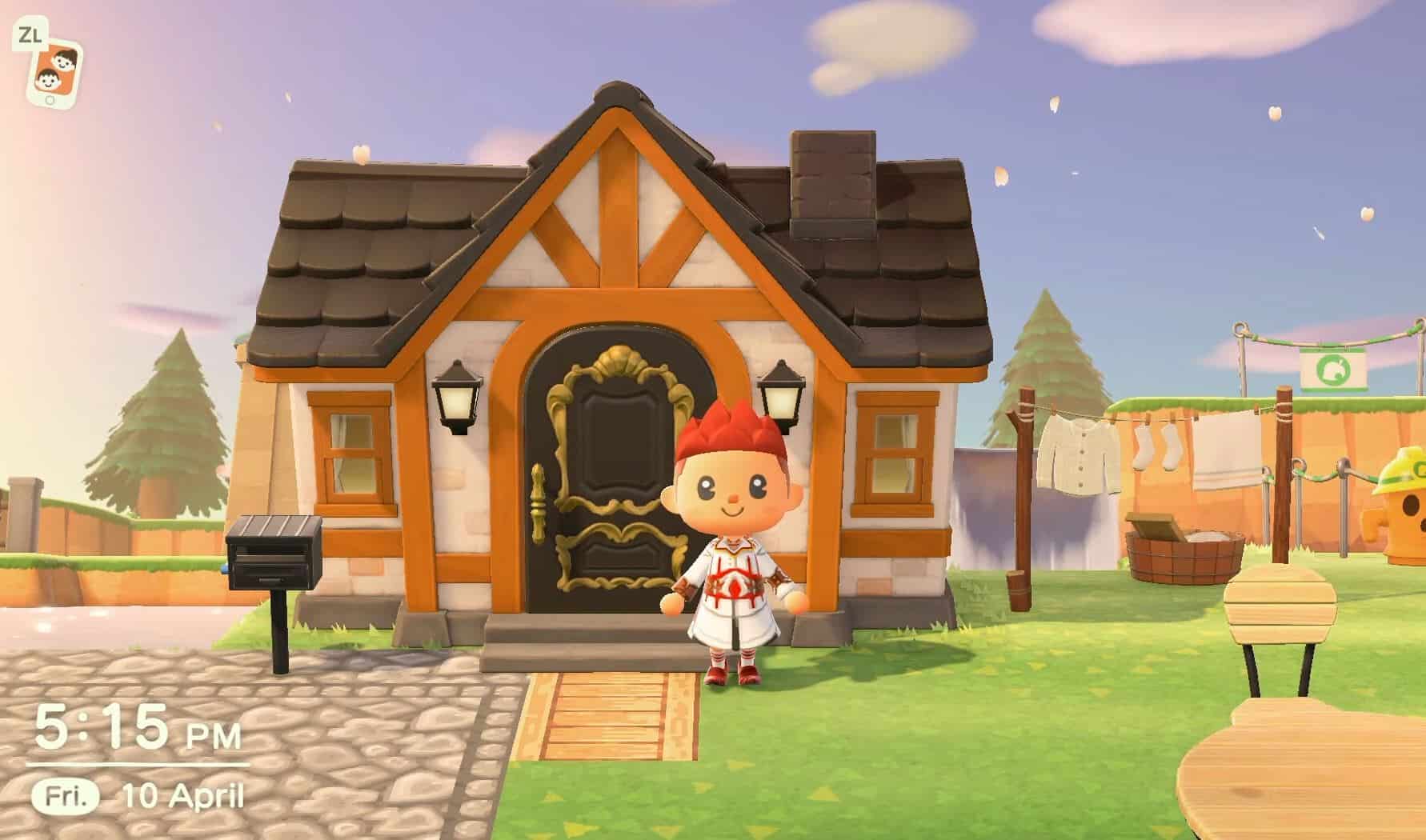 Given you have upgraded your house to have two additional rooms, your customization journey begins with the tiled roof, which is available in the following colors:
Red
Yellow
Green
Aqua
Blue
Purple
Pink
Black
While this tiled design gives a more traditional Animal Crossing feel, if you continue to upgrade your home with Nook (and end up acquiring a ridiculous amount of debt with him), more customization options will become available. For example, you can apply four different roof styles to your house outside the DLC, but I'll cover the extra paid content in more detail later.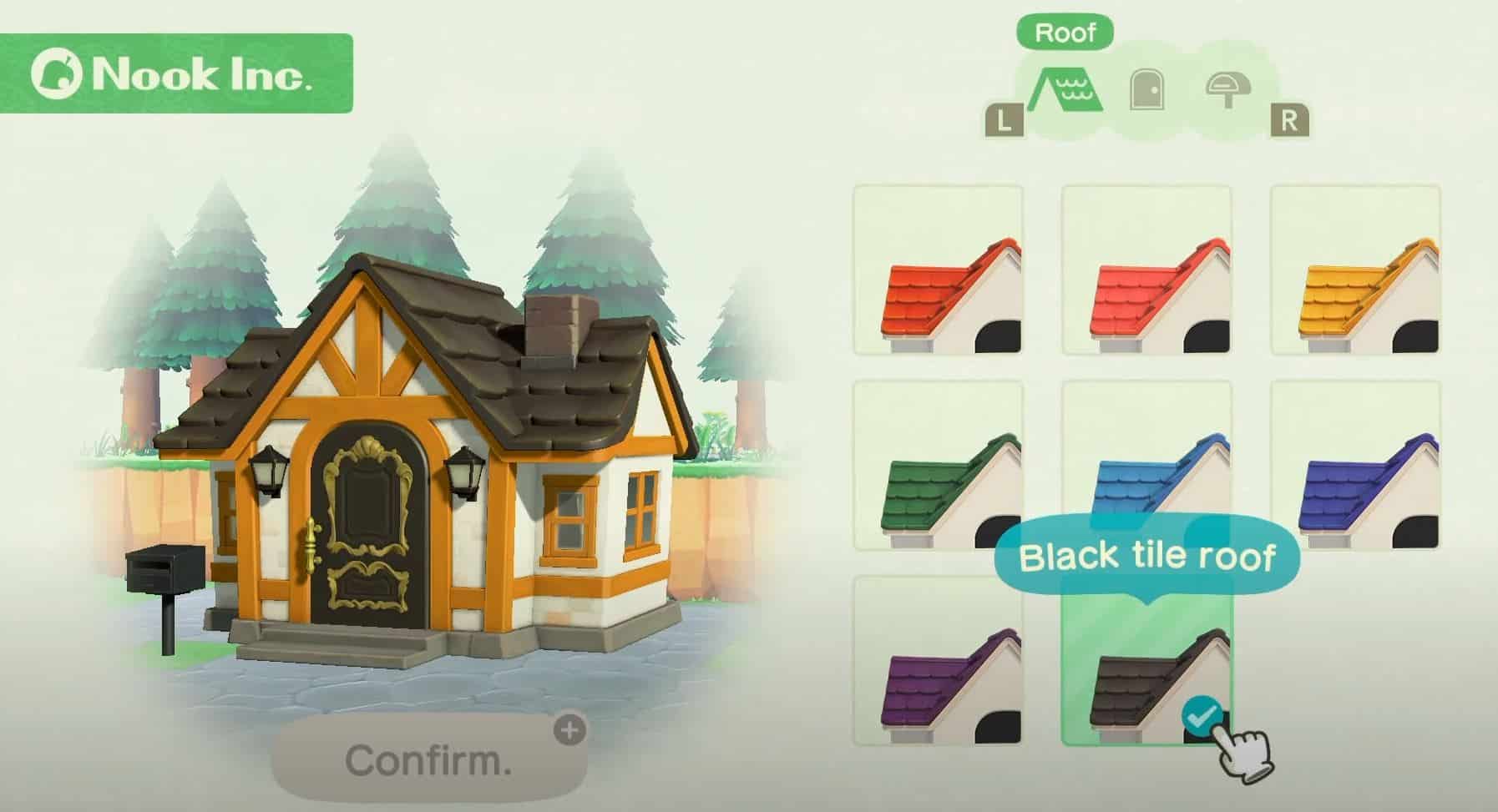 Here are the three alternative roof styles, and their colors, which are available once you have upgraded your home to have a top floor:
The curved shingle roof comes in the following colors:
Orange
Yellow
Green
Blue
Pink
Brown
Beige
Black
The stone roof comes in the following colors:
Red
Orange
Green
Blue
Brown
Beige
Gray
Black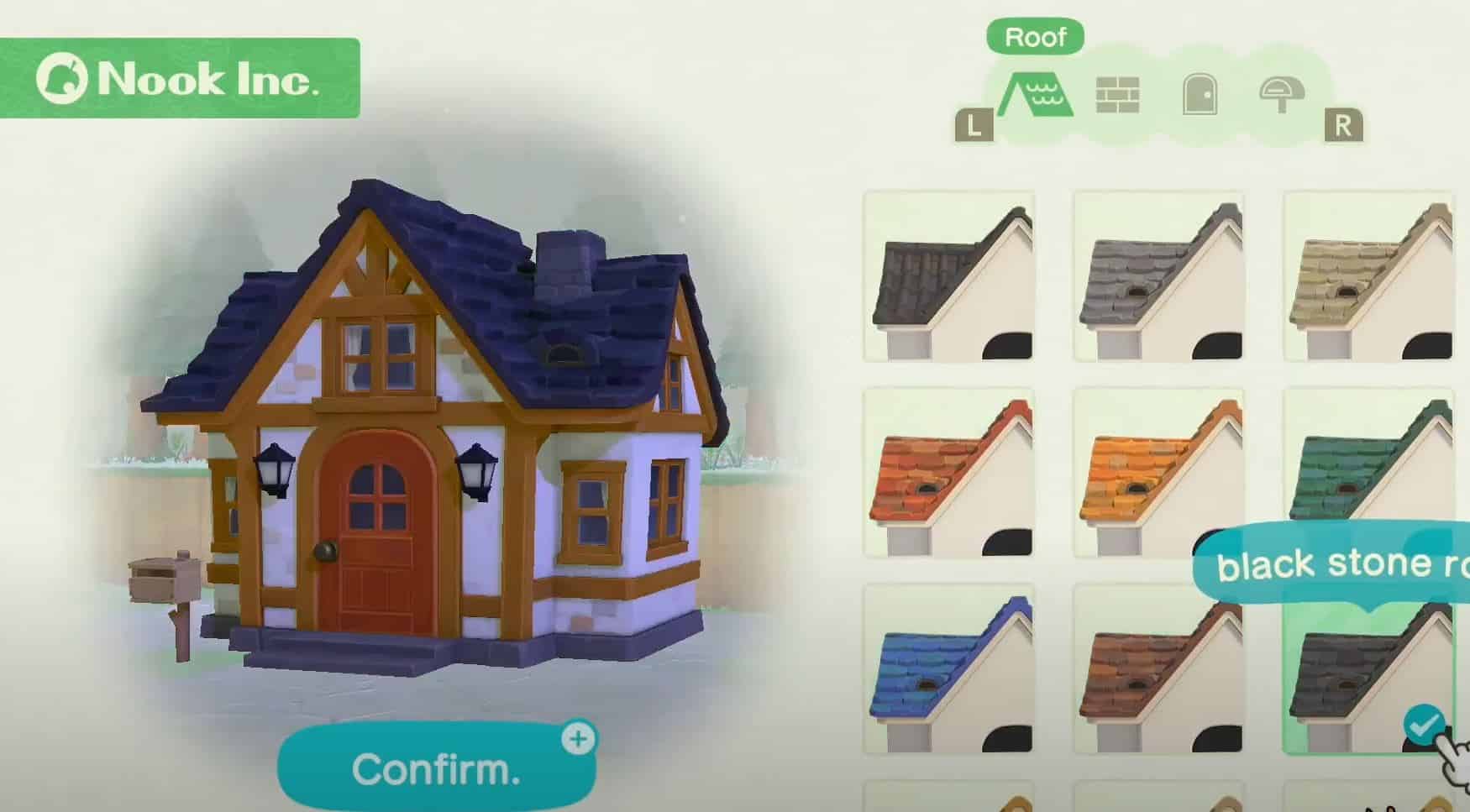 The thatch roof comes in the following colors:
Orange
Golden-Brown
Fresh-grass
Gray
Brown
Deep-Green
White
Black
However, as I said, a few more home customization options are available if you have the Happy Home Paradise DLC. Rather than focusing just on the roof, the DLC presents three alternative house styles to encourage complete customization. Alongside these new styles, each design unlocks several roof designs and colors exclusive to that style.
The Zen-Style Home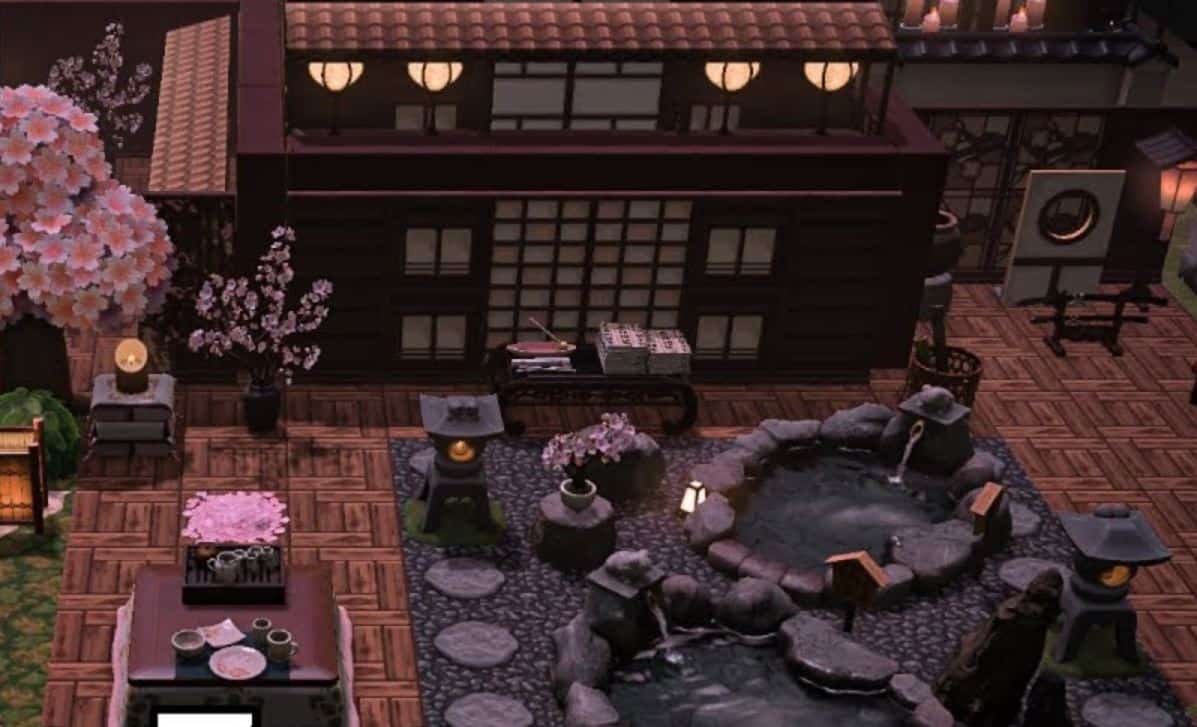 Starting with the zen-style exterior, which  unlocks the shachihoko roof style available in the following colors:
Red
Orange
Navy
Blue
Green
Black
Gray
gold
Additionally, this design unlocks the tiered roof, which is available in these colors:
Black
Blue
Purple
Pink
Green
Yellow
Orange
Red
Finally, the zen-style home also has a thatched roof option, available in the following colors:
Beige
Brown
Light-green
Green
Dark brown
Yellow
Orange
Reddish-brown
The Chalet-Style Home
The following style of home which the Happy Home Paradise DLC unlocks is the chalet-style exterior, which comes with a stylish slate roof available in these colors:
Orange
Yellow
Green
Aqua
Blue
Purple
Pink
Black
Additionally, the chalet home unlocked the wooden tile roof. While this may look incredibly similar to the initial tiled roof you unlock, it seems a lot better, in my opinion. The wooden tile roof is available in the following colors:
Red
Dark-green
Emerald
Yellow
Blue
Purple
Brown
Black
Finally, this design unlocks a striped roof design, which is available in these colors:
Red
Orange
Purple
Blue
Green
Pink
Gray
black
The Hut-Style Home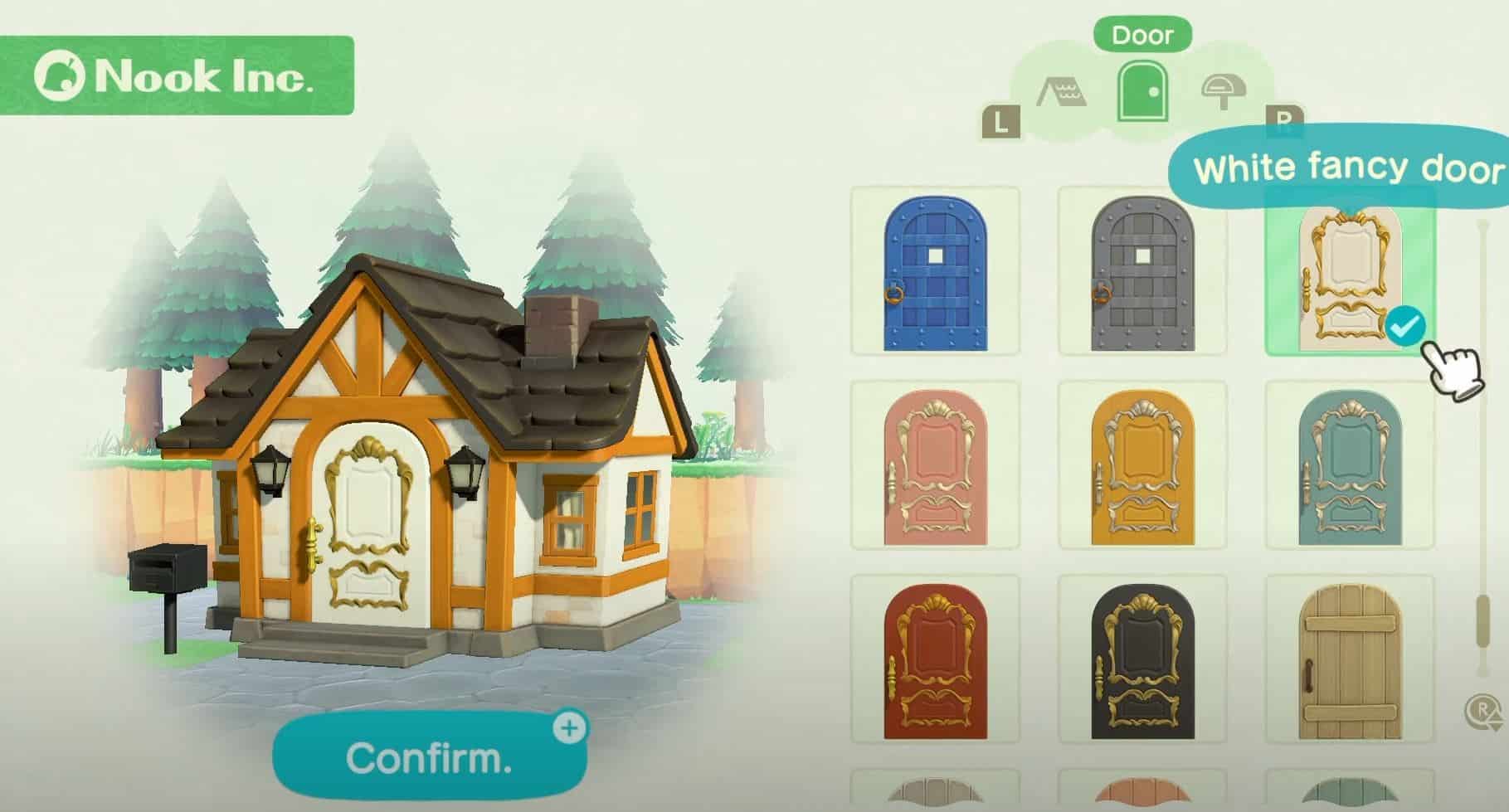 The Happy Home Paradise DLC's final design is a more rounded, hut-like design. Compared to every other home style, this one is my least favorite. I just don't think any combination of exterior looks good, so it's never something I'd choose for myself. But much like the other designs, it comes with several roof designs and colors unique to its style. The first of which is a wooden roof, available in the following colors:
Red
Olive
Green
Brown
Pink
Blue
White
black
Additionally, the hut-style home has a stone roof which is a little different from what we have already seen, and is available in the following colors:
Brown
Purple
Green
Orange
White
Light-gray
Gray
Black
Finally, much like the zen-style home, this style has a selection of thatched roof colors:
Orange
Golden-brown
Brown
Dark-green
Yellow
White
Gray
Walnut brown
Theme Suggestions
I don't know about you, but my island's layout and style always depend on a few factors. Between the time of year, the upcoming holiday, and any new villagers, my house has to match the rest of my island. Therefore, there are a few designs I am continuously circulating for my home, and the roof color is simply the start.
If you're stuck for ideas and want some inspiration for your home makeover, then check out my top three home designs below, and you might find something you like:
Barbie Dreamhouse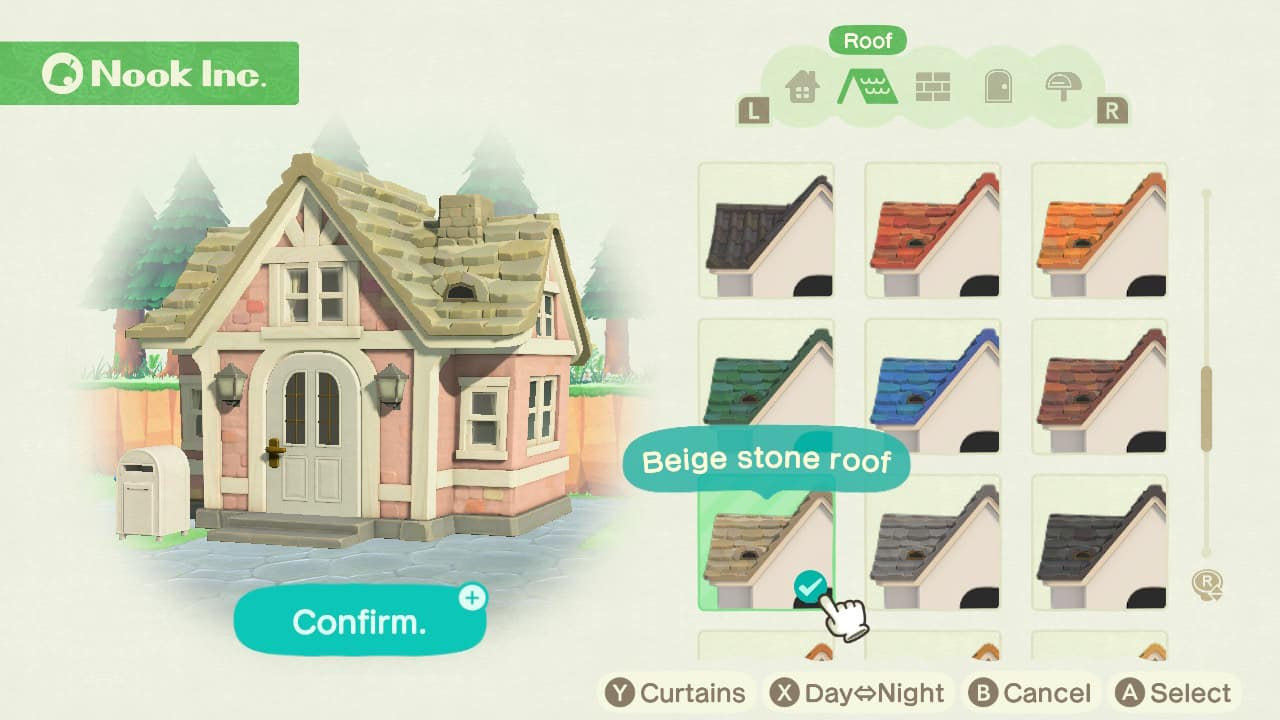 This home would fit perfectly for anyone with a cutesy theme across their island, especially with villagers like Etoile, Cookie, or Sprinkle. Pairing the pink common exterior with the beige stone roof makes this house design sweet enough to eat, while the white vertical-pane door and large mailbox give it the necessary homey feeling. I have relied so heavily on this theme since I unlocked home customization.
Surrounding this home with a picture-perfect cafe filled with sweet treats and decorating with precious items like the Hello Kitty Planter and Cinnamoroll Signage, you cannot go wrong. If pink is your thing, then this is the design for you.
Mossy Cottage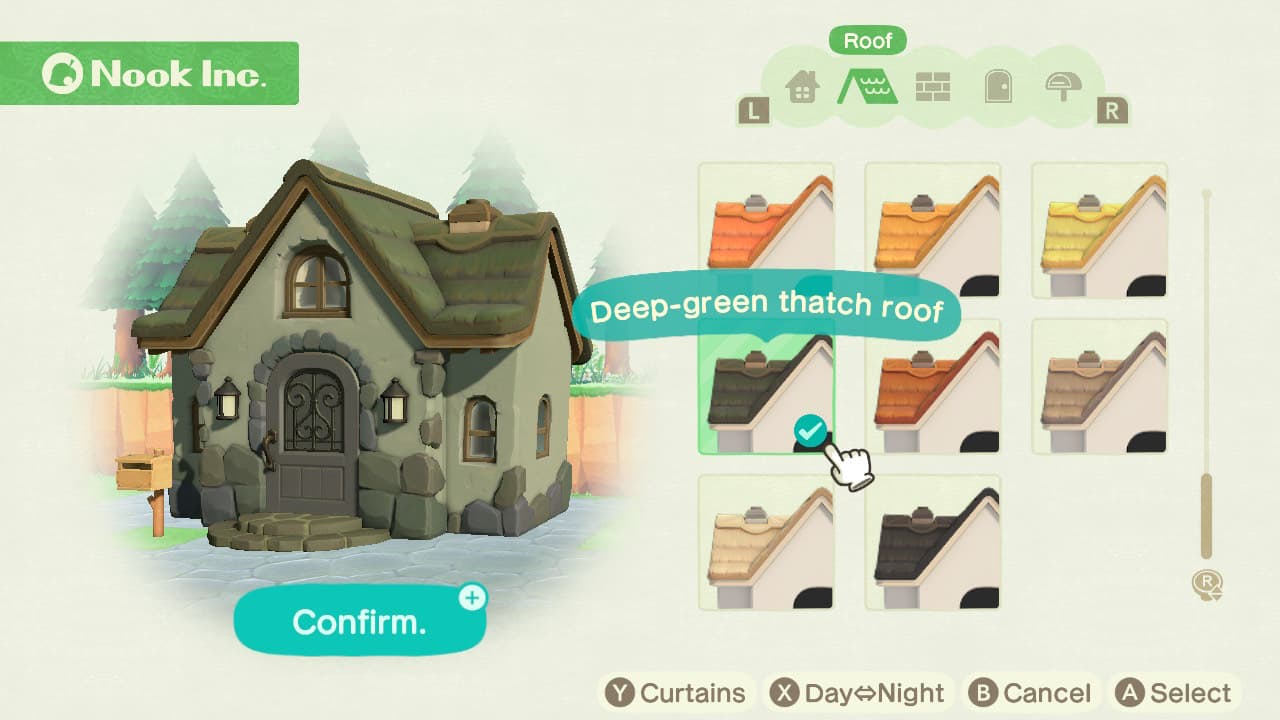 But if dwelling deep in a shadowed forest is more your style, then this Mossy Cottage theme might be more your vibe. As the seasons change and my island gets covered in orange-brown trees, and pumpkins begin to swarm like a plague; this incredibly cozy cottage-like design is a must-have.
The deep-green thatch roof and gray cobblestone walls look straight from a fairytale, but the gray iron grill door and chic wooden mailbox provide a slightly modern edge. So it's safe to say when night falls and your villagers catch a glimpse of just how warm your home looks, they'll visit as soon as possible.
Chalet in the Mountains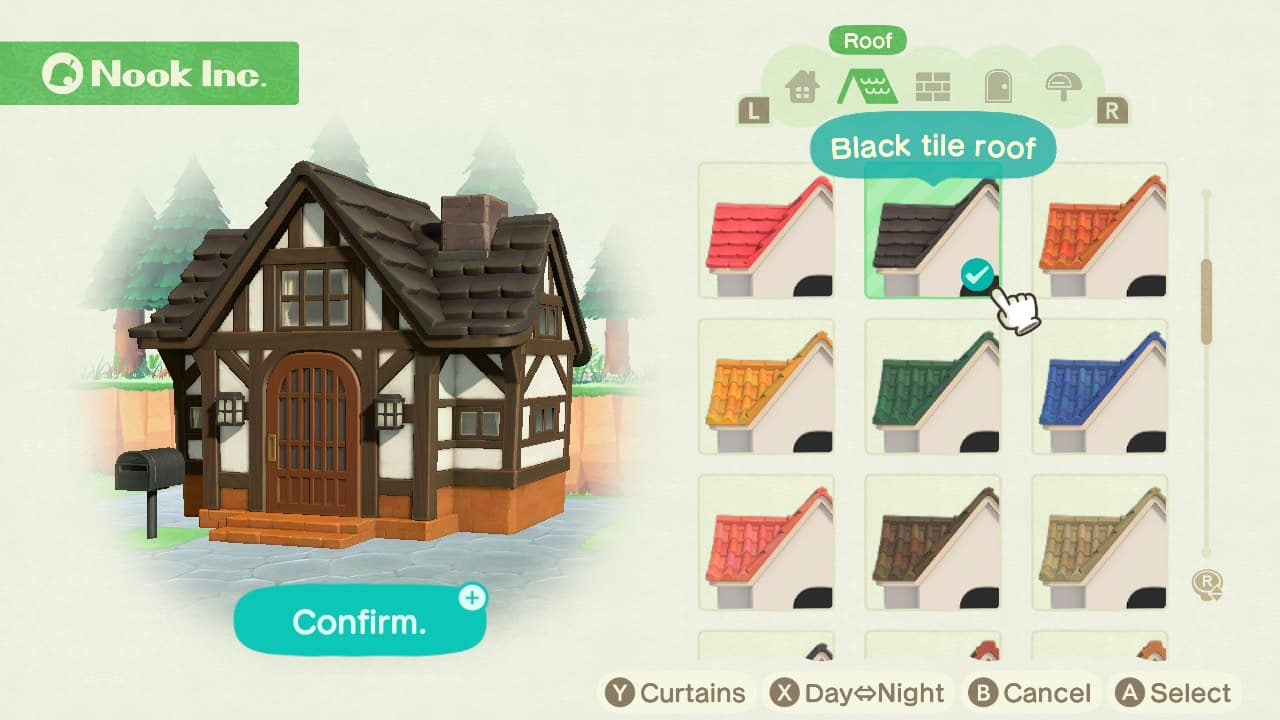 Finally, this chalet in the mountains style house is perfect for snow-covered island life. It suits the winter look of the islands while having a modern and cozy look. Additionally, the white exterior helps the home blend into the island rather than stand out. The black tile roof perfectly matches the chalet exterior, and the walnut latticework door helps the whole exterior seem warm on snowy days.
Additionally, the black mailbox is simple yet satisfying in this design. It blends in with the design, especially as it doesn't have to be directly in front of the house. I love creating a pathway to my front door using the mailbox since it can be placed in a different location instead of being glued to the front of the home like we are used to. Additionally, moving the mailbox creates a space where you can place something like a plant, or a bush, to assist in creating a homely feel.
Summary
There are so many potential options for anyone looking to make their island home unique that I find it hard to believe there isn't something for everyone. I love adding my character and personality to my island, and your roof color is only the start of a much bigger picture. New Horizons has already introduced us to many personalization opportunities, and I can't wait to see how detailed we can make our experience with Animal Crossing in the future!
With the amount of customization we have received with the Happy Home Paradise DLC, I can't help but feel like future updates or DLCs for Animal Crossing will come with some more fantastic options. For example, I'd love to be able to pick up a villager's home and move it without waiting a day – that would make my life so much easier every time I want a layout change!
FAQs
Question: How Much Does it Cost to Re-decorate Your House?
Answer: Redecorating the exterior of your home comes at the cost of 5,000 bells, which I think is a little steep considering how much we have already paid Nook to upgrade our home. But, once you've progressed far enough into the game, 5,000 bells doesn't feel like that much money. Also, considering how extensive the customization options can be, this small charge is insignificant – especially if your home is the last thing you need to pull your island's design together.
Question: Do you Need the Happy Home Paradise DLC to Change the Look of Your Home?
Answer: Although the Happy Home Paradise isn't necessary if you want to customize your home, it certainly comes with its perks. There are a few options for exterior decoration outside of the DLC, but there is a wider variety of possibilities with the DLC installed. If you're happy to settle for a basic design, then it's not essential. But if you're looking for that extra bit of character, I would consider getting the Happy Home Paradise DLC.
Question: Can you Change the Look of Other Villagers' Homes?
Answer: So you've customized your home to fit your island's style, but your villager's homes are still a little eyesore? Luckily, the Happy Home Paradise DLC allows you to customize your islander's homes inside and out. With this DLC, you can give your island homes the same love and care as those on your holiday resort, so no one feels left out. However, outside of this DLC, there is no way to customize island homes.
Continue reading:
Animal Crossing Greeting Ideas
Animal Crossing Living Room Ideas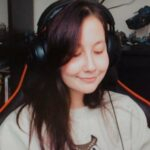 Latest posts by Kara Phillips-Ashman
(see all)