Introduction
Animal Crossing is a much loved and fiercely protected legacy! It has been running now for quite some time (2001 to be exact) back when the only way I could play it was on my Nintendo DS (pink of course) in bed at night well past my bedtime and hiding it under my pillow from my mum! That's why (for me) Animal Crossing is so nostalgic, it's like a big hug! I cannot explain how satisfying it is to go from seeing the island on a tiny Nintendo DS screen to being able to hook it up to my big TV via my Switch and be cozy in bed playing it (It is the ultimate luxury and cozy vibes!)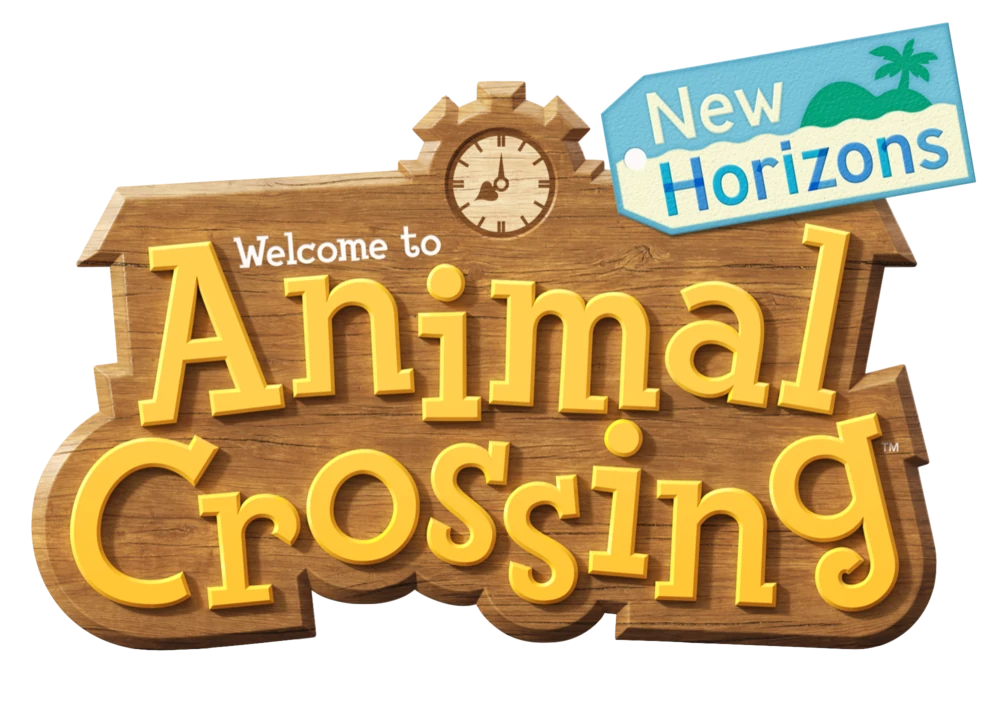 For a game to run and for the game to hold me for the best of twenty years, you know it must be great! Of course, we know that Animal Crossing is an amazing and immersive island life simulator and experience (which is why I love it so much and have played it for so long) and the reason it has been able to hold my attention and indeed my love and loyalty for so long is that it is so incredibly detailed in its range of characters; and not only this but these characters evolve and change with time. Characters have unique interests and personalities that can change across versions as the characters grow and change; there is also a range of character types that helps us understand how they will behave, what their schedule will be like, and even what other villagers they will like or dislike. This makes our job of managing an island so much easier as we can ensure people live in harmony; this is only part of the puzzle, however!
Characters change over time, and no two characters, even if they are the same villager type, are completely alike. This means it can be hard to remember some key and important details about our beloved islanders, so it is no surprise that you are here reading this article! Let us dive in (pun intended) and see what there is to know about our dear Bubbles.
Bottom Line Up Front
Bubbles is a peppy villager type, which means that she is a female character. Bubbles is also a Hippo who likes to wear a bright purple dress in true peppy villager style (fashion icons right?) To be honest for a peppy and fashionable villager I always thought Bubbles style could be more out there and extreme! Bubbles have a fashion hobby and so often is on the lookout for new clothes and accessories and may be critical of fashion items presented to her (although she can also be very excited, as clothes are her favorite gift)
Bubbles is one of only two possible peppy hippo villagers that you can get, and she made her first appearance in Animal Crossing Doubutsu no Mori before taking a long hiatus and returning to us again in Animal Crossing New Leaf and Animal Crossing New Horizons. Bubbles is the second youngest of four children, and her birthday is on the 18th of September. Bubbles leave her home at 7 AM and returns home at 11;30 PM.
Who is Bubbles?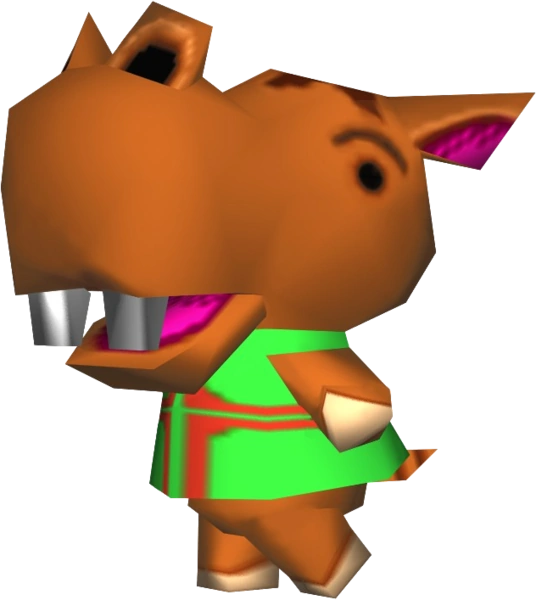 Bubbles is a rather goofy yet lovable Hippo that can be found in Animal Crossing Doubutsu no Mori, Animal Crossing New Leaf, and Animal Crossing New Horizons. Bubbles is not only lovable, but she is also a relatively rare treat to find! This is because Bubbles is one of only two possible peppy hippo villagers that you can find within Animal Crossing. (The other peppy Hippo is Lulu)
Animal Crossing is known for the unique and meaningful names that it gives its villagers. Bubbles is no exception to that! There is often speculation about the origins of the villager's names; with Bubbles, the theory is that the name stems from the bubbles that appear when a Hippo breathes in the water! Other theories speculate that this is because she has a peppy personality which is often referred to as "bubbly," but the Hippo theory is my favorite! There is so much to know and learn about Bubbles, and we will get to that in good time, but for now, here are some quick key facts.
Name:

 Bubbles

Gender:

Female

Species:

 Hippo

Birthday:

 the 18th of September

First appearance:

 Animal Crossing Doubutsu no Mori

Hobby:

Fashion

Siblings:

 Bubbles is the third of four children 

Personality:

 Peppy

Catchphrase:

Hipster
Bubbles Appearance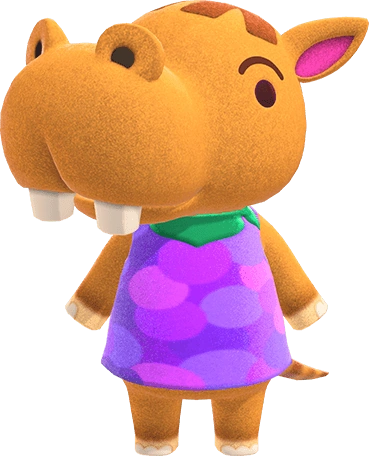 Bubbles is a Hippo character, but you'd be wrong if you thought that it was a horizontal creature. Rather, Hippos have a standard human-like form of two legs and two arms and always stand upright on their feet. Bubbles' body is an orange/brown color and has almost a fuzzy texture to it. On the ends of Bubbles' hands and legs, she has a light pink edge and toes/fingers in a white pebble style design. Hippo wears a sleeveless dress that is a purple color covered in lighter purple and pink circles with a grassy green collar in a bandana shape. Hippo has plain black circular eyes and a simple black arched brow, and the hugest snout you've ever seen.
At the tip of her head, Hippo has leaf-shaped ears that are bright pink on the inside and a square cut full fringe in a light ash brown. Bubbles also has two large nostrils with black holes on the inside and two very large white buck teeth poking out of her mouth. Hippo also has a very small tail which is flat and pointed. I do not like Bubbles clothes personally, I think it's a bit dull and to be honest, I'm not sure that it suits her, there's something a little jaring about her small dress and huge head, and some headwear accessories wouldn't go a miss!
Bubbles Personality

Bubbles is my favorite of all the possible villager types; peppy! Peppy villagers are always female and are the female equivalent of Jock villagers. Peppy villagers are known for being outgoing, friendly, and very easy-going or even naïve. Peppy villagers often socialize with others and will get along with most other people; they seem to be able to make friends anywhere they go! Peppy villagers wake up early at 7 AM and will be out and about (usually chatting enthusiastically to others) until 11;30 PM. Peppy villagers are very outgoing and expressive and often have fun, passionate dreams that match their personalities, like music stars or fashion icons.
When you speak with peppy villagers, you can hear their high-pitched and excitable voices, and they will be happy to talk to anyone on the island. Peppy villagers do not judge or criticize others as they are open-minded, warm, and easy-going – although other villagers are not always as nice to peppy villagers as peppy villagers are to them. Snooty and Cranky villagers often judge Peppy villagers for their laidback nature and lack of concern about material things.
Bubbles Preferences
Every villager on the island (just like every person in the world) has their unique likes and dislikes when it comes to food, style, and other things! Just like people's preferences change as they age, villagers' preferences vary across versions of Animal Crossing.
Animal Crossing Doubutsu no Mori
Default clothing;

 Crossing shirt

Default umbrella; 

Plaid parasol

Favorite style; 

Fancy

My least favorite style;

Refined
Animal Crossing New Leaf
Bubbles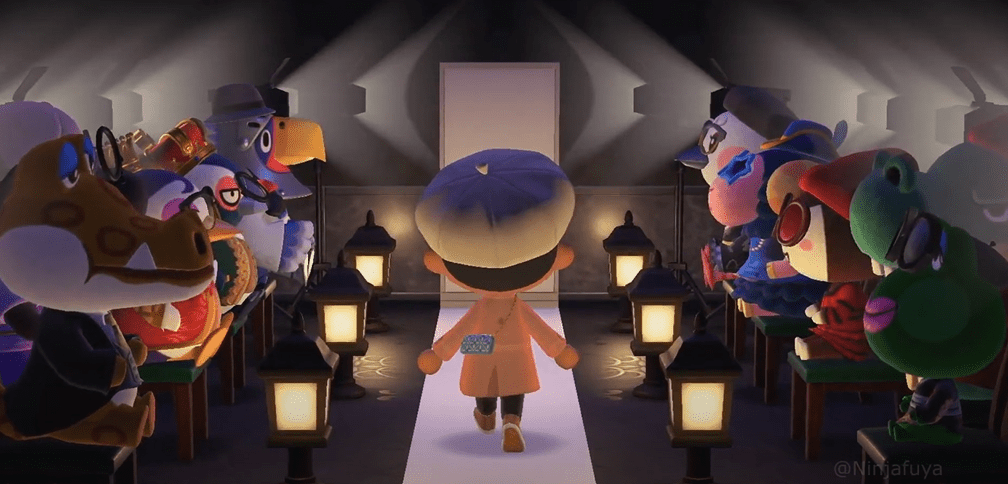 Default clothing;

 Grape tee

Default umbrella; 

Mint umbrella

Favorite style; 

Sporty

My least favorite style;

Flashy

Favorite color; 

Orange

Siblings;

 The third of four siblings

Hobby; 

Fashion
Animal Crossing New Horizons

Default clothing;

 Grape dress

Default umbrella; 

Grape umbrella

Favorite style;

 Active and cute

Favorite colors; 

Purple and pink

Siblings;

 The third of four siblings

Hobby;

 Fashion
Bubbles' House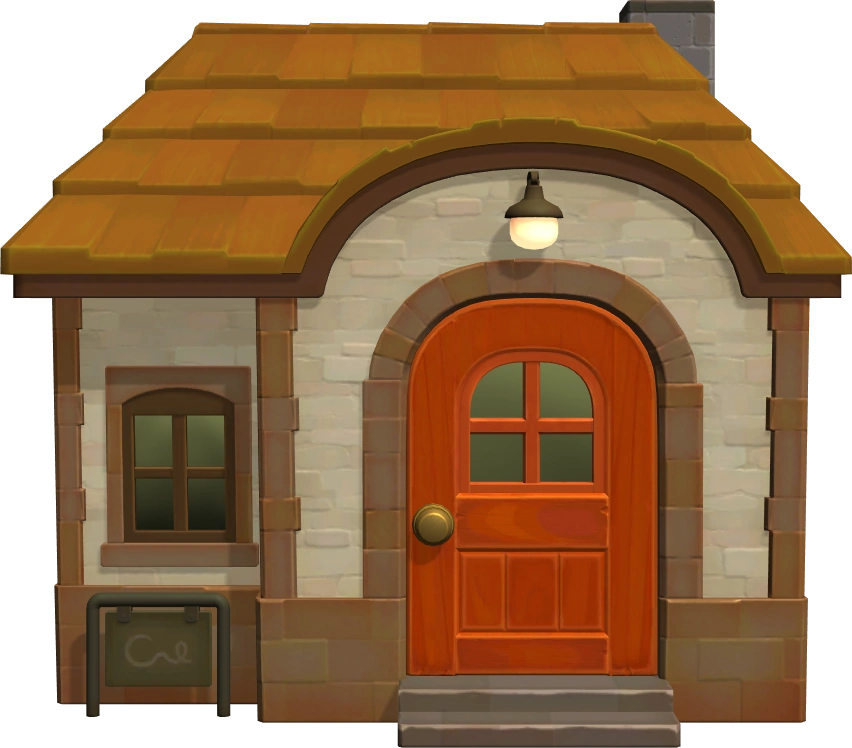 Bubbles house is (in my opinion) one of the least creative or exciting houses on the island. Bubbles houses are all quite simply designed and decorated with very few pops of color or funky patterns. There is also no clear theme or matching style to the homes; think of a sparsely decorated classroom that's not far from bubble homes. In Animal Crossing Doubutsu no Mori, the Bubbles house has a very strong fruit theme;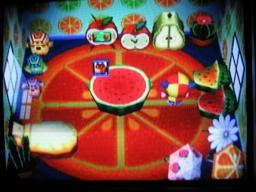 Mega Dekkoid

Apple TV

Apple Clock (A literal apple – not the technology)

Pear Wardrobe (you see what I mean now?)

Round cactus

Dekkoid

Mini Dekkoid

Watermelon table

Nooks portrait

Melon chair

Watermelon chair

Pineapple bed

Petal parasol

Tall cactus

Berry umbrella

Orange umbrella
As if this was not enough fruit already, Bubbles also has a citrus wall and citrus carpet design too; but don't get me wrong, this is my favorite of the three houses as, after this, they all seem to lose their flair and fun. In Animal Crossing New Leaf, Bubbles home has the following items;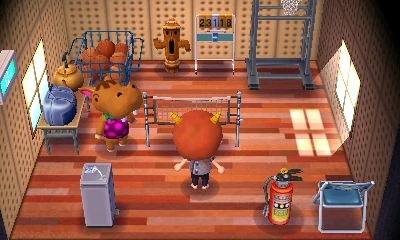 Ball catcher

Basketball hoop

Volleyball net

Ringside table

Drinking fountain

Tall Percoloid

Scoreboard

Extinguisher

Folding chair

CD player

Kettle

School speaker

Exit sign
The walls are made of a Music-room wall, and the floors are made of Modern wood flooring. In Animal Crossing New Horizons, Bubbles home has the following items;
Kettlebell

Basketball hoop

Handy water cooler

Outdoor table

Cute music table

Folding chair

Chalkboard

Ball

Track jacket

Wall clock

Key holder

Dance team jacket

Champions pendant

Exit sign
The wall design is a perforated board wall which is what gives it a classroom feel, especially combined with the pine-board flooring. The outside of the house is equally as plainly designed with a natural slate roof in a light brown and decorated with light brown cobblestones.
Summary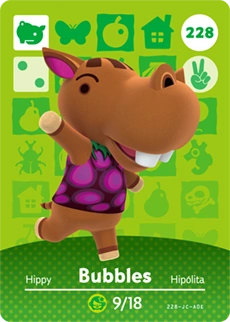 Bubbles is an interesting character, although my love for all peppy villagers can only take her so far! I fear that she has lost some of her more unique styles as the versions of Animal Crossing have evolved, and I would like to see a more zany side of her, like back in Doubutsu no Mori for sure (Who does not love a citrus house?) Bubbles are still pleasant, however, and I do try and keep as many peppy villagers on my island as possible as it makes island harmony so easy! Bubbles are not likely to start an argument with someone or offend them; peppy villagers are very accepting of other people's lifestyles and opinions, and so who would not want to be around someone so laid back and chill?
That is not to say, however, that you need to keep every peppy villager that visits your island; it is nice to have some other villagers around too! I also like normal and jock villagers, although it is no secret that I do not like smug and snooty villagers. Even one of Bubbles' distant relatives (if we assume that all hippos on the island are distant relatives) is very much an enemy of mine! I am referring to the dreaded Hippeaux, who is judgemental and very rude and often looks down on others and has also unfortunately been inhabiting my island for far too long and simply will not leave! That's not to say, though, that I do not find some joy in hitting him over the head with my net anytime that I see him. I hope this gives you everything you could have possibly needed to know about Bubbles (plus maybe even a little bit more), as well as some insight into island life and the many ways that you can balance your island with the different villager's types. Available to you!
FAQ's
Question: Is Bubbles a Rare Character in Animal Crossing?
Answer: I would say that Bubbles is a rare character for two reasons. Firstly, she is a hippo villager, and secondly, she is a peppy hippo villager! Across the many versions of Animal Crossing, there are only ten hippo characters in general, and of these ten, only two are peppy villagers! This makes Bubbles a rare but exciting find.
Question: Is Bubbles a Good Villager in Animal Crossing?
Answer: I guess this depends on what you think makes a villager a good villager! At a base level, I would describe Bubbles (and indeed any other peppy type villager) as a good villager because they are friendly, approachable, and very laid back. This means they are always out socializing and contributing to island life and never make any trouble with others, and that sounds really good to me! If you have some crazy definition of a good villager, though, then maybe not!
Question: What is Bubbles' Hobby in Animal Crossing?
Answer: Bubbles has a fashion hobby; this means that Bubbles often want new clothing items to wear and will sometimes ask you for clothing – although be warned they may not always like what you give them!
Continue reading: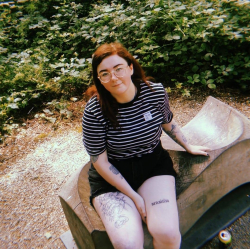 Latest posts by Ella Walsh
(see all)