Introduction
Have you ever gotten suited and booted in a new outfit fresh from the store, then walked out the front door beaming from ear to ear, only for someone to look you up and down and shoot you a disapproving look. Well, that, in a nutshell, is how an interaction with a snooty character tends to go. I personally can't stand these high-brow islanders looking down on me in Animal Crossing. If I've just spent my hard-earned bells at the Able Sisters' store, you best believe I want to turn some heads, not see them shaking in disapproval.
I try to keep these mood vacuums off my island, but at one time or another, I have had to endure some snooty, upper-east-side islanders throughout my New Horizons journey, and one such islander is none other than Freya. In this guide, I'll break down everything she has to offer, how she can add to your island, and in my opinion, how she falls short. Enjoy!
Bottom Line Up Front
Freya is a wolf with a snooty personality type. She is the oldest child of seven and was born on the 14th of December. She has a fashion hobby, and her catchphrase is "Don't stray too far from the pack" Freya has been a staple of Animal Crossing from the beginning; Freya's schedule is to get up at 8 30 AM and return home at 2 30 AM. Freya's body is bright pink with a sage green cardigan that has deer on it, which is a nod to her Christmas birthday.
For pocket camp, Freya needs a sleek table, hammock, aloe, round black rug, and sleek lamp. While for the Happy Home update, Freya needs cooking tools, a kitchen stove, and a kitchen counter.
Who is Freya?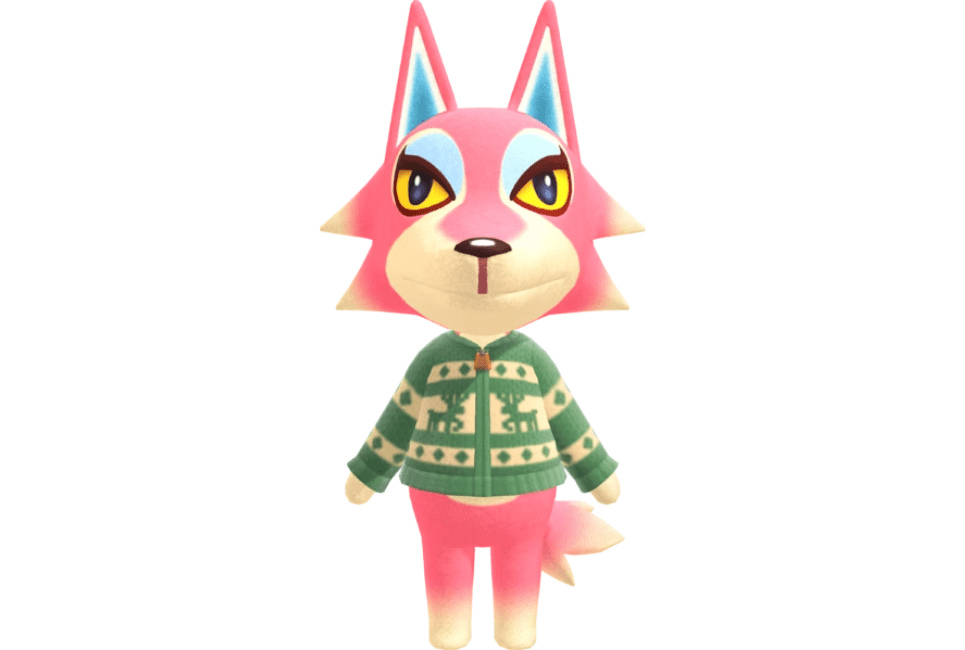 Freya is a snooty wolf villager who is the brightest pink I have ever seen, which I absolutely love (although her jumper does not necessarily match). Although it does have deers on it, which makes sense as she has a Christmas birthday which is on the 14th of December.
Unsurprisingly as a snooty villager, Freya has a fashion hobby which adds to her upper class and judgemental vibe as she is often wandering around with a bag or a purse. Freya will often read Ms. Nintendique, which is the fashion magazine available in Animal Crossing, and will often gossip about how others dress or appear. To even add to her complex, even more, Freya is also the oldest of seven children.
Freya's Appearance
Freya is a unique wolf because her entire body is bubble-gum pink! The pink fades to a yellow on her hands and her feet (kind of like the squashier sweets). Her fox tail is also bright pink and bushy with yellow tips; she has two spikes on each side of her face which also are accented yellow at the ends. Freya's muzzle is also yellow with a black button nose and bright yellow eyes that have a cat eye shape with a gorgeous hooded blue eyeshadow look. Freya has two very large and very pointy ears at the top of her head that are blue on the inside with white outer linings.
In terms of her outfit, Freya wears a green cardigan with two deer on it; the cardigan has cream accents in stripes on each arm and across the body of the cardigan.
Freya's Personality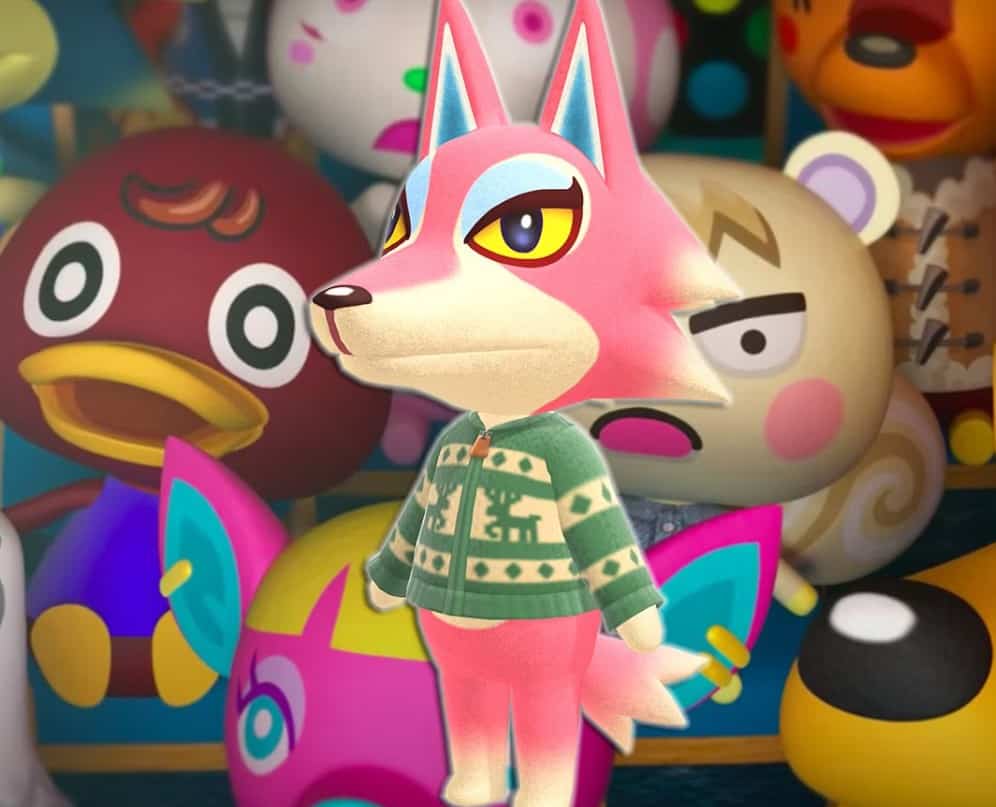 Freya does not have my favorite personality as she is the snooty personality type. Much like the name suggests, snooty villagers are judgemental and often look down on others thinking that they are better than them. They often use polite words when they speak and so it can almost be easy to miss that they are actually being negative or critical toward you. Snooty villagers are the female equivalent of smug villagers. Snooty villagers often use fancy words and have quite elaborate/high-class names.
As part of the snooty villager's personality of being fancy and judgemental, they care an awful lot about their looks and their clothes and often will read fashion magazines and discuss their purchases (as well as how other villagers dress, both good and bad) the magazine that animal crossing has is called Ms. Nintendique.
Snooty villagers will not easily get along with other villager types because they can be quite rude and scathing to others they see as below them or not making enough effort (which is pretty much everyone), but particularly with lazy villagers, cranky villagers, and peppy villagers. However, they will easily get along with other snooty villagers and smug villagers. Snooty villagers get up t 8 30 AM and go to sleep at 2 30 AM.
Freya's Preferences
Freya is really not one for change, and her preferences remain pretty much consistent through all versions of Animal Crossing that she has appeared in, such as;
In Animal Crossing;
Default clothing: 

Deer shirt

Default umbrella;

 Elegant umbrella

Favorite style;

 Striking

Least favorite style;

 Gaudy
In Animal Crossing City Folk;
Default clothing: 

Deer shirt

Default umbrella;

 Elegant umbrella

Favorite style;

 Striking

Least favorite style;

 Gaudy
In Animal Crossing New Leaf;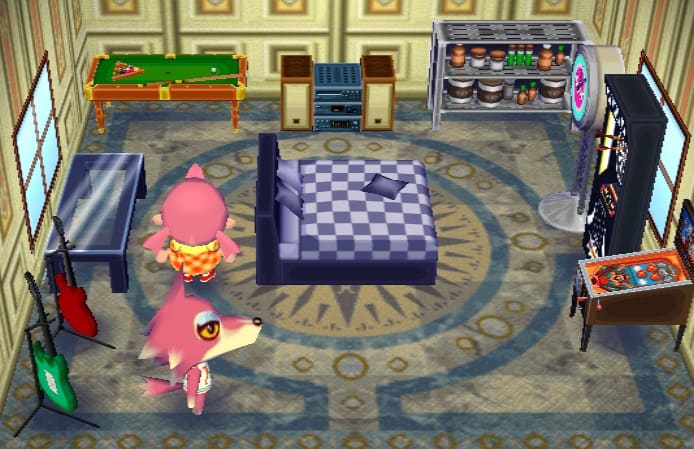 Default clothing: 

Deer shirt

Default umbrella;

 Elegant umbrella

Favorite style;

 Rock N Roll

Least favorite style;

 Modern
In Animal Crossing New Horizons;
Default clothing: 

Reindeer sweater

Default umbrella;

 Lacy parasol

Favorite style;

 Elegant & Cool
Freya is a keen chef, and her vision for her holiday home centers around this;
Freya's Vision; A professional chef's kitchen

Required items; Kitchen counter, kitchen stove, and cooking tools.
Freya's House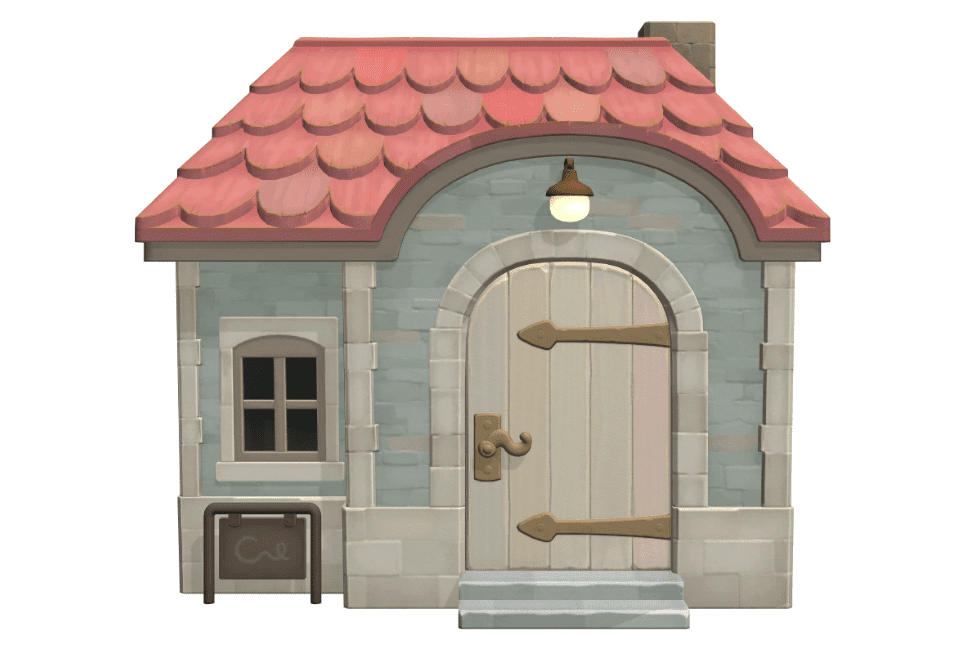 As you have seen from Freya's preferences and favorite items, she is very set in what she likes, and her preferences do not change over time. Freya's homes are no different. Her first four homes are almost identical, and all seem to center around a collection of paintings and artwork, although in her final two homes, these are new ideas and styles for Freya, and while I love the most modern version, I also love all the artwork.
In Animal Crossing, Doubutsu No Mori;
Strange paintings

Dreadful painting

Common painting

Flowery painting

Nice painting

Amazing painting

Fine painting

Dainty painting

Modern chair

Hi-fi stereo

Blue chair

Regal chair

Classic chair
There is literally no room to move in Freya's home because of all the paintings, but it has a very regal palace and art museum style because of the palace tile floor and stately walls.
In Animal Crossing, Doubutsu No Mori+;
Freya's home is exactly the same except for the addition of a perfect painting (because she totally needed more paintings, right?)
In Animal Crossing;
Freya's home is exactly the same as it is in Doubutsu No Mori+
In Animal Crossing City Folk;
Billiard table

Hi-fi stereo

Medicine chest

Modern table

Modern bed

Kitschy clock

Dartboard

Metal guitar

Pinball machine

Rock guitar
Although Freya has abandoned all her artwork for machines and music, she has the same general style of palace tiles and stately floors.
In Animal Crossing New Leaf;
Modern bed

Modern table

Modern sofa

Modern cabinet

High-end stereo

Radiator

Electric guitar

CD Shelf

Kitschy clock

Laptop

Small spotlight
This home is a lot darker and more Soho loft style, although I do love it, and part of the darker design is the sleek wall and checked tiles.
In Animal Crossing New Horizons, Freya's home has a complete makeover;
Antique bed

Antique vanity

Antique chair x2

Music stand

Retro radiator

Antique mini table

Fancy violin

Antique table

Fireplace

Phonograph

Glass holder with candle

Matryoshka
This home is so different for Freya, and it gives country floral B & B vibes. This is definitely due in part to the rose flooring and heavy curtain wall.
Freya in Animal Crossing Pocket Camp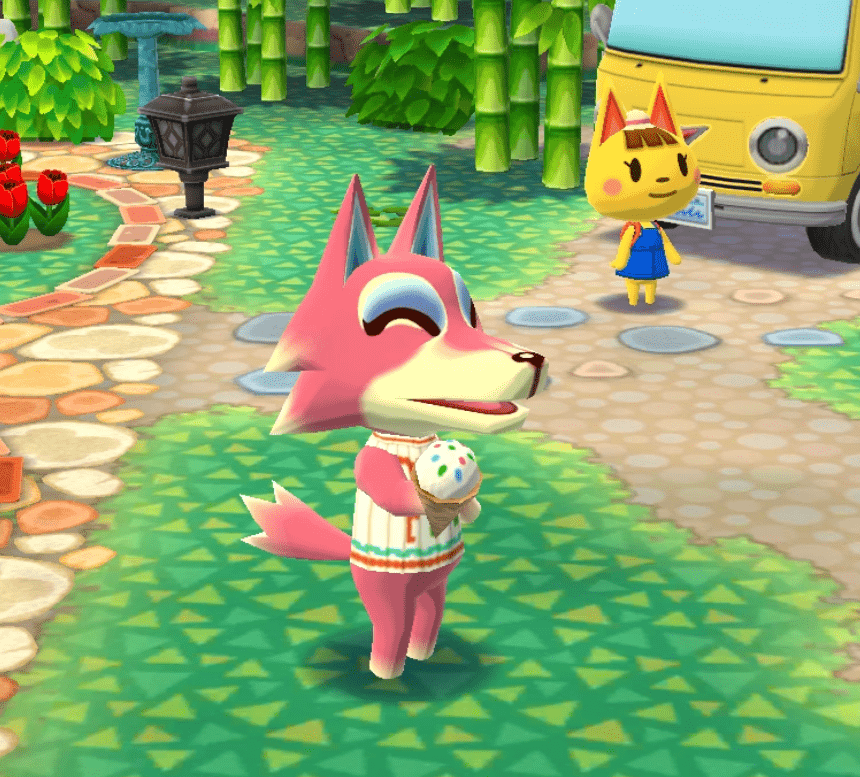 Freya is an available villager in Pocket Camp; once you develop your friendship with her and you reach level three, you need these items to get her on your island;
Sleek lamp

Round black rug

Aloe

Sleek table

Hammock
Every friendship should be two ways and also be rewarding for you, and Freya does share with you as a friend in the following ways;
Friendship level seven;

 Sparkle stone and a Deer shirt 

Friendship level nine;

 Sparkle stone

Friendship level fifteen;

 Freya requests an Organ from you (like the instrument, nothing sinister)

Friendship level twenty;

 You will receive a portrait of Freya and yet more sparkle stone

Friendship level twenty-five;

 Sparkle stone
FAQ's
Question: When did Freya Join Animal Crossing?
Answer: Freya joined Animal Crossing way back on day one of the very first Animal Crossing! Freya has held her place since then, and still appears now in New Horizons. 
Question: What Kind of Villager is Freya?
Answer: Freya is a snooty villager and so can often be criticized for being judgemental and rude, especially about others' appearances.
Question: When is Freya's Birthday?
Answer: Freya was born on the 14th of December, which makes her a Sagittarius. 
Summary
While Freya may not be the most likable character, as she will insult you quite frequently and definitely insult others and cause some friction on your island, she does start to loosen up the more you get to know her, and she is iconic regardless. So if you do get to meet her, be sure to be super well dressed and presented first or prepare to be criticized.
Continue reading: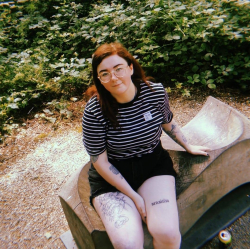 Latest posts by Ella Walsh
(see all)