Animal Crossing took Japan by storm upon its first release in 2001. The rest of the world got to experience the magnificence of this game a few years later, and people couldn't get enough of it! Animal Crossing became successful because the creators did an incredible job making residents with distinct personality traits, dialogue, and character designs.
One of the best parts about Animal Crossing is the various species of animals! They range from ferocious lions to fluffy koalas, and the list goes on. Though relatively common, rabbit villagers are special to me. The way their ears stick straight up melts my heart. There's one bunny that catches my attention: Genji. His design is intriguing, so he had to be part of my island!
Intro To Genji
It's clear that Genji is a rabbit, but the origin of his name may not be as obvious. "Genji" is a typically masculine Japanese name that has several different meanings and Kanji variations. After doing research, I learned that it can mean "heal" or "peace." "Genji" can also have meanings of origin, such as "two beginnings" or "source." 
On top of that, the name could refer to two aspects of Japanese culture. The creators could be referring to a book called The Tale of Genji, which describes the eventful life of a dashing Japanese nobleman named Genji. The creators could also be referring to the Genji Japanese era as well.
Here are some other basic facts about Genji: 
Gender: Male
Species: Rabbit
Birthday: January 21st
Star Sign: Aquarius
Personality: Jock
Catchphrase: "Mochi"
Genji's Appearance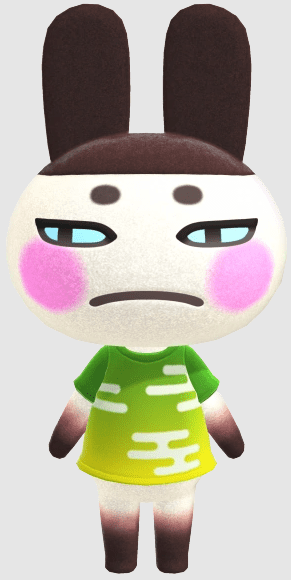 This rabbit's design is unique compared to many other characters. Genji is primarily white with chocolate brown tips on his feet, tail, and hands. The brown part that covers the top of his head and eyebrows resembles a Japanese nobleman. Genji's frown and icy-blue eyes may make him look intimidating and smug. But his rosy-colored cheeks imply that he has a softer side to him.
Genji has not changed much since he first appeared in Dobutsu no Mori. This bunny wore a Misty Shirt until he showed up in New Leaf wearing a Misty Tee, but he has the same color scheme throughout all games. Genji looks wonderful, so there's no need to change him anyway!
Genji's Personality
A total of twenty-two ribbit villagers are in Animal Crossing: New Horizons. Furthermore, Genji is one of two rabbits with a jock personality. Jocks are male villagers who obsess over being fit and appearing muscular. As a result, they constantly talk about the importance of counting calories and partaking in sports. These residents are incredibly inspirational as they embody strength, determination, and endurance. 
As a jock resident, Genji starts his slumber at 12:30 a.m. and wakes up at 6:30 a.m., which seems like an intense sleep schedule. I suppose he needs all the time he can get to keep his figure under control. Since Genji has a fitness hobby, he can lift weights anywhere on the island compared to other villagers who can only do so on the plaza.
Although he means well, Genji is known to annoy snooty and cranky villagers the most. He'll often comment on others' lifestyles, which may appear arrogant. Most villagers are okay with these remarks, but snooty villagers usually become irate. Additionally, cranky villagers tend to feel drained by the energetic demeanor of jocks. This makes it easy for these personality types to clash. 
Genji's Preferences
In
Animal Crossing: New Leaf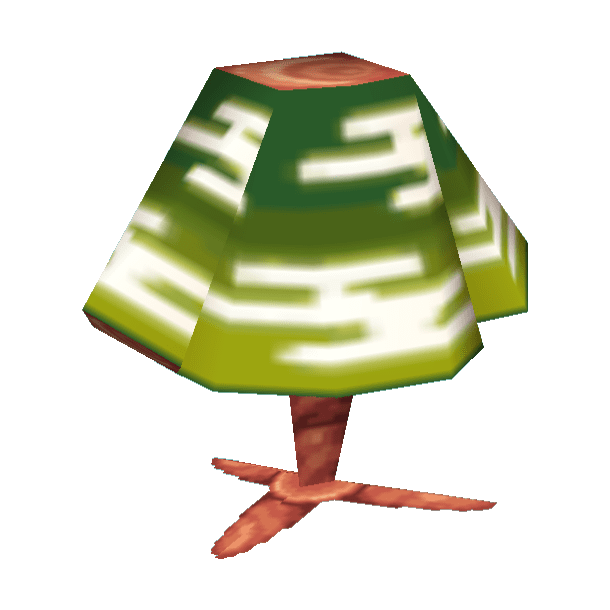 Default Clot: Misty Tee
Default Umbrella: Paper Parasol
Skill: Subsistence living
Favorite Style: Iconic
Favorite Color: Green
Favorite Song: King K.K
In
Animal Crossing: New Horizons

Default Clothing: Misty Tee
Default Umbrella: Maple Leaf Umbrella
Hobby: Fitness
Favorite Style: Elegant and Simple
Favorite Colors: Green and Purple
Favorite Song: King K.K
What Should I Gift Genji?
Since Genji appreciates elegant and simple items that are green and purple, keep those characteristics in mind when looking for gifts.
There are thousands of items to choose from in Animal Crossing: New Horizons, so here are a few to get you started.
Headwear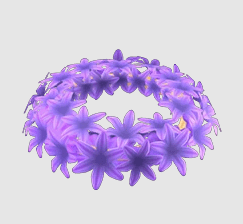 Pansy Crown (Purple)

Plain Paperboy Cap (Green or Dark Green)

Straw Boater (Light Brown)
Tops:
Short Sleeve Dress Shirt (Green)

Argyle Vest (Green)

Sweatshirt (Green or Purple)
Other Clothing: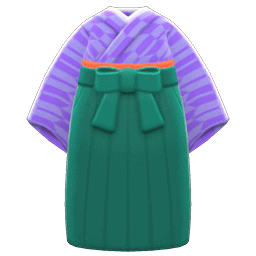 Hakama (Green & Purple)

Ancient Belted Robe (Green)

Raincoat (Purple or Green)
Furniture: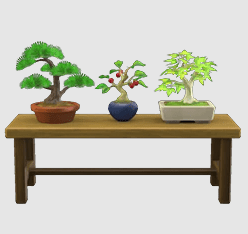 Bonsai Shelf

Hanging Scroll (Green or Purple)

Paper Lantern
Genji's House
Genji's home has always had a Zen atmosphere inspired by Japanese culture, but New Leaf and New Horizons depict this style a bit differently.
In
Animal Crossing: New Leaf
Genji's home consists of the following: 
Gold-Screen Wall

Mossy Carpet

Outdoor Bath

Screen

Paper Lantern

Tea Table 

Paper Parasol

Elder Mask

Tatami Bed

Tokonoma

Biwa Lute

Hibachi

Evening Cicada
In
Animal Crossing: New Horizons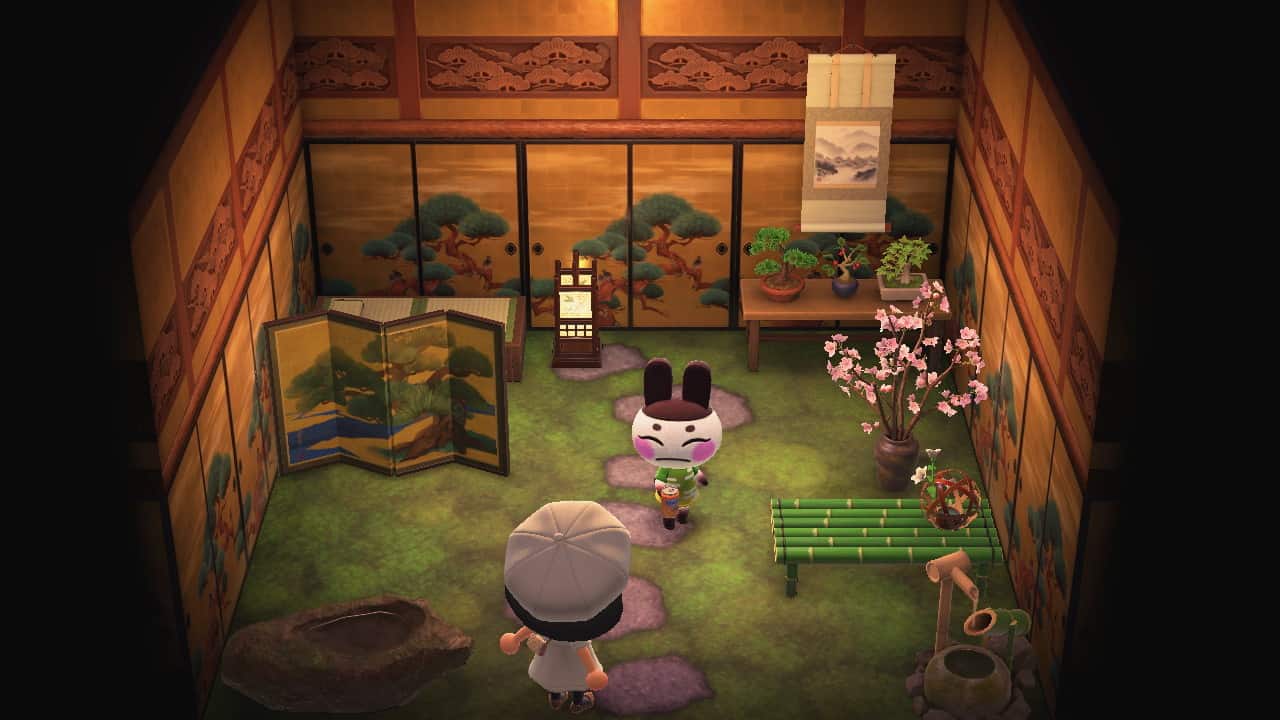 As you can see, little has changed since the previous game. A few items were replaced, and the space still has the same calming effect. 
Here's everything that's in Genji's updated home:
Gold-Screen Wall

Mossy-Garden Flooring

Bonsai Shelf

Cherry-Blossom Branches

Bamboo Bench

Bamboo Sphere

Tatami Bed

Pond Stone

Screen

Hanging Scroll

Deer Scare 

Paper Lantern
The best changes in Genji's house are the flooring and wallpaper. I love how detailed the updated Gold-Screen wallpaper is in New Horizons. The striking gold color provides a royal ambiance, while the trees give off a serene aura. The flooring in the newer game also looks more moss-like than the one in New Leaf. Overall, the flooring and wallpaper in New Horizons create a beautiful nod to Japanese art and culture.
Genji in Pocket Camp
You'll have to finish Genji's Map in Bathers' Treasure Trek to earn the rabbit as a camper. Since Genji's style is harmonious, you'll need 12 Harmonious Essence to roll the die. He also primarily gives away wood as a present. Visit Gulliver for a chance to obtain this map! 
Here are all the gifts you'll receive for being friends with Genji:
Level 7: You'll receive 1 Misty Tee and 1 Sparkle Stone 
Level 9: You'll receive 1 Sparkle Stone
Level 15: You'll receive a crafting request to make a Ponderosa Bonsai
Level 20: You'll receive 1 Genji's Pic and 1 Sparkle Stone
Levels 25-60 (for every 5th level increase): You'll receive 1 Sparkle Stone
Genji in The New Horizons DLC
The Happy Home Paradise DLC is yet another way to unleash your creative freedom in Animal Crossing: New Horizons. You'll have to make the perfect vacation homes for villagers to help the business grow!
Genji, in particular, desires a place to play Go and requests the following furniture pieces:
Genji's vision in the Happy Home Paradise DLC is dull compared to his request in Happy Home Designer. The bunny requests a haunted house in the latter, which seems more interesting to decorate. 
Genji's Cards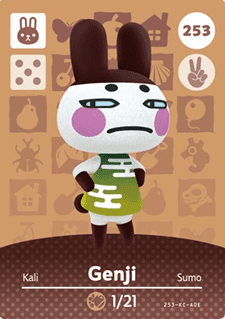 Genji has two cards: an e-Reader card and an amiibo card.
On the front of the e-Reader card, you'll find the rabbit painting on a piece of paper. The background is generally brown and purple. You can also see an icon of Genji's species and the card number 216 at the bottom. 
Most of Genji's personal information lies on the back of the card. You'll find his gender, sign, default clothing, catchphrase, profile, and password. You can buy a Genji e-Reader card at Half Price Books for $10.00!
On the contrary, all of Genji's information is on the front of the amiibo card. It shows his sign, birthdate, dice value, and hand sign along with the card number 253. The background is light and dark brown, which matches his character design. Genji also poses with his hands on his hips as he looks smug. Genji's amiibo card is on e-Bay for only $6.99!
Unique Genji Merch
Redbubble and Etsy are my go-to websites when hunting for adorable Animal Crossing merchandise. These sellers always pour their hearts into outstanding designs and never disappoint. The Genji-themed items below are some of the most creative products I've found!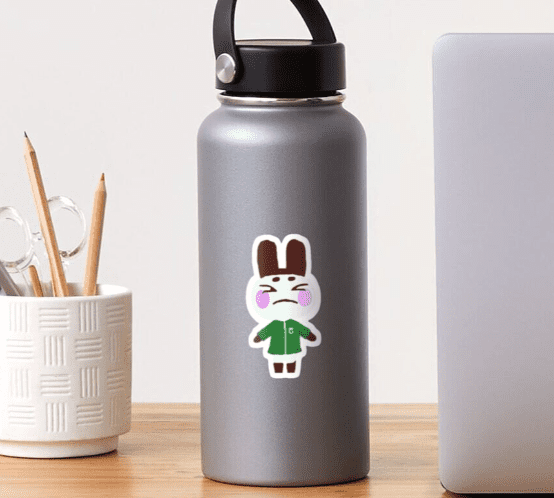 This vinyl Genji Working Out Sticker made by morganfryar is precious, and I couldn't pass it up! It features the brown and white bunny trying to catch his breath after finishing a fierce workout. Genji also wears his green workout jacket while his eyes are closed from exhaustion. 
The sticker only comes in one size (1.5 x 3.3 in), but you can choose a matte, glossy, or transparent finish. The matte finish costs $2.57, the glossy one costs $2.83, and the transparent one costs $3.18. You can also buy these stickers in packs if you'd like! They'll be perfect for your laptop, water bottle, or cellphone case!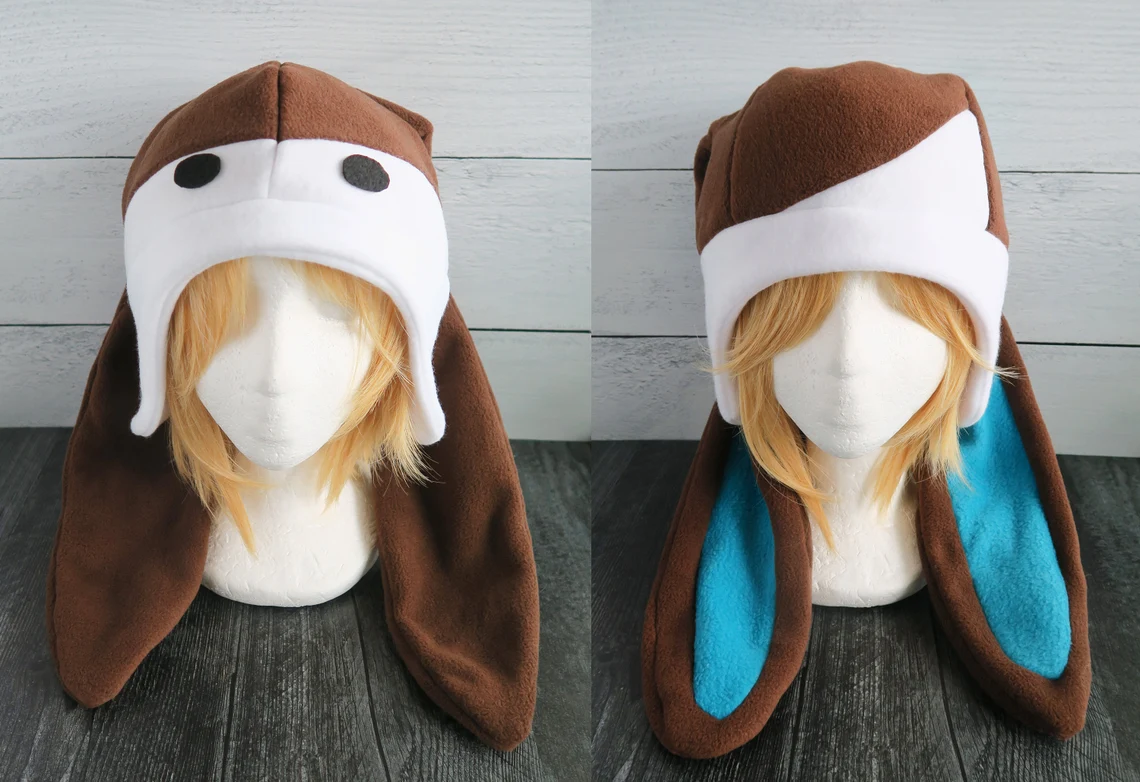 I'll admit that I want this Genji Fleece Hat made by LostSafari for myself. The colors of the hat are accurate to Genji's in-game design, which is a delight! In addition to that, it's made of fleece, interfacing, and felt, which are perfect materials for winter. You can also order it with or without the bunny's eyebrows, but there's a price difference. The Genji hat costs $20.00 without eyebrows and $24.00 with them. This accessory would be great for cute cosplays and conventions!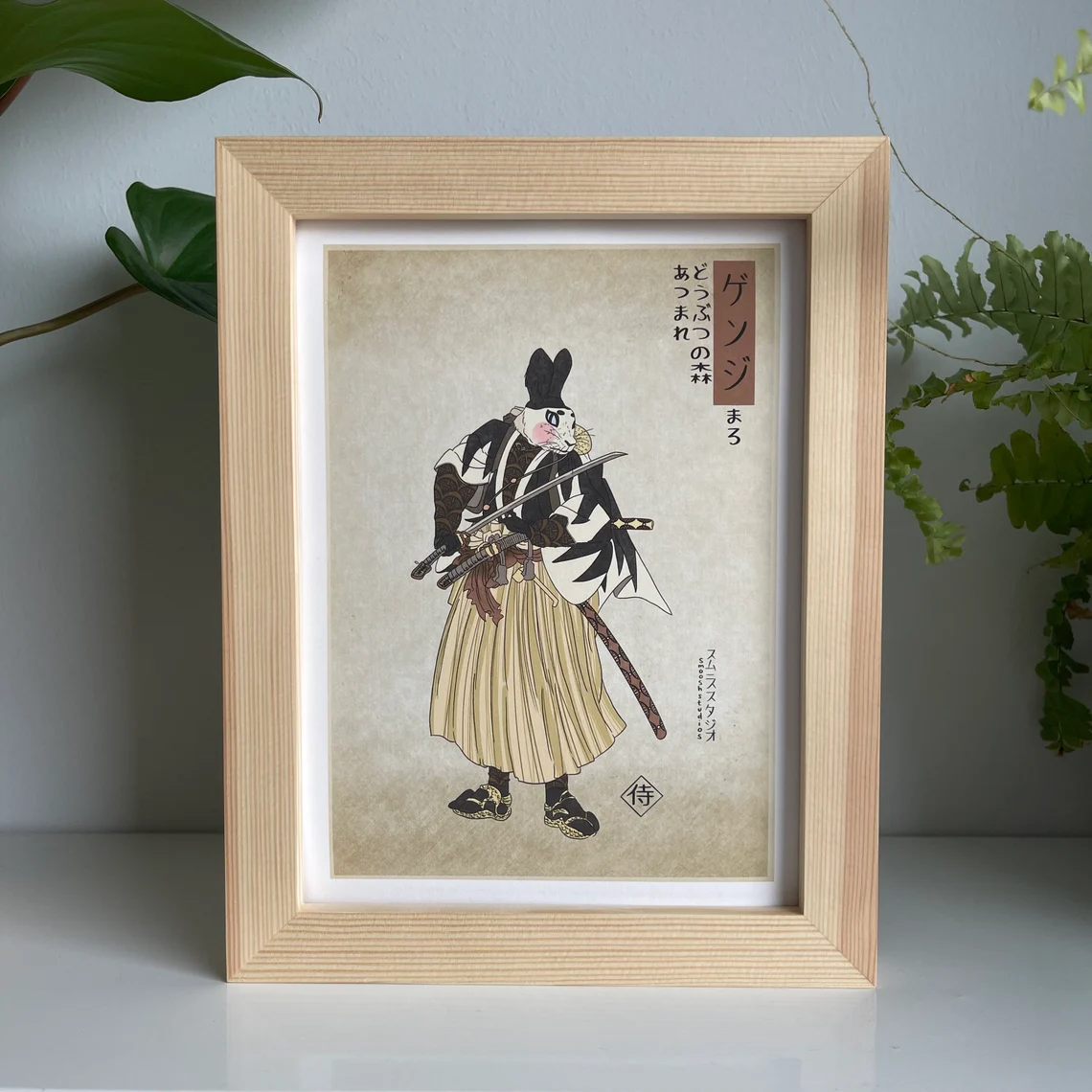 Last but not least, is this Genji Japanese Art Print created by SmooshStudios. This product is the most distinctive on the list. The art style, Ukiyo-e Japanese Woodblock Art, is far removed from the original Animal Crossing style. It shows Genji in traditional Japanese attire wielding three swords. 
The paper is %100 cotton and 20.2 x 15.2 cm with archival inks. The unbeatable price of $31.35 feels like a steal considering the quality of the picture. The seller will also ship the picture in heavy cardboard and glass sleeves for protection during transit. This print would be a fantastic gift for those who love Genji and Japanese art!
FAQs
Question: Did Genji's Catchphrase Change?
Answer: Yes, Genji's catchphrase changed! It used to be "otaku" in all previous games, but it's "mochi" in New Horizons.
Question: Does Genji Write Poetry?
Answer: Yes, Genji is a poet in Pocket Camp! His profile in the game says:
"Genji's not just a jock. He's a poet too! Here—try his latest on for size.
'Strength is everything.
Then again, they also say:
Mind over matter.'"
Genji's love for poetry is also stated on the back of his e-Reader card.
Question: How does Genji Like His Coffee?
Answer: Genji likes his coffee with Blue Mountain beans, lots of milk, and three spoonfuls of sugar.
Conclusion
Genji is a rare find. Although rabbit villagers are plentiful in Animal Crossing: New Horizons, Genji is the only jock bunny that remarkably reflects Japanese culture. He would be an excellent addition to any island, especially one with a Zen aesthetic.
Another good quality of Genji is his perseverance. He always uplifts me with his undying determination. In fact, Genji's motto is "fall down seven times, get up eight." What a way to live life!
Continue reading: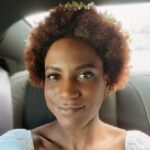 Latest posts by CaLea Johnson
(see all)