Introduction
I love getting lost in the immersive world of Animal Crossing; there are very few games that deliver the comfort and coziness that Animal Crossing delivers. One of the easiest ways to immerse yourself and really dive into Animal Crossing is to spend time with your villagers and really get to know them and love them.
They are also great to spend time with and just have fun with. I always loved walking around my island and seeing all of my villagers spending time doing their own things. A personal favorite has been watching the villagers with the play hobby run around with their arms out, as it is so heartwarming.
I also love ensuring my villagers are happy (and getting rid of the ones I do not like), although this should not be a problem for you if you have Aurora on your island, as she is truly a delight.
Bottom Line Up Front
Aurora is a normal penguin villager who joined the game in Animal Crossing and remains there to date in New Horizons; she loves to study items and read books and can often be found outdoors with either her magnifying glass or her book. If you want to be able to spot her reading or studying, you should look after 6 AM and before 11 PM. Aurora is the younger of two children and was born on the 27th of January.
Aurora can also be found in Animal Crossing Pocket Camp, and if you want Aurora on your island, you first need to reach friendship level five and then procure a menu chalkboard, red cash register, store shelf, wooden counter, and tall cactus. Aurora's happy home vision is a flower shop, and to complete her dream, she needs a flower bouquet, a flashy flower sign, and a flower display case.
Who is Aurora?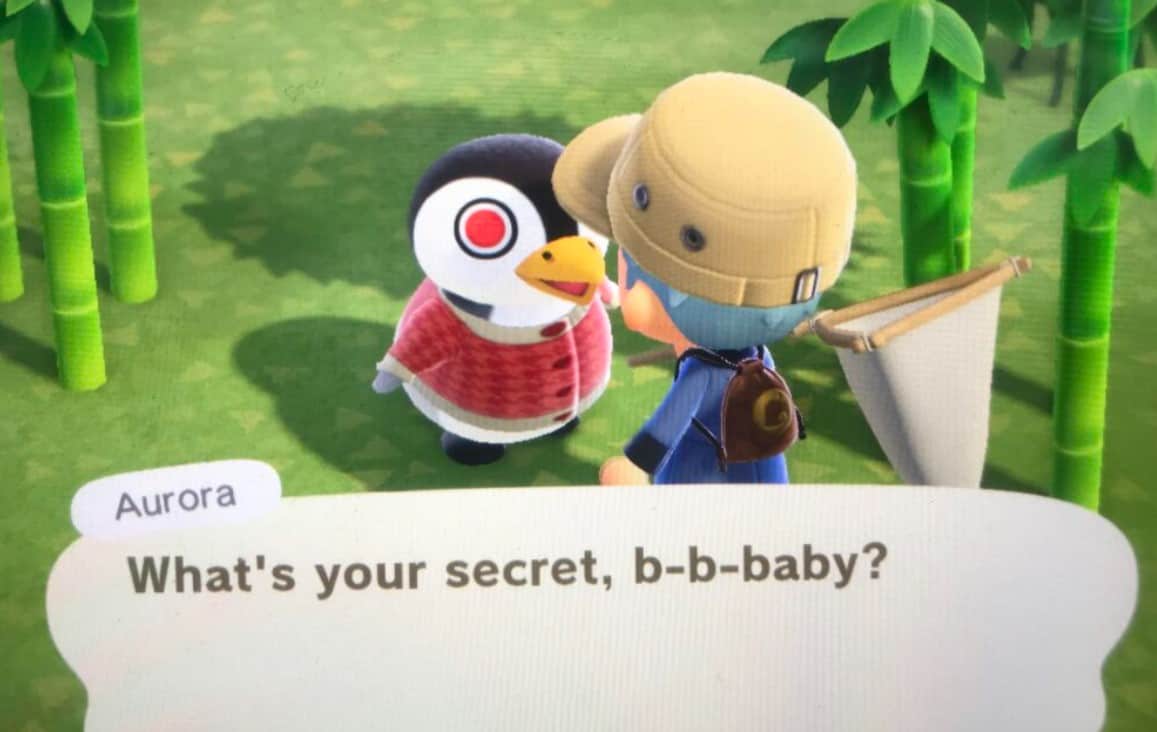 Aurora is a penguin with a normal personality style; Aurora first graced our screen in Animal Crossing and has remained since and is still in the latest version of Animal Crossing New Horizons. Aurora was born on the 27th of January and is the youngest of two children; her name is a reference to penguins' natural habitat in the south pole where the natural occurrence of auroras take place, which are lights like the northern lights.
Aurora's hobby is education which means that Aurora sometimes wears cute circular classes when she is reading, which she will often do outside. She is also naturally curious, and you may see her studying things with a magnifying glass; I often see villagers examining my crops!
Aurora Appearance
I absolutely love all of the penguin characters within Animal Crossing, and while no character will ever come close to my love for Sparkle, Aurora is a close second. Aurora is more of a classic-style penguin than some of the others in Animal Crossing, while other penguins can be multicolored and even brightly colored; Aurora is black and white the same way that a real penguin would be. Aurora also has a classic penguin body, and so is one of the most realistic characters I have seen within Animal Crossing.
Aurora has the cutest circular (not tubby or fat but full and perfectly circular) body; her little stomach on her bottom half is white and looks super fibrous and soft because of the insane level of detail in the design. Aurora also has cute little black feet and tiny short legs that are kicked out and give her a super playful and whimsical look. Aurora has a bright yellow beak with a triangular-shaped smile and a pink tongue, completely black eyes, and a black forehead with a little black line down to her beak.
Aurora's cozy look is definitely reinforced by her outfit, which is a pink/red cardigan with a cream neckline, cuffs, and a cream trim on the bottom. Aurora's cardigan also has four red buttons to hold it in place. She has the tiniest cutest hands poking out of her cardigan, which makes it look oversized, which I think is why I love it so much.
Aurora Personality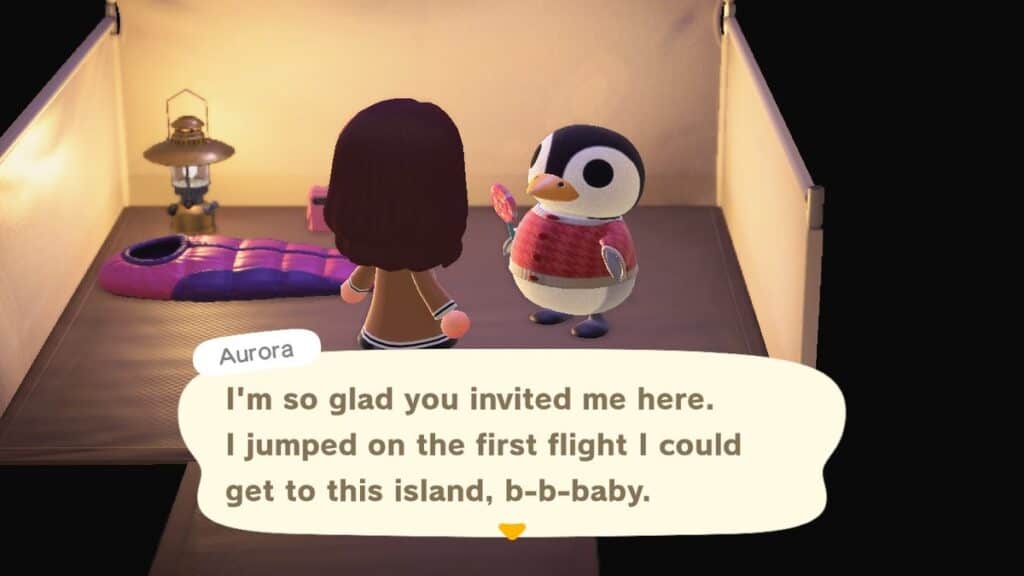 Aurora has the normal personality type, which means that while she can be laid back in the sense that she does not obsess over physical appearance like jocks or over superficial things like snooty villagers, they can be obsessive about cleaning and dirt. In earlier games, normal villagers would actually refer to an imaginary friend who is a mop, which is a nod toward their constant thinking about cleaning.
While "normal" sounds like a basic or bland personality, this is not the case; normal villagers can actually be really negative people, although only about themselves. Normal villagers can often talk quite negatively about themselves and criticize themselves; if you ever experience a normal villager leaving your island, you might be interested to know that if you look inside, you'll notice that they have given away the majority of their belongings and if you speak to them they will tell you they have left "with nothing."
This doesn't mean, however, that normal villagers aren't an essential part of island life; they are fiercely supportive of other villagers and can often be very sweet and caring toward others; they are kind of like sisterly villagers in that sense. This is partly why they get along so well with other villagers; another reason that they are able to do this is that they are very emotionally intelligent, and rather than talking about themselves with others, they will ask about the other person. This means that other villagers will often feel heard and cared about when talking to normal villagers. This could also be because they think so lowly of themselves that they simply do not want to talk about themselves. Normal villagers like Aurora will get up at 6 AM and go to bed at 12 AM.
Aurora's Preferences
Aurora has been with us for a long time and has appeared in a lot of different versions of Animal Crossing, and throughout each version, Aurora seems to change a lot in terms of what style she has and the things that she likes and dislikes. This is how Animal Crossing keeps itself fresh and relevant; some key details are below;
In Animal Crossing;
Default clothing: 

Classic Top

Default umbrella; 

Orange Umbrella

Favorite style;

 Funky

Least favorite style;

 is Gaudy
In Animal Crossing Wild World;
Default clothing: Pink tartan tee

Default umbrella;

 Lemon umbrella

Favorite style;

 Hip

Least favorite style;

 Gauche
In Animal Crossing City Folk;
Default clothing: 

Pink tartan tee

Default umbrella;

 Lemon umbrella

Favorite style;

 Funky

Least favorite style;

 Gaudy
In Animal Crossing New Leaf;
Default clothing: 

Pink tartan tee

Default umbrella;

 Lemon umbrella

Favorite style;

 Official

Least favorite style;

 Ornate

Favorite color;

 Pink
In Animal Crossing New Horizons;
Default clothing: 

Plover cardigan

Default umbrella;

 Snowflake umbrella

Favorite style;

 Cute and elegant

Favorite colors;

 Pink and red
Aurora wants a floral-themed holiday home in the Happy Home update to Animal Crossing New Horizons;
Aurora's Vision; A florists flower shop

Required items; Flower display case, Garden wagon, and a Flower stand.
Aurora's House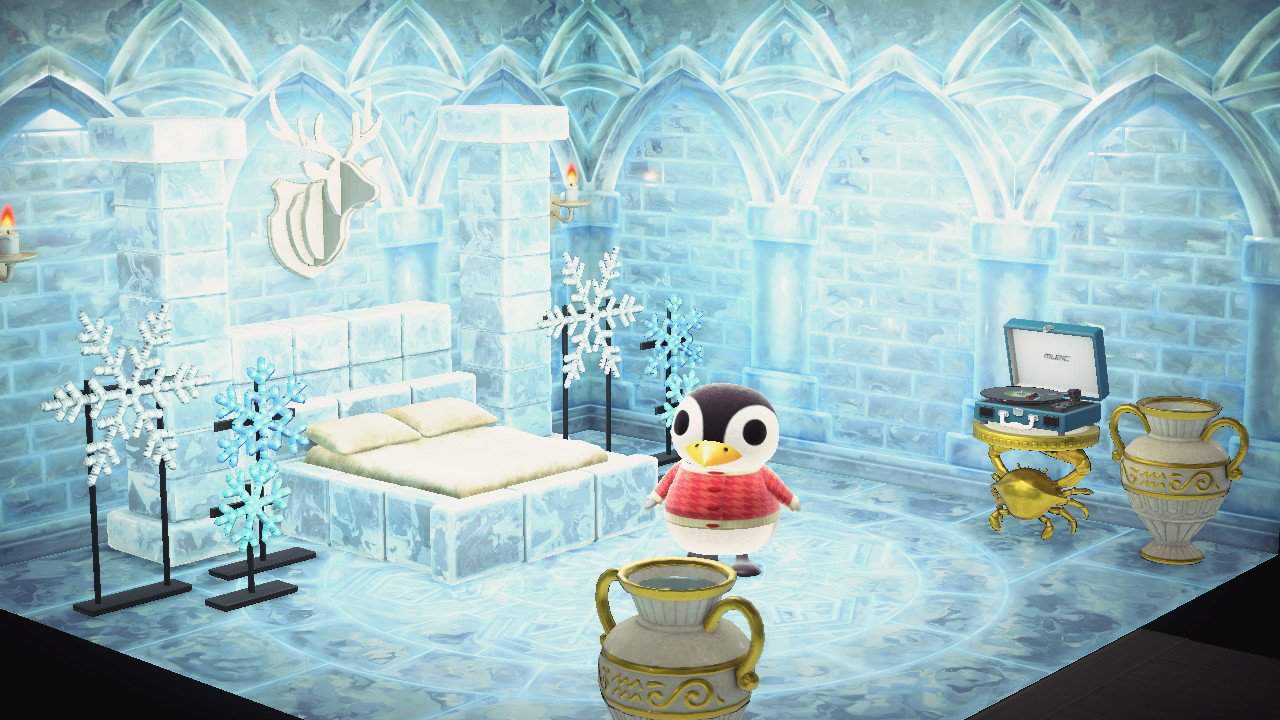 Aurora's houses are really similar through all but the most recent Animal Crossing (New Horizons), where she has the absolute best house ever (you will see why)
In Animal Crossing, Aurora's house has;
Lullaboid

Harmonoid

Nebuloid

Dingloid

Refrigerator

Stove

Daffodil chair x2

Iris table

Alarm clock

Red boom box

Elephant slide

Kitschy clock

Glow clock

Red clock
Aurora's interior also has a lunar horizon wall and kitchen tile floor.
In Animal Crossing Wild World;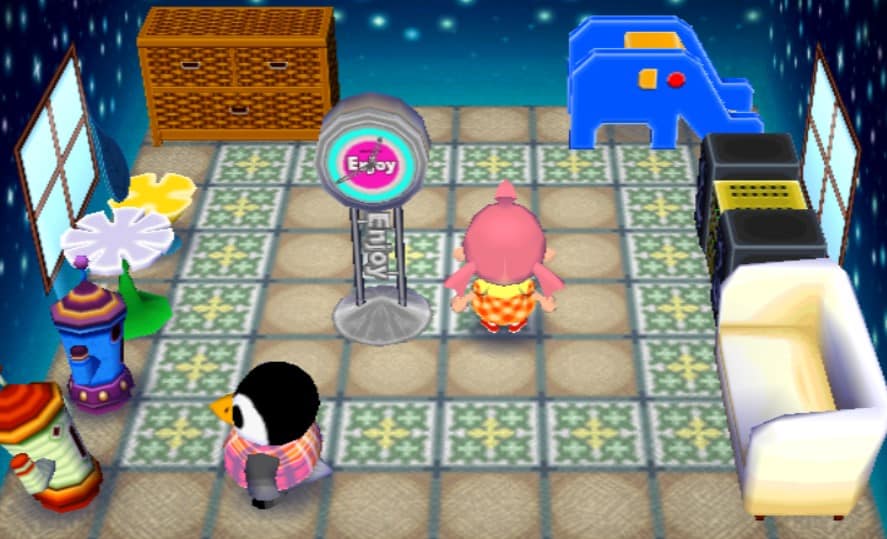 Cabana dresser

Elephant slide

Daffodil chair

Gold stereo

Iris table

Kitschy clock

Nebuloid

Cream sofa

Harmonoid
This home has the same walls and floor as the previous (a lunar horizon wall and kitchen tile floor)
In Animal Crossing City Folk, Aurora's home is exactly the same as it is in Animal Crossing Wild World.
In Animal Crossing New Leaf;
Robo table

Cream sofa x2

Kitchen sink

Dice stereo

Minimalist lamp

Minimalist wardrobe

Kitchen corner

Lullaboid

Minimalist vanity

Snow globe

Air conditioner
Aurora sticks to the classic here (yet another lunar horizon wall and kitchen tile floor)
In Animal Crossing New Horizons, we get some fresh ideas;
Aquarius urn x2

Frozen partition

Illuminated snowflakes x2

Frozen bed

Cancer table

Frozen pillar x2

Portable record player

Deer decoration

Wall-mounted candle x2
Aurora also uses an ice wall and ice flooring, which gives her whole ice palace the proper feel.
Aurora in Animal Crossing Pocket Camp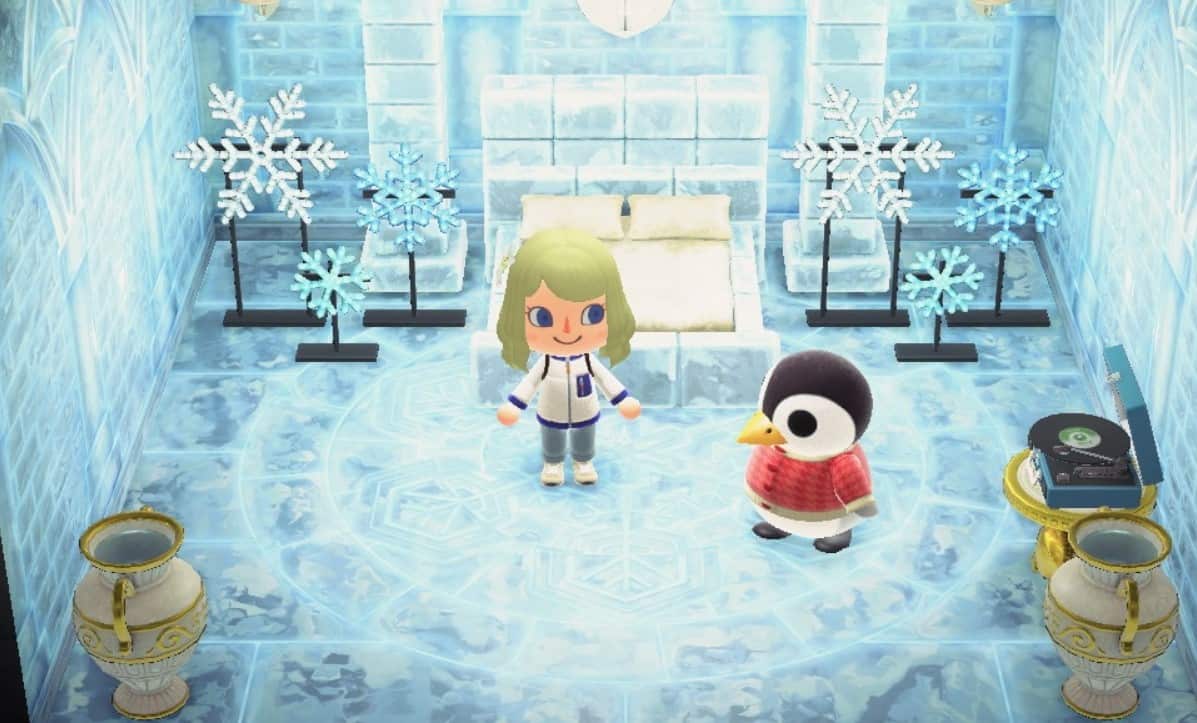 Aurora joined Pocket Camp in 2018, and she has some high requirements if you want to get her on your island. Such as;
Friendship level five

Tall cactus

Red cash register

Wooden counter

Store shelf

Menu chalkboard
Aurora's friendship rewards are;
Friendship level seven;

 A pink tartan tee and sparkle stone

Friendship level nine;

 Sparkle stone

Friendship level fifteen; 

Aurora gives you a crafting request for an Aurora screen

Friendship level twenty;

 Aurora gives you a sparkle stone and a picture of her

Friendship level twenty-five;

 Sparkle stone
FAQ's
Question: Is Aurora a Rare Villager?
Answer: Aurora is a super rare villager to get because although there are fifteen penguins available in animal crossing, there is only one normal penguin! Although normal villagers are the most common villager type to get.
Question: What is Aurora's Hobby?
Answer: Aurora has an education hobby and often studies nature and reads books.
Question: What Versions of Animal Crossing Does Aurora Appear in?
Answer: Aurora has appeared in Animal Crossing, Wild World, City Folk, New Leaf, and New Horizons. 
Summary
There is a lot to love about Aurora; I do feel that normal villagers are extra special because they are more real and have more of an edge than other villagers, and I certainly have a lot of empathy for them. They are also amazing people and are so great to have on your island as they are one of the only villagers that will get along well with everyone.
Aurora, personally, is also super cute and lovable and is truly such a pleasure to have on your island and to spend time with.
Continue reading: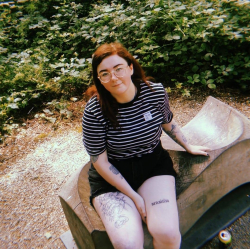 Latest posts by Ella Walsh
(see all)