I didn't think I'd be interested in running a town of animals until a friend lent me Animal Crossing: New Leaf on the Nintendo 3DS. I instantly got hooked on it, and I've been obsessed with the franchise ever since! 
That's why I had to get my hands on Animal Crossing: New Horizons once it came out on Nintendo Switch. It's no surprise that several others felt the same. The franchise's calming nature, engaging gameplay, and adorable graphics cater to everyone regardless of age! Whether you're into decorating your house, racking up bells, or collecting critters, there are many ways to have fun in Animal Crossing: New Horizons! 
I enjoy the company of all my residents, but one octopus has my heart: Marina. I knew she had to be on my island when I saw her little gumball-shaped head. If you're determined to have Marina as a resident, continue reading to learn more about her!
An Introduction to Marina
It seems I'm not the only one who adores Marina. According to a study by Blue Planet Aquarium, she was the 4th most popular villager in 2020, with more than 150,000 Google searches per month. This fact shouldn't be shocking given the octopus' loveable characteristics! Marina may not be as famous nowadays, but she's still special. 
"Marina" is also derived from the Latin word Marinus, which translates to "of the sea." What a perfect name for an octopus!
Here are some basic facts about Marina to get you started:
Gender: Female

Species: Octopus

Birthday: June 26th

Star Sign: Cancer

Personality: Sweet (also known as Normal)

Catchphrase: "Blurp"
Marina's Appearance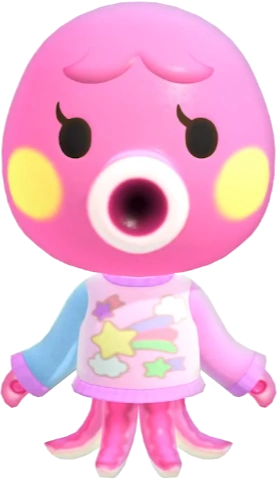 Marina is one of the rarest villagers because she is the only female of all four octopus characters. This octopus' bubble-gum-pink skin and canary-yellow cheeks differentiate her from the rest of her 8-limbed counterparts. The shape on Marina's forehead gives her the appearance of bangs, and she also sports a small dark pink bow on the back of her head.
In the previous Animal Crossing games, the undersides of Marina's arm tentacles are white with dark pink suction cups, while the bases of her leg tentacles are white without suction cups. In New Horizons, the bottoms of her arm tentacles are light pink and white with dark pink suction cups, and her leg tentacles are the same color as they've always been.
As far as her clothing, Marina's default attire is the Bubble-Gum Tee with polka dots in most of the Animal Crossing series. The creators changed Marina's go-to clothing to the pink Dreamy Sweater with stars and clouds for her appearance in New Horizons. 
Marina's Personality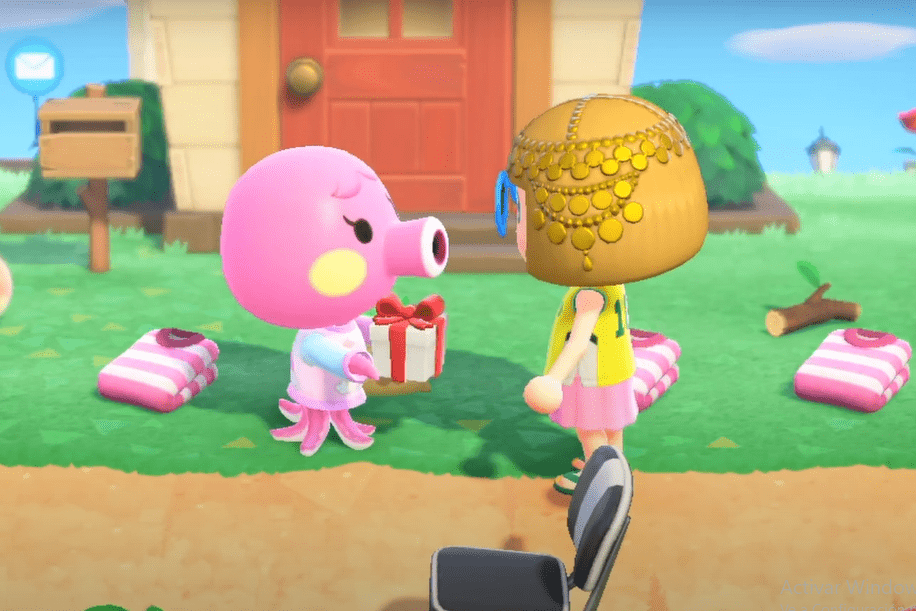 There are eight personalities in Animal Crossing: lazy, jock, cranky, smug, sweet (normal), peppy, snooty, and big sister (sisterly). 
Marina has a sweet disposition; therefore, she's kind-hearted and always ready to brighten your day! These residents typically start their day at 6:00 a.m. and pass their time with poetry, reading, knitting, and cooking. Marina is also musically inclined, so I'll often catch her randomly singing when no songs are playing.  
Although Marina gets along with most villagers, sweet islanders may get into arguments with those who are cranky or sisterly. That explains why Marina bickers with Hazel, my sisterly resident, and Curt, my cranky resident! 
Cranky villagers can be mean and somewhat distant. As a result, Marina may get offended by them. Grumpy residents have a soft side, but it can be difficult for normal residents to see it. 
Sisterly villagers are known to be blunt when speaking to others, which might come across as rudeness to Marina. Nonetheless, big sister villagers give fantastic advice because they genuinely care about the well-being of others.
Marina's Preferences
Although numerous islanders share the same personality with Marina, her preferences set her apart from the rest!
Here are Marina's preferences in Animal Crossing: New Horizons: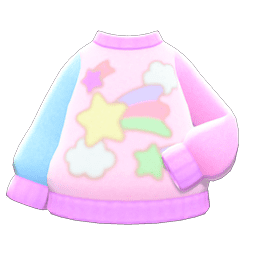 Default Clothing: Dreamy Sweater (Pink)
Default Umbrella: Candy Umbrella
Favorite Song: Soulful K.K.
Skill: Tongue Twisters
Hobby: Music
Favorite Style: Cute
Favorite Colors: Red and Pink
Here are Marina's preferences in Animal Crossing: New Leaf: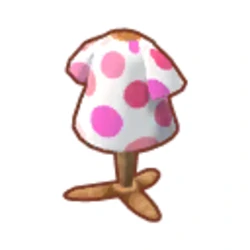 Default Clothing: Bubble-Gum Tee
Default Umbrella: Ribbon Umbrella
Favorite Song: Soulful K.K.
Skill: Tongue Twisters
Favorite Style: Cute
Favorite Color: Pink
What Should I Gift Marina?
Since Marina loves pink, red, and cute things, you'll want to give her items that fall into those categories.
Here are some clothing pieces that Marina is sure to enjoy:
Headwear
: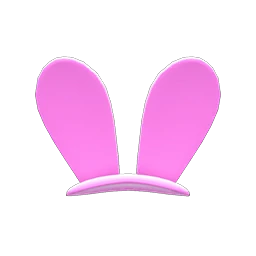 Barrette (Pink or Red)

Bunny ears (Pink or Red)

Giant ribbon (Pink or Red)
Tops
:
Dolly shirt (Pink)

Flower Sweater (Red)

Embroidered tank (Pink or Red)
Dresses:
Dollhouse dress (Pink or Red)

Fairy tale dress (Pink or Red)

Diner uniform (Pink or Red)
Marina's House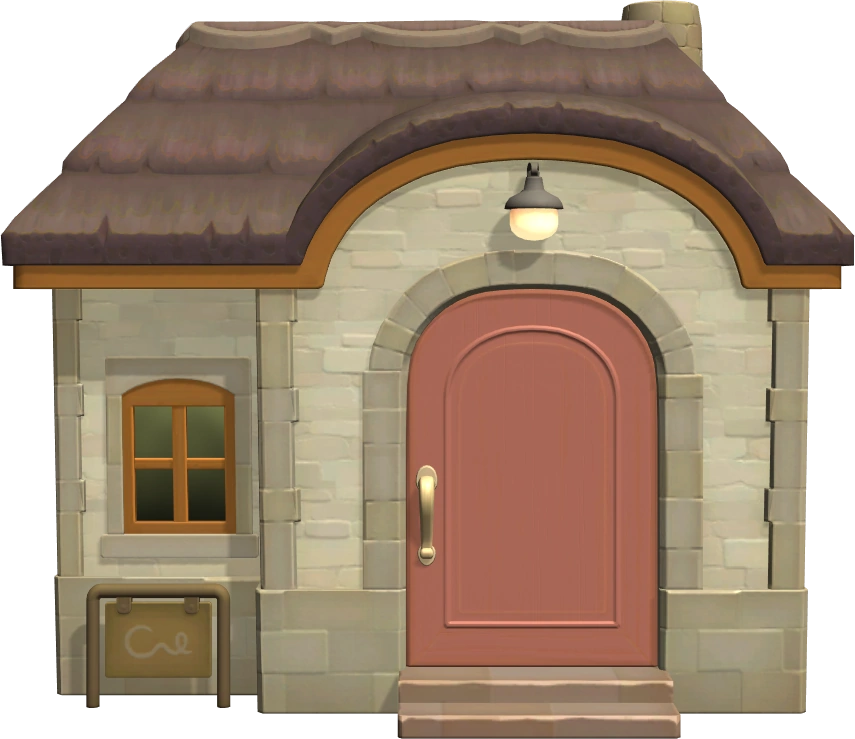 In my opinion, Marina's house improved overall. The developers did a great job modernizing the furniture to fit the changing times. 
Marina's house in Dobutsu no Mori e+ is the most different from her current style in Animal Crossing: New Horizons. The flooring of this home (called kitchen flooring) is quite dull and doesn't compliment the furniture. It also features a brown TV stand, bed frame, and coffee table, which don't fit her cute style.
Marina's humble abode changed for the better in Wild World, City Folk, and New Leaf! The most notable change is that Marina adopts the lovely series in these three games. For example, the lovely carpet replaces the kitchen flooring from the previous game. It's a lot more vibrant than the flooring in Dobutsu no Mori e+, so that's a step up for me! 
The developers also got rid of that brown furniture, but a brown turntable replaced them. Of course, the turntable still doesn't match the rest of her furniture. The item's placement in New Leaf doesn't make sense either! In Wild World and City Folk, the turntable is in the corner of Marina's home. But in New Leaf, it's awkwardly near the center. As a result, the turntable is more of an eyesore in New Leaf.
Despite that, Marina's house in New Horizon is the best yet. Marina owns many items from the cute series, like the cute vanity and the cute floor lamp. I like the cute series more than the last series because the pinks are generally more pastel, making them easier on the eyes. Thankfully, an adorable music player takes the place of that dreaded turntable too.    
Marina in Pocket Camp
Inviting Marina to your island is challenging because you have to complete her villager map in Bather's Treasure Trek by spending cute essence or leaf tickets. You can obtain villager maps from Gulliver on golden islands, so look out for the pelican's boat on your map!
Once you have Marina as a villager, you'll need to regularly converse with her, shower her with gifts, and complete requests to increase your friendship. 
Marina tends to give paper as a reward, but here are other prizes that you'll get for being her friend:
Level 7: You'll receive 1 Bubble-Gum Tee and 1 Sparkle Stone 

Level 9: You'll receive 1 Sparkle Stone

Level 15: You'll receive a crafting request to make a Super Toilet

Level 20: You'll receive 1 Marina's Pic and 1 Sparkle Stone

Levels 25-60 (for every 5th level increase): You'll receive Sparkle Stone
Marina in Animal Crossing: New Horizon's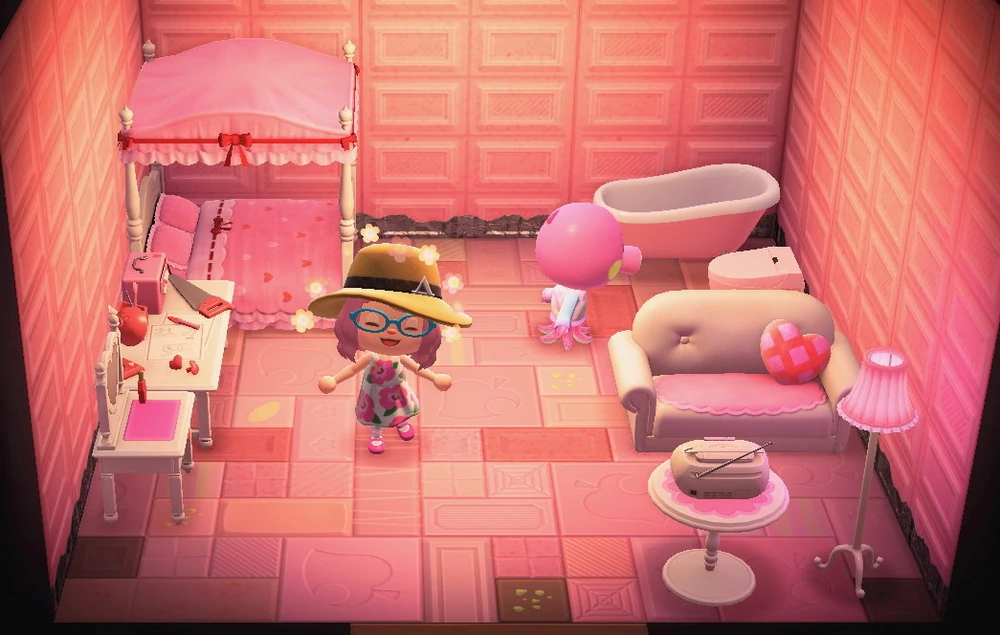 New Horizon's Happy Home Paradise DLC gives players loads of creative freedom by allowing them to design vacation homes for numerous characters! 
Marina will think, "there's something wonderful about being beneath the sea" when you approach her. Then, the pink octopus will request an underwater palace when you're making designer plans with her and Lottie. 
Be sure to include the following furniture in Marina's vacation home:
A shell table

A shell stool

Aquarius urn
Marina's underwater palace was my favorite vacation home to decorate since her taste is distinct. I gave her home a luxurious mermaid atmosphere to fit her personality, and I love it! Marina's home is the only two-story place I've made as well. This octopus is my dearest villager, so she gets special treatment! 
Marina's Amiibo Card and e-Reader Card
Marina has two scannable cards: a Dobutsu no Mori e+ e-Reader card and an amiibo card.
The background of Marina's e-Reader card is bright orange with her Japanese name, タコリーナ (Takorīna), displayed at the bottom. Marina also wears the Red Aloha Shirt, which isn't as suitable as the Dreamy Sweatshirt to me, but anything is adorable on her. 
You can find her star sign, favorite phrase, favorite saying, and profile on the back of the card as well. I like the Dobutsu no Mori e+ e-Reader card more because it has extensive details about the character. 
On the contrary, Marina's amiibo card doesn't have as much information as the other card. It only shows you Marina's star sign, birthday, dice value, and hand sign.
Marina Merch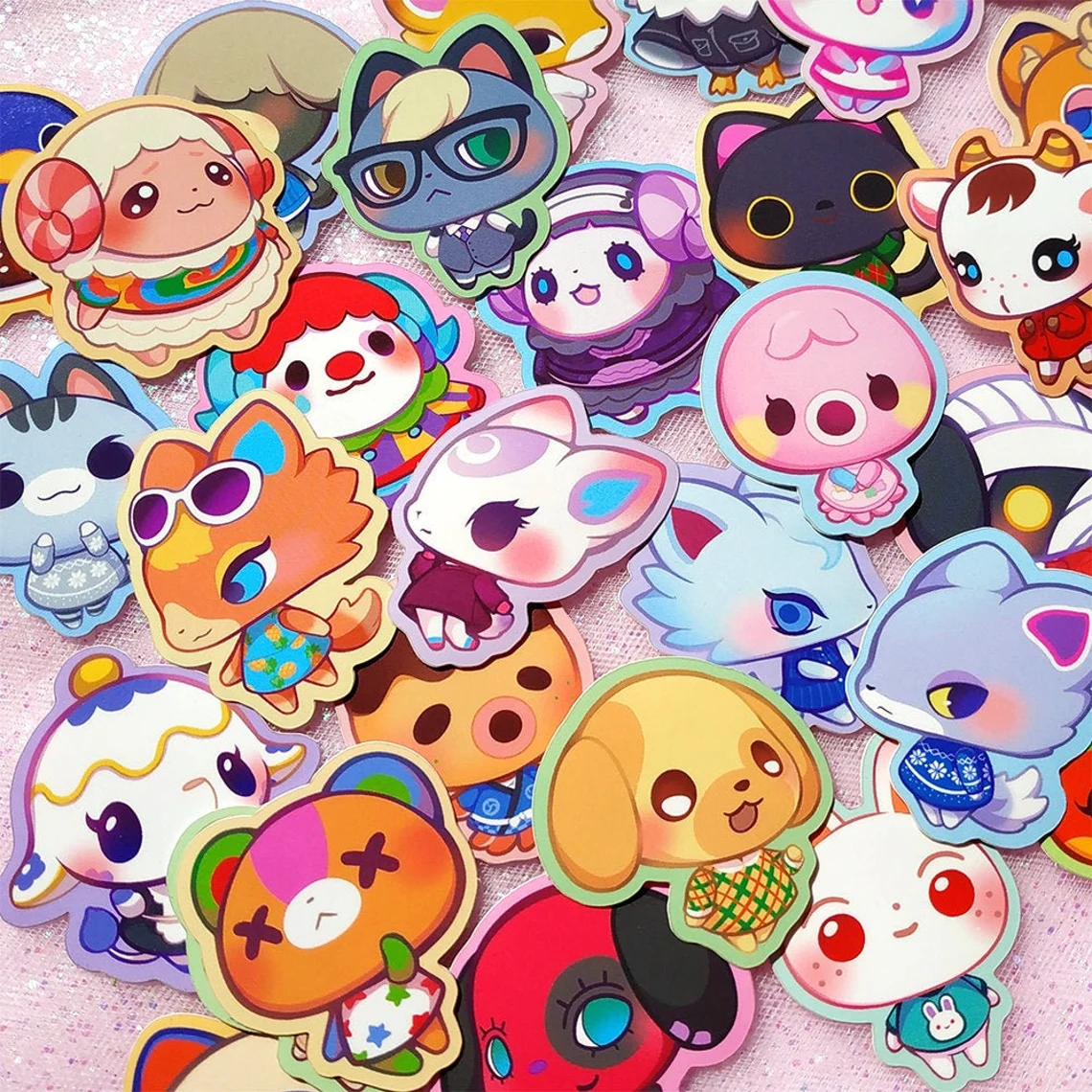 Etsy is a great place to hunt for unique Marina-themed merchandise. Many of the items I found are handmade by talented individuals, so they may be expensive to some. However, these three products are well-crafted and worth it! 
Weishiart has the cutest art style I've ever seen! The eyes and heads are larger than the typical Animal Crossing art style, thus, making the characters look baby-like. The colors are also vivid and true to the characters in the game! 
Check out their Marina AC Acrylic Charm priced at $10.88. They're selling out, so you should get one quickly! It'll be the perfect addition to your backpack or purse. 
Another Etsy user, LootCaveCo, sells Animal-Crossing-shaped cookie cutters. Their art style matches the original Animal Crossing style too! You can buy a set of 5 (with Ankha, Rosie, Marshal, Raymond, and Marina) for $27.95 or buy them separately for $8.95 a piece. Think of all the delicious goodies you can make for your loved ones who adore Marina!
TrashGoblinCo sells this cute Marina mug meant for Marina lovers and coffee lovers worldwide. Their art style is similar to Weishiart's, making it extra appealing to those who enjoy the kawaii aesthetic. The mugs are $26.00, and you can personalize them with words, but that will be an additional $2.00. There are many color options for the rim of the cup as well. I'd personally choose a pink rim to match Marina's girly personality!
FAQ
Question: When did Marina First Appear in the Animal Crossing Series?
Answer: Marina's first appearance was in Dobustu no Mori e+, which was released in 2003 on the Nintendo Gamecube. Players could only invite Marina to Animal island by scanning her e-Reader card at the time. Luckily, a card isn't required for her to visit your island in the other games!
Question: How can I Earn Marina's Photo?
Answer: Marina should reward you with a photo of herself when your friendship has reached a high level. She'll randomly give it up when you complete a request for her or gift her something. You can't buy Marina's photo at Nook's Cranny, so you'll have to spoil her until she gives it to you.
Question: Are Octavian and Marina Dating?
Answer: Several people label these two octopuses a couple because they spend a lot of time together and get along well. I've been tempted to follow suit since I've seen wholesome snapshots of them talking. 
I've also noticed a significant detail on Marina's Doubutsu no Mori e+ e-Reader card that made me want to believe they are in love. The "Profile" section of the card reads, "… despite her appearance, she has a solid core. She's not moved by anything. Not even if that person is Okutarou (Japanese name for Octavian)." That implies that Marina and Octavian share a special bond unlike any other. 
Unfortunately, I couldn't find any evidence that these cephalopods are dating, but their friendship is precious regardless.
Conclusion
Marina is a sweetheart. Her gentle soul is a ray of sunshine on a cloudy day, and it's hard to dislike her. Marina is excellent because she gets along with most other personalities, so you won't encounter much drama if she is part of your island. 
Her character design also is unmatched, given her species and color scheme. Marina is a rare gem, and I hope you'll give her a warm welcome if you meet her!
Continue reading: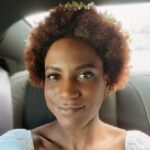 Latest posts by CaLea Johnson
(see all)